Last updated on October 2nd, 2023
Enjoy your tavern dining at Krcma v Satlavske Ulici, the best restaurant served the Cesky Krumlov best food. A great place filled with delicious smelling meat and loved every bit of the atmosphere it created.
Český Krumlov, also known as CK town, is one of the beautiful places located at South Bohemia of the Czech Republic. This picturesque old town is listed in UNESCO World Heritage Site and famous for tourist attraction.
A visit to Cesky Krumlov can be finished in a few hours and perfect for a single day trip from Prague. This beautiful town is worth for visit and we highly recommended stay one night at Cesky Krumlov to experience this charming town.
If you are asking about where to eat and any recommendation restaurant at Cesky Krumlov? Plenty of restaurants and a variety of styles represented, from local traditional Czech food, Italian restaurants at riverside, and even modern Czech cuisine. There are so many restaurants in Cesky Krumlov, but you hardly can't miss the unique tavern dining experience at krčma v šatlavské ulici.
Continue to read on our Cesky Krumlov food guide blog for the best food and restaurant in Cesky Krumlov.
Krcma v Satlavske Ulici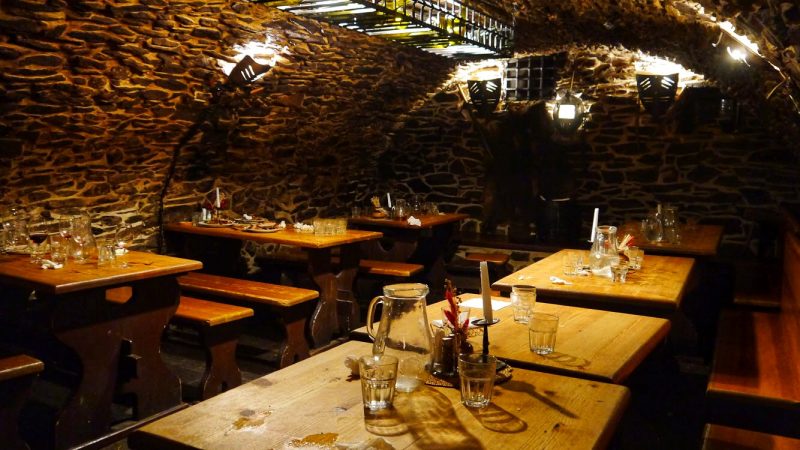 Located at Šatlavská alley, krčma v šatlavské ulici is a reconstructed renaissance building with two minutes walk from the Municipal Square. It is also conveniently located about 3-minutes walk from our accommodation in Cesky Krumlov, Apartment Soukenicka 44. So it is very easy to get to Krcma v Satlavske ulici.
This tavern restaurant is relatively small with only a cater capacity of 80 seats inside. Alternatively, you can choose to sit outside of the terrace with about 40 seats if inside is full.
Reserved Ahead To Avoid Disappoint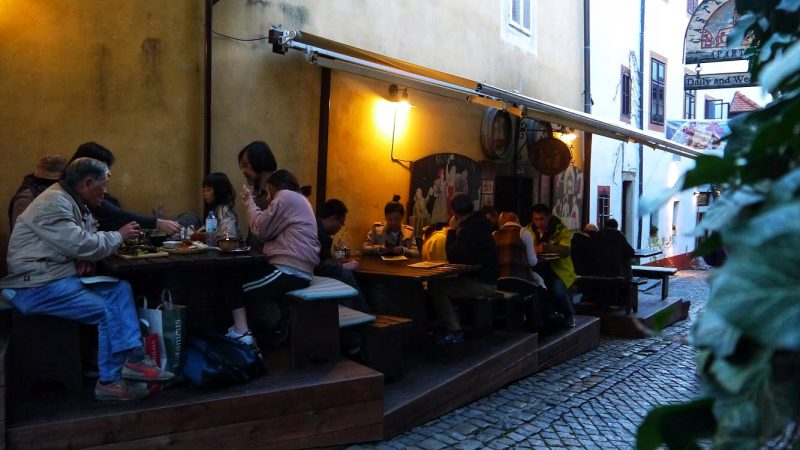 Krcma v Satlavske Ulici is extremely busy especially dinner time. Many people were turned down due to the table was fully booked. So make sure to make reservation ahead to avoid disappointment.
My dinner was reserved one month earlier before my Cesky Krumlov trip.
Unique Medieval Tavern Dining Experience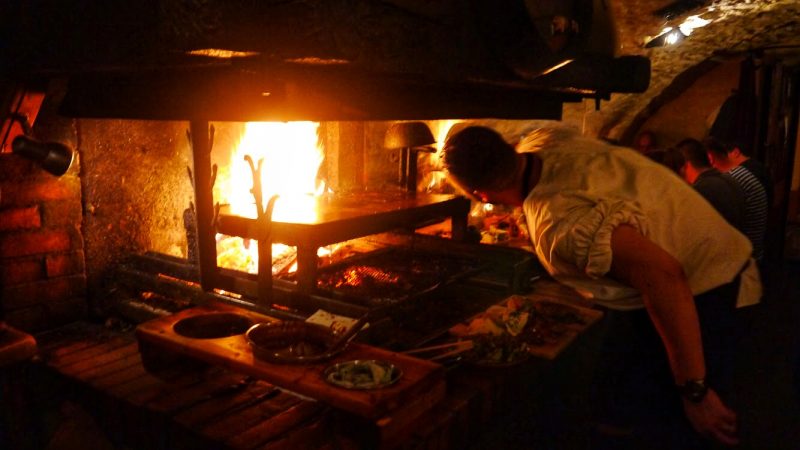 Prepare for a wonderful dining experienced in a unique medieval tavern atmosphere.
The typical old vaulted ceilings like in a cellar, not to mention the open flame in the middle with fresh meat is seasoned heavily and grilled over on it.
All this makes you feel like stepped back in time to the Medieval feast in a cave with a burly man cooking up the meat in a roaring open fire.
What To Order At Krcma v Satlavske Ulici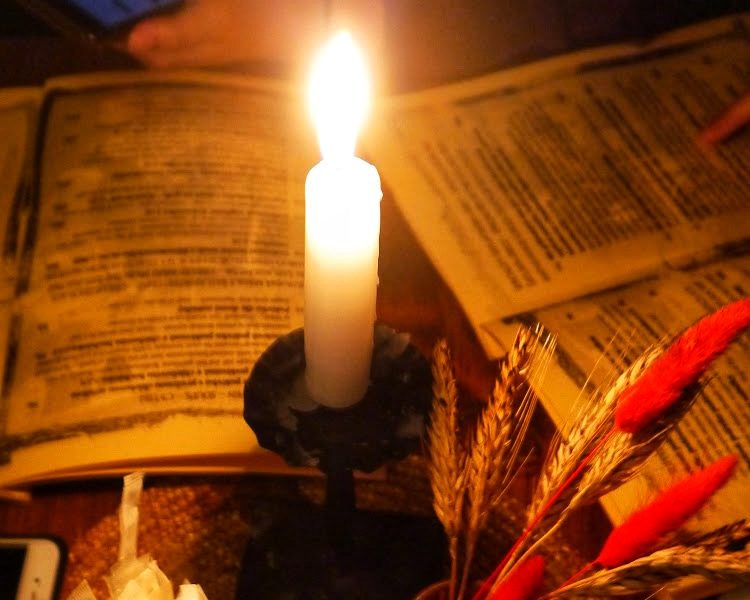 We were seated inside with a stylish wooden round table and wrought iron candlesticks holder in the middle. The waiters were madly busy but doing their best to serve us promptly as they can.
Menu comes with many choices from fish, pasta, and meats, but what everyone comes here for the meat platters. We ordered the onion soup as a starter, salad, meat platter for two and roasted pork knuckle.
Wood Burning Grill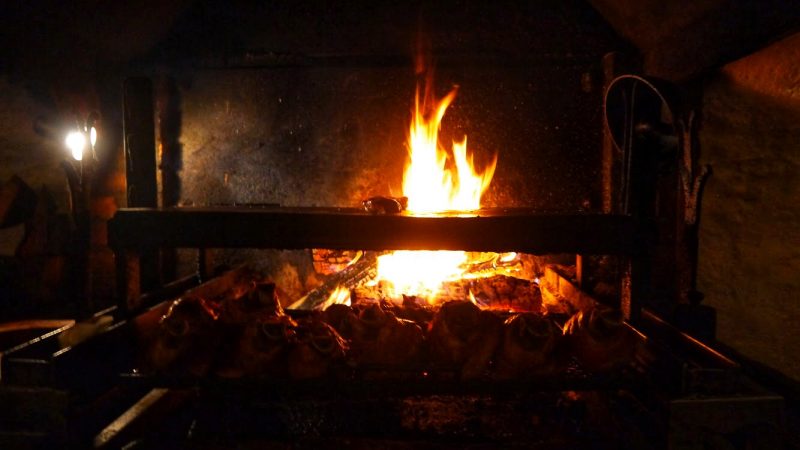 Table service was prompt and efficient with Czech beers ordered comes quickly. It was very refreshing after we spend A Perfect Day At Cesky Krumlov.
The staff seemed to be enjoying themselves. All of them busy prepared the meal into the huge wood-burning grill where most of the meat was cooked.
We cheers happily when the food served as the food portion was so HUGE!
Huge Portion Yet Delicious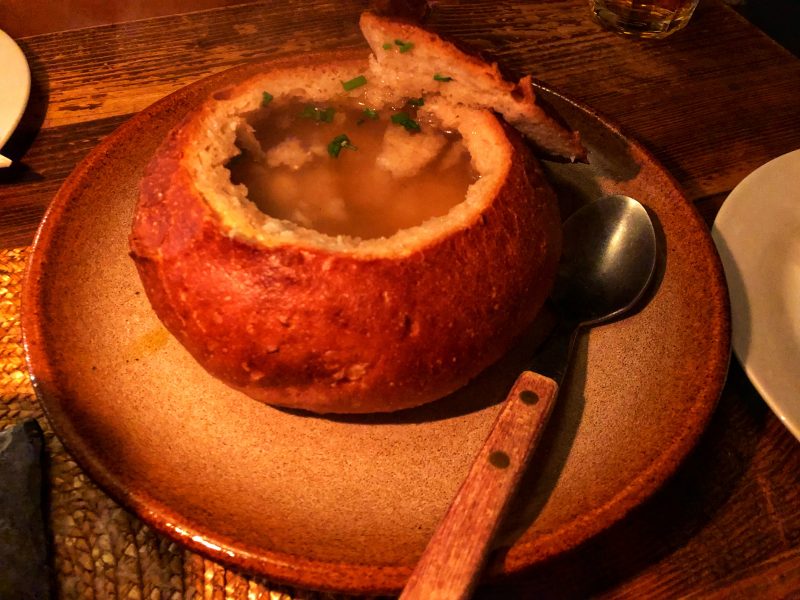 Firstly popular garlic soup was served as a starter in a bread bowl. It was super helpful to warm up our bodies in the cold weather. And it tastes good too!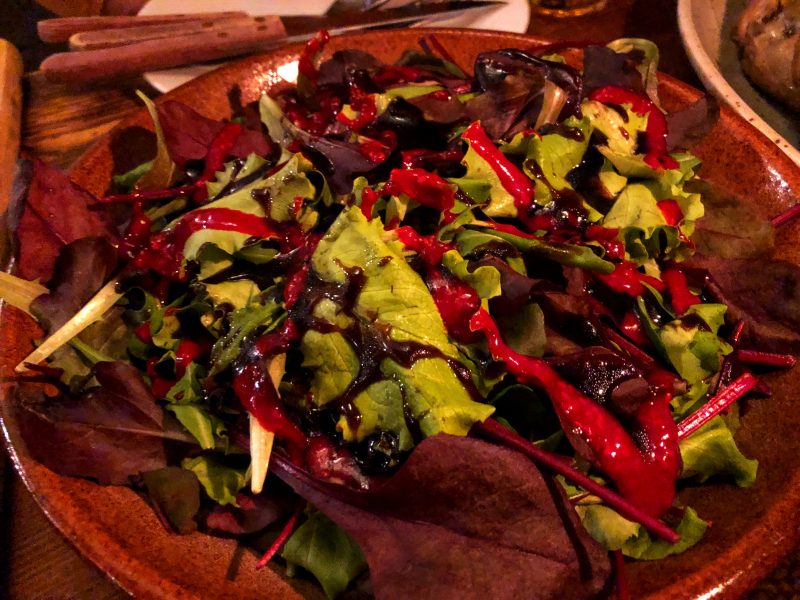 Nevertheless, beetroot salad served was very refreshing and greatly help not overwhelmed by the meat.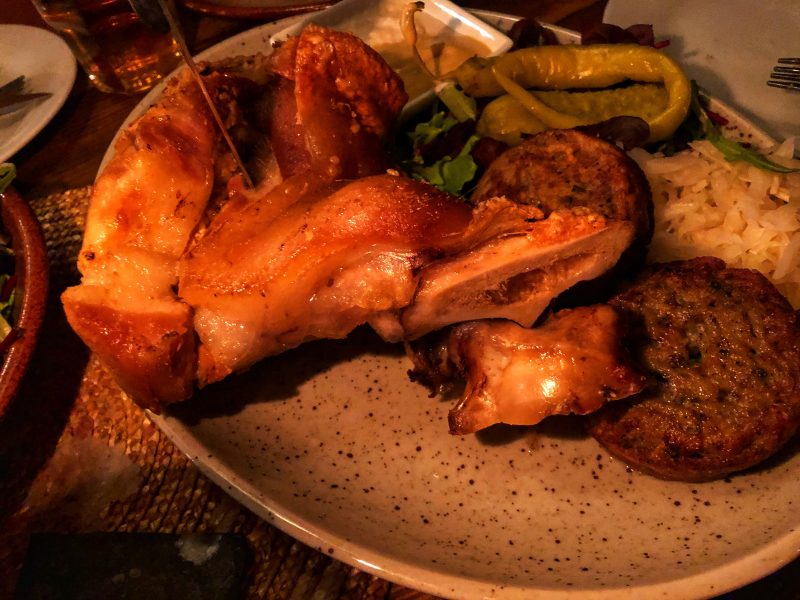 Next, roasted pork knuckle was perfectly cooked with most of the fat had rendered down. We specifically like the pork knuckle as the skin was roasted crispy yet well succulent meat. This was no doubt the best pork knuckle that I have ever tasted.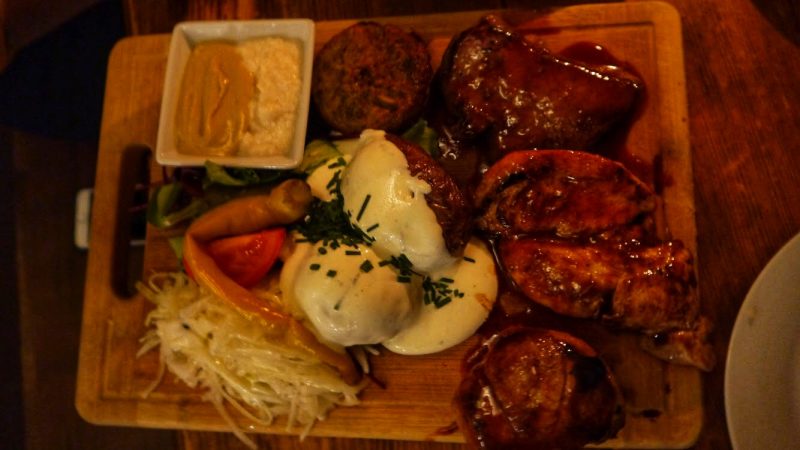 While the meat platter was served on a wooden block with big juicy pieces of chicken, pork and beef. It comes together with baked potatoes, salad, potato pancakes, coupled with dark mustard and horseradish sauce. The meat was well marinated, very flavorful, tender and juicy. Super delicious!
Everything was so delicious and we could barely finish the meal. Huge portion yet delicious.
Cesky Krumlov Best Food
Leave your diet at the door as Krcma v Satlavske Ulici worth it. Good food, nice environment, and friendly staff.
We read about some bad reviews from TripAdvisor on their rude service and poor quality food. Although this may be true as Krcma v Satlavske Ulici are superb busy with massive customer. But our dining at Krcma v Satlavske Ulici was very pleasant.
All in all, we highly recommend Krcma v Satlavske Ulici one of the best restaurants served with Cesky Krumlov's best food. We loved the atmosphere, the food, the beer, and the service. It was fun watching the meat being cooked on the grill in front of you. However, queue always outside so do make a reservation to avoid disappointment.
[intergeo id="QN3UzM"][/intergeo]
Overall: Cesky Krumlov Food Guide
Enjoy reading? You might also interested to check out the perfect day at Cesky Krumlov with things to do, food to eat and where to stay at this fairy tale town.
Lastly, don't forget to read on to your Central Europe trip. Our next destination is Hallstatt: World Most Beautiful Lakeside Town
Hopefully, my little guide is helping with your itinerary planning. Happy travel to Cesky Krumlov!