Last updated on May 8th, 2023
Prague is one of the most visited cities with more than 7 million visitors each year. The ancient city is full of amazing experiences but also tourist traps all around. Check out our Prague travel guide with Top Things To Do and Not To Do when visiting Prague.
Prague also called "Praha", is one of the most beautiful cities in the world with world-class architecture and breathtaking views. It is the capital of the Czech Republic and a compressed city with all the major sign-seeing attractions that can be easily reached by foot.
Travelers can enjoy ancient bridges and historical squares, beer at a cheap price, and bohemian food at nice restaurants at fairly affordable prices. Follow our Prague 3-days itinerary with fun and excitement.
Here are the things to do and not to do in the Prague travel guide.
Prague Travel Tips:
We recommended to stay nearby Prague Area 1 for easy getting around and food hunting. The
Hotel Rott
is centrally situated on the historical Malé Naměstí, next to Old Town Square. It has a high reputation by offering great size rooms with clean bed. Popular pick in Prague.
Top 10 Things To Do In Prague
Looking for what to do in Prague during your visit? Here are the top 10 things to do in Prague:
Visit Prague Castle
Visiting Charles Bridge Before Sunrise And Sunset
Wandering in Old Town Square
Go Shopping at Local Farmer Market
Enjoy Your Beer Time Together With Czech Cuisine
Enjoy A Paddle Boat Ride At the Vltava River
Try Trdelník, A Typical Street Food In Prague
Posing With Dancing House
John Lennon Wall
Petrin Hill Look-over Tower
1. Visit Prague Castle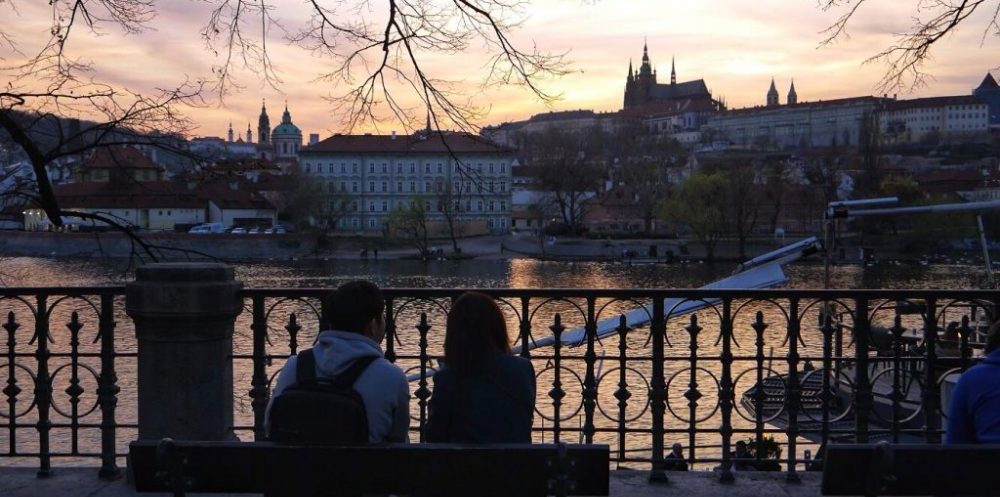 One of the largest and most famous castles in the world consists of multiple sections: St. Vitus Cathedral, the Old Royal Palace, The Story of Prague Castle, St. George's Basilica, Golden Lane with Daliborka Tower, the Powder Tower, and Rosenberg Palace.
You can visit the grounds for free, but you'll have to buy a ticket to go into most of the buildings. There are a few different options for tickets depending on what you want to see and we recommended circuit B tickets which include the most famous structure St. Vitus Cathedral.
If you want priority access to skip the huge lines, especially in summer, you should buy the Skip the Line: Prague Castle Ticket.
2. Visiting Charles Bridge Before Sunrise And Sunset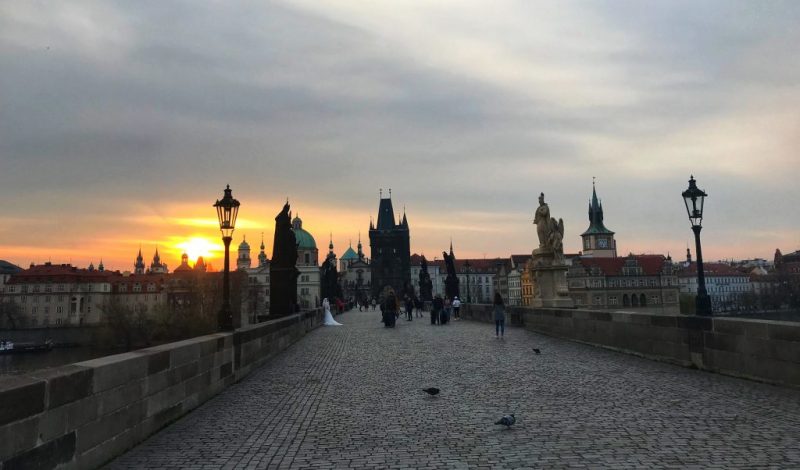 Walking across the Charles Bridge is one of the MUST DO Things in Prague when visiting Prague. This 700-year-old bridge is remarkable day and night time. If you wish to see the real beauty of Charles Bridge without the tourist crowd, wake up early and get there before the sunrise. You will be impressed by how beautiful of this living piece of history has spanned the Vltava river and connects Old Prague Center to Mala Strana.
Don't forget to come back again during sunset or nighttime with a magical atmosphere and musical performances, which show you the different beauty of Charles bridge.
3. Wandering in Old Town Square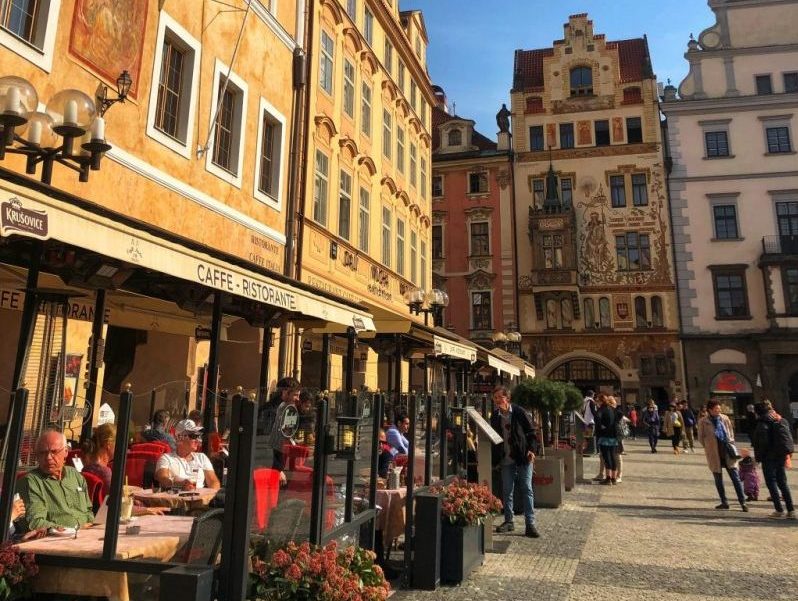 One of the most spectacular squares in Europe with Gothic buildings dating back to the 14th century. The highest tower in Prague City is the Old Town Hall, constructed in early 1400 together with one of Prague's most identifiable icons, the Astronomical Clock.
Some dancing mechanical dolls will show up for some mechanic show to attract dozen of visitors to flock by every hour on the hour. This minute's show was voted as 2nd most disappointing tourist site in Europe. But if you are there, just spend a few more minutes seeing the show. Maybe you will have a different point of opinion.
Additionally, you can also pay 250 Kč to ascend to the top of the Old Town Hall tower for a spectacular view of Prague city center-surround you.
4. Go Shopping at Local Farmer Market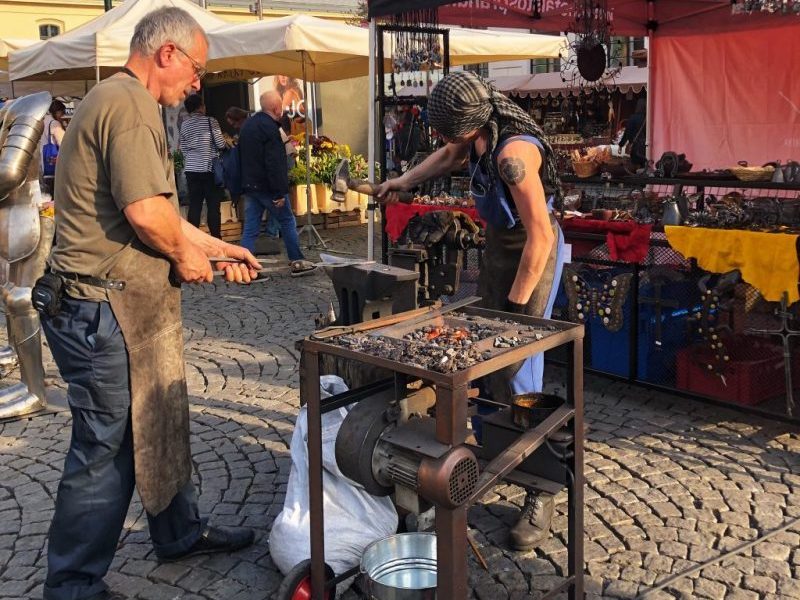 Head over to Havel's Market (Havelske Trziste) for unique souvenirs and gifts to bring home. Havelské Street Market is open every day from 6 a.m. and is located on a street nearby Wenceslas Square.
Find some time to walk around the market for some local artists and genuine craftwork. It is also a nice place to look for souvenirs instead of buying from the souvenir stores at Old Town Square.
5. Enjoy Your Beer Time Together With Czech Cuisine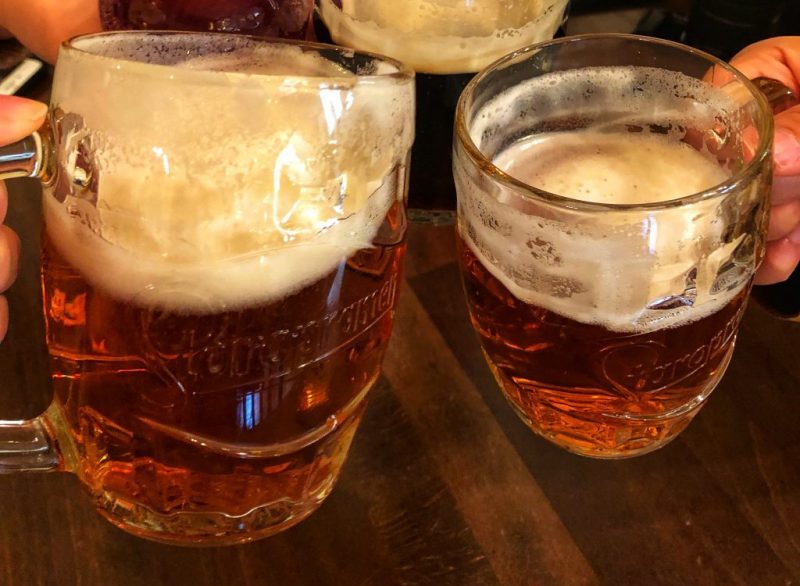 Drink a world-famous Czech beer, or two! Czech beer is amazing, especially after long hours of walking tours. Remember, beer is cheaper than bottled water in Prague.
Be sure to try classic dishes such as roasted pork with dumplings and cabbage, goulash, fried cheese, and a wide variety of sausages. It might not a world-famous cuisine, but surprisingly I love Czech cruise taste.
6. Enjoy A Paddle Boat Ride At Vltava River
Enjoy the magnificent view of Prague Castle from the river by renting a paddleboat. There are three to four places offering paddle boat rental onto the Danube. Spend one to two hours experiencing the different beauty of Prague city. The price is not expensive and the paddle at the Vltara river is very easy.
I have so much fun when other paddle boats are around you make it very enjoyable. The view from the middle of the river would have been spectacular.
7. Try Trdelník, A Typical Street Food In Prague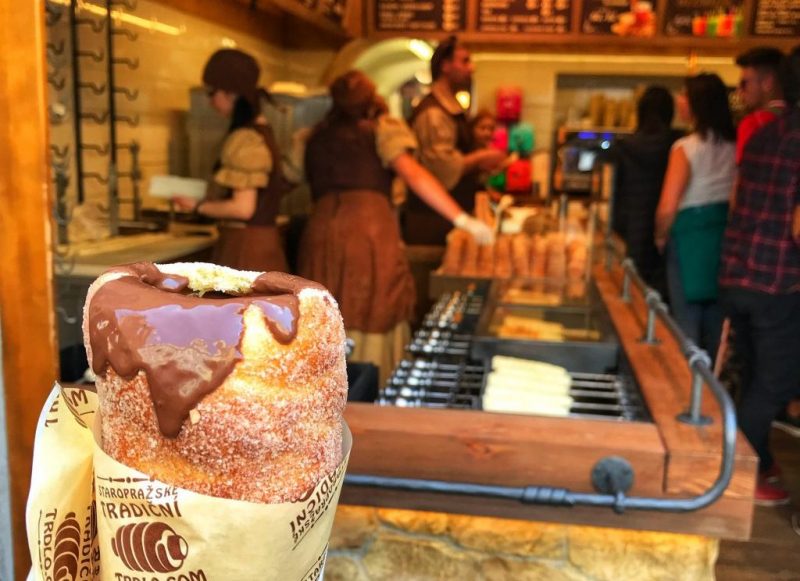 Trdelník, a popular sweet pastry, with filling such as ice cream or chocolate has been spreading in Prague since 2010. This is not Czech traditional food and is known made for tourists, but they still taste delicious and I recommended to try one.
It is interesting to see the yeast dough glazed in sugar, wrapped around a spindle called "trdlo" and then rotated continuously over an open flame until the dough is cooked in golden brown color perfection with sugar caramelized.
A fresh, warm trdelník is a treat well worth savoring.
8. Posing With Dancing House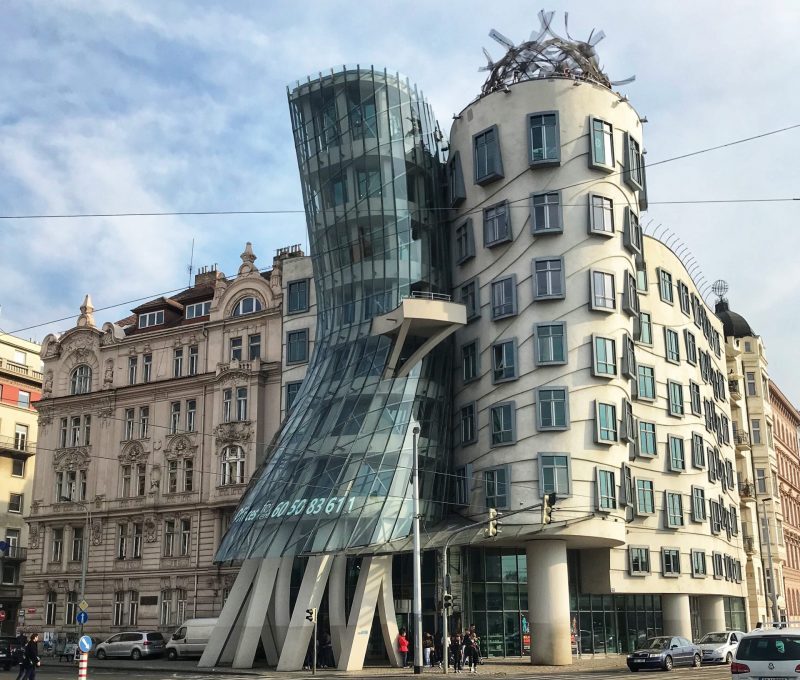 The Dancing House (Tančící dům) is one of the most interesting Prague buildings, designed by American architect Frank O. Gehry. This stunning building is surrounded by historic architecture, making it one of the unique buildings in Prague city.
Pose for pictures in front of Prague's Dancing House together with the unusual shape of the building.
9. John Lennon Wall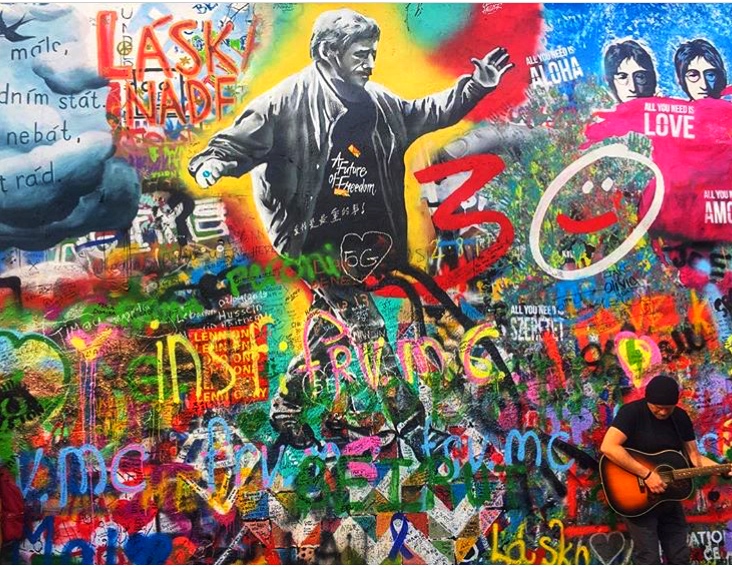 A quick stop to John Lennon Wall for a colorful photo if you're in the area. Lennon Wall has been continuously painted over and over again with John Lennon-inspired art and Beatles lyrics among other graffiti.
The vibrant rainbow of the John Lennon Wall is the only place in Prague where graffiti is legal.
10. Petrin Hill Look-over Tower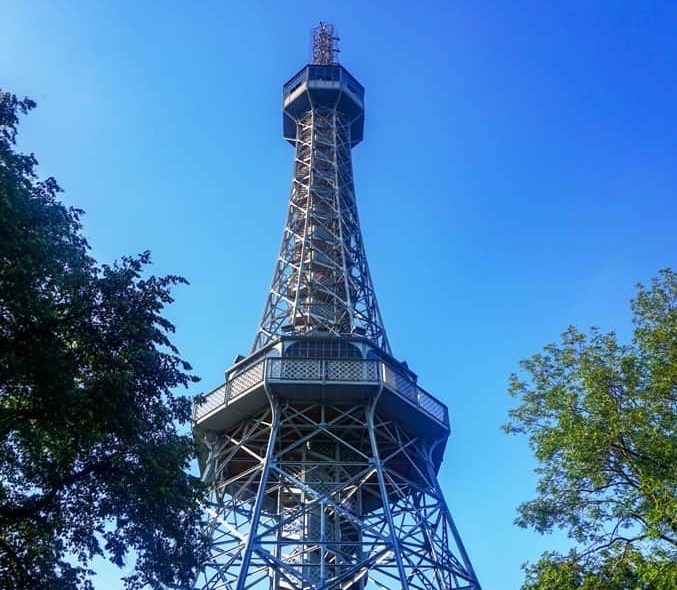 Petrin Hill Look-over TowerOne of the best places to view the city of Prague from above is the Petrin Hill Lookout Tower. This 63.5-meter tall steel-framework tower on Petřín Hill is the highest point in Prague and was inspired by the famous Eiffel Tower in Paris!
There is a small fee of 50 CZK to climb the tower, but it's worth it.
Top 5 Not To Do in Prague
Before starting on our travel guides, below are some of the general NOT TO DO lists when traveling in Prague, take a look to have some idea on what to do for safety and scam in Prague.
Top 5 NOT TO DO in Prague:
Do Not Exchange Money On The Street
Do Not Trust the "0% Commission" From Exchange Office
Do Not Take Money From "ATM" but "Bankomat" from Local Bank
Do Not Take a Taxi On The Street
Do Not Show Your Valuable
The local currency of the Czech Republic is Crown (CZK or Kč) and locals called it "Koruna" instead of "Crowns". Most locations in Prague do accept euros but they will return you in CZK after converting to a weaker rate. So we will still advise you to exchange or take some money from ATM for trip usage but try not to keep Koruna as it can be used in the Czech Republic only.
1. Do Not Exchange Money On The Street
Commonly, people will approach you to exchange your money on the street but at a weaker rate. Please approach to reliable exchange office or take money from the ATM from the local bank.
2. Do Not Trust the "0% Commission" From Exchange Office
Like many of Europe's cities, most of the exchange offices claim for "0% commission" or a high exchange rate with a nice display to attract customers but in the end charge an exorbitant "exchange fee" when you exchange with them.
Remember to ask for the final amount you will get but not the exchange rate. Also, beware not to sign an exchange rate agreement before you make sure of the amount that you will get.
3. Do Not Take Money From "ATM" but "Bankomat" from Local Bank
The "ATM" is also one of the horrible currency exchange scams in Prague. You will surprise by tons of ATMs at every corner of Prague city center. Most of them are EuroNet ATMs with horrible rates or additional fee charges include.
Use "Bankomat" which is also ATM in local Czech from the Czech Republic local banks like Raiffeisenbank, UniCredit, and Moneta Bank for money withdrawn from your debit card. Your local bank might charge you some additional fee, but trust me, the exchange rate and charges are way better than you use EuroNet ATM.
4. Do Not Take a Taxi On The Street
Tourists getting ripped off by taxi drivers in Prague is becoming more and more common. Try to avoid taking taxis on the street especially those parked around trains or bus stations, even with metered taxis. You will be surprised by the final price when you reach the destination.
App-based taxi services in Prague, Liftago provide similar transport services to Uber and guarantee a cheaper fare. It helps travelers from being scammed by taxis.
5. Do Not Show Your Valuable
Remember to keep your valuable belonging with you and avoid busy carriages on metros and trams. Pickpockets are one of the problems in the major tourist area in Prague. Pay more attention to your belonging to avoid unwanted bad things happening.
What To Eat In Prague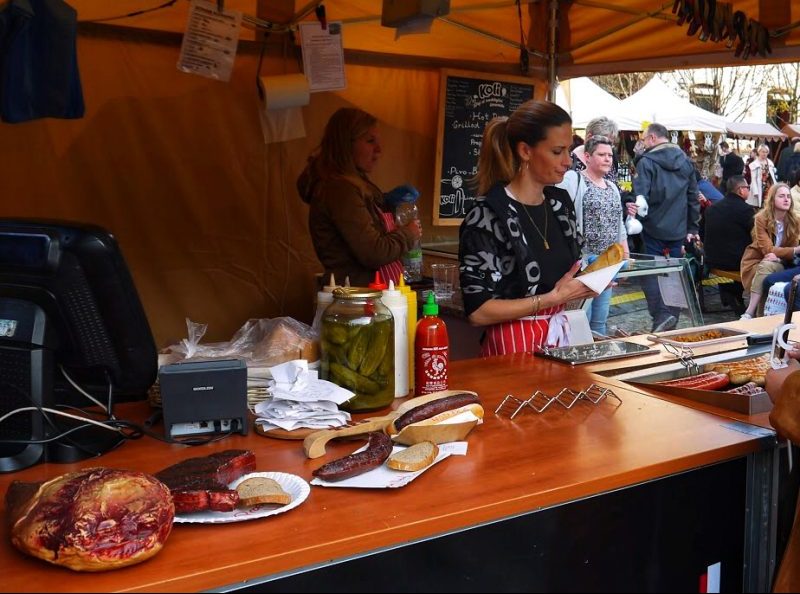 Beer, Everywhere!
Pork knuckle- The most famous dish in Czech cuisine! Try pork knuckles together served with horseradish, mustard, and pickled vegetables. The taste of this is fabulous!
Trdelník – Sweet pastry with your choice of filling like ice cream, chocolate, fruits, and more. Look for stalls that are serving them hot off the fire.
Chlebíčky (an open-faced sandwich) – baguette-like bread with different toppings like cucumber, egg, salami, and ham at many deli shops across the city.
Grilované klobásy (grilled sausage) – The fabulous grilované klobásy is grilled sausages placed inside a roll and served with a bunch of different sauces. Go perfectly together with a glass of a cold Pilsner beer!
Prague Food Guide – Where and What To Eat in Prague
Continue Read On: Traveling In the Czech Republic
Hopefully, my Prague travel guide with things to do and not to do can give you some idea during your visit to Prague. Don't forget to continue reading on our Prague travel blog including the itinerary, best food to eat, and transportation guide when traveling to Prague.
If you have more time, free feel to plan a day trip to Cesky Krumlov from Prague.