Last updated on September 23rd, 2023
Looking to plan out your trip to Hong Kong? Keep reading and learn everything you need to know in this Hong Kong Travel Guide blog for more information. Here's all the must-do and see when planning for Hong Kong itinerary.
Hong Kong, officially the Hong Kong Special Administrative Region (HKSAR) of the People's Republic of China is a vibrant and exciting place to travel. This bustling city is lined with skyscrapers, neon-lit streets, and at the same time with some of the magnificent cultural sights to visit. It is also a food paradise with extensive great food where you can spend your time exploring through your tastebuds. You'll find that there is plenty to keep you busy.
Let's start reading through this handy Hond Kong Travel Guide blog to learn how to have a rich and authentic experience when visiting this city. It gives you all the necessary information you need to get going. We'll not only show you the best places to visit in the city but also share with you other useful information such as the best areas to stay in and day trips to consider.
Here is a 5-day Hong Kong itinerary to help you make the most of your visit to Hong Kong, especially for first-time visitors.
Hong Kong Travel Guide: Pre-Trip Essential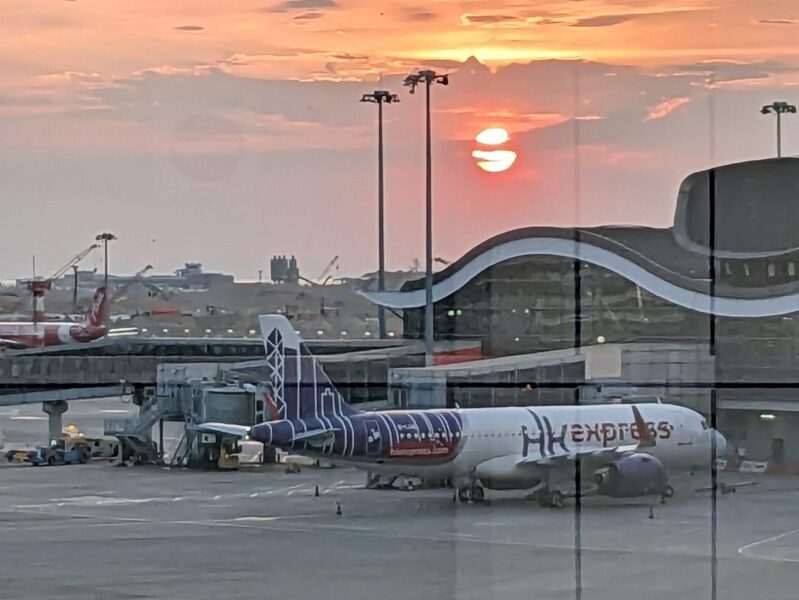 Before arriving in Hong Kong, it is important to know and pre-order some of the travel essentials to ease your visit to Hong Kong. It is hassle-free and easy where and you can collect them one-stop upon arrival at the airport.
Connectivity: Pre-ordered the SIM card with unlimited data and collected it from the airport to avoid hassle upon arrival.
Transport: Get an Octopus card, a contactless card used for traveling on public transport in Hong Kong. You can pre-order your Octopus Card which comes preloaded with money. And then, reload the cards at MRT stations, convenience stores, and even McDonalds. Get the Octopus Card from Klook and conveniently pick up at Hong Kong Airport.
Cash on hand: Most shops and restaurants can accept credit cards. But it is advice to keep some cash on hand as some of the local eateries and restaurants and establishments still prefer cash over credit.
How To Get to Hong Kong City from HKG Airport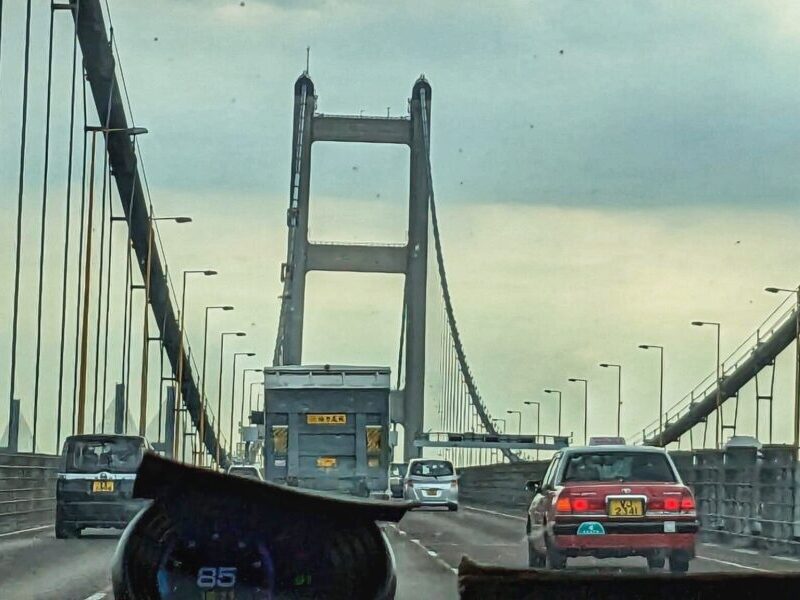 Once you land at the HKG airport, getting to the city of Hong Kong is quite straightforward!
There are multiway to get from Hong Kong International Airport (HKG) to the Central District of Hong Kong:
Hong Kong Airport Express departs every 10 minutes and costs HK$50 to HK$110, depending on the distance. The Airport Express stops at 4 different stations (Hong Kong Station, Kowloon Station, Tsing Yi Station, and AsiaWorld-Expo Station) where you transfer to an MTR. Get the ticket from Klook.
Airport Shuttle Bus service runs for some of the hotels in Kowloon or Hong Kong island at around HK$19.
Public buses is the cheapest alternative but will take up more time since they make more stops. It costs about HK$31 to get to Central MTR Station on bus N11.
Taxi from the airport to the city center will cost about HK$250 – 400.
Private Transfer: Definitely the most convenient way to get to and from the airport but also the most expensive. Book your private transfer from Klook.
Getting Around in Hong Kong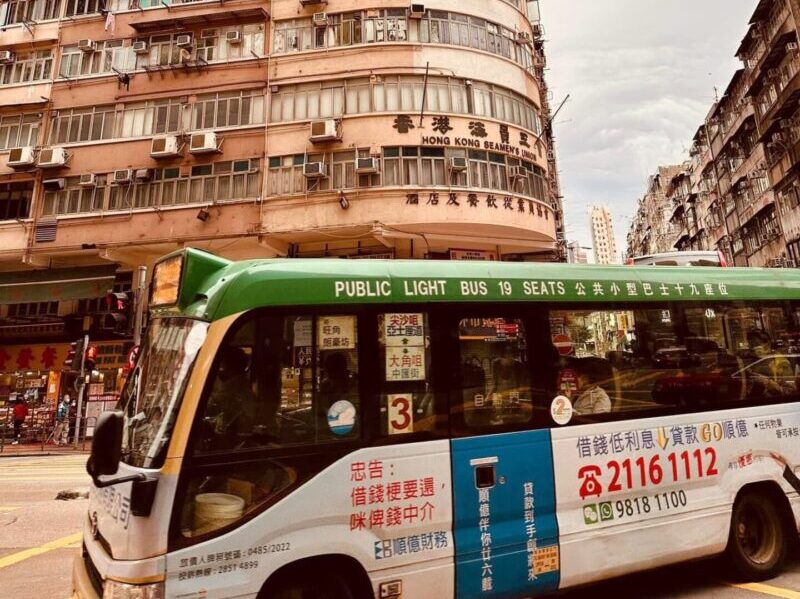 For exploring the city, here are a few good ways to get around Hong Kong:
MRT: The best way to get around Hong Kong is via the Mass Transit Railway (MTR) system. This extensive network has lines that stretch across all major districts.
Taxi: It is also very conveneint to hail a taxi to get anywhere in the city. But note that different colored taxis serve different areas. The red taxis cover everywhere, green taxis are for New Territories and blue taxis are for Lantau Island.
Tram: An unique way to explore the central area. A tram ride is cost a flat fare of HK$2.30, regardless of the distance you travel.
Buses: The bus routes covered most of Hong Kong and you get you almost anywhere on the island. Most buses are air-conditioned and very comfortable. Fares are calculated based on distance.
On Foot: Once you're in the desired area, walking is your best option. Hong Kong can easily be discovered on foot if you're visiting the main city center.
There is also of course the famous Hong Kong Sightseeing Hop-On Hop-Off Bus Tour. This is always popular among tourists, and it a is great way to see many famous landmarks around the city.
Hong Kong Travel Tips: Most of the time, we used the MRT for getting around. It is hassle-free and pretty easy to use the Octopus card for traveling on public transport.
Where To Stay
For first-timers, it's best to stay on the Kowloon side or on Hong Kong Island, close to the harbor and near the heart of the city. Below are our recommendation.
For more accomodation in HK, let's check out: Where To Stay in Hong Kong: Best Places and Hotels.
Staying in Hong Kong Island
For Hong Kong Island, this area boasts the best luxury hotels and quick access to public transport. The accommodation price is slightly more expensive.
Luxury: Mandarin Oriental is a popular choice for travelers looking for a luxurious hotel experience! The hotel promised luxury, elegance, and modern comfort. Expect world-class service when staying in Mandarin Oriental Hong Kong!
High-Range: Grand Hyatt Hong Kong offers an impeccable service for guests. Its elegant rooms overlook Victoria Harbour from floor-to-ceiling windows which is stunning.
Mid-Budget: Mini Hotel Causeway Bay is a stylish and trendy boutique hotel with modern facilities. Great value if you are looking for where to stay in Hong Kong with a cheaper price tag.
Staying in Kowloon Side
For Kowloon side, the most popular place to stay is the Yau Tsim Mong District which contains the urban areas of Yau Ma Tei, Tsim Sha Tsui, and Mong Kok.
Luxury: The Peninsula Hong Kong offers 5-star service and old-world charm on the edge of Victoria Harbour in Tsim Sha Tsui. Opened in 1951, this 5-star hotel prides itself on being HK's oldest hotel with nearly a century of excellence.
High-Range: Royal Plaza Hotel is centrally located in Mongkok atop the Mong Kok East MTR Station. All the rooms are elegantly decorated and spacious, providing a comfortable stay in HK.
Mid-Range: Hotel 1936 is one of the popular mid-budget stays when looking for where to stay in Hong Kong on a budget.  The location is great, 2 to 3 minutes of walk from a MTR Mong Kok Station.
How Many Days for Hong Kong itinerary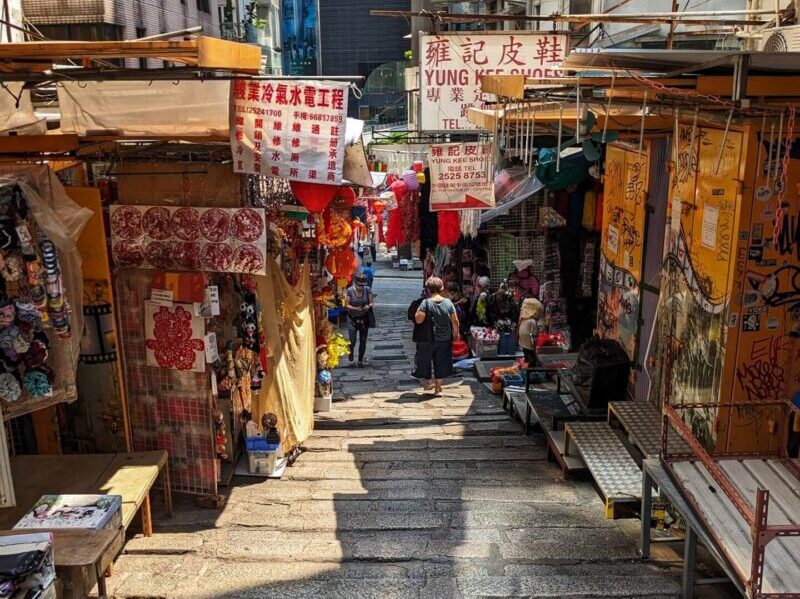 Hong Kong isn't that big, but we recommend spending at least three days in the city area for first-time travelers. It'll give you enough time to do the sightseeing and sample some of the great food in the city. Aside from that, consider planning day trips to the islands (Lantau Island, Cheung Chau, Tai O) or theme parks (Hong Kong Disney Land). So 5 days is the best duration to know about the city.
With 5 days you'll have ample opportunity to enjoy the best of Hong Kong and what makes it special. Here's a suggested 5-day Hong Kong itinerary to help you plan your trip.
Planning for 5-Days Hong Kong Itinerary
Hong Kong is a diverse city with lots of things to do for every type of traveller. Whether you want to go hiking, shopping, eat great food, or visit authentic villages, you'll be pleased to discover some of the activities to put into your Hong Kong itinerary.
Things to do in 5-Days Hong Kong itinerary:
Day 1: Central Hong Kong, Victoria Peak
Day 2: Kowloon side of Hong Kong, Victoria Harbour, Avenue of Stars
Day 3: Hong Kong DisneyLand
Day 4: Lantau Island
Day 5: Cheung Zhou Island
Day 1: Central Hong Kong
Central Hong Kong is an amazing place full of endless possibilities of things to see and do. We didn't include many activities when planning on the first and seconday day of Hong Kong Itinerary. Instead, we allocated some time to wandering around, people watching, and eating HK's local dishes in the city.
Eat A Dim Sum Breakfast
On your first day in Hong Kong, kick things off with a delicious breakfast: Dim Sum. This traditional Cantonese breakfast is a must-eat for every Hong Kong itinerary!
You'll find dim sum restaurants all over the city, but the best place to taste the authentic feel of old Hong Kong-style Dim Sum is Lin Heung Kui. The two-floor eatery is packed with dim sum trollies and bamboo baskets filled with classic Cantonese dishes.
Lin Heung Kui (蓮香居)
Opening Hours: Daily from 6:00 until 20:00.
Address: 2-3/F, 40-50 Des Voeux Road West, Sheung Wan, Hong Kong.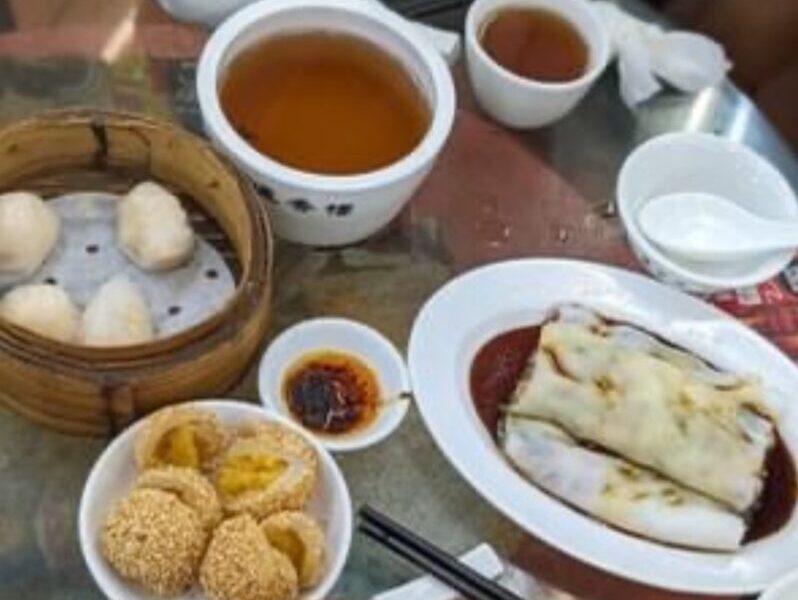 Enjoy the cha siu bao (barbecue pork buns), Har gau (shrimp dumplings), Siu Mai, Xiaolongbao, cheong fan (rice noodle rolls), fish balls, Chicken feet, and many more.
Hong Kong Pro Tips: You can also find Dim Sum restaurants in the more local neighborhoods like Yau Ma Tei and Mong Kok. The food is normally cheaper with a local vibe. If you are not sure where to eat, ask the hotel's recipient and they will happily share with you!
Experience Hong Kong Tramways (Ding Ding)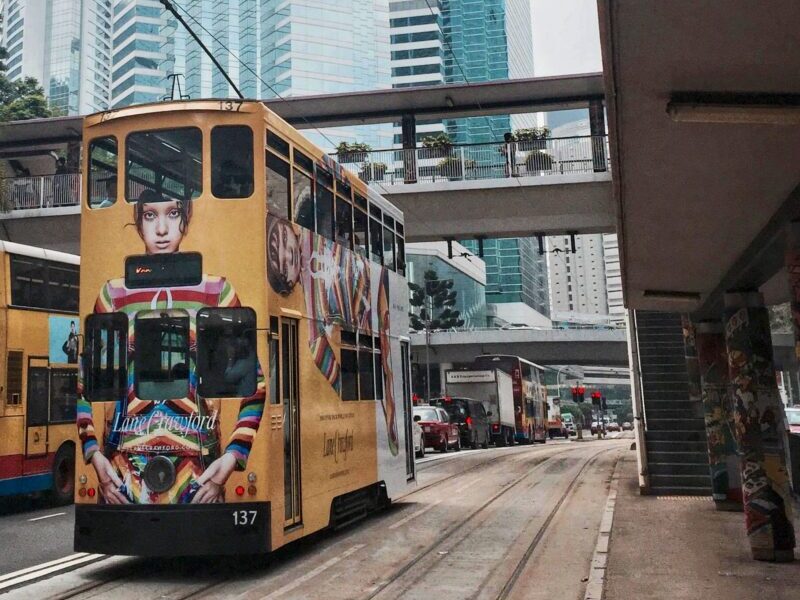 Take a nostalgic trip on the the Tram, also known as Ding Ding to travel around Hong Kong Island linking the East and West shores. It is a unique way to see the street view and vivid life of Hong Kong.
At a flat rate of HKD $3 regardless of distance, you can hop on and off from the tram. The cheapest ride in the city! You can use an Octopus card or drop the coins in the box by the driver when you leave. Please note that no exchange for cash.
Ding Ding runs on the Island side of Hong Kong only from east to west, Kennedy Town to North Point with a side route to Happy Valley. The best route is from Central to Causeway Bay. You can choose to sit (or stand) in the upper deck or lower deck. If possible, best to avoid the rush hours. You can choose to go upstairs and sit in the front with a better view and less crowded. A fun way to see the city!
Central–Mid-Levels Escalator and Walkway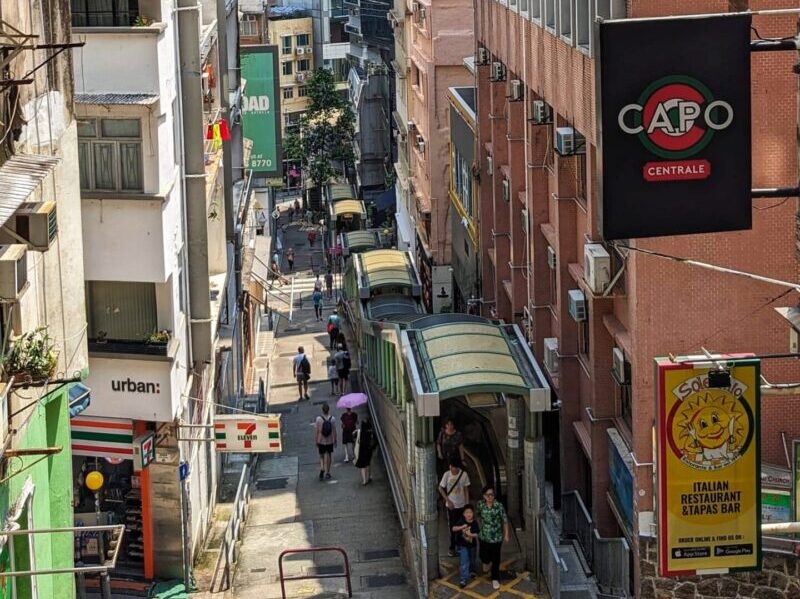 Opened in 1993, the Central–Mid-Levels Escalator and Walkway System in Hong Kong is the longest outdoor covered escalator system in the world. This impressive feat of engineering provides an improved link between the Central and the Mid-Levels on Hong Kong Island. It not only eases the daily commute for thousands of people but also offers a unique perspective on vibrant city life.
Along the walk, you get an excellent view from above of Hong Kong's city streets and markets from Central to the Mid-Levels. It's worth doing just for this unique birds-eye view. Allow about 20 minutes one way. A unique opportunity to experience the heart of Hong Kong's lively cityscape.
Hong Kong Travel Tips: It is good to know that the escalator only goes one way at a time. It runs downhill into Central, taking commuters into the city at the start of the day between 6:00 to 10:00. After 10:00, the escalator will be in reverse direction and runs uphill for the rest of the day until midnight when it stops altogether.
Lunch at Lan Fong Yuen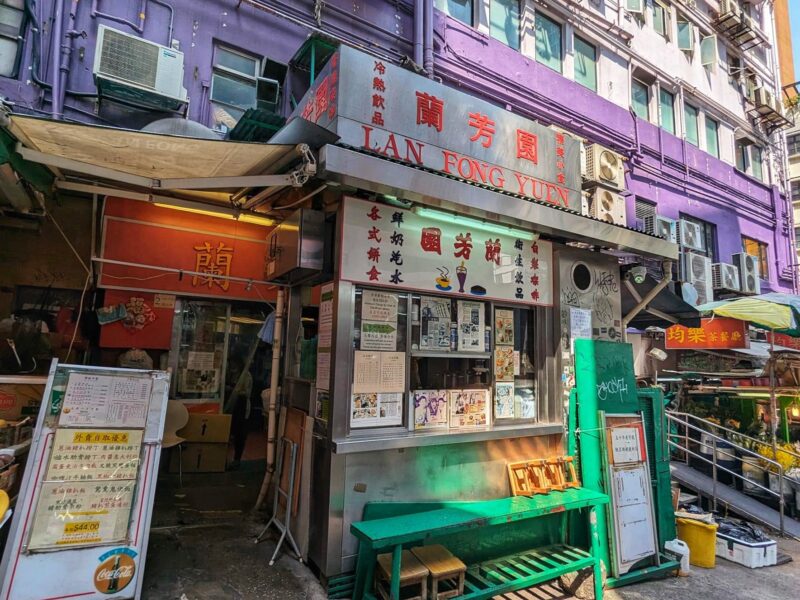 Being the pioneer of milk tea, Lan Fong Yuen (蘭芳園) is one of the longest-existing cha chaan teng hasn't been around for more than 60 years. With all the decades of serving the classic milk tea, they remained popular with both locals and visitors. There are few branches around the city including this little place on Gage Street in Central.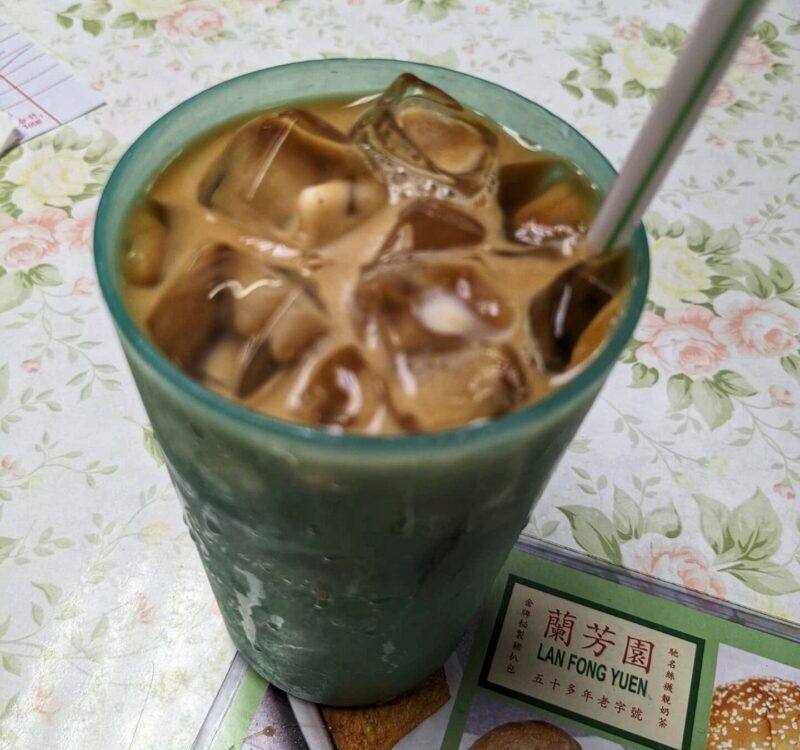 The little shop can be quite busy and you'll often find a queue waiting outside to be seated or for a take-away milk tea. You can try HK-style dishes such as instant noodles with meat, pork chop bun, french toast, and of course their locally famous milk tea.
The milk tea is made with the traditional method of using silk stockings. The taste is strong, smooth, and silky in texture. Worth stopping by when you are in the area.

Lan Fong Yuen (蘭芳園)
Address: 2 Gage Street, Central, Hong Kong
Nearest MTR: Central (Exit C)
Victoria Peak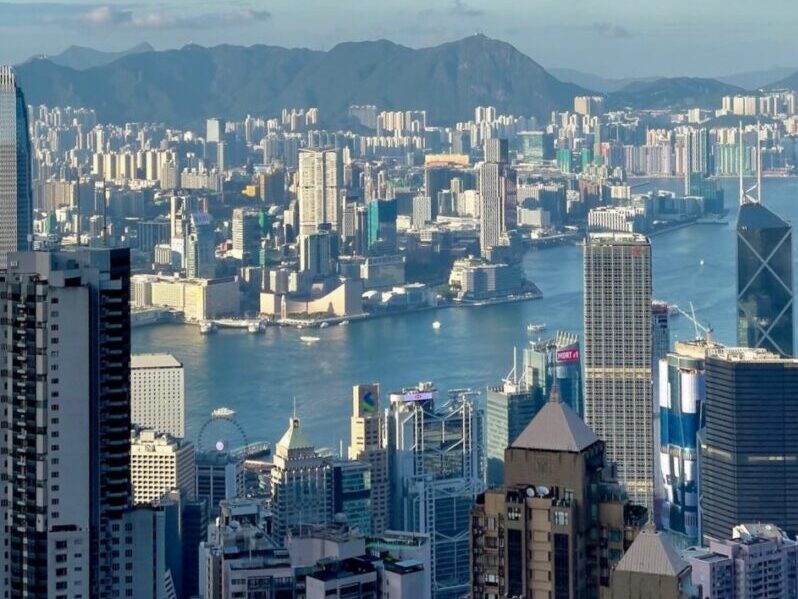 Located on the western side of Hong Kong Island, Victoria Peak is one of Hong Kong's most popular attractions. Known locally as "The Peak", Victoria Peak boasts an unbeatable view of Hong Kong's city's skyline, natural landscapes, as well as the Victoria Harbour. It is the highest point on Hong Kong Island!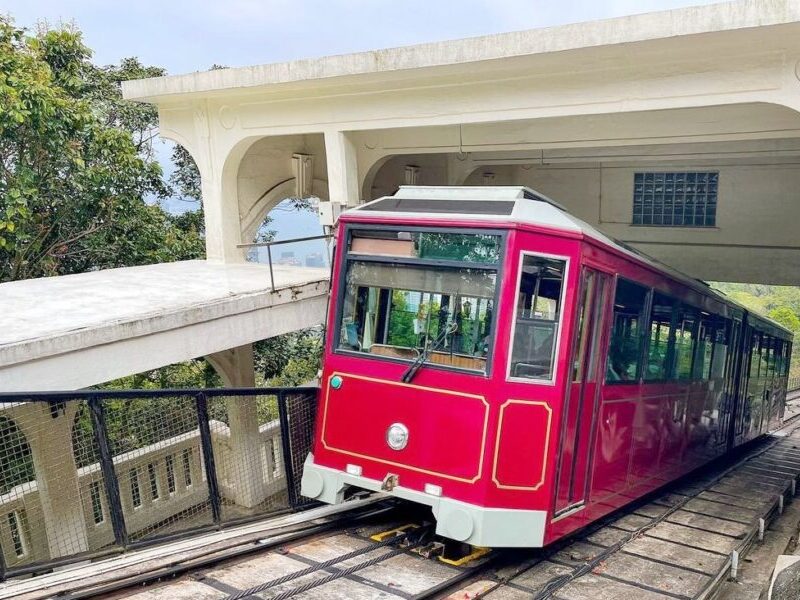 There are many ways to visit the Peak like city bus, minibus, and tram, depending on your budget and independence. The Peak Tram is the most popular option. It is Asia's oldest funicular and is the quickest and most scenic way to reach the summit.
Purchase the Tram Peak Ticket from Klook in Advance to skip the Queue
The tram ride directly leads you to the Peak. Here you can opt to access the Sky Terre 428 — the highest 360-degree viewing platform in Hong Kong overlooking the city. You can also check out the Madame Tussauds Museum and the Trick Eye Museum!
Hong Kong Travel Tips: Plan to reach the top 15 minutes before sunset to enjoy daytime views as well as the dazzling skyline at night.
Day 2: Kowloon Hong Kong
Day 2 will be focused on exploring the Kowloon side of Hong Kong.
Kowloon has a local feel where you will see the majority of locals live with a more authentic experience. The restaurants and shops are cheaper and more affordable compared to the Hong Kong Island side. You will find different things to do in Tsim Sha Tsui, Yaumatei, and Mong Kok areas.
Start with HK-Style Breakfast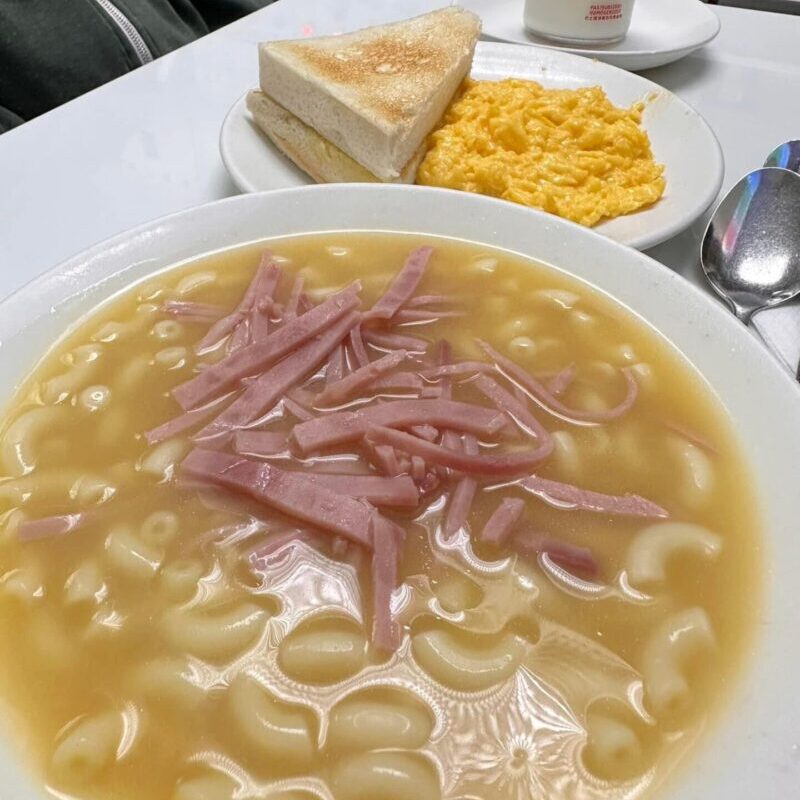 A Hong Kong itinerary isn't complete without the Cha Chaan Teng (local teahouse) experience. Start the day with a local breakfast at Hong Kong's cha chaan teng to start your day. There are many Cha Chaan Teng scattered around Hong Kong. Depending on where you stay, look for the one near you.
We recommended the Australian Dairy Company (澳洲牛奶公司) at Jordon. Their breakfast with fluffy and milky scrambled eggs and toast is so tasty!
Australian Dairy Company (澳洲牛奶公司)
Address: 47-49 Parkes Street, Jordan.
How to get there: Walk 2 min from Jordan MTR Station, Exit C2.
Yaumatei Tin Hau Temple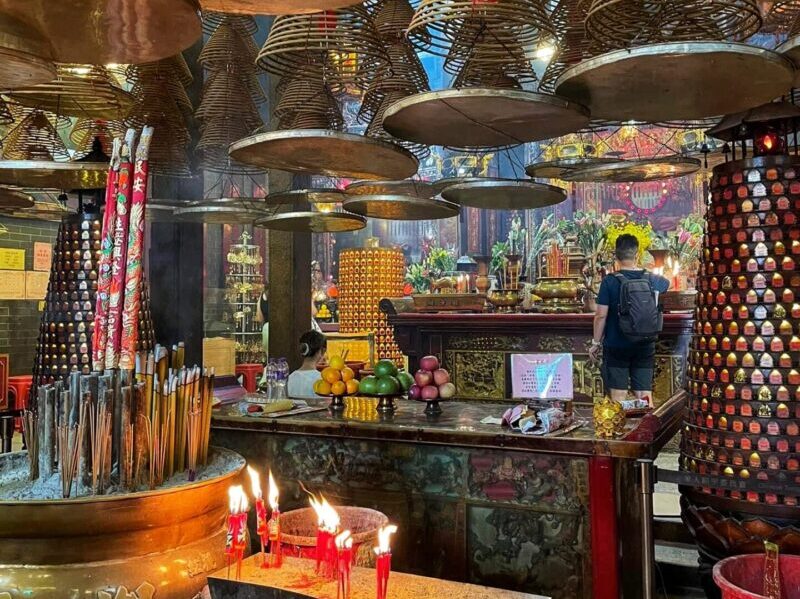 Just two MTR stops away from TST is the Yaumatei Tin Hau Temple, one of the oldest religious institutions in Hong Kong. The temple is located on Yau Ma Tei Temple Street near Public Square Street, which is the origin of the street name "Temple Street".
Tin Hau Temple is dedicated to Tin Hau, the goddess of the sea. It is busy, with loads of worshippers, and incense burning. Spend some time exploring the temple grounds and respect the Chinese religion.
Tsim Sha Tsui and Mongkok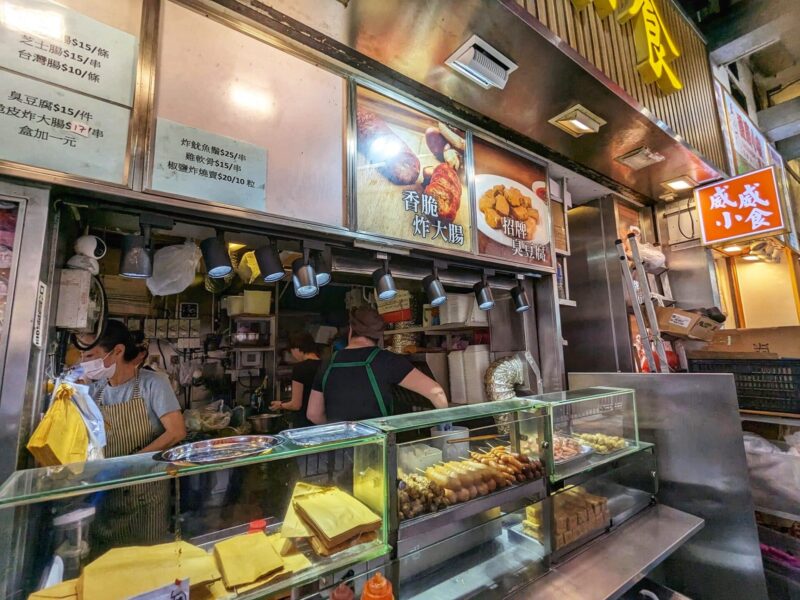 Next, spend some time wandering at Tsim Sha Tsui and Mong Kok area.
Tsim Sha Tsui is popular for their proximity to major attractions, shopping, and dining options. It is the busiest area in the Kowloon side which offers everything from a trendy shopping mall to unpretentious stalls.
While Mong Kok has a more local vibe. It is lively with plenty of restaurants and small eateries serving food from around the world. It is also one of the best places to enjoy some of the street food in Hong Kong.
Victoria Harbour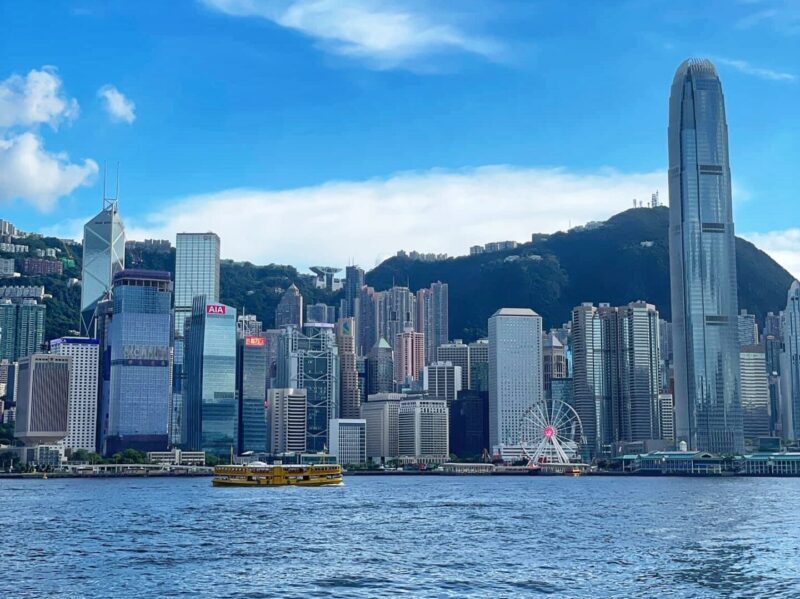 Victoria Harbour is a spectacular sight and one can't leave Hong Kong without spending some time around or on Victoria Harbour. Numerous hotels, restaurants, a handful of bars, and even our Museum of Art offer excellent views of Victoria Harbour.
From Hong Kong Island, the Central Promenade runs from the Star Ferry piers to Wan Chai. The wide flat path has several viewing decks, art installations, and seating areas. On the opposite side, the Tsim Shai Tsui Promenade allows you to walk from the Star Ferry, along the Avenue of the Stars.
In day time you can take a leisurely walk along the waterfront promenade admiring the views of the water and skylines. Visitors also can enjoy the short ferry ride across the harbor on the historical Star Ferry and other companies.
Symphony of Lights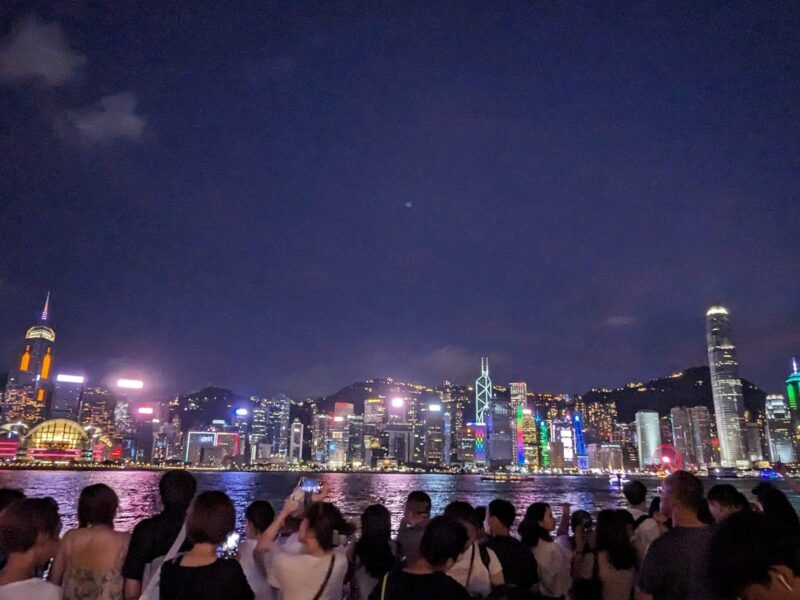 At night time, you can watch the light show – Symphony of Lights provides a nightly spectacle of light and music playing out on both sides of the Victoria Harbour. The light show on the bay is breathtaking, and overlooks with famous Hong Kong city skyline.
The light show is on every night at 20:00 and lasts for about 10 minutes.
Avenue of Stars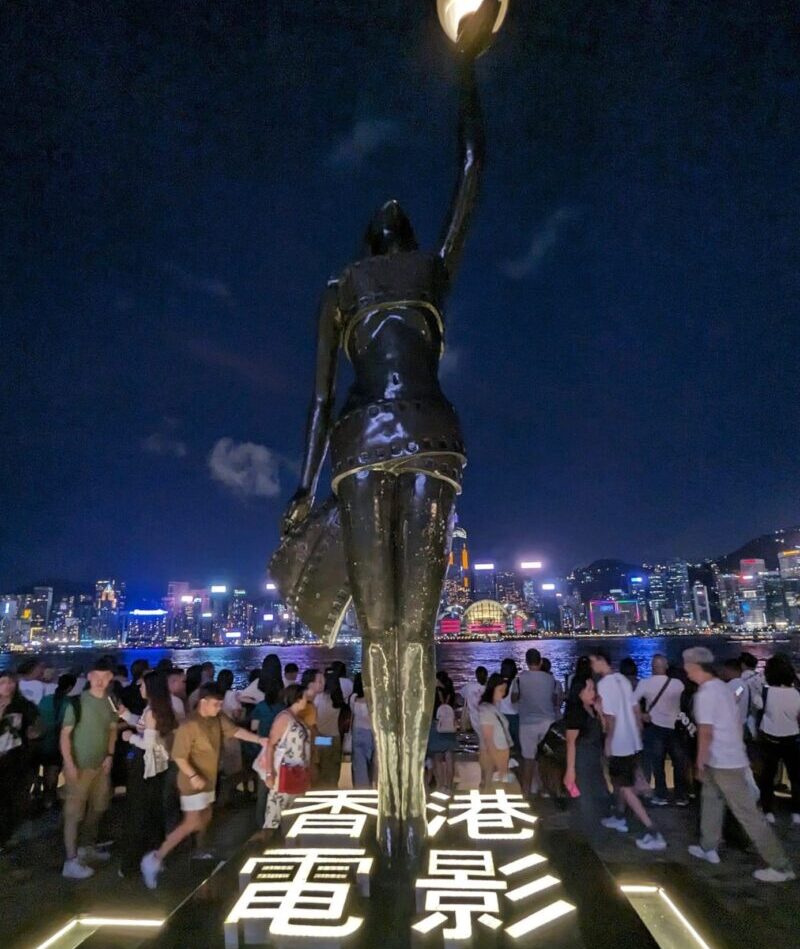 Avenue of the Stars promenade is a 400-meter-long pedestrian space that runs alongside the Victoria Harbour. It is a beautiful, open promenade, and the stroll along the promenade is rewarded with fabulous million-dollar views across Hong Kong island. Excellent for picture-taking, both daytime and nighttime.
Besides the great view, Avenue of the Stars is basically the Hong Kong version of Hollywood's Walk of Fame. The promenade is lined with sculptures, plaques, and bronze handprints of some of Hong Kong's most famous actors and directors like Bruce Lee, Jackie Chan, Jet Li, Michelle Yeoh, and Over 100 Hong Kong celebrities and actors. You can take a leisurely stroll along the avenue, take some pictures of the bronze statues, and learn more about Hong Kong's film industry.
Hong Kong Night Market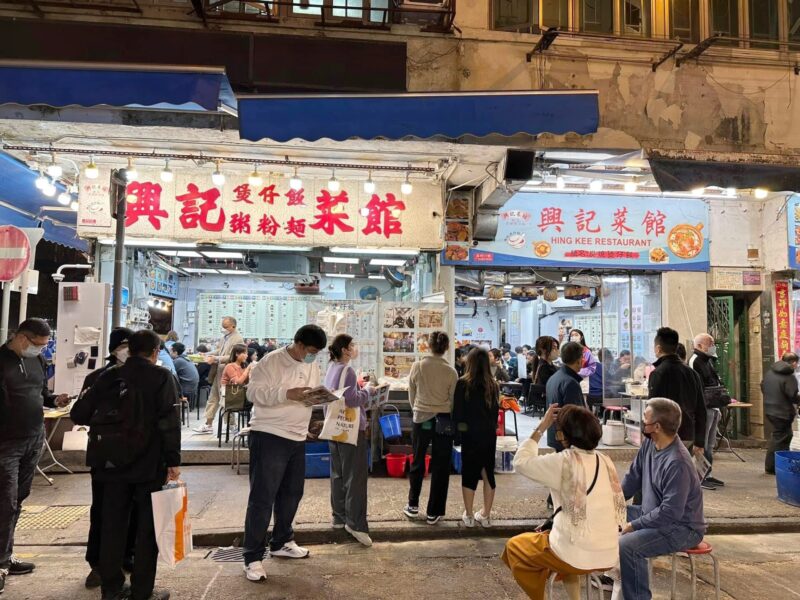 Next, it's time to head to Hong Kong Night Market.
Temple Street is one of the liveliest night markets in Hong Kong and the perfect place to visit for a real Hong Kong market experience. There are also several other street markets adjacent such as the Ladies' Market, where you can couple together on your visit.
At the marketplace, you can find a wide range of local stalls selling everything from clothing and accessories to electronics and souvenirs. A place to shop for inexpensive items. Most stall owners are set up in the late evening. Even if you don't buy anything, it's fun to walk around or grab a bite to eat at one of the many food stalls while you're there.
We have a quick stroll along Temple Street before heading for the signature smokiness of clay pot rice at Hing Kee, Temple Street.
Nearest MTR: Jordan or Yau Ma Tei
Day 3: Hong Kong Disneyland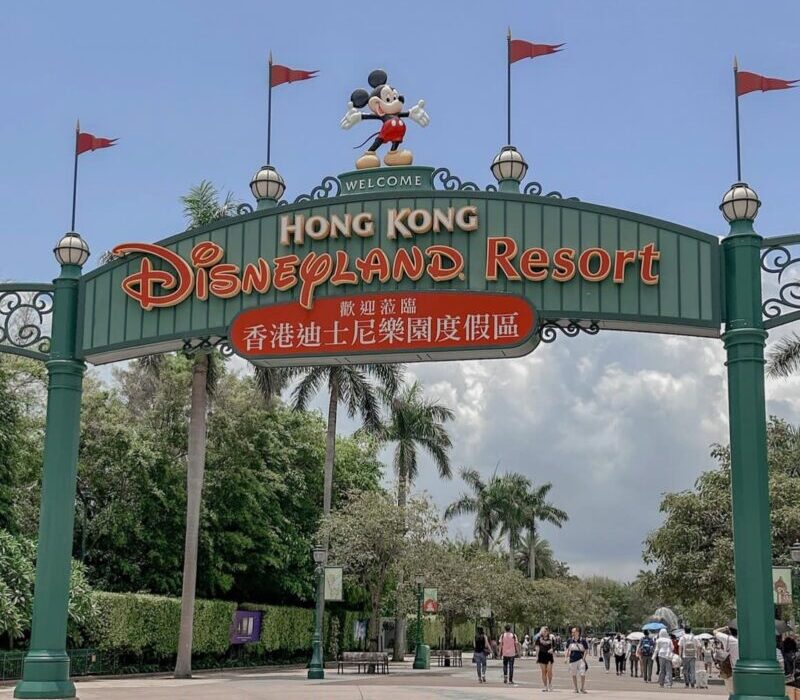 Located on Lantau Island, Hong Kong Disneyland is one of the most popular Disney theme parks in Asia. If you're a Disney lover or traveling with kids, a visit to Hong Kong Disneyland is a must-do for your Hong Kong itinerary!
Getting to Disney Land Hong Kong is pretty straightforward. From Sunny Bay MTR Station, transfer to the Disneyland Resort Line. Next, follow the signs and walk 5 mins to the entrance. You are set to start the Disney adventure!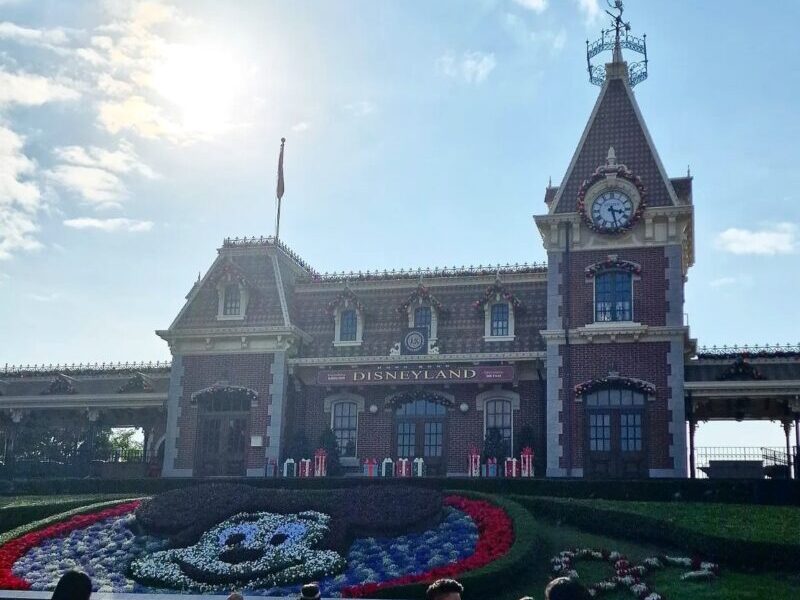 Hong Kong Disneyland offers a range of classic and new rides, shows, and attractions. All attractions are narrated in English, Cantonese, and Mandarin, so you won't need to worry about a language barrier.
From the moment you enter the entrance' gates, it feels like stepping inside a Disney World. The main street is lined with themed souvenir stores and cafes and is full of happiness vibe. There are also many rides, parades, and shows within the park. Don't miss the Hong Kong-exclusive Mystic Manor (ghost-themed cart ride) and Iron Man experience (3D-motion simulator) ride. Truly an awesome experience for all ages!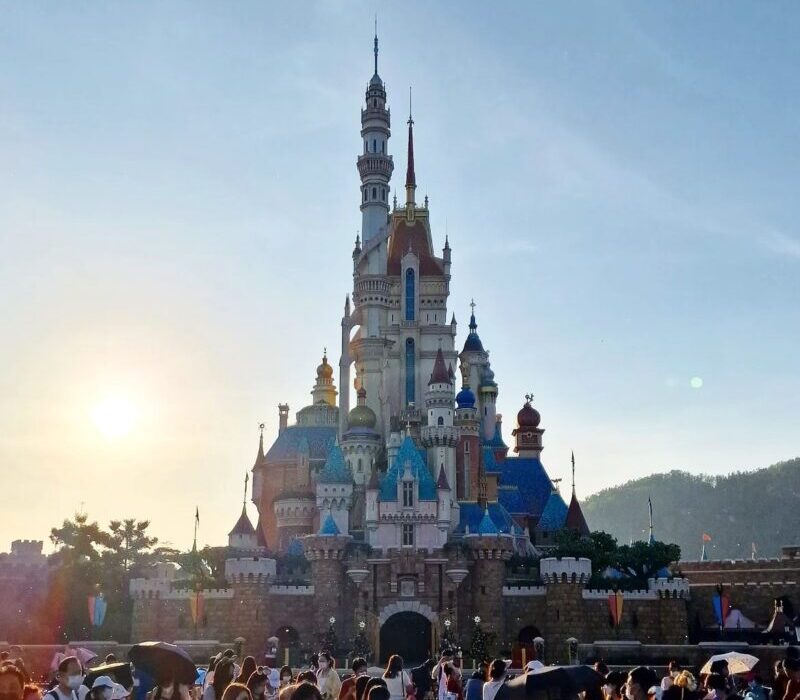 Disney Land is a full-day excursion. You can take a whole day to experience it fully. You can choose for one-day or two-day (2 visit within 6 days) admission to the park. And you may get discounts if you purchase advanced tickets on Klook.
To Know More About the Price and Packages: Hong Kong Disney Land Tickets from Klook.
Hong Kong Disneyland
Entrance Fee: HK$619 (Get discount ticket by pre-booking on Klook)
Opening Hours: Varies depending on season.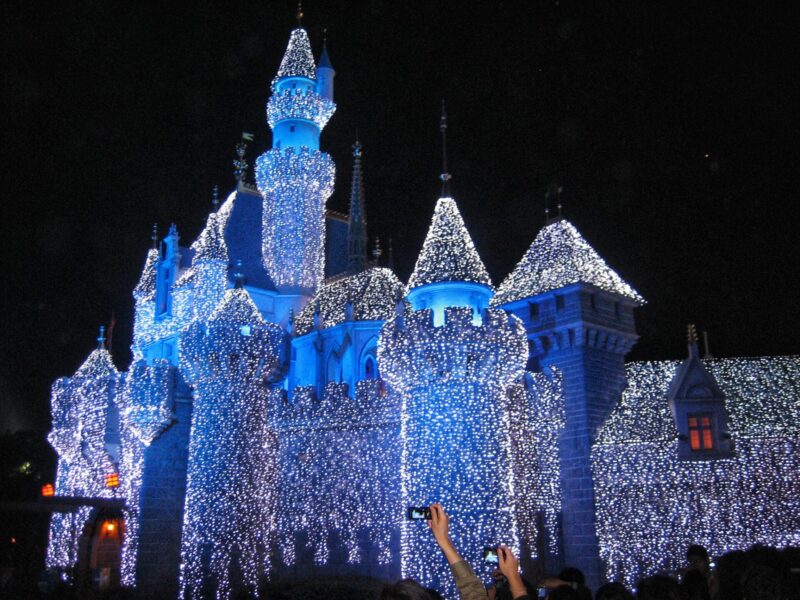 For a marvelous experience, conder to stay in Hong Kong Disneyland Hotel.
This 400-room hotel combines the splendor of a vintage seaside resort with the magic of Disney. It features elegant accommodations with modern amenities as well as 2 themed pools and a Mickey maze. You may also get a chance to meet your favorite Disney characters at this hotel!
Check for price and room availability
Day 4: Lantau Island and Tai O Fishing Village
Hong Kong has several islands like Lamma Island, Lantau Island, and Cheung Chau is best to plan for a terrific day trip excursion from Hong Kong. Each has its unique character and attractions.
Among all the choices, we recommend heading to the epic Lantau Island when planning for the 5 day Hong Kong itinerary!
Lantau Island Big Buddha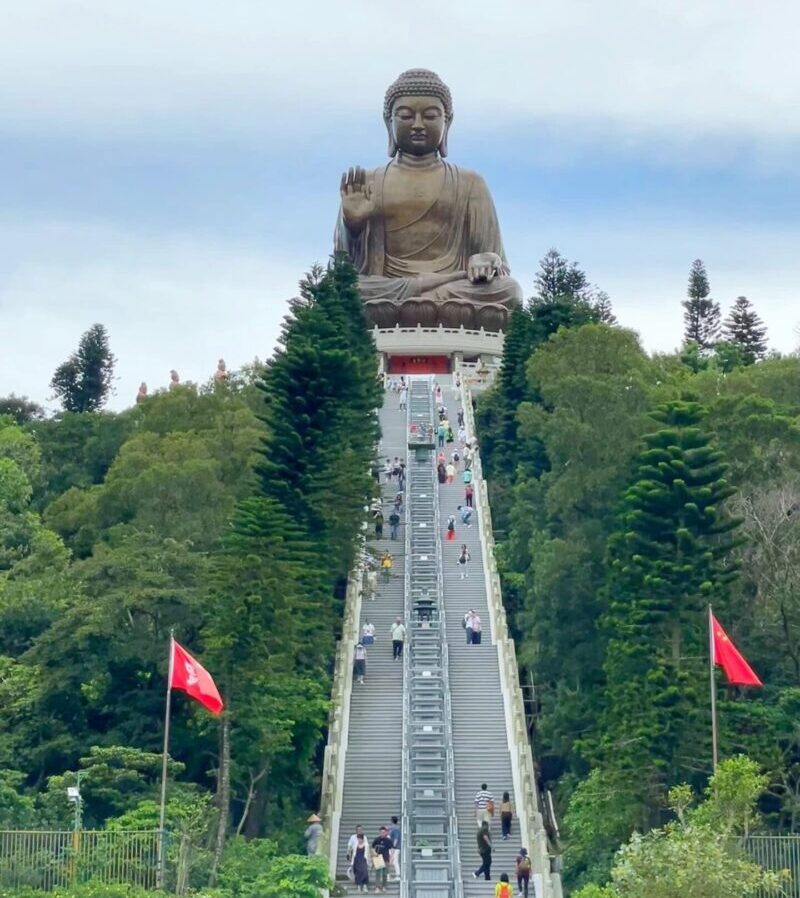 Lantau Island is the largest island in Hong Kong and home to some of Hong Kong's most beautiful natural landscapes. There are a few transportation options to get to Lantau Island. You can either catch Hong Kong's most iconic cable cars up to the Big Buddha or take a ferry to the island to reach Tai O Fishing Village first.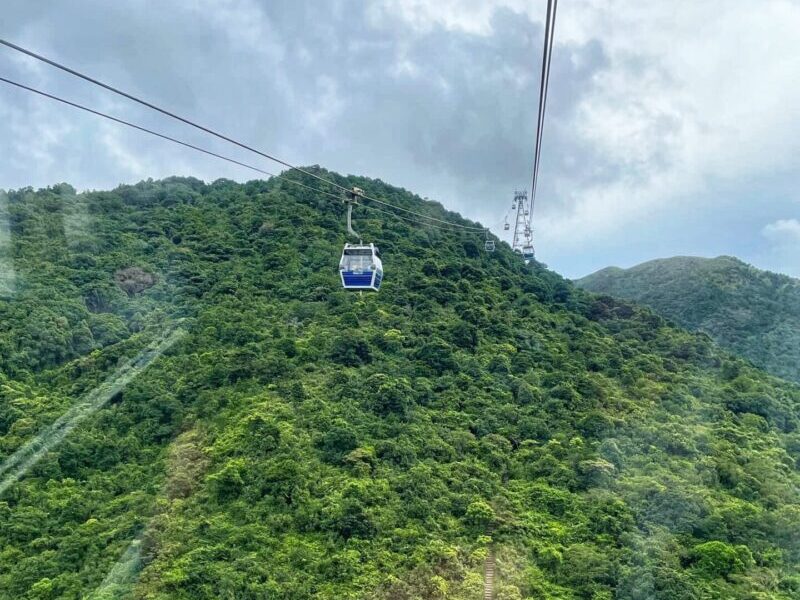 Most tourists go to Lantau Island via Ngong Ping 360 which is often cited as one of the best and longest cable car rides in the world (5.7 km).
Spend some time at Tian Tan Buddha, one of Hong Kong's most popular attractions with an impressive sight at 34 meters high (112 feet). Other attractions include Ngong Ping Village and Po Lin Monastery.
READ MORE: Lantau Island Itinerary: A Travel Guide Blog
Hong Kong Travel Guide Tips: You can purchase tickets to the Ngong Ping 360 Cable Car Ticket in advance through Klook to avoid the queue.
Tai O Fishing Village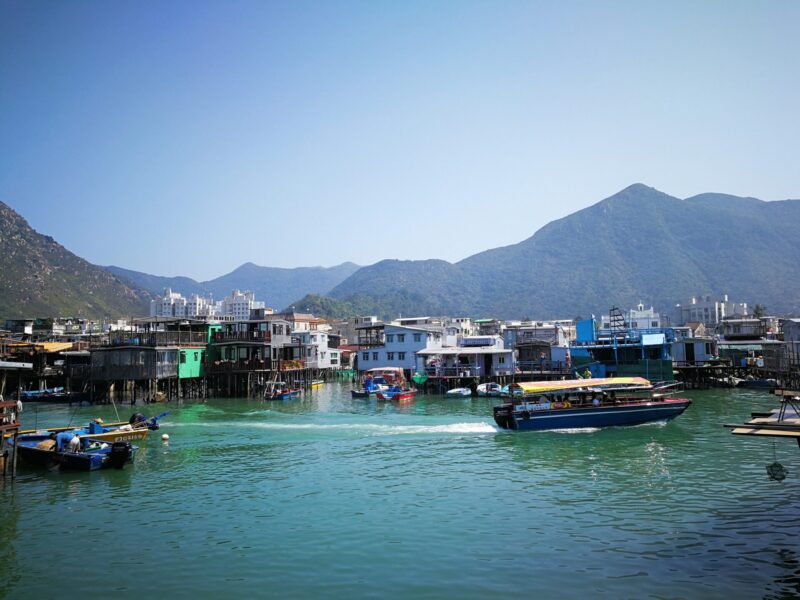 If you have more time, you can also consider coupling your trip to Tai O, a quaint fishing village with stilt houses built over a canal. One of the best places to experience a slower pace of life is Hong Kong.
Be sure to check out my travel blog on Tai O Fishing Village for more pictures and information.
Day 5: Day Trip to Cheung Chau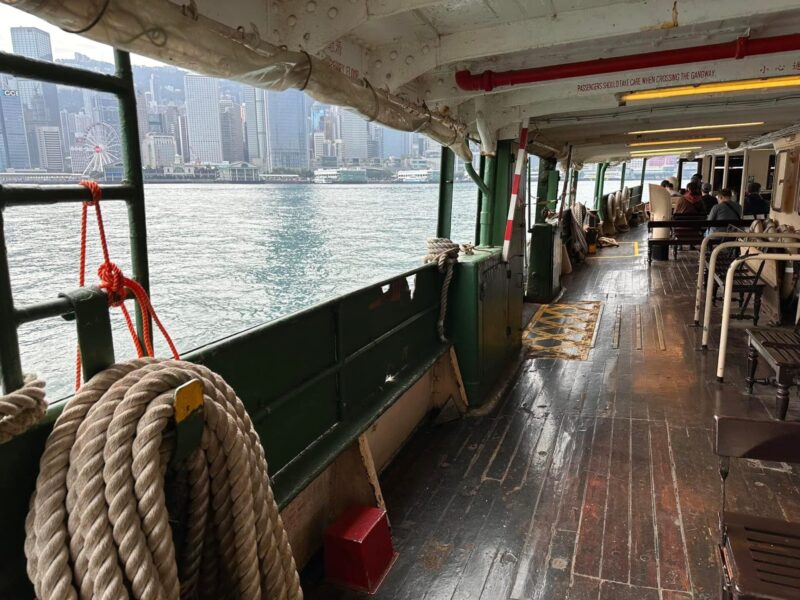 Another worth recommendation place is Cheung Chau.
Cheung Chau (長洲) is a great one-day trip from Hong Kong with just about 45 minutes by ferry from Hong Kong Island, . This island is famed for its natural attractions, local delicacies, street snacks, and unique heritage. It was once a small fishing village and turned into a popular place to visit by locals and tourists.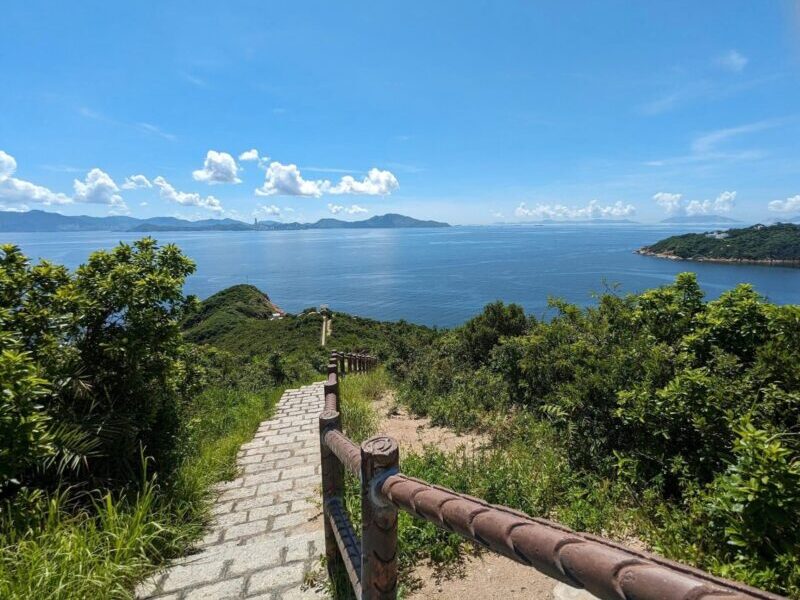 It is a pleasure one-day Cheung Chau trip to explore this local village after visiting the city. We truly loved the small village vibe here and the slower lifestyle. Read more our travel story: Trip to Cheung Chau Itinerary.
Overall: A Trip to Hong Kong
All in all, Hong Kong is a city that's full of things to see and do, and these are just a few of the many attractions that the city has to offer. Whether you're interested in culture, history, shopping, or outdoor adventure, you'll find something to suit your interests in Hong Kong.
In short, we hope you can find this Hong Kong travel guide helpful and can plan your trip based on your interest. There are still many things to see and day trips you can plan for your Hong Kong itinerary. But for the 5 days, this is the ideal to see what this amazing city offers. Enjoy your trip!
Traveling to Hong Kong and looking for some inspiration? Here is our Hong Kong travel stories: