Last updated on September 23rd, 2023
If you are planning a trip to Lantau, this quick and easy travel guide blog will give you everything you need to know to plan the Lantau Island itinerary!
Lantau Island (大嶼山) is the biggest outlying island in Hong Kong. There's so much Lantau Island has to offer. Besides being home to Hong Kong's Disneyland, you'll also find Tian Tan Buddha, Po Lin Monastery, and Ngong Ping 360 on the island.
A day trip to Lantau Island presents endless options for attractions, cultural sights, and fun. Plan your visit to the island to climb up to the Tian Tan Buddha statue, admire the Buddhist architecture at Po Lin Monastery, or even side trip to Tai O Fishing Village. Lantau has everything you could be looking for!
Here's how to plan a Lantau Island itinerary with all the best things to do on the island.
Getting To Lantau Island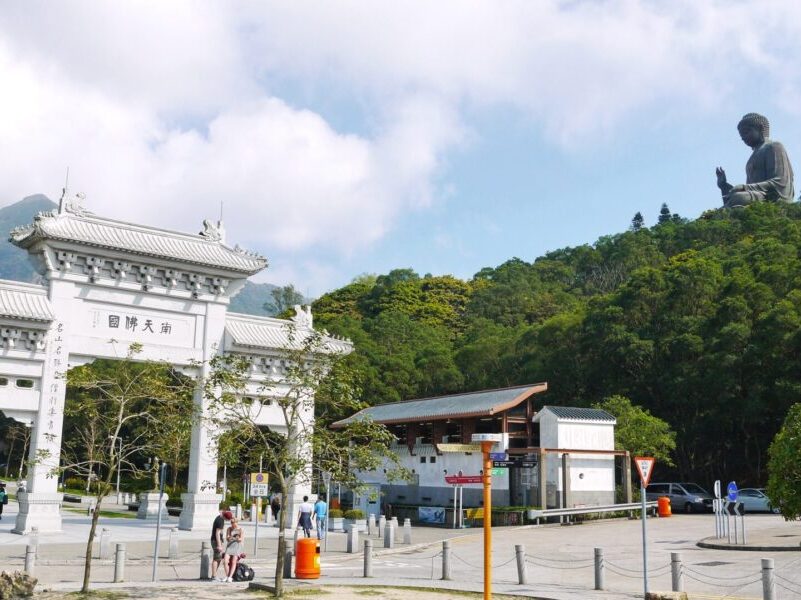 There are multiways to get to Lantau Island from Hong Kong. But it all depending on where you come from and going to which part of Lantau Island. To get to the Lantau Island Big Buddha, you can either choose to catch Hong Kong's most iconic cable cars up to the Big Buddha (Tian Tan Buddha) or by bus.
Here is the commonly best way to get to Lantau Island Big Buddha / Po Lin Monastery / Ngong Ping 360:
By Cable Car: Getting to Tung Chung MRT station (Exit B) and then walking to the Ngong Ping 360 to ride the cable car. The ride is about 20 to 25 minutes. Purchase Cable Car tickets from Klook in advance to avoid crowd.
By Bus: Getting to Tung Chung MRT station (Exit B) and then to the town center. Find the New Lantao Bus (#23) which will go to the Buddha. The time is longer and about 45 minutes.
Things To Do in Lantau Island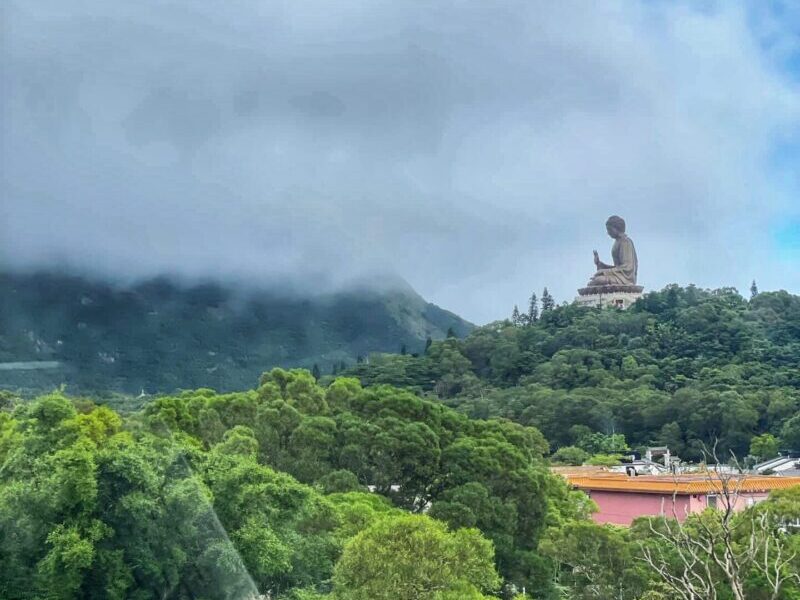 Here is the Lantau Island itinerary for suggestions on what to do and visit. All the attractions are grouped together and best to couple to visit hand in hand. You can also plan for a side trip to Tai O Fishing Village nearby.
Lantau Island itinerary:
Ngong Ping 360 Cable Car Ride
Strolling in Ngong Ping Village
Admire Tian Tan Buddha
Po Lin Monastery
Side Trip to Tai O Fishing Village
Lantau Island Travel Guide: The island is easy enough to explore on your own to visit all the attractions. But if you want to go on a guided tour, then you can book one through Klook. Here is the suggested Lantau Island Discover Tour.
Ngong Ping 360 Cable Car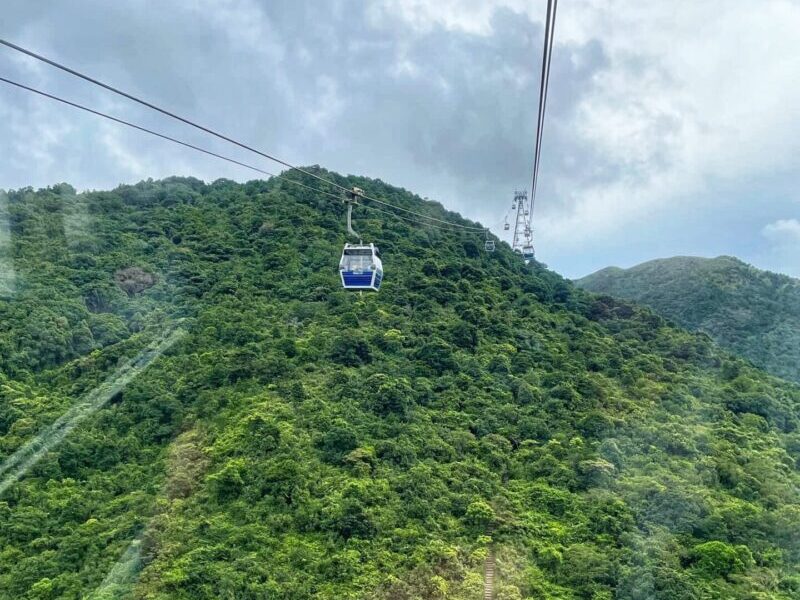 The most exciting way to reach Lantau Island is using the Ngong Ping 360. Often cited as one of the world's best cable car rides, Ngong Ping 360 is a 5.7 km long cable car ride that provides a great view of the Lantau island.
Purchase Ngong Ping Cable Car Ticket from Klook
The ride will travel across through the mesmerizing landscapes of Hong Kong and take you to the Lantau Island.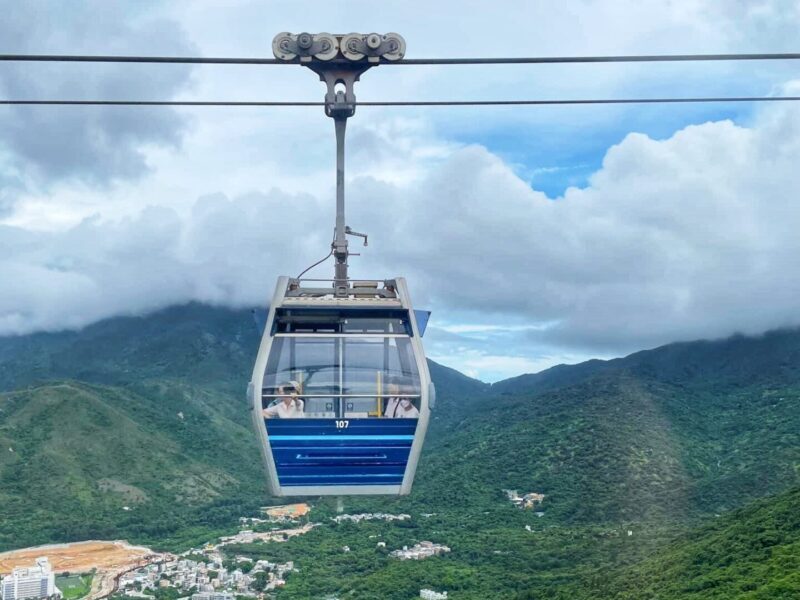 Your cable car journey begins at the Tung Chung MTR station, where you'll purchase a ticket for the cable car. For an enhanced experience, you can also choose to upgrade to a crystal cabin Ngong Ping 360 with a 360-degree view including a full glass bottom to enhance your view as you ascend the mountain.
Starting from Tung Chung Town Centre, the cable car effortlessly glides above the lush mountains until reaching Lantau Island. It offers panoramic vistas of the surrounding natural beauty. Enjoy a 25-minute cable car ride with an immersive experience!
Lantau Island Travel Tips: It is best to purchase the cable car ticket ahead of time before arriving. The queue is extremely long on busy days, especially during the weekend.
Ngong Ping Village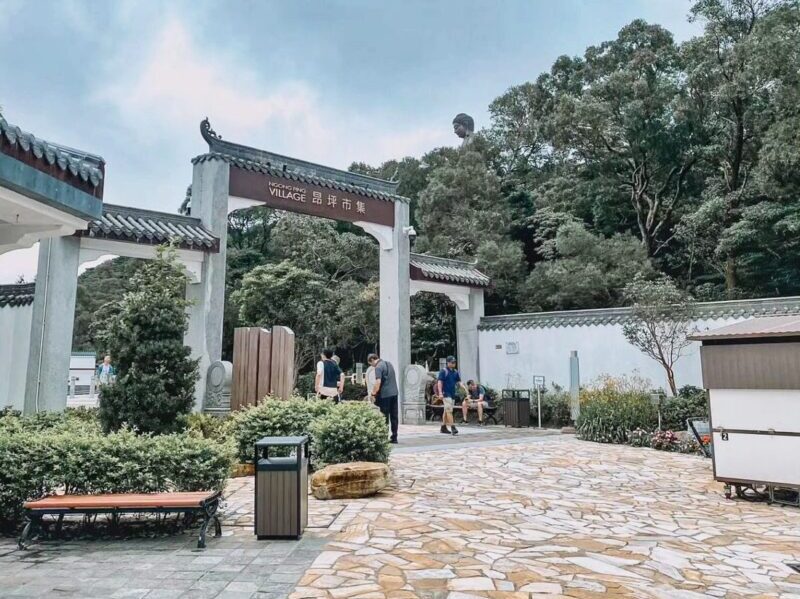 Arriving at Ngong Ping, you'll be captivated by the charm of Ngong Ping Village. You can choose to wander around the village once you arrived or before riding the cable car back to Hong Kong.
Ngong Ping Village is a quaint village that showcases the rich heritage of Hong Kong. The area is filled with small restaurants, eateries, and souvenir shops. Take a stroll through the village to do some shopping or grab some food here.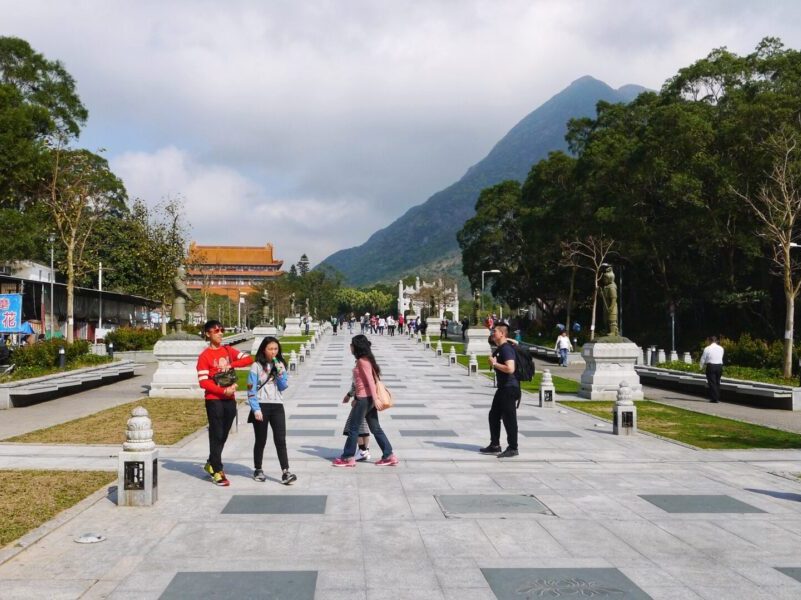 Slowly, from Ngong Ping Village, you will eventually get to the base to the Tian Tan Buddha.
Tian Tan Buddha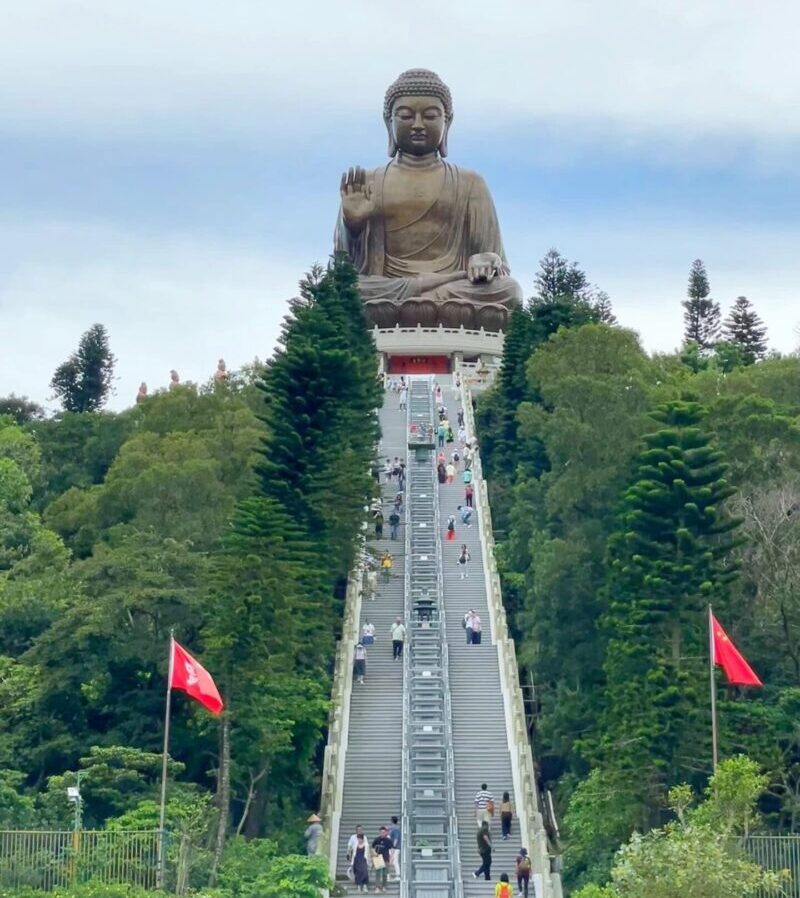 The Tian Tan Buddha, also known as the Big Buddha is an impressive sight at 34 meters high (112 feet). Unveiled in 1993, the statue symbolizes the harmony of the relationship between man and nature, between people and religion.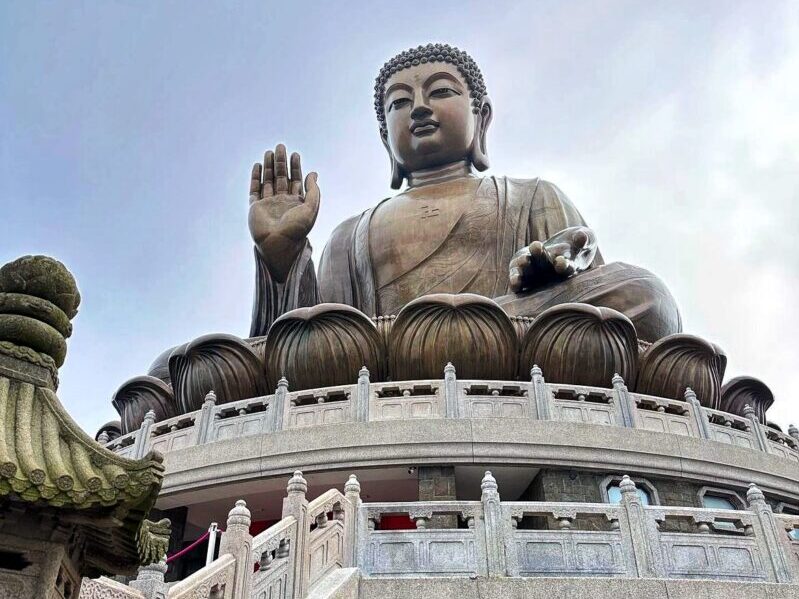 From the base, you'll need to climb the 268 steps up to reach this grand bronze statue. It is a long way to go up, but trust me, the view is definately worth the climb. Once at the top, the panoramic views are unrivaled!
The Buddha statue is also simply impressive and you truly can't gauge the size of the Buddha until you're up close. A very impressive statue of Buddha indeed, also from different angles!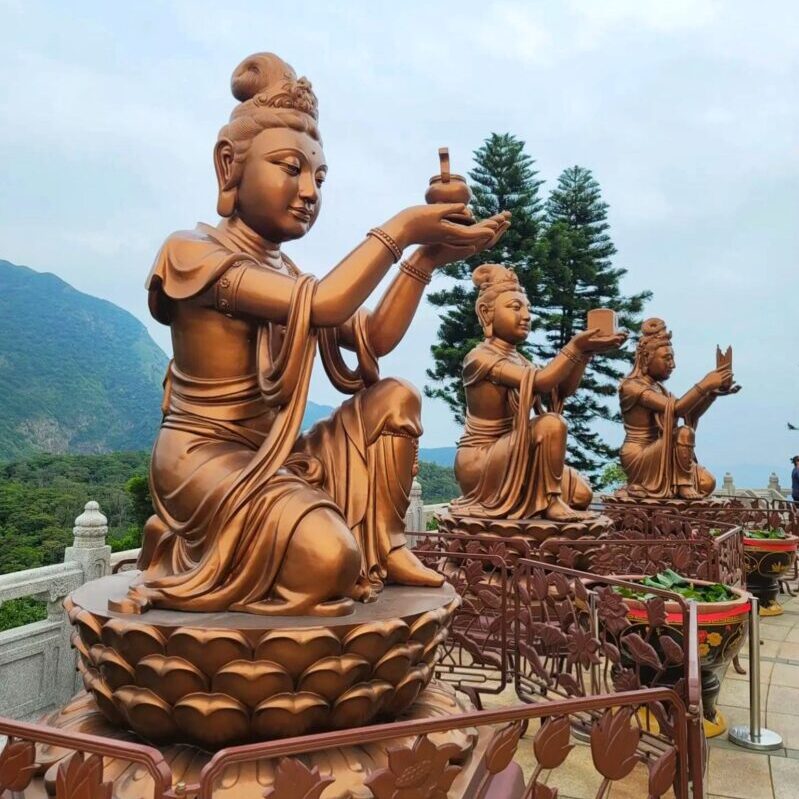 Surrounding the Tian Tan Buddha are six smaller bronze statues known as "The Offering of the Six Devas" that are posed offering flowers, incense, lamp, ointment, fruit, and music respectively. They symbolize charity, morality, patience, zeal, meditation, and wisdom, which are all necessary to enter into nirvana according to Buddhism theory.
Highly recommend visiting Tian Tan Buddha when visiting Hong Kong. A must-go in Lantau Island itinerary in Hong Kong.
Po Lin Monastery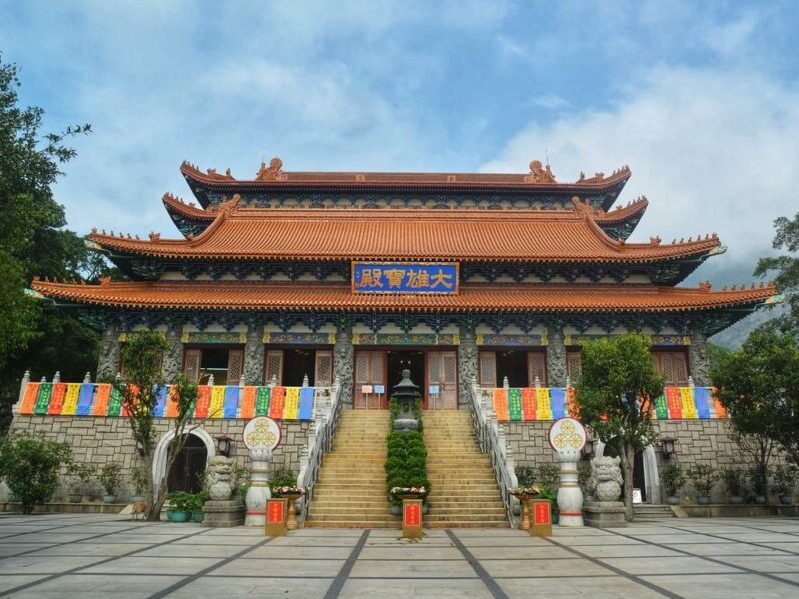 Don't forget to visit the Po Lin Monastery which is right beside the Buddha. The Po Lin Monastery is a magnificent Buddhist sanctuary where you can discover the history of the Buddha and admire its detailed architecture.
Po Lin Monastery is also a favorite spot for locals to pray, worship and offer incense.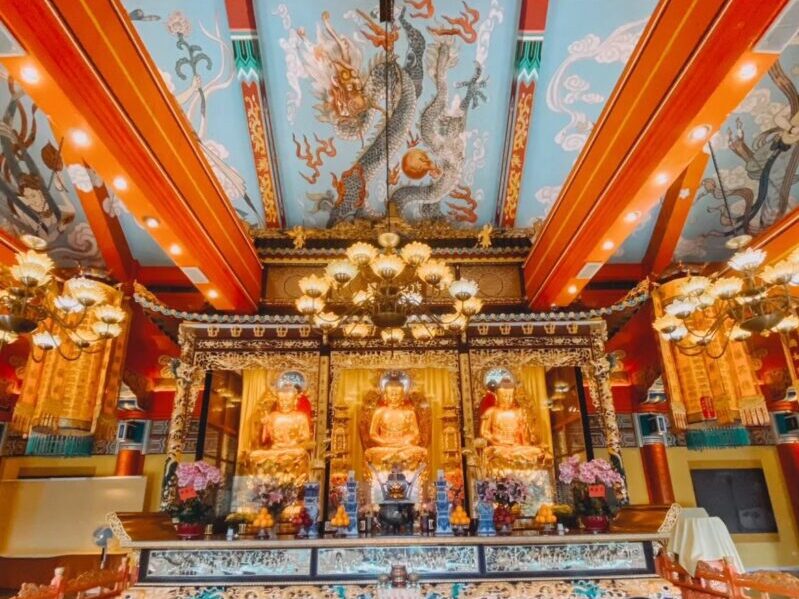 Spend a few minutes strolling around the monastery. The surrounding arches and grounds are lovely.
Lantau Island Travel Tips: Consider having a vegetarian lunch prepared by the monks at Po Lin Monastery. The meal coupon is also the entry ticket to view the relic of The Buddha.
Tai O Fishing Village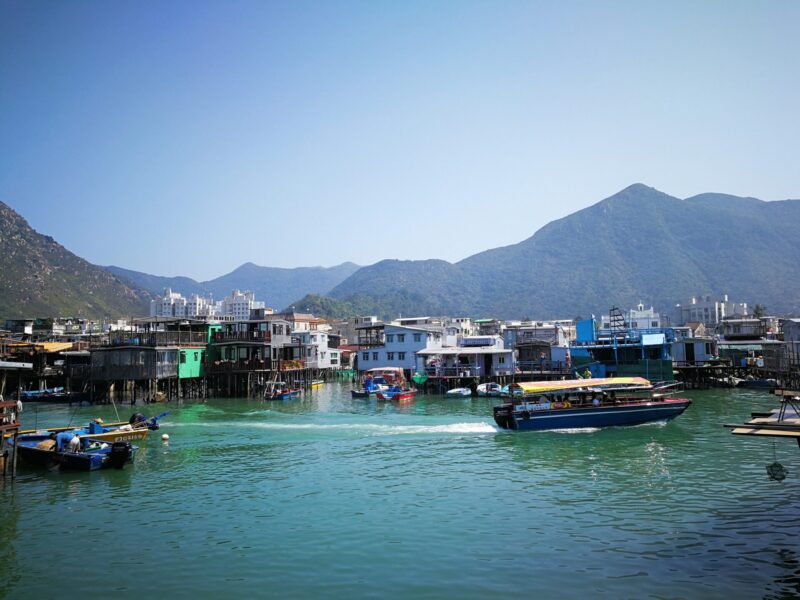 After visiting Tian Tian Buddha, proceed with the Lantau itinerary to Tai O Fishing Village by bus. The distance between these Ngong Ping and Tai O is around 4.5 miles. The duration is around 20 minutes. If you are doing this route, you can consider to get the Ngong Ping 360 Tai O Pass which included the bus and snack coupon.
Tai O is a quaint fishing village with stilts houses built over a canal. This is a very different place compared to the bustling Hong Kong city and well off the beaten path. You can also consider taking a short boat trip to see pink dolphins if you are lucky. We didn't take the option but just venture through the little alleyways and have our dinner there.
READ MORE: A Trip to Tai O Fishing Town
At the end of the day, we took the bus back to the city. Be aware of the bus schedule as buses run hourly. There are not too many taxis, so please check your bus timing.
Overall: A Visit to Lantau Island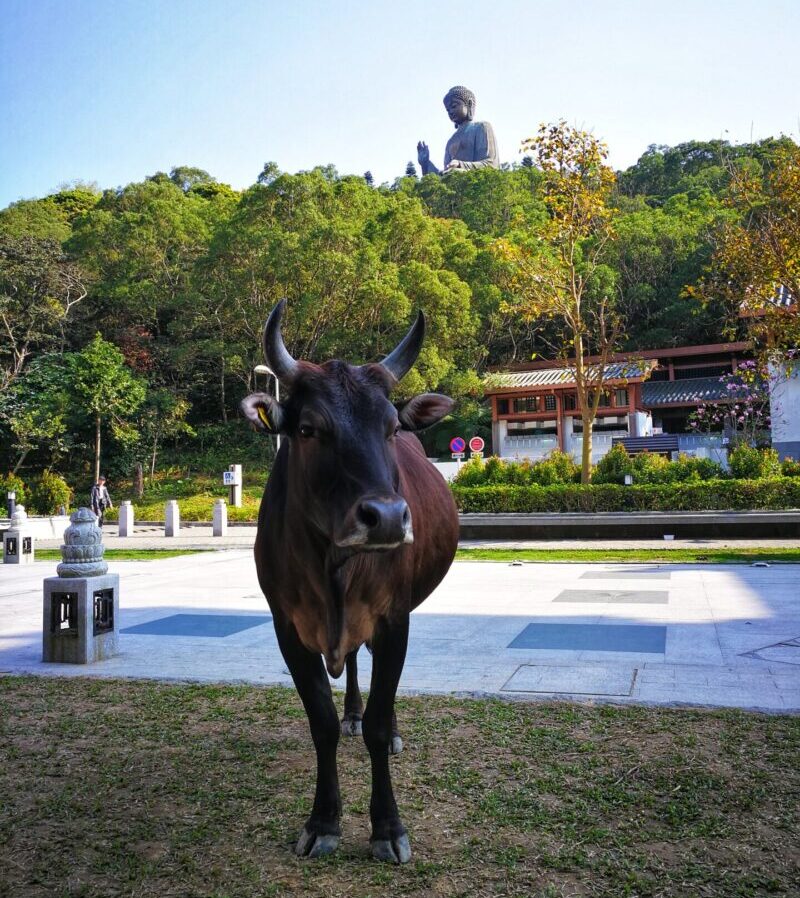 Overall, hopefully, my Lantau Island travel guide blog is helpful. The visit brings us unforgettable memory that combines natural beauty, cultural immersion, and the thrill of the cable car ride.
We, high recommended to include Lantau Island during your visit to Hong Kong. We thoroughly enjoyed the visit to Lantau Island to see the Big Buddha and Po Lin Monastery. Together with Tai O Fishing Town, it is a very easygoing day trip to see a unique part of Hong Kong.
Traveling to Hong Kong and looking for some inspiration? Here is our Hong Kong travel stories: