Last updated on September 23rd, 2023
Plan your Cheung Chau itinerary using our handy travel guide for plenty of great things to do there. It is a great day trip from Hong Kong and could highly recommend it.
Just about 45 minutes by ferry from Hong Kong Island, Cheung Chau (長洲) is a great one-day trip from Hong Kong. This island is famed for its natural attractions, local delicacies, street snacks, and unique heritage. It was once a small fishing village and turned into a popular place to visit by locals and tourists.
When visiting Cheung Chau, there are many great things to do on the island. Take your time to explore the markets, and temples, and relax away from the city. You could even make multiple trips to explore and still discover new activities to do. Almost every time we visit Hong Kong, we will spare one day and explore this local village after visiting the city. We truly loved the small village vibe here and the slower lifestyle.
Check out my Cheung Chau travel guide blog to discover how to plan your Cheung Chou itinerary for the best things to see and do on the island!
Cheung Chau Travel Guide: Pre-Trip Essential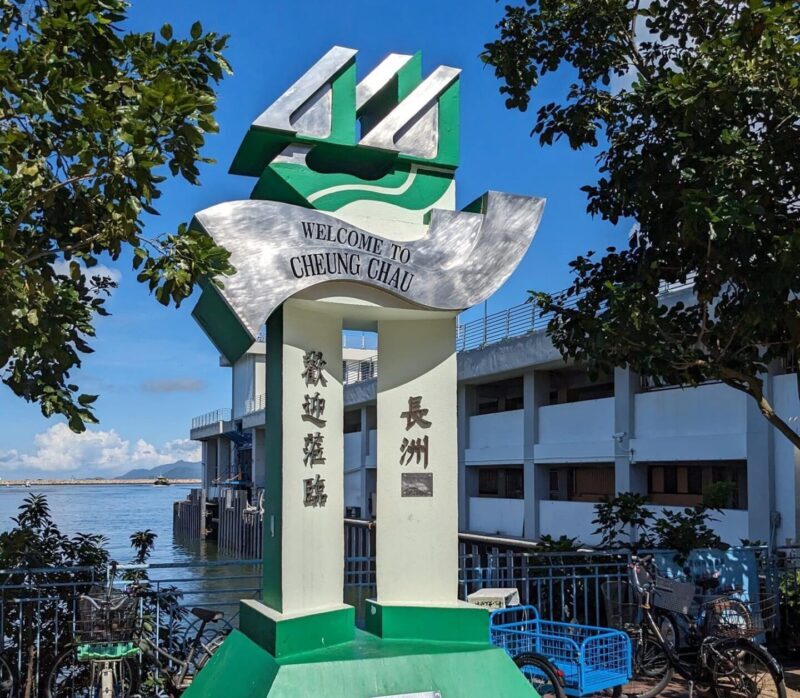 Cheung Chau is amongst the largest of the outlying islands and has over 20K inhabitants. The whole island is about 2.5 square kilometers by includes a loop trail covering the northern and southern sections. It is nicknamed the "dumbbell island (啞鈴島)" due to its shape.
Cheung Chau is the best place to visit for people from the city seeking the relaxed environment of Hong Kong's outlying islands. Locals visiting the island of its unique culture, delicious street food, heritage, and scenery for a half or full-day trip. There even has a couple of hotels for those who prefer to overnight stays.
The south and north sections of Cheung Chau are intersected with a busy village in the middle. In the village, you can find a main ferry pier, supermarkets, convenience stores, and a small collection of restaurants, cafes, and seafood restaurants.
Cheung Chau Bun Festival, aka Cheung Chau Da Jiu Festival, is a seven-day Taoist sacrificial ceremony that is celebrated annually. The festival is normally held on the eighth day of the fourth moon of the Chinese Calendar (usually early May). It is a happening festival with parades, lion dances, costumes, and giant bamboo towers with steamed white buns! Plan your visit there!
How To Get to Cheung Chau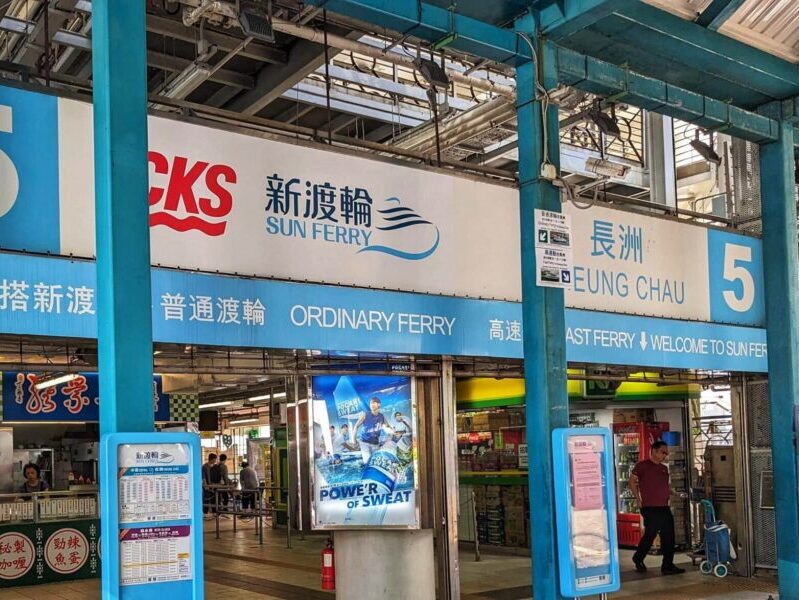 Cheung Chau is accessible by ferry only. Regular ferry service runs all days from Central Pier #5 and will take you to Cheung Chau Pier. The Sun Ferry ride is around 45-50 minutes and has a pretty good frequency.
Note that the Sun Ferry has two types of ferry service. The fast ferry takes around 40 minutes to reach Cheung Chau, whereas the ordinary ferry can take up to 60 minutes.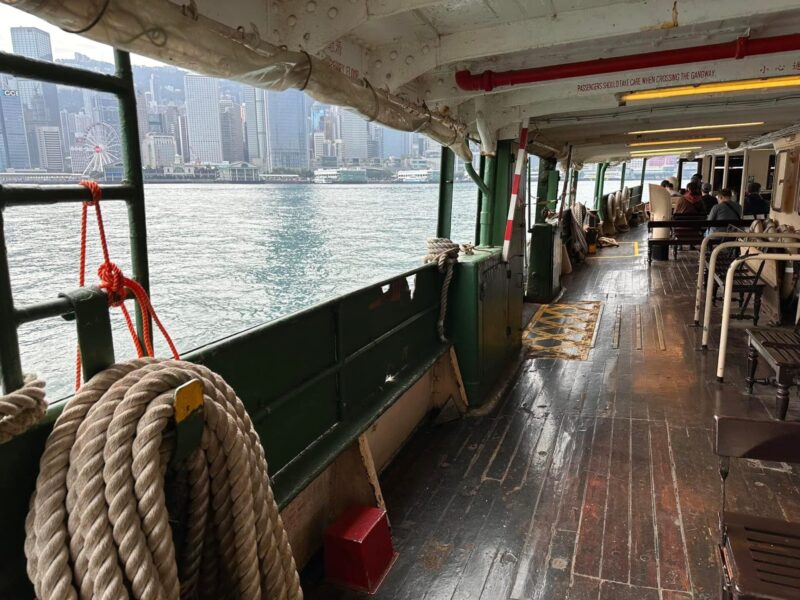 The fast ferry is smoother and with air-conditioner. But you can sit outside on the slow ferry which offers a scenic trip. The cost of the ferry ride is different and weekends or weekdays. The ferry timetable can be found on the Sun Ferry website.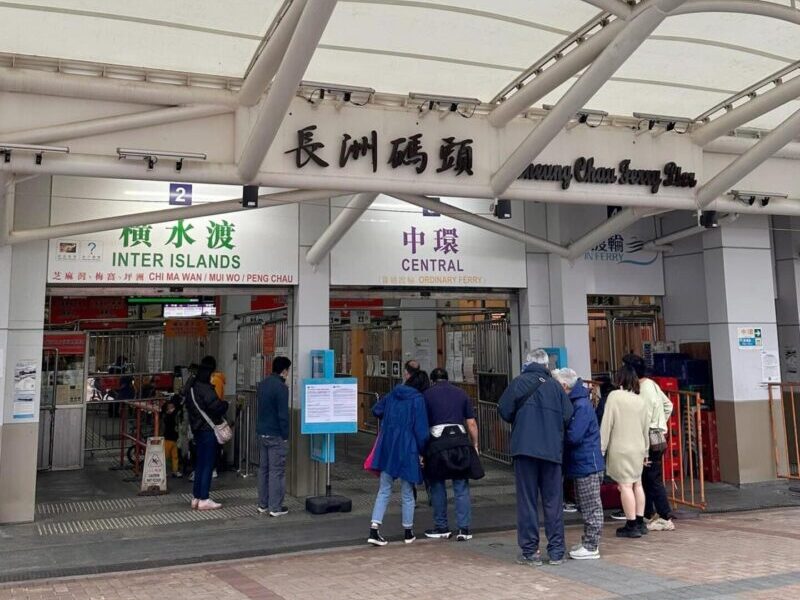 There are other inter-island ferries linking Cheung Chau to Mui Wo, Chi Ma Wan, and sister island Peng Chau. The ferries will take up passengers from there as well but are not as frequent. So make sure to check the schedule before you plan your itinerary.
Alternatively, you can also opt for a one-way cruise ticket from Klook. The ride will bring you to and take the ferry back to Hong Kong Island on your own.
Getting Around in Cheung Chau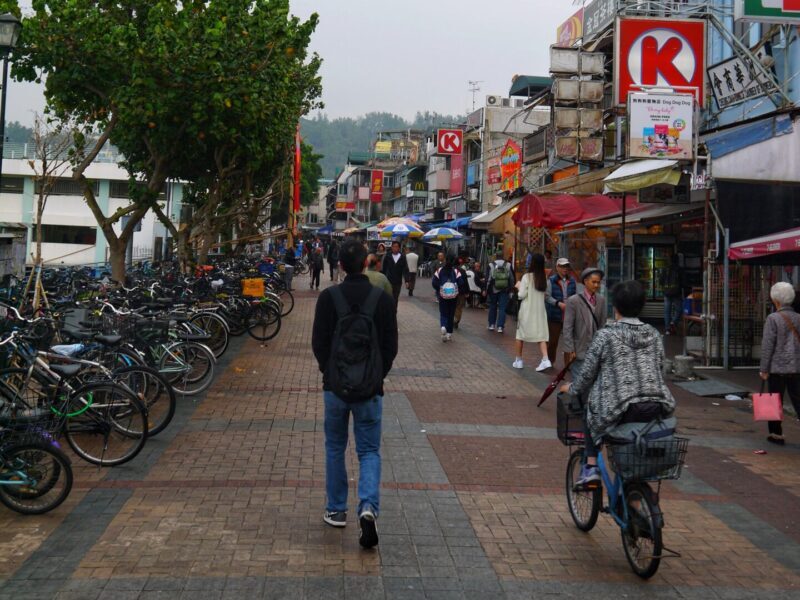 Once you're on the island, there are two ways to get around – by cycle or on foot. Motorised vehicles are not allowed in Cheung Chau except for the emergency services such as ambulance and fire service.
By cycle – Bicycles can easily be rented on the island for as low as HK$50 a day. Most of the rental shops are located along the main Tai Hing Tai Road, south of the ferry terminal. Cycle along the promenade and take in the best views of the sea. You'll be able to cover more ground on a cycle, but won't be able to visit some of the attractions that require hiking. Also, it is also important to rent a bike with a padlock as you will need to secure it to explore a trail or a lovely sandy bay.
On Foot – Cheung Chau can be explored on foot. But note that island is quite big, it is advised to explore the central and either north or south side of the island. It will take too much of a walk for visiting both the south and north side for a single day.
You can also take the small boat tour that runs between the main ferry pier and the Sai Wan pier in the south of Cheung Chau. So, if you plan to explore the area around Cheung Po Tsai Cave, the sampan is a good option.
Things To Do in Cheung Chau Itinerary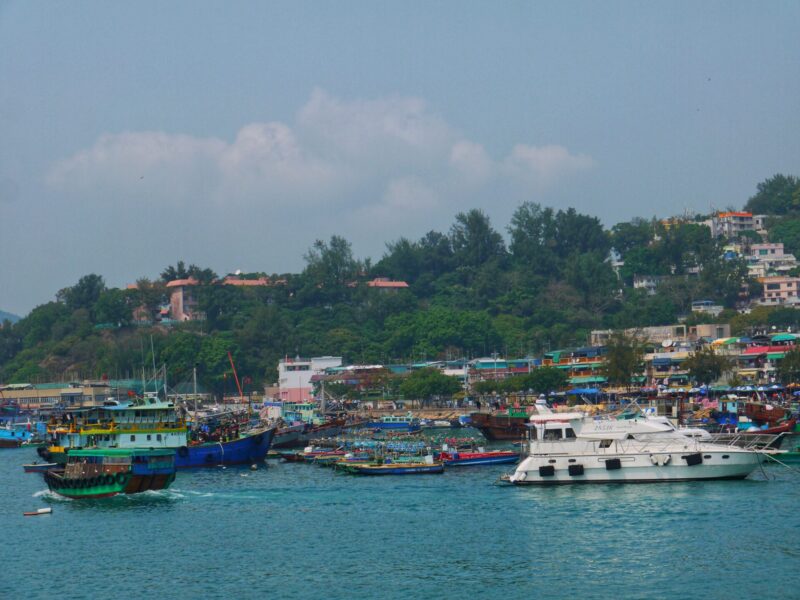 Cheung Chau offers plenty of activities for first-time and returning visitors. The island is quite big but with a proper Cheung Chau itinerary, you can see some of the best attractions in one day.
Things To Do in Cheung Chau itinerary:
Cheung Chau Harbor Front Promenade
Sample Local Delicacies
Hike To the North Lookout Pavilion
Tung Wan Tsai Beach (Coral Beach)
Tun Wang Beach / Kwun Yam Wan Beach
Lock of Love
Eat Seafood
Cheung Chau Travel Tips: There are also some other attractions such as Chi Ma Hang Viewpoint along Cheung Chau Mini Great Wall, and Cheung Po Tsai Cave that required additional more time in Cheung Chau.
Cheung Chau Harbor Front Promenade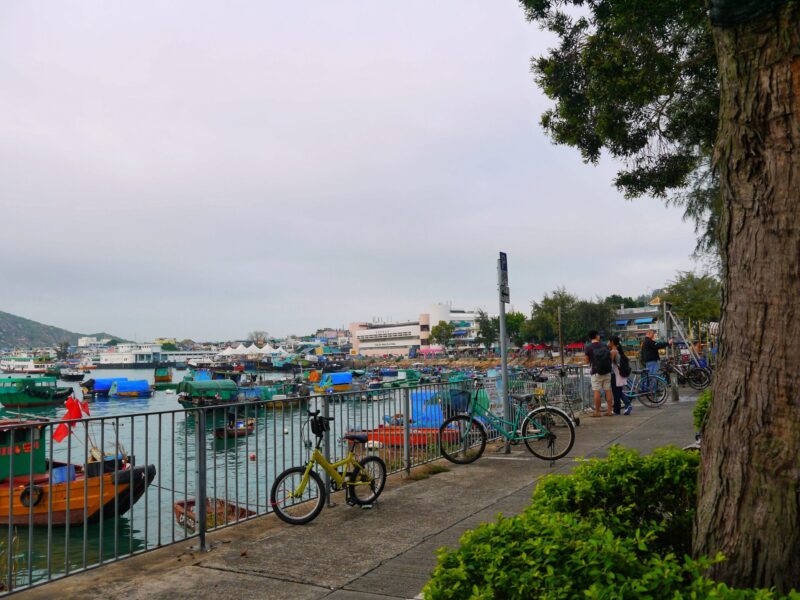 Once you reached Cheung Chau, proceed to head to Pak She Praya Road and follow the pedestrian road. You'll find a first glimpse of the village vibe walking around the main promenade street and areas. Locals busy get around by foot or bicycle, playing Mahjong around crowded tables, and chit-chatting.
Walked along the harbor front Promenade, taking in the sights of moored boats lazily drifting in and out of the harbor.
There is a good selection of restaurants – classic street food stalls, Hong Kong-style restaurants, Asian and fusion cafes, and bars selling their delicacies and drinks. You can enjoy the food here once arrive or come back here later to pick up some food and souvenirs.
Sample Local Delicacies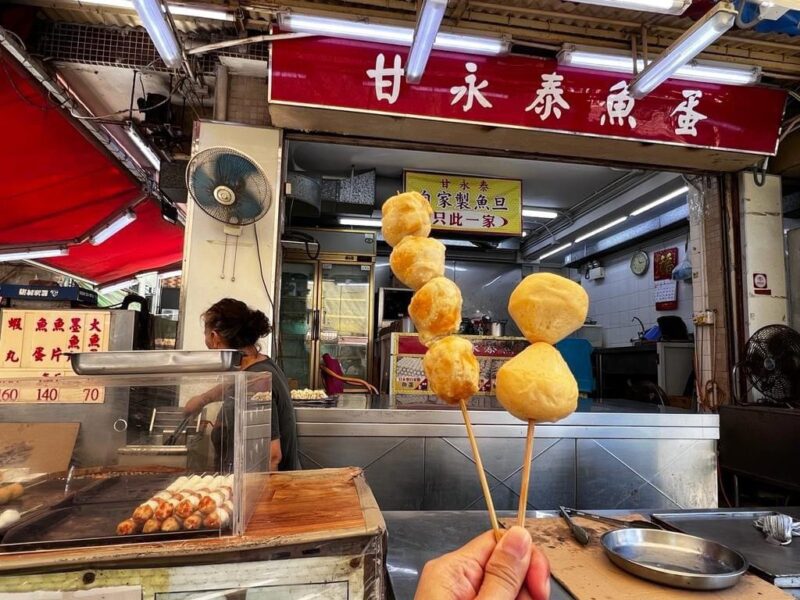 If you prefer some small bites, the street-side snacks are not to be missed. Cheung Chau is famous for its local snacks and must-try during your visit to Cheung Chau.
The three popular unique local snacks for Cheung Chau are The "peace" buns (平安包) in different flavors, the giant flavorful fish balls (魚旦), and the sweet mochi (糯米糍) stuffed with fruits like durian or mango in a soft glutinous rice shell.
Be prepared to stand in line for some of the more popular shops.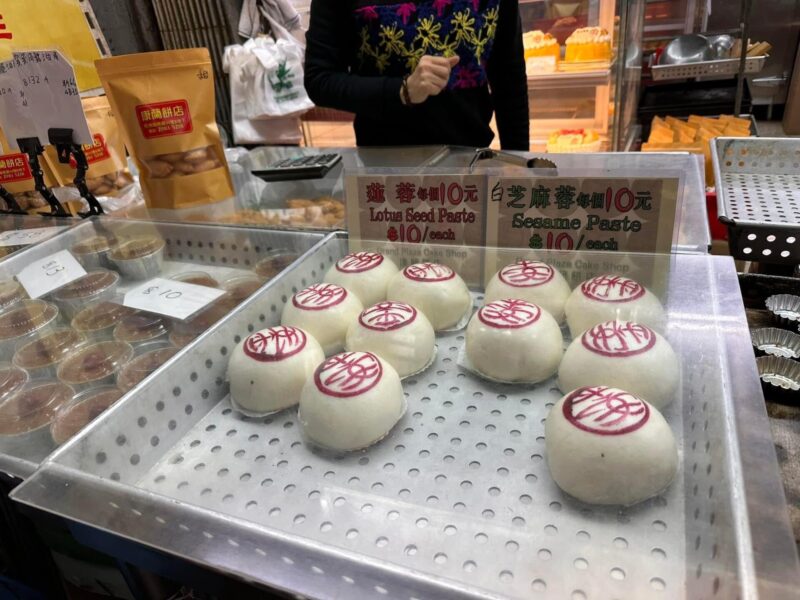 Hike To The North Lookout Pavilion
If you fancy some exercise while on Cheung Chau, the short hike to the North Lookout Pavilion is highly recommended. It is also the highest point in the northern part of Cheung Chau Island.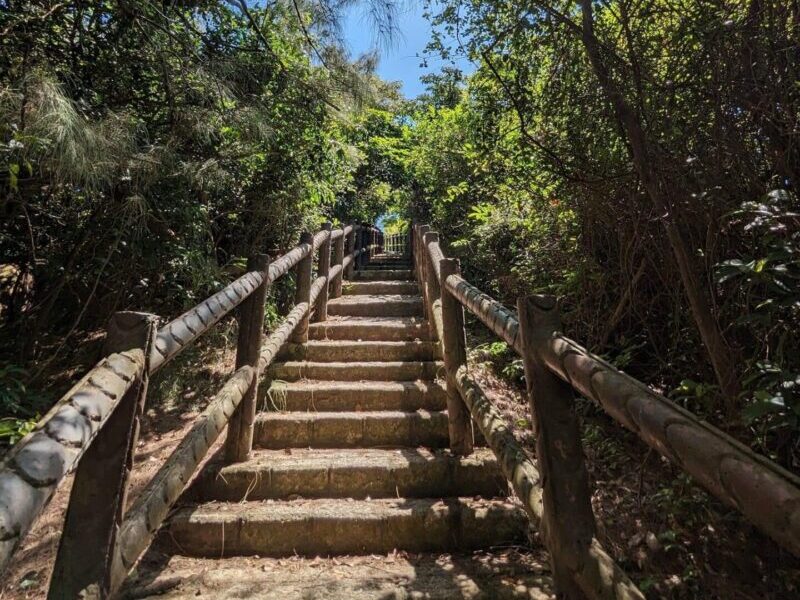 Getting to North Lookout Pavilion required a little hike. From the main promenade, turn left pass through some small shops, and hike up toward the North end. You will also make detours to Pak Tai and Tin Tau Temples to the hiking trail.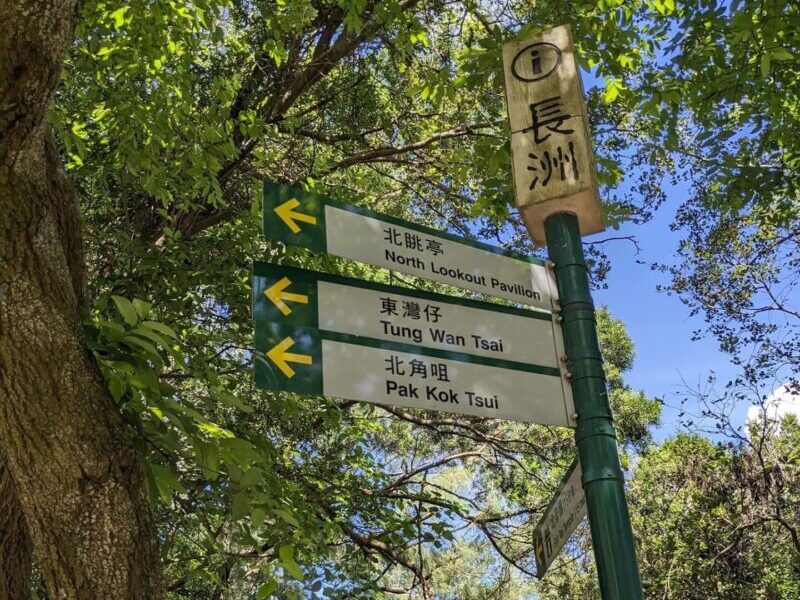 Follow the path and the signs for the North Lookout Pavilion. All sights are clearly marked and easy to navigate with bilingual signs and maps.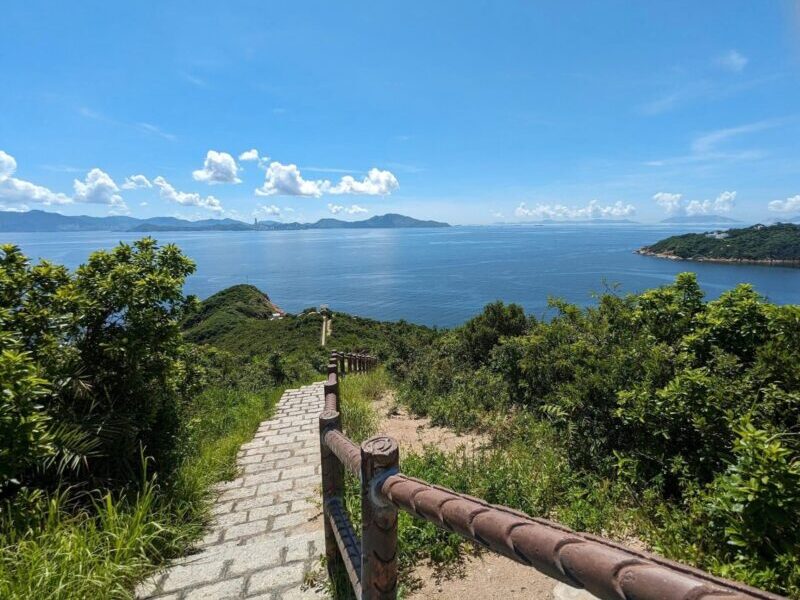 Keep following the set of stairs to the North Lookout Pavilion. The scenery along the journey is not impressive but once you reach the pavilion, it is an awesome view of the central part of Cheung Chau Island.
Depending on one's physical ability, the hike is totally doable in half an hour's walk or less from the main ferry terminal. This a great 30-minute hiking exercise to include in your Cheung Chau itinerary.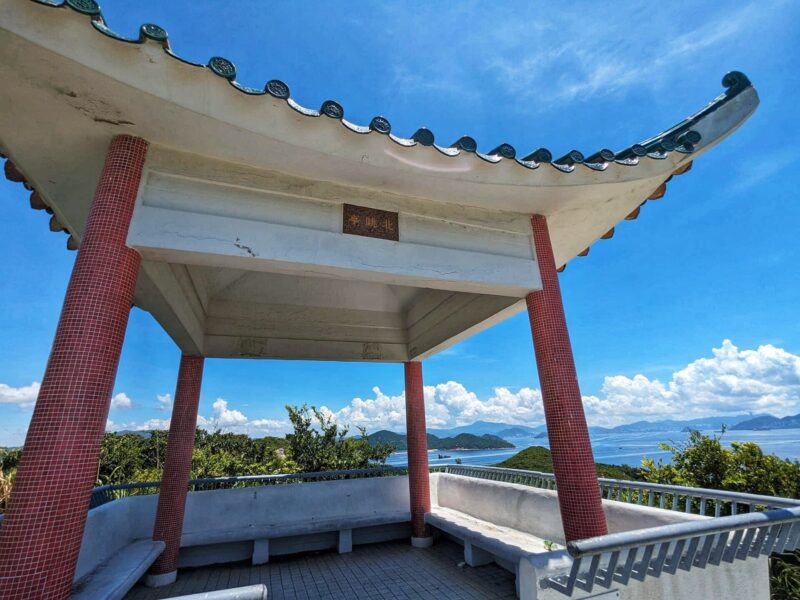 As the highest point on the island, North Lookout Pavilion (literally meant Pak Tiu Pagoda 北眺亭) offers stunningly panoramic views from the highest point on the island.
A beautiful, bright day at Cheung Chau!
Tung Wan Tsai Beach (Coral Beach)
Once you reach the pavilion, you can continue to follow the trail that heads towards to Tung Wan Tsai Beach. It is a small secluded beach that hardly anyone comes to. Even if you don't go down to the beach, the views from the steps are simply amazing.
Another option is continue hike to the Pak Kok Tsui. It is a small peninsula that offers stunning views of Cheung Chau and Lamma Island.
Due to the soaring sun, we didn't proceed further and only descent back to our next destination in the Cheung Chau itinerary.
Tun Wang Beach / Kwun Yam Wan Beach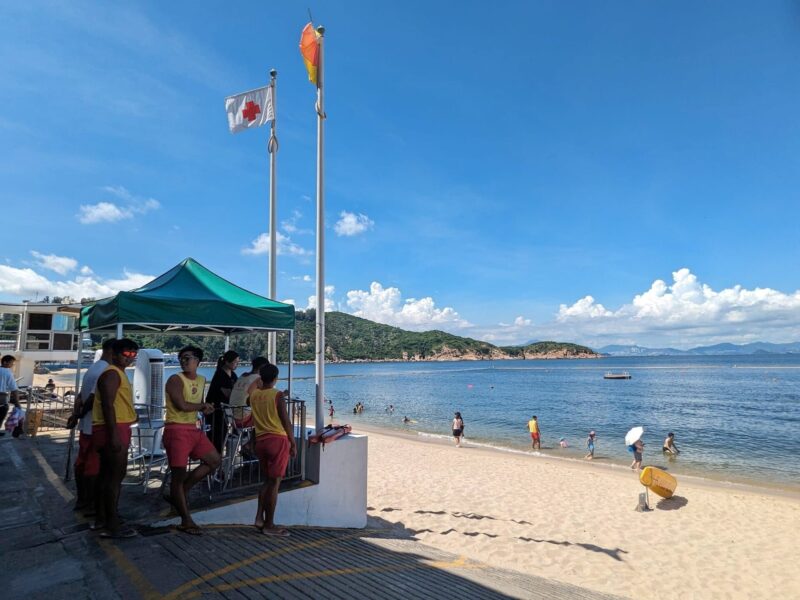 Cheung Chau is home to some of the most beautiful beaches in Hong Kong, and a beach picnic day or sunset stroll along the sand is the perfect addition to any Cheung Chau day trip.
There are two popular beaches with a short walk from the ferry pier – Tung Wan Beach and Kwun Yam Wan Beach.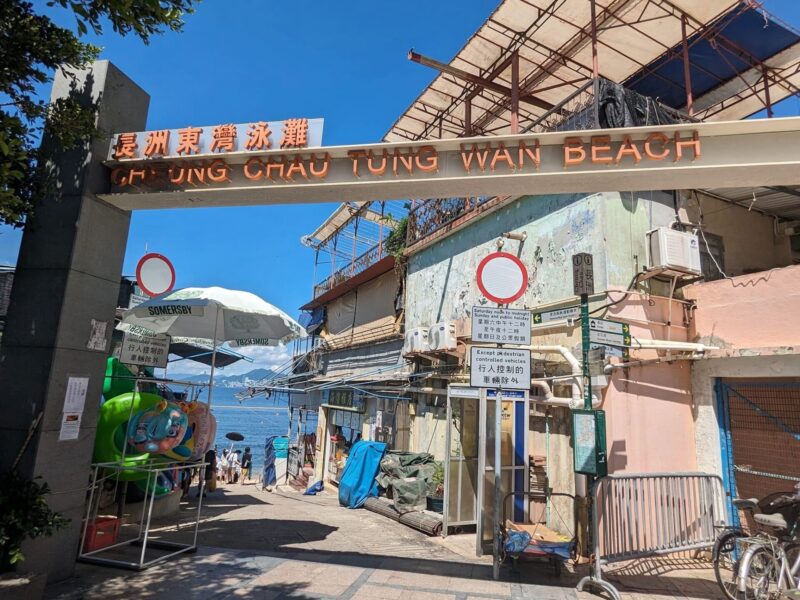 Tung Wan Beach is the main beach and also the most popular beach on Cheung Chau Island. This narrow, long stretch of golden sand is the perfect spot for any weekenders who want to spend some time in the sun. It is the most accessible beach from the ferry pier but probably the busiest. Plenty of restaurants and cafes are located next to it.
Kwun Yam Wan Beach required additional 5-minute walk south of Tung Wan Beach. It's a much smaller and cozier beach. It is less crowded but also very busy during weekends.
Lastly, Tung Wan Tsai Beach is a more secluded beach only accessible from the North Lookout Pavilion (as per above).
Lock of Love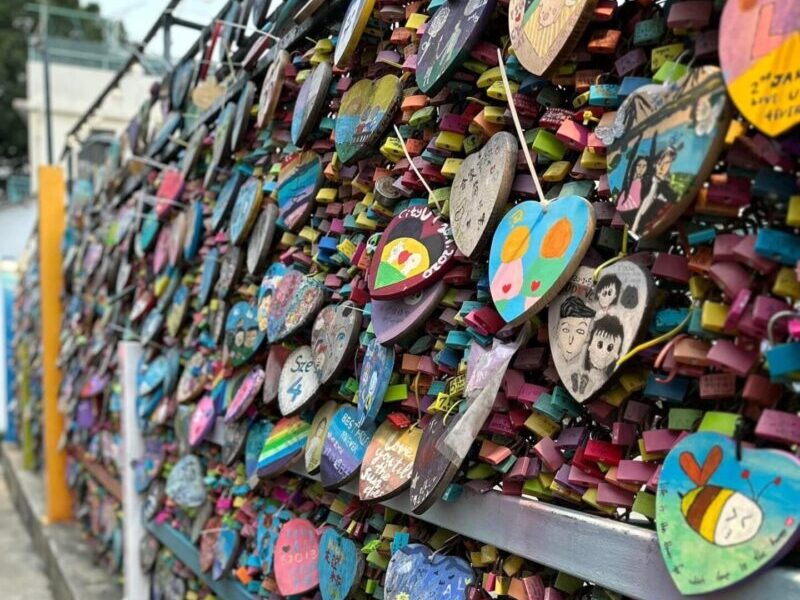 Toward the beach, you'll discover the 'Lock of Love'. This is a small Love Lock Garden where lovers can lock their love pad together. There is a retailer that sells locks and also woodwork where you can paint or write your love messages.
Not a new thing and can be seen on most of the tourist attractions, it is still worth making a quick detour to visit the Love Lock Garden.
Eat Seafood in Cheung Chau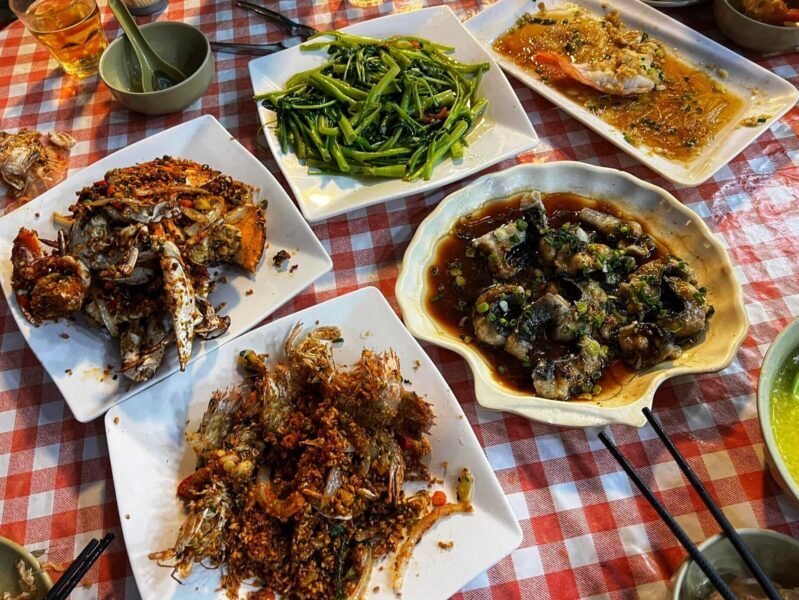 After your beach day or hiking day, you can enjoy a delicious meal at one of the many seafood restaurants on the island before heading back to the city. Cheung Chau is known for fresh seafood and there are many restaurants along Pak She Praya Road serving the catch of the day. The restaurants offer various kinds of seafood and Chinese dishes at a reasonable price and most importantly, fresh seafood!
We can't comment on which is the best seafood restaurant in Cheung Chau. But the more famous ones are Loh Ka Yuen Golden Lake Seafood, Seafood Restaurant, and True Seafood Restaurant. Alternatively, picking any restaurant you randomly found that looked decent will be satisfying.
More Cheung Chau Travel Tips
Cheung Chau is a popular weekend and holiday destination for locals. Don't be surprised to find the island packed with visitors over the weekends. If you want to experience the beauty and tranquility of this island, go there on a weekday which is not a school holiday.
To avoid queues and busy ferries, it is advised to start your day trip to Cheung Chau as early as you can. We would suggest arriving in Cheung Chau before 10 am so you can comfortably see all the Cheung Chau attractions.
There are other interesting heritage attractions and some good hiking opportunities, particularly in the south of Cheung Chau. As those attractions need a little mountain hike therefore Children and the elderly are discouraged from those mountainous roads.
Make sure you have sun protection such as sunglasses, a hat, and sunscreen if you are planning for beach activities or hiking. The whole island is exposed to the sun so it can be quite hot, especially summer time. Bring lots of water as it's a bit of a trek.
There are public restrooms available, and they are well-maintained.
Overall: A Visit To Cheung Chau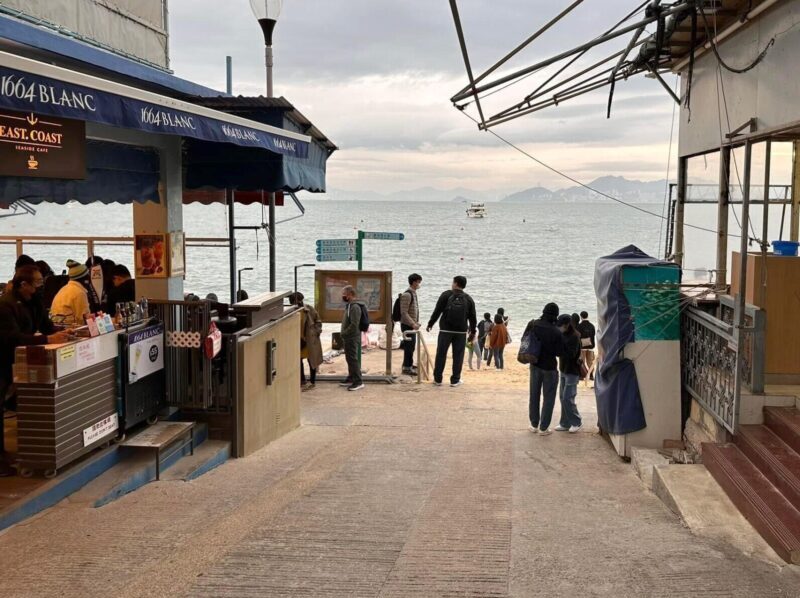 All in all, we hope you enjoy our quick and simple Cheung Chau itinerary. This charming village has very contract to the modern part of Hong Kong. It is a nice place for an easy day trip for natural attractions, beautiful beaches, indulging in local delicacies and seafood. Although Cheung Chau Island is actually quite similar to most of the fishing villages in many Asia countries. It's definitely worth making a trip to Cheung Chau when visiting Hong Kong.
Enjoy your trip to Cheung Chau!
Traveling to Hong Kong and looking for some inspiration? Here is our Hong Kong travel stories: