Last updated on September 23rd, 2023
Learn how to get to Blue Pond by Bus during our trip to Biei, Hokkaido, including the Dohoku bus schedule and boarding location from Biei and Asahikawa.
Blue Pond (青い池, Aoiike) is located near Biei, Hokkaido. It just got promoted as one of the famous tourist spot until recent years.
If you are a Mac user, you may have seen the picture of Blue Pond before. It was selected as one of the desktop photo of Apple MacBook Pro in 2012. This natural breathtakingly majestic sight is now a popular tourism site in Biei, Hokkaido.
We visited Shirogane Blue Pond during our trip to Hokkaido by using public transport. It was easy and simple to get to Blue Pond by bus.
Getting to Blue Pond by Bus
Buses are the only way to get to Blue Pond by public transport. The "Shirogane Line (白金線)" from the Dohoku bus (No.39) will pick up passengers from JR Asahikawa Station or Biei station. It runs between Asahikawa/Biei Station and Shirogane Onsen stop with five round trips per day.
From Asahikawa: Board the bus at the east exit of Asahikawa station (No.8 bus stop). It will pick up the passenger at Biei. Bus fare 1,090 yen.
From Biei: The bus stop located in front of Asahikawa Shinkin Bank. Single way cost 540 yen.
Get off at Shirogane Aoiike Iriguchi (白金青い池入口) bus stop if you want to visit the Blue Pond.
More detail on Dohoku bus schedule to Blue Pond. (Click here)
Dohoku Bus Schedule To Blue Pond
From Asahikawa Station to Shirogane Aoiike Iriguchi:
8:35, 11:20, 12:11, 14:55, 16:35
From Biei Station to Shirogane Aoiike Iriguchi:
6:55, 9:26, 12:11, 15:46, 17:26
From Shirogane Aoiike Iriguchi to Biei Station:
7:39, 10:24, 13:09, 16:45, 18:19  
From Biei To Shirogane Aoiike Iriguchi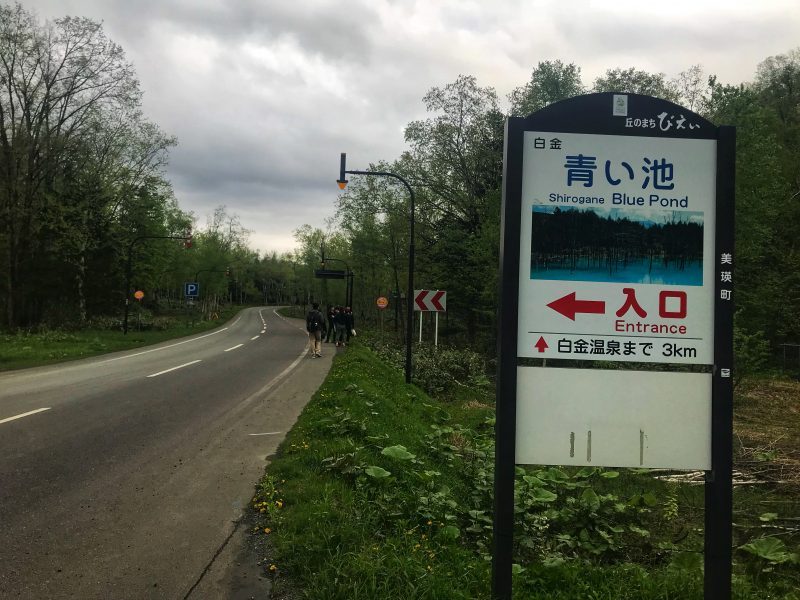 After our cycling trip in Biei, we planned for a half-day trip to Blue Pond in late afternoon. We returned our bicycle to the bike rental shop after almost three hours of Biei cycling trip in Patchwork road. Our next destination was the Instagram-famous Blue Pond or called Aoiike.
Please take note the bus stop is not located right in front of Biei station.
Please take note the bus stop is not located right in front of Biei station. From the exit of Biei station, at the first traffic light turn left , you could find the bus stop in front of Asahikawa Shinkin Bank. It is also located next to Abe department store.
We took the 15:46 bus from Biei Station to Shirogane Blue Pond. The bus journey took us about 20 minutes to the Shirogane Aoiike Iriguchi, the entrance of Blue Pond.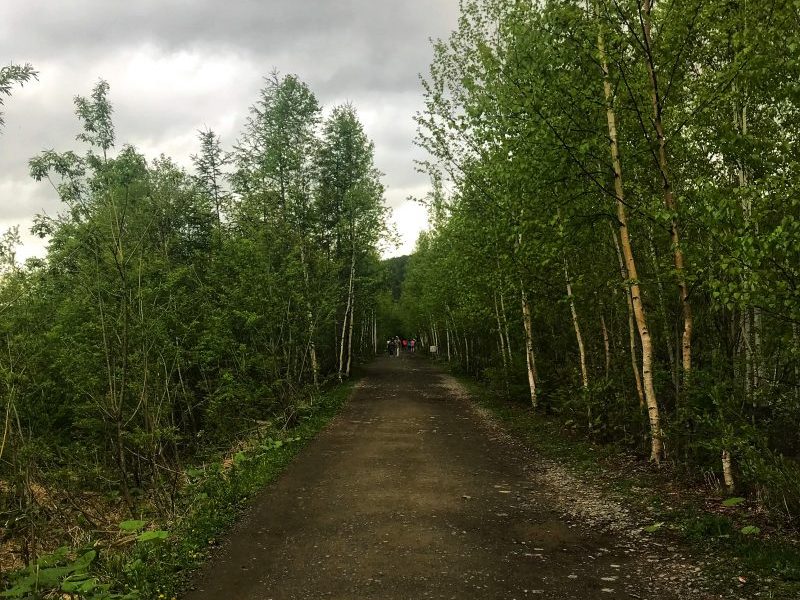 Follow the well-marked sign, we walked inside to a birch forest and get closer look to the pond. There is a big parking lot for cars and tour buses for parking.
The walk is about 500 meters and took us about 5 minutes. The Blue Pond gradually came into our view.
The Beauty of Blue Blue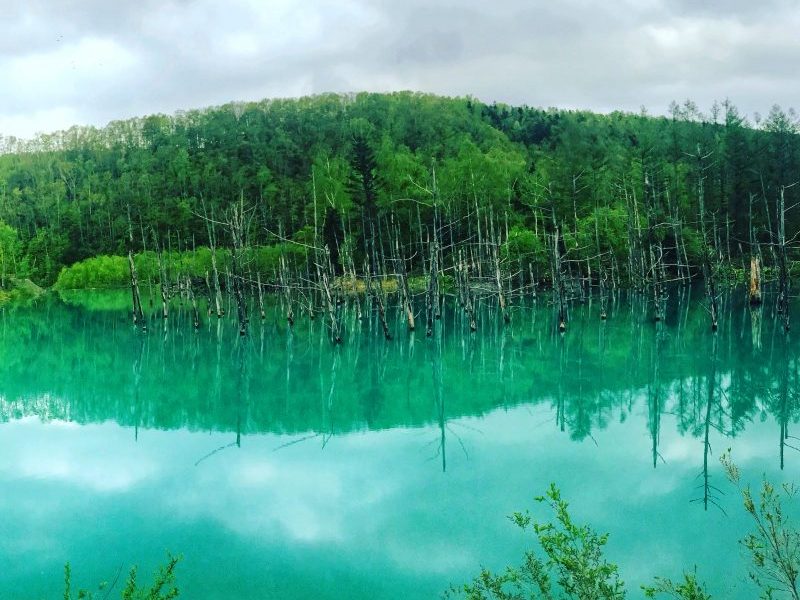 The Blue Pond is filled with crystal clear blue/green water and looks beautiful from any angle. It formed by an erosion control system that was built to protect Biei in the early years.
Blue pond displays various hues of blue depending on the season and the weather. Color will change following the season. It is best to choose to visit on a day that is as sunny as possible, as you won't be able to see the pond in cobalt blue color.
Our visit to Blue Pond is more on green color during the end of May. I appreciated the good weather for such a nice view.
From Shirogane Aoiike Iriguchi To Biei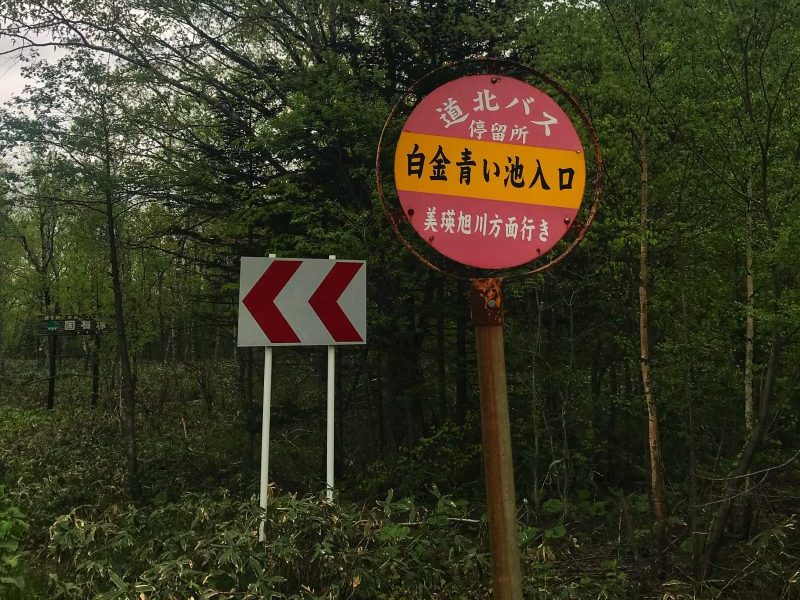 Follow the pathway, we were taking a round trip to surround the Blue Pond. Along the journey, we took many selfies and photos at this attraction spot. We have a great moment to mesmerized the beauty of human-made nature.
Our journey to Blue Pond is about 30 minutes. Next, we need to catch the coming bus back to Biei station at 16:45.
Getting to Blue Pond: From JR Biei Station, Blue Pond is accessible with 20 minutes by car or 25 minutes by Dohoku Bus.
Read also How to Plan for 10-Days Hokkaido Itinerary: