Last updated on September 23rd, 2023
One of the Hokkaido must eat food is freshness sea urchin from Shakotan. The Osyokujidokoro Misaki and Naramuraya served the best sea urchin in Hokkaido. Below is my food hunting journey to this best food in Hokkaido.
Shakotan is known for gorgeous mountainous peninsula in Japan. It is best to plan for one day trip to Shakotan during summer to visit the famous Cape Kamui. However, do you know that Shakotan is especially famous for sea urchin? Even locals come all the way to try on their fresh uni especially during the harvesting season. When planning on your travel itinerary, don't forget to include sea urchin or uni when planning on what to eat in Cape Kamui trip.
During my visit to Shakotan by public bus, I can't resist to this Hokkaido must eat food. We decided to include this must eat food in Shakotan into my travel itinerary. Due to the limited bus per day, I need to be extra careful on the timing. So, it is best to visit Cape Kamui by self-driving with a rental car. Remember to compare your rental car in Rentalcar.com with best price guarantee.
Read on my food hunt for the must eat food in Hokkaido, the freshness sea urchin in Shakotan.
Where To Eat The Sea Urchin in Shakotan
As per introduced, Shakotan is famous for the sea urchin rice bowl. The best season for uni is June and July. Many locals will come to Hokkaido and drive along the way to Shakotan for the tasty uni don.
Among all the restaurant, Osyokujidokoro Misaki and Osyokujidokoro Naramuraya are the two most famous restaurant which served the best sea urchin in Shakotan. These two restaurants are located nearby within a 200-meter distance.
Both restaurants are running by fisherman and family. They served the freshly caught sea urchin from the coast every day. However, please take note that both restaurants only opened during summer from late April to October. So, please double check on the operating time during your visit.
Osyokujidokoro Misaki (お食事処 みさき)
Osyokujidokoro Naramuraya (お食事処 中村屋)
My Food Hunt To Osyokujidokoro Naramuraya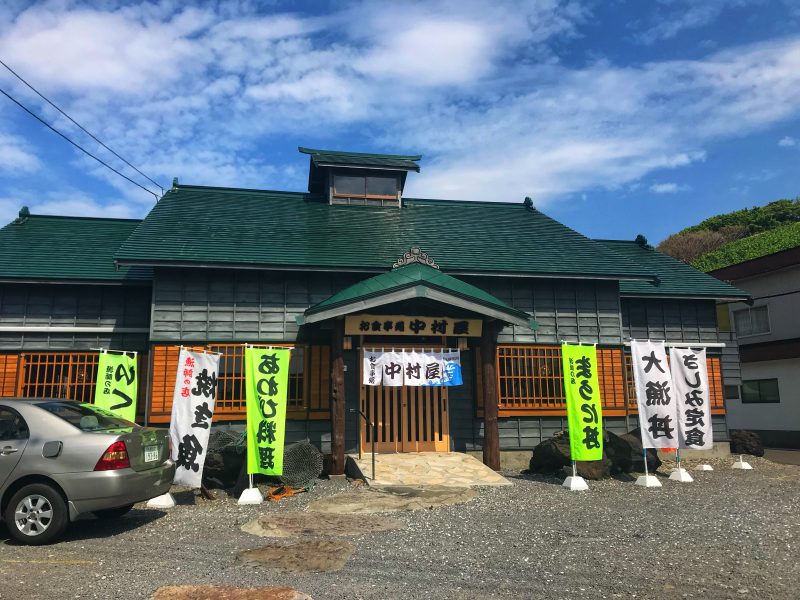 We arrived and getting off at Hizukatomari (日司泊) bus stop by Highway Bus Shakotan-go (高速しゃこたん号). The location of the Naramuraya is just opposite the bus stop. Without wasting time, we immediately proceed and walked to the restaurant.
Probably my visit time in early June is still early for the best urchin. There are only a few tables of customers were having their lunch in Naramuraya. But I know that they were very satisfied with their seafood based on their conversation and expression.
What To Eat in Naramuraya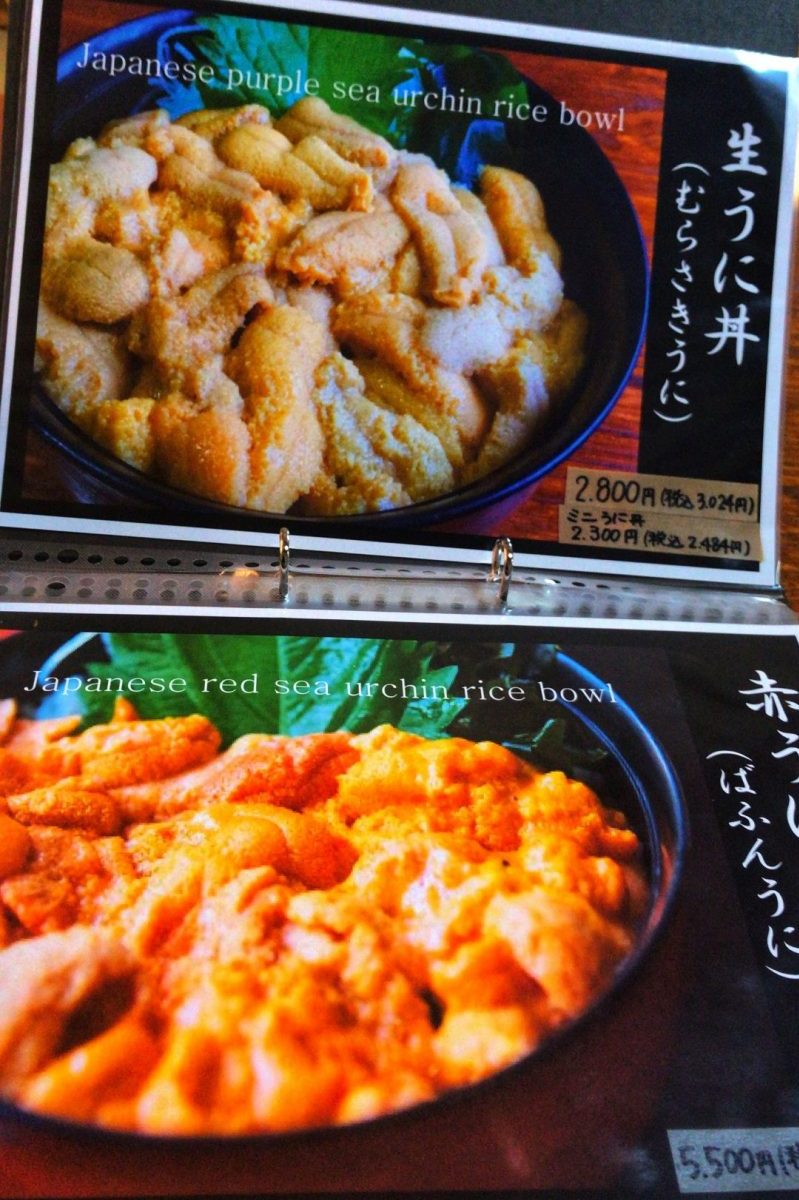 We were welcomed and sat at a table. The staff seem like does not speak English very well but it was no problem to order at Naramuraya. The menu was ready with picture and price nicely stated. Price ranging from 2800 yen up to 7000 yen depend on which type of sea urchin order.
The Japanese purple sea urchin rice bowl (Murasaki uni) and Japanese red sea urchin rice bowl (bafun uni).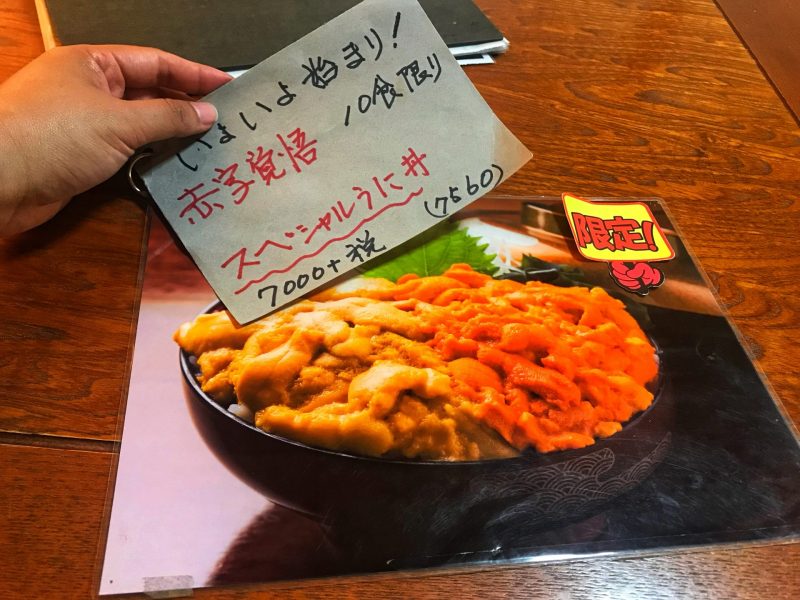 While the special uni don with served the both type of sea urchin in one bowl. By ordering this, you can taste and compare different types of sea urchin in one bowl. However, it is a limited edition with only 10 bowl per day. And we were too late for this.
After consideration, I decided to order the Murasaki uni as the bafun uni is too expensive. Besides, we also order a grill mackerel fish as a side dish.
Note: Price listed for reference only. May difference after increase on Japan tax in 2019.
The Taste of Freshness Sea Urchin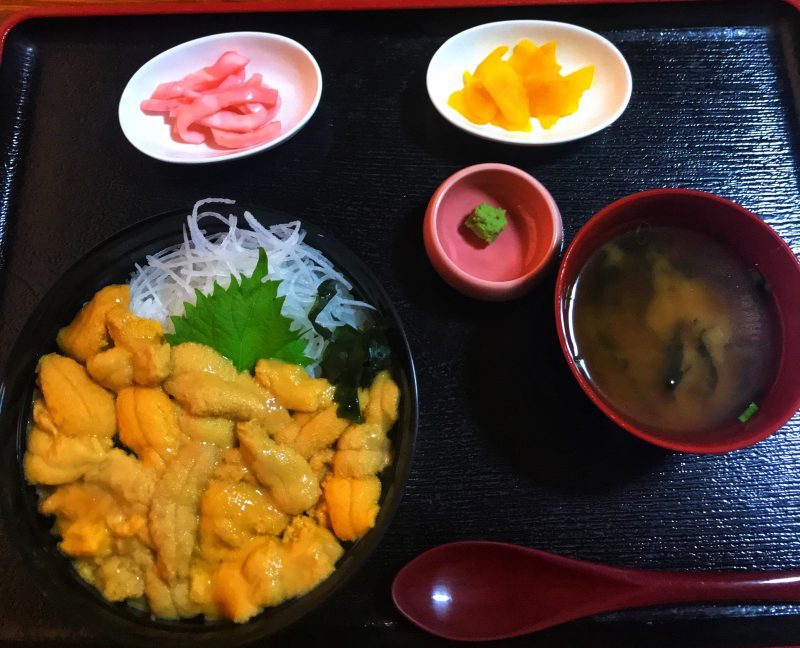 Approximately 10 minutes later, My Murasaku uni don was served. It was topped with a generous amount of sea urchin with miso soup and pickle radish came together.
Once the first bite, the sea urchin were smoothly melted in my mouth. Its flavor immediately spread out in my mouth. It was so buttery creamy with pure taste of the briny sweetness. It was so delicious.
Although I did not try on many sea urchin but I can say that this is the best uni I had so far. It was so fresh without the fishy taste. Most importantly, the price is so reasonable for such a generous of sea urchin. The portion was much bigger and fresh. I roughly remember single of sea urchin already cost me about 500 yen even in Japanese local market. And it was served in a full bowl of uni. Worth it.
Hokkaido Must Eat: Sea Urchin From Shakotan
In terms of freshness, quality, and price, Naramuraya is the best place to eat the extremely fresh sea urchin rice with reasonable price. It is no place to eat such sumptuous and affordable uni don even in Japan.
The Osyokujidokoro Naramuraya is perfectly located between Cape Kamui and Shimamui Coast on Shakotan Peninsula. So we highly recommended to stop by Naramuraya for this Hokkaido must eat food. Again, self-driving is the best and convenient transportation to get to Naramuraya. We will be back here if we travel to Hokkaido again.
This food blog is part of my Hokkaido food guide during my Hokkaido trip in Summer. Continue read on my food hunting journey for the best food in Sapporo, Otaru, Asahikawa.
Hokkaido Food Guide: Top 10 Must Eat Food in Hokkaido