Last updated on September 12th, 2023
Menya Taiga is one of the popular and highly rated (based on Tabelog) ramen restaurants in Kanazawa (Ishikawa Prefecture). If you have a few nights in Kanazawa then you should check this place out. Rich taste, great noodles, absolutely delicious ramen. You'll love this Kanazawa best miso ramen!
We were in Kanazawa and staying at the MyStays Kanazawa Castle Hotel during our Chubu trip. It's located nearby with Kanazawa Station, with probably 5 minutes of walking distance. We were hungry and looking for Kanazawa's best food for dinner. Located opposite the hotel, we saw a non-descript ramen shop with a queue outside. We were told by the hotel receptionist that this ramen shop is one of the local's favorite restaurants, with the best miso ramen in Kanazawa.
Without hesitation, we decided to try it out.
Menya Taiga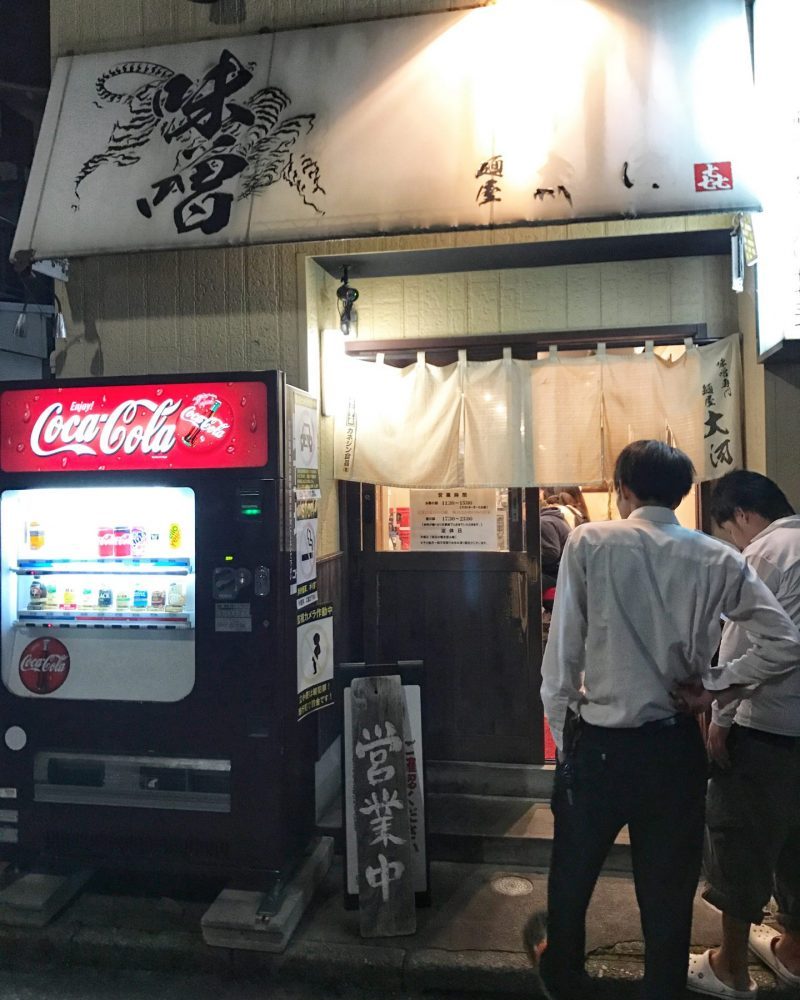 The Menya Taiga (麺屋大河) is quite hidden in the alley and the sign isn't that obvious. But the way to look out for it would probably be the long queue outside the shop, frequented by both tourists and locals alike too. It's a tiny ramen shop, with a long counter that fits for about twelve seats on the counter. Expected for a wait, but the queue moves fast.
While waiting in line, the aroma keeps wafting out when someone opened the doors to leave. It was so fragrant and we all can't wait for the bowl of Kanazawa's best ramen here.
Order was taken while we were queueing so that by the time you sat down, the food was almost ready. The staff was able to speak very minimal English and we managed to somehow just ordered by pointing to the picture.
Menya Taiga (麺屋大河)
Address: 6-3 Horikawamachi, Kanazawa, Ishikawa 920-0847, Japan
Business Hours:11:30 – 15:00;17:30 – 23:00 (Closed on Mondays)
Getting there: 5 minutes walk from Kanazawa Station
Menya Taiga Food Menu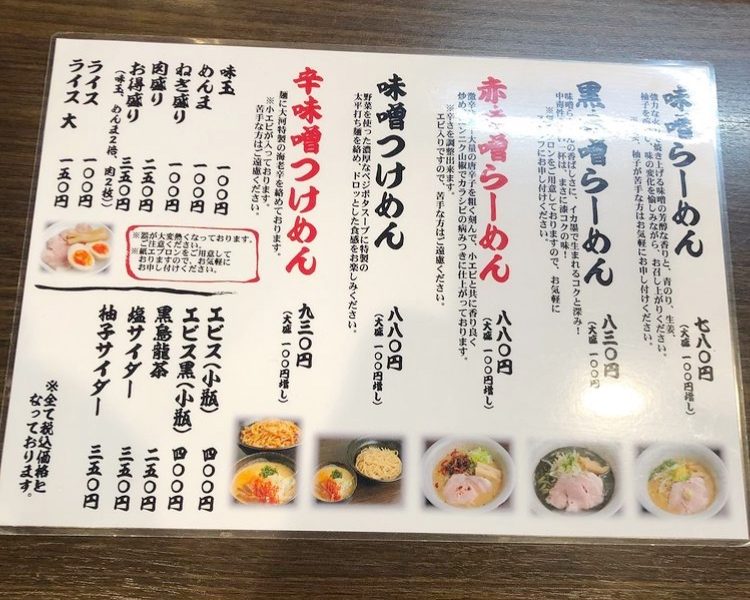 The limited menu is only available in Menya Taiga, from a selection of about five items, between three kinds of miso broth based on basic normal, black miso with squid black ink, and red miso with spicy chilies added. You can choose for the normal ramen soup or dry-based (tsukemen).
Extra toppings such as soft boiled egg, bamboo shoots, scallions, etc. can be added that cost about ¥100 each. The price is rather cheap too, with approximately ¥800-1,000 only.
Although Menya Taiga had the interesting flavors here, the black squid ink ramen, all of us still ordered the traditional miso ramen with extras, plus Yebisu beers. The beer is cheap and we ordered the Yebisu Japanese beer to couple with the miso ramen.
Miso Ramen from Menya Taiga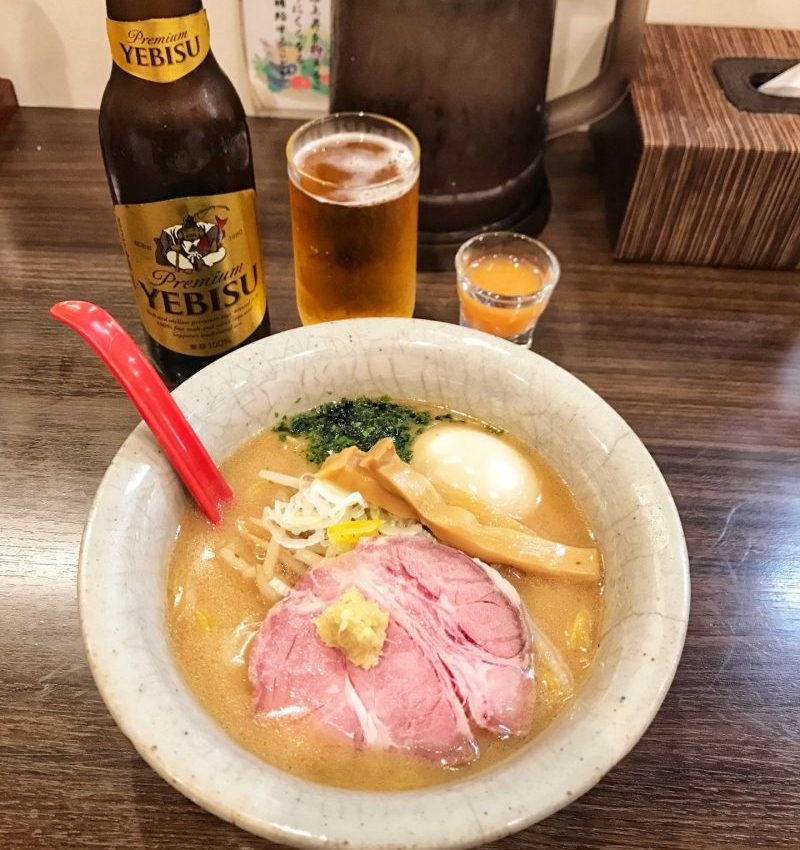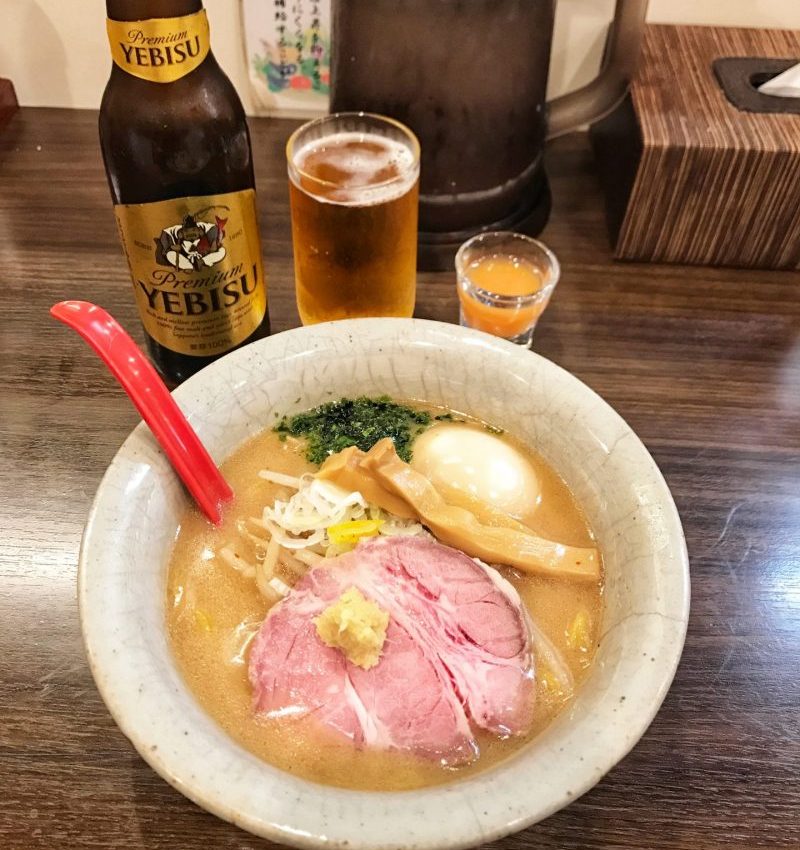 We queued up for about 30 minutes before we got in for dinner. A complimentary mixed fruit juice to ready your palate for the umami explosion once you are seated. The drink is sweet and refreshing, can't complain of a complimentary healthy vegetable drink. And we had the Yebisu beer served too!
The service was prompt. we were served a piping hot bowl of ramen shortly.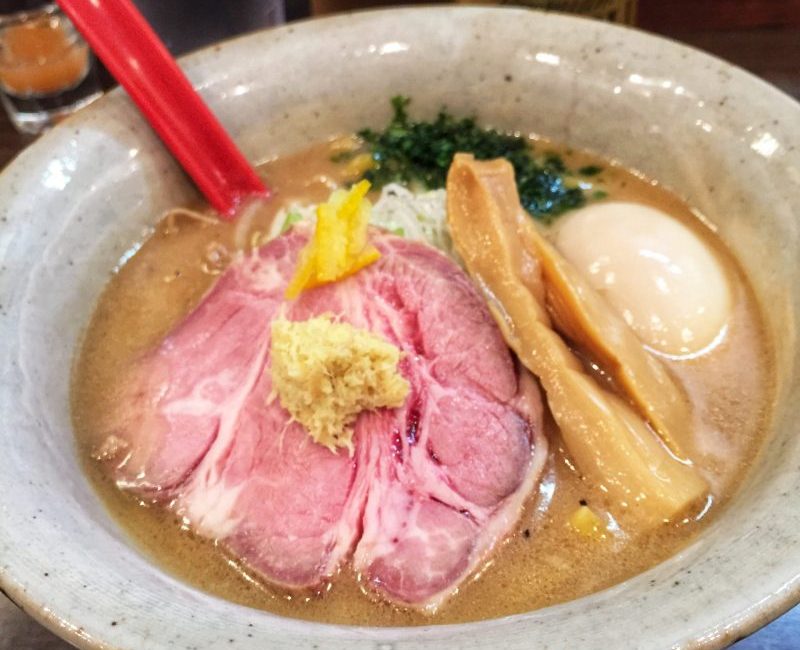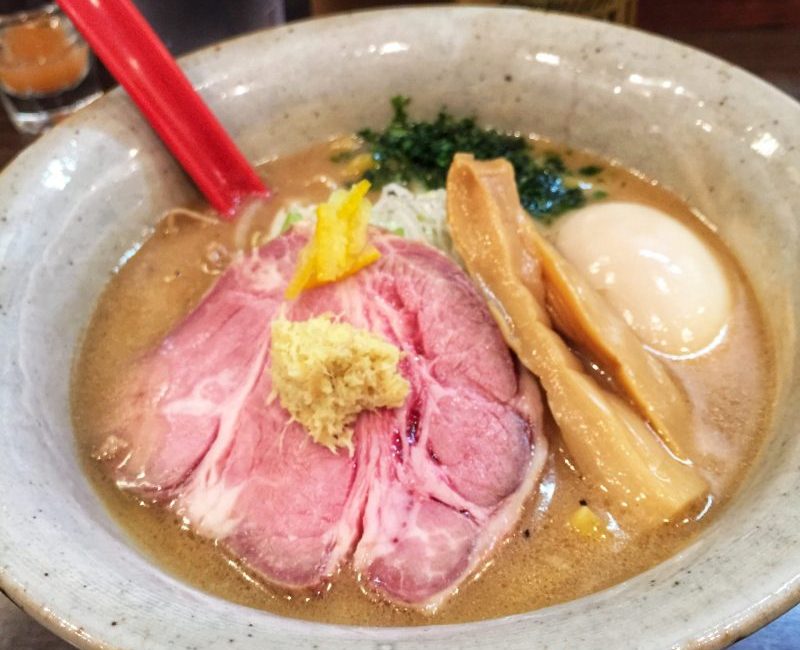 When we got the ramen, we could understand why there were so many locals. Inside the bowl of Menya Taiga's miso ramen, we got the thick roast pork, bamboo shoots, onions and greens, extra onsen egg, and of course, the ramen noodles with broth.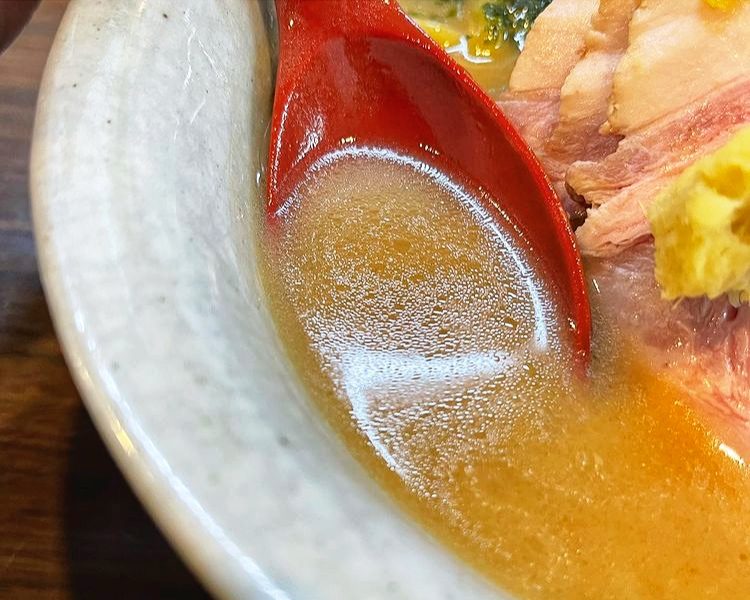 I had a sip on the miso broth. It was flavorful and extremely good. I can taste the saltiness from the miso, but with a twist of refreshingness yuzu that balances it off. It was a very unique twist of ramen miso broth that I never tasted before.
Not too salty, and taste so good.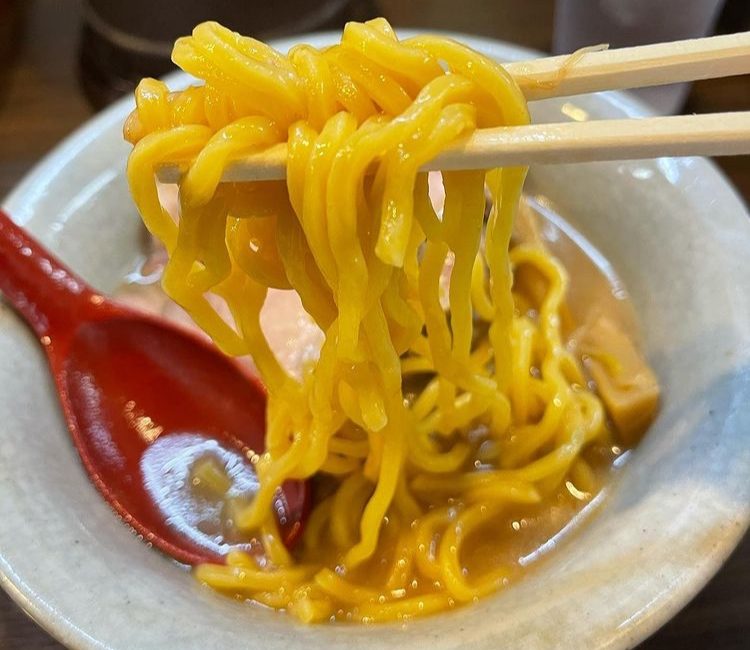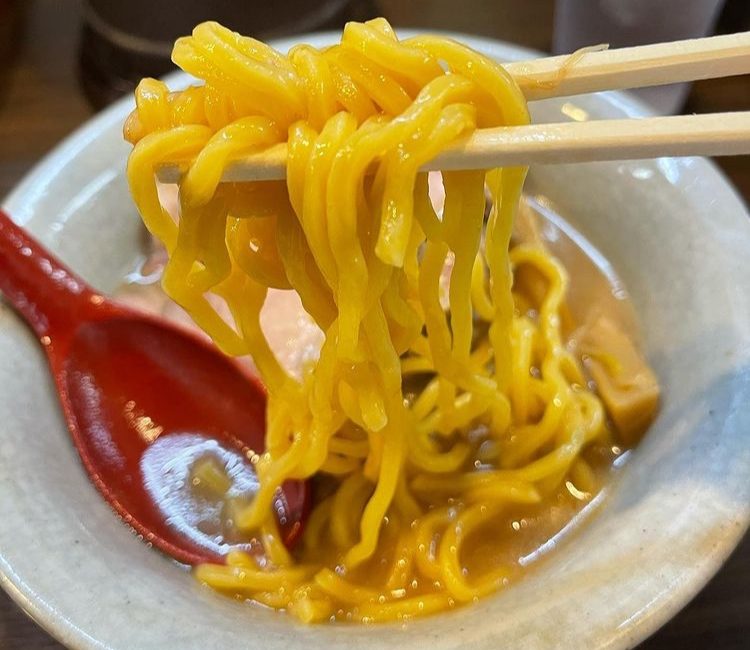 Added, the broth was goes so well with noodles which were firm to my liking.
The pork slides were tender with a smoky flavor. It had a nice smokey aroma and was seasoned perfectly. Mostly thick cut of the lean meat and not the normal pork slides that we ate in Tokyo.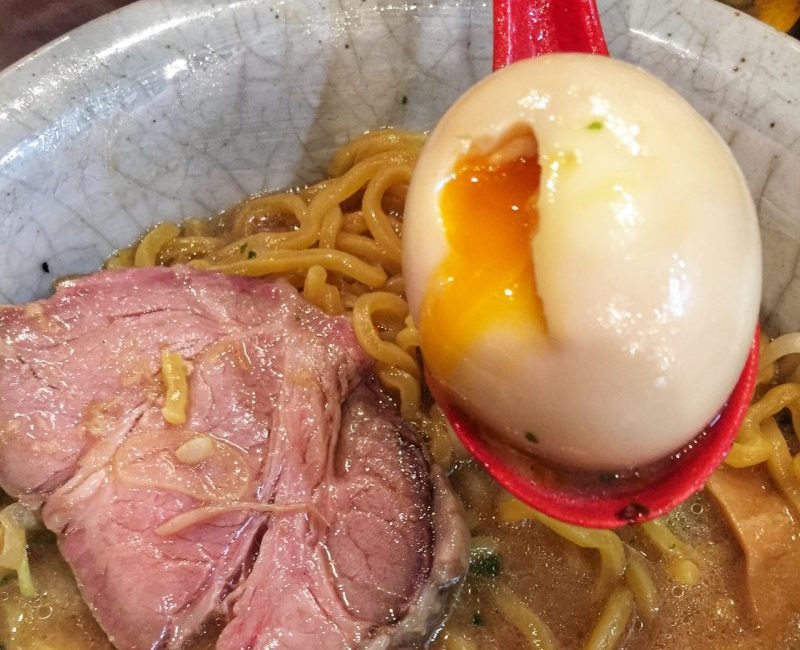 While the extra added topping, ramen egg was so fabulous. It was with glorious runny egg yolk, and probably the best-cooked ramen egg that I ate before! Simply amazing!
As above, the miso ramen was so delicious, went perfectly with a cold beer.
Kanawaza Best Ramen
All in all, it was an enjoyable meal in Menya Taiga. This tiny ramen restaurant made some of the best ramen I've had in the central Chubu region. The food is simple but tasty and extremely good value for money. Do come try if you are anywhere near. The squid ink version looked pretty cool, although I ordered the original version. Probably this will be one of the reason i come back to Kanazawa for next visit. But no matter what you pick, it's incredible.
Definitely one of the more memorable ramen experiences I've had. The shop opens late until 11 pm, perfectly fit into any schedule when you're visiting Kanazawa and looking for what to eat here.
Looking for some other Kanazawa itinerary for things to do, what to eat in Kanazawa, check out our other Kanazawa travel and food blog:
Complete read in Chubu travel blog:
Takayama and Shirakawago Travel Blog:
Tateyama Alpine Route and Kamikochi Travel Blog:
Nagoya Itinerary and Food Guide: