Last updated on September 23rd, 2023
Don't miss the chance to visit Kamikochi, Japan's most spectacular mountain scenery in the Northern Japan Alps. My Kamikochi itinerary with hiking travel guide included.
Kamikochi (上高地, Kamikōchi) s Japan's best keep secret and is preserved in its natural state. Located in the Western region of Nagano Prefecture, it is also literally "the place where gods descended", or "sacred place" for the Japanese.
Kamikochi has only moderately developed and is hard to access by transport. However, its natural landscape does not stop visitors from mesmerizing by the beauty of Kamikochi. Many locals and foreign travelers are coming along the way to Kamikochi for its stunning scenery, alpine flora, wildlife, and plants. It is very popular during the summer holiday and autumn leaf season.
Initially, I had no plan on the Kamikochi hiking itinerary on my Chubu travel trip. However, we decided to change our itinerary planning when getting to how beautiful Kamikochi is from the picture. We planned for a day trip to Kamikochi from Takayama and never regret it. Hiking in Kamikochi is one of the most memorable trips in Japan.
In this Kamikochi travel guide blog, we will share some of the useful information for planning on Kamikochi itinerary:
Kamikochi Travel Guide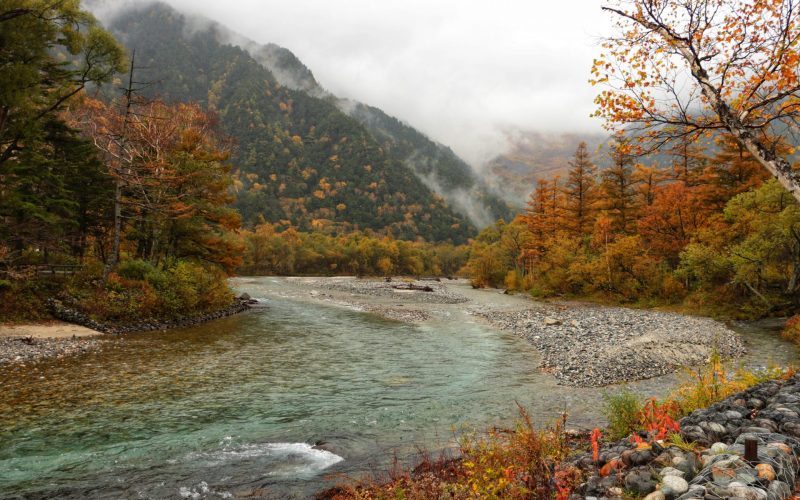 Please take note that Kamikochi is only open from mid or late April until November. All the facilities and parks will close down during the winter months. For the exact park opening date, please refer to their official website at kamikochi.org.
Kamikochi is welcome for every visitor when it is open. However, the best time to visit Kamikochi is in the fall. It is particularly beautiful for autumn foliage. The park is full of pleasant sights when the leaves turn in yellow and red color.
Here is some of the quick Kamikochi travel guide for itinerary planning:
When Kamikochi is open for the visit?
Kamikochi is open from mid/late April until November 15 and shuts down during winter.
How many days do you need in Kamikochi?
Kamikochi is best for day trips for an easy to moderate hike. But it is also ideal to stay one night in Kamikochi to enjoy the Japan Northern Alps of Nagano Prefecture with Japan's most spectacular mountain scenery.
Can we stay in Kamikochi?
There are few lodging in Kamikochi where you can spend one night in Kamikochi. We recommended staying in Hotel Shirakabaso Resort Hotel, a popular resort in Kamikochi which offers a great view of the Japanese Alps.
What can we do in Kamikochi?
Kamikochi has been preserved in its natural state within Chūbu-Sangaku National Park. It is best to plan for hiking and enjoy the natural scenic view of Japan's Northern Alps.
How To Get To Kamikochi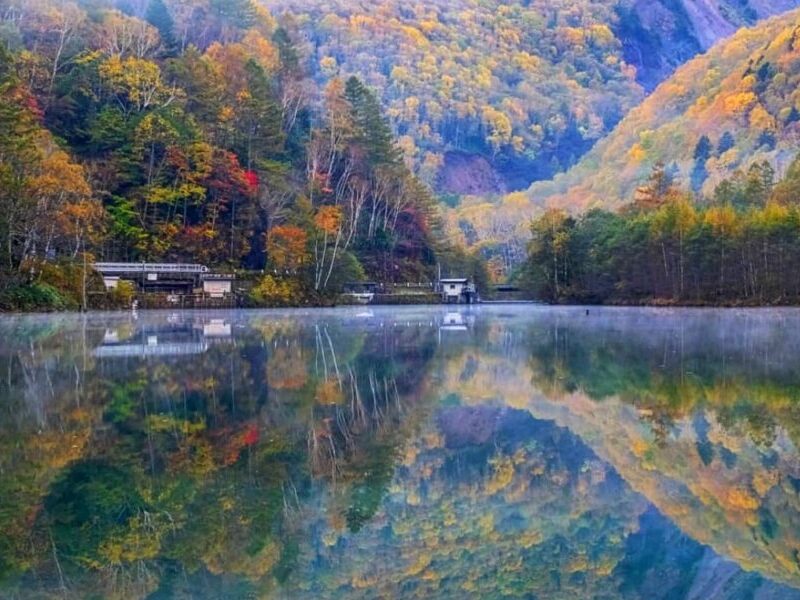 To keep its natural beauty, no private car is allowed to enter the Kamikochi National Park. Visitors can only access Kamikochi by bus or taxi. However, there are still plenty of ways to get to Kamikochi by public transport from different places.
From Matsumoto and Takayama
Matsumoto and Takayama are great stopovers on your way to Kamikochi. Both places are accessible to Kamikochi with about 2 hours of traveling time by bus and train.
Getting to Kamikochi from Matsumoto by Train and Bus
There are two direct buses departing from Matsumoto bus station to Kamikochi at 5:30 and 10:30 in the morning. And you can catch the returning bus from Kamikochi bus station at 16:00 and 16:45 the evening. The bus journey took about 2 hours with a one-way fare of ¥2,450. You can get the discounted round trip ticket costs ¥4,550.
Alternatively, you can take the Matsumoto Dentetsu Kamikochi Line train from Matsumoto Station to Shin-Shimashima Station (30 minutes). From there, transfer to a bus ride to Kamikochi (60 minutes). Japan Rail Pass is not covered on these buses and trains.
Getting to Kamikochi from Takayama by Bus
From Takayama, visitors can take the Nohi bus to Hirayu Onsen and follow it to Kamikochi by bus. There is one bus per hour departed from Takayama bus station to Hirayu Onsen. The bus ride takes about 60 minutes at ¥1,570. While two buses per hour to Kamikochi for a 25-minute ride at ¥1,160 for one way.
Many travelers also coupled their Kamikochi itinerary with one night stay in Hirayu Onsen and Shinhotaka ropeway ride. There is Okuhida 2-Days or 3 Days round trip set ticket for unlimited bus rides between Takayama, Hirayu Onsen, and Kamikochi. Added, the Shinhotaka Ropeway ticket is included. This discounted transportation ticket is very convenient and cheaper compare to buying the ticket separately.
From Tokyo, Kyoto, or Osaka
Kamikochi is a perfect stopover if you're planning to visit Kanto and Kansai. Many people also visited the Matsumoto or Takayama when getting to Kamikochi.
Getting to Kamikochi Tokyo, Kyoto, and Osaka
Multiple buses company operates daytime and overnight highway buses to Kamikochi. The one-way trip takes about 5 to 7 hours and costs around 5000 to 7000 yen. Online reservations can be made through Willer. But if you are coming from Tokyo, you might want to book this Kamikochi day trip tour. So you don't have to worry about transport arrangements.
Self Driving To Kamikochi
Getting to Kamikochi by Car
Self-driving is also the most convenient way of traveling around rural Japan. However, private cars are prohibited in the park. It can only able to reach the entrance gate in Kamikochi and park at Sawado. Visitors are required to take the bus (30 minutes, 1000 yen) or taxi ( 4000 yen) to Kamikochi.
The bus leaves every 30 minutes from Sawando and takes about 30 minutes to reach Kamikochi. While the parking fee is about 600 yen per day.
You can be booked for your rental car from RentalCars.com to enjoy a self-driving trip to Kamikochi. There are some tips for renting a car for driving in Japan. Read my travel guide on driving in Japan if you are interested.
Kamikochi Hiking Route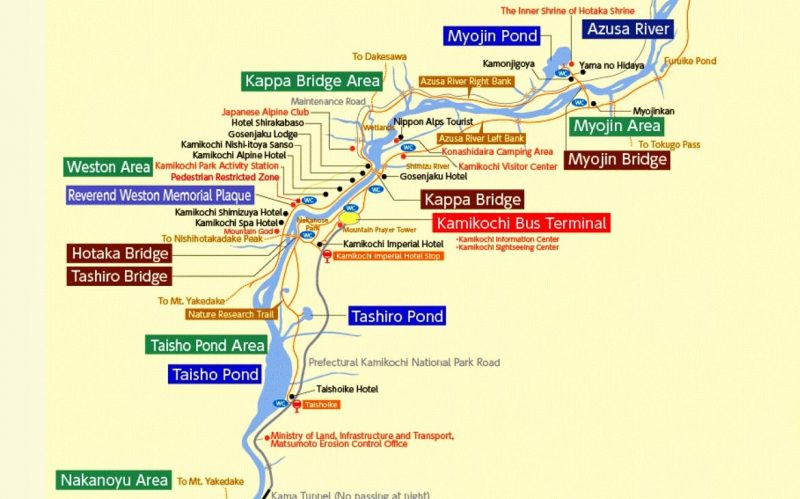 Before we proceed into my Kamikochi itinerary, let us take a look at what to do and see in Kamikochi. This will greatly help to have an overall picture of this amazing place.
There are many hiking trails in Kamikochi and easily can plan for 1 day to 2 days Kamikochi itinerary. One of the most common and easiest treks is started from Taisho Pond station, two stations before the Kamikochi station.
Kamikochi Hiking Route:
Easy (1-2 hours): Taisho-ike Bus Stop – Taisho Pond – Tashiro Pond – Kappabashi
Moderate (3-4 hours): Kappabashi – Myojin Pond – Kappabashi
Taisho Pond – Tashiro Pond – Kappabashi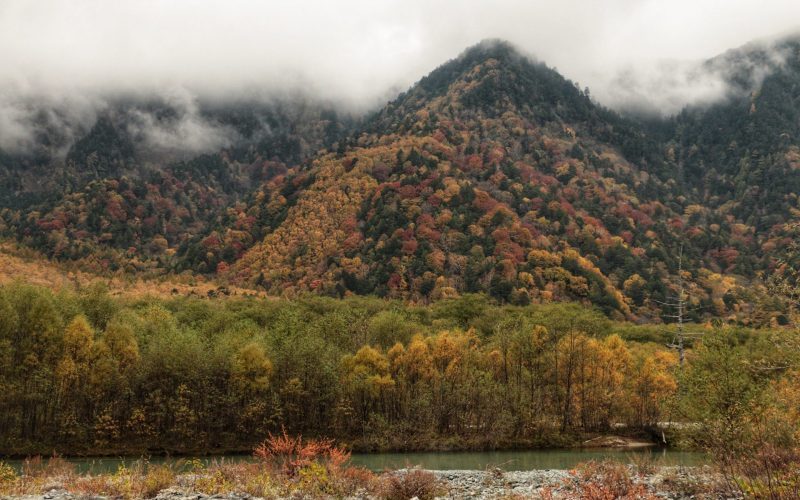 The hiking journey from the Taisho Pond stop to Kamikochi is very ideal for a hiker with limited time. It's approximate a one-hour hike between two places. This is a beautiful walk along the Azusa river to Kamikochi Bus Terminal with Kappashi nearby. You can choose to go further to Myojin pond and Hotaka Inner Shrine with about 3 hours round trip from the bus terminal.
Mount Yake (焼岳, Yake-dake) is an active volcano that you can see when entering the Kamikochi area. It formed the Taisho Pond when an eruption in the early 1900s. Besides, it is possible to hike into Mt. Yakedake with approximately 4 hours of one-way hiking journey.
Taisho Pond (大正池, Taishoike) is famous for its amazing view of surrounding mountains with fantastic reflection. It is one of the famous spots and a must-visit when visiting Kamikochi.
While Tashiro Pond (田代池) is another of Kamikochi's most scenic spots. It is located along the hiking trail that connects the Kappabashi with Taisho Pond.
Kappabashi – Myojin Pond – Kappabashi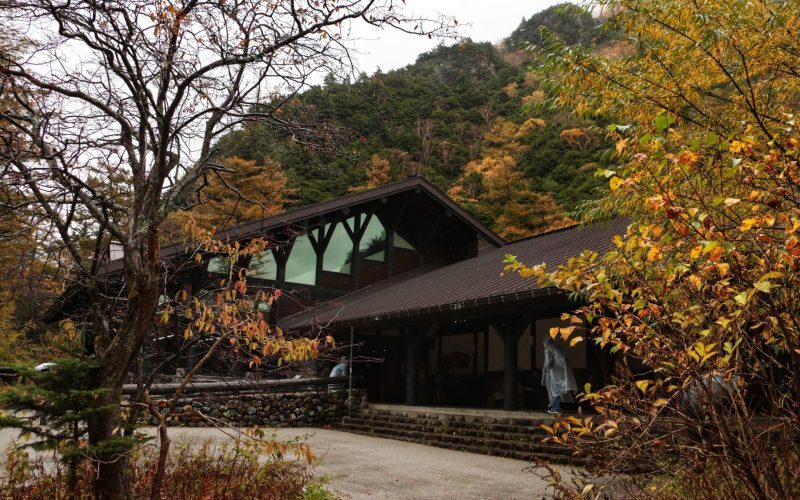 The main center of Kamikochi stands the Kappabashi (Kappa Bridge). It is located within a short walk from Kamikochi Bus Terminal with a few restaurants and hotels in the area. Besides, Kamikochi Visitor Center is also available and open from 8:00 to 17:00 to provide information to mountain hikers.
From the Kappabashi, there are many hiking trails leading up and down to the valley and summit of the surrounding mountain. For Kamikochi day trip hiker, you can choose to proceed with 3 hours round trip hiking trail to Myojin Pond.
Myojin Pond (明神池) is one of the most beautiful places in Kamikochi. It is home to the Hotaka Shrine's dockside bell and is famous for its tranquil waters and fall foliage.
There are still several routes for you to explore in Kamikochi. You may simply walk around Myojin and Taisho Ike if you just want to enjoy the beautiful scenery. But for those who want to walk up to Yokoo, we suggest staying one night at Kamikochi.
Kamikochi Hiking Itinerary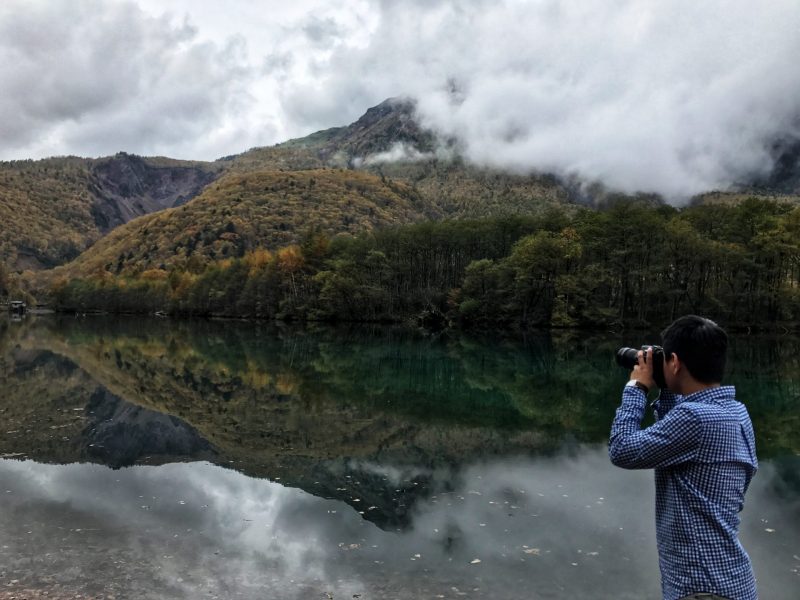 After discussion, we decided to go for this easy hike for our Kamikochi day trip before heading to Hirayu Onsen. We visited Kamikochi from Takayama by the Nohi bus. It was a comfortable bus ride with many beautiful sceneries along the journey.
Including the bus transfer at Hirayu Onsen, the bus ride took about one and a half hours, and finally, we arrived in Kamikochi.
The Mystic Beauty of Taisho Pond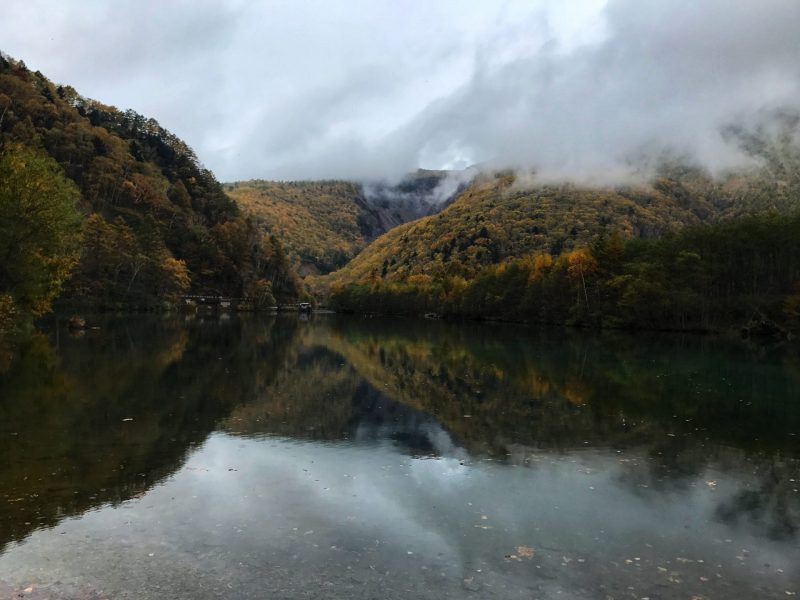 Firstly, we get off the bus at the Taisho stop before arriving at Kamikochi Bus Terminal. Once we arrived at Taisho Pond, we were amazed by its beautiful view.
The Taisho-ike was reflecting its peaceful mountain surrounded by crystal clear water.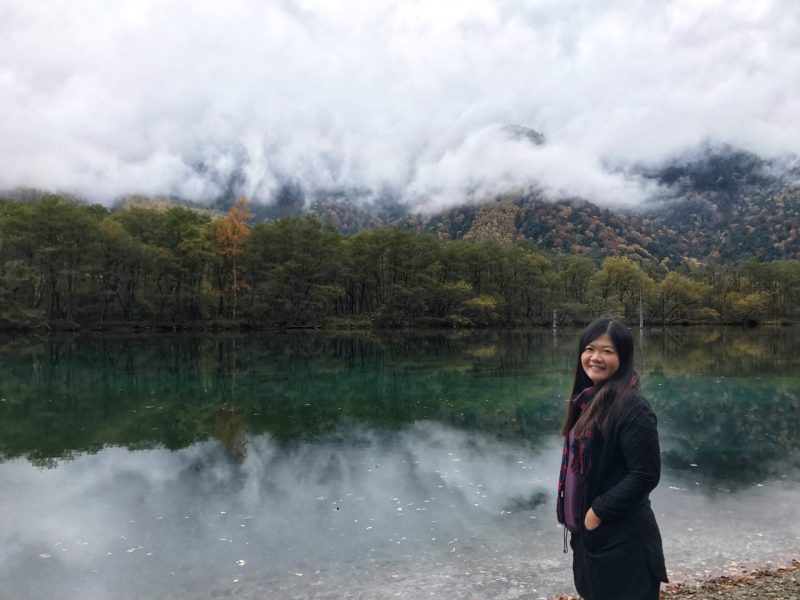 Even though it was cloudy, the early morning mist had its mystic beauty. The mists and low-hanging clouds added to its beauty and made for majestically picturesque photos. Breathtaking!
Luckily there weren't many visitors when we went there. We enjoyed our time mesmerized by the tranquil place in peaceful charm.
Hike From Taisho Pond To Kappa Bridge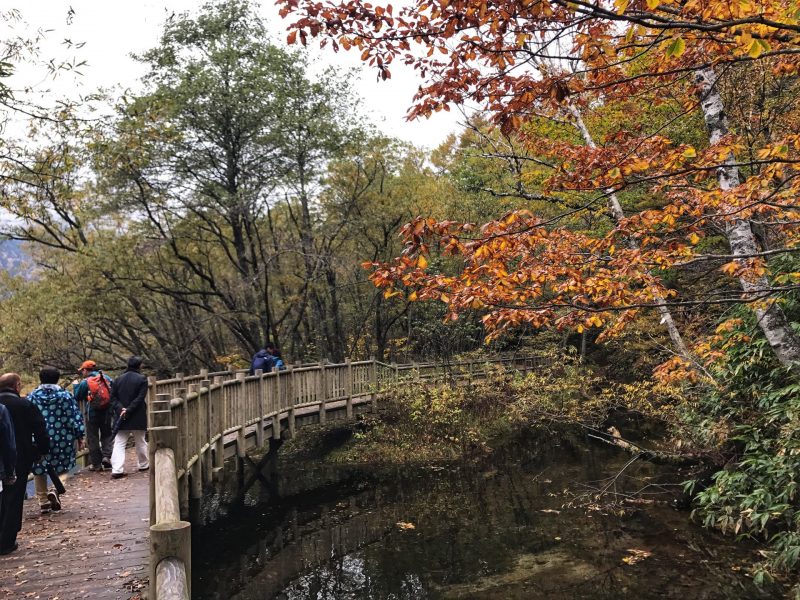 Next, we were ready for our hiking trek in Kamikochi. It was a comfortable broad walk with a well-laid-out trail. Followed the path and hiking along the Azusa River, we were rewarded with beautiful views all the way.
The trekking journey along the Azusa River and surrounding offer spectacular scenery with fresh air. Bird chirping with fish in the river seen along the trail.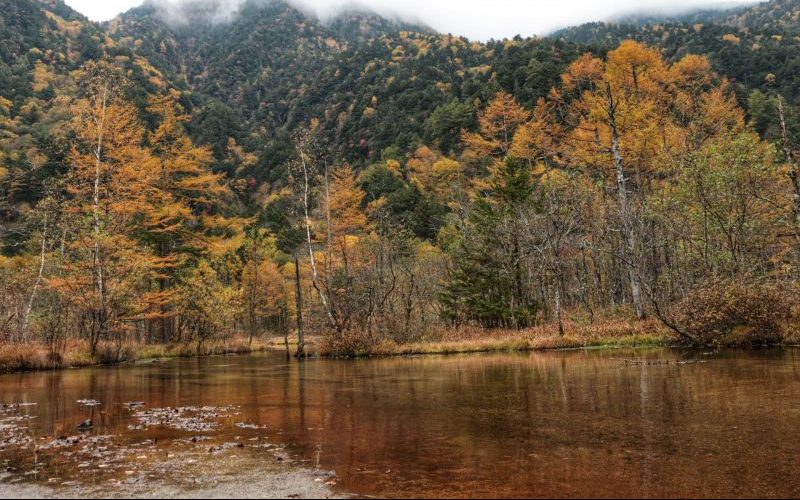 Besides, we made a pit stopped at Tashiro Pond. It required some detour on the way to the Kamikochi Terminal Bus. The water was so clean and flowing slowly. We spent some time there taking pictures and seeing the surroundings.
After about a one-hour walk, we finally reached the Kamikochi bus stop. We highly suggest visitors make the bus reservation on your planned return time. The staff will give you a numbered ticket with the departure time printed on your ticket. Remember to come back 10 minutes before departure time.
Kamikochi Travel Tips: Upon Arrived at Kamikochi Bus Stop, please get the numbered boarding ticket for your return bus. Else, you might not able to board the bus as per plan.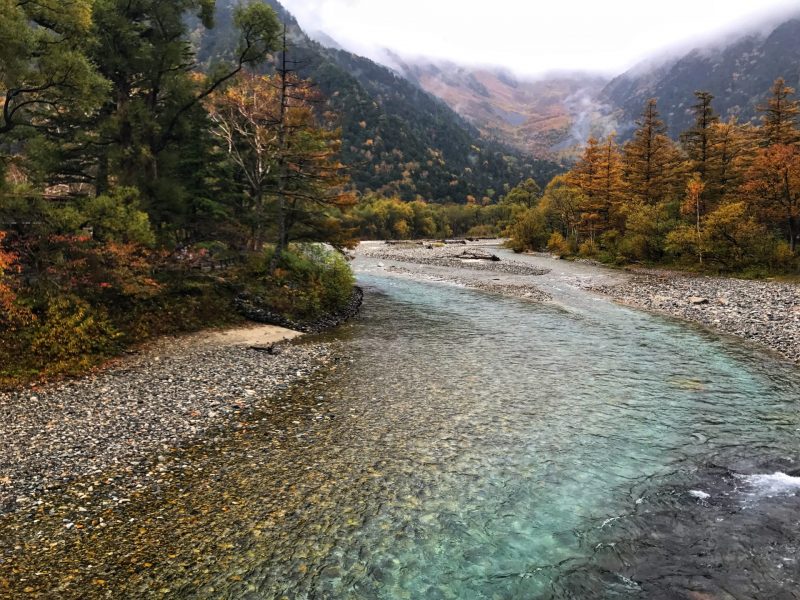 The pure waters of the Azusa River flow rapidly when we pass through the park. While the Kappa Bridge is the center of the Kamikochi where you'll find a few restaurants and souvenir shops. However, we didn't stop now and were off to Myojin Bridge. It is an approximately three-hour hike from Kappabashi.
Kappa Bridge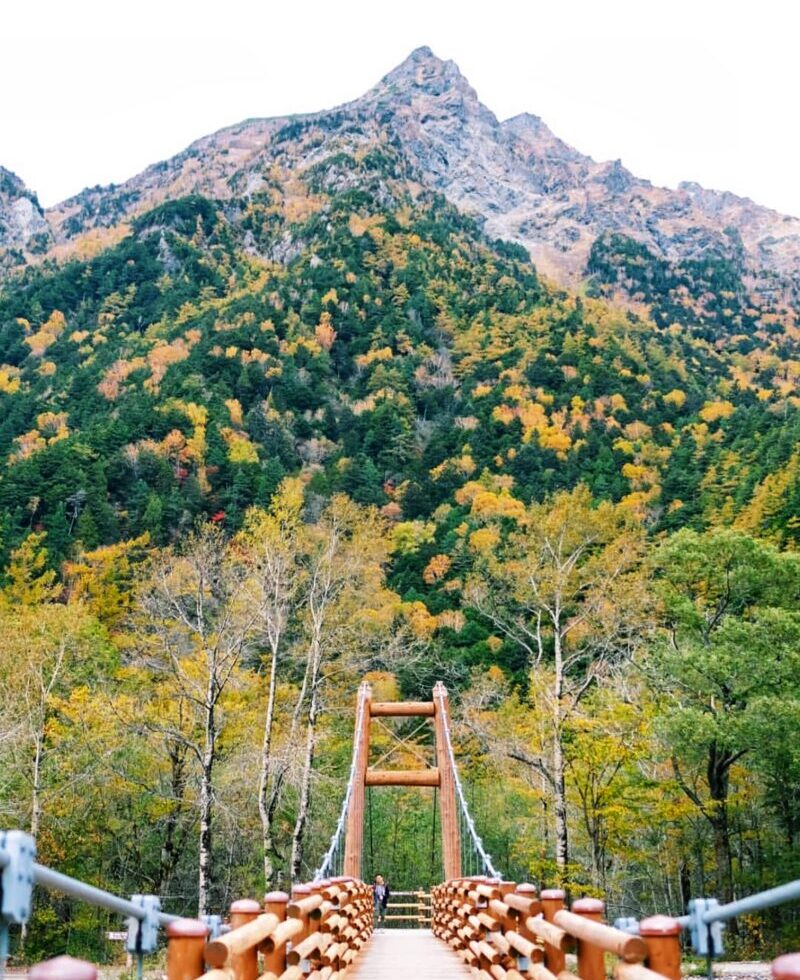 Kappa Bridge (Kappabashi) is a wooden suspension bridge over the Azusa River in the center of Kamikochi. This is the center point for Kamikochi and you'll find restaurants, hotels, and bus stop nearby the area.
The Kappa bridge is the most popular place for shooting and offers an amazing view of the mountain and Azusa river. A must-visit in the Kamikochi itinerary!
Hike From Kappa Bridge To Myojin Pond
There are two walking trails from Kappa Bridge to Myojin Pond. We suggest walking on the right side and returning via the left side to Kappa Bridge. Again, we had a lovely walk up to the pond with a beautiful view along the journey. It's about a 2-mile walk to the pond but the trail is flat.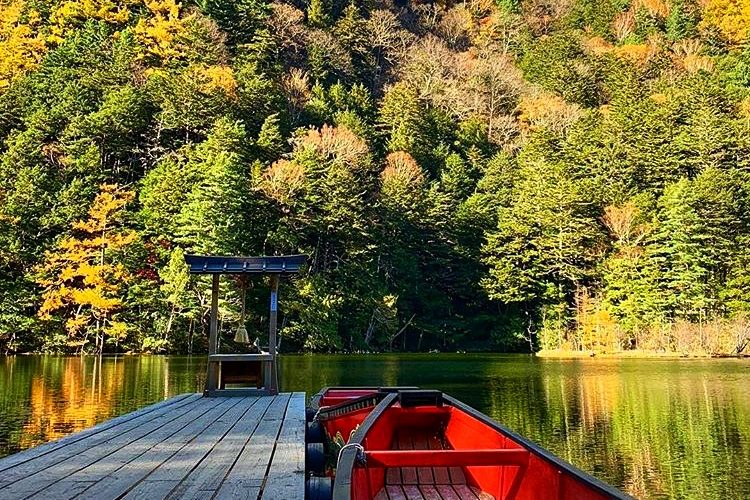 In Myojin Pond, we paid ¥300 to see the famous miniature shrine and bell at the end of the wooden dock. You won't be able to imagine how spectacular it can be once we pass under a Tori gate.
The view in Myojin Pond was so tranquil and serene like from a fairy tale. But there are crowded with other people enjoying the serenity places together. We waited in line behind other people wishing to pay their respects. So it is advised to this peaceful place as early as possible.
Please take note a pond is a sacred place. So no soaking of tired feet in the crystal clear water and required to stay out of the water.
Lunch at Kamikochi Restaurant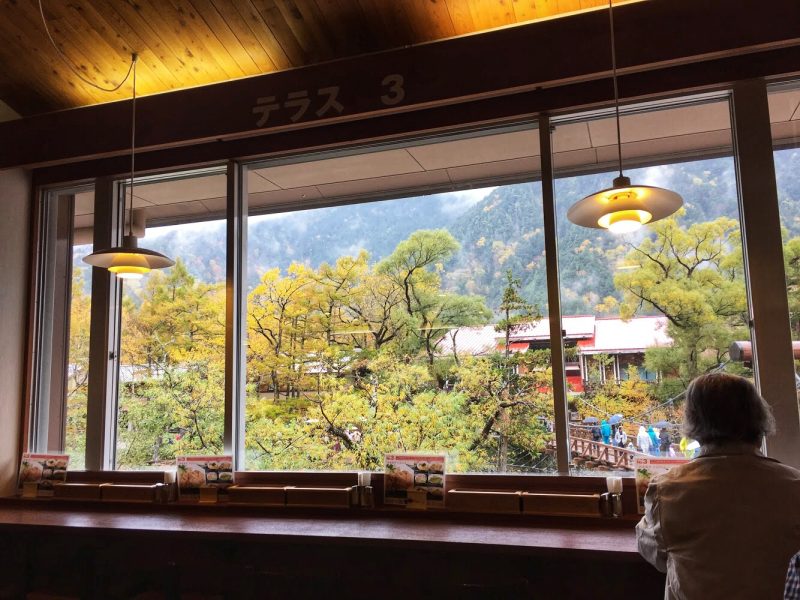 While on the way, the rain started falling. We speed up and reached the Kappabashi area at around 3 p.m. We had our late lunch at Kamikochi Restaurant. It is a great place if you are looking for what to eat in Kamikochi. Our lunch was served with a beautiful view of the Kappa Bridge.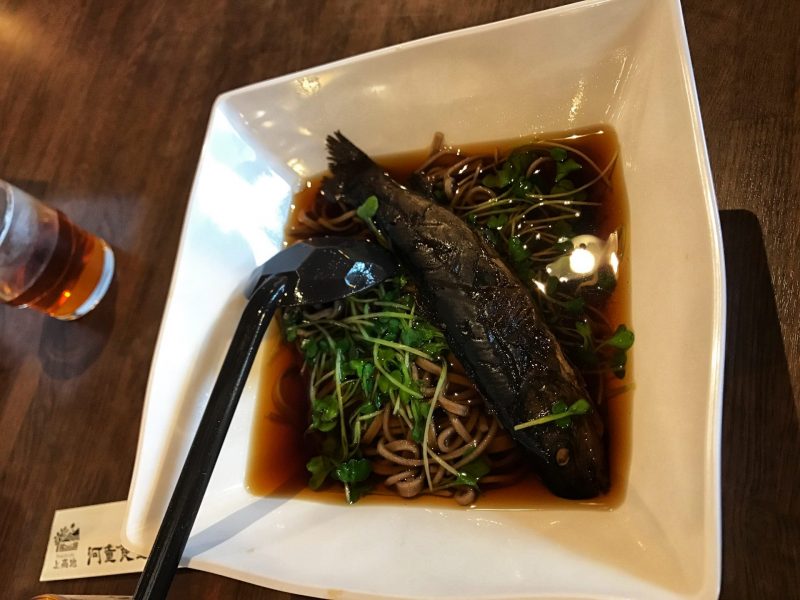 I had Nishi soba for my lunch in Kamikochi Restaurant. It was so good to have noodle soup after hiking in Kamikochi.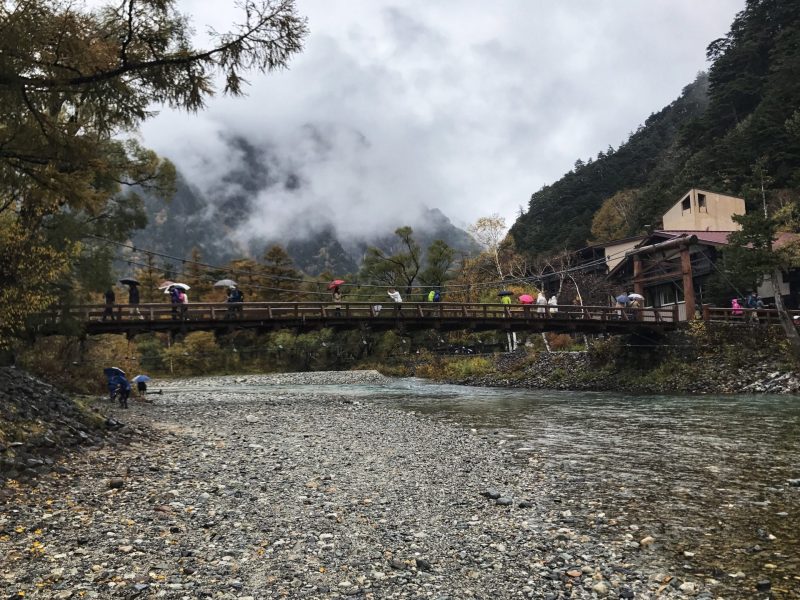 After lunch, we spend some time wandering around the vicinity of Kappa Bridge. The Kappabashi is the most iconic landmark of Kamikochi which spans over the Azusa River. A favorite spot for sightseeing and photographers.
Lastly, we headed back to the bus station to catch the bus back to Hirayu Onsen. We arrived 15 minutes before the scheduled departure time and boarded the bus successfully. That makes the end of my one-day Kamikochi itinerary.
Kamikochi Hiking Travel Tips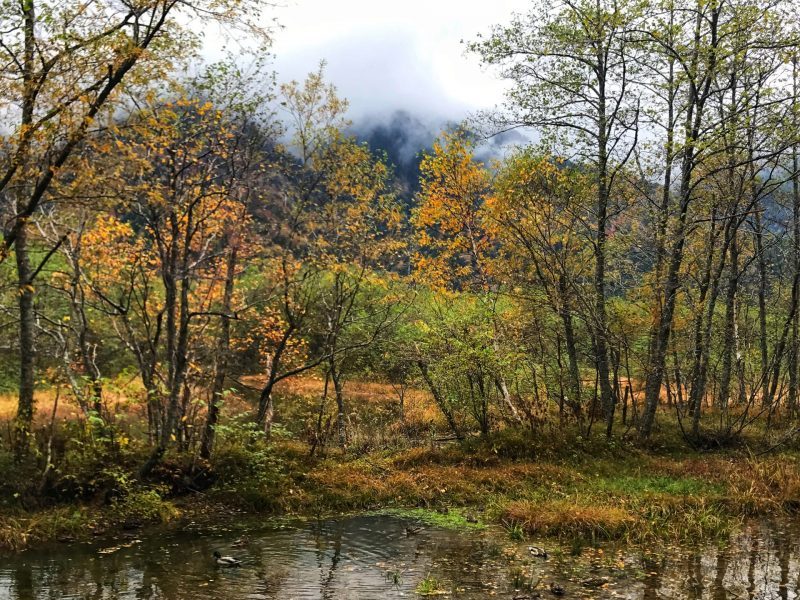 The Kamikochi is extremely popular at the weekend during Autumn. If you are there during this peak season, we recommended booking your return bus ticket at Kamikochi Bus Terminal as it filled up quickly. The last buses departed from Kamikochi at 5:30 p.m, so I recommend taking the one-hour earlier bus to avoid any hiccup.
Make sure to arrive at the bus terminal 15 minutes before the departure time. Besides, it is possible to board the bus at Taisho Pond but it might be full. So, it is still best to board the bus at Kamikochi Bus Terminal to ensure you get a seat.
Limited restaurants in the Kamikochi area and most are located in the Kappabashi area. Remember to bring water and some snack if you plan for hiking. We bring some Japanese rice rolls and had our late lunch after completing the hike.
Where To Stay in Kamikochi
Kamikochi is doable as a day trip to enjoy the mountain scenery in Northern Japan Alps. However, if you would like to spend more time with nature, we highly recommended spending one night in Kamikochi.
Here are some ideas of where to stay in Kamikochi:
Hotel Shirakabaso Resort Hotel has perfectly located nearby the Kappa Bridge. It is a very popular accommodation in Kamikochi for a great view of the Japanese Alps. Dinner is served with seasonal fresh ingredients in kaiseki ryori or modern French cuisine.
Kamikochi Taishoike Hotel is the only hotel located nearby Taisho Pond. It is the best place if you wish to plan your hiking trip starting from Taishi-ike.
Kamikochi Nishi-itoy Mountain Lodge is more on mid-range ryokan stay in Kamikochi. The location is superb with a few steps away from Kappabashi. A wonderful traditional inn with exceptional food, an onsen bath with rooms overlooking the river, and Mt. Hodaka.
But please make sure to book your accommodation in advance. Most of the accommodations are fully booked especially during peak season during the school holiday and fall foliage.
One Day Kamikochi Itinerary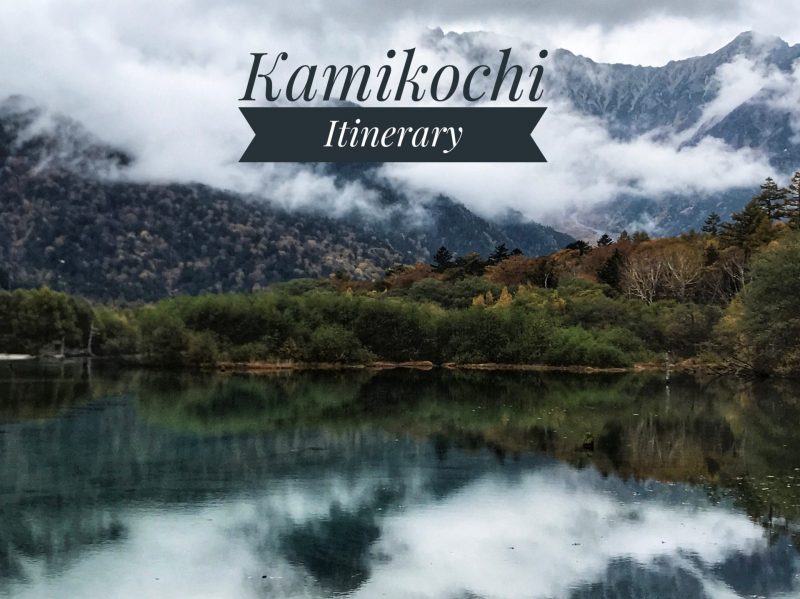 All in all, we enjoy our one-day Kamikochi itinerary by hiking from Taisho Pond to Myojin Pond. It is an easy trek with mostly flat terrain along the hiking journey. A day trip to Kamikochi with a few hours hike will be rewarded with beautiful sights along the trail. However, there is much more to see, and can plan for a 2-Days trip for a more relaxing visit. Some people choose to stay one night in Kamikochi. You can even climb to the surrounding peaks if you love to explore even further.
My Kamikochi itinerary with Easy Day Hike in Japan Alps:
7:50 Depart from Takayama to Kamikochi by Nohi Bus.
9:30 Reach Taisho Pond. Hike to Kappa Bridge area.
11:00 Arrive at Kappa Bridge and reserved the return bus ticket.
11:30 Round trip hike to Myojin Pond.
15:00 Back to Kappabashi and late lunch at Kamikochi Restaurant.
16:00 Wandering around and leaving Kamikochi with the bus.
Note: Above Kamikochi itinerary with rough time estimation. Please adjust based on your physical strength and weather condition.
Lastly, hopefully, this Kamikochi itinerary travel guide helps you plan your perfect hiking in Northern Japan Alps. Enjoy your trip to Kamikochi.
Complete read in Chubu travel blog:
Takayama and Shirakawago Travel Blog:
Tateyama Alpine Route and Kanazawa Travel Blog:
Nagoya Itinerary and Food Guide: