Last updated on October 2nd, 2023
If you are in Vienna, you really must head to one of the local coffee houses for a cup of nice coffee or dessert. Don't miss the visit to Café Central Vienna, one of the top 10 most beautiful cafes in the world.
There's no shortage of cafes in Vienna with coffee houses nearly everywhere. Voted as the third most beautiful coffee shop in the world, Café Central is a very popular and famous coffee house in Vienna that attracts tourists and local hordes.
We spend a leisure afternoon in Cafe Central during our visit to Vienna. Unique architecture in a nice ambiance served their best coffee with the finest homemade dessert. Worth the visit!
If you are planning for getting around and visiting Vienna, read more on our three days in Vienna on budget with money-saving tips. No worry as we will still explore the city top's sights, and enjoy the best food and drink in Vienna with fun and excitement!
Vienna Travel Tips:
We recommended to stay nearby tram Station for easy getting around and food hunting. The
Trend Hotel Savoyen Vienna
located right next to the train station so we could get the airport S7 direct, to and fro. Moreover, the tram station #71 is just few minutes away and easy to link to another tram stations. We really love the location, great facilities, comfort cozy room and super friendly staffs.
How To Get To Cafe Central Vienna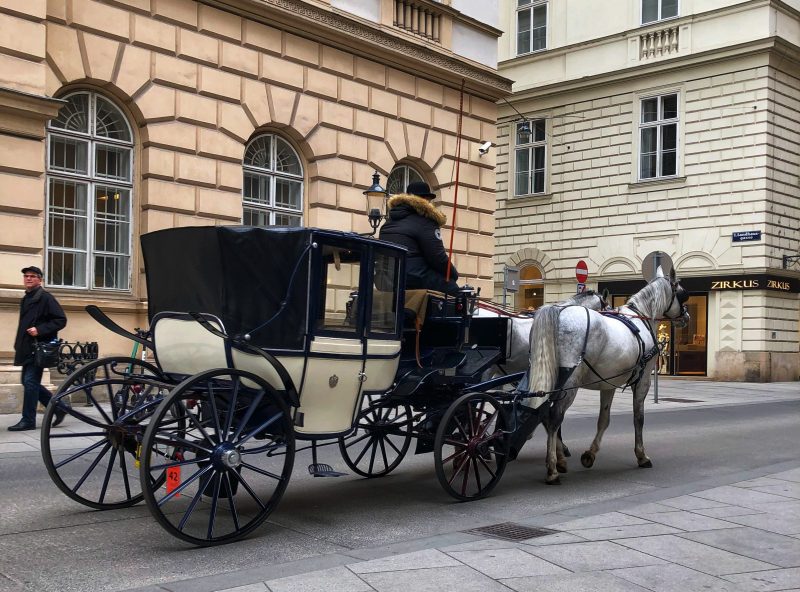 Cafe Central is centrally located in the center of Vienna town, opposite Palais Niederösterreich and just a short walk from Hofburg Palace. Likewise situated near the Spanish Riding School with horse-drawn carriages regular passing by.
The nearest subway station to the Central Cafe is Herrengasse station. Take the subway (U-Bahn) U3 and get off at Herrengasse stop, and proceed for less than a 3-minute walk to the cafe. Alternatively, take the buses 1A or 2A which will stop at Herrengasse stop too.
Address: Herrengasse 14, 1010 Wien, Austria
Cafe Central Vienna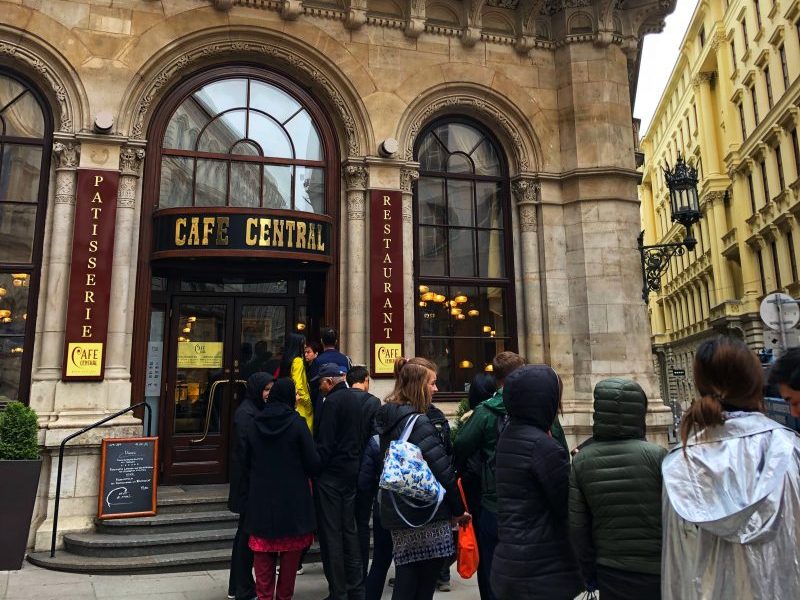 The Central Café first opened in 1876 and has been in existence for more than 150 years. This building was formerly known as Chess School and also used to be Bank and Stock Exchange Office after World World II.
It was once a popular meeting point for Vienna literature, artist, politician, and scientists such as Arthur Schnitzler, Sigmund Freud, Peter Altenberg, and Leo Trotzki. Nowadays, it has become a pilgrimage site for tourists from all over the world to Vienna, willing to pay hefty prices for coffee and dessert.
Always long queue, so expected for waiting in line for a seat. We waited for almost 30 minutes as Cafe Central was superb busy during the evening and even on weekdays. Cafe Central is open for reservation on weekdays. (Reservation in Cafe Central)
Open daily from 7:30 a.m to 10 p.m except for Sunday, starting from 10 a.m.
Splendid Building with Vaulted Ceiling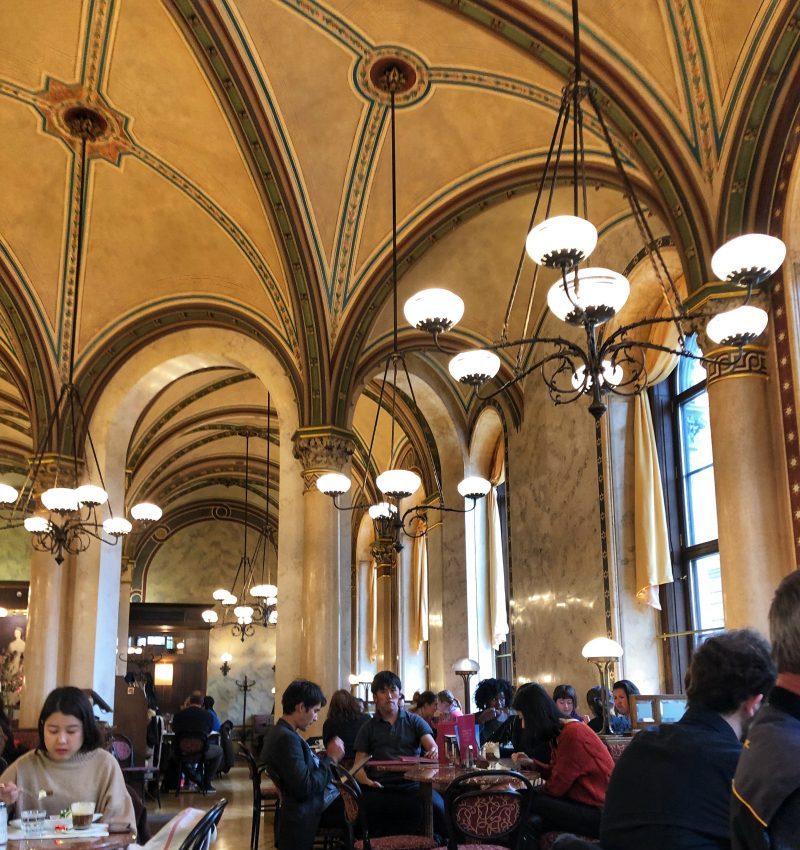 Once inside you will know why people in Vienna love and enjoy coffee. The splendid building with a vaulted ceiling does not disappoint. It is decorated with stunning archways hanging over a counter of sweet delight. Everyone enjoyed eating cake and drinking coffee in a grand cafe with a pleasant dining atmosphere. We were in Vienna, the capital of music.
The service is pretty brusque and professional. We were greeted and welcomed warmly with a smile once entered.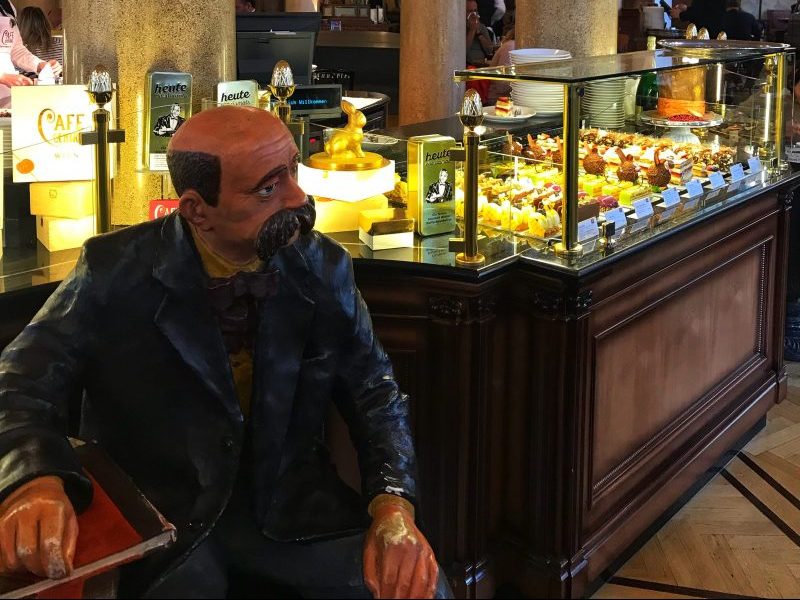 You can see the famous Austrian writer Peter Altenberg, formerly known as Richard Engländer at the door side. His famous quote, " If I am not in a cafe, I am on the way to the cafe" is now still used in Cafe Central. Amazing place full of history, make us travel back to the Vienna in Freud's time.
Full Menu On Offer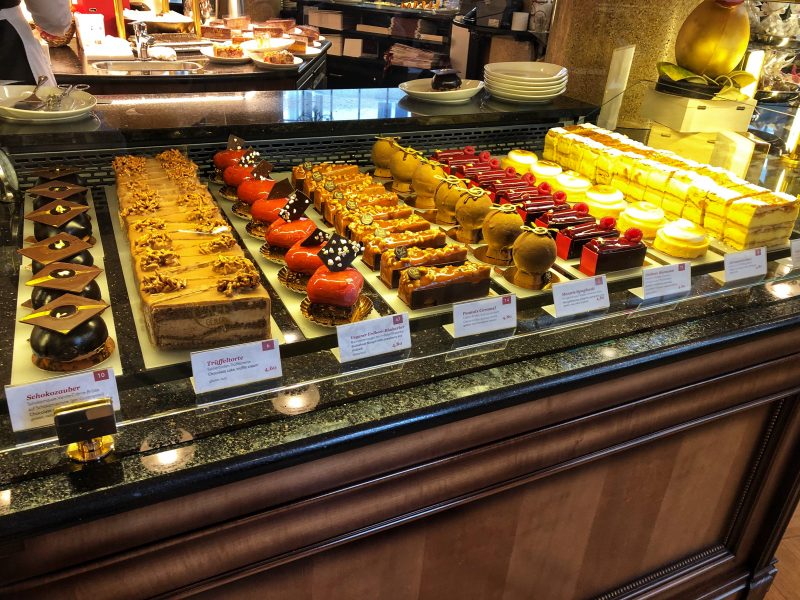 Similar to other cafes, Cafe Central also offered a wide range of breakfast choices, daily lunch, and a formal dinner menu. Classic Austria dishes, decent goulash soup, schnitzel, apple strudel, and savory treats can be ordered in Cafe Central.
However, though a full menu is on offer, Cafe Central's daily excellent selection of tortes and cakes are superb exquisite, and attractive. We would highly recommend you order the cake and desserts from the patisserie side. The dessert bar is something you hardly can miss once you enter the cafe, right in front of the entrance. Big counter with all the delicious cakes neatly load out awaiting you to choose from. Heaven for people with a sweet tooth.
Just note down the number of pastries or cake you want to order and then tell your waiter.
Cake heaven
The best part was the dessert we had which was so delicious. Beautifully presented like artwork and taste as good as they look.
So, what did we order? The desserts are so nice in Cafe Central Vienna and we ordered for a second round after taste on a few cakes. Total six desserts with coffee. There are some of the reasons that we loved Cafe Central's cake so much.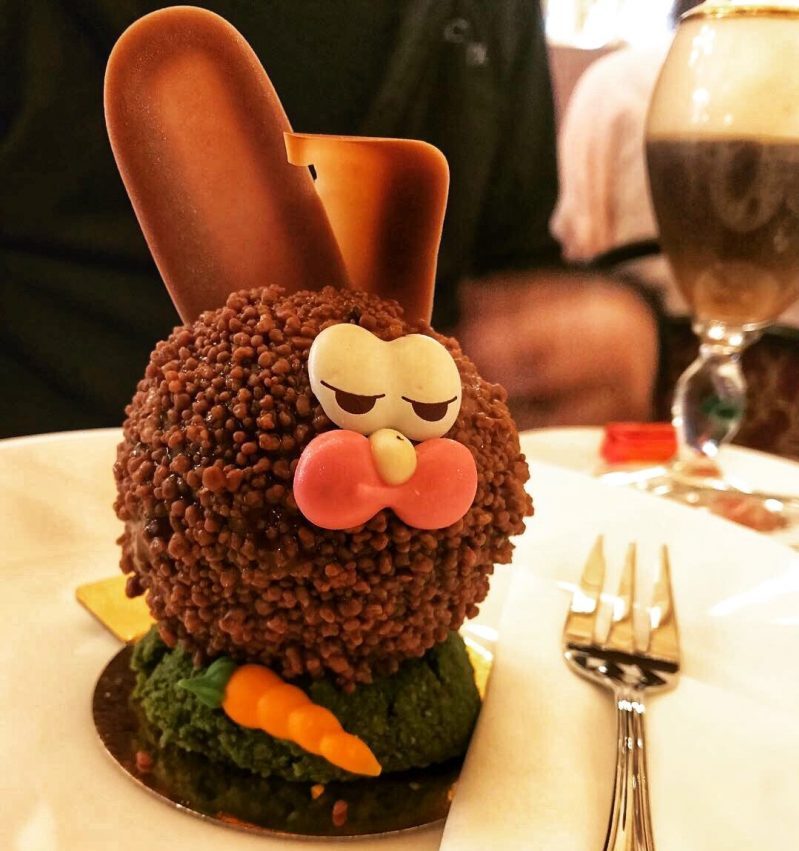 One of the surprises and most favorite desserts is the Osterhase. It is the Easter seasonal edition dessert with Easter bunnies filled with wild strawberry and covered with crispy pop.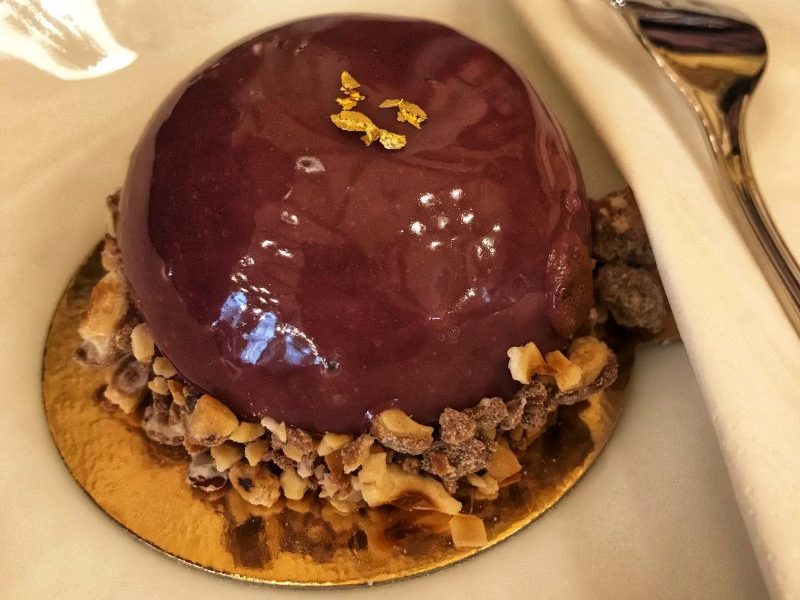 Sisi's Favorite, is named after Empress Elizabeth of Austria aka Sisi. This rum pastry with apricot jam was the favorite one of Elizabeth 'Sisi'. The cake is sweet and sour with rum with good taste.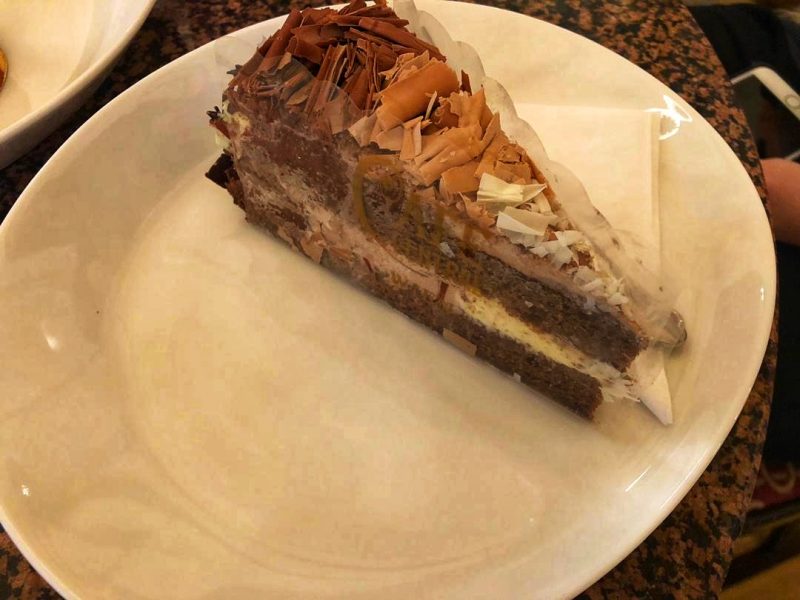 The Altenbergtorte is a chocolate cake with white, dark, and milk chocolate mousse. Very creamy and rich in a chocolate scene.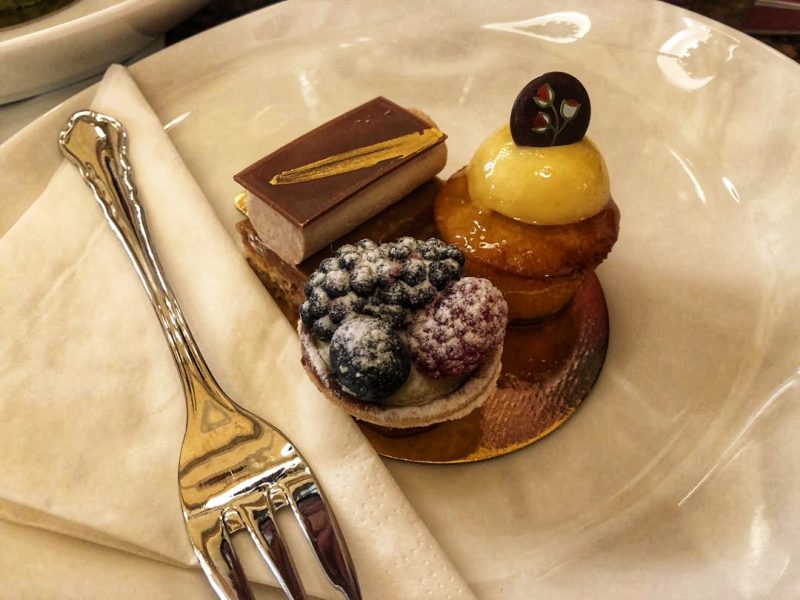 The Trio De Petite Four is very nice but not exceptional.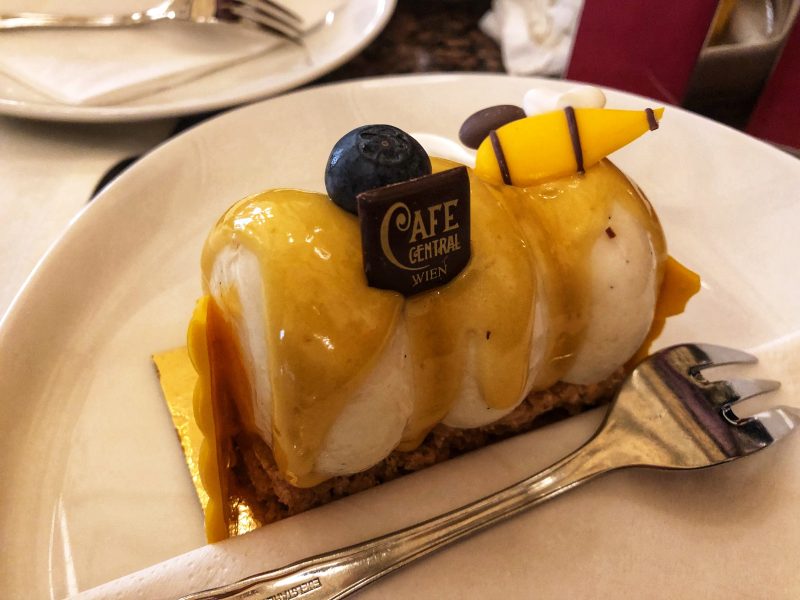 Last but not least is the Honey Bee. The cake itself is a cute design with lemon and yogurt mousses on top. Taste sweet and sour.
Kaiserschmarrn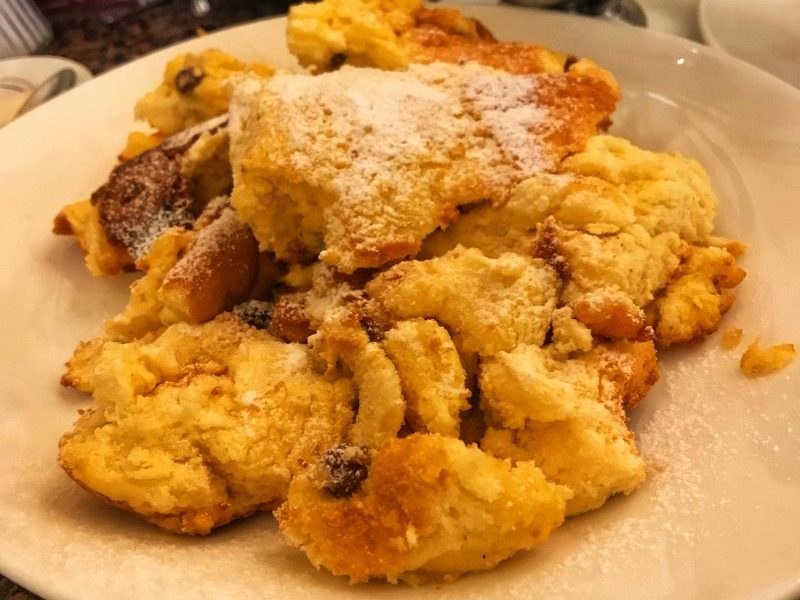 One of the most famous warm desserts in Cafe Central is the Kaiserchmarrn, torn warm thick pancake with stewed plum. Scrumptious! A big serving and easily shared among two people. We were fighting to finish it but the portion is too huge.
This Austrian traditional dessert emperor pancake is also the favorite dessert of Franz Josef I.
Viennese Coffee
Austrian has a coffee culture all of its own. Their coffees are unique and simple but not varied. Wiener Melange is the unique Viennese style coffee, extended espresso infused with hot water and frothed milk. The coffee is very smooth and ordinary.
You can also have coffee or tea specialties like coffee mixed with rum, whiskey, or liqueur together and whipped cream.
Come taste their coffee and you will know why their coffee is so good.
Cafe Central Vienna Review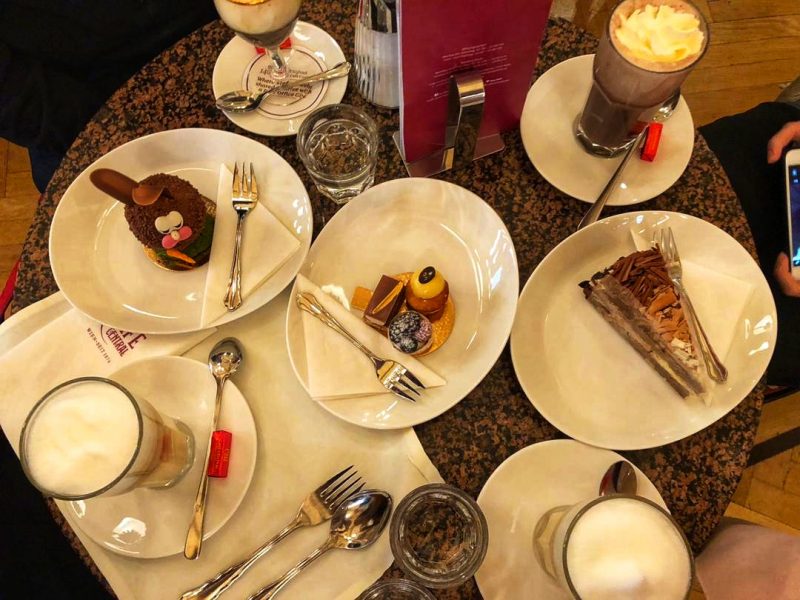 All in all, if you don't mind the possible wait, Café Central qualifies as a must-do on your Vienna itinerary. Imagine drinking a cup of coffee with a nice dessert, surrounded by splendid architecture and decoration for a grand experience. All make you feel like back in time. There are so many places for the Vienna cafe experience, but Cafe Central is the best of them all. Worth the wait!
The history and decoration of Cafe Central are very similar to New York Cafe in Budapest. While both cafes were also voted as the top 10 most beautiful cafes in the world. But the great coffee and perfect dessert are as good as it says.
Read more: New York Cafe Budapest, World's Most Beautiful Cafe
Read More On Our Central Europe Itinerary
Hopefully, our Cafe Central Vienna review is helpful. While you can read about some of the other things we did in Vienna, Austria, or check out our Central Europe itinerary we have visited around.
How To Plan Your Central Europe Itinerary: Top 3 Must Visit Countries
Read more on our Central Europe travel blog in: