Last updated on September 23rd, 2023
Planning your Nusa Penida itinerary? Tour Kelingking Beach, Angel's Billabong, Broken Beach, and pristine beaches on the island. This Nusa Penida Travel Guide blog brings you to one of the best islands in Bali.
Located off the southeast coast of Bali in Indonesia, Nusa Penida is an island paradise for sightseeing and photography. It is home to emerald pools, stunning rock formations, dramatic cliffs, and clear blue waters. A stunning island offers an unforgettable experience for every traveler.
When visiting Nusa Penida, there are plenty of activities to enjoy on the island, perfect for people of all ages and travel styles. You'll be able to do lots of sightseeing, swimming, relaxing, and hanging on the beach. This is one of the best day excursions and must-visit places during your trip to Bali.
This Nusa Penida Travel Guide blog will highlight some of the island's best attractions to help you plan the itinerary for this amazing island.
Nusa Penida Travel Guide: Pre-Trip Essential
Do you know that Nusa Islands not considered a part of Bali? In fact, the region is comprised of three small islands – Nusa Lembongan, Nusa Ceningan, and Nusa Penida which make up the Klungkung Regency district. It is located off the southeastern coast of Bali. But it is very common to visit the Nusa islands during your trip to Bali as it only take half an hour by speedboat to reach these stunning islands.
The Nusa Islands are consists of three islands:
Nusa Penida is the biggest and most developed. It has the dramatic scenery and vibrant blue waters.
Nusa Lembongan is popular for diving and surfing. It much smaller in size but popular for diver.
Nusa Ceningan is the smallest but is equally as beautiful.
In this Nusa Penida Travel Guide, we will share more on our trip to Nusa Penida!
How To Get To Nusa Penida
The only way to access the Nusa Islands is by boat. From the main island, a quick 45-minute ferry ride from Sanur will take you to access the spectacular islands. Regular boats are operated between Sanur Beach Harbor and Nusa Penida and Nusa Lembongan. You can book your boat ticket in advance from Klook to save the hassle.
Once reached the Nusa islands, you can explore the island.
Getting Around in Nusa Penida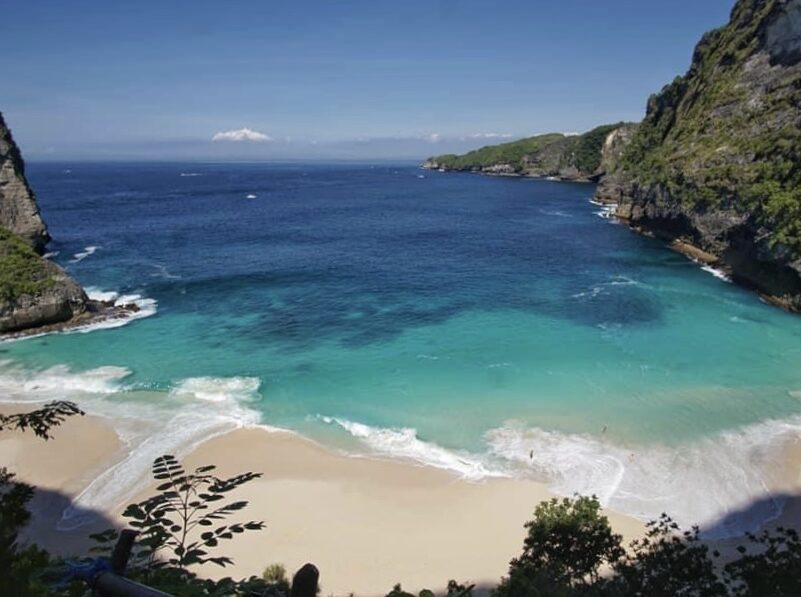 Touring around Nusa Penida is trully an amazing experience. The island has many untamed beauty awaiting you to explore and adventure. But this is also mean that the roads on Penida are in bad condition and pretty treacherous. Below are a few options on how to get around in Nusa Penida.
Getting Around in Nusa Penida:
Travelers can choose to explore the island by renting a motorbike or scooter. But it required a lot of riding skills.
The second option is to hire a private driver who will take you to all the top attractions on Nusa Penusa such as Kelingking Beach, Broken Beach, and Angel's Billabong. But the best thing is you can see the most popular and Instagram-worthy places at your own pace and time. Book for Nusa Penida Private Car Charter.
The last option is joining a Nusa Penida Day Tour which takes you to all of the most iconic viewpoints and beaches on Nusa Penida in one day. You can opt to choose the join-in or private tour.
Recommended Tour: Nusa Penida Day Tour with Optional Snorkelling from Bali
How Many Days For Nusa Penida Itinerary
Nusa Penida is a pretty big island with many amazing viewpoints, so you will need at least 2 full days to explore everything.
Most people choose to visit the iconic locations in Nusa Penida on a day trip from Bali. But, if you have more time, consider staying in Nusa Island and plan with your Nusa itinerary for 2 days. The island is pretty crowded and it is best to visit the attractions early. You can also enjoy the calming atmosphere, gorgeous sunsets, and island vibes after the day-tripper left the island.
Besides, with more time on the Nusa Penida itinerary, you can also spend one day visiting West Nusa Penida and then another day for East Nusa Penida.
Where To Stay
It is best to stay one night on Nusa Penida island to enjoy the serene view. We recommended staying in Nusa Penida as this area is more developed with some hotels coffee shops, restaurants, and beach bars. You can then do trips to the other two Nusa Islands.
High-Range: Situated in Nusa Penida, Blue Harbor Beachfront Villas & Resto offers beachfront accommodation. Just only a few steps from the beach but also a few steps to the pool. The property also features various facilities, such as a restaurant, a shared lounge, and a garden. Everything is amazing and great value for money.
Mid-range: Hotel Arsa Santhi Nusa Penida is another best place to stay in Nusa Penida. It is a nice and cozy hotel, with a beautiful garden and pool area for your stay on the island. The location is great, close to both harbors (free pick up included) with many restaurants and facilities within walking distance. The staff is very friendly and helpful.
Budget: For a budget-friendly stay in Nusa Penida, take a look at Sakti OceanView Nusa Penida. It is close to close to Gamat Bay Beach and offers access to a terrace, free private parking, and free WiFi. The location is isolated but it offers a stunning sea view and private time.
More Accommodation options: Where To Stay in Nusa Penida: Best Places and Hotels
Things To Do in Nusa Penida Itinerary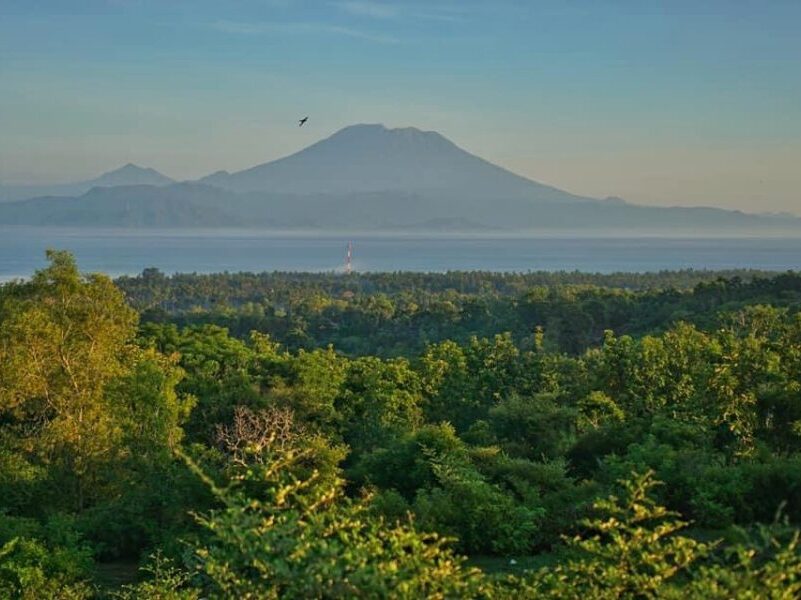 Nusa Penida has many unique and scenic attractions that you can't help but fall in love with. Here are some of the top things to do in Nusa Penida during your visit:
Things to do in Nusa Penida itinerary (West Nusa):
Peguyangan Waterfall
Kelingking Beach
T-Rex shaped rock formation
Angel's Billabong
Amazing rock formations at Pasih Uug Beach (Broken Beach)
Crystal Bay
More places to visit in your East Nusa Penida itinerary: Rumah Pohon treehouse, Thousand Islands Viewpoint, Diamond Beach Nusa Penida.
Tour to Nusa Penida
When deciding on your Nusa Penida tour, in general, you can choose to visit the East or West tours. You can also opt for snorkeling if you wish. We took the Nusa Penida Tour from Klook as it included all the activities we wanted to do on the island. It is hassle-free and the best option that serves our needs.
The tour will take you to all of the most iconic viewpoints such as Kelingking Beach, Peguyangan Waterfall, Angel's Billabong, Broken Beach, and beaches on Nusa Penida in one day. It comes fully inclusive of pick-up, a shared boat ride, a guide, transport on the island, entrance fees, and simple lunch.
Please check more detail on the link: Nusa Penida Day Tour with Optional Snorkelling from Bali
Peguyangan Waterfall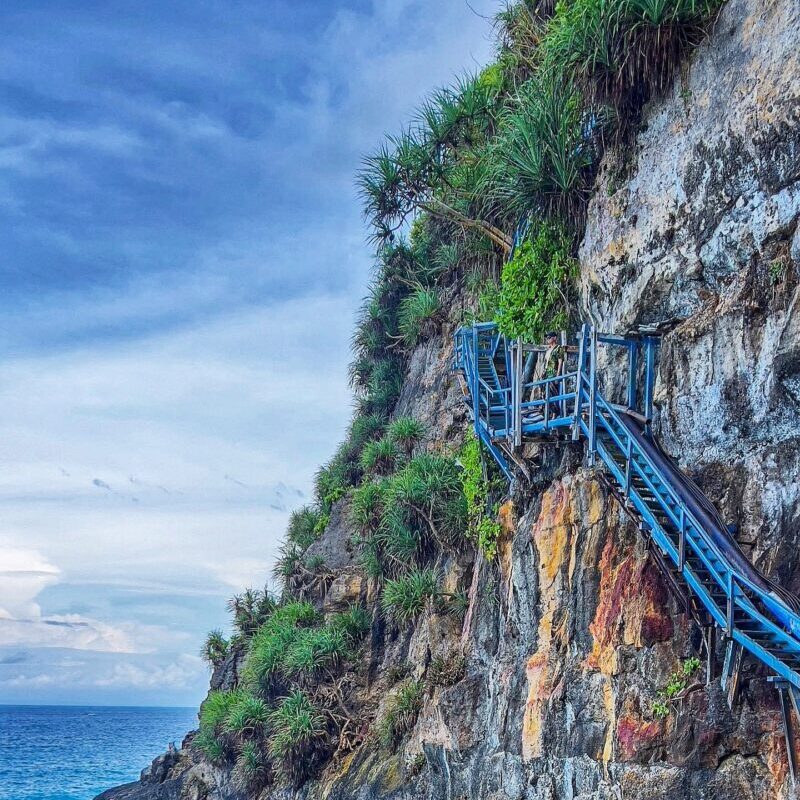 Let's start your Nusa Penida itinerary at the Peguyangan Waterfall. From the harbor, it takes around one hour to reach.
Peguyangan Waterfall is one of the popular places to visit in Nusa Penida. It is located at the cliffs with about 700 steep stairs on the hillside that lead you down to the waterfalls and temple. The iconic blue painted staircase provides some amazing pictures and the views were amazing!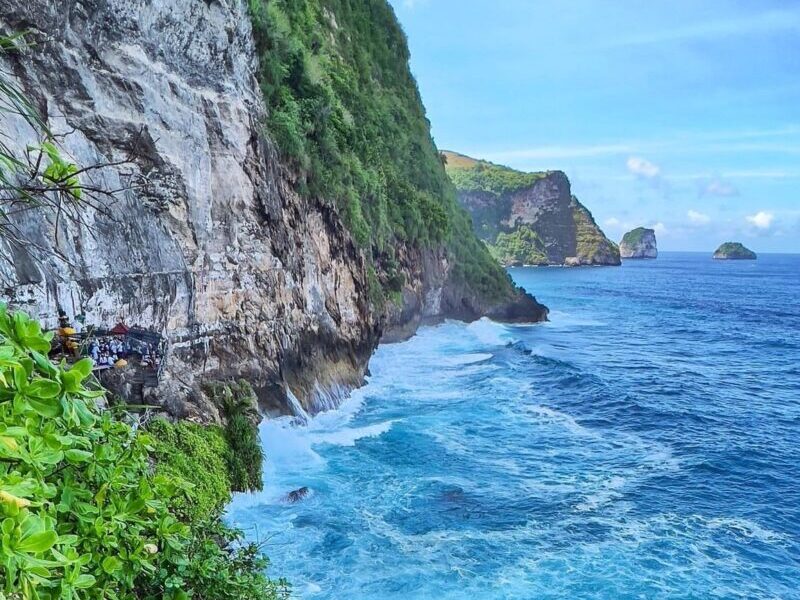 Take note that the staircase is narrow and steep, which is quite dangerous. Getting down to the very bottom, surprisingly, there is no waterfall and only a small stream. A Hindu temple is perched at the bottom of the cliff for local prayer and is not allowed to enter by visitors. But still, for the amazing views, it's worth the hike!
A great first stop on my island tour and worth the trek for some great pics.
Nusa Penida Travel Tips: Take your sarong with you during the tour to Peguyangan Waterfall. Otherwise, you will have to rent one at the entrance for a fee. Visitors need to cover their waist down with a sarong as the stairs bring them to a temple.
Kelingking Beach
Visiting Kelingking Beach is a must-do on your Nusa Penida itinerary! The coastal cliff with T-Rex shaped rock formation is a famous landmark in Bali, and even in Indonesia.
Kelingking Beach is simply stunning and words cannot describe how beautiful it is. The view from the top provides the most enchanting views of the island's coastline, where cliffs are greeted by crystal blue water. It is undoubtedly one of the most picturesque beaches on Nusa Penida island. You will get some astonishing views with some great pictures.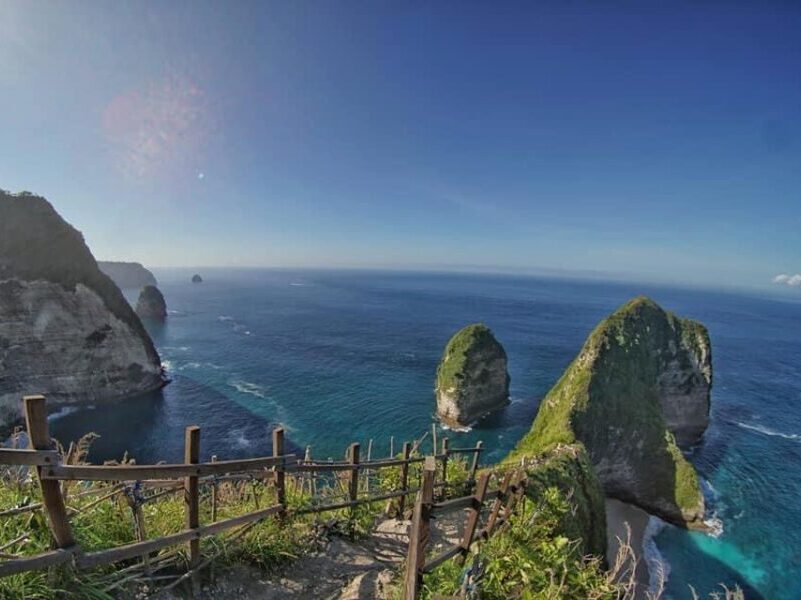 There is a path to hike down from the top to the white sandy beach. But be cautious. It is steep, exhausting, and dangerous. It needs to be physically fit to descend the cliff to enjoy the beach and then climb back. The hike is very very steep!
Friendly reminder: DO NOT swim in the ocean, especially during high tide and strong waves. It is not safe to swim in Kelingking Beach due to the strong waves.
In short, visiting this place is a real must-have on every Nusa Islands itinerary!
Angel's Billabong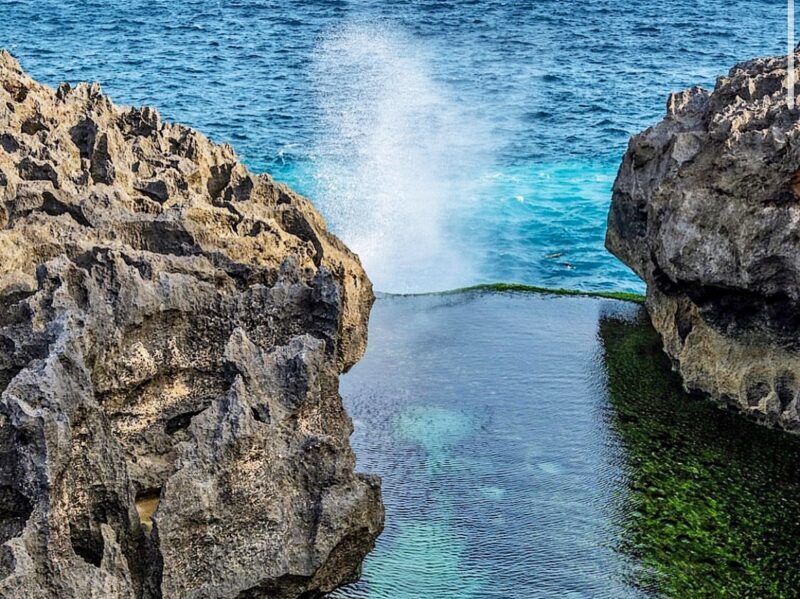 After enjoying the Kelingking Beachl, continue tour to Angel's Billabong and Broken Beach. These two attraction, so it is best coupled the visit together.
Angel's Billabong is a large scenic rock pool located on a cliff shelf on the southwest coast of Nusa Penida. This Mother Nature infinity pool could be visited at any time, but it is only at low tide that one could be rewarded with an infinite pool view. It is also where visitors can dip in the water during low tide. Again, please be extra careful it could be dangerous.
If you don't swim here, you may also enjoy the view. The waves are so fascinating and keep crashing against the jagged rocks beech. Worth to stop here for the amazing view.
Pasih Uug Beach (Broken Beach)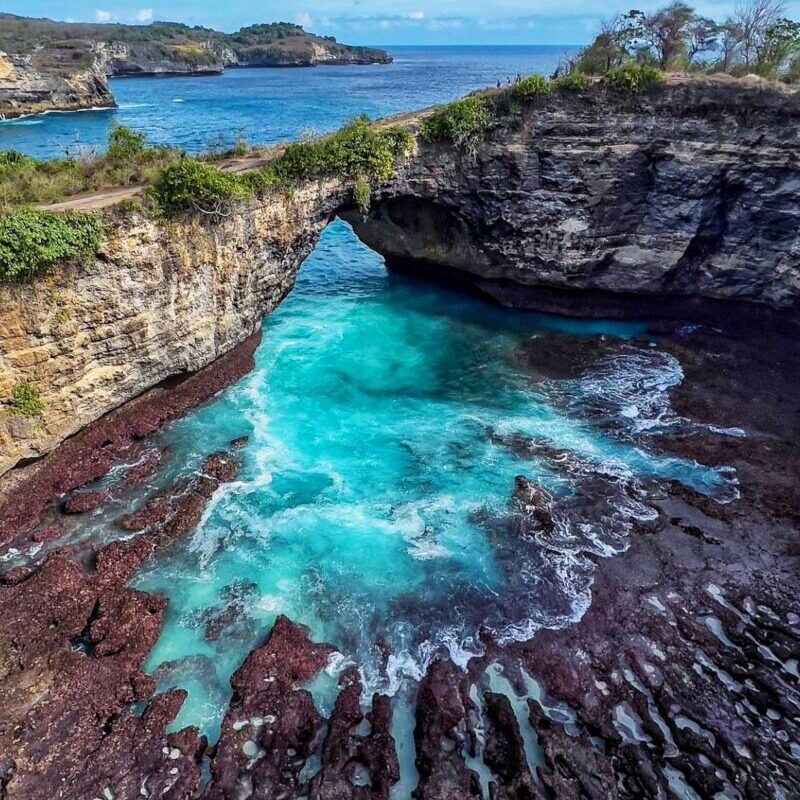 Broken Beach, or Pasih Uug Beach in Indonesian is a picturesque rock formation located on the southwest coast of Nusa Penida. It is an unique naturally formed limestone archway that creates a natural pool over the ocean. You can walk all around the cliff top and get some pretty cool photos. The water keeps flowing through the archway in the cliff. Truly spectacular!
Another great spot for travel photographers and anyone who wants to enjoy stunning panoramic views.
Nusa Penida Travel Guide Tips: A visit during low tide allows the sandy part rocky beach revealed. So beautiful!
Crystal Bay
As we approach the end of the tour, take some relaxing time at the beach. There are many beautiful beaches in Nusa Penida but the waves are strong which is not recommended for swimming. Crystal Bay is easy access, and great for watching the sunset with white sand and calm seawater. Enjoy your time by relaxing at the beach.
Overall: Day Trip to Nusa Penida
All in all, we hope this Nusa Penida Travel Guide blog gives you a glimpse of what you can do in Nusa Penida as a first-timer visit. Our Nusa Penida tour was truly delightful. We had the chance to witness some of the breathtaking landscapes on the island. The tour was paced perfectly, allowing us to soak in the stunning vistas without feeling rushed.
The island totally felt like being in a secluded paradise. There are still many hidden places and attractions in Nusa Penida awaiting us to discover. It is impossible to cover everything in just one short or short few days of the visit. Please spend more time if your Nusa Penida itinerary allowed. We are confident that you will fall in love with your trip to Nusa Penida, a true secret gem of Bali. Enjoy your trip to Nusa Penida!
Related Read: Where To Stay in Nusa Penida: Best Places and Hotels
Traveling to Bali and looking for more inspiration? Here is our Bali travel blog to share with everyone. We recommend you read my article about adventurous things to do and attractions, it might give you a bit of inspiration!