Last updated on October 2nd, 2023
Wondering where to stay in Bali? I spent a week exploring the island, visiting the island's most beautiful sights and attractions. Sharing this Bali accommodation guide which includes the best areas and top hotels on the island.
Bali is the Indonesia's most popular cities and it is really easy to understand why. It is a holiday hotspot for families, couples, backpackers, and adventurers looking to catch a glimpse of authentic local life. From beach hopping to volcano hiking, incredible temples, and breathtaking architecture.
Bali has all for everyone and I am sure you will have an amazing time on this spectacular island. But Bali has so much to offer and the island is massive. That's why we've broken down the 7 best areas with different interest and budget to help you finding your best stay on the island.
Below, I'll give you our detailed guide with recommendations on where to stay in Bali so that your stay is unparalleled. Let's check it out!
Quick Guide: Where To Stay in Bali
Each area in Bali has its own unique feel and vibe. Here is the best areas to stay in Bali:
Downtown Kuta and Legian: Best place to stay in Bali for groups and people looking for nightlife.
Seminyak: Where to stay in Bali with many affordable luxury accommodations.
Canggu: Increase its popularity and is rated as the trendiest area to stay in Bali.
Jimbaran: Romantic to stay in Bali with stunning beaches and amazing sunsets.
Nusa Dua: Best place to stay in Bali for couples and honeymooners.
Ubud: The cultural place to stay with a countryside vibe with rice fields and lush green.
Pro Tips: Before booking any of these amazing hotels and hostels, I always suggest that you consider your budget and your travel plans.
Tips for Finding Best Stay in Bali
Before you get to know where to stay in Bali, it makes sense to dive a bit deeper into when finding your best stay on the island.
Bali's top attractions lie in the island's natural beauty. It is the favorite tourist spot for numerous years and offer many stunning and beautiful sites to travelers. No matter where you stay in Bali, make sure you get out of the city to set your sights on these magnificent outdoor attractions.
Most of Bali's attractions and points of interest are very far away from each other. So if you're spending more than 3 days in Bali, it's best to stay in different areas to save on traveling time. Besides, each place has its own unique vibe and it's worth visiting if you have the time. So, why not stay at different places to experience the vibe of the entire island?
Bali is a popular hotspot for travelers with a range of accommodations to cater to different types of travelers. Although the accommodation price is higher compared to the rest of the places in the country, the accommodation price in Bali is still very cheap and reasonable. You'd be surprised how affordable the accommodation options such as private villas and resorts are offered in Bali. Travelers can find a good deal that is very comfortable, clean, and with good service.
Where to stay in Bali – Downtown Kuta & Legian
If you are looking for downtown Bali with a fun time on the beach, downtown Kuta and Legian is the one for you! Both areas are the most popular places to stay in Bali. It's a commercial area with lots of buildings, restaurants, shops, and shopping malls. Being a busy area in Bali, there are no surprise long lines of hotels can be found here. You will numerous choices ranging from villas to luxury hotels to value options.
Plus, downtown Kuta and Legian are also the best place in Bali for nightlife. The area is packed with lots of bars, beach clubs, and nightclubs. Youngest will tend to stay in Kuta for entertainment activities.
High-Range Accommodation in Downtown Kuta and Legian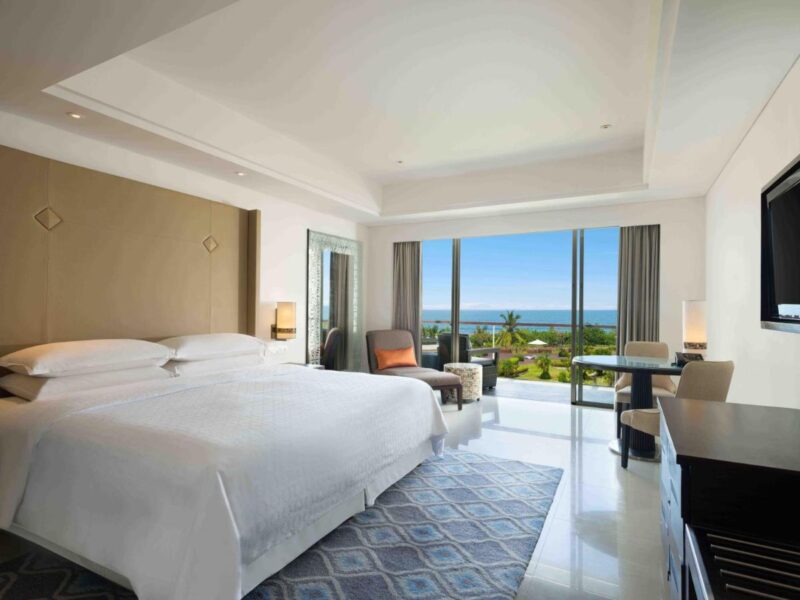 Luxury: To give your holiday a great start, book your stay at Sheraton Bali Kuta Resort. The property offers a 5-star accommodation overlooking Kuta Beach and features an outdoor pool with free WiFi throughout the entire property. The rooms are sparkling clean and come fitted with an air conditioner and a private bathroom.
Plus, all staffs are extremely friendly, accommodating and helpful. Central location with many shops and restaurants nearby. A perfect place to stay in Bali!
High-Range: Grand Inna Kuta is one of the popular places to stay in Bali. It has everything you'd want for a hotel – clean and comfortable rooms, an outdoor pool, various dining options, plus a great central location. It's a great base for exploring Kuta downtown with a 1-minute walk from Kuta's shopping streets and a 2-minute walk from Kuta Art Market. The surfing and other water sports options are a 1-minute walk away. Excellent value for money with such a great location!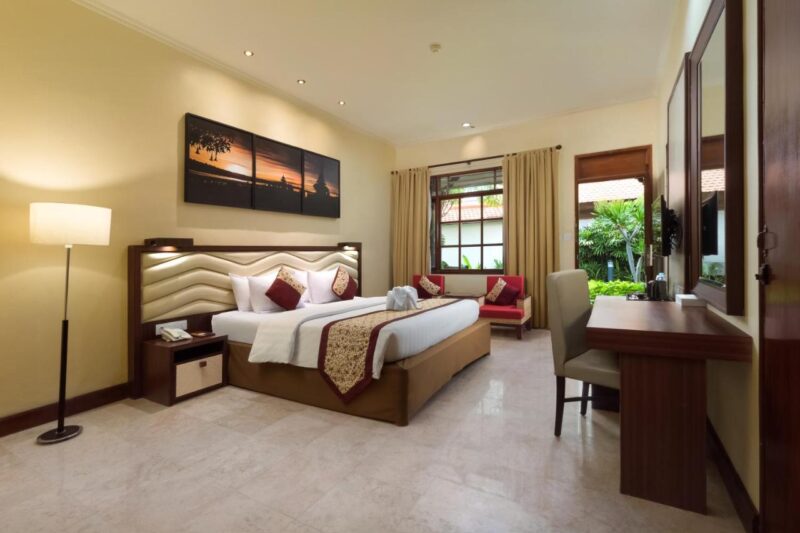 High-Range: Grand Istana Rama Hotel offers peace and tranquillity accommodation in the heart of Kuta or Legian. Just steps from Kuta Beach, the property is within walking distance of Kuta Square and the lively nightlife of Jalan Legian. A large mall within 100 meters with restaurants and shops. Basically, everything was within walking distance from the hotel. The entire property is beautifully landscaped in a tropical style and very well maintained. It a great value for money.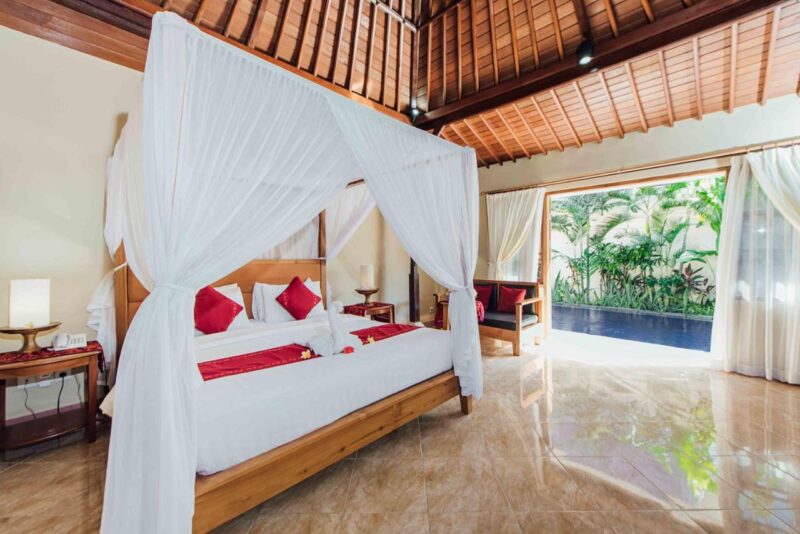 Mid-Range: Kuta Puri is the best place to stay if you are looking for an affordable option in Kuta downtown. You will benefit from its central location with a 5-minutes walk from Kuta Beach and steps from Legian's famous nightlife. The property provides comfortable rooms with Balinese architecture and with a peaceful setting. Good value for money.
Where to stay in Bali – Seminyak
Another popular place to stay in Bali is Seminyak. It is a great area to be based in because it's very central and has great beaches, restaurants, and beautiful sunset beach bars. The area has been developed into a resort area and offers a relaxing vacation vibe for families and couples.
Seminyak boasts a range of luxury resorts, private villas, five-star beach clubs, and affordable luxury accommodations perfect for a relaxing getaway along the coastline. With accommodation options like W Bali – Seminyak, there's very little reason to go anywhere else if you're looking for a relaxing family vacation by the sea.
Best Accommodation in Seminyak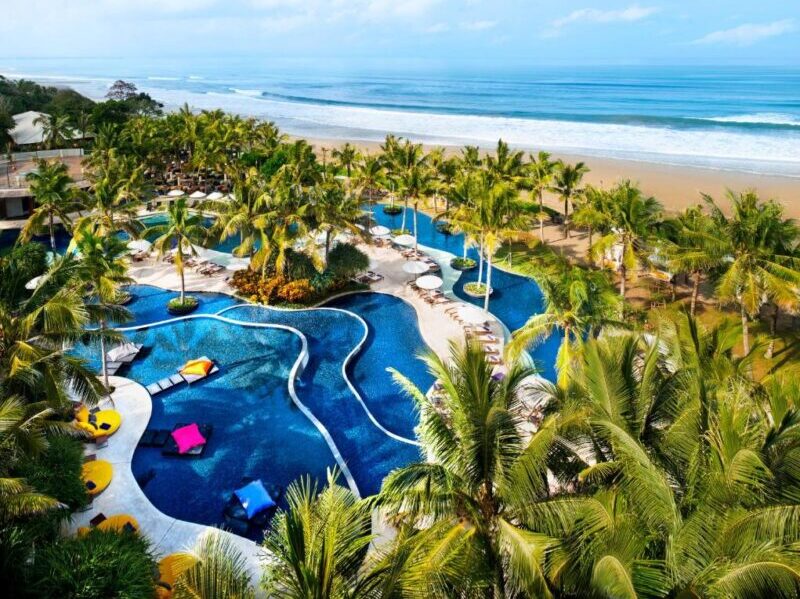 Luxury: Stay in W Bali Seminyak means five-star everything, without a hint of pretension. It is the best option if you want a relaxing resort-type vacation in Bali. Everything about this place is so luxurious and it's arguably one of the best Bali hotels.
From the elegant rooms and comfortable beds that offer a balcony with garden or sea views, to the incredible serene pools and spa baths. Breakfast is spectacular with a wide selection of food options. The coolest and luxury place you can stay in Bali!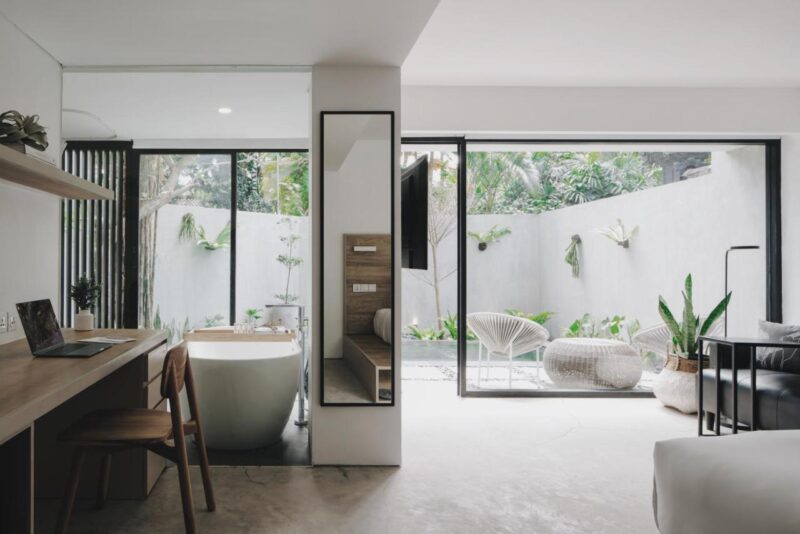 High-Range: Situated close to the Double Six Beach, Lloyd's Inn Bali is a favorite place for couples looking for a hassle-free and comfortable getaway.
The rooms are spacious with minimalistic and slick designs, as well as feature top-quality amenities. It also provides an outdoor swimming pool, free private parking, a garden, and a restaurant. There are also many restaurants and eateries nearby.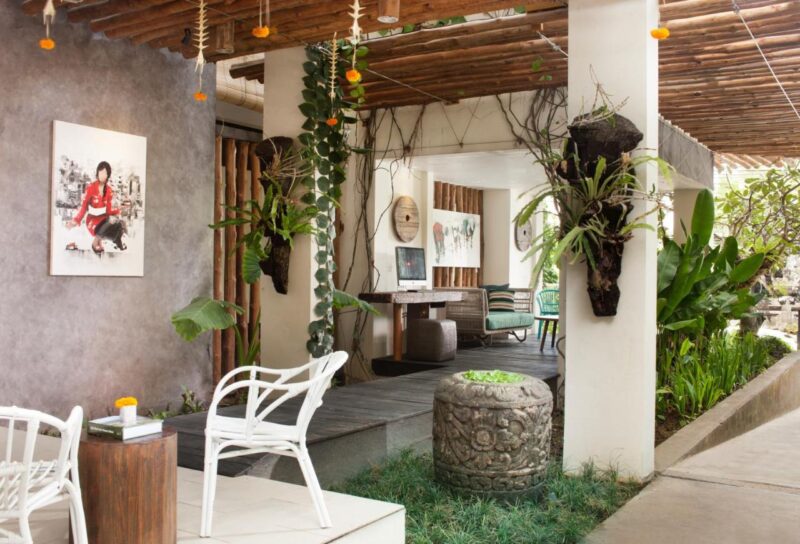 Mid-Range: Grandmas Plus Hotel Seminyak is the best mid-budget hotel in Seminyak with comfortable sense. Your stay is featured with great facilities, good size rooms, and comfortable beds. The property is perfect situated and surrounded by the shops, restaurants, and nightlife of Seminyak. A 2-minute walk will lend you to Seminyak Beach.
Besides, the property also has an in-house restaurant that offers a good menu selection at good prices with live music every night. In short, high recommended when looking for where to stay in Bali.
Where to stay in Bali – Canggu
Located next to Seminyak, Canggu is known for its numerous beaches and its shopping scene. In recent years, Canggu gain its popularity among travelers especially digital nomads. It is now the trendiest area of Bali and is filled with numerous trendy cafes, yoga studios, restaurants, boutiques, and bars. There are also many affordable resorts and hotels if you are decided to rest your head in Canggu.
Here is our popular pick for where to stay in Bali – Canggu:
Best Accommodation in Canggu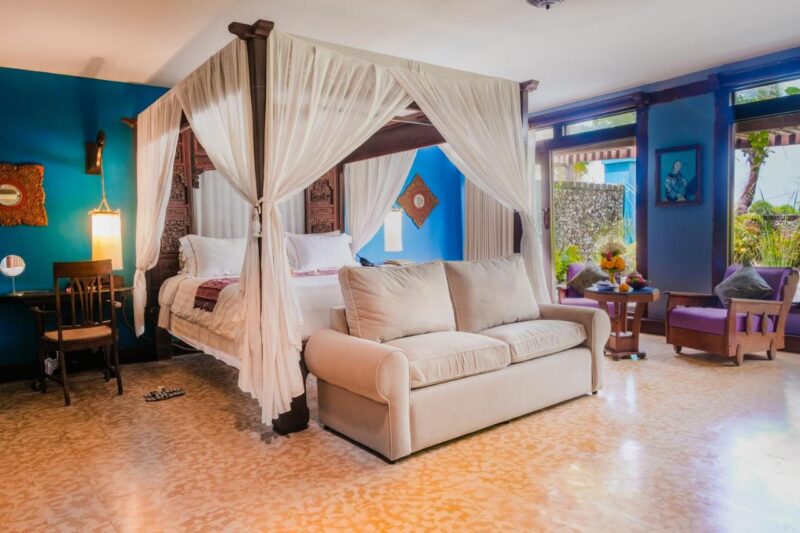 Luxury: Hotel Tugu Bali offers the best luxurious stay in Canggu, Bali. The property features a sizeable antique collection on the property that includes Balinese, Javanese, and Asian artifacts. All the rooms are uniquely designed and full of elegance and comfort. It is located on Echo Beach, along the coast north of Seminyak.
Nestled within private gardens, the hotel features an outdoor pool overlooking panoramic sunset views and 5 themed in-house restaurants. A perfect place to stay in Bali, especially for a couple who looking for a wonderful stay!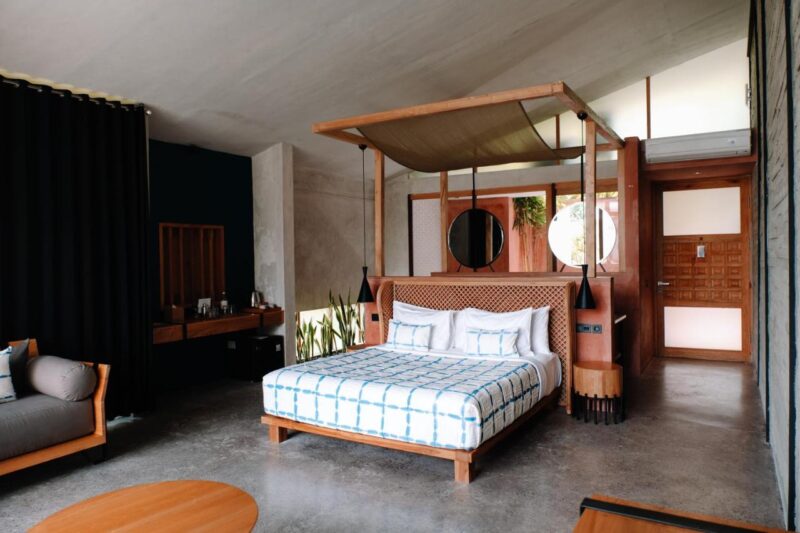 High-Range: Shore Amora Canggu is strongly recommended if you are looking for where to stay in Bali – Canggu. This hotel features a minimalist and warm design with a great vibe. Guests can enjoy a big room with a double bed and huge windows looking over the jungle or rice fields. The staff is so friendly and helpful and they go out of their way to make you feel comfortable. Everything about the stay here is perfect.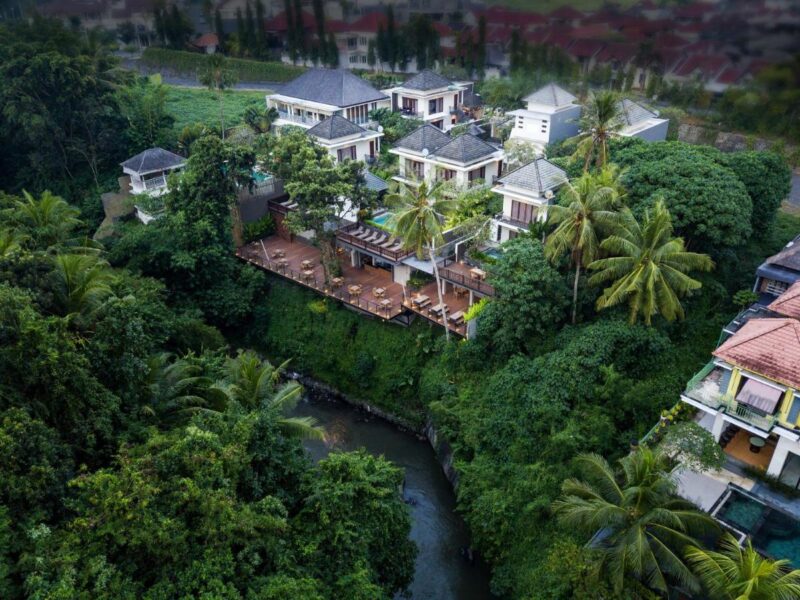 Mid-Range: Annupuri Villas Bali is a 3-star resort villa and extremely value for money. Your stay featured with pleasant swimming pool in a peaceful area with lots of green and a river view from the garden. The room is super clean and comfortable. The staff is very helpful and welcoming. A swimming pool and a lovely breakfast option make this a perfect Bali stay.
Where to stay in Bali – Jimbaran
The romantic Jimbaran is the perfect place to stay in Bali for couples. It is famous for its white sand bay and best place to watch the sunset in Bali. There are many accommodations in Jimbaran with beautiful sea views that cater to different ages and budgets.
Many top-notch hotels are also situated on the beach in Jimbaran, including InterContinental Bali Resort and Four Seasons Resort Bali. Those are also a favorite places to stay especially for those who want a peaceful and sophisticated place to stay.
Depending on your budget, I recommend any of the following:
Best Accommodation in Jimbaran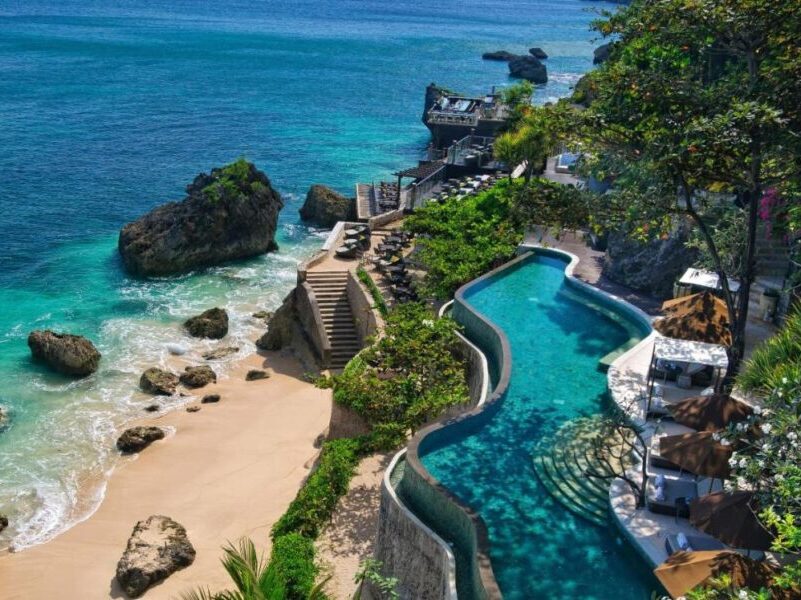 Luxury: AYANA Resort Bali is the best option in case you're looking for the ultimate luxurious stay in Bali. It is the best place for those looking for privacy and to splurge for a honeymoon or special occasion.
The resort offers luxurious rooms overlooking Bali's most beautiful and secluded white sand beaches of Jimbaran Bay. Rooms are decorated with elegant wooden furnishings and are very comfortable. The resort itself is huge with many different areas to explore. Free shuttle service to Bali Collection Shopping Centre in Nusa Dua which is a great plus. Staying here means you'll enjoy a spoiled stay in Bali!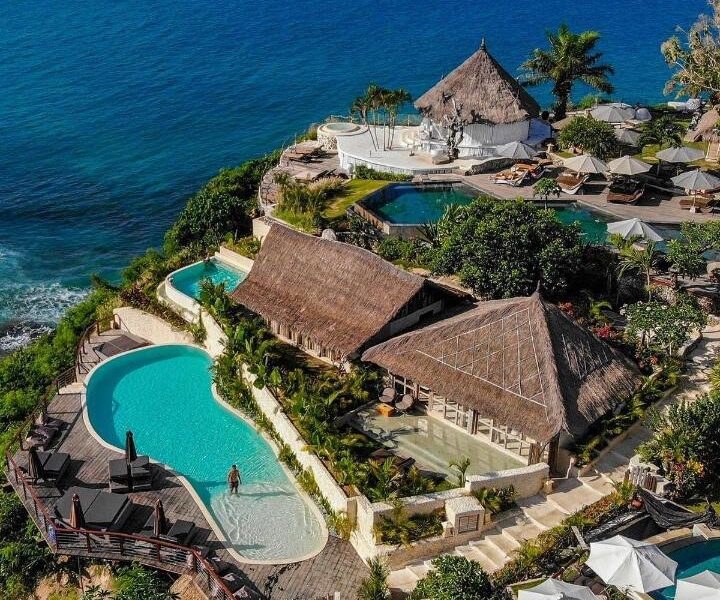 High-Range: La Joya Biu Biu Resort is a stunning place to stay in Bali with a good vibe. This 4-star hotel awaits with 2 infinity pools and a private beach, free WiFi, and free parking. Rooms come with traditional Indonesian interiors and have windows that provide natural light. Overlooking the garden or sea, each unit is equipped with a wardrobe, mosquito net, and terrace. A tropical paradise away from the hustle and bustle.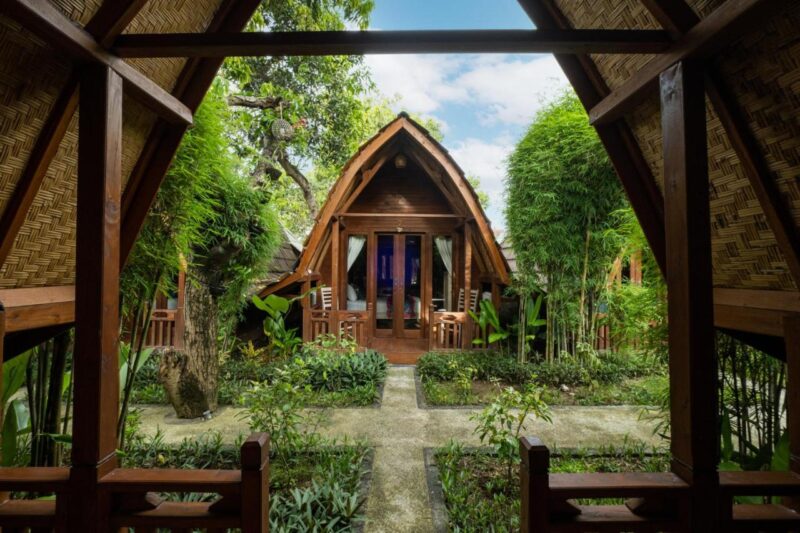 Mid-Range: Kubu Kak Dudung Villas is a beautiful oasis surrounded by a lovely garden, tucked away from the road. The authentic Balinese-style Villas is lovely, and have sizeable room and comfortable bed. The staff is very nice, kind and always available. Various types of restaurants are within minutes, and beaches and supermarkets are within a 10-minute walk.
Where to stay in Nusa Dua
Nusa Dua stands out for its gorgeous white sand beaches and dreamy sunsets. It is a favorite place to stay in Bali for couples and honeymooners for years. You will find Nusa Dua is the island's most exclusive resort area with a collection of numerous five-star international chain hotels.
If you're traveling with your partner, Nusa Dua is definitely the best place to stay for a romantic getaway.
Best Accommodation in Nusa Dua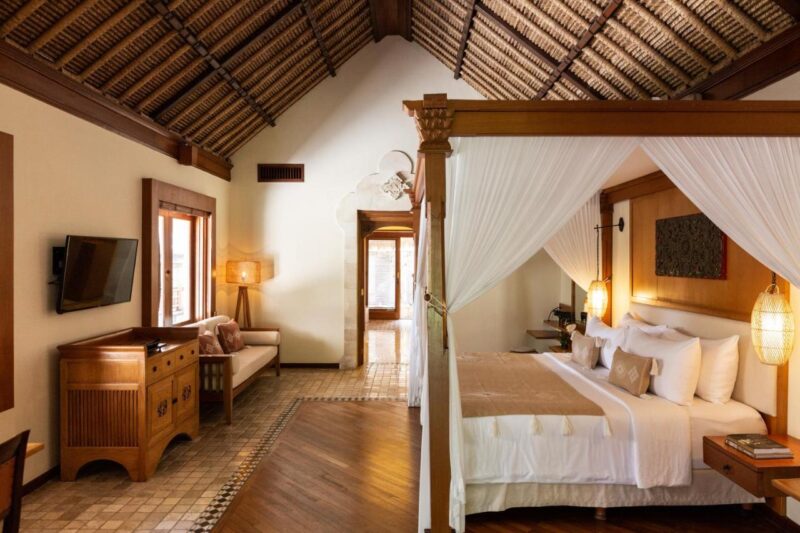 Luxury: Melia Bali offers comfort, exclusiveness and a privacy stay for your vacation in Bali. The property boasts complimentary resort activities ranging from canoeing, paddle surfing, bicycling, archery, and various daily kids activities.
All rooms are equipped with a private balcony or terrace with views of the gardens or lagoon pool. Spacious, clean, and beautiful. The breakfast buffet was fantastic with a large variety to choose from. Plus, the staff is without exception, charming and helpful.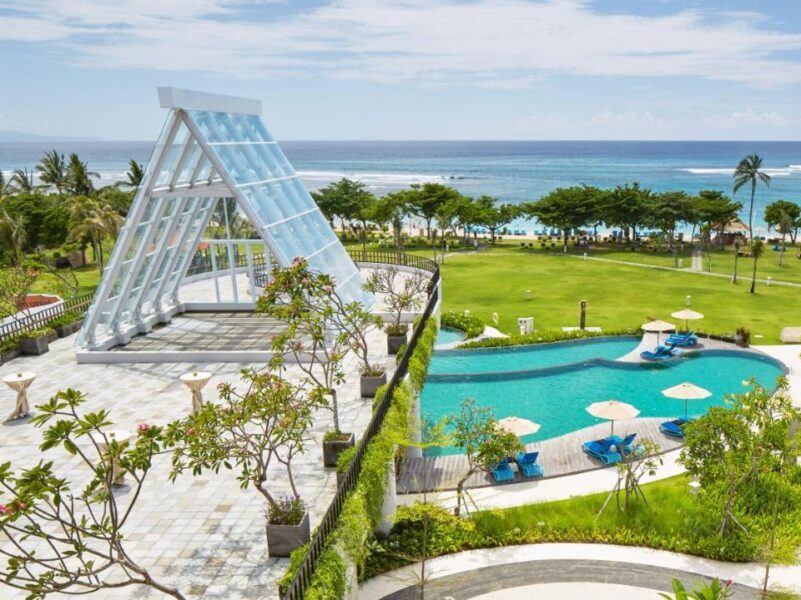 Luxury: Up next on our list of luxury hotels in Bali is MERUSAKA Nusa Dua, also with superb amenities – beautiful and modern rooms, pools, and a fitness club, as well as an on-site restaurant that is open for all-day dining and serves a selection of Indonesian and Western cuisine.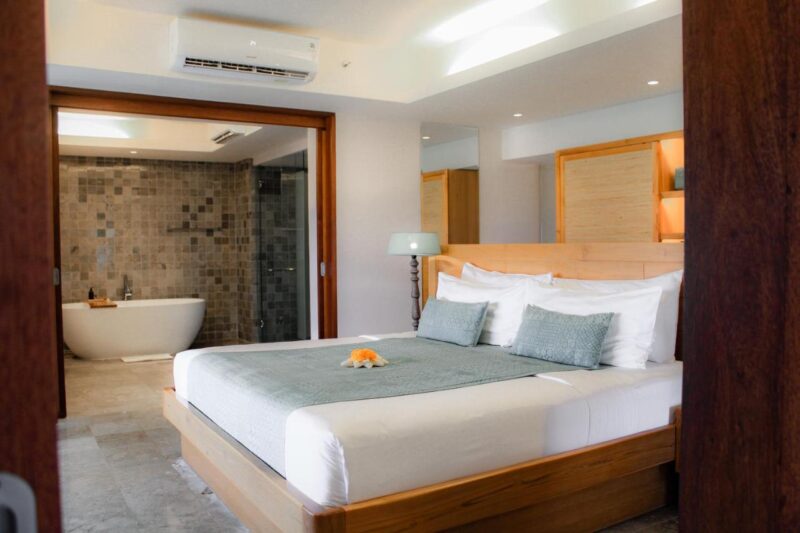 High-Range: Amnaya Resort Nusa Dua is highly recommended if you're looking for where to stay in Nusa Dua. It has an outdoor swimming pool, garden, restaurant, and bar as well as a tour desk. The rooms are immaculate and the health spa is amazing with great ambiance. The staff is always friendly and accommodating. Exceptional value for money.
Where to stay in Bali – Ubud
Ubud is a cultural and artistic center. So it has been rated as the best area in Bali where you should go if you love culture and history. There are rows and rows of art shops, galleries, museums, markets, and historic sites when exploring the area. The famous Sacred Monkey Forest is located in the area.
Besides, the area is surrounded by rice fields, lush green, and river valleys. Many travelers will choose to stay here for relaxing and great countryside views.
Best Accommodation in Ubud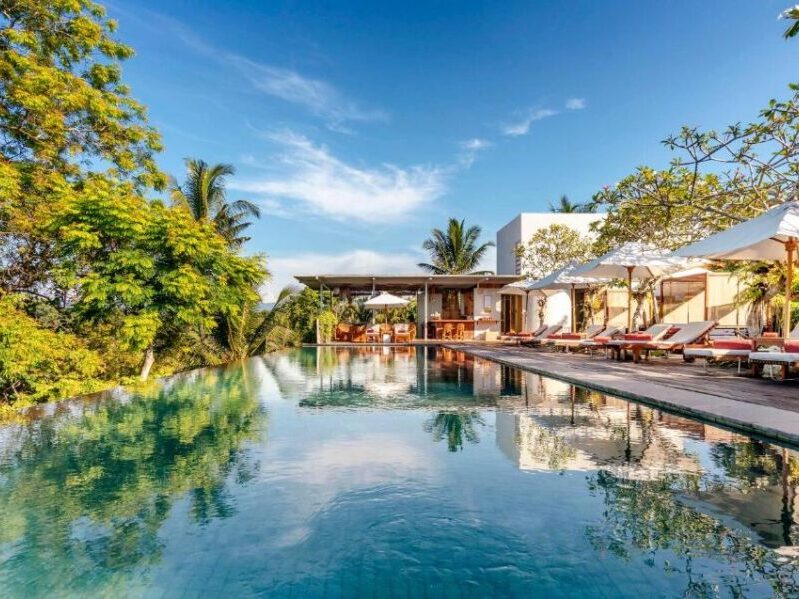 Luxury: Bisma Eight is one of the popular picks when choosing where to stay in Bali in the Ubud area. The hotel houses thirty-eight spacious suites that highlight the vibrant, lush greenery of their immediate surroundings. Guests will be impressed by the hotel's architecture which harmonizes local identities with the vivid natural world around you. It is situated close to town but still far away from the hustle and bustle.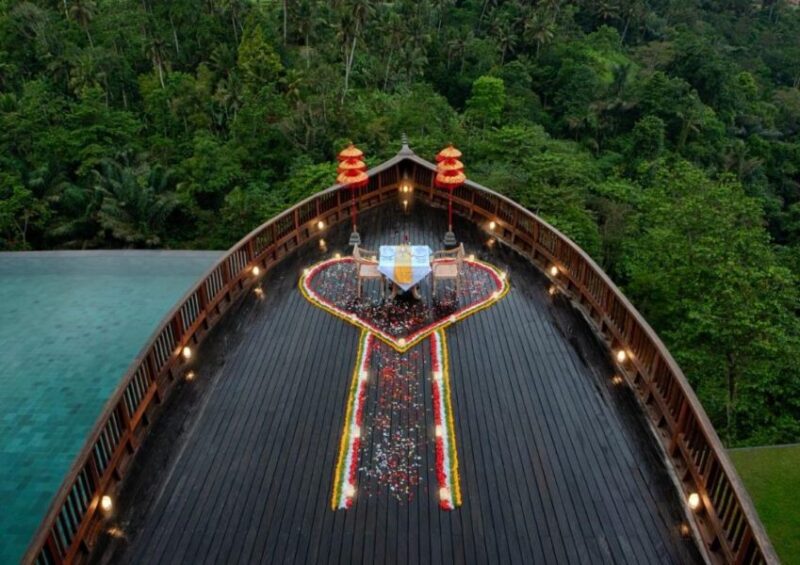 High-Range: Kastara Resort – This impressive 4-star hotel is a great choice for travelers in search of the tranquility and authenticity of Bali. It is beautiful with gorgeous views from both the pool, restaurant, and room. The rooms are amazing with great design and all the amenities were really nice.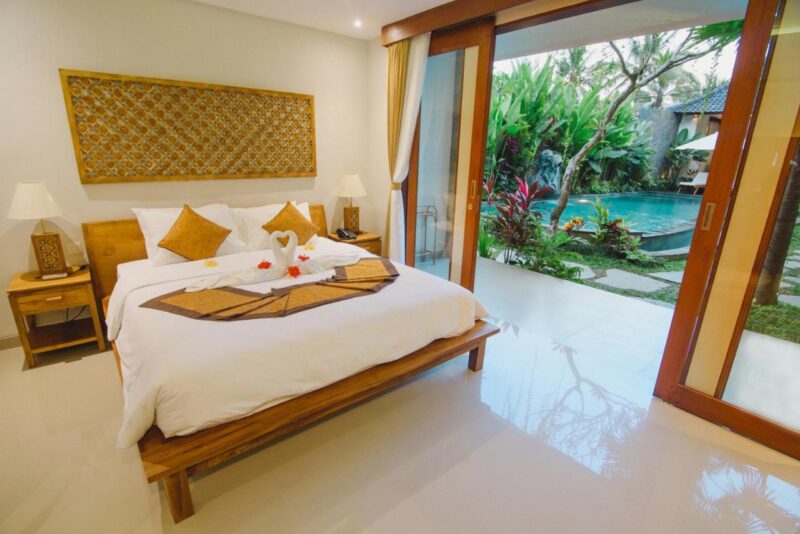 Mid-Range: Taman Amartha Villa Ubud is the perfect pick for those who are looking for unpretentious comfort with Balinese charm. Located in Ubud and in relative proximity to Ubud center, the Balinese-style property is set in beautiful lush green with a pool. The room is clean and comfortable. A great value for money for staying in Bali.
Final Tips for Where To Stay in Bali
Where is the best area to stay in Bali?
The best areas to stay in Bali are Kuta, Ubud, and Seminyak. Others best area to stay are Canggu, Jimbaran, and Nusa Dua.
Where should stay for a first-timer to go to Bali?
For first-timers, we recommended staying in Seminyak and Ubud. Both areas are more central and offer a wide variety of accommodations and amenities.
Where should stay for couples and honeymooners in Bali?
We recommended staying in Jimbaran and Nusa Dua. There are many great hotels that offer a romantic gateway during your stay.
Is it better to stay in Kuta or Seminyak?
It depends on your interest. Kuta is more suitable for groups and people who looking for nightlife in Bali. Seminyak Beach is much cleaner and less crowded. It has beautiful beaches and places offering chilled-out vibes.
Overview: A Perfect Place to Stay in Bali
All in all, we hope you now have an idea of the best areas and places to stay in Bali, regardless if you are visiting the city for a weekend or more than a week. Obviously, there are still many areas to stay in Bali but listed above are the perfect places to stay in Bali for your holiday gateway. Still, wherever you decide to stay, enjoy your stay and create some wonderful memories in this wonderful destination.
Traveling to Bali and looking for more inspiration? Here is our Bali travel blog to share with everyone. We recommend you read my article about adventurous things to do and attractions, it might give you a bit of inspiration!