Last updated on September 23rd, 2023
If you're visiting Ubud for the first time, then this Ubud travel guide blog will tell you all you need to know to plan your itinerary. Read more for some travel inspiration!
Ubud is a beautiful area full of natural beauty thanks to the nature reserves and mountains which spring out of its rice terraces. This upland of Bali is known for stunning vistas and some of the most photo-worthy locations. There are plenty of religious sites filled with Hindu temples and shrines as well. It is centrally located, making Ubud a great base for visitors who wish to explore the surrounding area and attractions.
Ubud is one of the highlights of many people's trips to Bali. There's no better way to spend your trip to Bali than a few days in Ubud – one of the most popular places to visit. Explore the sacred temples and rice terraces, then hang with the monkeys at the Monkey Forest. Ubud is transport you to a world of pure bliss!
Here is the Ubud travel guide blog to help you enjoy Ubud as first-time visitors. We will share all the travel information and tips including things to do and see to plan your Ubud itinerary.
How To Get To Ubud
Ubud is centrally located making it easy to access from anywhere on the island.
If you are arriving at Ngurah Rai International Airport (also known as Denpasar International Airport), you can either arrange a private transfer, or you can take a taxi from the airport. There are airport taxis to get you to the area. The rate is around 300,000 IDR and should take about 1 to 1.5 hours, depending on traffic and the time of day.
Ubud Travel Tips: We recommend booking a transfer from the airport to Ubud. This means that as soon as you arrive in Bali, a driver will pick you up and take you to Ubud. Reserve the Bali Airport Transport from Klook.
If you are getting to Ubud from anywhere in Bali, you can taking the taxi or Grab to take you to Ubud. For more convenient, check out the private city trasfer from Klook.
Alternatively, you can also plan your itinerary by visiting along the way and ending at Ubud. So you can save on the transportation fee. You may consider booking a private professional driver for this transport arrangement.
Getting Around in Ubud
Ubud is a relatively small city, so you can easily walk around, even from one end of the city to the other. You can easily visit the city area on foot, or take a Grab or Gojek using the app.
For the attractions on the outskirt of Ubud, such as Tegalalang Rice Terrace and Tegenungan Waterfall, you will need to hire a professional driver or take a day tour. We don't recommend renting a scooter as the traffic is very crazy and not comfortable for long distances.
Here is our recommendation for how to get around and visiting the attarction in Ubud:
How Many Days for Ubud
Ubud is the perfect jumping-off point for exploring the surrounding rainforest and rice fields. There is plenty to do to pack into your full-day tour of the area. In our opinion, two days is the perfect amount of time to spend in Ubud. The 2-day Ubud itinerary allows you to get the best of the places without tiring yourself out.
Where To Stay in Ubud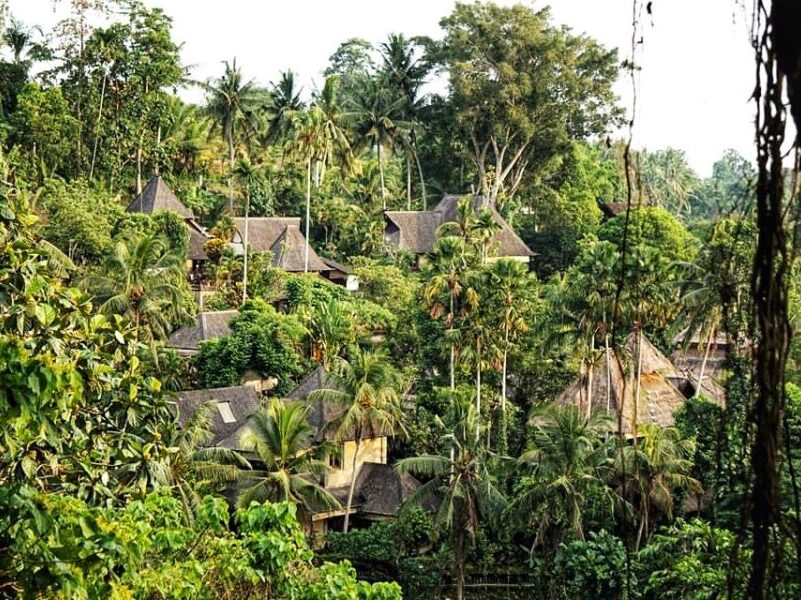 Ubud is centrally located, and touring around the area will make things easier for travelers. There are many types of accommodation to suit different types of travelers and budgets. Staying in the right place can make your trip if it helps you get a good night's rest and puts you among a destination's attractions.
For convenience, stay in the center of the village, near the Ubud Art Market. You'll be in the hustle and bustle, just a short walk from cafes and shops. For visitors who looking for a relaxing gateway, Ubud has some of the best resorts of the island! It is best to look for tranquil bungalows or the resort experience in Ubud. 
Here is our recommendation for where to stay in Ubud:
Luxury: Bisma Eight is one of the popular picks when choosing where to stay in Bali in the Ubud area. The hotel houses thirty-eight spacious suites that highlight the vibrant, lush greenery of their immediate surroundings.
High-Range: Kastara Resort – This impressive 4-star hotel is a great choice for travelers in search of the tranquility and authenticity of Bali. It is beautiful with gorgeous views from both the pool, restaurant, and room.
Mid-Range: Taman Amartha Villa Ubud is the perfect pick for those who are looking for unpretentious comfort with Balinese charm. Located in Ubud and in relative proximity to Ubud center, the Balinese-style property is set in beautiful lush green with a pool.
For more accommodation options, check out: Where To Stay in Ubud: Best Places and Hotels
Things To Do in Ubud itinerary
To help you maximize your time, I've listed down the best things to do in the Ubud itinerary for your visit. By following my tips, you'll be able to sample a slice of everything this tropical paradise has to offer.
Things to do for Ubud itinerary:
Ubud Monkey Forest Sanctuary
Ubud Palace and Pura Taman Saraswati
Kajeng Rice Field Walk
Pura Gunung Lebah
Campuhan Ridge Walk
Tegalalang Rice Terrace
Tirta Empul Temple
Tegenungan Waterfall
Ubud Travel Tips: It is not easy to adventure out on your own with a scooter, we recommended hiring a professional driver or booking a day tour when visiting Ubud. The tour will take you to all the best spots in Ubud and many other places. Tour Recommended – Ubud Highlight Private Day Tour.
Ubud Monkey Forest Sanctuary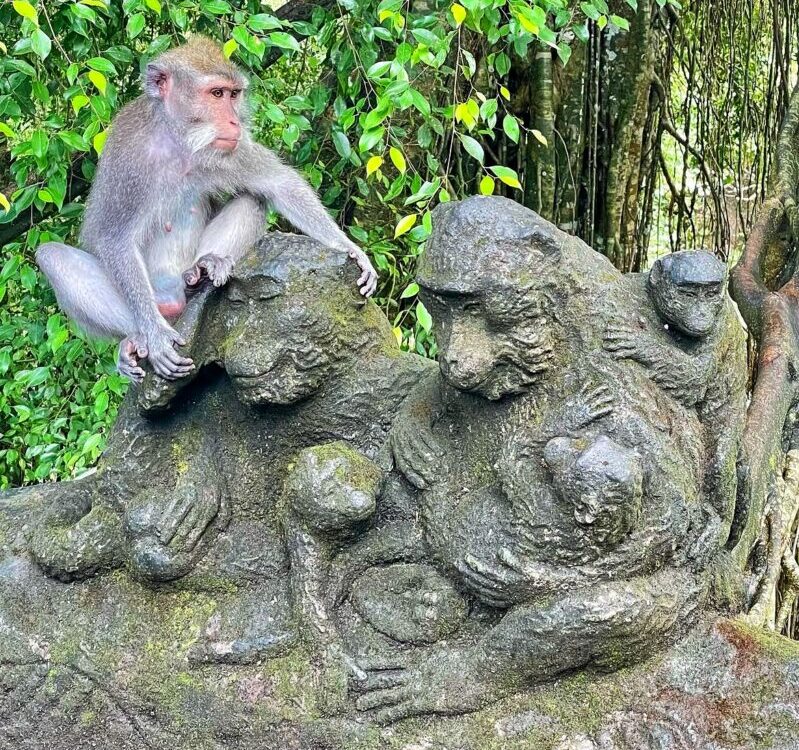 Located right in Ubud town, Ubud Monkey Forest Sanctuary is an ancient sanctuary for hundreds of Balinese long-tailed monkeys in a stunning natural forest. The park is beautifully landscaped and maintained, with lush green plantations and trees.
The surroundings are also very beautiful with ancient temples in a forest. But the temples are for locals only.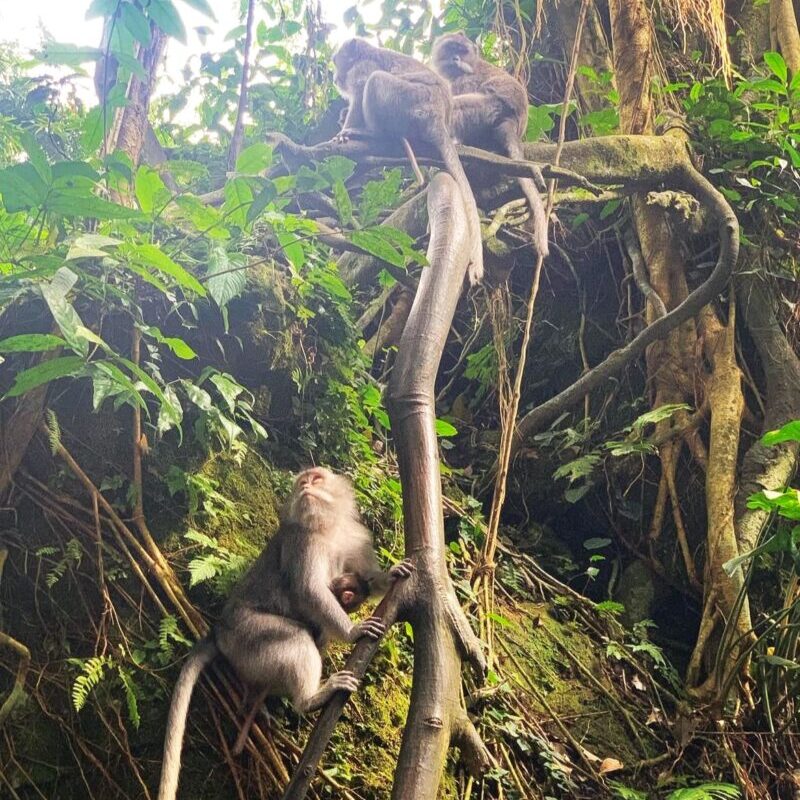 When visiting the Ubud Monkey Forest Sanctuary, visitors can enjoy the surroundings while walking in the forest and have fun with the monkeys. There are more than 700 monkeys and they are running freely everywhere. Be careful of your belongings and do not take in ANY food. The monkeys will jump onto you if you get too close.
The experience of being in the presence of so many wild monkeys is truly remarkable. Don't forget to do a selfie with the monkeys. One of the must-go places in the Ubud itinerary and is simply awesome!
Ubud Monkey Forest Sanctuary (Mandala Suci Wenara Wana)
Address: Jl. Monkey Forest, Ubud, Kecamatan Ubud, Kabupaten Gianyar, Bali 80571.
Opening Hours: Daily from 9:00 to 17:00
Admission Fee: 80,000 IDR per adult and 60,000 IDR per child.
Estimate time of visit: 1 to 2 hours.
Ubud Palace and Pura Taman Saraswati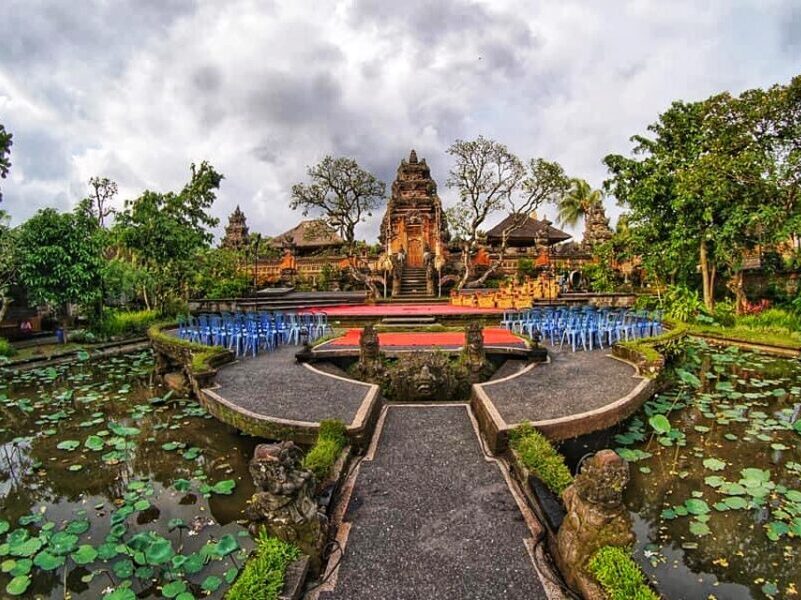 Build in 1951, Pura Taman Saraswati, known as the Ubud Water Palace is a Balinese Hindu temple that is dedicated to the goddess Sarasvati. It is situated in the middle of Ubud town and built by one of the Ubud princesses in 1951.
The gorgeous temple features a beautiful lotus pond and water garden, which surround the outer area of the temple. There are also lots of traditional Balinese statues, doorways, and stupas. The two lotus ponds anchor the temple which has a middle walkway so quite a photogenic site. The entrance is free but you can opt for traditional dance performances in the evening every Thursday, Saturday, and Sunday with an extra fee.
Pura Taman Saraswati
Address: F7V6+PJ4, Jl. Kajeng, Ubud, Kecamatan Ubud, Kabupaten Gianyar, Bali 80571.
Opening hours: 7:00 to 17:00
Admission Fee: Free!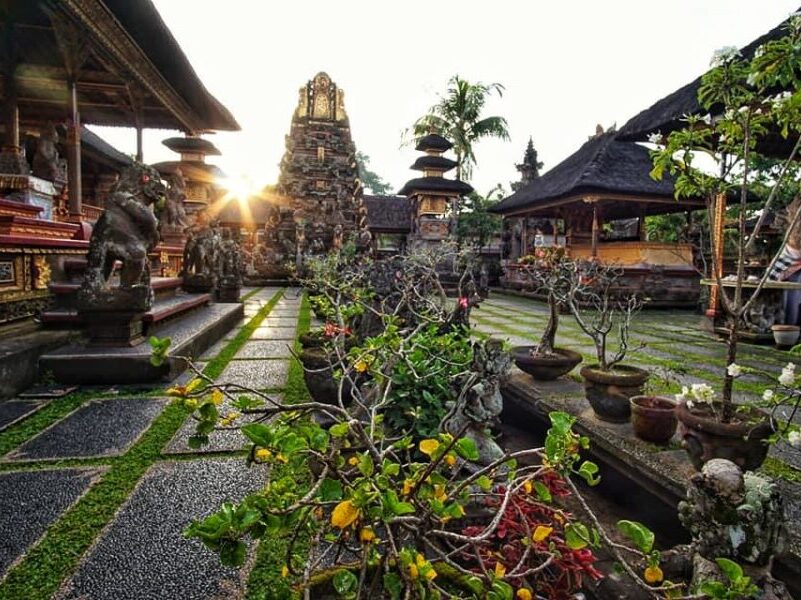 While the Ubud Palace (Puri Saren Agung Ubud) is located near the Pura Taman Saraswati. It is best to couple the visit together. These two sites are a paradise for art lovers and photographers. Plan to spend 20-30 minutes at each.
Ubud Palace (Puri Saren Agung Ubud)
Address: Jl. Raya Ubud No.8, Ubud, Kecamatan Ubud, Kabupaten Gianyar, Bali 80571.
Opening hours: 7:00 to 17:00
Admission Fee: Free!
Kajeng Rice Field Walk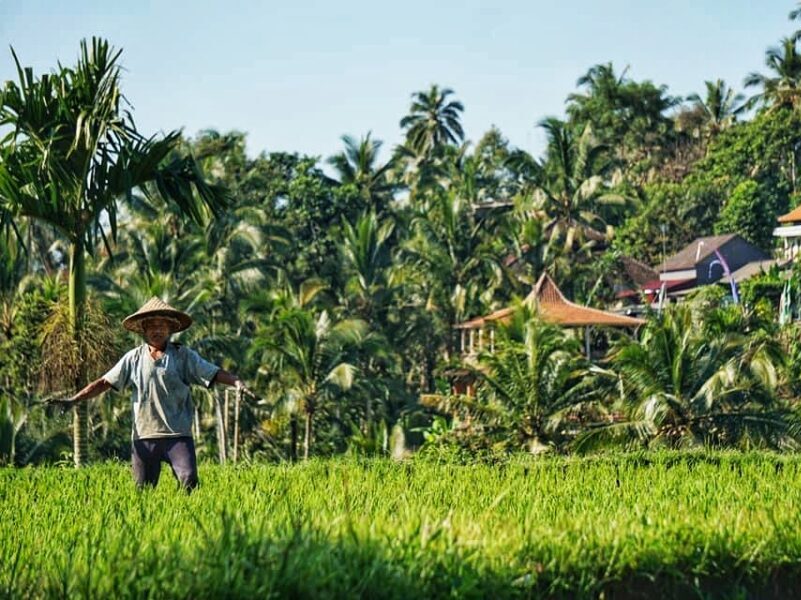 Located just to the north of central Ubud, Kajeng Rice Field is one of the best thing to do in Ubud itinerary. The scenic walk is about 4 kilometers walk through the rice fields for a little glimpse into Bali's countryside. Started from Kajeng road, and you will walk through Kajeng Village to the stunning Ubud rice fields, and end off at the Museum of the Arts in the center of Ubud. You can even loop through to another rice field, and head south.
The walk through the rice fields is incredibly scenic. Take some great time and walk it slowly to enjoy the stunning, green rice fields and local village. There is a wonderful restaurant along the way – Sweet Orange Warung that's highly recommended to stop by and have a meal, drinks, or snacks.
The lovely short walk can be finished in under an hour.
Kajeng Rice Field
Address: Jl. Kajeng No.88, Ubud, Kecamatan Ubud, Kabupaten Gianyar, Bali 80571.
Opening hours: Always open.
Admission Fee: Free!
Pura Gunung Lebah
If you plan to visit Campuhan Hill in Ubud, it's a good idea to stop by the Pura Gunung Lebah.
Also known as Gunung Lebah Temple, Pura Gunung Lebah is a historic Hindu temple centrally located in Ubud. The temple is set within a beautiful natural setting and overlooks the Campuhan Valley. It also marks the beginning of the Campuhan ridge walk.
Note that the main gate of the temple will always be closed and only opened when there is a ceremony. You must enter the temple through the side gate. Unfortunately, we miss it! But the view from the outside was very impressive. We only spent about 10 minutes there.
Campuhan Ridge Walk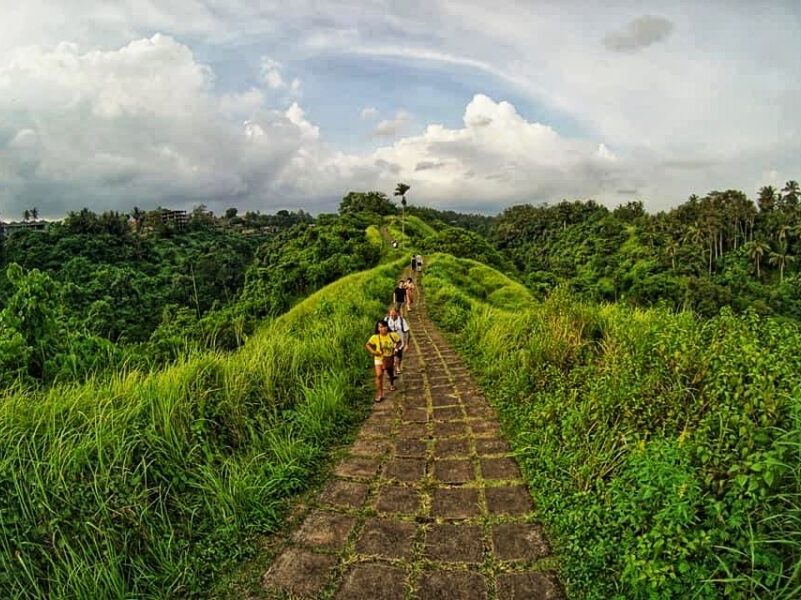 Campuhan Ridge Walk is a lovely way to enjoy some of the gorgeous local scenery. The trail offers stunning views of the lush greenery, rice paddies, and valleys that surround the area. One of the best activities to do in the Ubud itinerary.
The Campuhan Ridge Walk is about 2 kilometers long and is a relatively easy hike that is suitable for people of all ages and fitness levels. The walk starts at the picturesque Gunung Lebah Temple and then follows a fairly graded path that takes you through some greenery and rice fields. It is a nice countryside walk that lasts about 30 to 60 minutes. Along the way, there are plenty of photo opportunities and places to stop and take in the views. There are also several cafes and artist shops selling paintings towards the end of the walk.
The best times to go on the Campuhan Ridge Walk is early in the morning or late in the afternoon, as the weather is cooler and the light is perfect for taking photographs.
Campuhan Ridge Walk
Address: Kelusa, Payangan, Jl. Raya Campuhan, Sayan, Kecamatan Ubud, Kabupaten Gianyar, Bali 80571.
Opening hours: The trail os always Open.
Admission Fee: Free!
Tegalalang Rice Terrace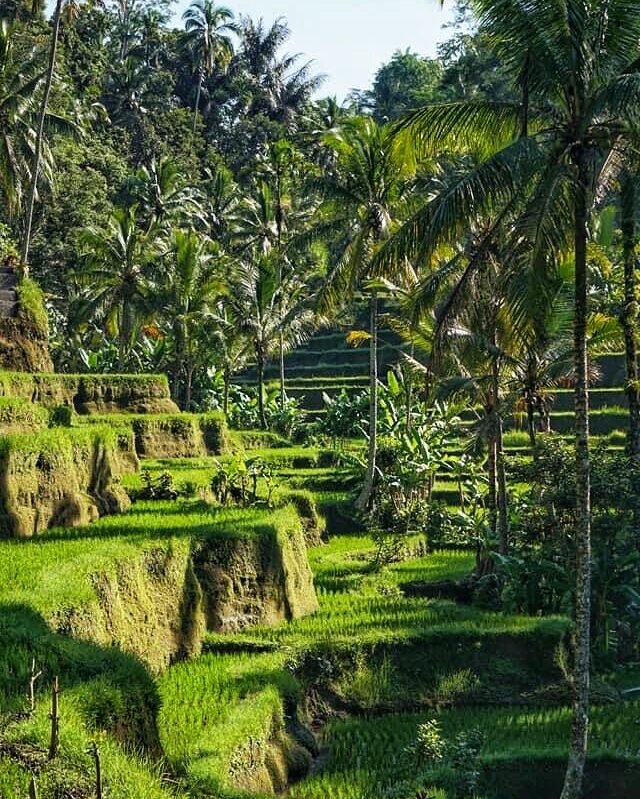 Tegalalang Rice Terrace is located about 20 minutes drive from the city of Ubud. There are plenty of rice terraces in Ubud but this is one of the most stunning-looking terraced landscapes in the Ubud region. The rice fields are located on a cliff which makes for an amazing photo location. The view over the rice terraces is just amazing. A must-have destination on any Bali itinerary.
Being the most popular place to visit in Bali, you can get your Instagram moment with Bali's swing. But I would recommend actually climbing down and crossing a small stream and getting to the rice fields on the other side. Put on comfortable shoes and go on an easy hike through the splendid terraced landscapes.
Allocated yourself at least 30 minutes if you just want to take a short walk and get a few good pictures. But it will take about an hour or more for venturing around the rice field. Also, Bring some cash as you will be asked for small donations at certain spots or entry to the certain part of rice field (Rp 10,000).
Ubud Travel Tips: Go there early and reach before 9 am. This is to avoid the crazy hot sun in Bali.
Tirta Empul Temple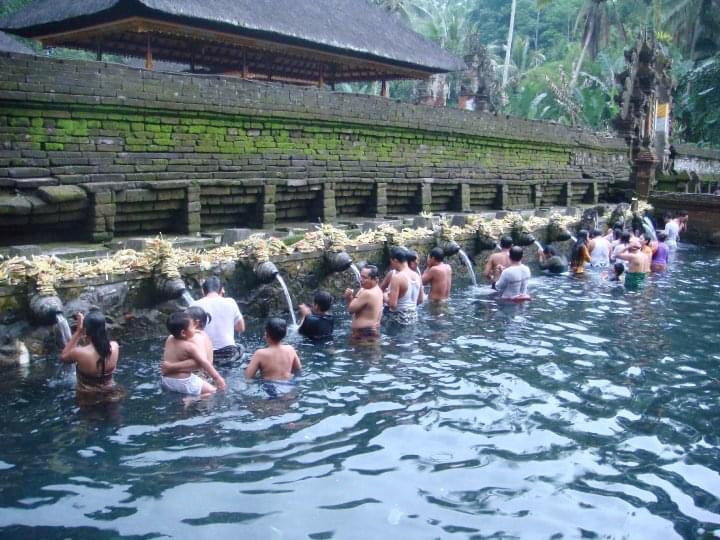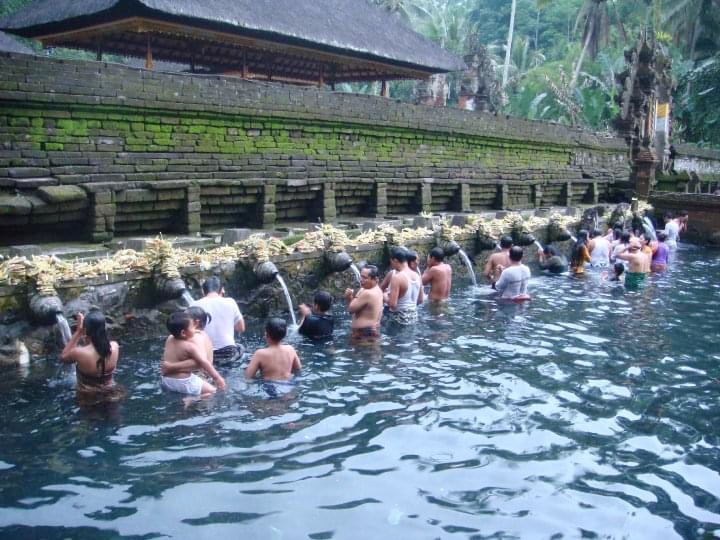 Tirta Empul Temple is a Hindu Balinese water temple and is considered one of the holiest temples in Bali. It is famous for its holiest water sources in Bali and locals believe the water has magical power. You will be seeing locals bathing with holy water and locals believed the water source is able to purify the body and soul of people who bathe there. The bathing is open to everyone, including tourists.
Tirta Empul is located near the town of Tampaksiring (north of Ubud). We recommend visiting this temple together with the Tegallalang Rice Terrace as it takes about 15 mins further north from the rice terrace.
Tirta Empul Temple
Address: Tampaksiring, Gianyar Regency, Bali 80552.
Opening Hours: Closed at 18:00
Admission Fee: 50,000 IDR per person for adult, and 25,000 IDR per person for kid.
Ubud Travel Tips: Visitors require to wear a sarong and go the inside the temple grounds. Also, dress modestly and keep shoulders covered.
Tegenungan Waterfall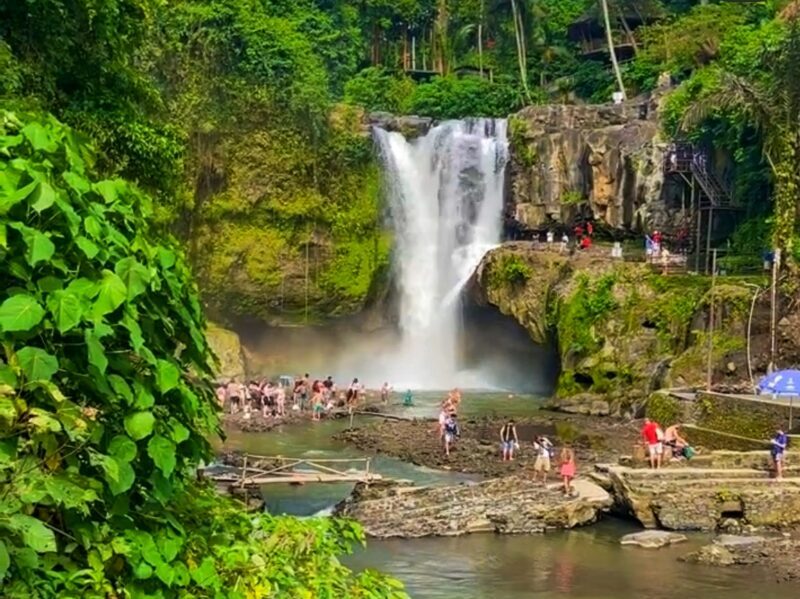 Tegenungan Waterfall is the most famous waterfall and one of the top must-see attractions in Bali. It is a bit crowded with lots of tourists but the scenery is spectacular. The entry fee is not too pricey, at just 20,000 IDR.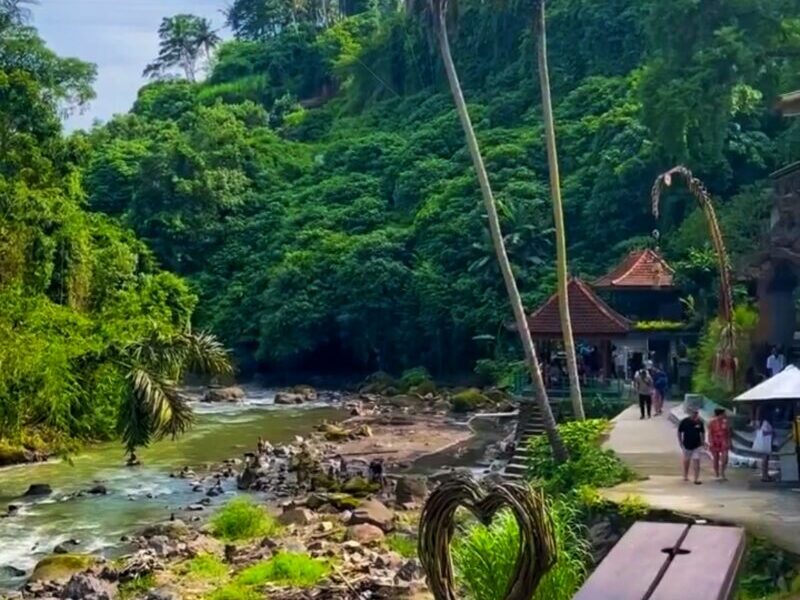 When visiting the Tegenungan Waterfall, you can follow the trail and take 100 steps down from the entrance to the bottom of the fall. Plenty of great vantage points along the way. The waterfall is quite close and there is a small lagoon where you can swim and take a dip into the water. You can also opt for taking a swing here.
Tegenungan Waterfall is easy to reach by car with a distance of 15 minutes from the city of Ubud. Highly recommend visiting this place and definitely worth the stop.
Overall: A Visit To Ubud
All in all, we hope our Ubud travel guide blog is helpful. When visiting Ubud, you will find a unique atmosphere that will make you feel relaxed as soon as you arrive in Ubud. Though Ubud is busier and more popular than it used to be, it is still a beautiful place to visit. We truly enjoy the laidback atmosphere, beautiful jungle vistas, stunning waterfall and rice field, as well as the delicious cafes and restaurants.
Related Travel Blog: Where To Stay in Ubud: Best Places and Hotels
Our final advice for the Ubud travel guide, plan your Ubud itinerary flexibly and try to allocate more time to enjoy the area. I am sure you will fall in love with Ubud. Enjoy your trip!
Visiting Bali and looking for more travel inspiration? Here are our Bali travel stories: