Last updated on September 23rd, 2023
My Daiichi Takimotokan review for best onsen hotel in Noboribetsu. Experience the largest onsen facilities with different types of hot spring by staying one night in Noboribetsu.
Noboribetsu is a hugely popular onsen town in Hokkaido. There are many hotel spring hot and resort come with in house bath facilities.
During our visit to Noboribetsu, we decided to stay at one of the grandest ryokan for Japanese hot spring experience. The Daiichi Takimotokan is a is a great place to stay in Noboribetsu for onsen experience. It is the largest hot spring resort within Noboribetsu area. Located right at the entrance of Jigokudani or Hell Valley, you can also plan for a visit to the must-see attraction in Noboribetsu.
Read on our stay on Daiichi Takimotokan review. Overall the stay was pretty worth it for the whole experience.
Dai-ichi Takimotokan: Best Onsen Hotel in Noboribetsu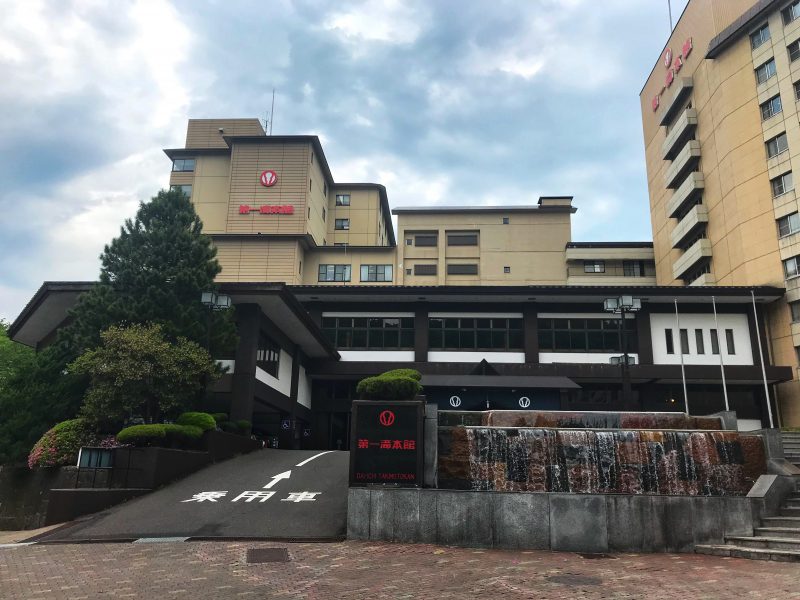 Established in 1858, Dai-ichi Takimotokan (第一瀧本館) is the first hot spring Ryokan in Noboribetsu. There are up to 7 types of spa which consist of different minerals composition. Most importantly, the natural hot spring water is very efficient for therapy treatment.
Dai-ichi Takimotokan is known as the best value of money onsen resort in Noboribetsu among locals and foreigners. It is a huge onsen resort with a total of 400 rooms and 35 hot spring baths. You are freely accessible to its hot spring facilities by staying in Dai-ichi Takimotokan. There are even heated pool and kiddie pool with a water slide for kids to enjoy their fun time. Do bring your swimming costumes if you want to go to the pool.
How To Get To Takimotokan From Noboribetsu Station by Donan Bus
There are two bus service will get you from Noboribetsu train station to Dai-ichi Takimotokan. From the station take the Donan bus bound to Ashi-yu Iriguchi (Footbath) or Noboribetsu Onsen direction.
More frequent buses will get to onsen town and stop at Noboribetsu Onsen bus stop. From there, you need to walk for 7 minutes to get to Takimotokan.
It depends on your arrival time. Try to get the bus bound for Footbath Entrance as the bus will stop at Dai-ichi Takimotokan bus stop. It is located beside of hotel and only 2 minutes' distance.
For those who are coming from Sapporo, you can use the shuttle bus service from/to JR Sapporo Station. It is very convenient and cost only cheap 500 yens per person. My return from Noboribetsu to Sapporo is using their shuttle service. Please take note that reservation is required.
Our Stay in Dai-ichi Takimotokan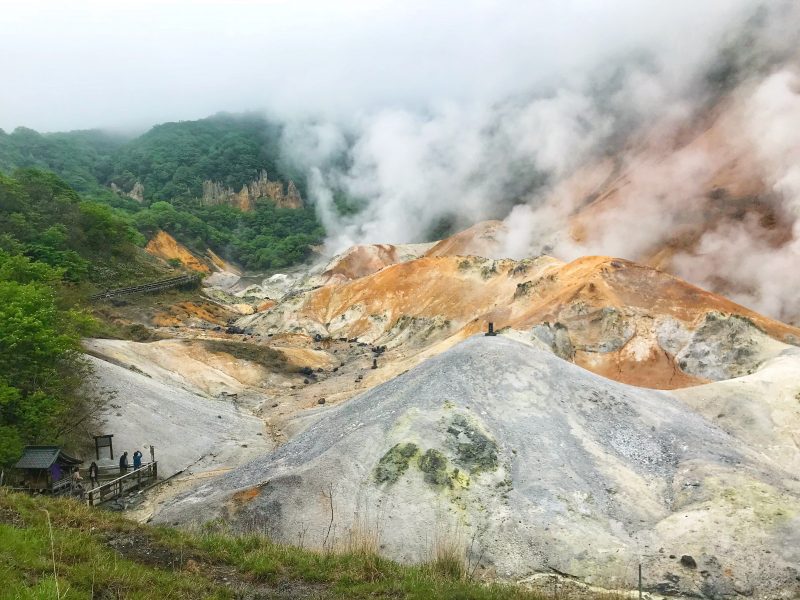 We continue with our Noboribetsu itinerary after a day trip to Lake Toya. From JR Noboribetsu station, we took a Donan bus and get off at Dai-ichi Takimotokan bus stop. The Dai-ichi Takimotokan is located in front of the bus stop with probably 1 to 2 minutes walking distance. So it's very convenient even if you're planning for Hokkaido self-driving trip.
The hotel location is very near Jigokudani Hell Valley. We had a wonderful sightseeing trip and get closer to the geothermal wonder in Noboribetsu. Added, we also made a 30 minutes hike to the Oyunuma Pond and Okunoyu Pond crater lake. We have a great time and ended our hike back to Dai-ichi Takimotokan for the onsen bath before our dinner.
Read on my Noboribetsu itinerary if you are planning on what to do and eat in Noboribetsu.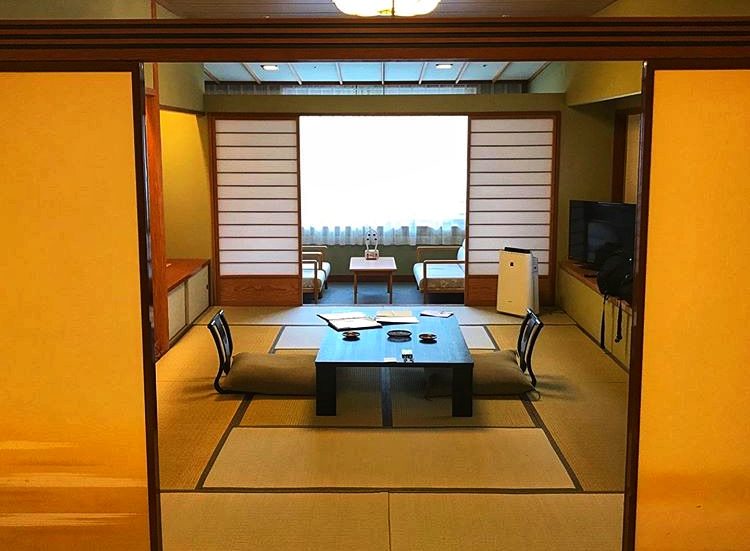 Our room is in Japanese style with tatami flooring and traditional futon bedding. It is located at South Building and farthest from the onsen. The room is very clean and spacious. As we stayed in the tatami room, the staff will come and arrange the futon when we out for dinner
The hotel itself is huge and dated but well maintained. There are even huge souvenir shop selling Japanese snack and local souvenir inside the hotel complex.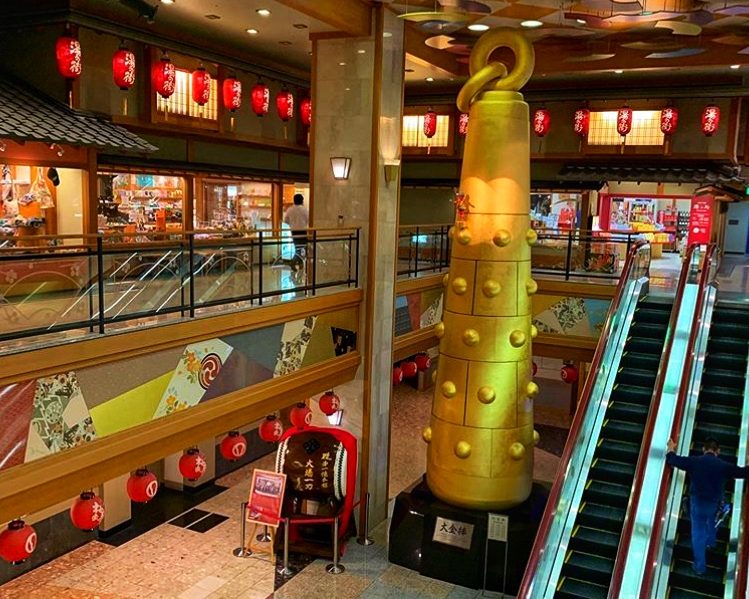 There is a tall gold pillar, called "Oo-Kanabou". It is the symbol of a hotel located in the main building. There is little music performance with miniature men and ship every one hour start from 7:00 to 23:00.
Onsen Bath Facilities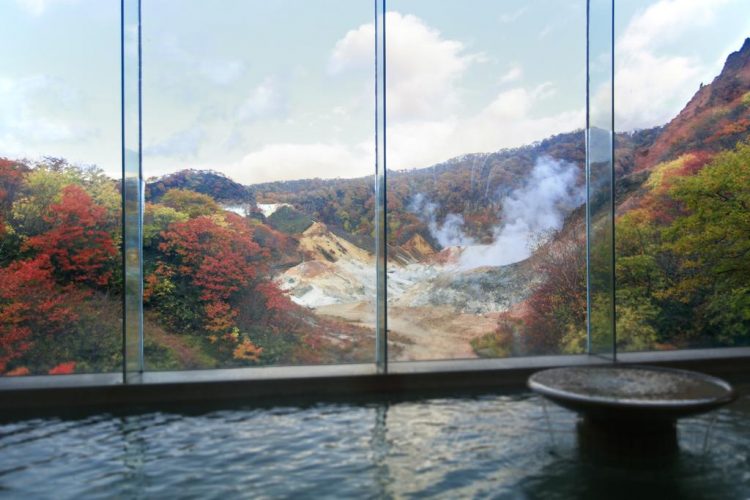 Note: Photo above from the Dai-ichi Takimotokan website as no photo allow inside the onsen bathroom.
As per introduced earlier, there are many onsen baths from different hot spring sources. While I did not go and court on how many pools in total. But it is relatively huge with different types of hot spring water. I had fun dipping into all of the onsen bath tried out the pools randomly. I preferred the outdoor onsen bath. Each pool with information about the hot water source and medical treatment effects.
There are also complimentary premium shampoo and shower gel available at the bathing area for use. The bath is open 24 hours per day. So I enjoy soaking myself in the pools before and after dinner for the first day. Added, another dip at the next morning before breakfast. My vote for Dai-ichi Takimotokan for the best onsen hotel in Noboribetsu.
Dinner and Breakfast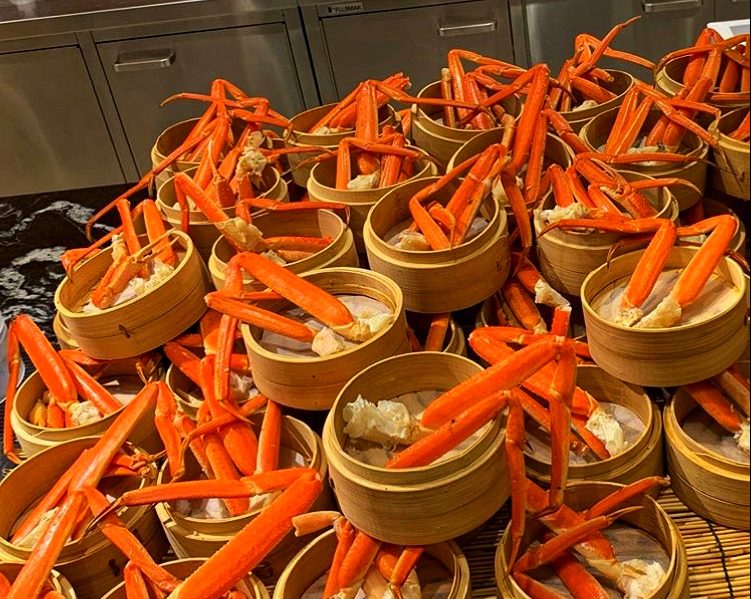 During check-in, the staff asked about the most convenient time for dinner served. There are two times for the dinner buffet, either 6 pm or 8 pm. We recommended you get the 6 pm one. So that we managed to sneak in more soak time before our buffet dinner and then another one before sleep.
Overall the buffet food was excellent with a wide variety of dishes for both dinner and breakfast. Most importantly, snow crab was served for dinner. It is not cheap for having the snow crab leg even in the Hokkaido. Eat as much as you can.
We had the seafood feast in Dai-ichi Takimotokan. Good range of fresh local food choice and quality is still good. Due to the large group, the dining area is quite crowded. This is something that I do not enjoy. You can opt for kaiseki dinner with a higher cost which served in the room.
While the breakfast, you can choose for western or Japanese breakfast. Of course, we opted for a Japanese breakfast. Many food choices and delicious.
Best Onsen Hotel in Noboribetsu
Overall, it was a pleasant and enjoyable stay at Dai-ichi Takimotokan. The baths at Takimotokan were the most impressive. I very enjoy the hot spring experience in Noboribetsu.
The price for one night stay in this best onsen hotel in Noboribetsu is not cheap. However, if you consider the huge onsen facilities, delicious half board dinner and breakfast with a wide selection of Hokkaido fresh seafood. Staying one night in Dai-ichi Takimotokan worth it.
Hopefully, my Daiichi Takimotokan review did help if you are looking for where to stay in Noboribetsu. It is an onsen paradise for hot spring lovers. I would recommend it to anyone!
The Daiichi Takimotokan is listed in Booking.com. It is popular among the locals and foreigners. Reserved your room as earlier as possible for the best price.
Hokkaido Travel Itinerary
This Noboribetsu travel blog is part of my Hokkaido itinerary. For more detail for what to do and eat in Hokkaido:
Hokkaido Food Guide