Last updated on December 11th, 2023
Here's everything you need to know when planning the Neuschwanstein castle itinerary, including the transport arrangement, travel information, and tips. A perfect day trip from Munich.
Neuschwanstein Castle (in German: Schloss Neuschwanstein) had been on my travel bucket list for a while. Located in Bavaria Alps, the beautiful Schloss Neuschwanstein is glittering like a fairytale where Disney dreams come true. Probably one of the most beautiful castles in the world.
Planning a day trip from Munich to Neuschwanstein is one of the most popular things to do for visitors when visiting Munich. There are a few important things you need to know before visiting Neuschwanstein Castle. I've put together this handy Neuschwanstein travel guide to visiting this beautiful castle in Bavaria.
Read on for a detailed Schloss Neuschwanstein itinerary – travel guide blog to make this most beautiful castle visit for yourself. My travel itinerary included!
Neuschwanstein Castle Travel Tips: What You Need To Know
When planning for the Neuschwanstein itinerary, the journey from Munich to Neuschwanstein is relatively simple and straightforward. But there are a few travel tips you need to know before visiting the castle to ease your planning.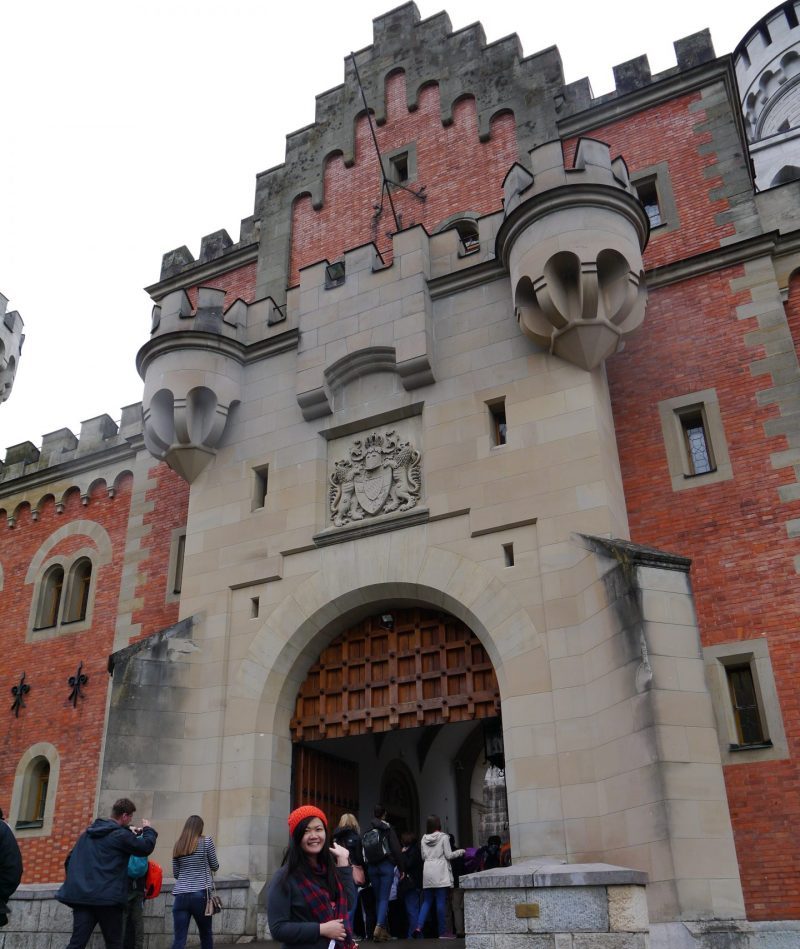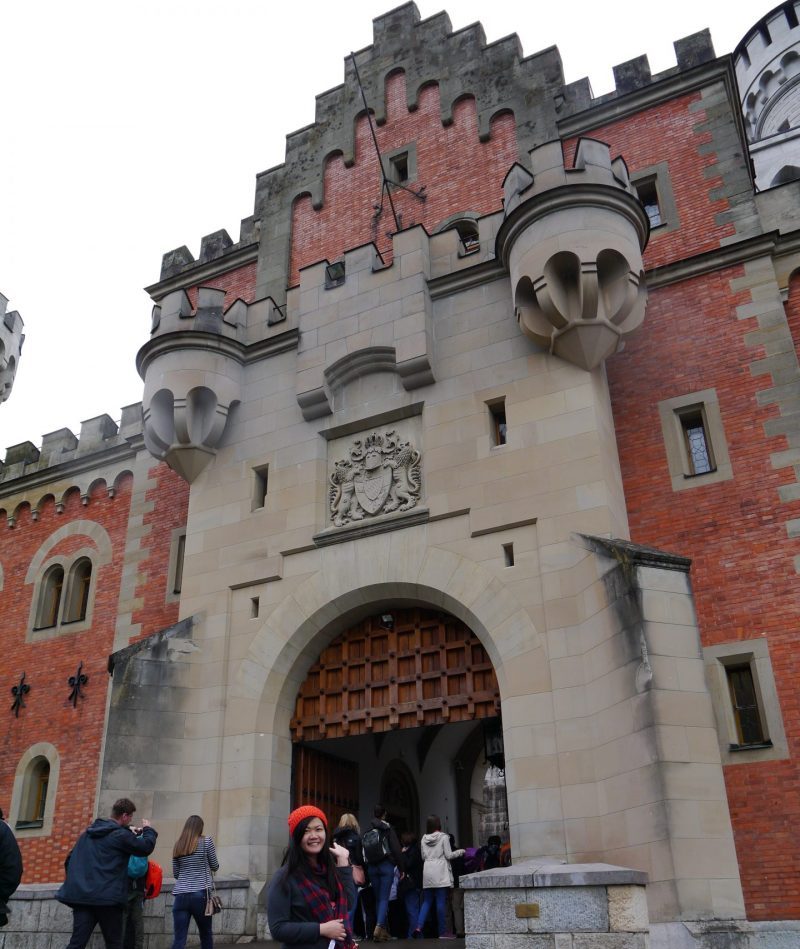 How to Get to Neuschwanstein Castle from Munich?
There are a few options available for travelers; tour arrangement, self-driving, or public transport.
By Tour – The most convenient way to tour Neuschwanstein from Munich is to book a tour. It is the best option for visitors traveling with kids or having older members of your party. You can just lay back and relax for the whole trip.
Check out the prices for the different tour options available to Neuschwanstein:
By Self Driving – The most convenient option if you are traveling to Neuschwanstein Castle by self-driving. Follow the well signed and head to Hohenschwangau. There is a big car park area to park your car and the parking ticket costs €6.50 for one day.
Neuschwanstein Travel Tips: Sometimes it's hard to decide which car rental company provided the best service. I prefer to compare various car rental companies at RentalCars.com for the best price guarantee.
By Public Transport (Train + Bus) – The cheapest option but required a one-time transfer at Füssen. Firstly, you need to get to Füssen from Munich HBF by train, and then take a bus from Füssen to Schwangau, the village at the foot of Neuschwanstein Castle. The whole journey takes about 3 hours, so it is recommended to start your trip early.
Money-saving Tips: We highly advise you to purchase a Bayern ticket for this day trip because it will cover you on the train rides to/from Munich and Füssen, as well as the bus ride to Neuschwanstein. This will save you lots of money, especially if you're traveling in a group.
How To Travel to Neuschwanstein Castle Using Bayern Ticket
The best transport pass to get to Neuschwanstein Castle is Bayern Pass especially for the travel party up to 5. It covers all the public transports to Neuschwanstein Castle for the whole day. You can purchase your Bayern pass here or at a Deutschebahn kiosk, located at most train stations. Take note this will not cover the shuttle at Neuschwanstein.
Here is the step-by-step guide on how to travel to Neuschwanstein Castle using Bayern Ticket: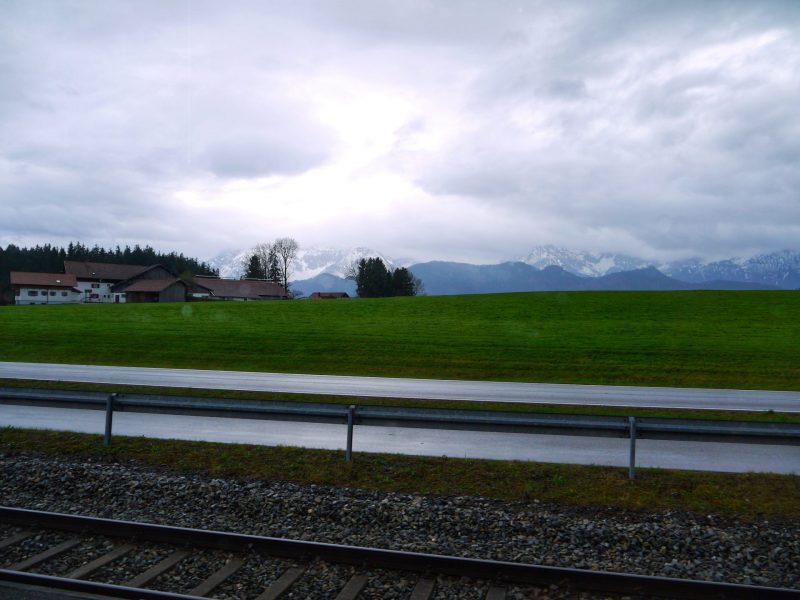 Step 1: Get to Füssen from Munich HBF by train. For hassle-free, we recommended catching the direct trains depart to Füssen from Munich HBF. The first direct train leave at 9:52, followed by 11:52, and every two hours. Bayern Ticket is covered for this train route but it is only valid after 9:00 during the weekday. No time limitation for the weekend and travelers can start using the Bayern ticket after midnight.
Munich to Fussen train timetable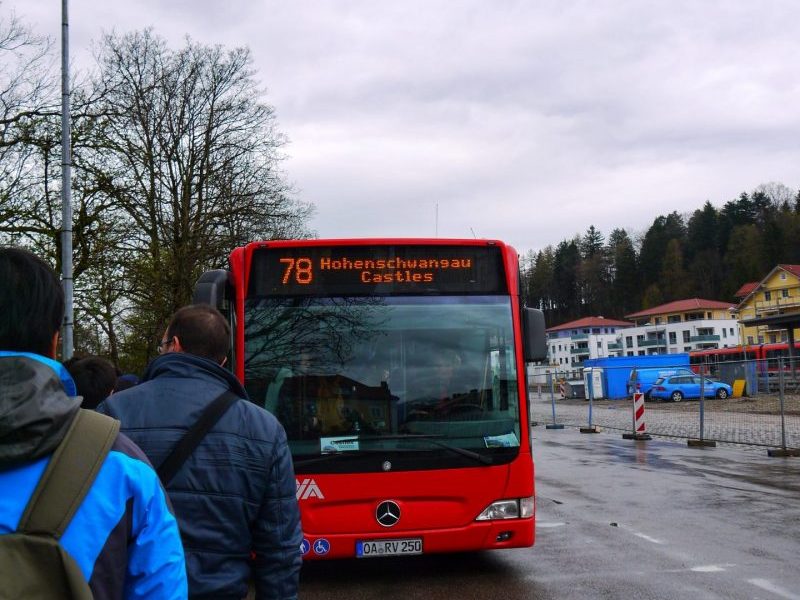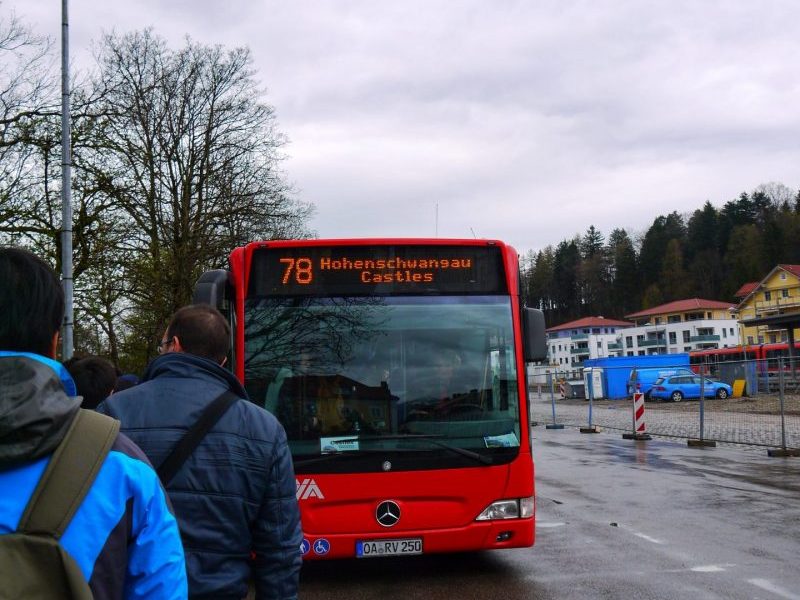 Step 2: Hop on the bus from Füssen to Schwangau. The 73 bus (direction Steingaden / Garmisch-Partenkirchen) or 78 bus (direction Schwangau), getting off at Hohenschwangau.
Step 3: Buy the castle ticket at the ticket office. Once at Hohenschwangau, proceed to the Ticket Office to get tickets if you intend to tour the inside of Neuschwanstein. The line can be very long in peak season. It's highly advised to reserve your castle ticket as it can be sold out.
Step 4: Get to Neuschwanstein. You are opted to Neuschwanstein either continue by foot, shuttle bus, or horse carriage. Horse carriage rides cost €6 for uphill and €3 for downhill. Shuttle buses cost €1,80 for uphill, €1 for downhill and €2,60 roundtrip.
That's it. A few simple steps can get you to Neuschwanstein castle by public transport easily.
What Ticket To Buy To Visit Neuschwanstein Castle?
There is no ticket required if you only want to stroll around the castle and garden area. But if you want to see the inside of the castle, you need to buy tickets if you want to visit the inside of the different castles and museums.
Prices are around €13 for each castle (and €11 for the museum). There is a combo ticket for both castles on one day for around €25 with only €1 saving.
How To Buy the Castle Ticket?
The castle tickets can be bought online or at the Ticket Center for that day.
I strongly advise you to reserve a ticket in advance with a small additional fee. The ticket might be sold out in the ticket office especially during peak season. So get there early if visiting inside of Neuschwanstein castle is a must-do for your Neuschwanstein castle itinerary. Click here to reserve (at least two days in advance).
Besides, take note that you must pick up the official castle ticket at Ticket Center Hohenschwangau. There are separate windows for travelers to pick up the ticket. Most importantly, the line for picking up the ticket is much shorter than the line for purchasing tickets.
Friendly reminder: You cannot buy tickets at the castle, so before hiking up (or driving up) to the castle, make sure you have your tickets.
Where To Stay
Most of the travelers choose to stay in Munich and take a day trip to Neuschwanstein by train. But the traveling time and the journey can be very tiring. If you prefer laid-back travel, I recommend basing yourself in one of the smaller towns near the castles.
Füssen is a popular place to stay. There are regular buses between Fussen and Hohenschwangau, making it a perfect base for visiting Neuschwanstein Castle.
Here is our recommendation if you plan to stay at Fussen when planning for your Neuschwanstein itinerary:
Hotel Sonne is a very stylish and cozy hotel for a comfortable stay in Füssen. Excellent breakfast buffet with lots of variety. Pet friendly.
Best Western Plus Hotel Füssen is another popular pick for travelers when looking for where to stay in Füssen. Great hotel with excellent location with a five-minute walk to downtown shops and restaurants. Best value stay.
Schloss Neuschwanstein Itinerary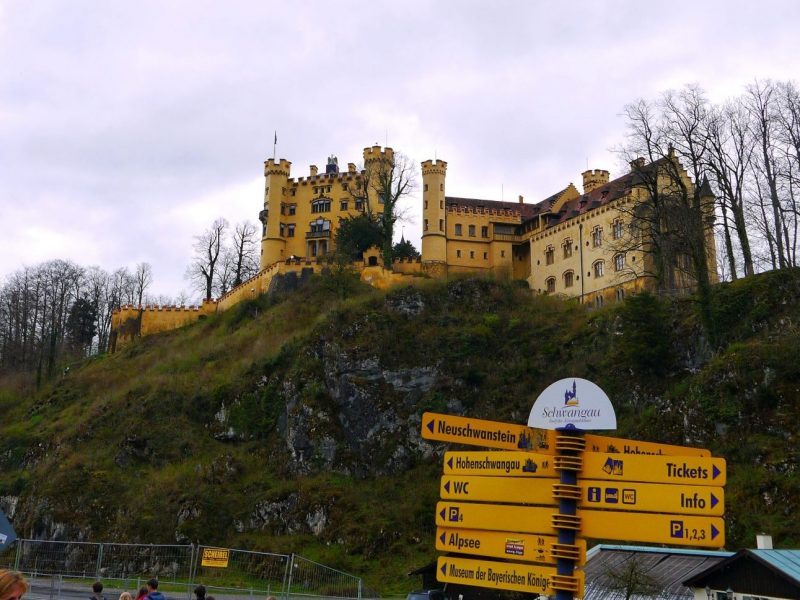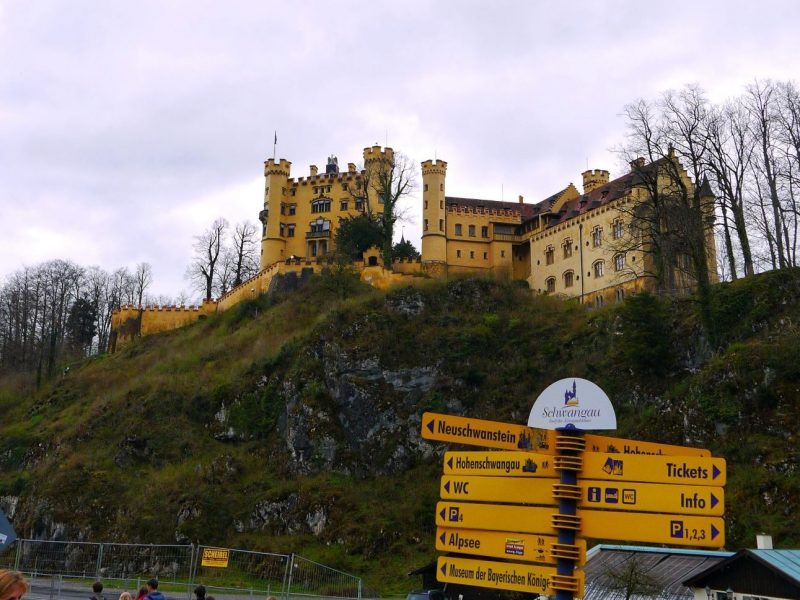 Here's my full itinerary to get to Neuschwanstein Castle from Munich in a day.
Neuschwanstein Castle itinerary (by public transport from Munich):
Catch the 9:52 am train bound for Füssen from Munich Hauptbahnhof.
From Füssen, take either the 73 or 78 bus to Schwangau.
Once arrived Hohenschwangau, go to the ticket office located beside the bus stop.
Hike up to the castle by foot, shuttle bus, or horse carriage.
Take the Castle Tour.
Admire the Castle Building.
Take the iconic photo of Neuschwanstein at Marienbrücke.
Back to Munich.
Note: On weekends and holidays, you might even catch the 7:52 am train to make sure you get there before all the crowds arrive.
Hike Up To the Castle Entrance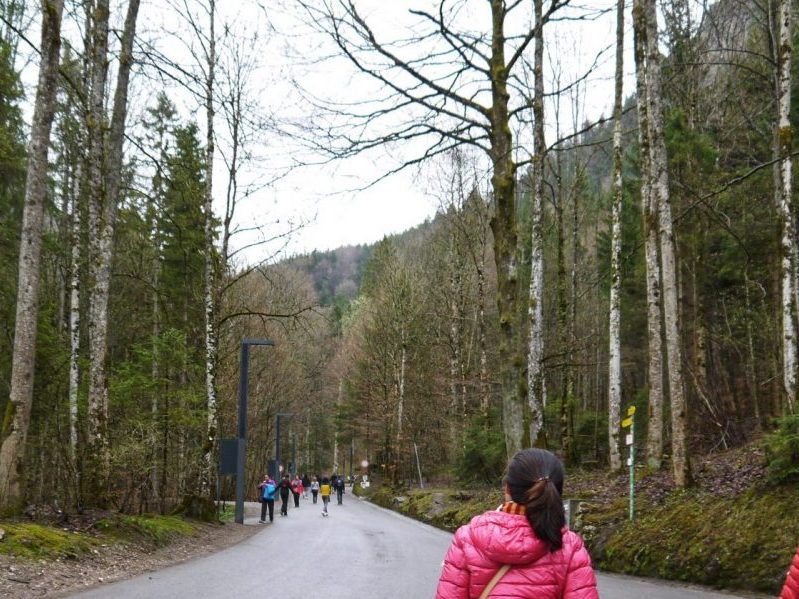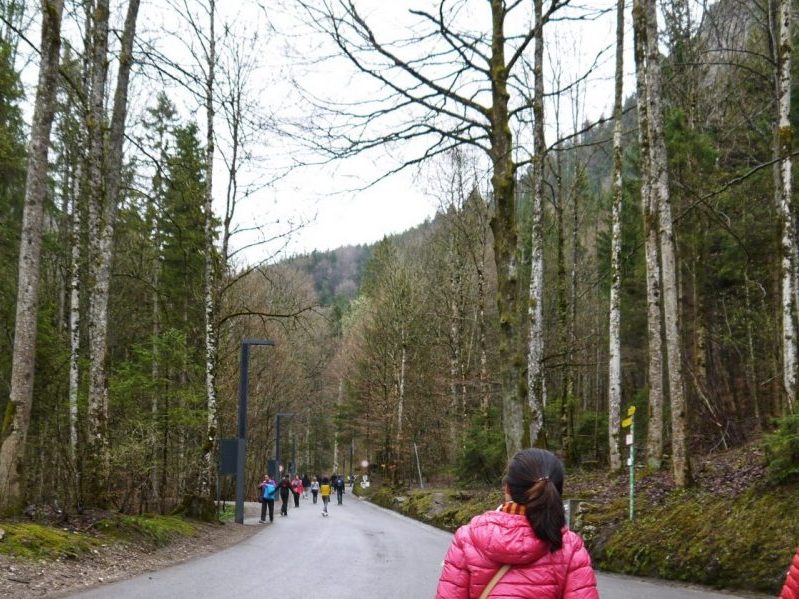 After picking up the castle ticket, we choose to hike up to the Neuschwanstein Castle. It was an uphill hike but very easy with a good walking path. The journey took us about 60 minutes but we enjoyed walking around while enjoying the stunning surroundings. Just remember your ticketed tour time and don't miss it!
You can choose to take the shuttle bus which costs you less than €2 for one way. The boarding location is just behind the Ticket Center which takes you up the nearby castle entrance.
Visit the Castle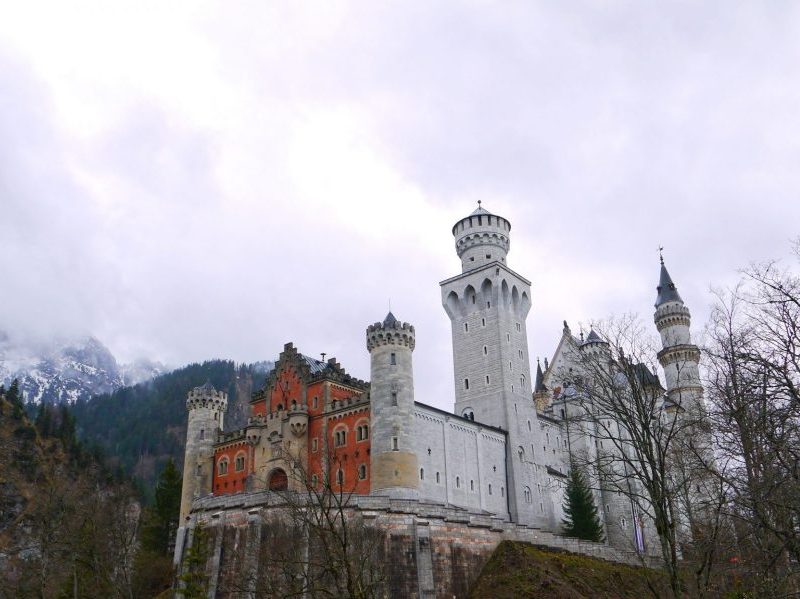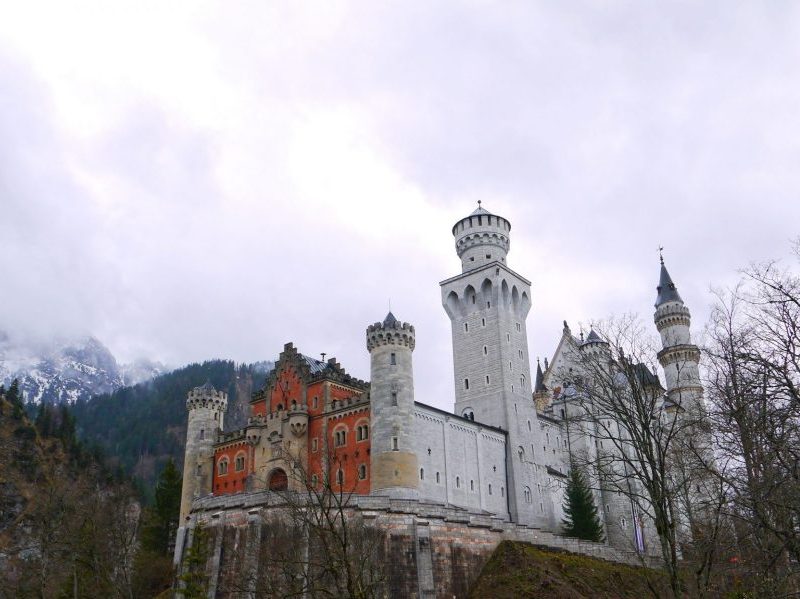 The Neuschwanstein Castle Tour only took us roughly 35 minutes. A guide will take your group through the castle where you will learn about the history of the Neuschwanstein and King Ludwig II. The tour is a little lacking when it comes to being informative and exciting. But it is still good to see the inside of this gorgeous castle and admire the Bavarian charm built by the mysterious king.
Take note that no photos are allowed inside the castle.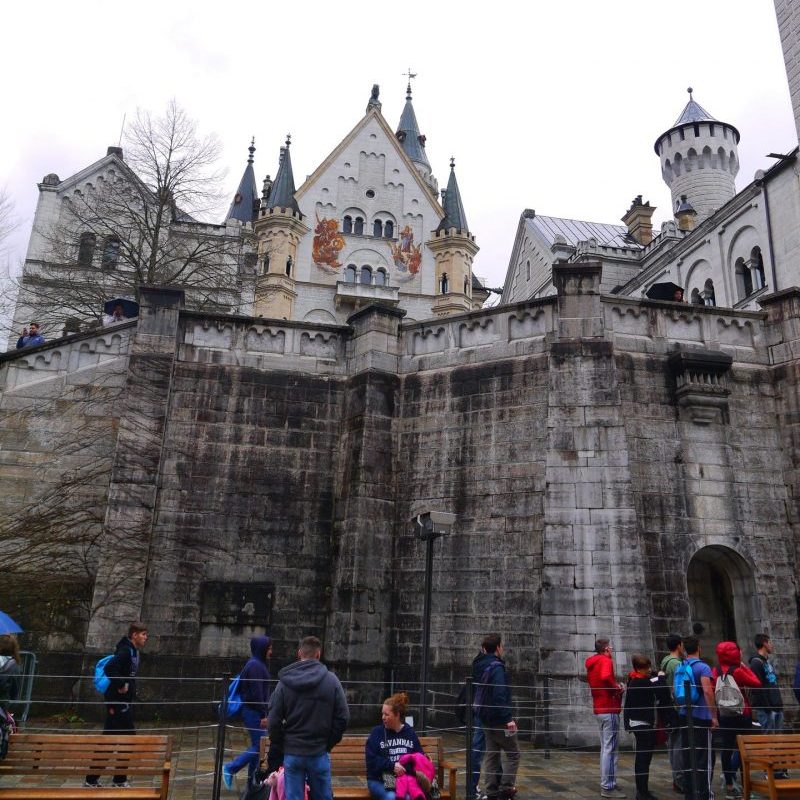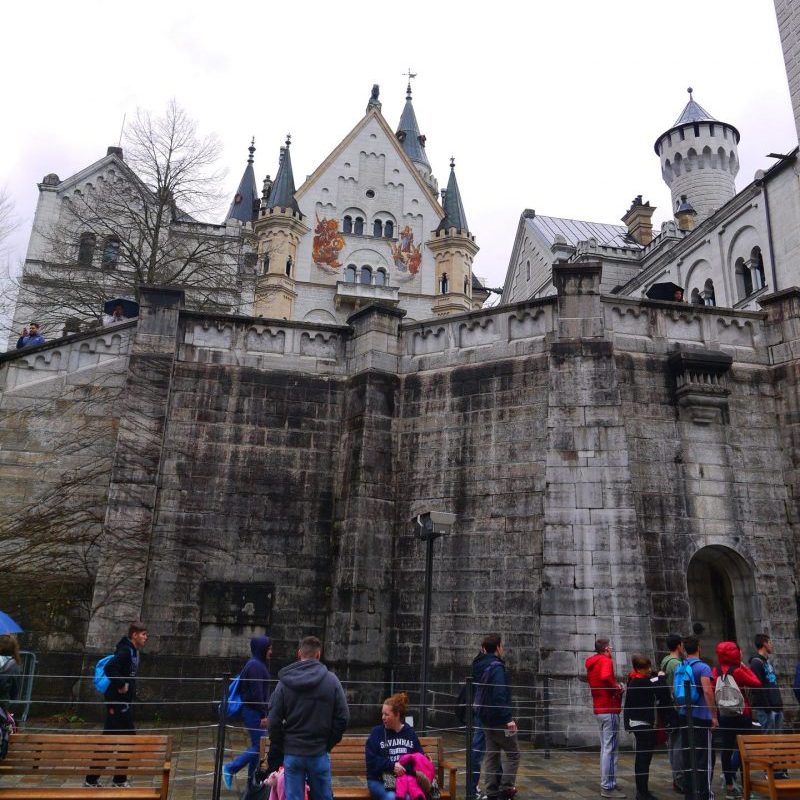 Some might ask, are the tours inside the castles worth it? Although outside of the Neuschwanstein Castles is the most impressive part. But I still recommended visitors to take the castle tour, especially first-time visitors. Are you going along the journey to take a look outside of the castle?
Admire the Castle Building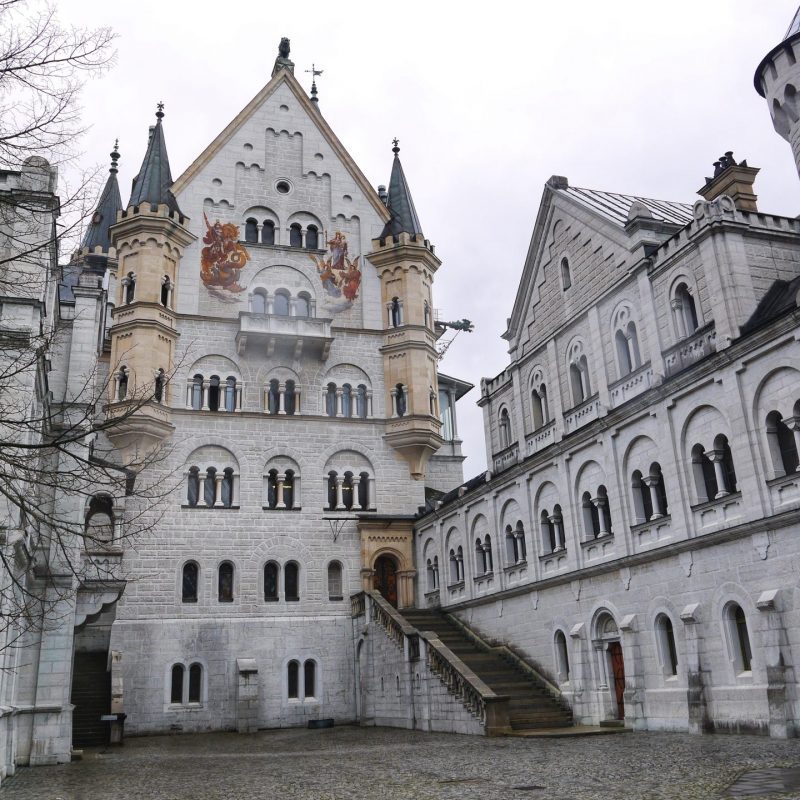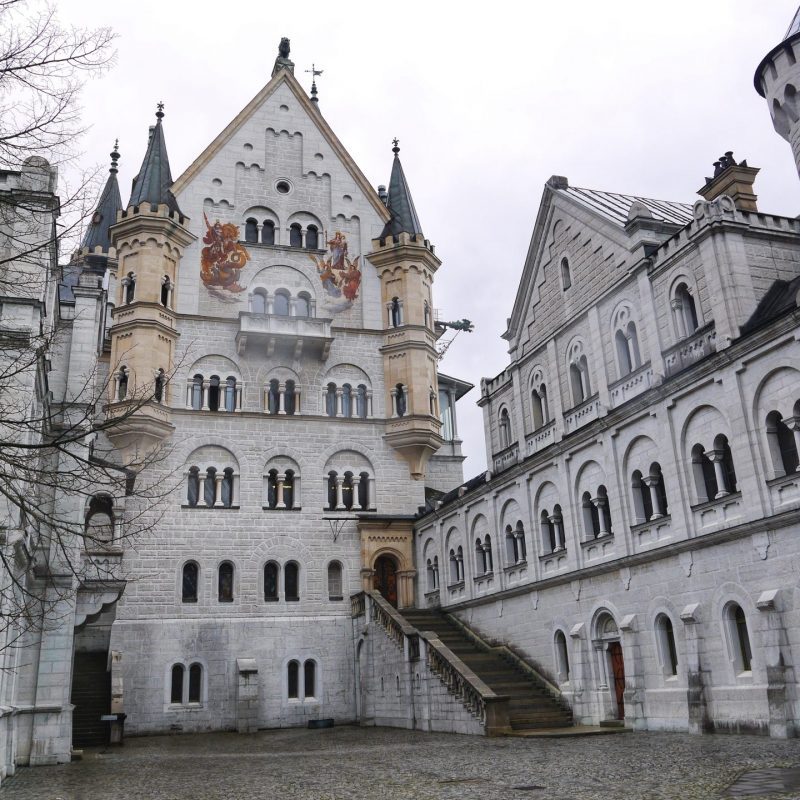 After your castle tour, you can explore the area around the castle. We enjoyed our time wandering around and taking countless photos of the castle building.
From there, we slowly headed to Marienbrücke.
Take the iconic photo of Neuschwanstein at Marienbrücke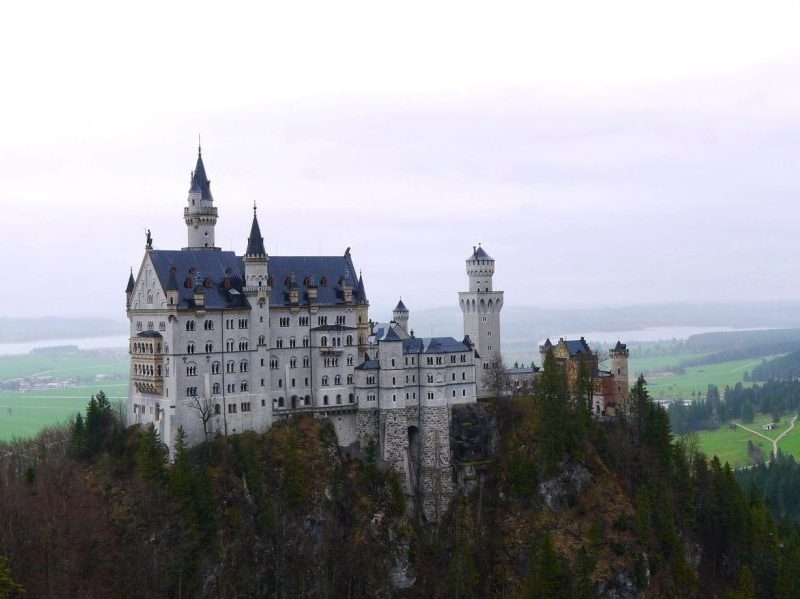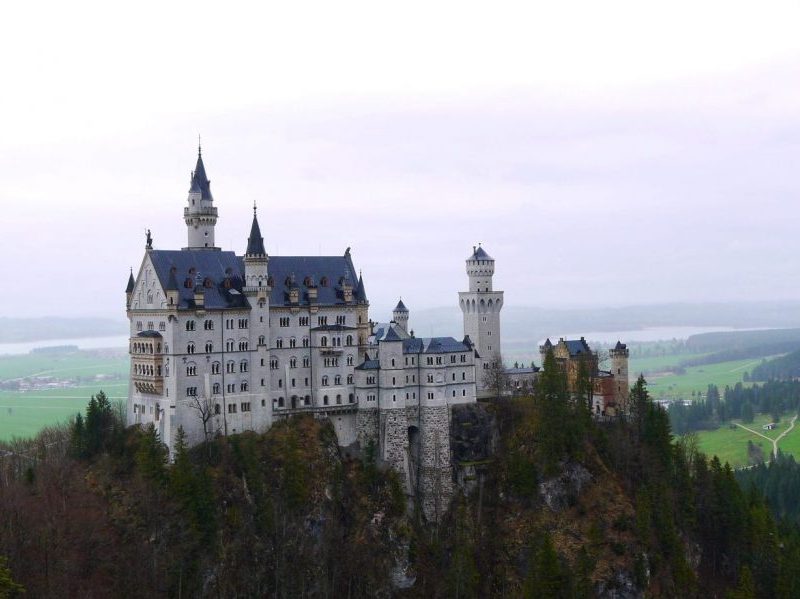 Don't forget to head to the Marienbrücke when visiting Neuschwanstein. This is the place to take that iconic photo of Neuschwanstein. It is about a 10-minute hike from the castle entrance. Depending on your schedule, you can get to Marienbrücke before or after the castle tour.
Marienbrücke probably is the most crowded location, and you will know why. The view of the castle is splendid. Here is the best view even on a foggy day during our visit.
Take note that the bridge will be closed at times for maintenance and bad weather (such as snowfall during the winter months).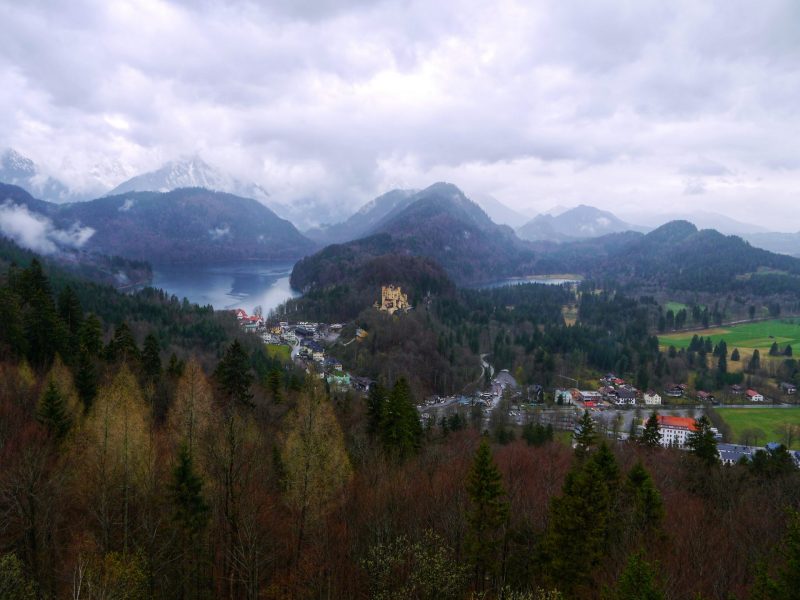 Back to Munich
After you're done taking a million photos, slowly head back to the Schwangau. Along the path, there are many souvenirs and food stalls. You might get the ice cream or Quarkbällchen for a snack. At the end of the day, take public transport and back to Munich.
Make sure to board the regional train back to Munich which is covered by Bayern Pass. The last train departs from Fussen is 6:06 pm. That's the end of the one-day Neuschwanstein itinerary.
Neuschwanstein Castle Travel Tips
Before we end our travel post, let's re-cap again on the Neuschwanstein Travel Tips:
We recommended booking your castle ticket ahead of time to avoid disappointment.
Plan ahead of your tour times which work with your transportation schedule.
Make sure to pick up your castle ticket at least 1 hour before your preferred tour time.
Make sure to arrive at the ticket center to pick up your tickets at least 1 hour before your preferred tour time.
Advice to reach the castle entrance at least 5 to 10 minutes earlier before the tour started.
No photos are allowed inside the castles.
Wear comfortable shoes.
Don't miss the last regional train back to Munich, which leaves at 6:06 pm.
Overview: A Day Trip Neuschwanstein Castle Itinerary
All in all, a visit to Neuschwanstein Castle is a must-do for most people visiting Bavaria. The day trip to Neuschwanstein Castle from Munich is long and tiring. But, it is worth it. So, if you are planning to make the day trip to Neuschwanstein from Munich, plan accordingly.
Lastly, I hope you enjoyed this thorough Neuschwanstein Castle itinerary travel guide. Enjoy your trip!
Neuschwanstein Castle Itinerary FAQ
What is the best time to visit Schloss Neuschwanstein?
To avoid crowds, it is best to visit Schloss Neuschwanstein as early as possible. We advise taking the earliest train from Munich.
How Far is Neuschwanstein Castle from Munich?
The distance from Munich to Neuschwanstein Castle is about 120km (75 miles). It takes about 110 minutes by car and 180 minutes by using public transport including the transfer time.
How To get to Neuschwanstein by public transport?
Firstly, take a train ride from Munich HBF to Füssen (2 hours), then a short bus ride (10 minutes) from Füssen to the base of the castles.
Any direct train from Munich to Neuschwanstein?
There's no direct train from Munich to Neuschwanstein and it required a one-time transfer at Füssen.
Can I buy Neuschwanstein tickets in advance?
Without booking a tour, it's not possible to BUY Neuschwanstein tickets in advance, but you can reserve them for a small fee (and pay at the ticket office when you arrive). You can reserve tickets up to 2 days before your visit here.
Can I use the Bayern Ticket from Munich to Neuschwanstein?
Bayern Ticket is covered for the train journey from Munich HBF to Fussen. But make sure you are using regional trains only.
Should I visit both Hohenschwangau and Neuschwanstein castles or only Neuschwanstein?
This is totally up to you. For me, I only visited the Neuschwanstein castle as it is the more impressive of the two, both inside and outside.
Related Travel Blog: