Last updated on September 23rd, 2023
Here's my accommodation guide on where to stay in Munich and how to choose the best area to stay in Munich.
Munich (German: München) is a well-known tourist destination and it is impossible that you have never heard of it. It's a great destination for a short city break or a week-long vacation in Europe. Simply visit the famous Marienplatz main square and some of the churches and museums when visiting this city. The world's most beautiful castle, Schloss Neuschwanstein also can be visited on a day trip from Munich.
Munich is also famous for the Oktoberfest festival. Many travelers flock to this city during October to enjoy the popular German beer and food. How could someone go to Germany without spending some time in this lovely city? If you're still wondering whether you should take a day trip or stay for longer, trust me, you must stay at least one night here to explore the city in fullness!
To look for the best hotel in München, I'll break the city down for you to help you plan better for your stay in Munich. For each area, I'll also share some great accommodation options in the different price ranges that suit your budget and needs.
If you're ready to book now then start your search for where to stay in Munich!
Quick Tips: Where To Stay in Munich
If you're planning a trip to Munich, I would highly recommend you to read through our Munich Accommodation Guide to choose your best stay in München. The best places to stay in Munich are Munich Old City (Altstadt-Lehel), Ludwigsvorstadt, nearby Olympiapark, and nearby airport.
Here is the quick tips when choosing where to stay in Munich:
Munich Old City (Altstadt-Lehel) – Where to stay in Munich for the first time.
Ludwigsvorstadt – The best place to stay when traveling by train.
Nearby Olympiapark – Where to stay in Munich on a budget and also great for families travelers.
Nearby Airport – For those to catch an early or super late flight.
Now, here's where to stay in Munich in more detail.
Munich Old City
First of all, we recommended staying right in the heart of the city. The Munich Old Town (Altstadt-Lehel), is also known as the historic center of München. Staying in the center heart of Munich will always have its advantages. This is where you'll find all the most important landmarks of Munich, including Marienplatz and tons of great restaurants and pubs. Most of the attractions can be reached by walking.
The downside is the hotel's price might be a bit higher and you might need to book further in advance, especially during the peak season to make sure you find a great deal!
Best Luxury Hotel in Munich Old City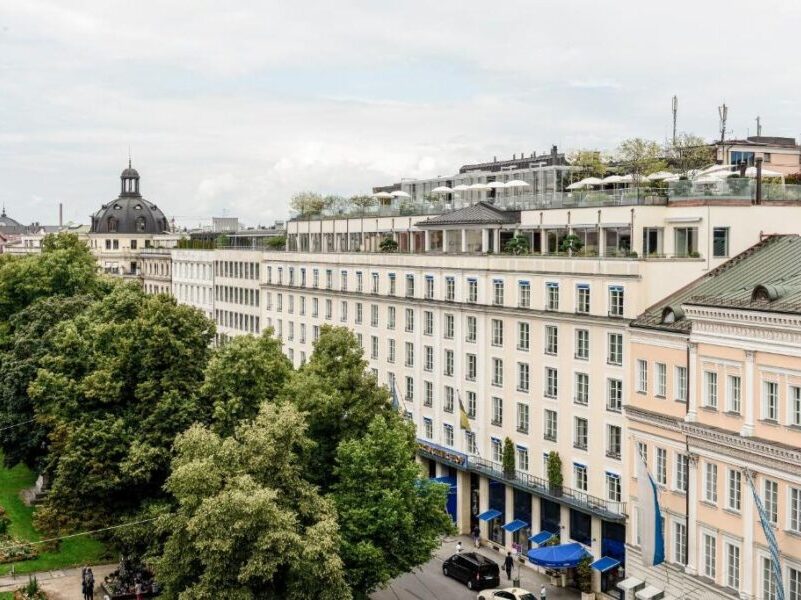 To treat yourself during your stay in Munich, stay in the Bayerischer Hof Hotel. The historical 5-star hotel is one of the most luxury hotels in Munich, offering 5 gourmet restaurants, 6 bars, and an exclusive spa with a rooftop pool.
The luxurious rooms and suites of the Hotel Bayerischer Hof each feature an original design, ranging from cosmopolitan to colonial style. All the staffs are incredibly friendly and supportive. The best part of the experience together with the comfortable stay!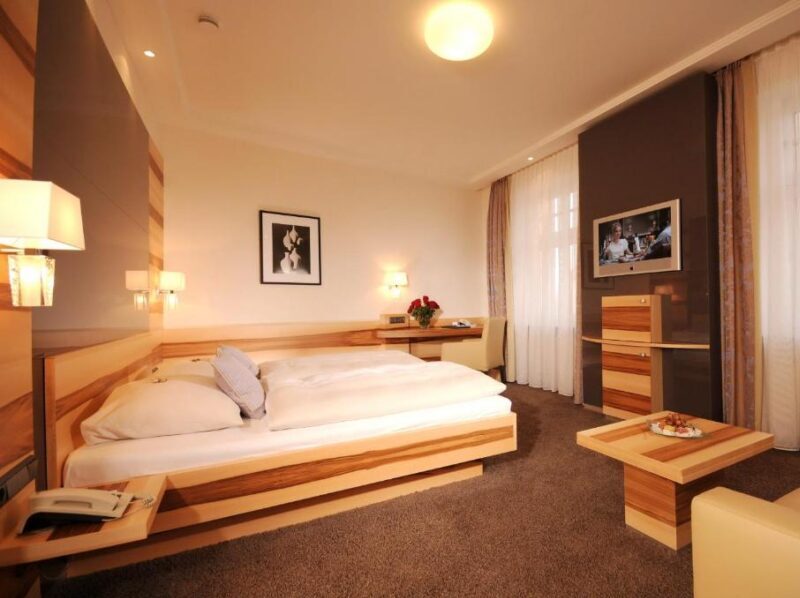 This historic 4-star Hotel Torbräu is a family-run property in Altstadt-Lehel. The property is a beautiful 'traditional' style building, that features classically furnished rooms. The location is excellent and centrally located in the old town. The Marienplatz is only 10 minutes away and the Isartor S-Bahn Train Station is only 100 meters away from the hotel.
Best mid-to-high Range Hotel in Munich Old City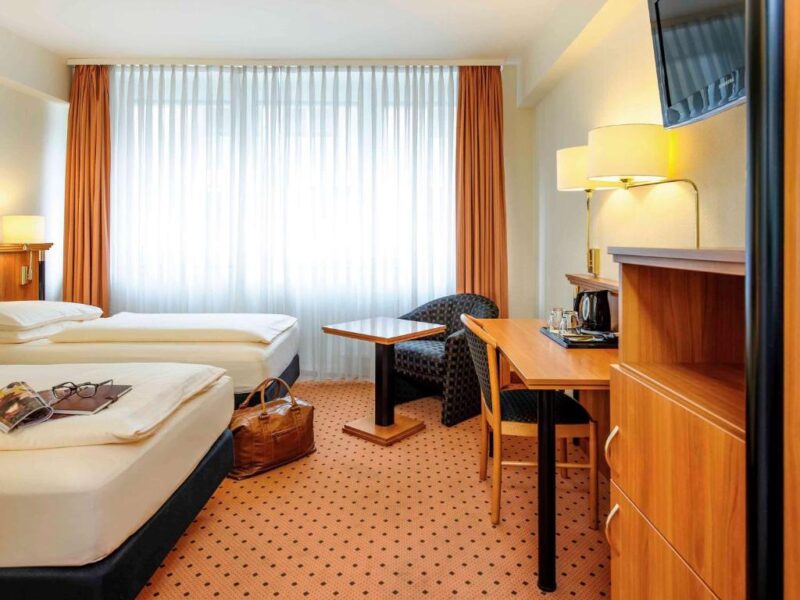 Mercure Hotel München Altstadt – The superior 3-star hotel located in Munich's Old Town, a 3-minute walk from the famous Marienplatz square and 15 mins walk from the main train station. A very well located hotel with a reasonable price. Basic but clean and comfortable, with a good breakfast. Everything you would need when looking for where to stay in Munich.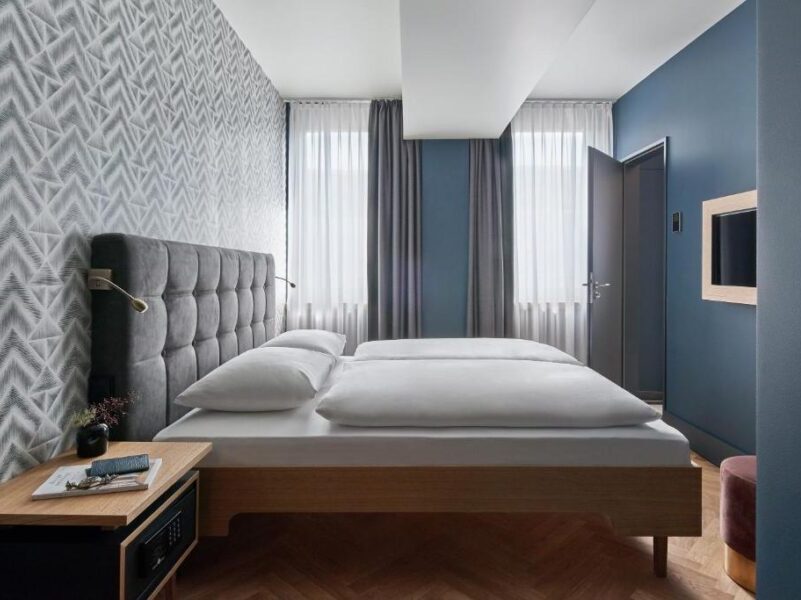 Hotel MIO by AMANO – Another cool designer hotel in Munich with beautiful decoration for the hotel and rooms. The location was perfect less than a ten-minute walk to Marienplatz and the train station. The rooms are comfortable with decent size.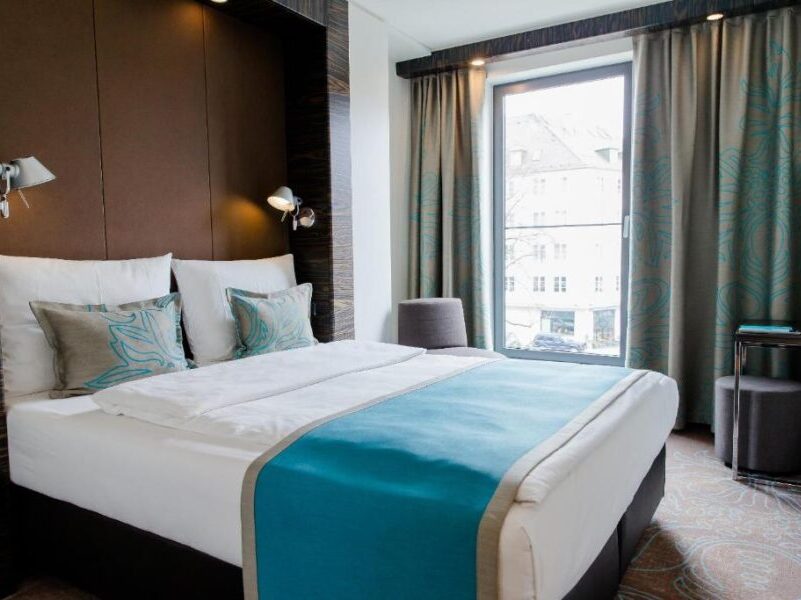 Motel One München Sendlinger Tor – Another popular pick in Munich. The hotel with a cool design and the rooms are very clean and comfortable. Located at a perfect location and within easy walking distance to a lot of Munich's main tourist attractions.
Ludwigsvorstadt
Besides, in the nearby neighborhood of Altstadt, Ludwigsvorstadt is another common choice for more reasonably priced accommodation. This area is an amazing choice for people traveling to Munich by train and the train station is located in this area. There is a wide range of accommodations to choose from, so you can get the cheaper and budget accommodation in Ludwigsvorstadt.
Ludwigsvorstadt is located south of Altstadt, with less than 30 minutes short walk away. So it is still very convenient to visit Munich when staying in Ludwigsvorstadt.
Friendly reminder: Ludwigsvorstadt is the popular place to stay in Munich during Oktoberfest. The reason is simple, Theresienwiese is located in this area, which is the venue where Oktoberfest takes place in Munich. Book early to avoid disappointment as rooms running fast during this season!
High Range Hotel in Ludwigsvorstadt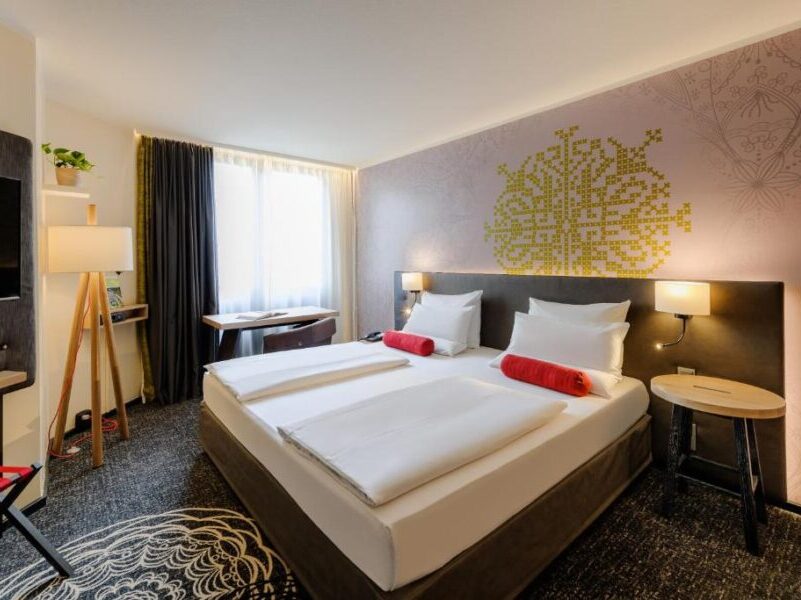 For a comfortable stay that's still reasonably priced, look no further than the Mercure München City Center. This 4-star property is in proximity to the train station and many of the city's major attractions. Spacious rooms with modern design with Bavarian influences. A clean and comfortable bed guarantees your best stay in Munich.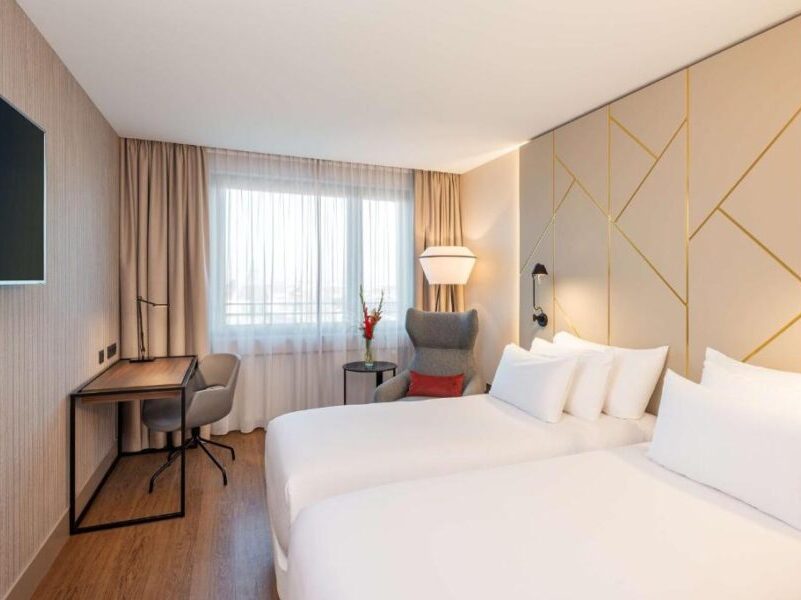 NH Collection München Bavaria – The 4-star superior hotel is directly beside Munich Main Station and offers panoramic views of Munich city center. Most travelers love this property as it offers an early check-in option and free luggage storage if you're planning to travel outside Munich for a couple of days.
Mid-budget Hotel in Ludwigsvorstadt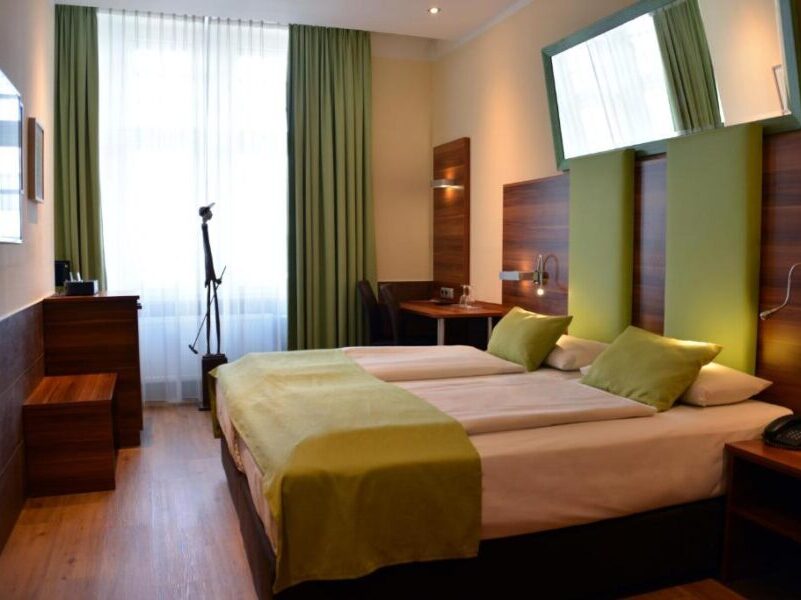 Arthotel Munich is a 3-star superior hotel, only 5 walking minutes from Munich Central Station and walking distance to the city center. It is one of the popular stays when looking for where to stay in Munich. Great breakfast and superb value for money. Nearby to the Oktoberfest site, it is recommended to book early to secure your room.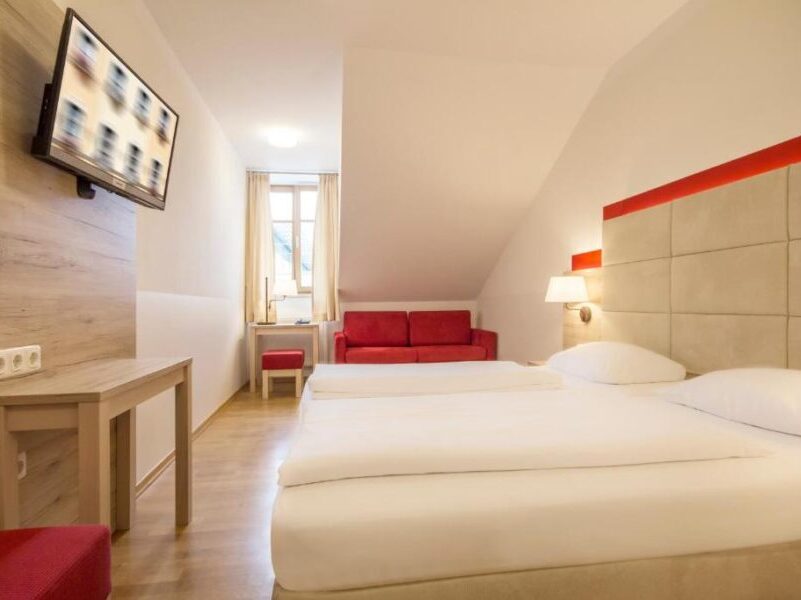 Hotel Eder is a wonderful and authentic family-run hotel in the heart of Munich. It is located in a quiet street and very close to all public transportation, with a 3-minute walk from Munich Main Station. The Munich Old Town is just a short walk from the property. Best budget stay in Munich!
Nearby Olympiapark
Munich isn't a city that's known for being budget-friendly, but you still can find good budget accommodation if you are willing to stay slightly away from the city center. We recommended looking for accommodation nearby the tram station which can get you to the center in 20-30 min.
Besides, the Olympiapark areas are also the perfect place for travelers in the bigger group who looking for overnight in Munich at a good value for money. The accommodation in this area offers bigger rooms which are also great for travelers with family or friends.
Mid-Budget Hotel nearby Olympiapark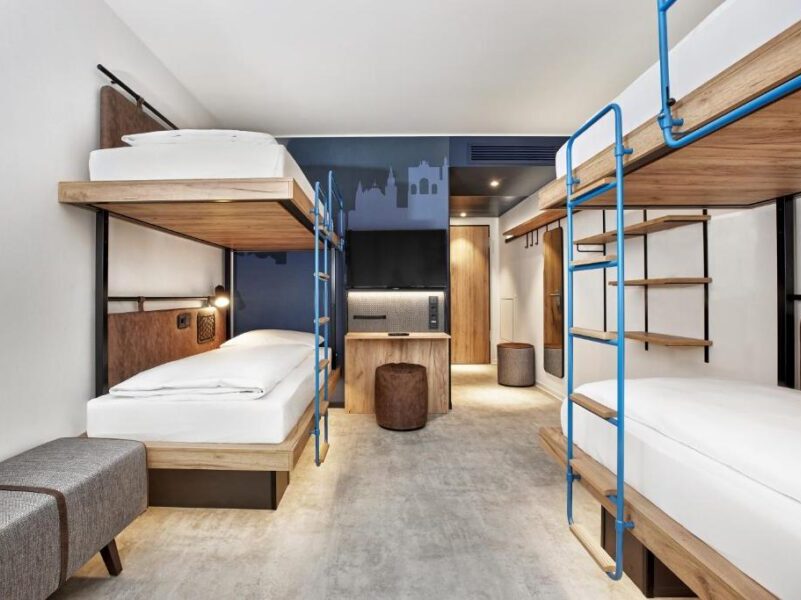 H2 Hotel München Olympiapark is an extremely popular mid-budget stay in Munich. The property is a modern minimalist clean room for your comfortable budget stay in Munich. It is conveniently located near the Olympic village with a U-Bahn subways station right in front of the hotel. The property is very suitable for travelers with families and kids with double, comfort triple, and quadruple rooms available to choose from.
MEININGER Hotel München Olympiapark is located easily accessible by public transport and super convenient. Besides, there is also inexpensive parking available for guests. Very clean rooms and spacious family rooms.
B&B Hotel München-Olympiapark is accessible by trains and close to shops and a metro station. 7 stops will bring you back to the Munich city center. The rooms are slightly room but clean with the best value for money. Everything you need for a short stay in Munich.
Nearby Airport
If you are coming to Munich for a short period of time, arriving late at night or early in the morning, or simply need to be close to the airport for an easy departure, then here are some excellent hotels that are nearby to the Munich Airport.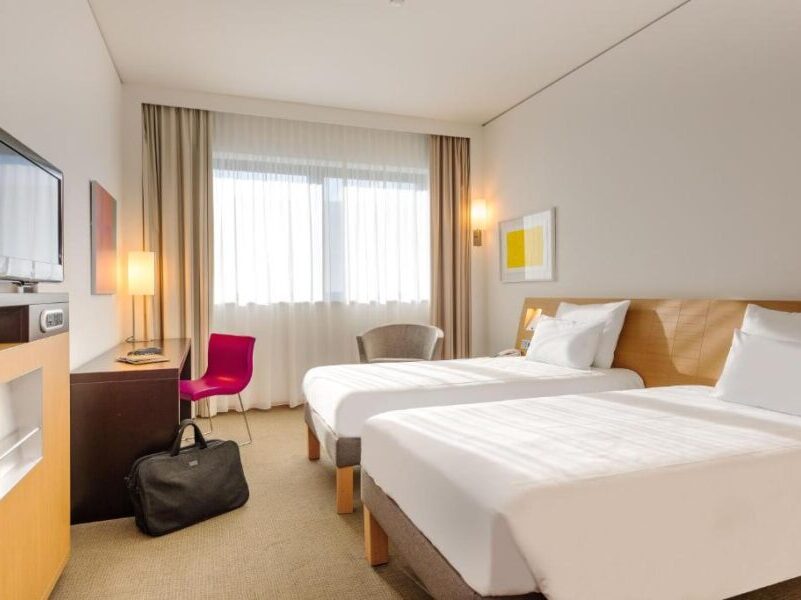 Novotel München Airport is one of the best value hotels for stopovers in Munich. The property is conveniently located near the airport, with easy access by bus and train station. The rooms are spacious and clean, with good noise isolation. The shuttle bus stop to the airport is just located right next to the hotel.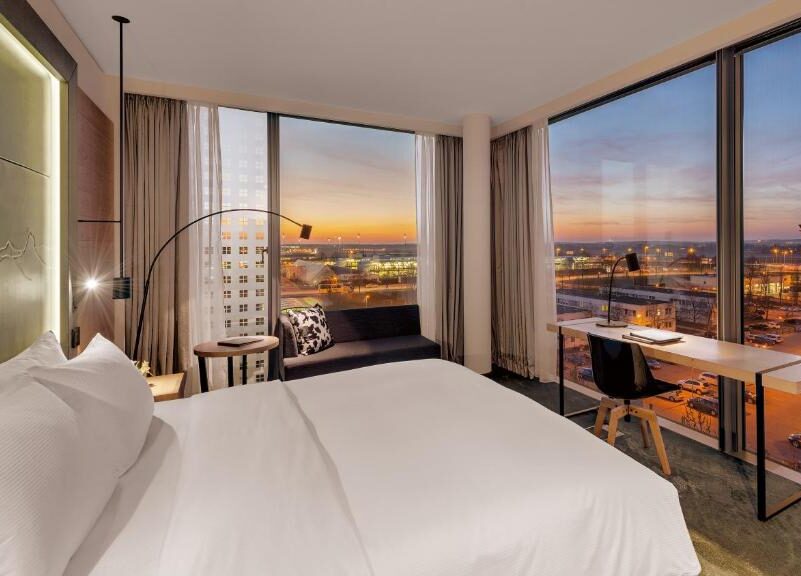 Hilton Munich Airport is fantastically located right next to the airport for an early morning flight. It is located across right the road and can easily access the airport on foot. Beautifully decorated, and clean cozy rooms. Highly recommended if you are looking for staying nearby Munich airport.
B&B Hotel München Airport – If you're on a budget then this Ibis hotel in Munich will be just great. It is a functional airport hotel with reasonable value for money. It is small but clean and comfortable with a shuttle to the airport for an early flight. A great choice for a short layover in Munich.
Overview: Best Stay in Munich
Lastly, we hope you enjoy reading our München accommodation guide when choosing your best stay in Munich. We explained everything you need to know about the best areas to stay in Munich, with the best selection of hotels in each area for different budget ranges.
Accommodation options in München are plentiful for those with a deep wallet, though budget travelers will have to look for staying slightly away from the center. But still, there's something for everyone for your best stay in Munich. Happy travel to Munich!
Related Travel Blog Posts: