Last updated on December 3rd, 2022
To help you plan your weekend, I've put together a detailed Munich itinerary with all the best things to do in Munich that we enjoyed.
Munich, the capital of Bavaria and the third-largest city in Germany, is one of the historically rich and popular countries in Europe. Munich perfectly blends the modern and historical into the city, making it one of the most popular tourist destinations in the world.
Planning your Munich itinerary by visiting the beautiful churches and outstanding museums and palaces, spending some time enjoying life with the locals at a festival, or drinking beer and enjoying the German food. There is so much to offer in the city awaiting you to discover.
But, even with such a well-known destination, it always helps to have a clear idea of what you want to do on a visit. I spend two days in Munich, visiting this amazing city and discovering some of the great things and food of Munich.
In this Munich itinerary, you'll learn about all the best places to visit in Munich to ensure you don't miss out on any great attractions. Over one or two days of the Munich itinerary, you'll see and experience all of the best parts of the city when visiting Munich.
Pre-Trip Essential: What You Need To Know
Overall, when planning on an itinerary, it is always good to know more about the city to make sure you can fit all of the best experiences into your schedule. Here are some of the useful pre-trip essential tips for travelers when planning your Munich itinerary.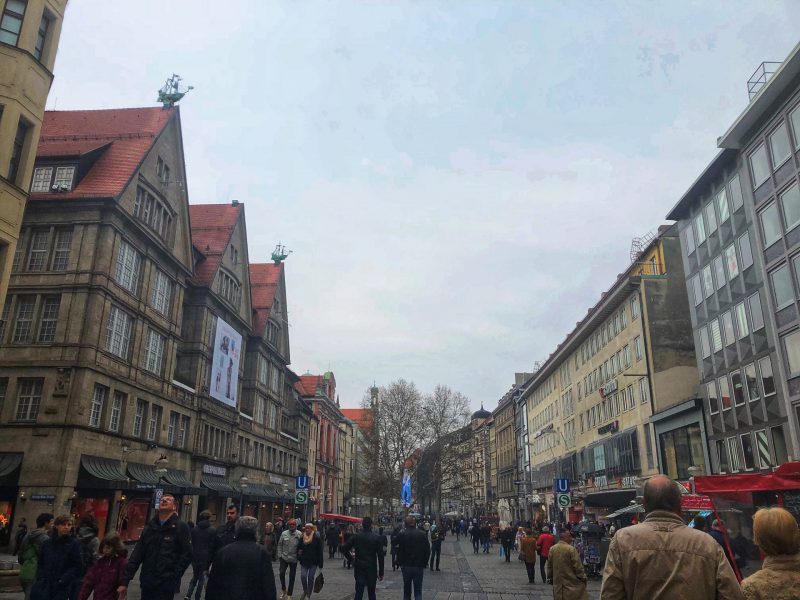 How To Get To Munich
If you fly into Munich International Airport, which is 28.6 km away from Munich, the best way to get into the city center is by train or bus. The S-Bahn lines (#1 and #8) run every 10 minutes and it takes around 35 minutes from the airport to the city center. There's also an Aiport Shuttle Bus that runs every 15 minutes to the Main Train Station Hauptbahnhof.
If you are arriving by train or bus, you probably will be stopping at one of Munich's train or bus stations. The Main Train Station Hauptbahnhof (Hbf) is the main arrival for international trains from all European cities by rails. From that, get into the underground metro (U-Bahn), suburban trains (S-Bahn), trams, and buses that connect you to other districts in the city.
How To Get Around in Munich
It is important to understand how to get around Munich while exploring the city. If you are only planning to explore the City Old Town, the best way to get around is on foot as most of the attractions are within walking distance. But if you plan to visit places beyond the city, then you need to know the public transport options available for you.
Being a major German city, Munich's public transportation system is very comprehensive. The Munich Transport and Tariff Association (MVV) is made up of an underground metro (U-Bahn), suburban trains (S-Bahn), trams, city buses, and regional buses. All networks use the same tickets system and tickets can be bought from blue vending machines at stations.
Another way of exploring Munich is on a hop-on hop-off bus where you can enjoy magnificent views of the city and be able to get on or off the bus anytime. Ticket options are available for 1 day, 24-hour pass, or 48-hour pass.
Best Time to Visit Munich
Munich can be visited all year long and travelers can enjoy their time in Munich at four distinct seasons. The best season to visit Munich is in the spring months of March to May as the weather is very pleasant during this time. Summer is the busy month in Munich as it can be one of the high seasons in Munich.
But the busiest and most expensive time to visit Munich is during fall because of the Oktoberfest which runs from September through to early October. During Oktoberfest, millions of travelers flock to Munich to celebrate this world-famous festival.
Where To Stay
Munich is a well-known tourist destination and travelers can find plenty of accommodation to choose from. But, still, deciding where to stay in Munich is a stressful step when planning a trip.
Here are some of the ideas for your best stay in Munich:
Luxury – Bayerischer Hof –

One of the finest hotels in Munich for your trip. This superb five-star hotel is situated inside a historic building, while still providing guests with every modern convenience. A 5-minute walk from sights such as the Bavarian State Opera and the Hofbräuhaus Beer Hall.

High Range – Mercure München City Center – Proximity to train station and center of the city. The hotel had a cool vibe, a good breakfast buffet, and excellent staff. Spacious room with modern design and Bavarian influences.
Mid-Range – Arthotel Munich – A 3-star superior hotel, only 5 walking minutes from Munich Central Station. Early check-in option and free luggage storage. Popular pick especially during Oktoberfest!
Budget – H2 Hotel München Olympiapark –

Located next to the U-Bahn station that takes you right to the city center. Great breakfast with varieties. Modern design rooms and everything is clean and comfortable. One of the mid-budget stays in Munich.
For more accommodation options in Munich check out our Accommodation Guide: Where To Stay in Munich: Best Areas and Hotels. We'd share some great accommodation options in the different price ranges that suit your budget and needs.
Munich Itinerary: What To Do in the City
With a well-planned Munich itinerary, you can explore all the major attractions that lie in the heart of the city. Besides, Munich is also a good base if you want to explore the nearby neighborhoods.
You can easily plan for a 1, 2, or 3 days Munich itinerary.
With only one day in Munich, you will most likely be spent staring around Munich's historic Old Town (Altstadt) and visiting the town's top sights in the city center. But if you have more days in Munich, you have the opportunity to plan for a one-day or 2 days trip to expose many different sides of Munich and visit the nearby attractions.
Day One in Munich Itinerary:
Marienplatz.
New Town Hall (Neus Rathaus) and Glockenspiel.
St. Peter's Church.
Michaelskirche (St. Michael's Church).
Lunch at Viktualienmarkt.
Dinner at Hofbräuhaus, World's Most Famous Beer Halls.
Munich Residenz.
Day Two in Munich Itinerary:
Day Trip from Munich (Neuschwanstein Castle, Linderhof Palace, or Salzburg).
Dinner at Augustiner Beer Garden.
One Day Munich Itinerary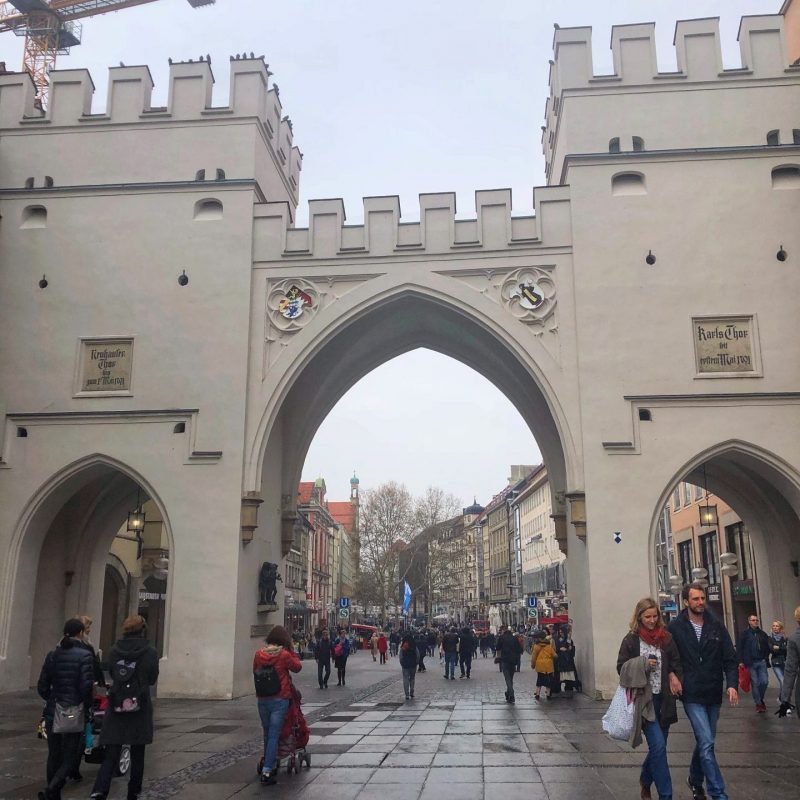 Start your Munich itinerary by visiting Munich's old town with the many sights found within the inner city. Many of these places are the most popular attractions in Munich and are not to be missed.
Morning Old Town Walking Tour to Marienplatz and nearby attraction at inner city. Lunch at Viktualienmarkt. Afternoon visiting and touring around Munich Residenz. Evening dinner and drinks at the Hofbräuhaus.
Marienplatz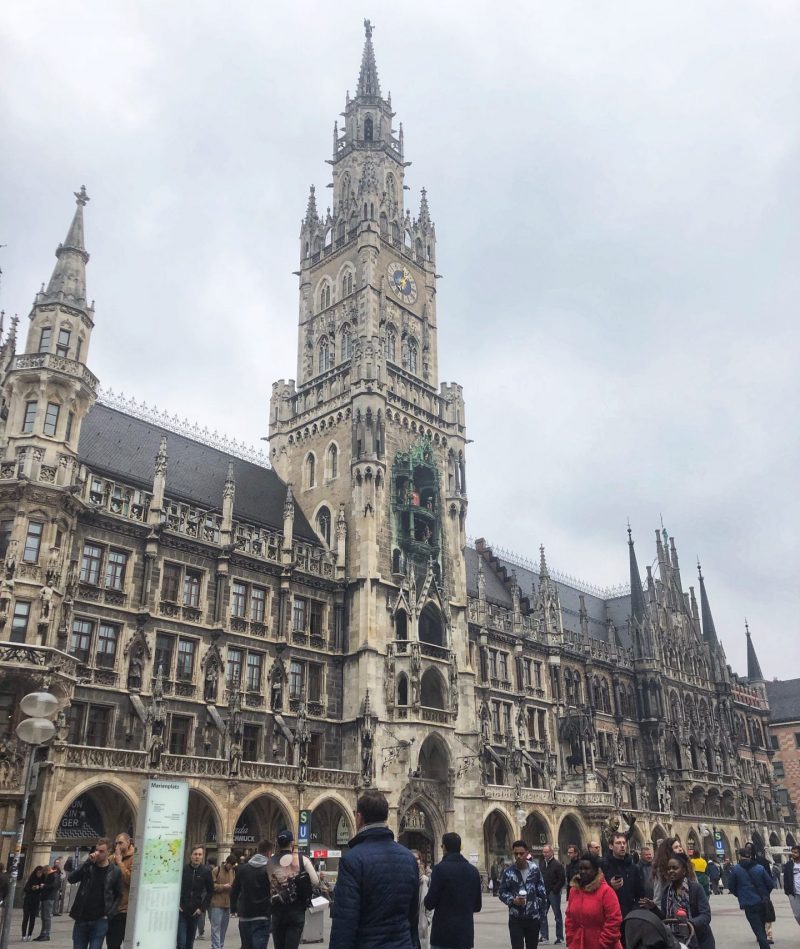 Situated in the Altstadt, the best starting point for the Munich itinerary is Marienplatz. It is the city's oldest square and has been at the center of the city since the 12th century. A great place to begin one's tour of Munich's historic city center.
Marienplatz is the heartbeat of Munich, packed and surrounded by much beautiful architecture, building, street bars and restaurants, shopping streets leading to and from it. It is the place where you find the beautiful Neo-Gothic Neues Rathaus, the earlier Altes Rathaus, St. Peter's Church as well as attractive fountains and monuments such as the MarienSaule (Marien Column). Many city's historical landmarks are also close by.
Every day people, locals, and tourists take a walk on the Marienplatz and enjoy the beauty and coziness of the square. The most interesting and something well worth making plans to see is the 11 am and 12 pm chiming clock performances of Glockenspiel which is built into the clock tower of Neues Rathaus. Visitors and locals pause to watch the animated clock play out on the Gothic building.
In December, the annual Munchner Christkindlmarkt (Christmas Market) is being held here at this time of year. During this time, many festivities, lights, and decorations in and around the square.
New Town Hall (Neus Rathaus) and Glockenspiel
While many interesting buildings line Marienplatz, one that's hard to miss is the Neues Rathaus (New Town Hall). This glamorous building has become one of the city's most famous landmarks, despite only being built-in 1874.
Built in the Gothic Revival style, the Neo-Gothic Neues Rathaus (New Town Hall) occupies the entire northern side of the square. It is a beautiful building constructed in the second half of the 19th-century, replacing the older and smaller Altes Rathaus (Old Town Hall) on the southeast side of Marienplatz.
While Neus Rathaus is a working city hall with government administrative offices inside the building. It is also the home of the Mayor, city administration center, local government.
The magnificent town hall has two elements that will interest tourists. First is the delightful Glockenspiel, an ornamental chiming clock show which performs twice a day (11 am and at noon) during winter months and a third time (5 pm) during warmer months of the year. The show goes on for 5 minutes. Don't miss it!
The other is the New Town Hall's tower. It is The clock tower is 85 meters tall and visitors can ascend to enjoy the fantastic city views it provides.
An amazing building which you should see in the Munich itinerary.
St. Peter's Church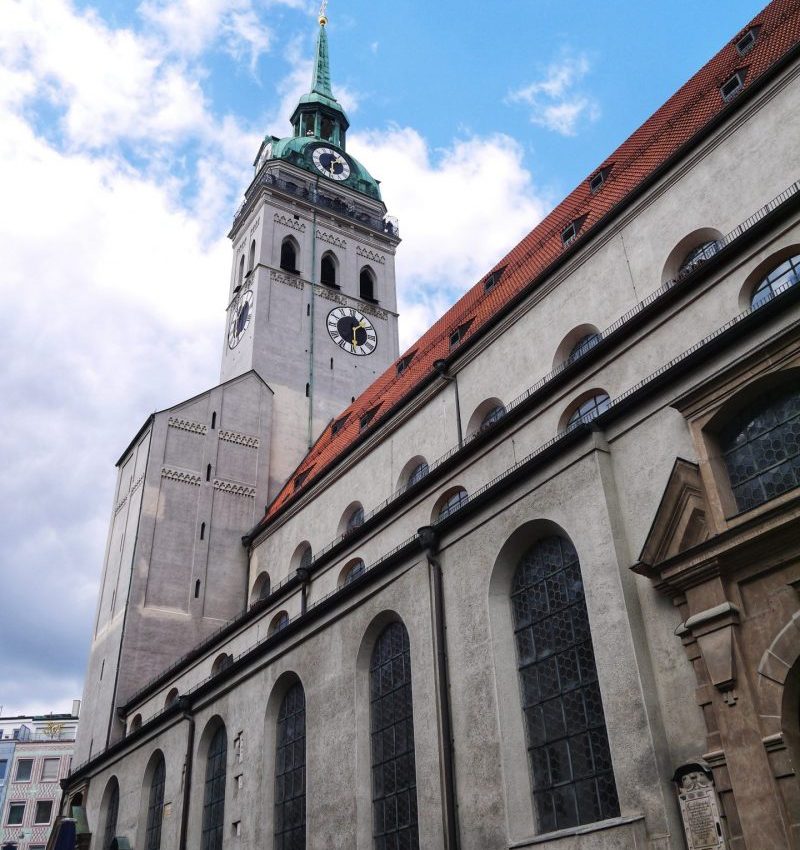 Just a block to the south of Marienplatz you'll find St. Peter's Church, the oldest church in Munich. Known as "Peterskirche in German, St Peter's Church is one of the most beautiful churches in Munich with its intricate design and a high tower.
Dated back to the 11th century, St Peter's Church was heavily destroyed by fire in WWII. It was faithfully restored in the Gothic style and altered with the addition of a Baroque style over the centuries.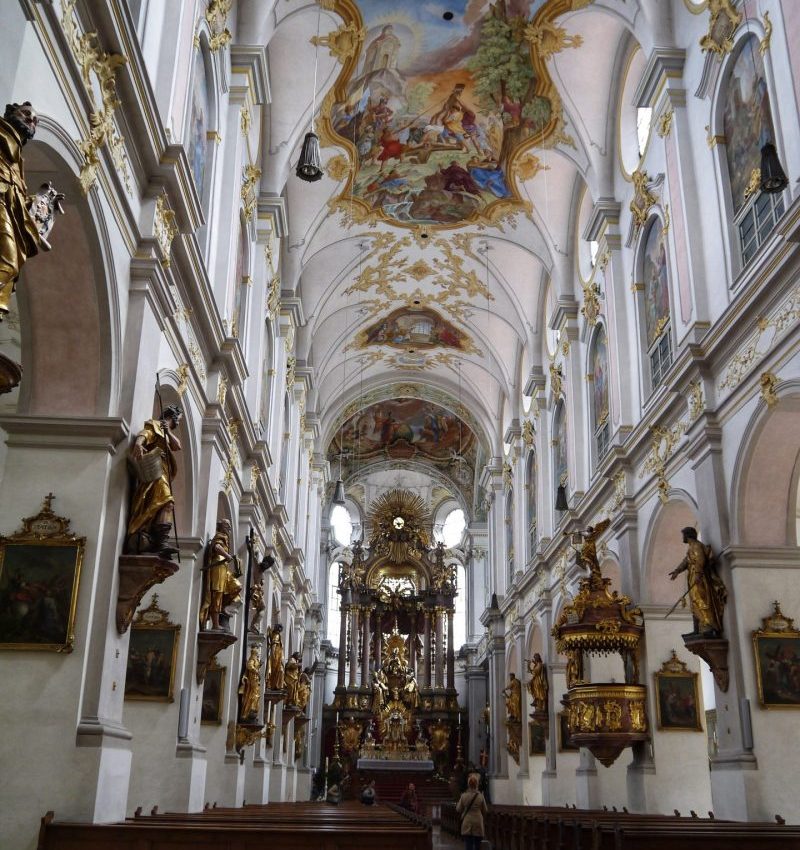 The interior of St. Peter's is nice as well with Baroque and Rococo in style. You'll find fine stucco work, ceiling frescos, an impressive high altar, and an attractive nave with columns lined with gilded statue figures. Near the back entrance, there are also photos of the damage from WWII and the history of expansions through the centuries.
Step outside, you can find a 91-meter tall tower where you can be climbed up 300 steps for the best Munich aerial city views by paying €3. It is one of the best views of Marienplatz with major landmarks that can be seen in incredible detail, such as the Frauenkirche, Rathaus, Olympic park, and Viktualienmarket. Well worth visiting for excellent views of this beautiful city.
Well worth a visit.
Michaelskirche (St. Michael's Church)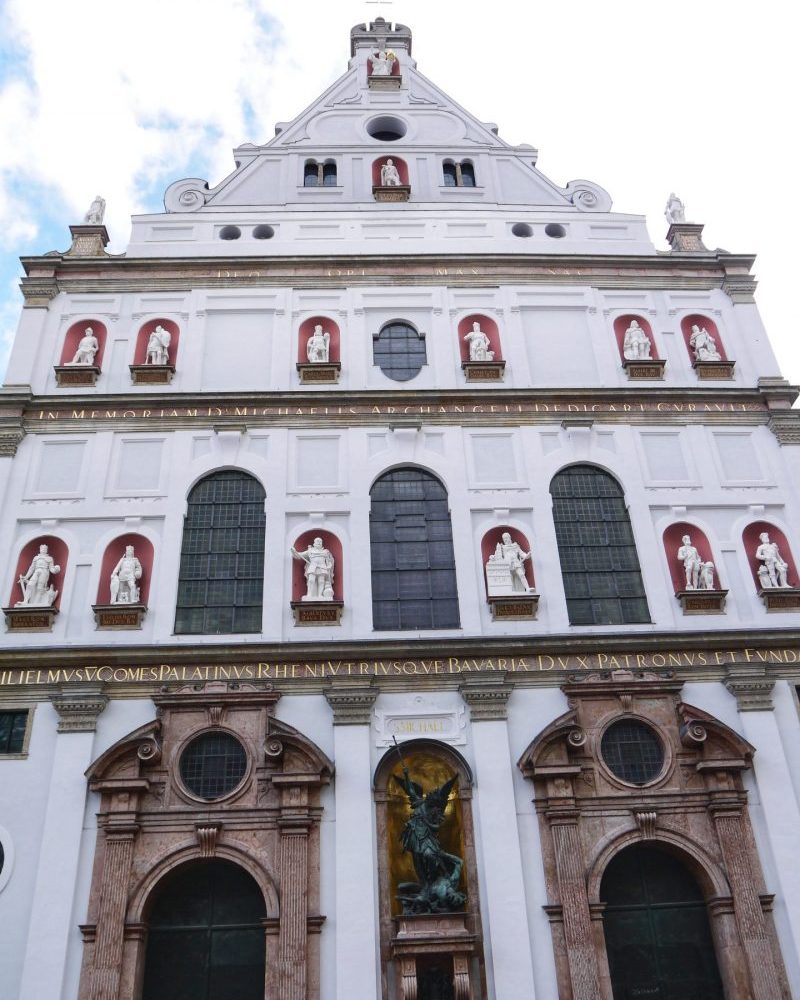 The beautiful Michaelskirche (St. Michael's Church) is a beautiful church that represents a transition between the Renaissance and Baroque architectural styles. Built-in the late 16th century by the Jesuits, St. Michael's Church was a monument to the Counter-Reformation and fell into the hands of the Wittelsbach family.
The interior of the church is attractive where you'll find the second-largest barrel vault style nave in the world behind St. Peter's Basilica at the Vatican, spanning freely more than 20 meters. It is stylized in the manner of the counter-reformation movement of the time. Besides, there are numerous statues of angels embedded into the upper walls, an attractive high altar in front with numerous decorative altars on the side.
Once you have finished admiring the interior, consider taking a quick visit to the underground Royal Crypt (Fürstengruft) underneath the choir where 41 members of the House of Wittelsbach, including those of King Ludwig II and Maximilian I are at eternal rest. It costs €2 per person to pay your respect to the Wittelsbach family.
Viktualienmarkt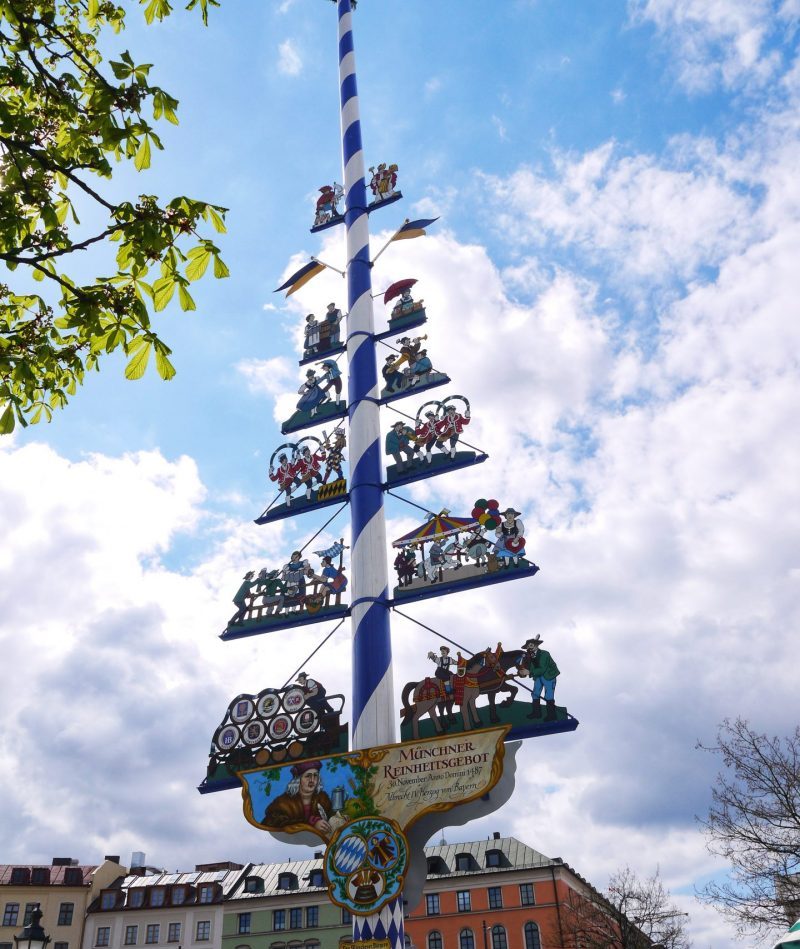 A popular place for both locals and visitors. Viktualienmarkt is a daily food market and a square in the center of Munich near Marienplatz. It offers everything from fresh vegetables, flowers, cheese, and spices to butchers, with over 140 stalls selling all manner of produce. All can be found for sale in the Viktualienmarkt.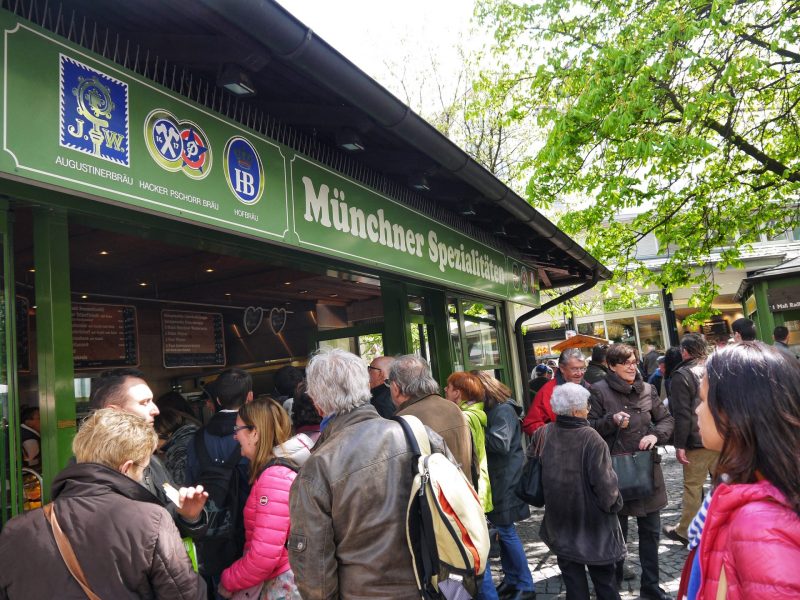 Besides, Viktualienmarkt is a great place to go for lunch. There are many food stalls selling local snacks such as wurst, schnitzel. pretzel and even fresh falafel. The Biergarten in the middle of the market is a good place to eat some of the local produce you may have bought in the market. Make sure you buy a drink.
During our visit, we had such a lovely experience wandering around and enjoyed seeing all the wonderful foods on offer. Plenty of options and you can plan on a meal here as well. We grabbed our lunch here and enjoy ourselves with a drink in the Viktualienmarkt. We'd definitely go back.
Munich Travel Tips: Make sure you have cash with you as some stalls in the Viktualienmarkt only take cash. Viktualienmarkt is closed on Sundays.
Munich Residenz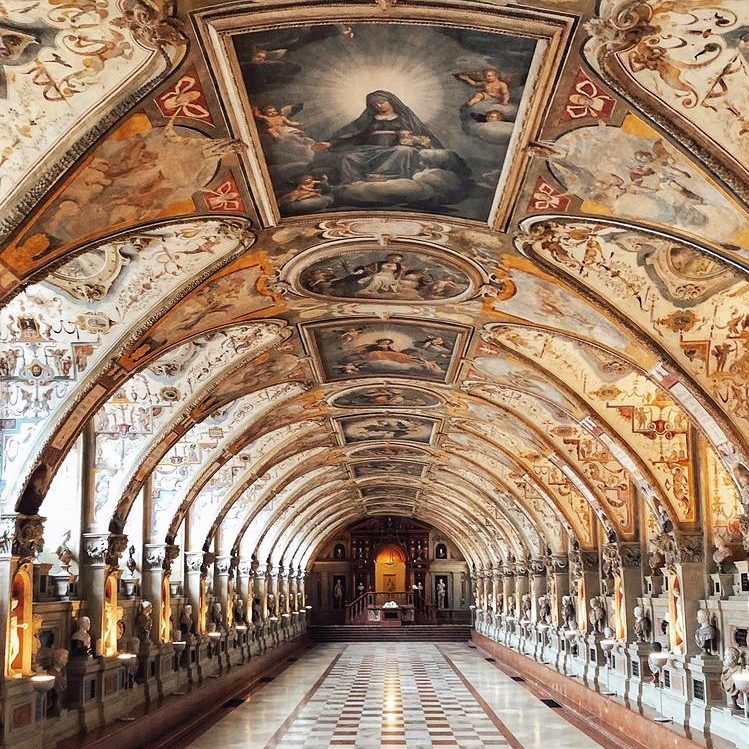 Spend your late afternoon at the Munich Residenz, one of the largest city palaces in Germany. Residenz was once the royal residence of the royal Wittelsbach family of Bavaria since the 14th century. Today, the Residenz houses a number of monuments and museums, including the Residenz Museum, the Treasury, the Court Church of All Saints, and Cuvilliés-Theater.
The complex of buildings contains 10 courtyards and around 130 rooms. Plenty to see and you can easily spend half a day here admiring the rooms. The rooms are well maintained and the their design is absolutely amazing and impressive. Room after room of tremendous royal wealth and pageantry are on display throughout the entire Residenz complex. The famous Antiquarium is definitely the highlights. It is extremely gorgeous and exquisitely decorated with frescoes and statues. A photographer's paradise along with several other rooms in the palace.
Be sure to explore the palace grounds, too, with its many wonderful old courtyards, including the beautiful Court Garden as well as numerous fountains, ponds, and gardens.
Given the size of the palace and the richness of its art, the Munich Residenz definitely worth the visit. You can take a guided tour of the palace complex. If you plan on taking the tour, which take around 2 to 3 hours.
Combo Ticket available which cost €9 – €12.
Hofbräuhaus: World's Most Famous Beer Halls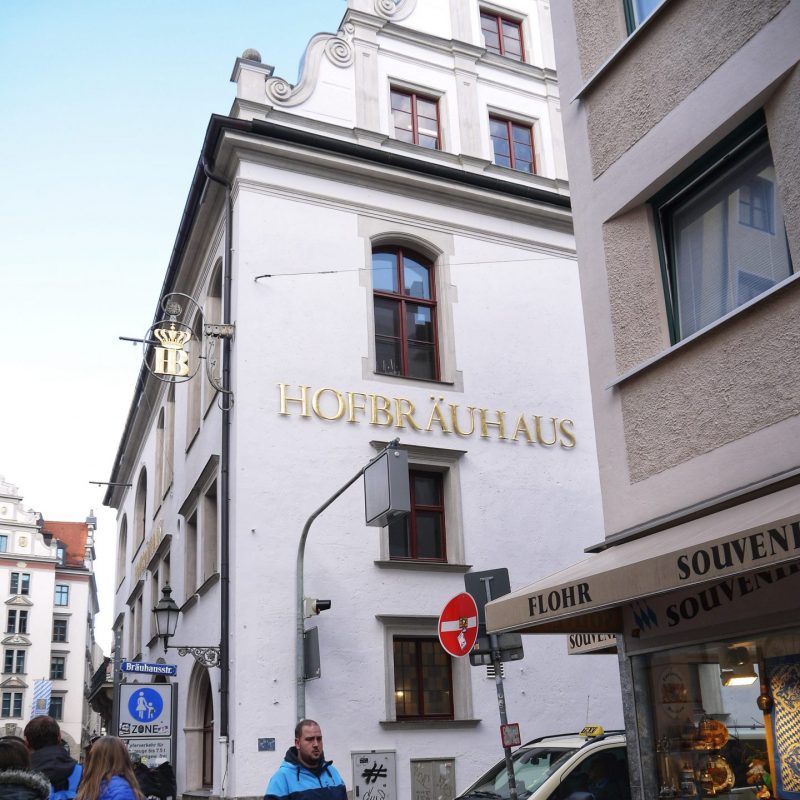 You can't go to Munich without stopping in for a beer and there are dozens to choose from around the city. Among all, Hofbräuhaus is the most authentic and one of the best place for it. It is a world famous traditional Bavarian beer hall, dates back to the 16th century and was once part of the Staatliches Hofbräuhaus brewery.
Visitors would want to pop into the Hofbräuhaus for one, two or even more glasses of beer. Lenin, Louis Armstrong, Gorbachev, and John F. Kennedy and Hitler are a few of the previous guests in this 400 year old establishment. Hitler even used the hall on the second floor to hold his rally at the early stages of his career. That is interesting and worth a visit during a nazi walking tour of Munich.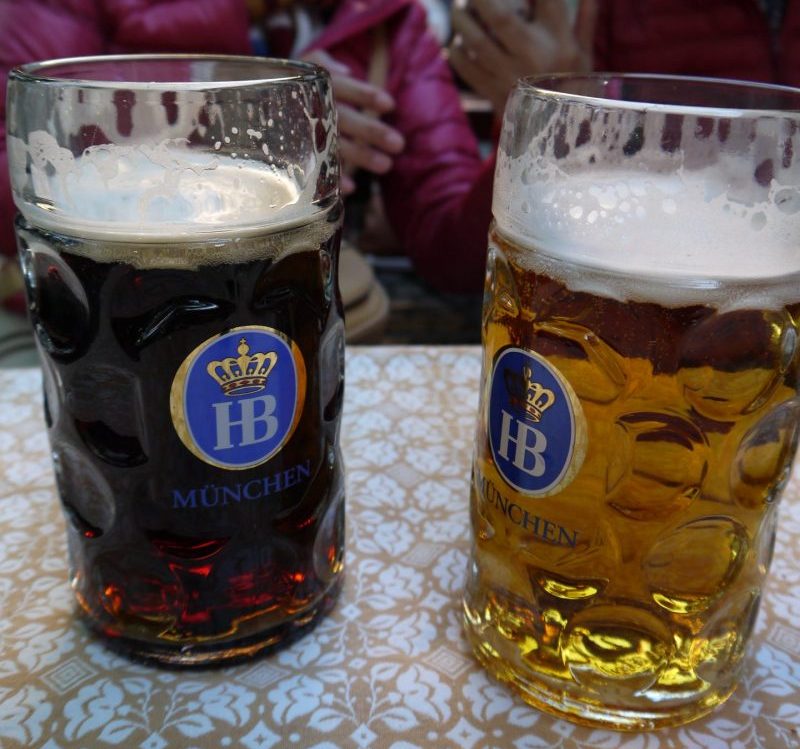 We enjoyed our Bavarian top beers and were excited about the wonderful typical Munich ambience. Beautifully decorated restaurant, festive ambiance, and great music. Most important, the food were fantastic, the beer was even better and the experience was worth every minute! Make sure you try the Pork Knuckle, Schnitzel, Roast Pork and get a pretzel or two along with your beers.
Friendly reminder, Hofbräuhaus is very busy and it can be tough to find your seats on the weekend and during high season. Come early to drink one of the most famous beers! Definitely recommend!
Day 2 Munich Itinerary
Having seen the best of Munich it's time now to turn your attention to all the great destinations that surround the city. Although there are many things to do and see that you can accomplish with 2 days in Munich. But we recommended opening your Munich itinerary with some of the Munich best day trips that you should consider spending for your second day.
Here is our recommendation for day 2 in the Munich itinerary:
Day Trip from Munich (Neuschwanstein Castle, Linderhof Palace).

Day trip to Salzburg from Munich.
Lastly, end your day and back at Munich town for dinner and drinks at the Augustiner Beer Garden, which is the favorite of locals.
Neuschwanstein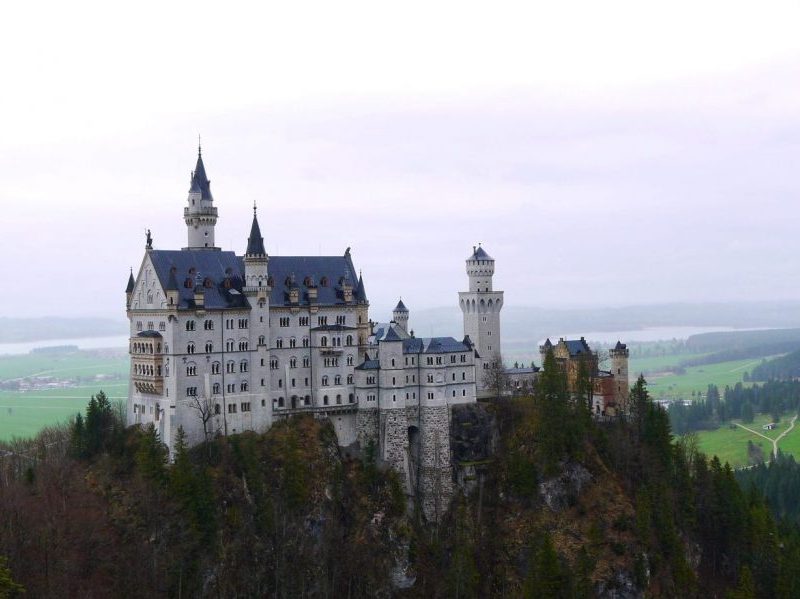 Germany is home to countless enchanting castles, but it's most famous is Neuschwanstein Castle. With about 2 hours of a train journey from the city, Neuschwanstein is one of the popular day trips from Munich.
Completed in 1886, the fairytale castle was built by King Ludwig II of Bavaria, who died before getting the chance to live there. He was called the mad king Ludwig due to his overambitious projects. The castle is located in the beautiful village of Hohenschwangau on a rugged hill. This is one of the most picturesque and romantic castles in Bavaria.
Join the guided castle tours for Neuschwanstein to see the interior and admire it. Don't forget to get a good view of Neuschwanstein at Marienbrücke, one of the great viewpoints for the castle. The day trip takes about 7 to 8 hours including the traveling time.
Read about Exploring the Neuschwanstein Castle
Munich Travel Tips: Neuschwanstein Castle is busy at any time of the year, especially during the summer months. So it's recommended that you book in advance and avoid a line-up at the castle grounds.
Linderhof Palace
Another great option for day trip in Munich is Linderhof Palace. Similar like Neuschwanstein Castle, Linderhof Palace was the Palace built by King Ludwig II of Bavaria. It is the smallest of the three castles but the only one completed before his death.
Linderhof Palace is a small palace compare with other Palace in the Europe and like a very small version of the Versailles in Paris. But the palace is extravagant and opulent, and the royal gardens are lovely and extensive with well maintained gushing fountain that puts on a show periodically. Added, the interior tour of the palace also very informative which lasts about 30 minutes. No photography is allowed inside the palace.
The inside tour of the palace lasts about 30 minutes and is very nice and informative. Take note no photography is allowed inside the palace. A beautiful palace in Munich for day trip on your Munich itinerary.
Neuschwanstein & Linderhof Royal Castle and Oberammergau Tour From Munich
Munich Travel Tips: It is possible to visit visit Neuschwanstein Castle and Linderhof Palace together in one day on a guided day tour. Make sure of your travel time and book the tour here.
Salzburg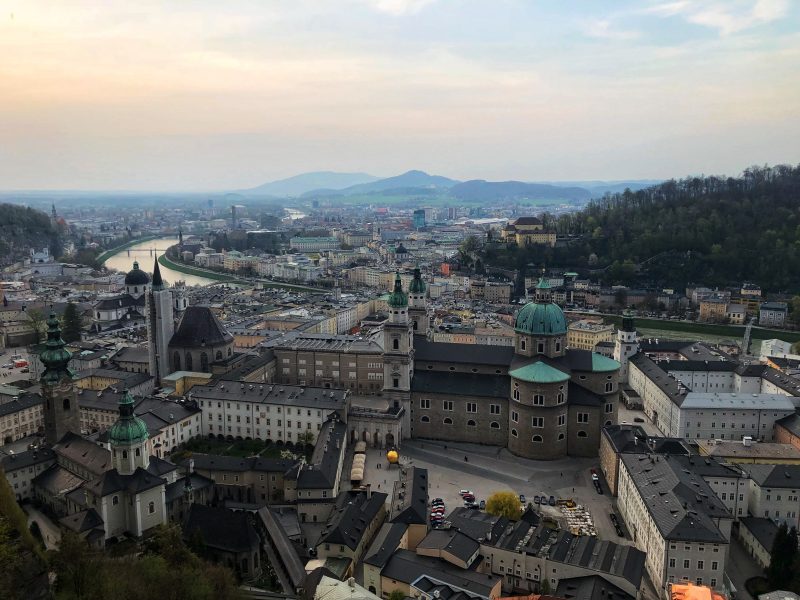 If you are enough for the castle, consider taking a trip to Salzburg from Munich. The beautiful city of Salzburg is about two hours away from Munich by train, also covered by the affordable Bayern Ticket, and makes for a great day trip. It is the birthplace of Mozart and the setting of the film The Sound of Music. There are many things to do and see in Salzburg that are worthy of a short day trip. But a day trip to Salzburg from Munich is possible to wander the historic streets on your own.
Pro Tips: Take a day tour to Salzburg from Munich that includes transportation arrangements for a hassle-free, comfortable, and fun way to see Salzburg in a day.
Salzburg Sightseeing Small-Group Day Tour from Munich by Rail
Munich Itinerary FAQ
How many days do you need in Munich?
Two days in Munich is enough to explore the old town and see the most important highlights in this Bavaria's capital. You can even plan for a day trip to attractions nearby such as Neuschwanstein Castle, Linderhof Palace, fabulous Nymphenburg palace during your visit to Munich.
Is Munich worth visiting?
Definitely worth it. There are so many attractions, important historic sites, elegant castles and palaces, good food, and great beer awaiting you to explore in Munich.
Is Munich walkable?
Although the public transportation system is very comprehensive, Munich is still one of the most walkable cities in Europe. Most of the attractions in the city can be reached on foot.
Overview: Planning on Munich Itinerary
All in all, this Munich itinerary is packed to the brim with all the things you can do in Munich for two days. From morning to late at night you will have a full program with the best that Munich has to offer including the great foods and drinks. All the details are what I experienced during my time wandering around Munich.
The history and culture of Munich can be experienced at the sightseeing spots introduced in this Munich travel blog post. With our Munich itinerary to help you, planning your trip should be easy. We believe that you will make many discoveries exploring this fascinating city!
Related Travel Blog Posts: