Last updated on December 11th, 2023
Sharing my Munich Food Guide covers the best food to eat in Munich and where to find them. We visited Munich on a short break and can recommend the selections of delicious food and restaurants that we ate during our trip to this capital of Bavaria.
Munich is one of Europe's hottest travel destinations. Great beer, amazing pastries, the popular goulash, and more, in particular, keep travelers coming back for more. As a food lover, I always did a lot of good eating whenever I visited a city. We enjoyed the city to the fullest and tried some of the delicious food during our trip to Munich. There are so many delicious things to eat and I simply haven't spent enough time in Munich.
Typical German cuisine focuses heavily on bread, potatoes, and meat, especially pork. It's the type of food regarded as rich, filling, and hearty. Although I don't have much experience with German food one thing seems clear, beer flows freely. Spending time in the beer gardens and downing a couple of pints of the local brew under the shady chestnut trees is a must-do when visiting Munich.
If you're visiting Munich and have an interest in German cuisine, then I hope this Munich food guide with some of the best restaurants in Munich leads you to some memorable meals.
Munich Food Guide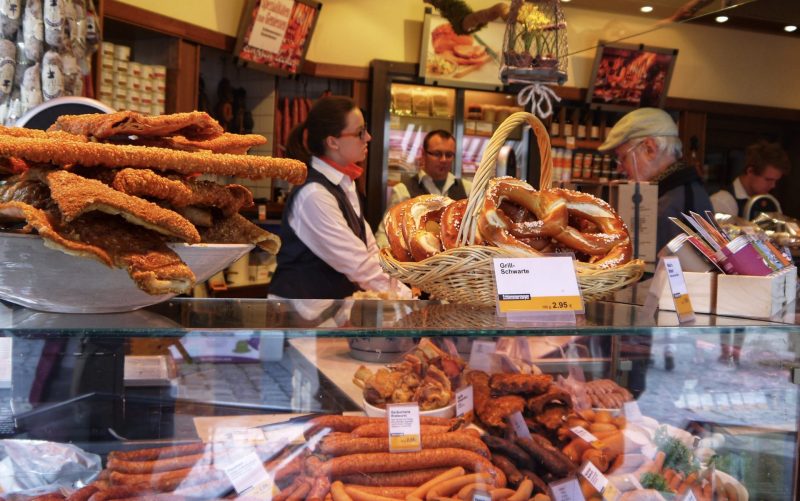 There are plenty for foodies to enjoy and this Munich food guide focuses on where to eat in Munich and what to eat to get the most authentic German food experience. If you are heading to Munich and want to know where to eat in Munich, see all our favorite places and restaurants for inspiration.
Munich Food Guide: What To Eat:
Viktualienmarkt: Leberkaese, Bratwurst, Krustenbraten, Nuernberger Rostbratwurst at

delicatessen.

Traditional Bavarian Cuisine at Augustiner Stammhaus.
Hofbräuhaus: Pork knuckle, beef soup with dumplings, schnitzel and Weiss beer.
Local Brew in Munich's beer halls and Biergarten.
Pro Tips: If you're planning a trip to Munich, then be sure to check out our detailed Munich itinerary with detailed guide. It'll have all the information you need – like which area to stay, what to do, how to get around, etc. – to help you plan your trip.
Munich itinerary: One Day in Munich Travel Guide Blog
For your best sleep in Munich, we recommended below:
Luxury: Bayerischer Hof – One of the finest hotels in Munich for your trip. This superb five-star hotel is situated inside a historic building, while still providing guests with every modern convenience. A 5-minute walk from sights such as the Bavarian State Opera and the Hofbräuhaus Beer Hall.
Mid-Range: Arthotel Munich – A 3-star superior hotel, only 5 walking minutes from Munich Central Station. Early check-in option and free luggage storage. Popular pick especially during Oktoberfest!
Read here for more accommodation options: Where To Stay in Munich: Best Areas and Hotels.
Traditional Bavarian Cuisine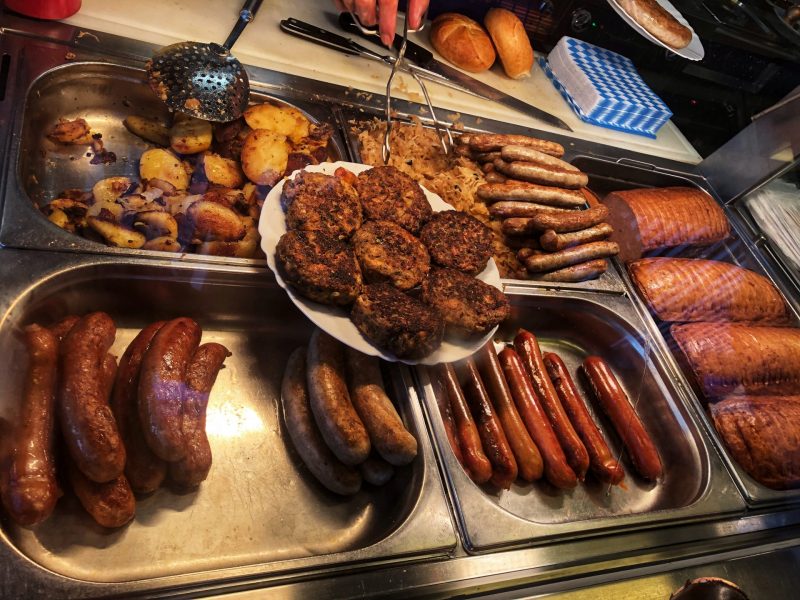 There are many traditional Bavarian food and local variation awaiting you to discover. Here are some of the Bavarian cuisines that you hardly can miss during your food trip to Munich.
Schweinhaxen (pork knuckle) is a must-eat in Munich. It is the meaty upper part of the pig's leg and is extremely popular in Bavaria. The tender and juicy pork knuckle wrapped in a salty and roasted-crisp skin are the perfect pairings with a big stein of your favorite beer.
The Bavarian sausage or Bratwurst is must-eat street food in Munich. It is made from finely minced pork, veal, and sometimes beef served throughout Germany. Typical seasoned with any combination of salt, white pepper, nutmeg and grilled over charcoal. Served and eaten with sauerkraut (pickled cabbage) and mustard.
Weisswurst, literally white sausage, made with finely minced veal and spices. It is just one of the many sausages in Germany but it tastes considerably better than they look. Weisswurst is white, rather than pink, red, or tan like other sausages. It is never fried or grilled, instead just boiled in water and served fresh.
Besides Bratwurst and Weisswurst, the Leberkäse is without a doubt the most popular snack in Bavaria. This specialty food is finely ground pork and beef meat cuts, seasoned and shaped like a loaf of cheese. There are plenty of ways to serve a slice of Leberkäse, but its most popular is served in a crusty white bread roll with a dollop of sweet mustard.
Next, you'll find a list of the best Munich restaurants and places I recommend for visitors to try all the traditional Bavarian food.
Viktualienmarkt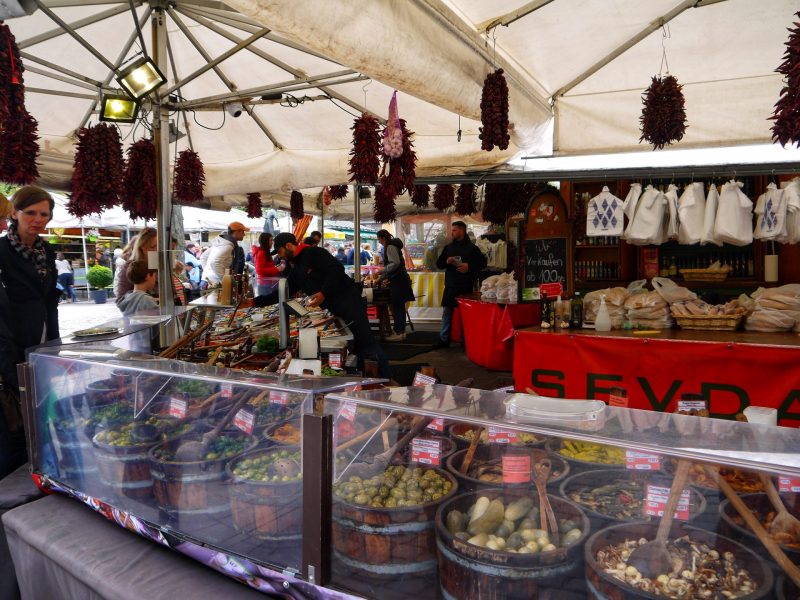 When you are busy sightseeing in the city of Munchen, don't forget to visit Viktualienmarkt which is located only a few steps away from the Marienplatz. Viktualienmarkt is a neighborhood market in the center of the city and it is always a good place to find excellent freshest and best quality produce.
Viktualienmarkt covers approximately 240,000 sq ft. There are more than 140 stalls and shops that offer flowers, exotic fruit, poultry, spices, cheese, fish, juices, and so on. I love to look around food markets as a way to discover more about the local food culture. A great place to get acquainted with all the local snacks and meat products in Munich. So much to see!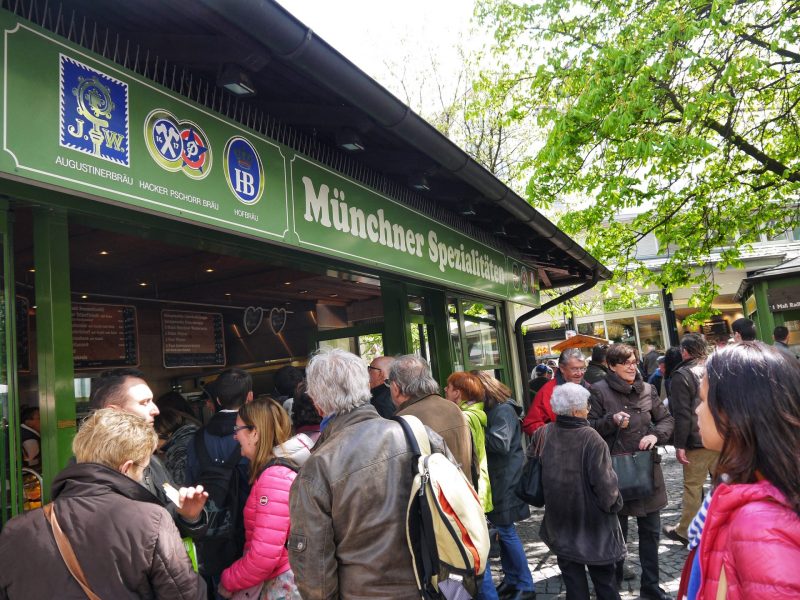 Besides getting some fresh produces, Viktualienmarkt really merits stopping for an hour or two for either lunch or some drinks and snacks. Plenty of Bavarian traditional food selections for to choose from.
Just browse the various shops for a selection of cheeses, meats, bread, and other goodies before making your way to the tables of the central Biergarten to enjoy your spoils. Guests are invited to enjoy a range of Munich beers and Bavarian treats. It's so cheap and fun that you may find yourself returning.
Munich Food Guide Tips: Most stalls and shops are open during the official opening hours from 8:00 to 20:00 from Monday to Saturday. But most shops closed at 18:00. Come early to avoid disappointment. Closed on Sunday.
Schlemmermeyer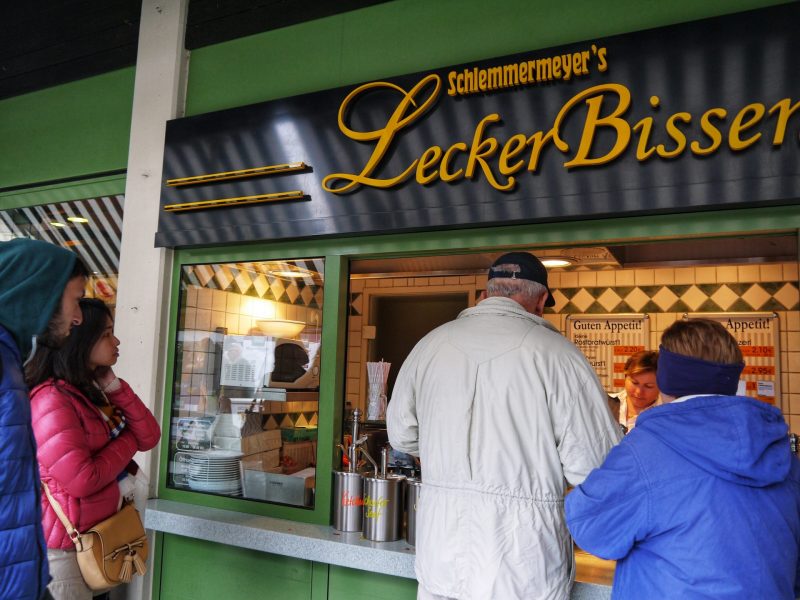 We had a quick bite at Schlemmermeyer, a popular delicatessen at Viktualienmarkt for a typical German Bratwurst. Situated right at the famous Viktualienmark, Schlemmermeyer offers the best regional delicacies. The fresh sausages (including red, brown, and white sausage varieties and bratwurst) are grilled up and ready to go as well as a few other items like sodas and pork sandwiches.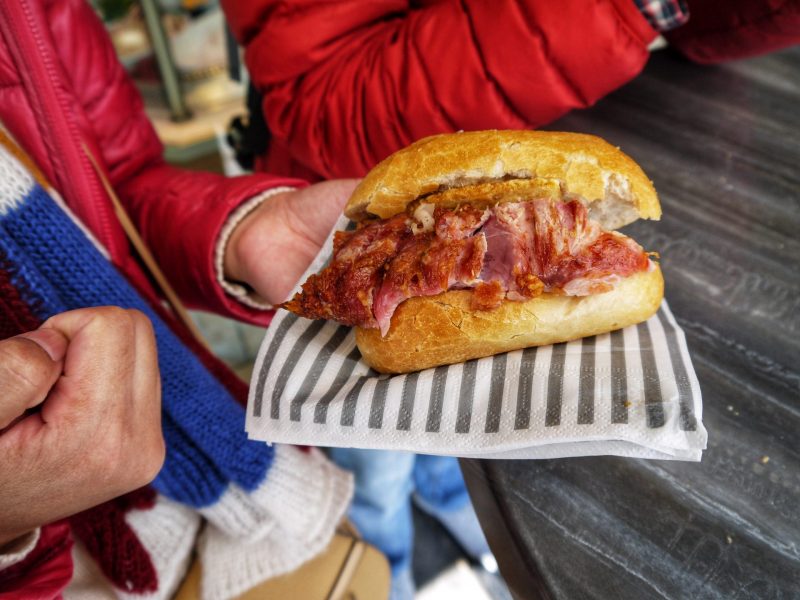 My Highlight was the Leberkaese, fried pork on a bun. It was one of the best that I have ever tried. The pork skin is super crunchy and the meat is very tender and juicy.
Crunchy skin and meat are soft and juicy.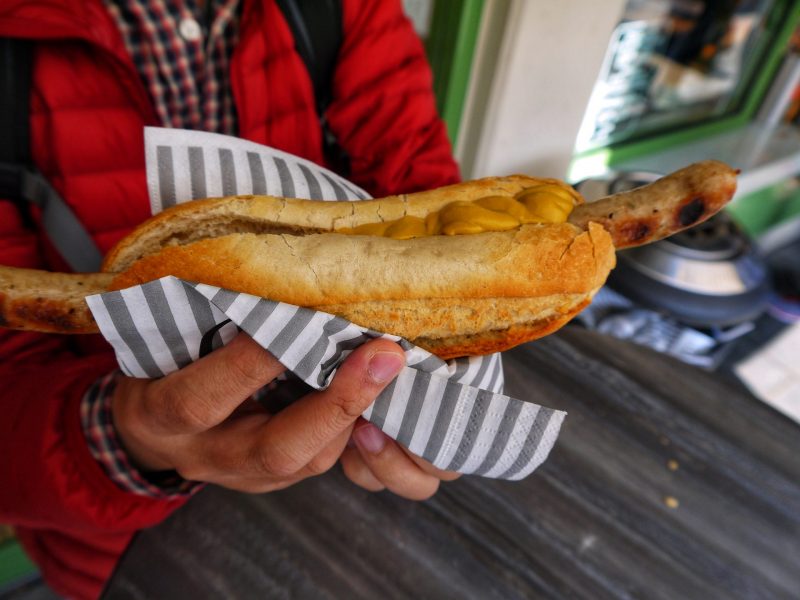 We also tried the big sandwich with the long bavarian sausage. The sausage was expertly cooked with a nice brown exterior and that satisfying "pop" when you bit into it. It was so delicious and hit the spot.
With a few Euros, you can have a great bite. Prices were reasonable and portions are huge. There is no better food deal in Munich.
There is always a long queue but it moves fast. You can eat standing up at one of the 3 small tables and watch the market scenery. A great choice for budget travelers or just for an on-the-go bite. Alternatively, you may also take a seat at the Biergarten, have a cold beer with your lunch, and enjoy the outdoors of München.
Traditional Bavarian Restaurant
If you're looking for a traditional Bavarian restaurant in Munich, look no further than Augustiner Stammhaus. Located in the Altstadt on Munich's main pedestrians-only shopping street, Augustiner Stammhaus is a well-known spot for hearty Bavarian food and a better choice.
Founded in 1328, this used to be the Augustiner monastery's brewery. It now was transformed into one of Munich's most beautiful restaurants, serving Bavar­ian specialties in plentiful portions in an art nouveau building.
Augustiner Stammhaus was also the first German restaurant I went to in Munich. As soon as I dropped off our luggage at our hotel in Munich, we took a walk to the old town to have dinner at Augustiner Restaurant. We were so excited to try the famous Augustiner beer and tasty Bavarian dishes.
Augustiner Stammhaus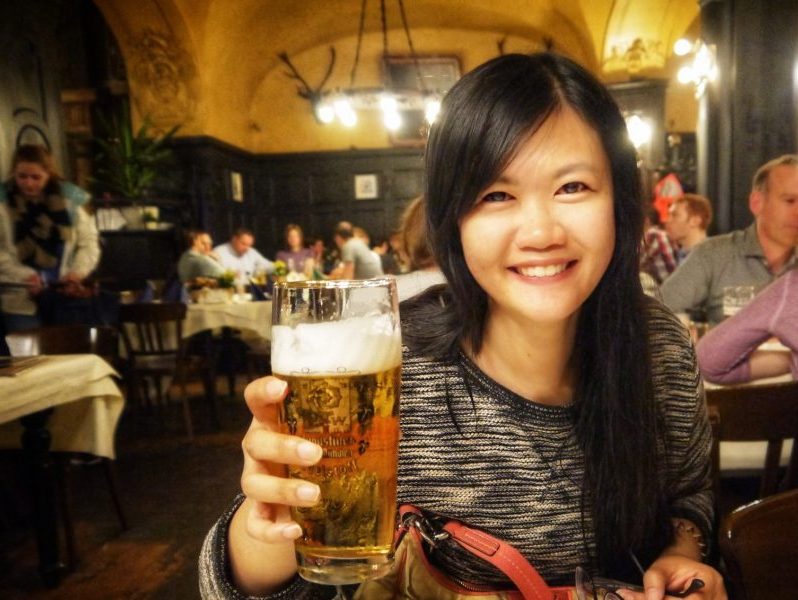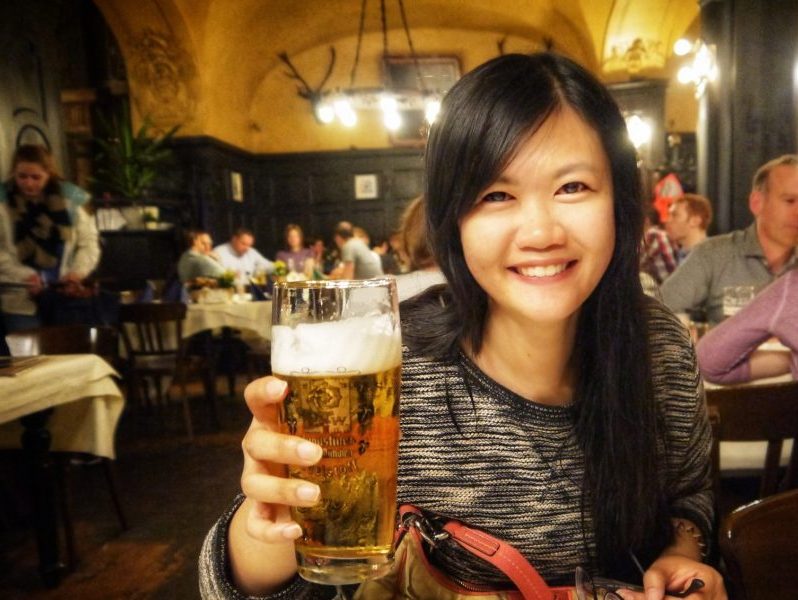 The dining room is like a historic traditional Bavarian restaurant with high ceilings and dark wood paneling on the walls. The architecture is wonderful and deserves to be appreciated. It is so large, busy, and full of locals and guests with a fun atmosphere. Everyone enjoyed the subdued beer hall ambiance. I felt like I was having dinner in the late nineteenth century! What a great experience.
After getting a table we got English Menu as requested. The menu is mostly meat dishes like pork, chicken breast, roasted duck, sausages, and more for meat-eaters.
We were served beers almost immediately and our dinner orders were taken promptly. It is important to know that the beers are owned by the brand: Augustiner, one of the popular brews in Munich. The beer was well chilled and with a nice foam on top, again – just like it should be in a Biergarten.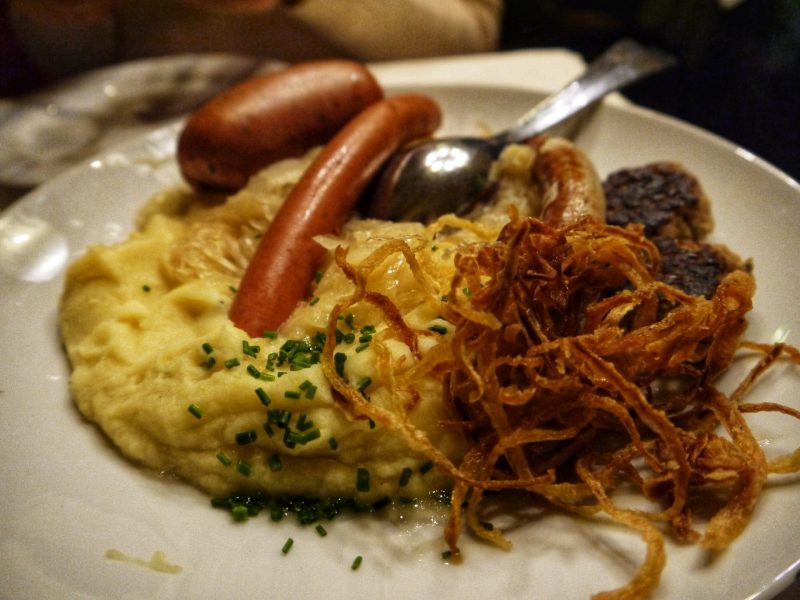 Our food was soon served while we still enjoyed the nice beer. We had the Sausage Platter which was a great introduction to start us off on our Bavarian food journey. It comes with three regular different kinds of sausages with mashed potatoes and sauerkraut. The sausage platter was smaller than I thought it would be but the taste was so good.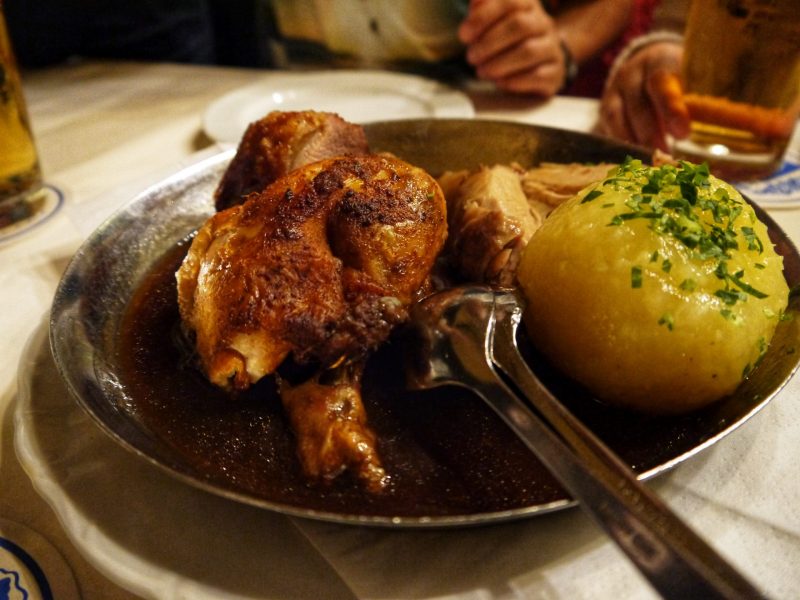 We also had the gravy-laden roasted pork knuckle with a giant potato dumpling and sauerkraut. Very flavorful with a sized-just-right portion. It was delicious and one of the best-roasted pork I've ever tasted in my life.
It was a nice dining experience in Augustiner Stammhaus. Good size serve and the price is reasonable for dining in such a nice environment. The large dining hall and the huge selection of Bavarian delicacies (and beer) are good reasons to try this place. If this is your first time in Munich, then this restaurant would be highly recommended. A good introduction to German cuisine.
Augustiner Stammhaus
Address: Neuhauser Str. 27, 80331 Munich, Bavaria Germany.
Operating Hours: Daily from 10:00 to 24:00.
Hofbräuhaus: The Traditional Beer Halls in Munich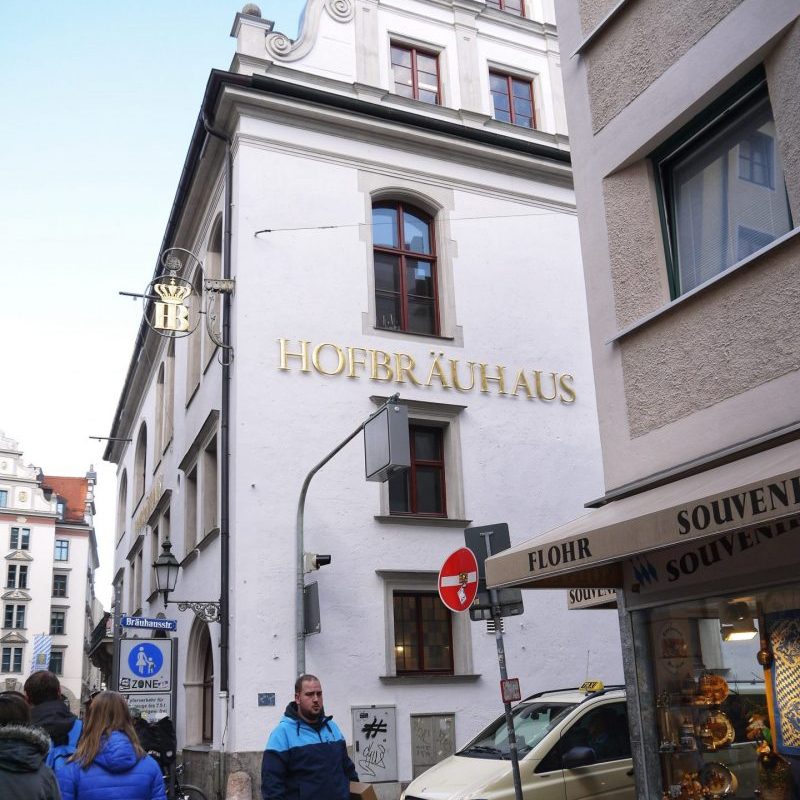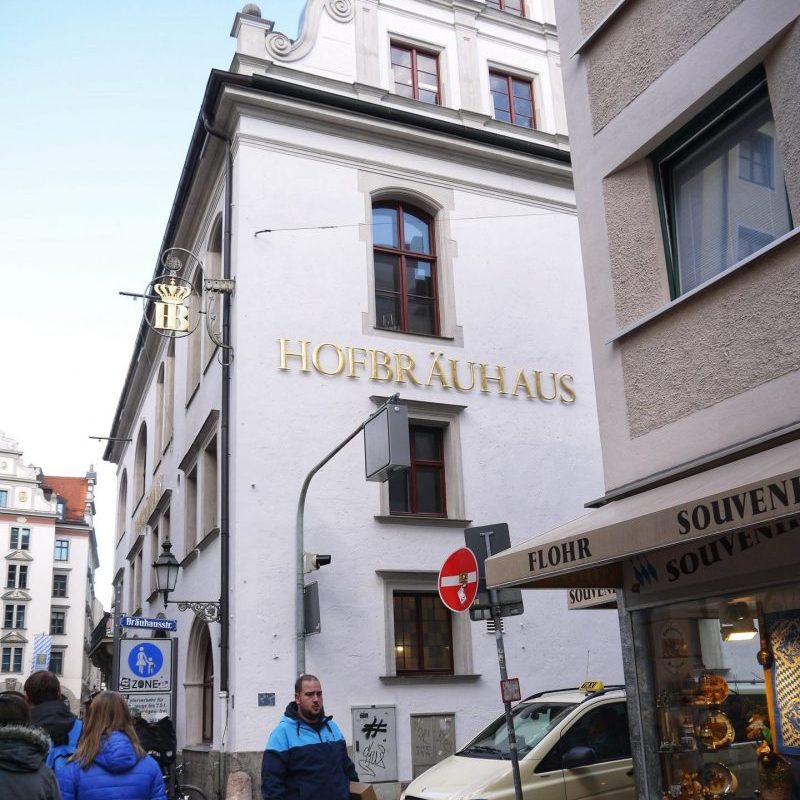 One of the most popular places for visitors to try traditional German food in Munich is Hofbräuhaus. It is so popular and famous that has become something of a tourist attraction. Hofbräuhaus is the most ancient pure brewhouse in Munich, dating back to the 16th century. It all started when Wilhelm V, Duke of Bavaria, decided to build his own brewery in 1589.
The historical huge beer hall is authentic with an incredibly beautiful interior, vaulted ceilings, and a rustic, timber charm. There are many different rooms as well as a large Biergarten. The atmosphere is very jolly as you drink beer from a foaming stein (beer mug) with lively Bavarian tavern music to add to the atmosphere.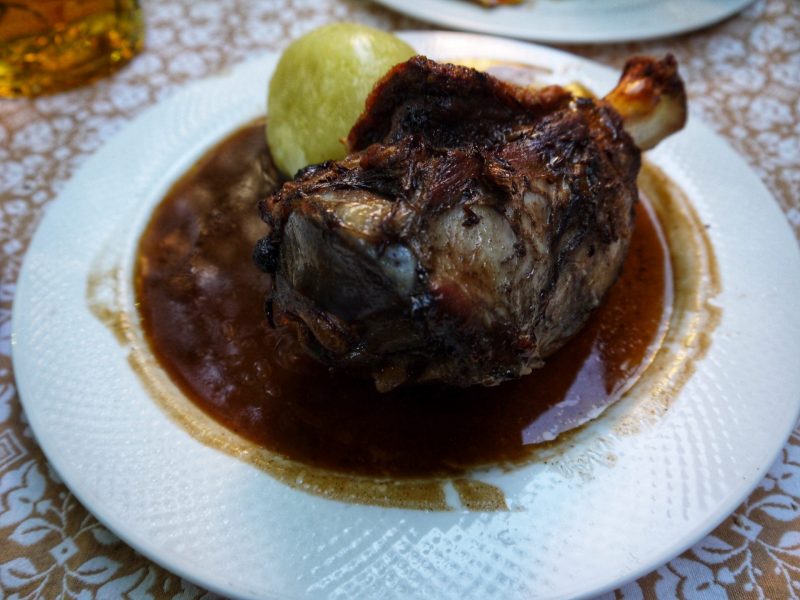 We went to Hofbräuhaus in the evening with friends to enjoy beers and food. It was so busy and crowded all the time. So be patient and aware to wait to be served. Depending on where you are seated you can enjoy a live band with Bavarian music playing in the evening.
This spectacular place serves Bavarian typical food, mostly pork dishes, such as pork knuckle, beef soup with dumplings, schnitzel, and Weiss beer.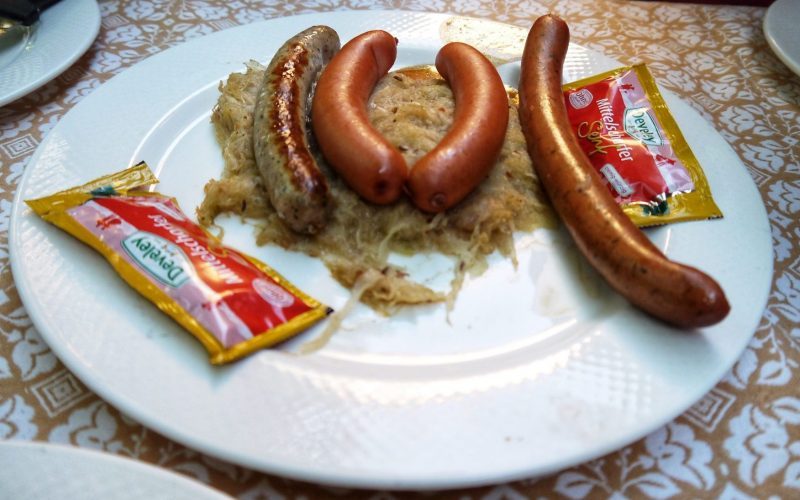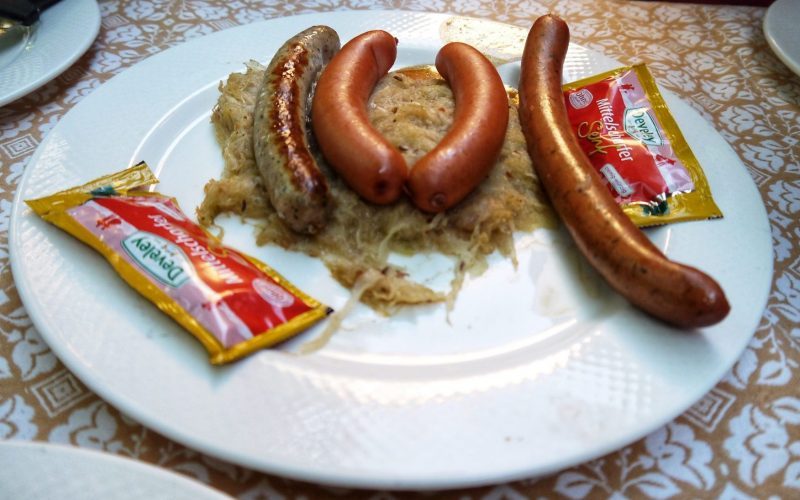 We had the Pork Knuckle and sausage platter. The food is average but we enjoyed the fun atmosphere with locals and visitors mingling together. It is like a mini-Oktoberfest held within a restaurant.
An unmissable and truly Bavarian experience at the most famous establishment in Munich.
Beer in Munich's Beer Halls and Biergartens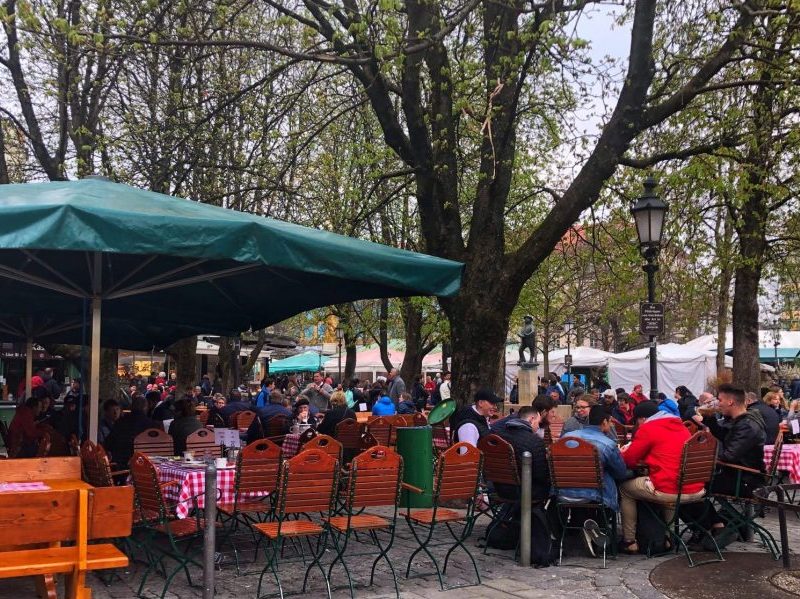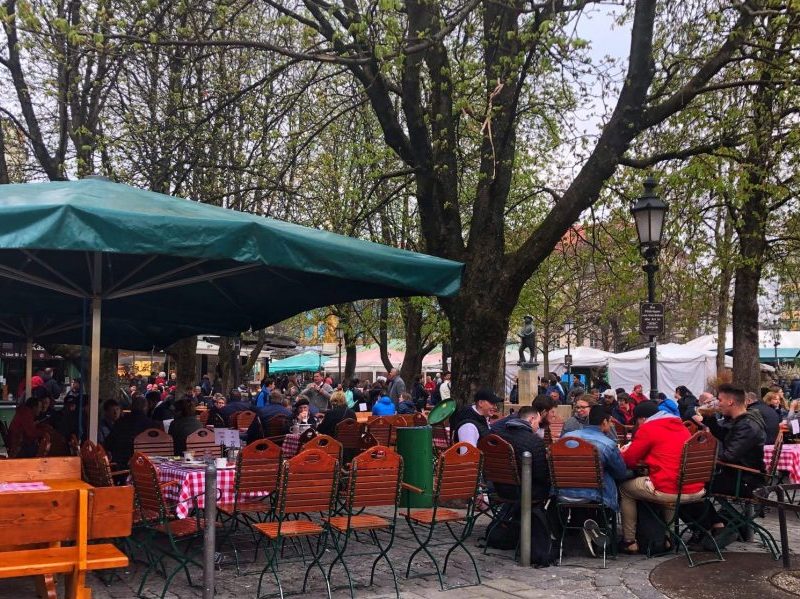 Last but not least, you might also want to check out the best place for beer in Munich. Beer is the drink of choice in Munich and you won't be short of options. A good choice is the Augustiner and Weissbier. To line your stomach, pair your beer with a pretzel, the most popular snack in Munich.
It's impossible to ignore Munich's beer halls and Biergarten. The open-air terrace is where the best traditional food and beer in Munich are served. It is a great chance to sample some cheap food in Munich with a delightful ambiance to match. When the weather is good, definitely bring yourself to a nice breezy Biergarten with a liter-mug of beer for lunch.
Overall: A Guide for Best Munich Food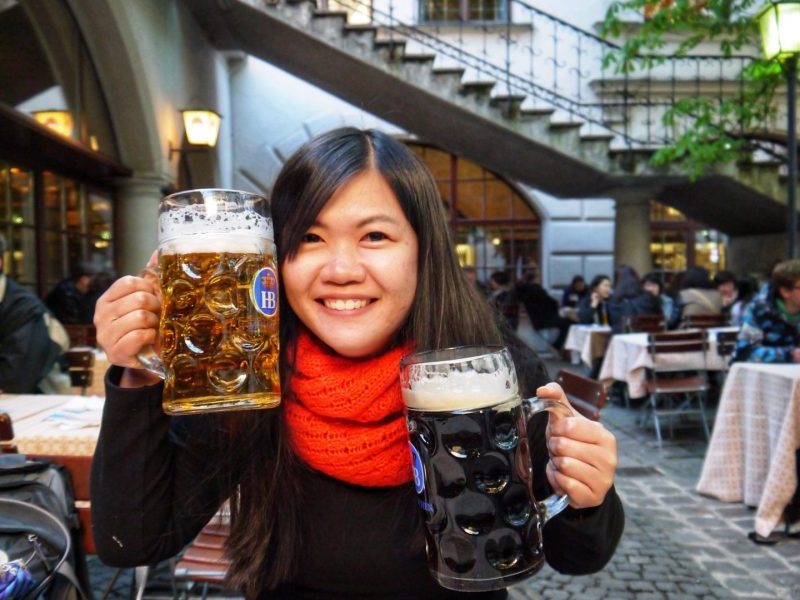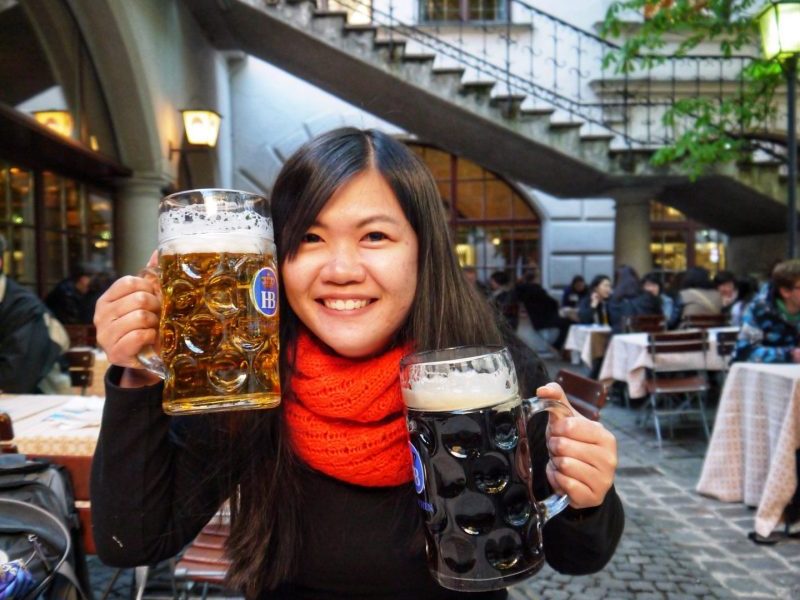 All in all, there are so many good restaurants and no shortage of delicious things to eat in Munich. While most of the places recommended can be very touristy but that's a must-try, especially for a first-time visitor. We hope it can give some inspiration for what to eat and enjoy the food list!
Lastly, we hope you enjoy this Munich Food Guide. Continue to read my full Munich travel guide featuring tips on things to do and where to go when planning your trip to this amazing city.