Last updated on August 2nd, 2023
Looking for your Jeju accommodation? Check out our Top 10 Best Guest House on Jeju Island before making up any decision.
Jeju Island is one of the popular tourist destinations in South Korea. There are many things to do awaiting you to discover on this tiny island. Not to forget their delicious Korean food and seafood freshly caught from the ocean like abalone, crab, clams, and more.
However, you can't get around Jeju within one day even by self-driving. Most of the attractions are far apart and this is very important to decide where you stay. Great accommodation will bring an unforgettable memory to your Jeju trip.
Where To Stay in Jeju Island?
If you are only planning for a short visit of one or two days, we advise staying at the same hotel for your Jeju trip. For more than two days, consider staying at different places around the Island to save on traveling time.
The two big cities on Jeju Island, Jeju City, and Seogwipo provide the best accommodation. Stay at a modern and stylish hotel, especially in a city with professional service staff.
However, we would recommend staying at the local run pension out from the city for a unique experience. There are lots of wonderful pension or holiday home features with amazing views on Jeju Island. It is very suitable for those visiting Jeju with family and kids, a group of friends, or even a couple.
Continue reading about our Top 10 Best Guest House in Jeju Island. Most of them with sea view featured. Read on!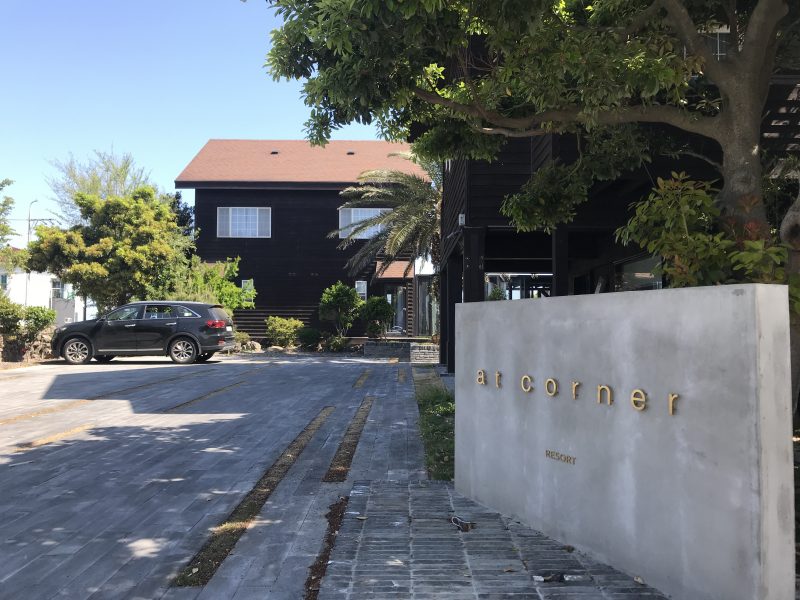 At Corner Resort & Garden is the perfect choice if you looking for a cozy and relaxing stay near Jeju airport. It is a wooden family home run by a nice Korean lady, with spacious room and kitchenware available.
The room is overlooked the beautiful garden and you can have the sea view from far direct from the balcony. A beautiful well decorated common area is available if you wish to enjoy the garden view.
Address: 25, Baekpobuk-gil, Jeju City, 63108 Jeju, South Korea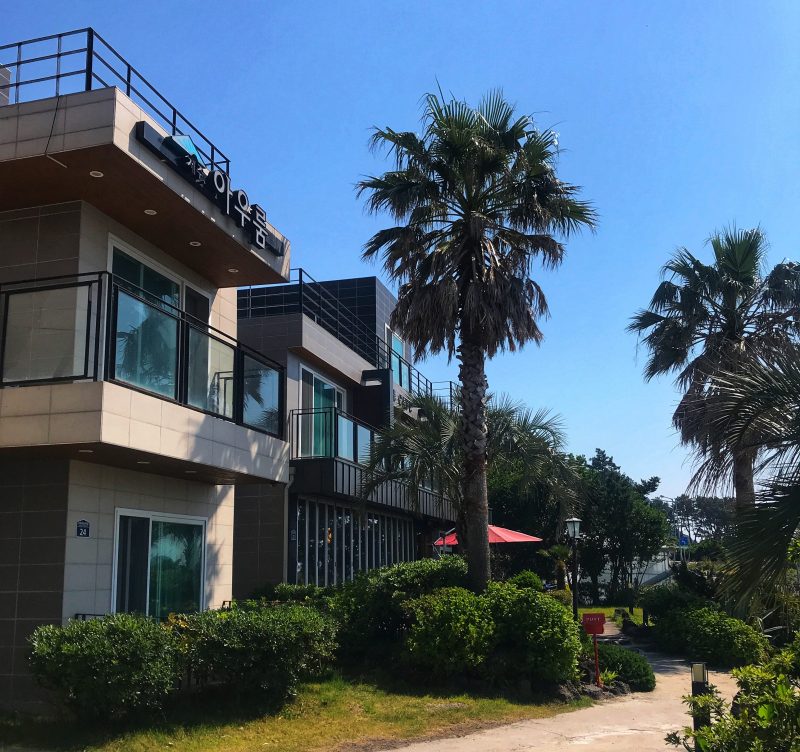 Jeju Aurum is a great choice for a lovely stay near Seogwipo city, run by Mr. Kim and his wife. Mr. Kim is very friendly and helpful, trying his best to answer every question from the guest. Breakfast is available at the pension's cafe.
Not to forget to mention the great location, which is beautifully located right in front of lava rock beach. It is also just right located in the middle of Olle trail 6th course, the most beautiful walking trail on Jeju Island. You can enjoy the beautiful sunrise and sunset at both ends of the beach in front of the pension.
Address: 24, Bomok-ro 64beon-gil, 63599 Seogwipo, South Korea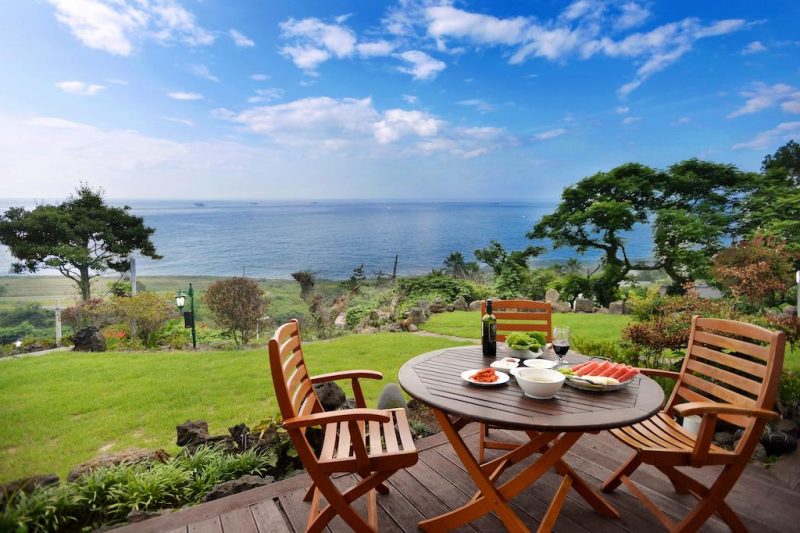 Minitel Soul is a charming pension in Seogwipo featuring stunning sea viewing and a lovely garden in front of the pension. It is located at Seogwipo a 5-minute drive from the entrance of Jungmun Tourist Complex. A great breakfast is provided by the host to start your days on Jeju Island.
Address: 210-6, Yerae-ro, Jungmun Beach, 63537 Seogwipo, South Korea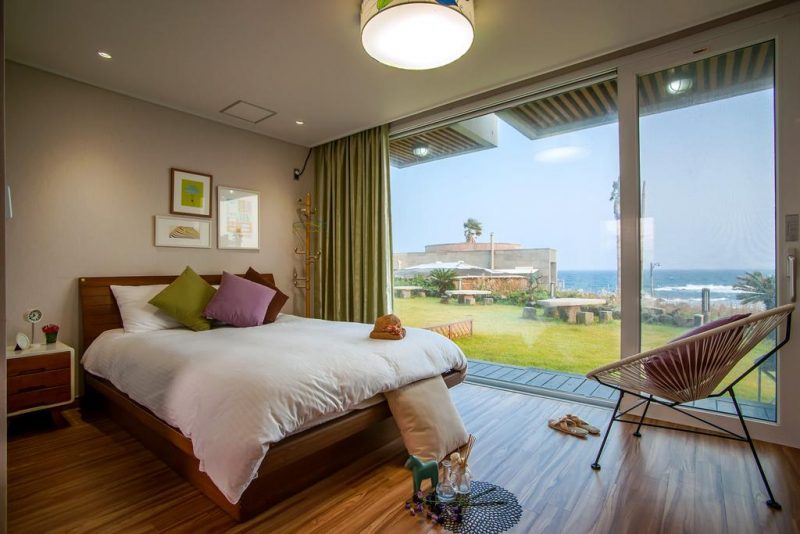 Jeju Solarseado Pension is one of the lovely stays located near Seogwipo city. It is a clean, well-maintained pension run by a friendly and helpful lady owner. The location is very convenient with cafes, restaurants, and convenient stores nearby.
The sea view from the room is truly amazing where you can have sunrise directly from your room. There is possible to see dolphins from the hotel if you are lucky.
Address: 83, Maksukpo-ro, Seogwipo City, 63573 Seogwipo, South Korea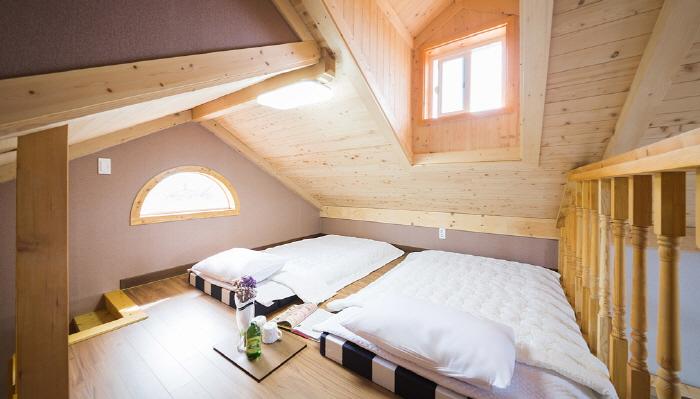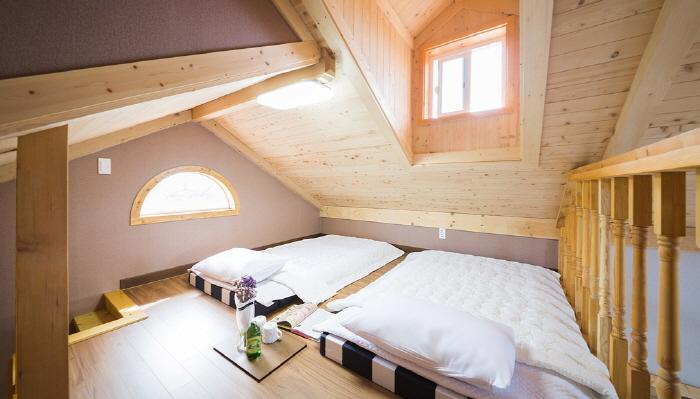 Located 8 km from Hamdeok Beach, Red Windmill Pension is one of the popular holiday home accommodations in Jeju.
Choose from studio, deluxe studio, duplex studio, or family studio for up to 15 people for your stay in Red Windmill Pension. It also has a caravan if you prefer for unique accommodation stay in Jeju. A simple American breakfast is included to start your day in Jeju.
Address: 36 Gimnyeongnam 2-gil, Gujwa-eup, Gujwa, 63348 Jeju, South Korea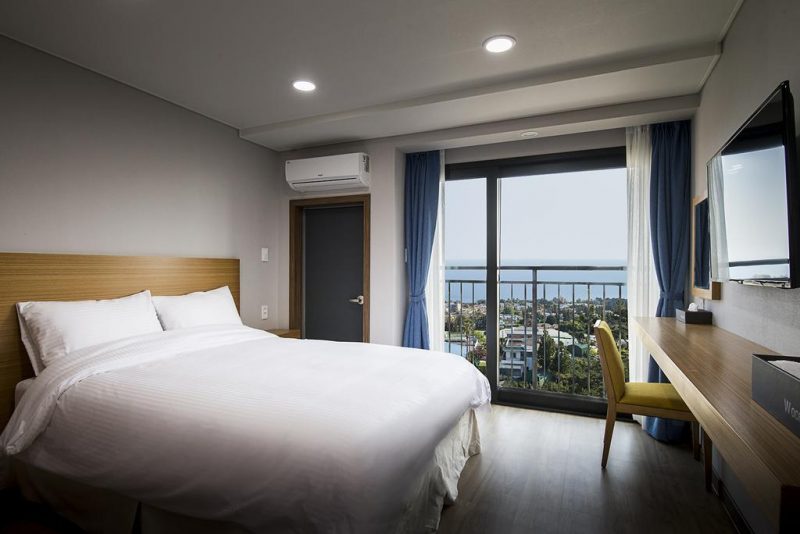 W Ocean Pension is ideal for travelers seeking a calm and cozy stay. Located at the Seogwipo with many attractions nearby, W Ocean pension provides a spacious and comfortable room for every guest. The view from the balcony is very breathtaking with a sea view in a short distance.
Address: 32-4, Daepo-ro, 63544 Seogwipo, South Korea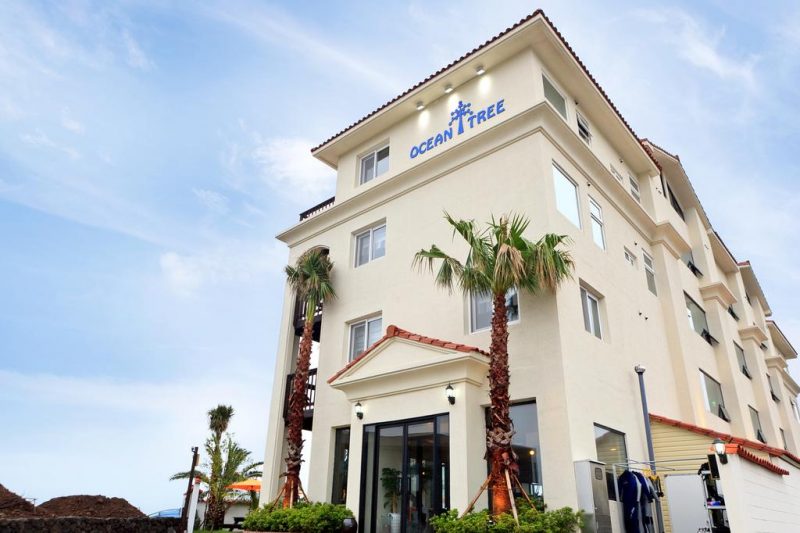 Oceantree House is located at the seaside within walking distance. It is located near Seogwipo city and Jeju World Cup Stadium, with Emart and restaurants nearby.
Spacious room with well-designed, featuring with ocean view from the balcony. It also provides a small kitchen so that you can use it for cooking.
Address: 188, World cup-ro, 63564 Seogwipo, South Korea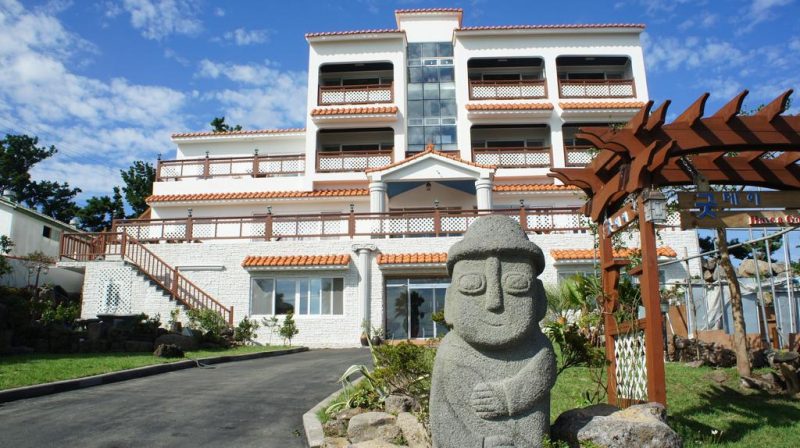 Good Day Pension is home to a cozy and relaxing stay in Seogwipo. This lovely pension features a beautiful garden with lots of plants and flowers. Seated in the garden for the morning sun is very enjoyable. Additionally, the host is very welcoming and helpful.
Rooms come with a great ocean view from the balcony and the mountain on the other side. It also has a small kitchen with cooking ware and basic facilities provided.
Address: 2, Namseong-ro 115beon-gil, Seogwipo City, 63594 Seogwipo, South Korea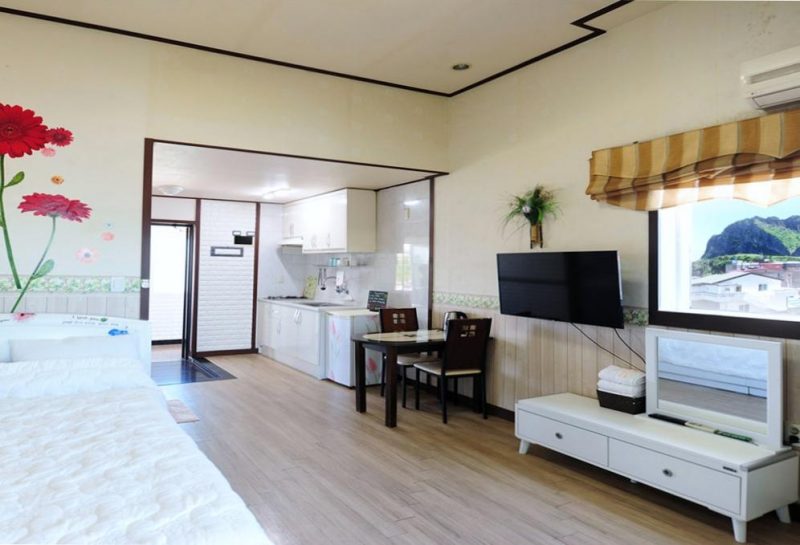 Preun Jeju Pension is located 700 m from Seongsan Ilchulbong. Its strategic location is very convenient for those who wish to conquer the Sunrise Peak in the early morning. The bus stop is nearby with many eateries within walking distance. It is close to many Seongsan attractions and a port terminal where you can take the ferry to Udo Island.
Friendly host with staff. Great accommodation for travelers to explore the eastern coast of Jeju.
Address: 256, Hando-ro, Seongsan, 63643 Seogwipo, South Korea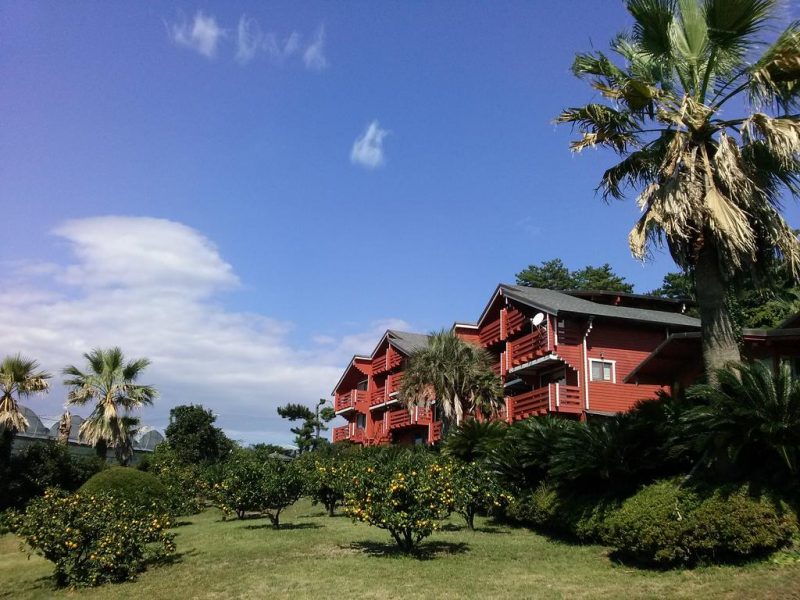 Lastly among our top 10 best guest houses in Jeju is Breakfast at Tiffany's Pension at Namwon. Breakfast at Tiffany's Pension is a charming log house made out of Finnish red pine. It is a peaceful pension featuring Swiss architecture with a beautiful view, hosted by a friendly owner. While this pension does not have a sea view from the guest house. But it is located nearby to the Namwon which is great for coastal walking and seaside.
Address: 12, Seoui-ro 154beon-gil, Namwon-eup, Namwon, 63618 Seogwipo, South Korea
Need More Help On Where To Stay in Jeju?
If the above holiday home does not meet your requirement, please check on our Ultimate Guide For Your Jeju holiday – Where To Stay In Jeju. We listed down some of Jeju's best accommodation based on location and interest in the different price ranges.
Most of the pensions are far from the city and required driving to reach. If you wish to stay at the pension, we highly recommended you go for self-driving by renting a car. Else, most of the hosts will be very helpful to call for a taxi if you need any transportation help. Remember to compare your rental car at RentalCars.com for the best price guarantee.
Hopefully, our travel guide helps to find the best hotel in Jeju for your coming Jeju trip. Lastly, enjoy your trip and happy travel to Jeju.