Last updated on September 23rd, 2023
Jeju west coastline itinerary is where the beauty of the island starts with its seaside line and white sand beaches.
We spend our second day on the western coast of Jeju to taste the famous Jeju green tea and its breathtaking seaside line. Many of the attraction on the west coastline is worth spending the whole day relaxing. We spend the whole day and it seems like not enough.
Places To Visit At West Coast Jeju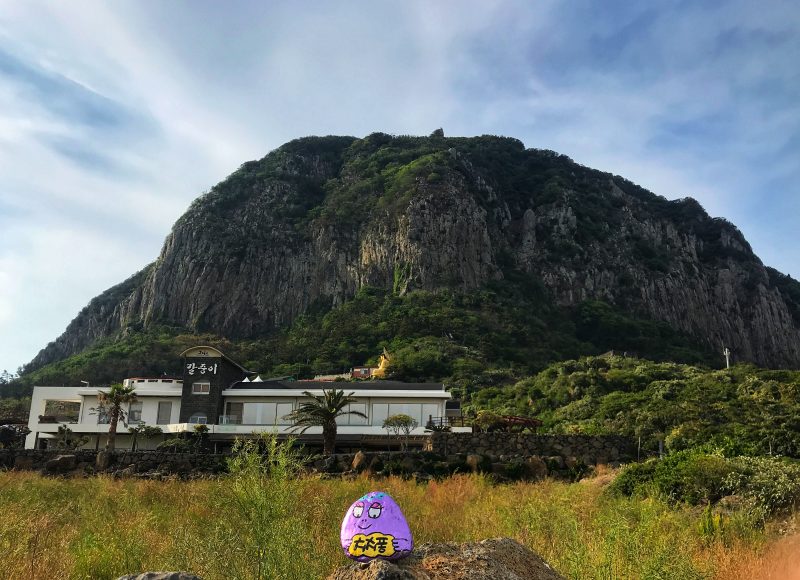 The western coast of Jeju is the start of the Jeju coastline with beautiful sandy white beaches and an emerald-colored sea view. There are many magnificent attractions on Jeju's west coastline itinerary and listed below are a few major attractions I wish to visit.
The three famous beaches on the west coast like Aewol Gwakji Gwamul Beach (애월 곽지과물해변), Hyeopjae Beach (협재해수욕장) and Geumneung Euddeum Beach (금능으뜸해변) is boasted by crystal clear water, the emerald color of the beach especially during sunset time.
Experience the Korean tea culture at O'sulloc Tea Museum (오설록 뮤지엄) or take a break with green tea dessert at the cafe. Have a quick shopping at Innisfree Jeju House (이니스프리 제주하우스) which utilizes the Jeju natural ingredient for their cosmetic product.
Not to forgot the Mt Sanbangsan (산방산) and Yongmeori coast (용머리해안). The Sanbangsan Temple and also the Bomunsa Temple, which holds the relics of Buddha, are also located on the mountain. While the Yongmeori Coast is a rocky coastline where Mt Sanbangsan stretches into the ocean and features unique cliff formations which have turned the coast into a stunning walk.
Jeju West Coast Itinerary
There are so many things to do in West Coast Jeju and can easily spend one or two days. As we only have a limited one day, we decided to choose some of the attractions that we like the most.
Below is my Jeju West Coast Itinerary:
Brunch at Jamae Guksu aka Sister Noodles
O'sulloc Tea Museum and enjoy the green tea dessert
Innisfree Jeju House
Yongmeori Coast
O'sulloc Tea Museum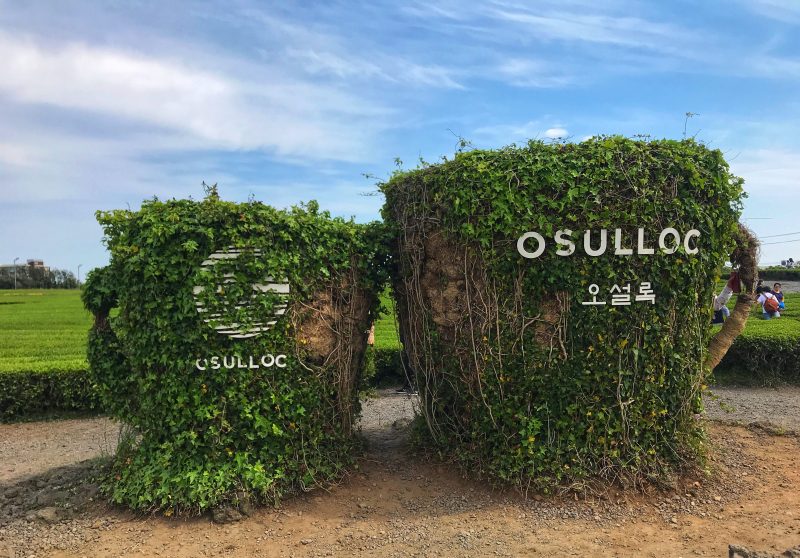 We settle our brunch at Jamae Guksu aka Sister Noodles in the city before starting our Jeju road trip itinerary. The meal is very filling and tastes good. We continue the driving journey to O'sulloc Tea Museum for an approximate 1-hour drive.
Ample parking spaces are available located in front and nearby the museum.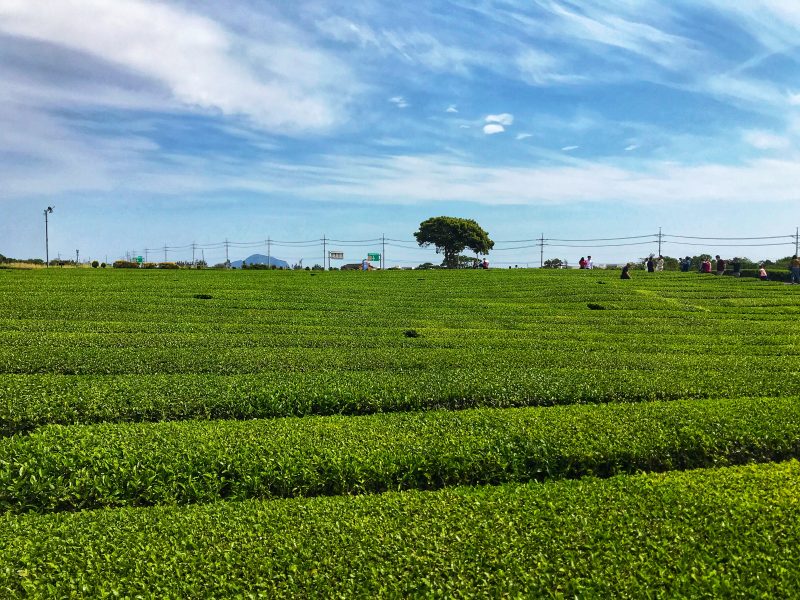 Jeju Island is one of South Korea's major tea-growing regions due to its volcanic soil and sub-tropical climate. All make this island an ideal place for tea growing.
We took some photos at the green tea garden and plantation together with the odor of green tea before proceeding to the O'sulloc Tea museum.
The 'O' in O'Sulloc means to appreciate and enjoy, while 'Sulloc' refers to a type of green tea. O'sulloc Tea museum takes the shape of a teacup and is separated into different exhibition halls, teacup galleries, and tea tasting galleries.
It was crowded at O'sulloc Tea Museum due to the weekend. Many Korean couple and family bring their kids to understand the Korean tea culture. Tourists and public buses also keep sending visitors from different locations here.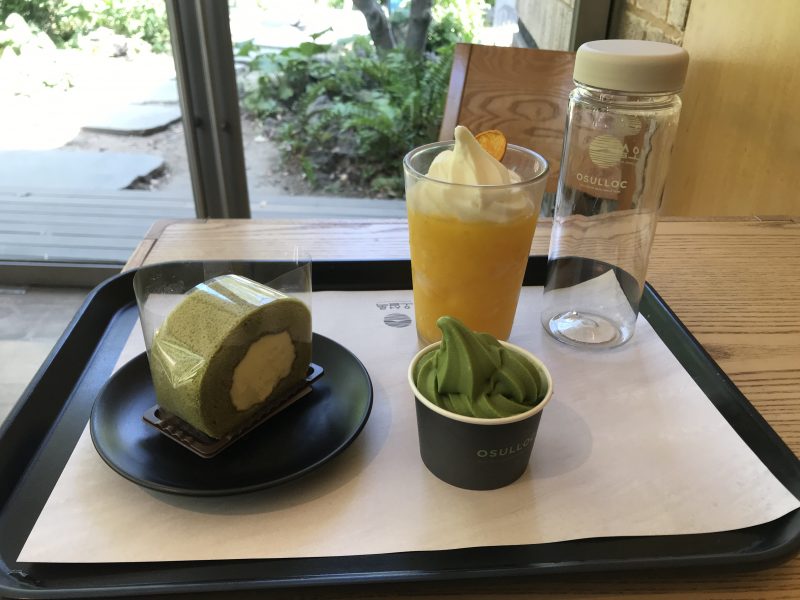 We have a quick visit to the museum and continue queueing for the main purpose of the visit, The Green Tea Dessert. It took about 15 minutes of waiting time due to the long line.
The dessert set comes with Hallabong O Fredo, green tea ice cream, and a piece of green tea roll cake at ₩17,600. I do feel the Japanese green tea product is better and out of surprise, their Hallabong O Frendo is very refreshing. Worth my queue time.
Address: 15 Sinhwayeoksa-ro, Andeok-myeon, Seogwipo, Jeju-do, South Korea
Opening Hours: Daily 9 a.m to 6 p.m
Admission: Free!
Korea GPS Tel No: 794-5351
Innisfree Jeju House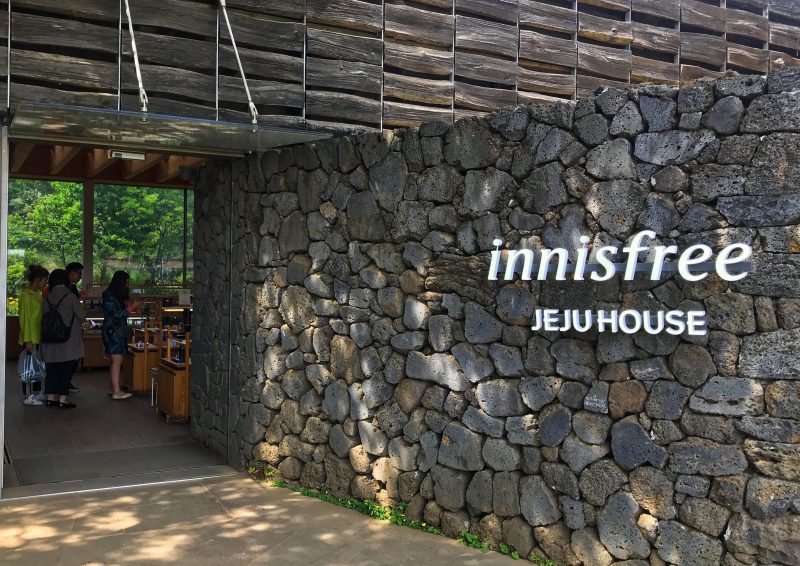 Follow the path to Innisfree Jeju House 이니스프리 제주하우스 which is located right beside the O'sulloc Tea museum. This is the flagship store of Korean cosmetic products that specialized in utilizing Jeju natural ingredients.
The crowd is much lesser at Innisfree Jeju House and we can enjoy the free time to explore the product. There is also a cafe here that served organic and healthy sandwiches, drinks, and desserts.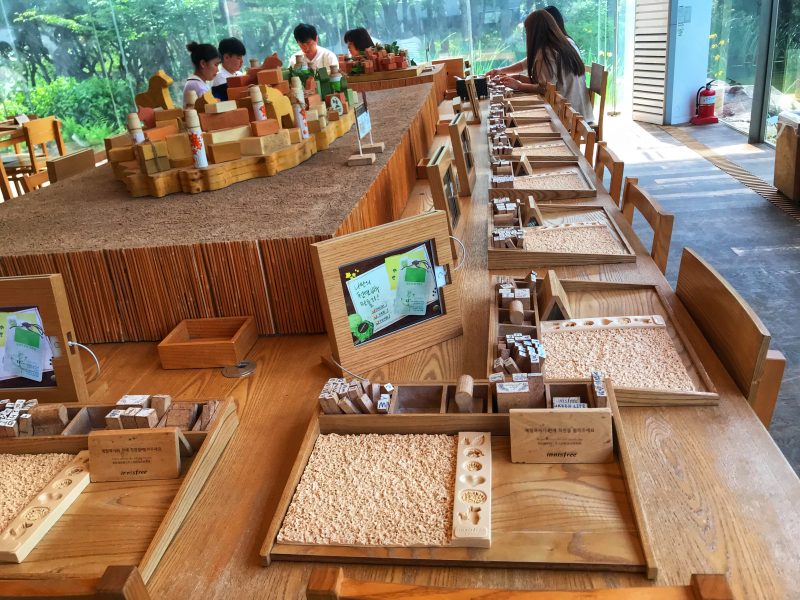 Innisfree Jeju House provides a unique making soap workshop made of natural ingredients from Jeju-do which cost ₩15,000. We didn't try on it but it is fun and interesting by talking with one of the guests.
Address: 23 Sinhwayeoksa-ro, Andeok-myeon, Seogwipo, Jeju-do, South Korea
Opening Hours: Daily 9 a.m to 6 p.m
Admission: Free!
Korea GPS Tel No: 794-5351
Yongmeori Coast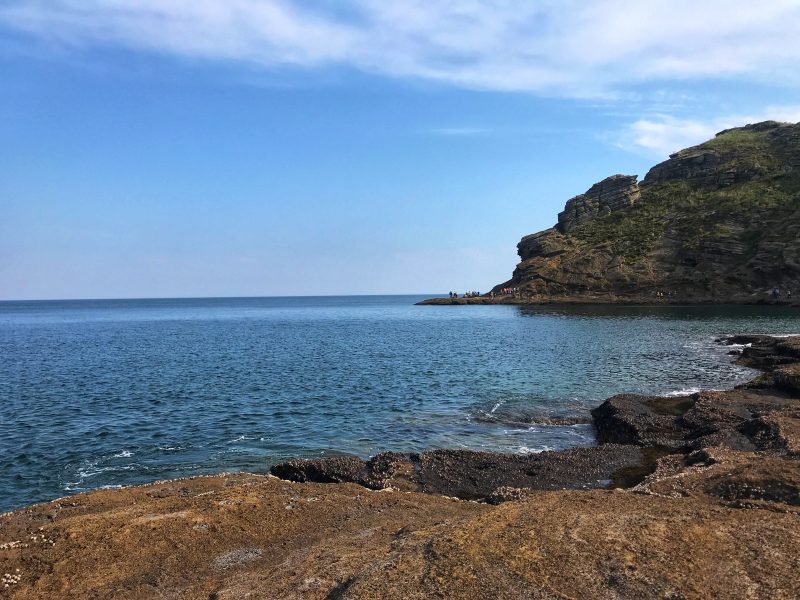 We spend about 2 hours at O'sulloc Tea Museum and Innisfree Jeju House with a leisure walk and relaxing dessert break before heading to our next destination, Yongmeori Coast. It is the highlight of the second day of the Jeju road trip itinerary.
Yongmeori coast is located next to Mt Sanbangsan and is ideal to be visited at the same time. Travelers can pay a visit to the Buddha temples at the mountain or hike up to the Sanbanggul (Sanbang cave) at Mt Sanbangsan.
We save our energy for the coming Mt Hallasan hike and only visit the Yongmeori coast which is located opposite Mt. Sanbangsan.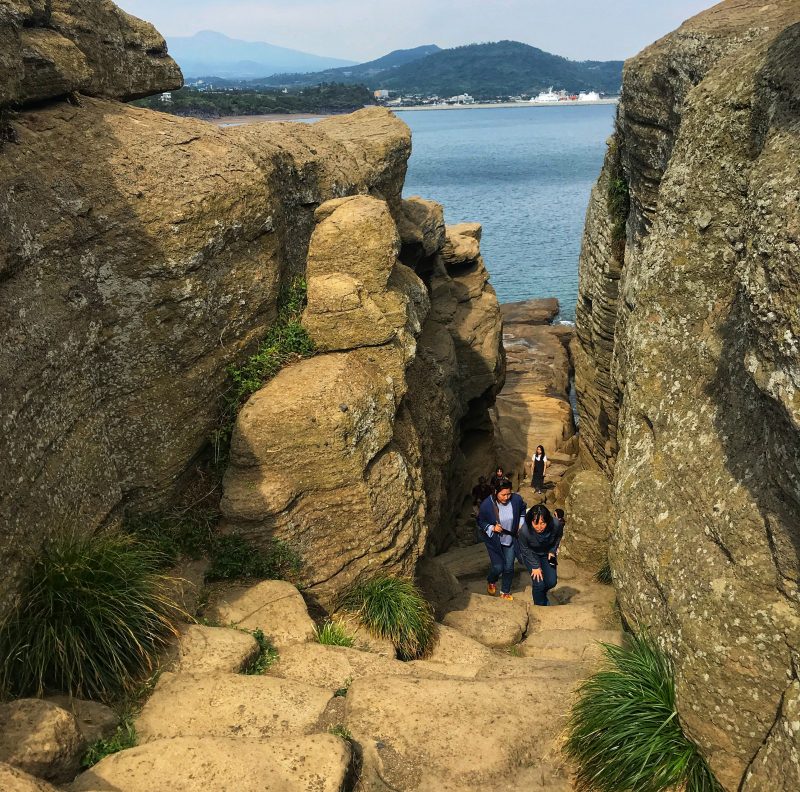 There is two entrance to the Yongmeori coast, either following a clockwise or counterclockwise direction. We follow the clockwise entrance and regret seeing the downhill stone step path. No handrails, big steep rocks, and people keep coming up from down.
Take the courage to walk down as the awesome view is waiting at the front.
Unique Cliff Formations Rocky Coastline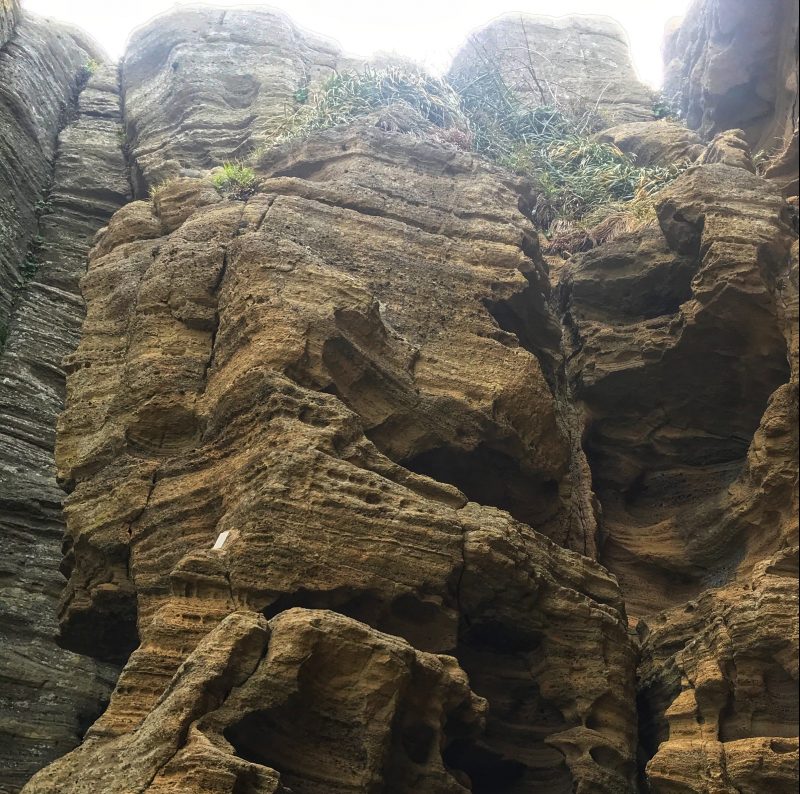 Yongmeori Coast is a rocky coastline where Mt Sanbangsan stretches into the ocean and features unique cliff formations after thousand years.
Its rough and dramatic coastline shaped from lava eruptions has turned the coast into a stunning walk.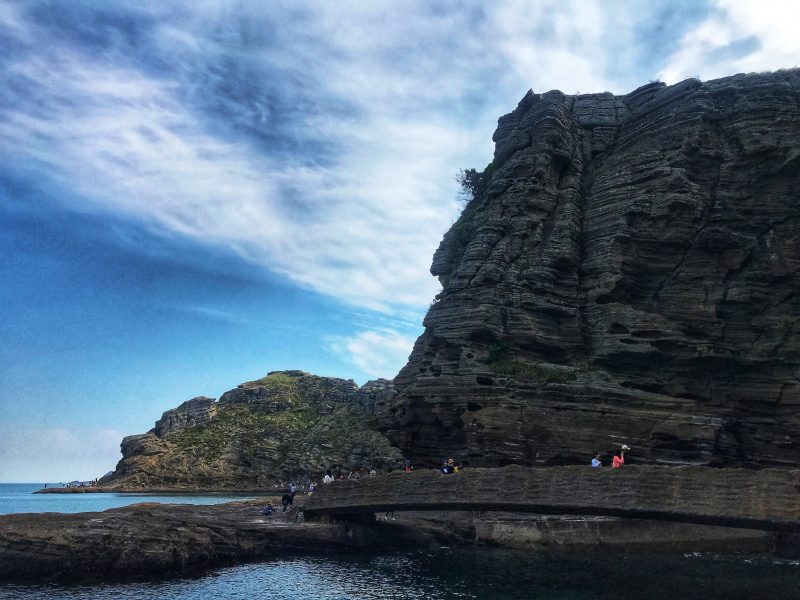 The spectacular view of the rocky coastline is so magnificent with the emerald ocean and blue sky! Its unique cliff formation is like the mini version of America's Grand Canyon but Yongmeori can be reached and touched by your hand.
You will admire the graceful curves of nature with the amazing landscape at Yongmeori Coast. Sometimes rocks were slippery due to the seawater will splash to the onshore.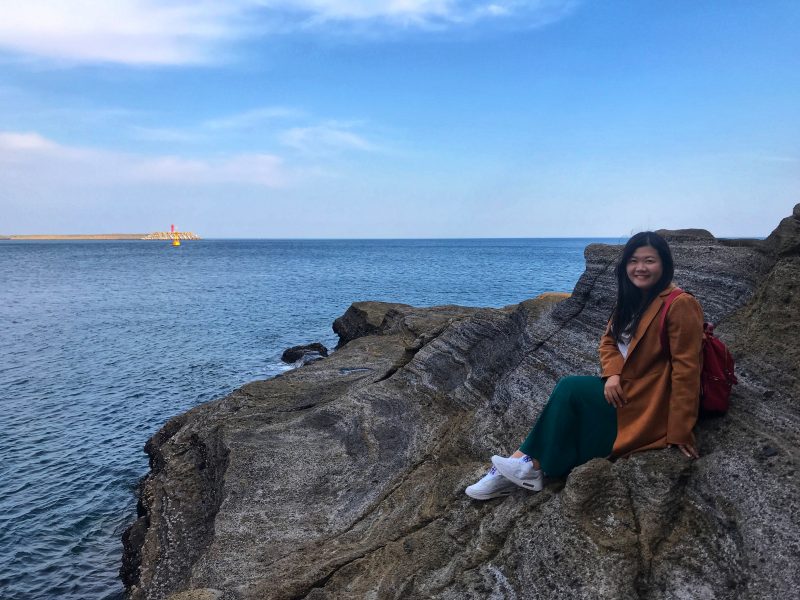 One of my favorite photos at the side of a rock formation and emerald ocean! I had the BEST time at Yongmeori Coast and keep on taking photos while walking along the coast.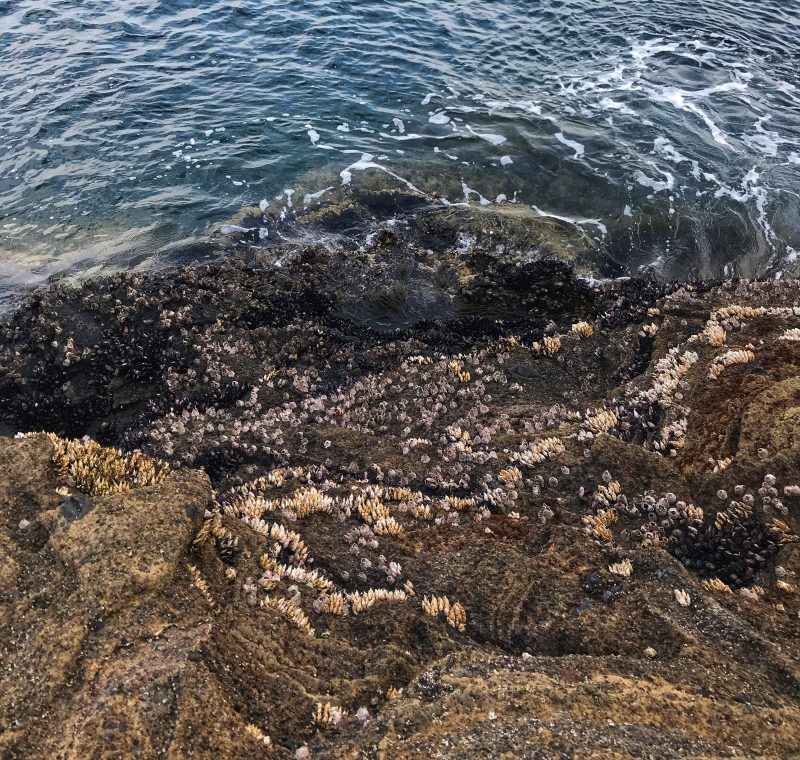 Meet the barnacles at Yongmeori Coast, seashells that build their houses on rock and are only exposed to sunlight during low tide.
Meet The Woman Haenyeos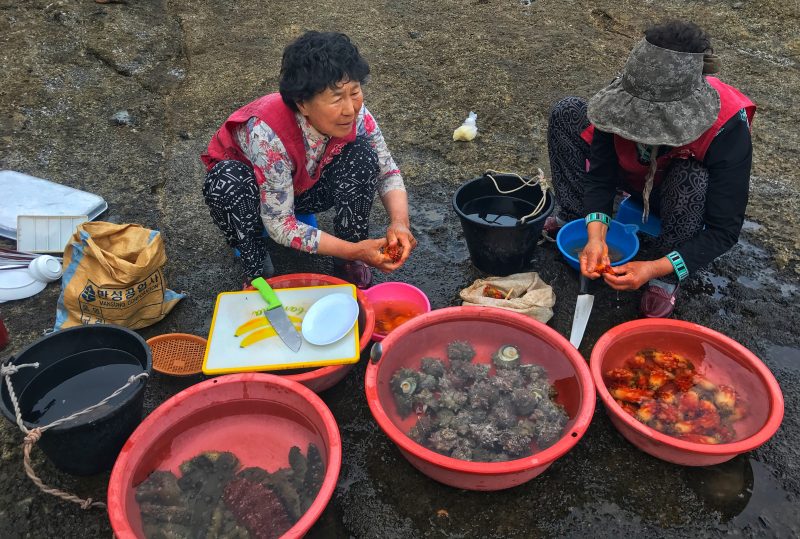 Women Haenyeos at Jeju are extraordinary with their spirit and determination.
They can go diving up to 30 meters under the sea to gather shellfish, such as seaweed, abalone, sea urchins, and sea cucumber without an oxygen tank just by holding their breath. Nowadays, sea diver ladies which are only found in Japan and Jeju have dwindled in numbers due to the work being dangerous and hard.
There are a few stalls on the Yeongmeori coast run by Haenyeos, women sea-divers of Jeju who sells fresh raw seafood like sea cucumber, sea snail, and sea squirt.
I use my body language to ask for the price and one of the ahjumma reply me in mandarin. Such a weird feeling. We choose the red sea squirt which we have never tried before in raw. It cost us ₩10,000 for it.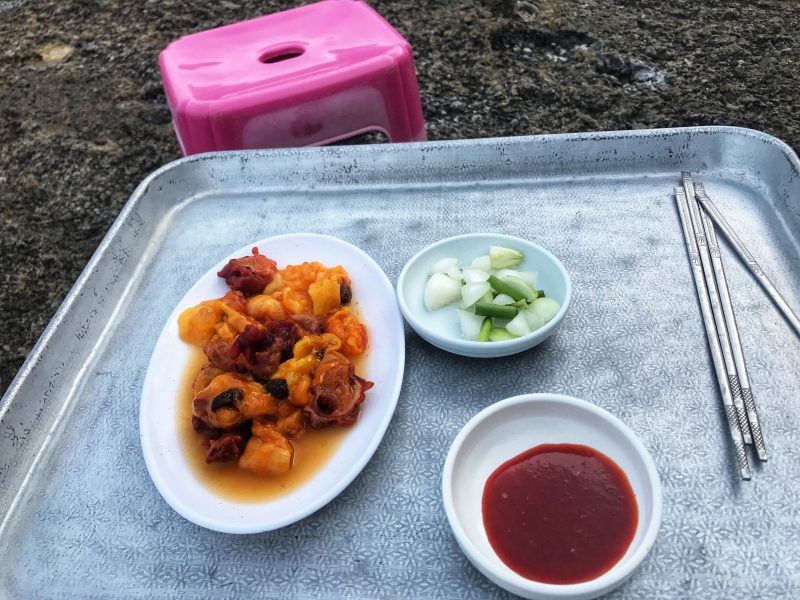 See our raw seafood platter at Yongmeori Coast together with spice dipping sauce and spring onion on the side.
I can't describe the feeling of enjoying the fresh sea squirt by sitting on the plastic short stool. You need to chew longer for the sea squirt with skin. The unique experience is priceless when enjoying it with the blue sky, formation rock, and emerald ocean with breezing sea wind.
I'd say the Yongmeori coast is one of the places you HAVE to visit when you come to Jeju!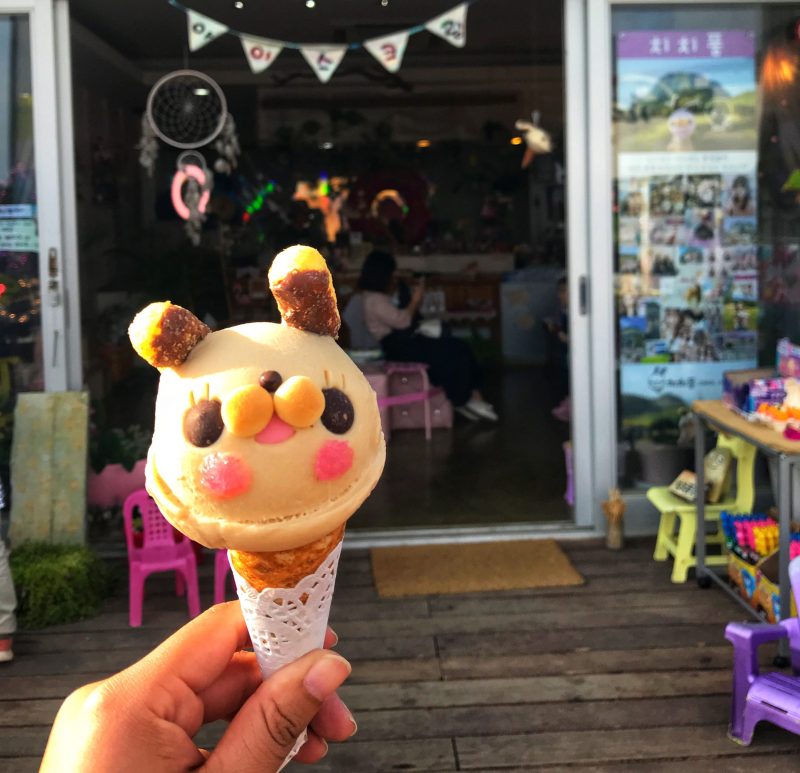 We exit the Yongmeori coast on the right side by walking throughout the coastline from one to another end. The visit takes almost two hours including the relaxing and eating time.
There is the Hamel Castaway Memorial, in remembrance of Hamel who drifted to this place in 1653 near the entrance. One of the family-run ice cream shops catch our attention when we pass by toward the car park. We can't control it and get another ice cream for the snack.
Address: 218-10 Sanbang-ro, Andeok-myeon, Seogwipo, Jeju-do, South Korea
Opening Hours: Winter Season 08:00-17:00 and Summer Season 08:00-18:00

Note: Subject to change as it will be close if high ties or bad weather
Closed at 5 p.m during our visit in May

Admission: ₩ 2,000
Korea GPS Tel No: 794-2940 (Mt Sanbangsan)
Jeju Aurum Pension At Seogwipo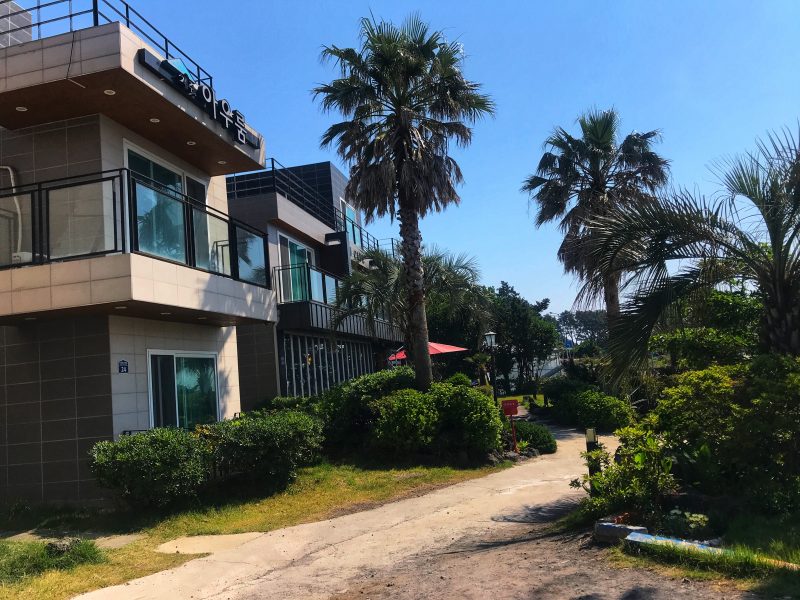 We end our second day of Jeju west coastline itinerary and continue to drive to the accommodation for that night. Jeju Aurum is a pension located in southern Jeju 10 minutes away from Seogwipo city.
The pension is run by Mr. Kim together with his lovely wife. The location of Jeju Aurum is excellently located in front of a beautiful lava rock beach and in the middle of Jeju Olle trail 6, the most beautiful walking trail. Beautiful sunrise and sunset can be enjoyed at both ends of the beach.
Find out how we enjoy our stay at Jeju Aurum.
Address: 603 Bomok-dong, Seogwipo, Jeju-do, South Korea
Korea GPS Tel No: 733-6888
The Best Jeju West Coastline Itinerary
The total driving journey is approximately 83km from Hotel Whistle by visiting multiple famous attractions on Jeju west coastline. The second-day road trip journey ended at the southern coastline at Jeju Aurum pension.
Looking at the places visited in Jeju's west coastline itinerary, some are hard can be reached by public transport. I enjoyed my second day of sightseeing road trip journey. I highly recommended renting a car to explore the beauty of Jeju. We choose to rent a car from AJ (Avis in Jeju) after comparison on Rentalcar.com. The car renting process is easy and cheaper if you have members to share in the expenses.
Alternative check out the local day tour which helps arrange for your pleasant vacation at Jeju Island. The Western Island Exploration run every Monday, Wednesday, and Friday, and will cover most of the west attraction; Hallim Park, Hyupjae Beach, O'sulloc Green Tea Field, and more with an experienced local tour guide.
6 Days in Jeju Island With Self-driving
Read more on 6 days 5 nights Jeju itinerary with the best things to do and great food to eat for your wonderful road trip.