Last updated on September 23rd, 2023
We recommended the Nolman (놀맨) if you are looking for the best seafood noodles on Jeju Island. Extremely flavourful broth with plenty of freshly caught seafood in a bowl of ramen noodles, giving you a refreshing taste of the sea.
Nolman (놀맨) is the best place to try for authentic seafood ramen on Jeju island. It is a simple and rustic store located in Aewol. We visited Jeju Nolman Jeju during our last day on Jeju Island. It took us about 40 minutes of driving journey from our hotel, Hotel Whistle Lark in the downtown area. The restaurant is situated in between the famous Monsant and BOMNAL (봄날) cafe. We even have a cup of coffee in the BOMNAL cafe after our food hunt in Nolman Jeju. Spend some time rolling around the Handam beach with beautiful scenery.
Check out our food journey in Nolman Jeju for their bowl of seafood ramen.
How To Get To Nolman Jeju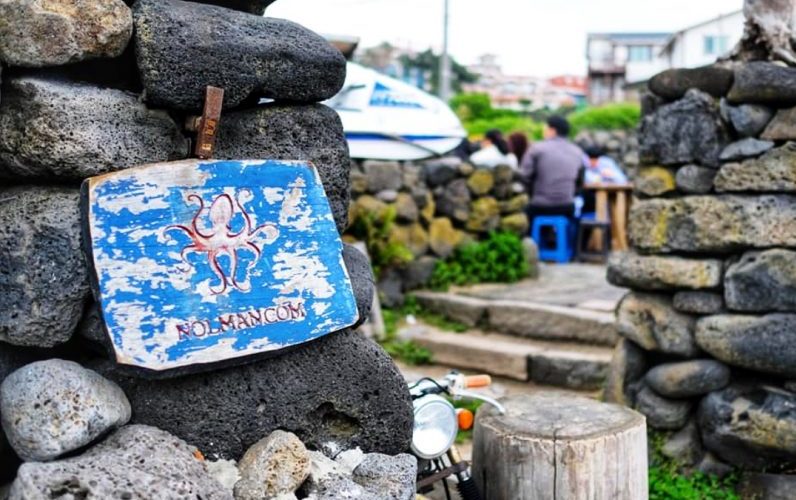 If you are planning to get to Nolman Jeju by public transport, you can take the bus from Downtown Jeju and get off at Hantan-dong (한담동) stop. Next, walked for three minutes will get you to the Nolman.
Alternatively, we recommended renting a car for a more relaxing food journey, We rent our car from RentalCars.com where you can choose the car rental that best suits your need and budget. Check this out f you are looking for rental car information in Jeju.
When you are getting to Jeju Nolman, you may park your car at the 7-Eleven area (one road ahead of the Nolman) with parking fees of 2,000₩. Trust me, the parking fee is worth it as it is very convenient. The free parking spot is so messy and crowded.
Late visiting is not a good option to visit Nolman Seafood. We recommended come early to avoid the crowd. Plus, the seafood is based on what the owner caught on that day. So it is possibly sold out if you come late!
Nolman Jeju Island
Address: 24, Awol-ro 1, Awol-eup, Jeju City (제주시애월읍애월로 1길24)
Business Hours: From 10:00 to 16:00 or sold out. Break Time: 13:00 – 14:00. Closed on Tuesday.
TEL:+82 64-799-3332
GPS Navigation: 799-3332


Nolman Seafood Ramen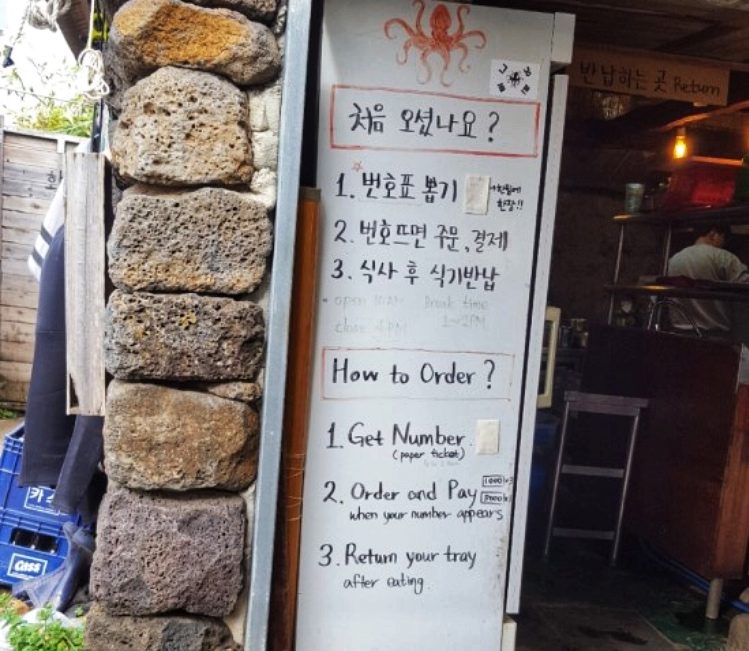 During our visit to Nolman, we arrived at around 11am. It was not the peak hours for lunch but the store was already packed with a small crowd of people waiting for their food.
It is simple and easy to order your food in Nolman Jeju with clear English instructions in the restaurant. Without hesitation, we proceed to the ticketing counter and took the running number. It was five numbers ahead of us. Once the number was called, proceed to the cashier and ordered your food.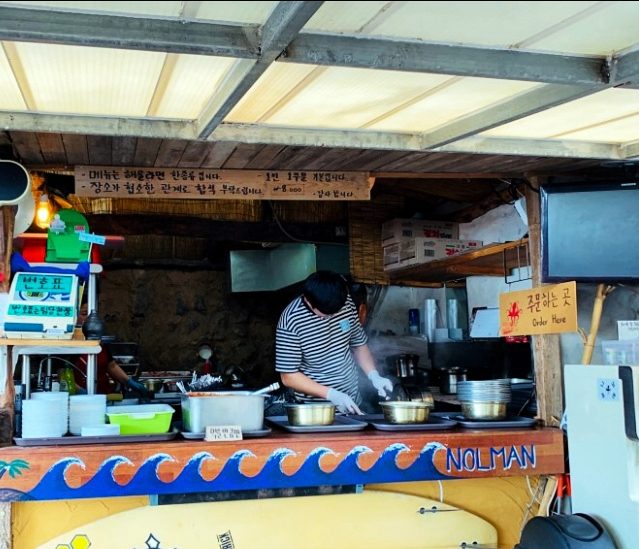 There is only one menu served in Nolman, which is seafood ramen and you can't decide what's is the ingredient inside. The owner will based on what is the seafood that he managed to catch from the sea in front of his store to make his bowl of seafood ramen. So sometimes, you will surprise by a large crab inside your bowl of seafood ramen that you ordered. A bowl of seafood noodles was at ₩8,000 (= $7).
Inside the shop, the cashier is busy serving the food to the customers. Wait for a few moments, the food will be served at the time you pay at the cashier.
Mouth-Watering Seafood Ramen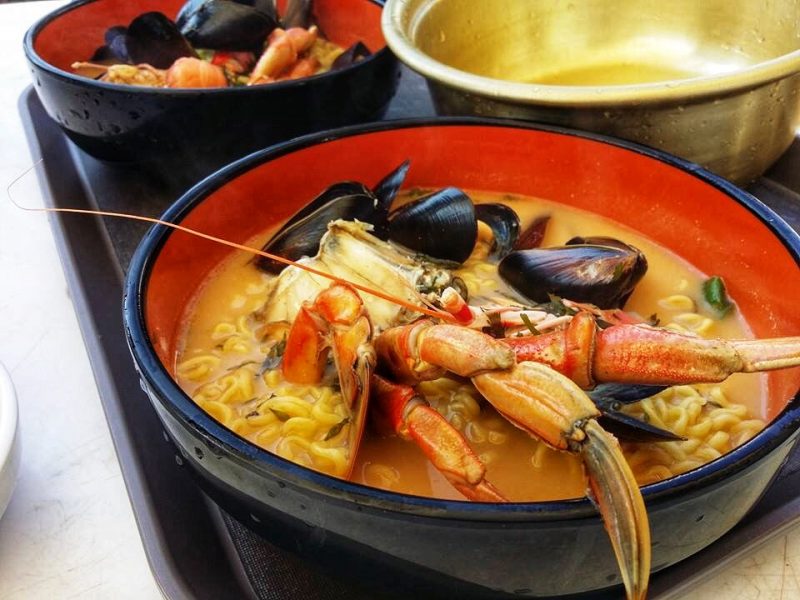 Finally, we have our bowl of Nolman seafood ramen. It was so mouth-watering and full of seafood topping on the bowl. The portion was so huge and we got a crab, shrimp and so many mussels. A golden color bowl was prepared to put all the shell into it when you enjoy your seafood.
The noodles were the typical Korean instant noodles and we like the soup so much. It tasted pretty savory and rich in flavor! Can imaging that the broth was cook with freshly caught seafood. A little bit spicy and a great match with the freezing weather.
Don't forget to take the Nolman's kimchi. The kimchi was free to refill and you may take as many as you can. It was so appetizing with the seafood ramen.
It is very satisfying to finish the bowl of seafood ramen. The serving price is affordable and only cost you ₩8000, which is not very expensive to me in places like Jeju Island.
Overall: Our Visit To Nolman Jeju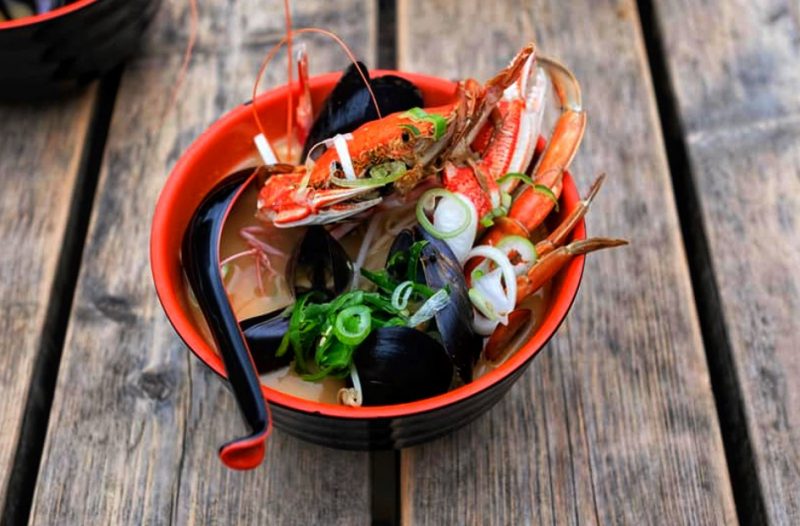 All in all, the seafood ramen from Nolman Jeju was fantastic. It is a must-eat if you visit Jeju. The driving journey to the Nolman took us about 40 minutes from downtown. So it is best to couple your food journey with a relaxing trip to Aewol.
The experience of slurping up the tasty seafood noodles with an amazing sea view is so memorable during our visit to Nolman Jeju! We enjoyed it so much and definitely will come back again!
How To Spend 6 Days In Jeju
Feel free to continue reading on our Jeju travel blog. If possible, consider renting a car to travel around in Jeju. There are many things to do and food to eat on this wonderful island.
Check out our 6 days road trip itinerary at Jeju Island with travels tips: