Last updated on September 23rd, 2023
Jeju city (Jeju-si), the northern part of Jeju Island is the central transportation for flight, ferry, and public transport connections. It can easily access major attractions like Yongduam Rock, Dongmun Market, Mt Hallasan, and more.
Our flight landed at Jeju International Airport in the afternoon and we spend about two hours passing through the regular custom check and picking up our rental car from AJ Rent-A-Car Company. The picking up process is pretty easy with well-arranged transportation provided by the rental car company.
More information on renting a car for self-driving and how to pick up your rental car from AJ car rental company.
What To Do At Jeju City
The major sightseeing attractions which are easily accessed from Jeju-si are Yongduam rock, Mt. Hallasan, the highest mountain in South Korea, the Dongmum market, Jeju city 5-days market, Iho Taewoo Beach, the mysterious road, and many more.
Jeju Road Trip Day 1 Itinerary
Jeju city served as the point for me before and after landing at Jeju Island. We planned to stay a night at Jeju city before departing for our Jeju road trip journey. The first day ended with Jeju city exploration and Korean food hunting.
Yongduam Rock (Dragon Head Rock/용두암)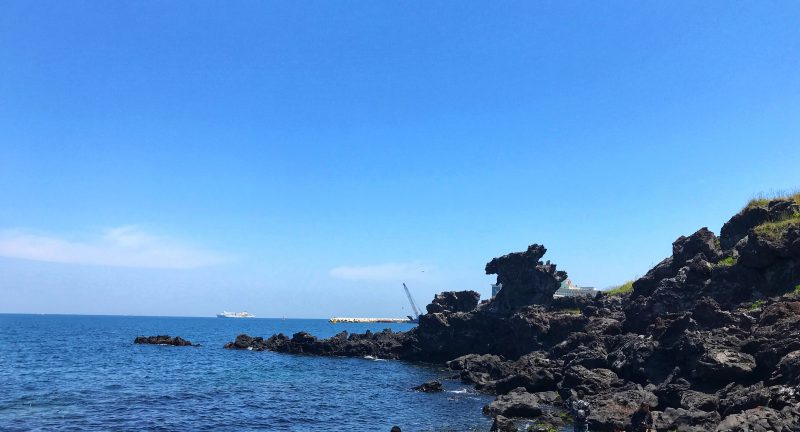 The first stop of our Jeju journey is Yongduam rock, which is located nearby Jeju Airport within a few minutes' drive. Situated at the northern end of Jeju City, Yongduam rock is one of the popular oceanfront volcanic rock formations in the shape of the dragon's head created by strong winds and waves over thousands of years.
There are downhill stairs that allowed travelers to walk down to the coastline to view the "dragons' head" with a closer look. However, beware of the jagged coastline as the rock is sharp and uneven with strong winds keep on blowing toward you.
Some travelers also enjoy their fresh seafood at the stall opened by Haenyeo with a plate of seafood chosen at the price of around ₩10,000. We follow the downhill stair walk down to the coast and take some the nice photos with the "dragons' head".
Address: 15 Yongduam-gil, Yongdam 2(i)-dong, Cheju, Jeju-do, South Korea
Admission: Free!
Parking Fee: ₩2,000
Opening Hours: Anytime!
Korea GPS Tel No: 728-3918
Dongmun Market (동문시장)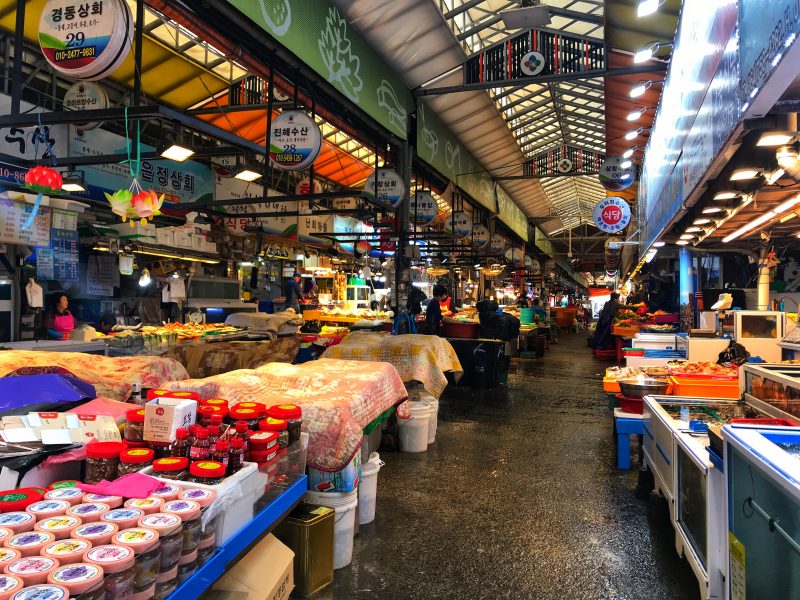 Whenever I go to a country, I always like to pay a visit to a local traditional market to absorb the local vibes.
Dongmun market is a regular Korean local market that opens daily. Located in old Jeju city and is very famous for locals and tourists for local Jeju snacks and souvenirs. There are many entrances to enter the Dongmun market and most are selling fresh local produce like seafood, meats, fruits, vegetables, kimchi, and more. The hallabong – Jeju's iconic mandarin oranges are all around.
At night, the stalls at entrance 6 of Dongmun market will be selling Korean street food like fried chicken, topokki, fish cakes, and grilled octopus.
We checked in at Hotel Whistle Lark for the first night at Jeju Island and take a short walk to Dongdum market. The Dongmun market is located nearby less than 10 minutes walk distance from Hotel Whistle. We spend almost one hour exploring this Korean local market before heading to our dinner.
Address: 20 Gwandeong-ro 14(sipsa)-gil, Idoil-dong, Cheju, Jeju-do, South Korea
Admission: Free!
Opening Hours: Daily from 8 a.m. to 9 p.m.
Korea GPS Tel No: 752-3001
Dinner At Black Port Street
(Heuk Dwaeji/흑돼지거)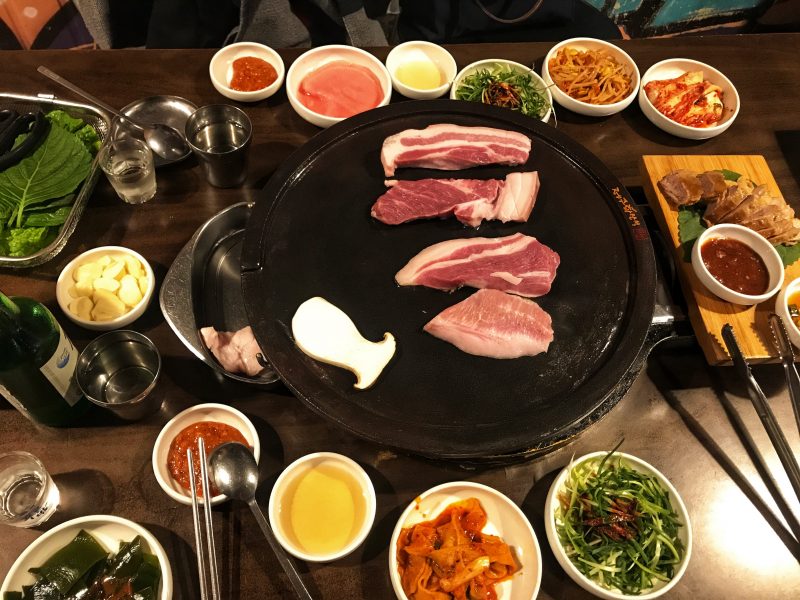 Similar to Dongmun market, black pork street is also located nearby our hotel. From the Dongmun market, you will walk past the black pork street before reaching Hotel Whistle Lark.
The entrance of the street has a signboard with the little pig on it. There is a wide range of restaurants that specialize in black pork in a row at Black pork street. Without hesitation, we choose the Michelin star-rated restaurant, Dombedon for our first dinner at Jeju Island.
Read in more detail about our dining experience at Dombedon.
Address: 25 Gwandeong-ro 15(sibo)-gil, Geonip-dong, Cheju, Jeju-do, South Korea
Opening Hours: Daily from 11 a.m. to 12 a.m.
Korea GPS Tel No: 753-0008
Hotel Whistle Lark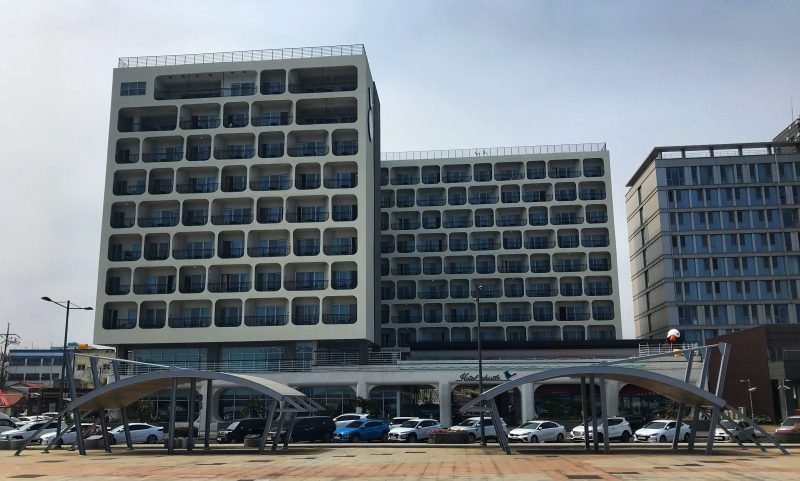 Hotel Whistle Lark is our first night staying at Jeju Island. It is strategically located in the Jeju old town within walking distance to Dongmun market, black pork street, sashimi street, 7-11, and E-mart nearby.
The interior design is new, clean, and simple. The price is reasonable for the 4-star rated hotel. We choose Hotel Whistle Lark for the strategic location as many eateries nearby although we have the car.
Located by the sea and harbor, Hotel Whistle Lark is a good choice for sea view lovers. There is a walkway along the sea coastline in front of the hotel and many locals and tourists are enjoyed their evening walk with the sea wind breeze. After dinner, we slowly walk back to Hotel Whistle from black pork street. Take a good rest for tomorrow's road trip!
Jeju Travel Tips And Foodie Guide
Read more on 6 days 5 nights Jeju itinerary with the best things to do and great food to eat for your wonderful road trip.
Don't forget to check out our foodie hunt at Jeju Island. The Top 5 Must Eat restaurant at Jeju Island:
Most of the attraction in Jeju is hard to reach by public transport or time-consuming. So, the best way to explore Jeju city is by self-driving. We booked a car and traveled through RentalCars.com, and rented through AJ Rent A Car Company. It was reliable and cheapest after comparison with other rental car companies in Jeju.
Read more if you need help to rent and pick up a car on Jeju Island.