Last updated on June 3rd, 2023
Looking for where to stay in Hoi An? Here's a quick and easy guide to finding your best accommodation and homestay in Hoi An. You'll find lots to love about this charming ancient old town for your holiday.
Claiming a UNESCO World Heritage City, Hoi An is home to a well-preserved ancient town, heritage houses and pagodas, and colonial structures. It's the perfect destination for holiday and you can spend days exploring Hoi An's charming streets, lively night markets, cultural sights, and mouth-watering local cuisine. It's quite easy to get overwhelmed in this charming town so choose your home base wisely.
As a first-time visitor to Hoi An, finding the ideal accommodation to stay in is crucial for an enjoyable holiday. From quaint guesthouses for backpackers, cozy friendly homestays, and mid-range hotels to luxury five-star riverside hotels with an amazing views. The town has a vast range of accommodation options to suit any budget. That's where our quick and easy neighborhood guide comes in – here's where to stay in Hoi An.
To help you decide on the best place to stay, we've compiled a quick rundown of where to stay in Hoi An.
Where To Stay in Hoi An – Quick Guide
You must stay overnight and spend some time experiencing the colorful and vibrant little town. What you'll have to decide when looking for where to stay in Hoi An is whether you want to stay in the Old Town area or by the beach.
Here are quick recommendations to help you choose where to stay in Hoi An.
If it's your first trip to Hoi An, stay in Old Town Area. This is the most central location and the perfect base for you to explore as much of Hoian as possible. It is closest to many of Hoi An's top attractions and everything can be reached on foot.
If you're looking to chill at the beach, stay in Cam An. It's home to An Bang beach, about 6 km from the ancient town. This is where you'll find Hoi An's most beautiful white sand beach, as well as chic cafés, restaurants, and bars. It's also the place to look for a luxurious stay as the city's finest establishments all want a piece of this beautiful beach.
Old Town Area
If you want to make the most of your stay and see as much of the city, stay in Hoi An old town. The ancient old town is a historic and cultural heart of Hoi An. It's home to plenty of shops, cafes, street vendors, and restaurants as well. So it is the best base for travelers looking to shop, relax, as well as savor delectable local Vietnamese cuisines.
Staying in the ancient town, meaning you probably won't need to do much walking since most of the city's top attractions are located here. After sunset, the old town area comes to life in full color when the lanterns are lit on which illuminating the street into an ancient fairy tale.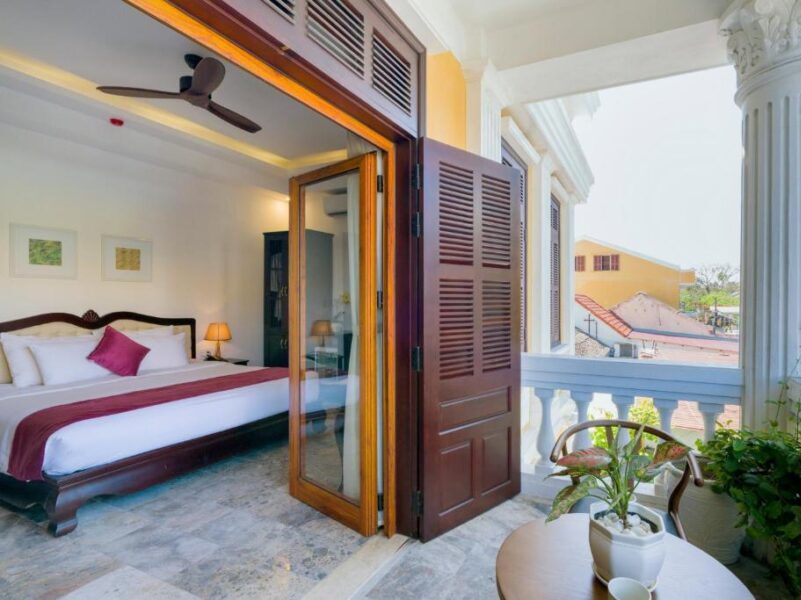 Top Pick: Hoian Central Hotel is a great hotel choice for exploring Hoi An. It has a great location just a three-minute walk to the old town, with spacious and comfortable rooms. They also offer bicycles and you can use them for free during your stay.
Reasonable prices for your stay in the ancient old town.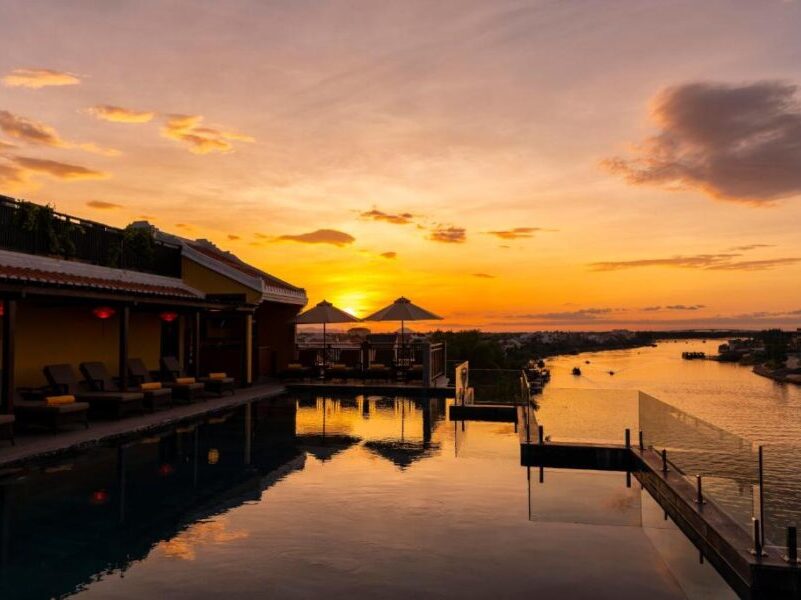 Luxury: Little Riverside Hoi An Luxury Hotel & Spa is an excellent option for visitors for their relaxing hotel in Hoi An. The design is incredible with the traditional oriental style which is full of nostalgic features of ancient Hoi An.
Make sure to get the Riverview room as the stunning view is worth the extra dollars!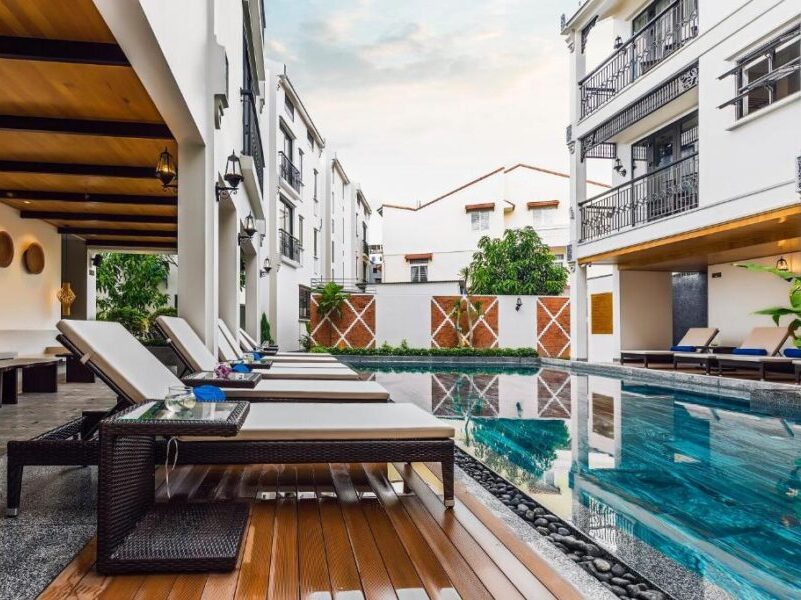 Laluna Hoi An Riverside Hotel is another popular pick with Riverview for the best stay in Hoi An. The location is excellent with a few minute's walk to the center. The rooms are spacious and comfortable with elegant design.
Besides, the hotel provides a free shuttle bus to An Bang beach which is a great plus.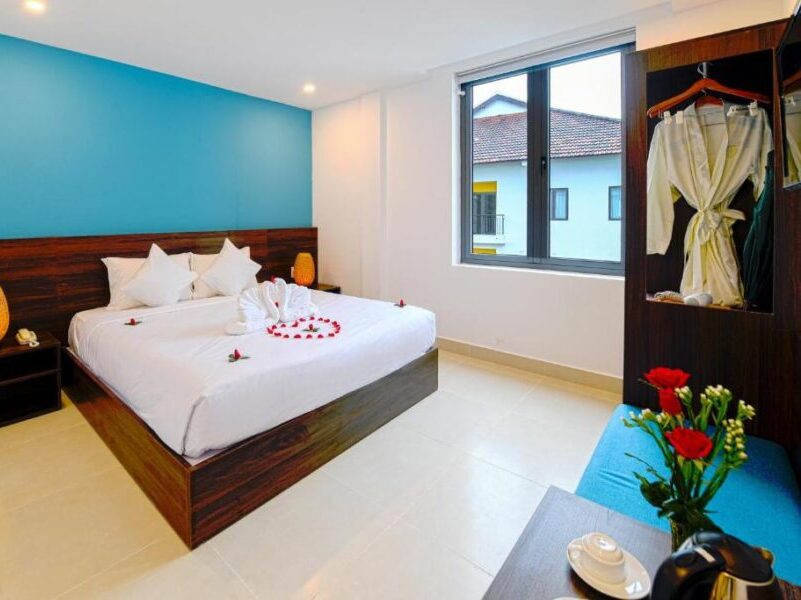 Budget: Hoi An Dream City Hotel is a lovely, modern and clean hotel. Located in a great location with about 10 minutes walking distance to the old center. The staffs are very friendly and helpful, the rooms are clean, the beds were more than comfortable.
There are bicycles for guests, which you can borrow for free. Nothing to shout about but it provides everything for a comfortable stay at a budget price in Hoi An. A great option if you are looking for where to stay in Hoi An, especially in the old town area.
Cam An
If you'd like to have a beach holiday in Hoi An, then Cam An is the ideal place to stay. It's home to An Bang, Hoi An's most popular beach.
An Bang Beach is over 6 km from the heart of town so you'll need to arrange for transportation to get to the Ancient Town. It's slightly away from Hoi An old town with 10mins of driving journey. There are plenty of restaurant options so food won't be a problem.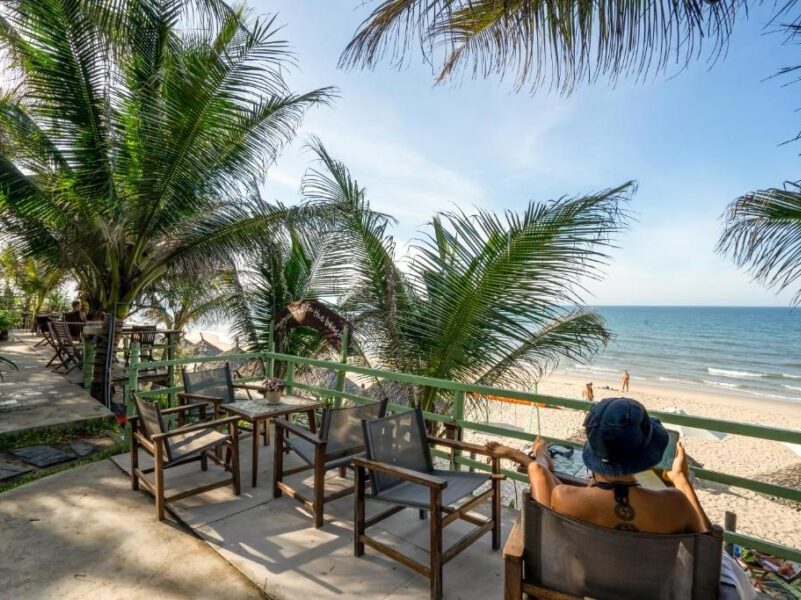 Tan Thanh Garden Homestay is the best place to stay in Cam An if you're looking for a place to sit by the beach. This hotel is perfectly featured with beautiful sitting areas directly overlooking the beach. The rooms are not too big but clean and comfortable.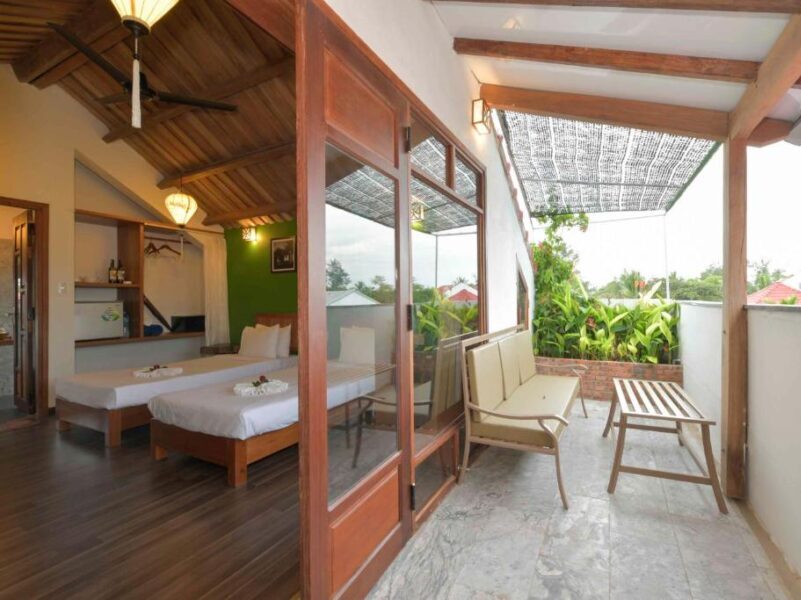 An Bang Beach Villa is also a great pick for the family to stay in An Bang beach. It is located right by the beach just a minute's walk to the beach. Besides, the property also has its own, clean pool surrounded by green trees.
The property is very quiet and peaceful and the room is very comfortable with a balcony facing the pool. Plenty of eateries within short walking distance.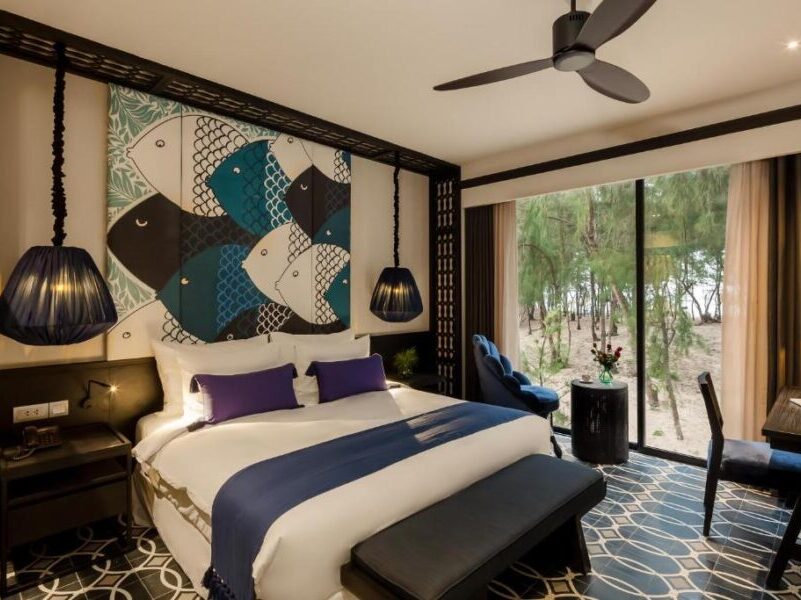 For an upgrade, I would highly recommend Sol An Bang Beach Resort & Spa. It is a beachfront resort featuring a clean private beach and swimming pool, which is great for travelers with kids and family.
Great spacious room with a comfortable bed. The location is good with a short, cheap taxi ride to bring you to the old town. Everything is perfect.
Where To Stay in Hoi An On Budget
If you have a tight budget or to meet more of your kind, stay at a hostel in Hoi An. Hostels in Hoi An are specially designed for world travelers with great taste and friendly vibes.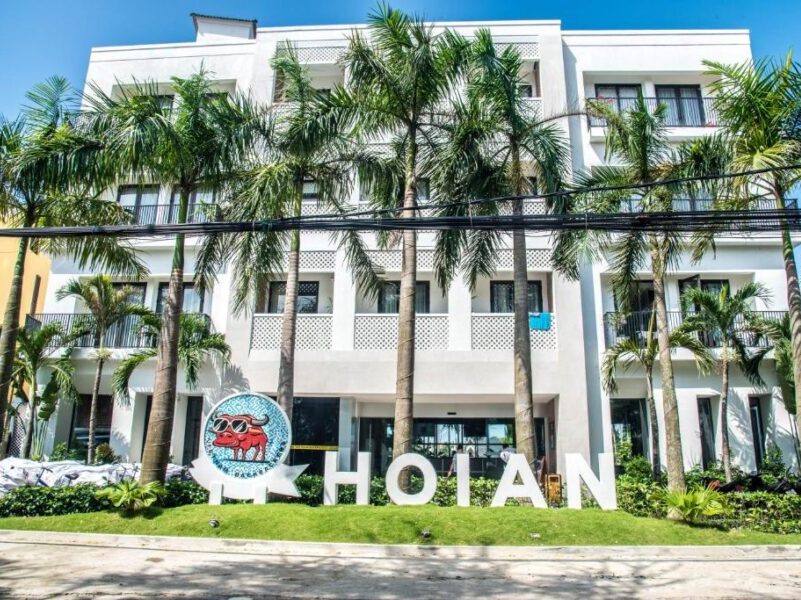 Vietnam Backpacker Hostels – Hoian is more like a hotel with amazing facilities but with a hostel vibe. You can choose to stay in the private or the dormitory room. The staffs are helpful and always giving recommendations of things to do in Hoi An.
The beds are fairly comfy and clean. The property is located in the middle of the old town and An Bang beach. Free bicycles are provided during the day for wandering around.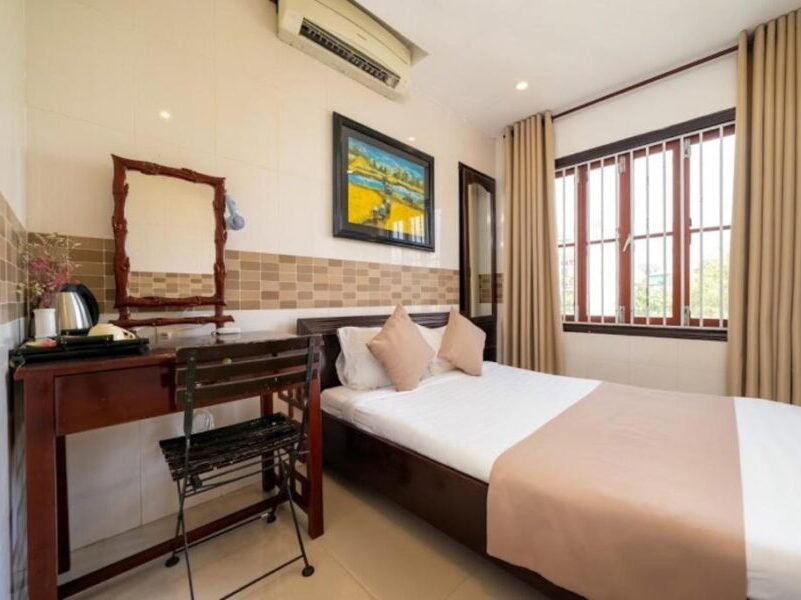 Tribee Kinh Hostel & Bar is the best place to stay in Hoi An if you are on a budget and wish to know more people. It is an amazing hostel with lots of activities such as street food tours, bike tours, Karaoke, and other options in the bar like free drinks for guests.
The hostel is a good place to meet people. Besides, the staffs are friendly and willing to help with everything you need.
Final Tips for Hoian Best Hotels
Where To Stay in Hoi An for first-time visitors?
Old Town Area is the best place to stay for first-time visitor to Hoi An. We recommended staying in Hoian Central Hotel, a popular pick in Hoian.
Overview: Best Place To Stay in Hoi An
Lastly, there's definitely a lot to experience and enjoy in Hoi An, and you'll get to do all that by choosing your ideal base. There isn't a specific best area you can stay in Hoi An where everything will be close by. No matter where you stay, you'll likely still be walking to the attractions. Make sure you take the time to find the right hotel and the right area for your trip to this famous UNESCO World Heritage Site.
Traveling to Hoian or other parts of Central Vietnam? Listed below are some of the travel guide blogs if you are planning your trip to Hoi An soon!
Related Travel information to Da Nang:
Related Travel information to Hoi An: