Last updated on September 23rd, 2023
Kiskakukk Etterem is one of the best restaurants in Budapest served excellent local Hungarian cuisine. Although it does not have the Michelin Star ranking, but it is highly recommended by locals especially for their famous foie gras dishes.
There are so many great restaurants in Budapest that served wonderful cuisine from Western, Chinese and traditional Hungarian cuisine. However, if you only have limited time to visit Budapest and looking to try for local Hungarian food, be sure to include Kiskakukk étterem into your Budapest food bucket list. Most importantly, the price is very affordable, especially for the quality and quantity of food presented. A true hidden gem in Budapest!
If you prefer to dine in Michelin Star Restaurant, check out our dining experience in Costes Downtown.
Getting To Kiskakukk étterem 1913
Kiskakukk étterem was founded in 1913 with more than 100 years of history. It located in the old building of Pozsonyi út and slightly away from the famous tourist area.
However, it is pretty easy to get there with public transport. Take the Tram 2, 4, 6 to the closest Jászai Mari tér station and walk for another 5 minutes will lead you to Kiskakukk étterem.
Address: Budapest, Pozsonyi út 12, 1137 Hungary
European Classic Restaurant
We have make the dinner reservation a few days before during our three days in Budapest. Once we entered Kiskakukk Etterem, we soon admiring to the retro classic style of the restaurant.
Lovely woodblock floor and furniture, yellow dimmed light and red curtain, accompanied with green embellishment. Pleasant interior with adequate space between tables.
Warm-welcome from the professional waiter and we were seated at the wooden table. I personally like the European classic restaurant very much. Nothing is better than dining in such a pleasant environment.
Extensive Food Menu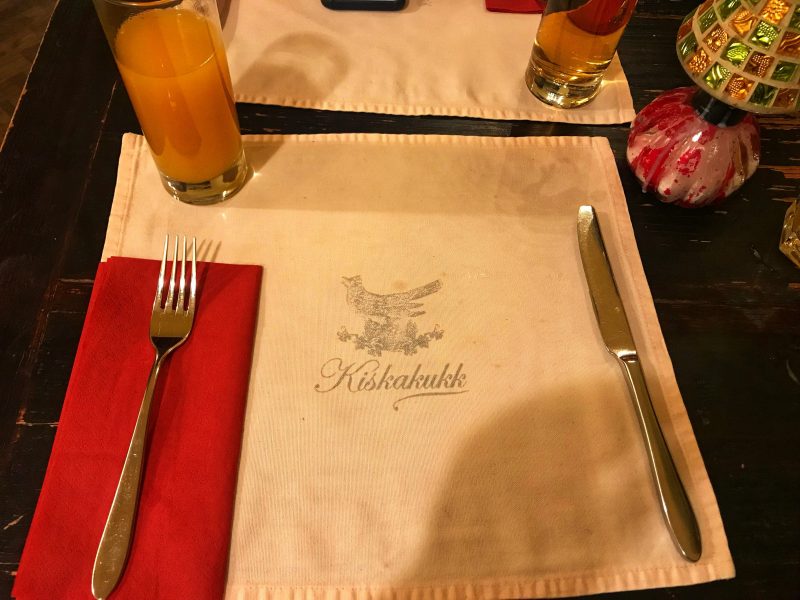 The Kiskakukk Étterem menu is in multiple languages and offering extensive food choices. Wide selection of dishes to choose; from the dazzling hot and cold dishes, pork, fish, lamb, game, vegetarian and up to desserts.
Looking at the price listed, all the meals are not expensive and very affordable. But the food that you can enjoy is a very good value. The staff was very friendly with good English and helped us made some local selections. We ordered the famous foie gras as a starter, a few main dishes, and desserts for the great night.
Check the complete set of food menu here.
Grilled Goose Liver Hot Appetizer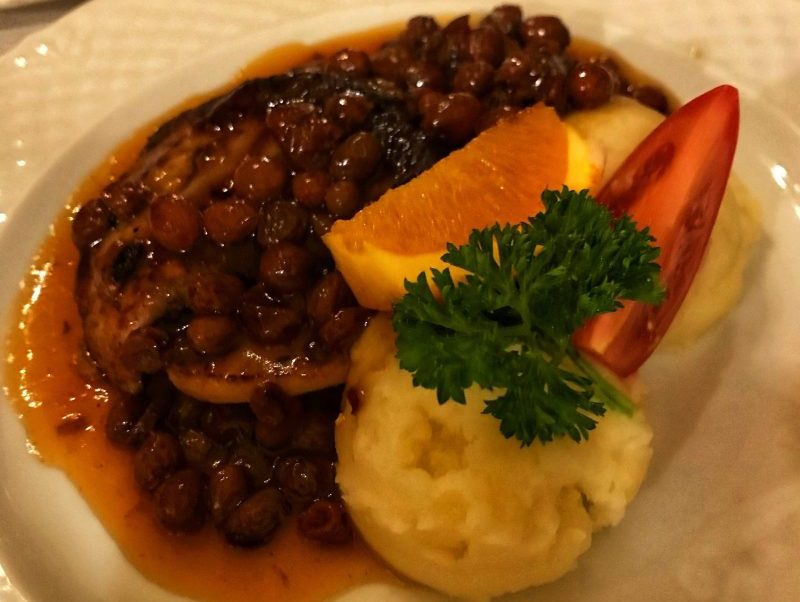 There is probably no place to eat foie gras as crazy as in Budapest! The grilled goose liver with baked apple rounds in Tokai sauce is one of the highly recommended starter at Kiskakukk Étterem.
This hot appetizer is served in whole pieces of fat foie gras with just right perfectly grilled, match with the local Hungarian Tokaji wine sauce for sweet and sour taste. It also served with the baked apple and mashed potatoes.
We actually not very fancy about the foie gras and only want to try it in Hungarian cuisine. Surprisingly it taste refreshing without a strong smell on the liver. A must-try dishes in Kiskakukk Etterem. Great taste with generous portion of foie gras in 3290 Ft.
Main Dishes
Few different main dishes were ordered as per recommended by the polite waiters. While we have too much beer and wine these few days, so we decided only to have juices for dinner.
Tenderloin with Mushroom Sauce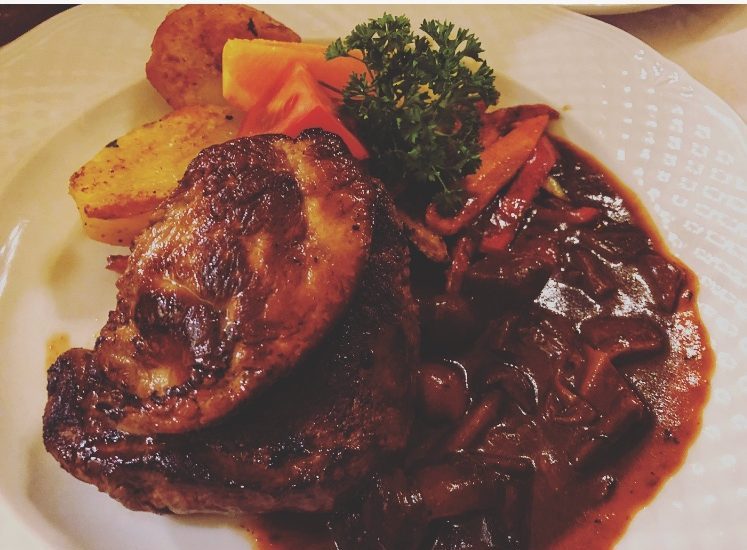 After the appetizer, the main course is served next without long waiting time.
First of all, the tenderloin is cooked to perfection with stuffed forest mushroom sauce, grilled vegetables, and Mediterranean potatoes. A greater surprise of this dish is served with a piece of fat foie gras!
Crispy Goose Leg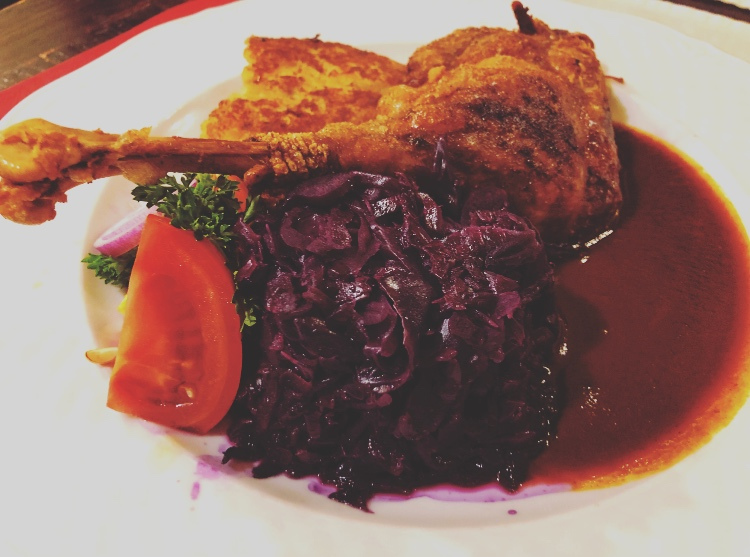 Next, a crispy gooese leg with crushed onion-potatoes and stewed cabbage is also highly recommended. The outer skin is slightly crispy while the meat inside is so tender and flavorful. It is a perfect match with the pickled beets with gravy.
Another must try in Kiskakukk Étterem.
Big Portion Pan-Fried Duck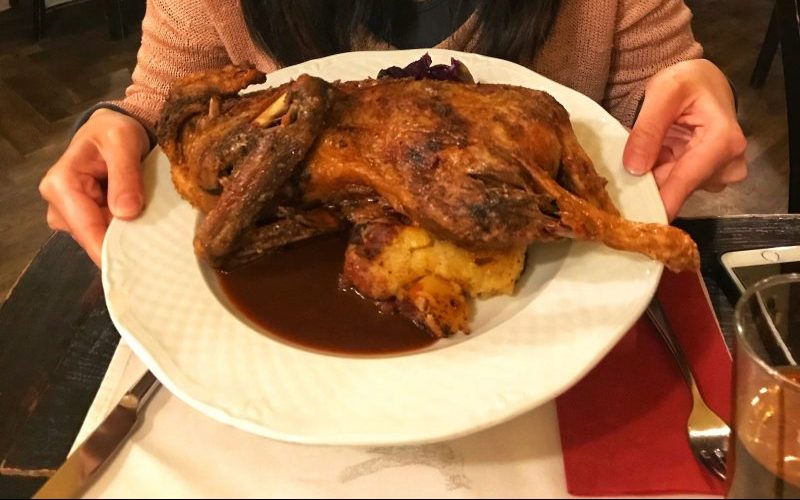 One of the unexpected dishes in Kiskakukk Etterem is the pan-fried duck with crushed onion-potatoes and stewed cabbage. We all get shocked by the big portion as the whole plate is fully covered by half of a duck when it served.
In short, the pan-fried duck is only recommended if you have a big appetite. Although the duck is tasted good, but my friend end up cannot finish half of it.
Pork Strides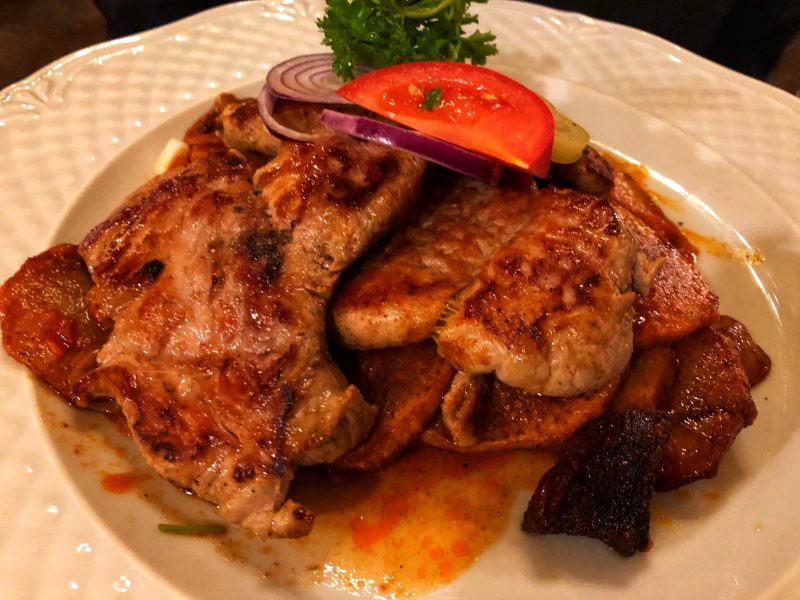 Last but not least is the pork strips seasoned with garlic and onions, served with potatoes. The meat is slightly too dry and nothing extraordinary. That is to say, we were a bit disappointed about this choice.
After tried on a few items of their menu, we all agreed that the tenderloin and goose leg is the best among all the food that we had.
Desserts
In addition, we all know that the restaurant's food is delicious, but we didn't expect the dessert to be so delicious. We would like to try more on the desserts, but too bad the food portion is so big that we did not have any more room for our little belly. So we end up ordered two desserts for sharing.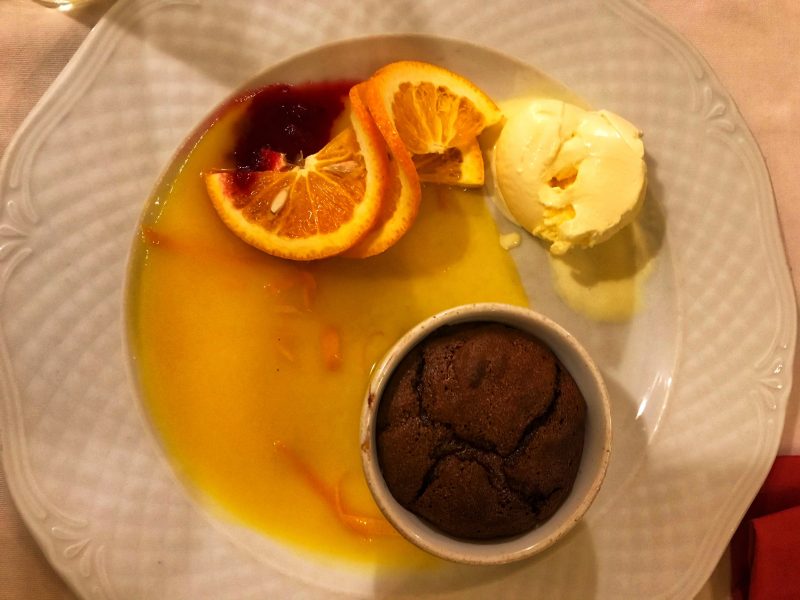 The chocolate soufflé with orange sauce and vanilla ice is so nice.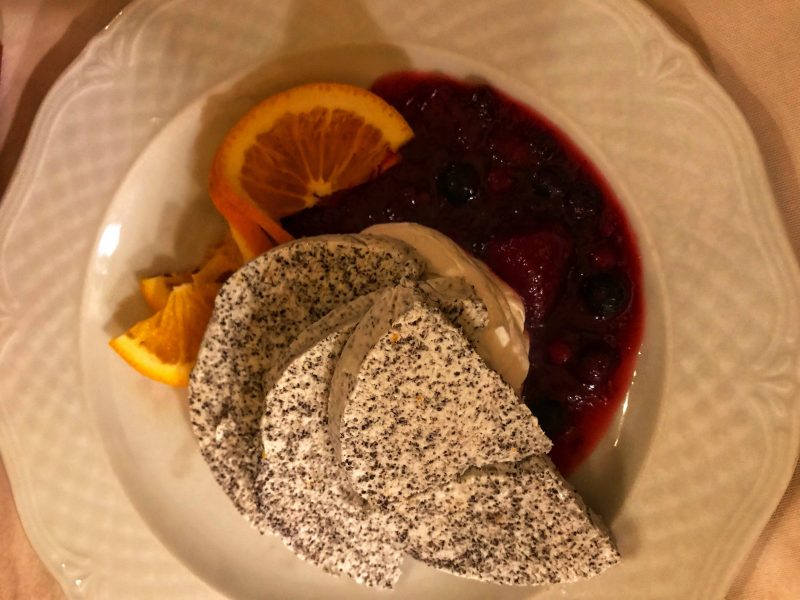 Not to forget the Poppyseed parfé with fruits of the forest sauce, something special to try at European country.
Must Try Restaurant in Budapest
All in all, our meal in Kiskakukk Étterem is less than €25 per person. The dining experience in Kiskakukk Etterem can be said to be impeccable. We love the dining environment, local taste of Hungarian Cuisine in great value. In conclusion, we would recommended Kiskakukk Etterem for a wonderful meal in Budapest.
While the restaurant is so popular among tourists and locals especially dinner time. Be sure to make your reservation online here.
Read More On Our Central Europe Trip Itinerary
For an itinerary that covers the Czech Republic, Austria, Hungary, and other interesting cities between, feel free to check out this Central Europe Itinerary in more detail.