Last updated on September 23rd, 2023
Complete transportation guide on how to get to Kyoto from Kansai Airport, Osaka and Tokyo. Most importantly travel tips and transportation pass where can save you some money.
Kyoto is famous for its numerous historical temples, shrines and World Heritage sites. It is a wonderful city where visitors can appreciate the charm of Japanese culture. That is to say, Kyoto is one of the must-go places for the visitor when visiting Japan. It is best for one day, 2 days or a few days trip in Kyoto.
However, depend on your travel itinerary. There are many transportation options available to get there. But, No worry. We have all the available transportation options with travel tips listed. Continue to read more.
Transportation Guide
Kyoto is well connected with Osaka, Kansai Airport and Tokyo. So most of the travelers will choose to get to Kyoto from one of them.
Train is the fastest and easiest option when traveling between the cities. However, there are some other options that may suit your budget, time and Japan itinerary. Most importantly, try minimized your transfer stop for an easy and comfortable ride.
How To Get To Kyoto From Kansai Airport (KIX)
The nearest airport is Kansai International Airport in the Kansai region. Due to transportation arrangements, most travelers will choose to get to Osaka or Kyoto from Kansai airport.
If you opt from Kansai Airport, there are two common transportation option which is train or limousine.
Traveling Between Kyoto and Kansai Airport By Train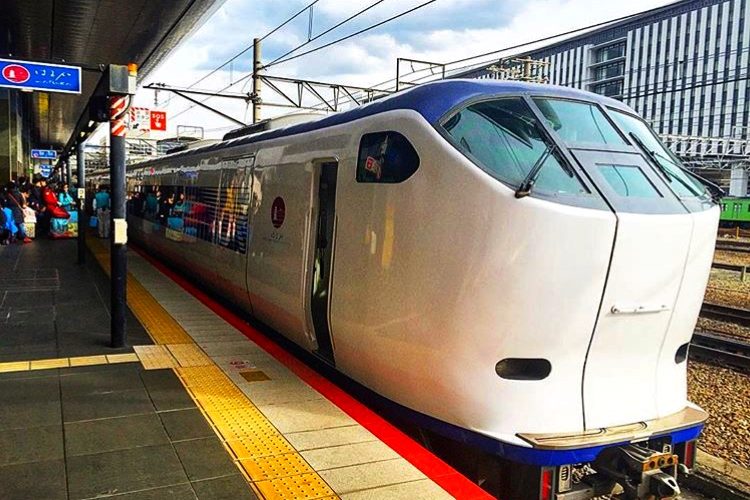 The most convenient and faster way is by train. The Haruka Limited Express from JR West will directly take you to Kyoto Station from Kansai Airport. It is highly recommended and hassle-free, especially for first-time travelers.
From Kansai Airport to JR Kyoto Station by Haruka Limited Express:
Alternative, there is another cheaper option with a slower train. You can take the JR Rapid Train to JR Osaka Station, and transfer by JR Special Rapid Service. This journey cost you about ¥1,880 with 120 minutes.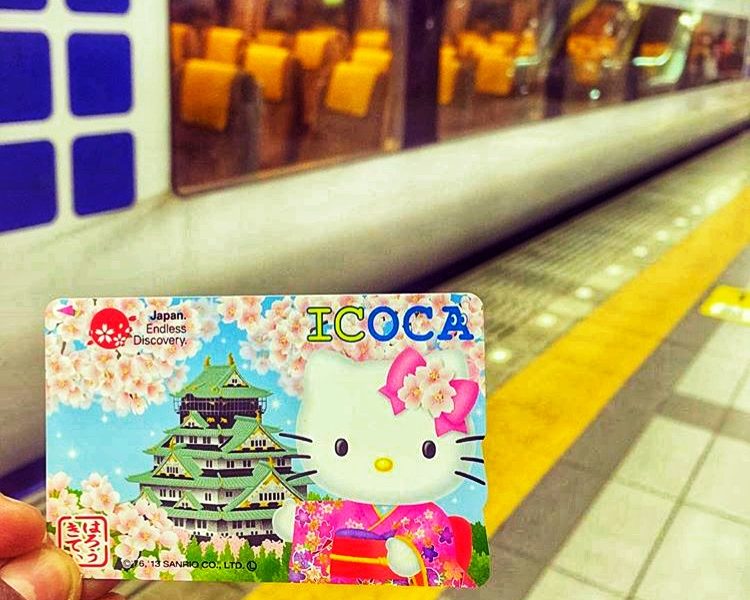 Traveler Tips: Japan Rail Pass is covered for the Haruka Limited Express. However, JR Pass is good and save for long journey travel. Alternatively, consider getting the ICOCA card with pre-loaded money. This card will provided reduced-fare ticket for the Limited Express Haruka and can be used for buses and transportation fare in Japan.
You can purchased the ICOCA Card from Klook.
Traveling Between Kyoto And Kansai Airport By Limousine Bus
Limousine bus runs between Kyoto and Kansai airport frequently. This is also the cheapest way if you opted for this way. Traveler need to purchase your ticket at the ticket machine before boarding. Alternatively, reserve your limousine ticket from klook and exchange for physical tickets at the airport.
Traveler arrive at terminal 1, please board at the bus at platform#8. In the other hand, please board the bus from Platform#2 from Terminal 2
From Kansai Airport To JR Kyoto Station Hachijoguchi (south exit):
Fare/duration: ¥2550 (adult) and ¥1280 (kids), 90-105 minutes.
Round trip is cheaper at ¥4180 (adult)
Cheapest way.
How To Get To Kyoto From Osaka City
Kyoto is located nearby Osaka and it is best to visit both places when you are visiting Kansai Japan. These two cities are accessible by train and bus. So many people choose to have a day trip to Kyoto from Osaka. So, it is no surprise that there are multiple options for traveling by train due to the popularity.
Read below on all the available transportation options listed.
Traveling Between Kyoto and Osaka By Train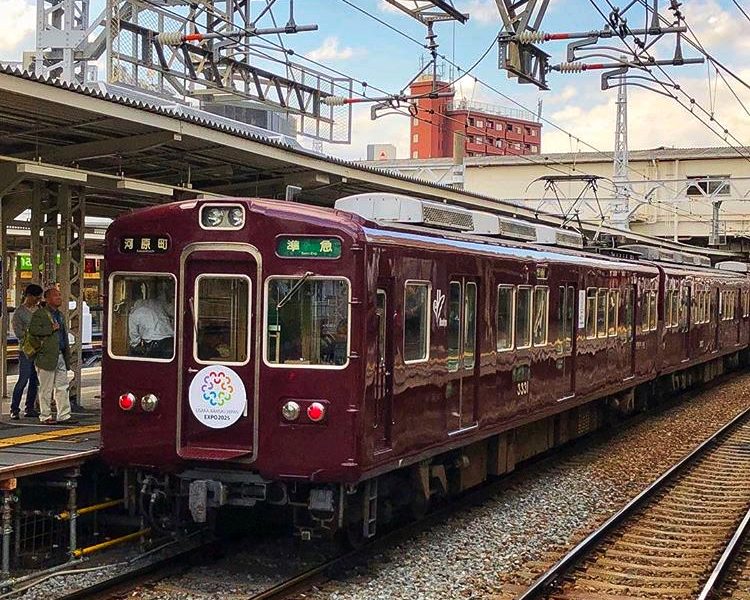 There are 4 different train lines connected between Kyoto and Osaka. The best train depends on when you are traveling from Osaka city to which is your next visited area in Kyoto.
JR Tokaido Shinkansen: from JR Shin-Osaka To JR Kyoto Station.
Fare/duration: ¥1420, 15 minutes.
Fastest way and best option if you have Japan Rail Pass.
Choose from Nozomi, Hikari and Kodama trains. However, please take note Nozomi is not covered by JR Pass.
JR Rapid Train: from JR Osaka/Shin-Osaka Station.
Fare/duration: ¥560, 25-30 minutes.
Keihan Main Line: from Osaka (Yodoyabashi Station) To Sanjo Station at Central Region.
Fare/duration: ¥410, 55 minutes.
Good option as it stop at famous attraction including Fushimi Inari Taisha Shrine.
Hankyu Main Line: from Osaka (Hankyu Umeda Station) to Kawaramachi Station at Central Region.
Fare/duration: ¥400, 45 minutes.
Good option as it stops at famous attraction which close to Gion and Arashiyama.
Traveling Between Kyoto and Osaka By Bus
There is a bus that connected Osaka with Kyoto station by 5 buses per day. From Osaka, you can board from Hotel Keihan Universal Tower, Universal Studios Japan and Namba (OCAT) to Kyoto.
Fare/duration: ¥900, 120 minutes.
Convenient if you are staying nearby the bus stop.
How To Get To Kyoto From Tokyo
If you are planning to visit Osaka and Kyoto, Tokyo is always where you connected to the Kansai area. Traveling between these two areas is pretty easy but not cheap. Anyway, we highly recommended for Shinkansen for a comfortable option. Meanwhile, opted for highway buses for budget travel.
Traveling Between Tokyo and Kyoto By Shinkansen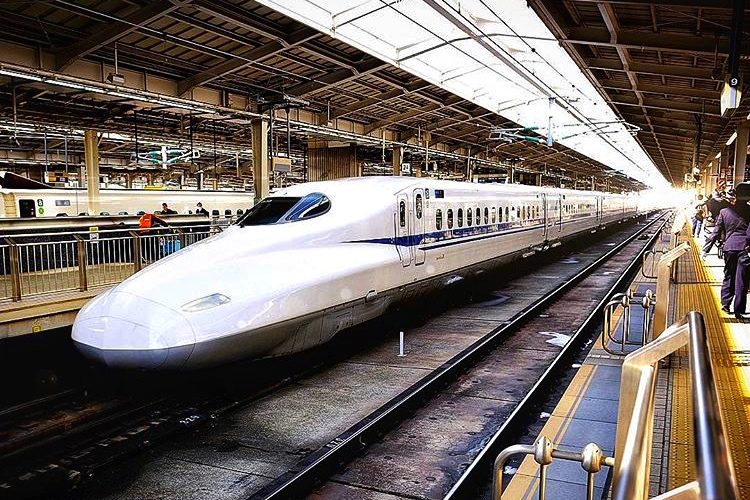 Certainly, Shinkansen is the most comfortable and fastest way to get to Kyoto from Tokyo. If you are traveling for a return journey, consider getting the Japan Rail Pass which costs about the same as regular train. This means that you are basically free to ride the JR operated train within the validity period. Check for the price and information on JR Pass here.
From Tokyo to JR Kyoto Station by bullet train (Shinkansen):
Fare/duration:

Nozomi: ¥13,080/¥13,500 on reserved/non-reserved, 140 minutes
Hikari: ¥13,080/¥14,000 on reserved/non-reserved, 160 minutes
Kodama: ¥13,080/¥13,500 on reserved/non-reserved, 160 minutes
Fastest and most comfortable.
For round trip traveler, consider getting the Japan Rail Pass which greatly save on transportation fee.
Traveling Between Tokyo and Kyoto By Highway Bus
In short, highway bus is the cheapest option if you are planning to travel from Tokyo on budget. However, bus fare is varied depend on season, time and comfort level. It can be start from as low as ¥3,500 to ¥10,000. So please monitor the bus fare once you have decide for this option.
Most of the budget travelers choose to take the Highway Night bus from Tokyo to Kyoto. The cost is almost three times cheaper compare with Shinkansen. No worry about the comfort and cleanliness level of Highway bus in Japan. Everything is well structured and on-time, just like typical Japanese culture. If you are vote for this budget option, check out on the excellent Night Highway Bus service from Klook. Choose from three-row or four-row seating with different prices given.
Best Transportation For Your Travel Itinerary
All in all, there are a lot of transportation available for travelers when visiting in the Kansai area. So, just plan your Japan travel itinerary based on your interest and only look for the best transportation to suit your budget and route. Happy to travel to Kyoto smoothly!
Related article: