Last updated on September 23rd, 2023
Ever wonder where to have authentic local food for breakfast in Kuala Lumpur? For years ICC Pudu is the popular hawker food center that frequently visited by locals. Here, you can sample all the local delicacies in one place. My ICC Pudu Food Guide featured!
Integrated Commercial Complex (ICC) Pudu is the best place to enjoy all the old tastes of KL if you are craving authentic local Chinese food. Over 260 stalls are shifted from the famous Imbi wet market to ICC Pudu since 2016 to make way for the development of the Tun Razak Exchange. Consisting mostly of Chinese vendors, it is a classic Chinese hawker center housing all kinds of Asian food in one place.
The local favorite's ICC Pudu is bustling with people enjoying their breakfast, with long queues seen at many of the popular stalls. The food court offers an enormous selection of Malaysian food. It will take you at least a few visits to try all the delicious food. Many hawker stalls sell a great variety of food and you will have a hard time deciding what to eat in ICC Pudu.
If you are not sure what to eat, let's have a look at our list below with Best Foods You Must Eat in ICC Pudu.
ICC Pudu Food Guide
We've tried many mouthwatering food in ICC Pudu and here is our recommendation:
Chee Cheong Fun and Yong Taufu
Nasi Lemak
Nyonya Kueh and freshly made Put Chai Ko
Hainan Coffee and Tea
Crispy Pohpiah
Wantan Mee
Curry Mee
Kuih Bakul
Ginger Wine Noodles
Charcoal Egg Tart
Yellow Rice Wine Chicken Bun
Chee Cheong Fun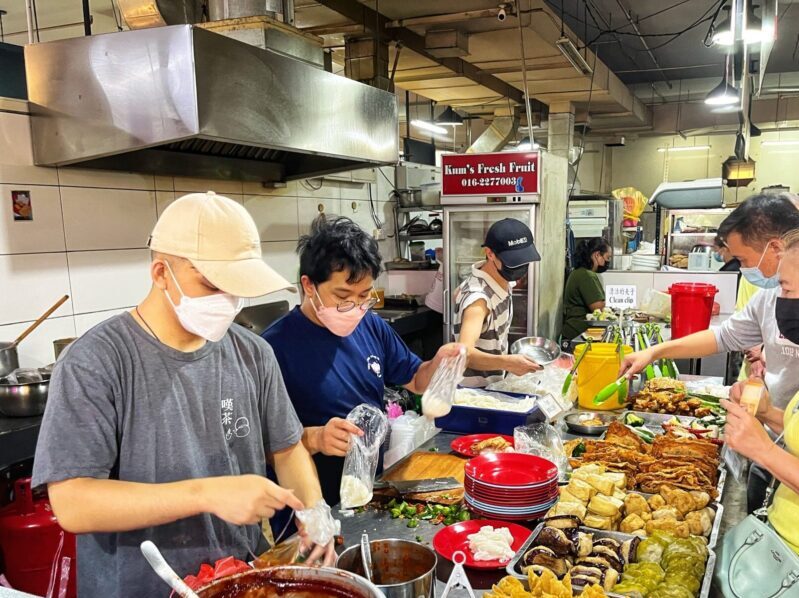 For the best Chee Cheong Fun paired with Yong Taufu in KL, go to Ah Fook Chee Cheong Fun in ICC Pudu. The Chee Cheong Fun is a type of rice noodle roll while the Yong Taufu is the Hakka-style tofu and vegetable variations filled with ground meat mixture or fish paste.
Since Imbi Wet Market, Ah Fook Chee Cheong Fun is also known for its freshly made Yong Yaufu. Crispy deep-fried beancurd, Ladies' fingers, tau foo puffs, chili, brinjal, and a variety of items to pick from.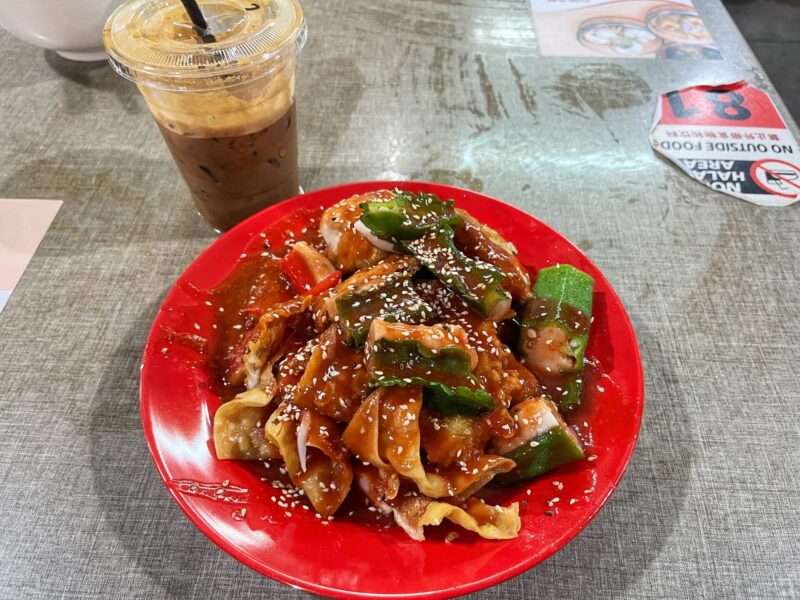 Follow the queue and pick the one you like and the food will come doused with a generous amount of sweet and chili sauce, topped with a generous amount of sesame seed. You can also ask to serve with curry gravy and sesame seeds if you want.
The Yong Toufu that I had picked was filled with generous portions of fish paste. They were quite big chunks when sliced into piecs. So satisfying!
The stall is always a long queue in line. So please be ready to queue but the line moves pretty fast.
Ah Fook Chee Cheong Fun: Stall Lot G30
Nasi Lemak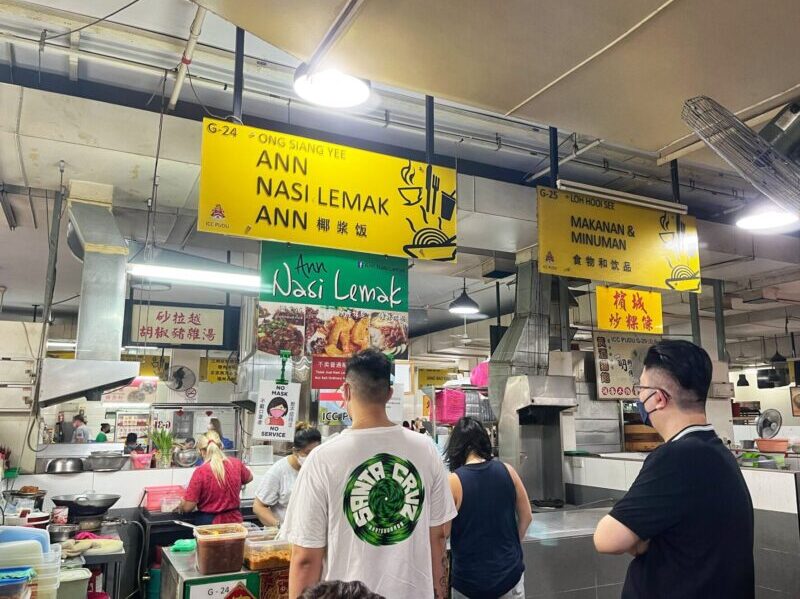 Next, one of the must-eat food in ICC Pudu is the Nasi Lemak (non-halal). Dubbed Ann Nasi Lemak, this stall serves Chinese-style nasi lemak and is particularly famous for its pork skin curry, cockles sambal, and sliced pork curry.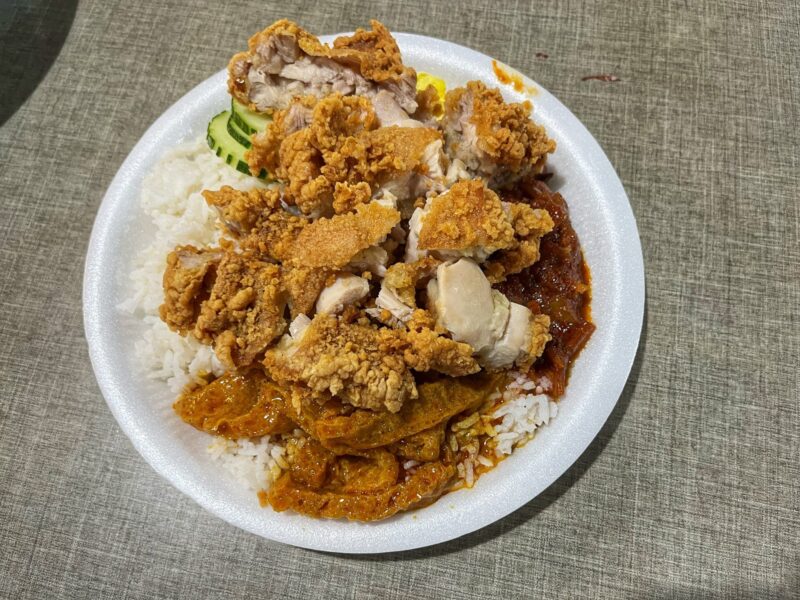 Ann Nasi Lemak usually has a short queue in front and it took less than 5 minutes to have our plate of mouthwatering nasi lemak. See our plate of Nasi Lemak with pork skin curry and fried chicken cutlet. So tempting! One of the must-try food in ICC Pudu.
Ann Nasi Lemak: Stall G-24, ICC Pudu.
Nyonya Kueh and Put Chai Ko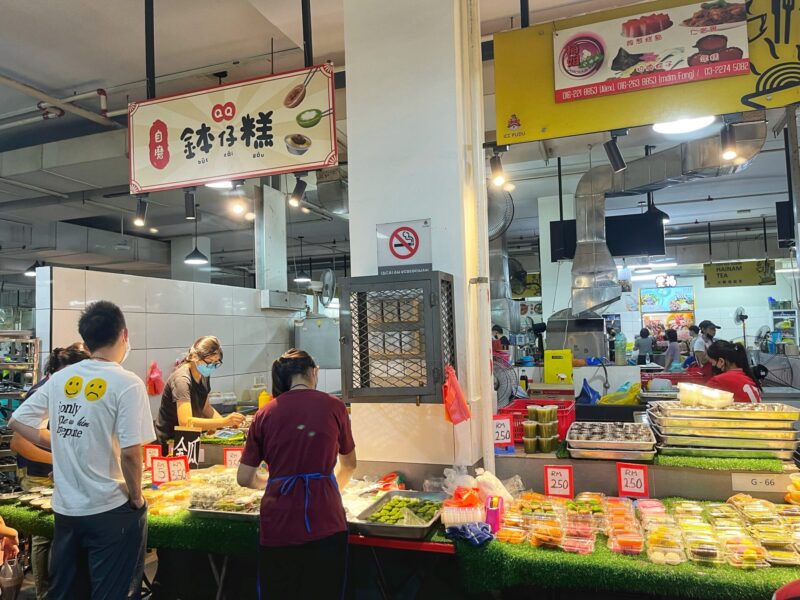 Another worth recommended stall in ICC Pudu is Sister Mei which sells colorful Nyonya kueh with 3rd generation of the recipe. Regulars still flock to here for their traditional Nyonya kueh.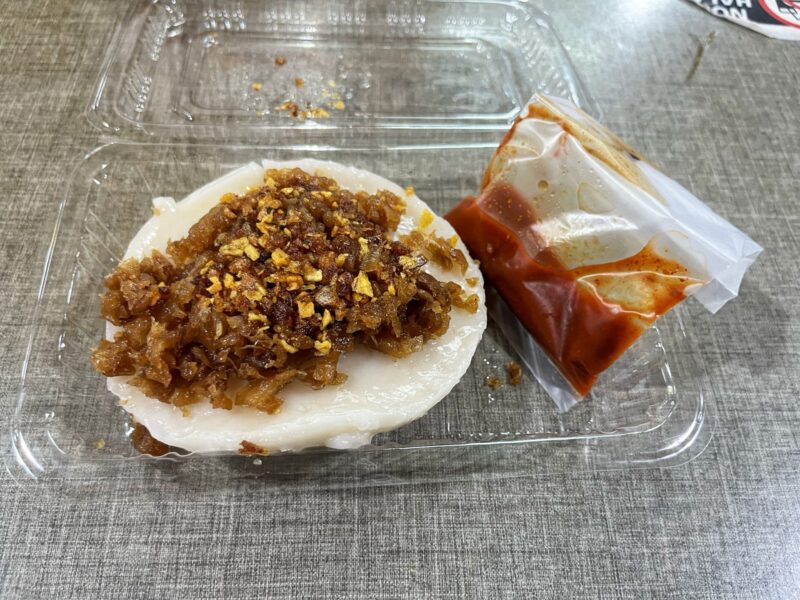 Whenever I am patronized here, for sure I will be debating what to choose with a variety of traditional Nyonya Kueh lining on the table. Don't miss their freshly made Put Chai Ko, Cantonese pudding-like steam cake. It is freshly made on the spot so expected to wait in line. It has a soft and slightly chewy texture. One of my favorite food in ICC Pudu.
Sister Mei: Stall G-11
Hainan Coffee and Tea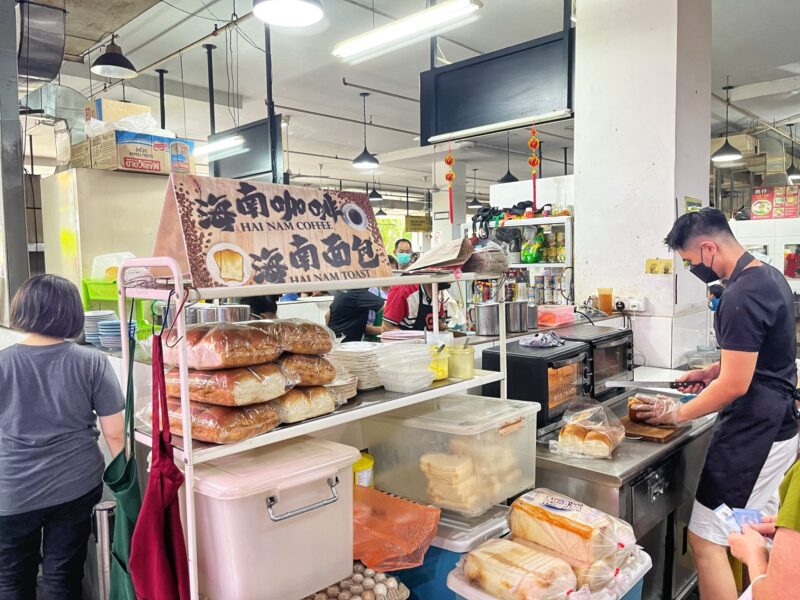 ICC Pudu is the battleground of Hainan Coffee and you'll see many traditional coffee stalls scatter around the counter in the building. Take a slip of Hainan kopi and then take a bite of traditional kaya toast, this is what we call enjoy life in the fullness!
Some people will love the Ah Weng Koh Hainan Tea & Coffee and rated the coffee shop as one of the best breakfast places in KL. The stall serves authentic traditional Hainan tea, coffee, soft-boiled eggs, and toasted bread. Youngest will vote for the Lintang and you'll be seeing the longest queue in the center court.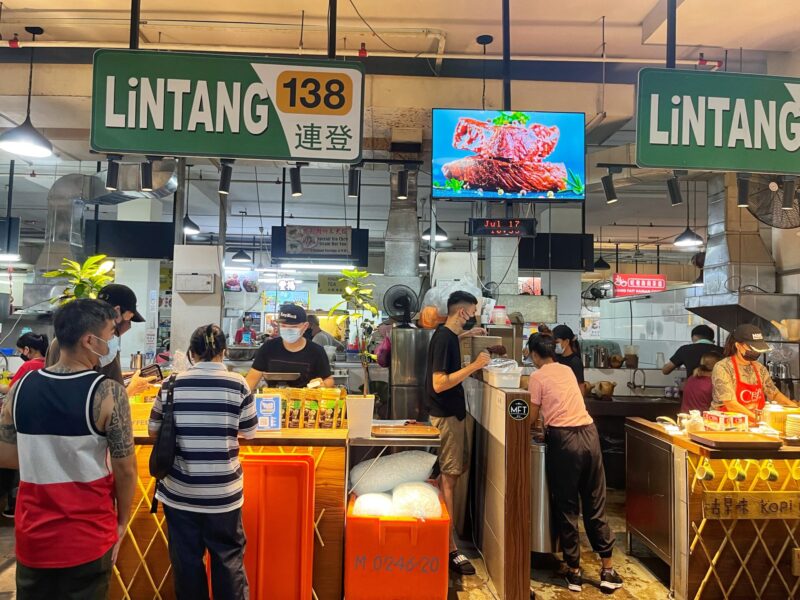 I personally like the Hainan Iced Coffee from Lintang. It is one of the vendors with the longest queue in ICC Pudu. Be prepared to wait for this best coffee in ICC Pudu, but the line moves very fast.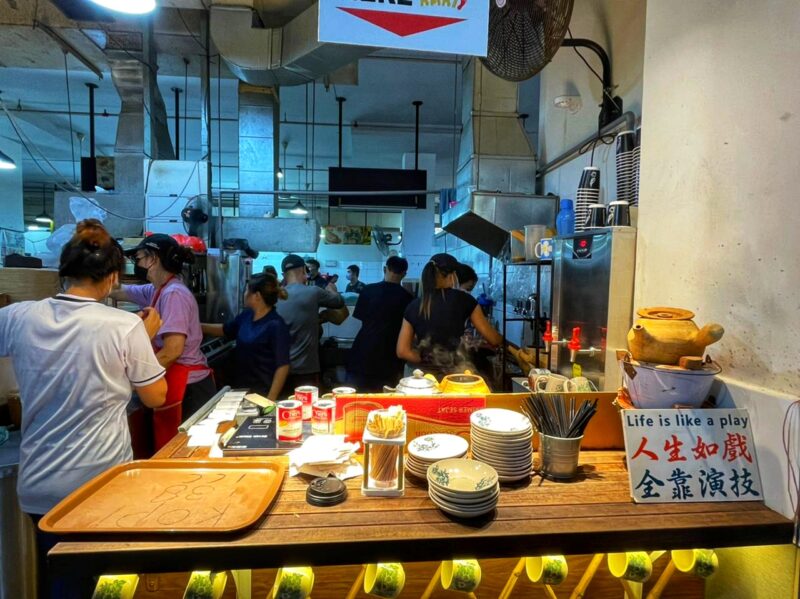 Lintang Coffee Stall ICC Pudu used clay pots to brew their coffee with their recipe. Their coffee is thick, and smooth, and has a nice coffee scene. Very refreshing after the sip.
Lintang: G-138
Crispy Pohpiah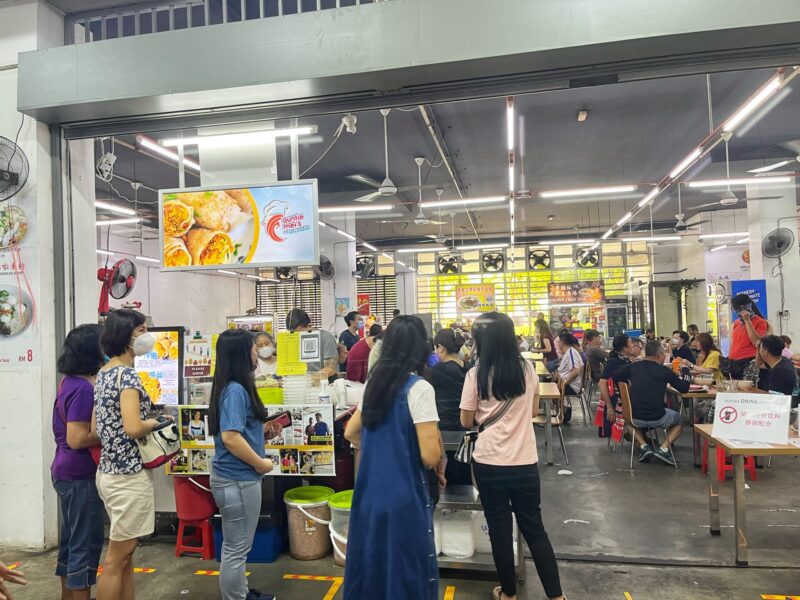 Popiah refers to a Fujianese / Teochew-style fresh spring roll. It is made with a thin, paper-like crepe filled with finely grated turnip, bean sprouts, lettuce leaves, grounded peanuts, and variety of vegetables depending on the store recipe.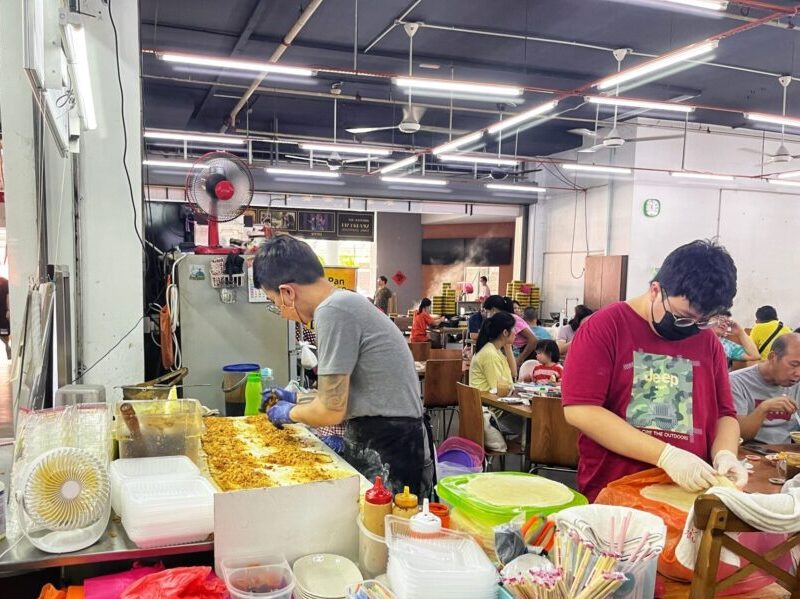 Sister's Crispy Popiah was once the most popular stall selling traditional local delicacies. The popularity is now taken by Auntie Mei's Crispy Popiah after the stall is moved out. The popiah is freshly made and you'll like the crunchiness on each bite. The filling was generous too. A good option for those who like a light snack for breakfast.
Auntie Mei's Crispy Popiah has 2 stalls in ICC Pudu. One is located near the entrance, G-17 and another one at the inner court.
Wantan Mee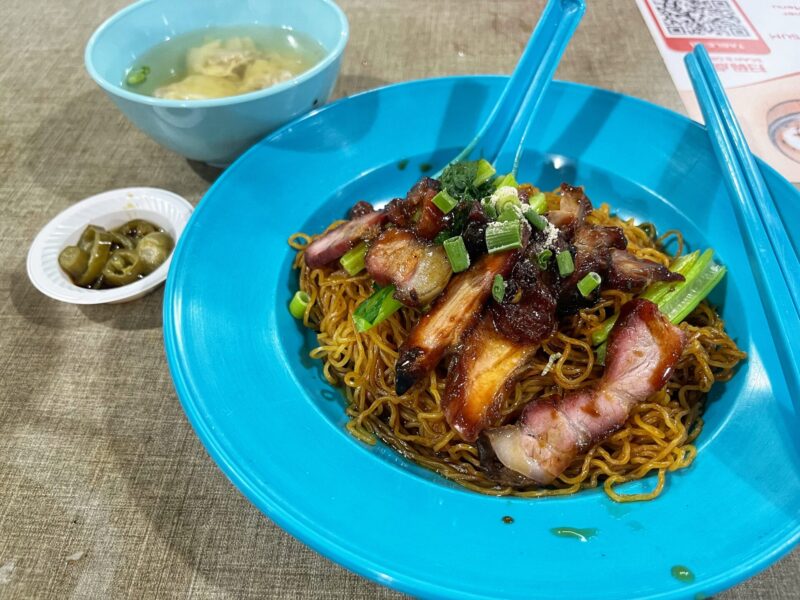 We were craving some delicious wantan mee and decided to give it a try at one of the stalls. They serve wantan noodles with a variety of your typical favorite toppings – char siew, wanton, poached chicken, or braised chicken feet with Chinese mushrooms.
Our plate of authentic wonton noodles in ICC Pudu is served with springy egg noodles and savory dark sauce. The noodles will be able to give you a taste of old-school. While the char siew is tender and succulent. Honestly, not the best wantan mee so far but still good tasting enough to compliment.
Curry Mee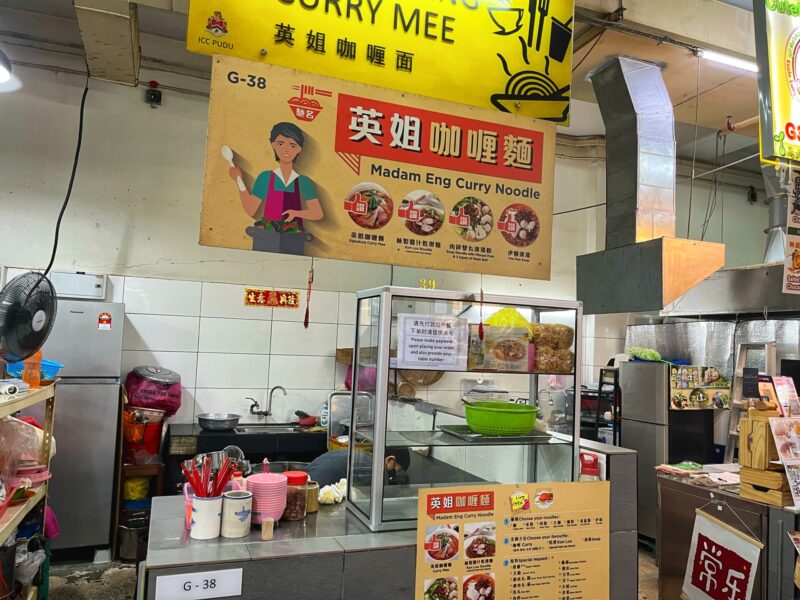 ICC Pudu has many stalls that served a variety of noodles such as pork noodles, pan mee, and mee shua but the curry mee from Madam Eng is the favorite among customers.
Madam Eng Curry mee claimed to be one of the best curry mee in KL. Their signature curry mee is consisting of rice noodles served in a rich, spicy broth made of curry coconut milk, topping with fresh cockles.
Madam Eng Curry Mee: Stall G-38
Kuih Bakul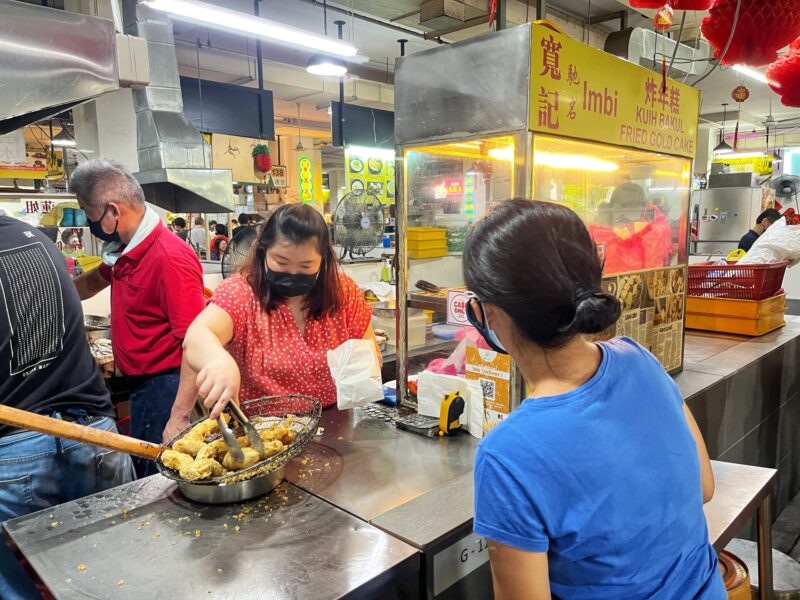 Kuih Bakul or Nian Gao is a sticky snack prepared from glutinous rice flour that the Chinese usually consumed during Chinese New Year.
For sweet lover, You can try this local snack at Imbi Kuih Bakul with their best seller Triple Kuih Bakul. The sticky rice cake is sandwiched between purple sweet potato and yam, then coated with batter, and deep-fried till golden brown. Eat while it's hot!
Ginger Wine Noodles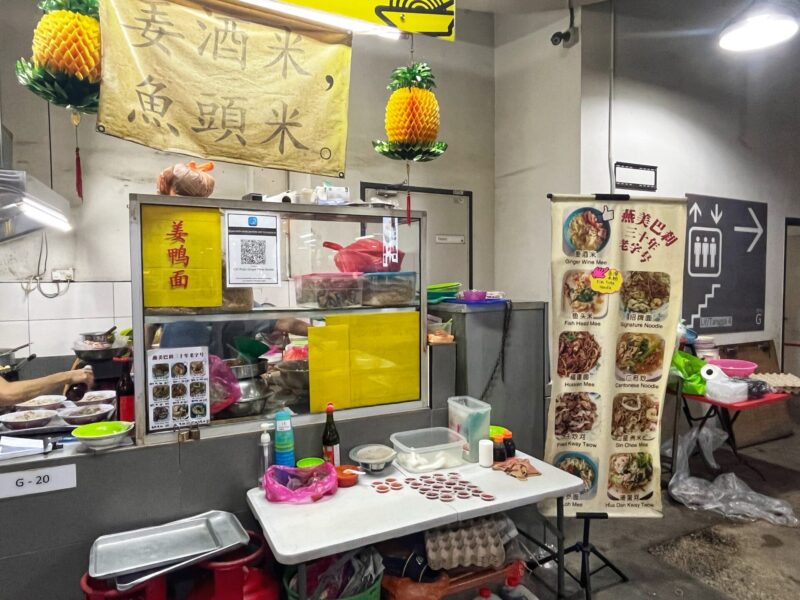 Lastly, you can also taste the Mee Halia or ginger wine noodles in one of the stalls in ICC Pudu. This is the famous ginger wine vermicelli stall that has been in business for more than 30 years. The stall also offers some other dishes such as Fish Head Bihun and also "Tai Chow" or Big Fried dishes.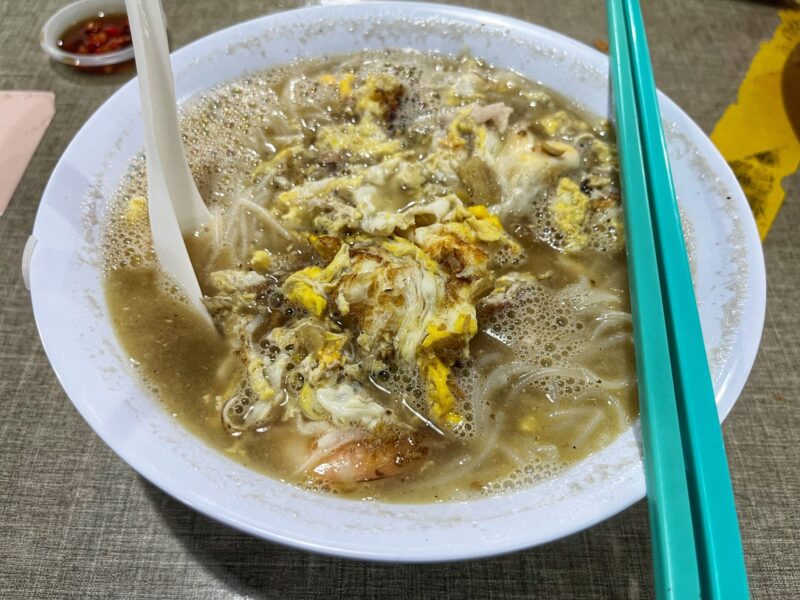 We tried the tasty hot ginger wine noodles. The bowl of ginger wine noodles soup was served piping hot, topped with generously sliced ginger, as well as fried eggs, and prawns. The broth is used with a mixture of village rice wine and China wine. A very flavorful noodles dish and super comforting.
Imbi Pasar Mee Halia: Stall G20
Charcoal Egg Tart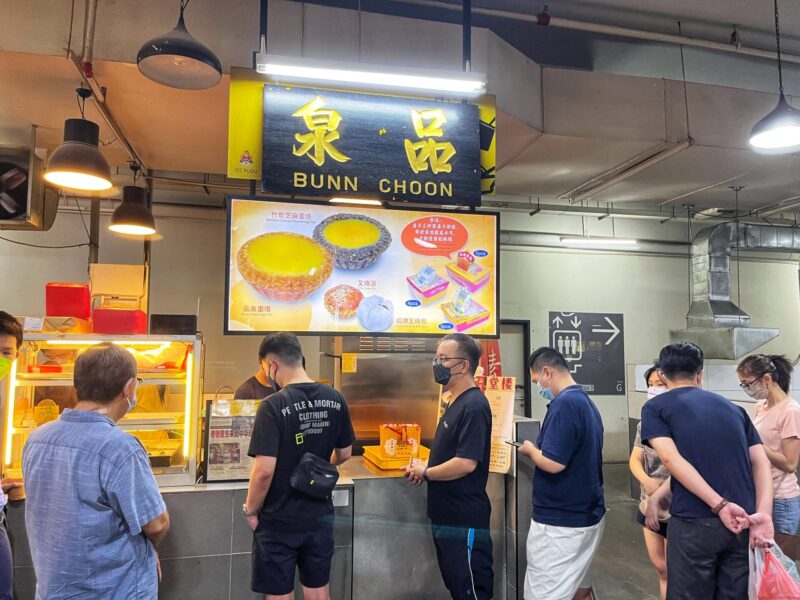 Bunn Choon are famously known for its signature traditional egg tarts for years. They even introduced the charcoal sesame-flavored egg tart and loved by locals.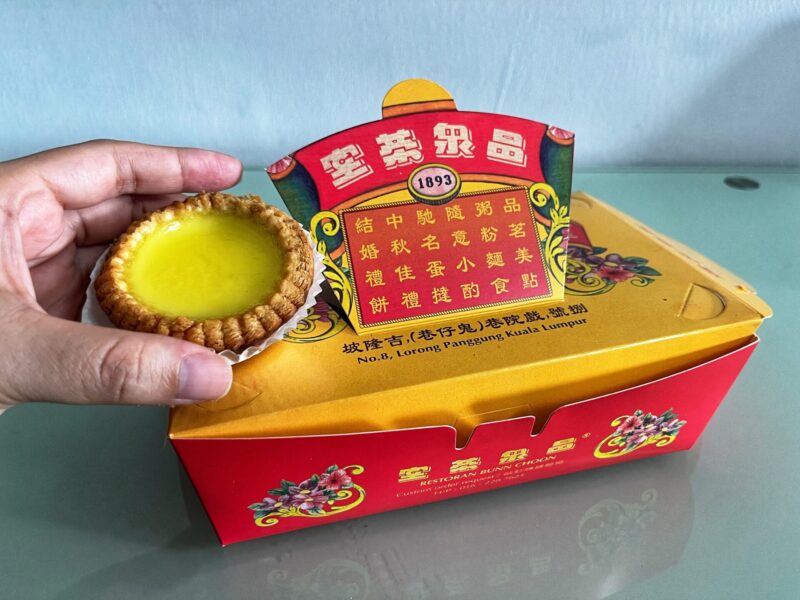 Their egg tarts are freshly baked with flavorful egg filling and a delightful fragrant crispy crust. Eat it fresh or get some to eat later. It is still crispy and delicious. My tea-time favorite!
Bunn Choon ICC Pudu: Stall G-49
ICC Pudu Food Tips: Bunn Choon has opened another bakery shop at Lorong Pengguna (Kwai Zai Hong) which served dim sum, egg tarts, and various of pastry. You may also try the Durian tart here!
Yellow Rice Wine Chicken Bun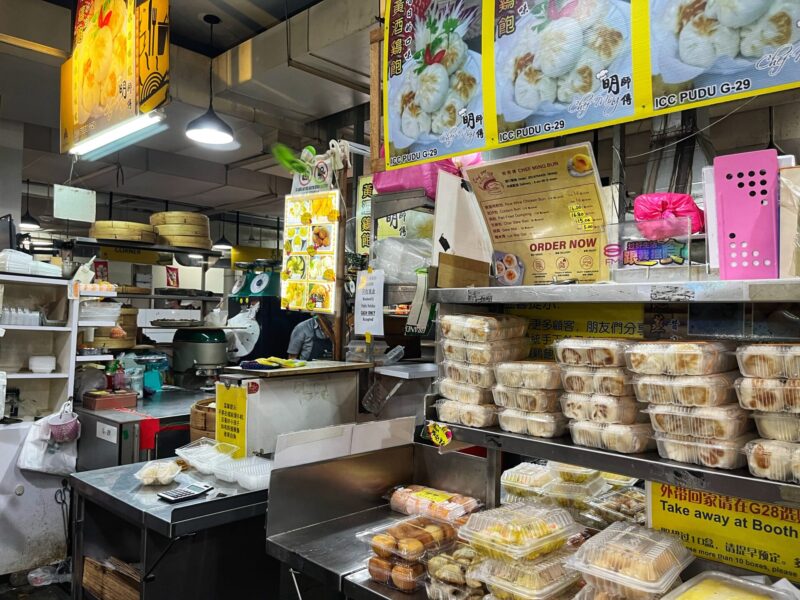 Last but not least is the popular yellow rice wine chicken bun from Chef's Ming. The stall is selling all kinds of handmade steamed Cantonese-Hakka dim sum items like custard bun, pan-fried dumplings, char siew pao, siew mai, glutinous rice chicken, and more.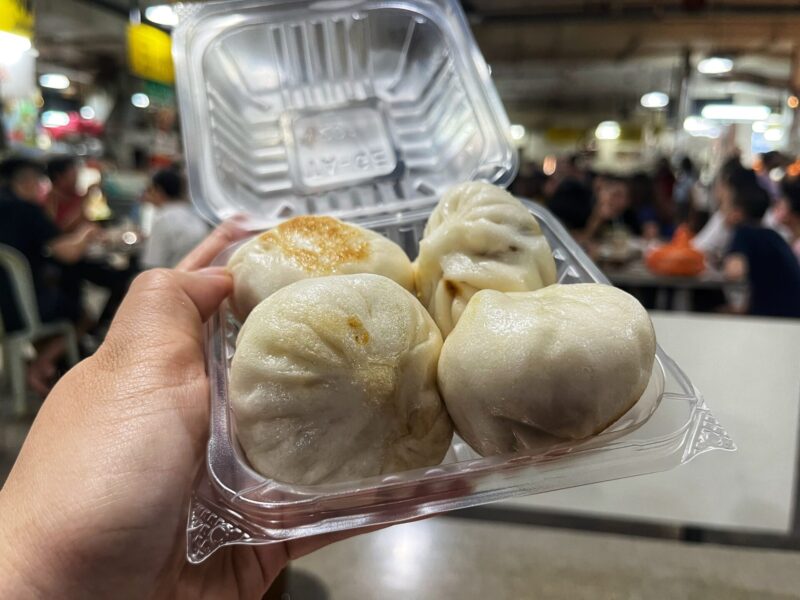 Their best seller is the yellow rice wine chicken bun which fills with Hakka-style chicken-ginger-rice wine and other ingredients such as black fungus, and ginger shreds for an additional textural crunch. The soft-pillow bun is tasty with a flavorful rice wine taste!
Chef's Ming Yellow Rice Wine Chicken Bun: Stall G-29
My Final Tips on ICC Pudu Food Guide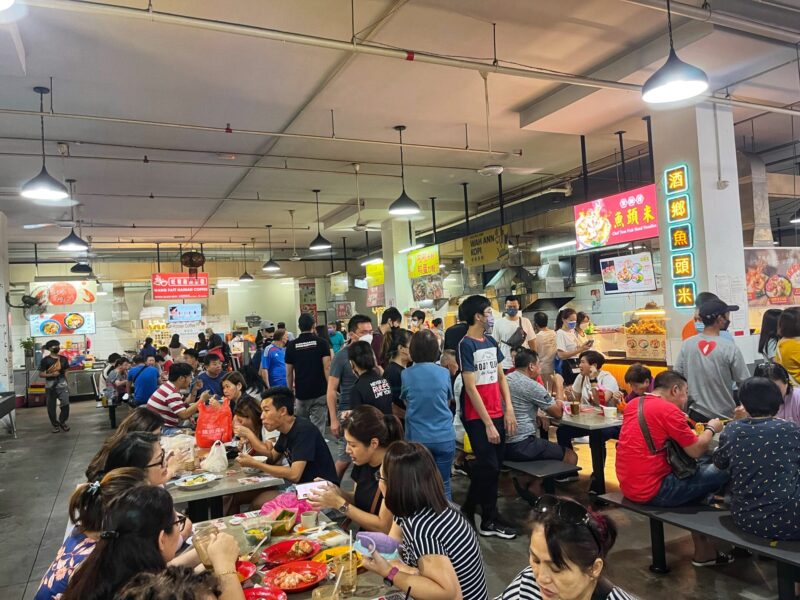 ICC Pudu is located next to Pudu Plaza. The basement is a wet market selling local produce such as vegetables, fruits, meat, seafood, dried food, and more. While the food court is located on the ground floor with more than a hundred hawker stalls selling a variety of local food.
The business hour is started from as early of 5:30 morning until 14:00 or until the food sell out. It is very crowded during breakfast and lunch peak hours. Come early if you want to avoid the crowd. Take note that ICC Pudu is closed on Monday.
Address: Integrated Commercial Complex (ICC) Pudu
Jalan Kijang, Pudu, 55100 Kuala Lumpur,
Wilayah Persekutuan Kuala Lumpur, Malaysia.
How To Get To ICC Pudu
ICC Pudu is not easy to access by public transport if you are looking for how to get to ICC Pudu. The nearest station is the Pudu LRT where you need to take the Star LRT Line to Pudu station, and walk to the building for about 15 minutes. We recommended to take the e-hailing and get there hassle free. It will normally cost you around RM10 depending on your departure location.
For self-driving, the building itself is a multi-story complex with plenty of parking lot where you can park your vehicle at the fee of RM3 for the first three hours. The fee is more economical than parking at the open lot next to this places.
How To Order at ICC Pudu
ICC Pudu is a hawker stall where you need self-service to order your food. Firstly, you will need to find your place to sit and get the table number for ordering. Once you have your seating, you can wander around to look for the food and drink.
Depending on the stall and food type, you may probably need to have your food to the seating place.
Overview: Best Food in ICC Pudu
Lastly, we hope you enjoy reading our ICC Pudu Food guide. With so much selection, the popular ICC Pudu is the best place to sample the local food in one place with a great variety of food to choose from. We recommended the Ah Fook Chee Cheong Fun and Ann Nasi Lemak as these two are my liking.
As a hawker stall complex, the ventilation is rather poor but the cleanliness is acceptable. But for the food, ICC Pudu is worth the visit. The food is delicious and cheap. So, always visit this place if you are looking for the best local food in KL. Friendly reminder, come early as some of the food will run out in the late morning.
Last but not least, if you're planning on visiting Kuala Lumpur for the first time, free feel to read through our KL travel stories.
More Kuala Lumpur Food: