Last updated on December 11th, 2023
To help you make the most of your time exploring Kuala Lumpur, we've packed all of our tips into this Batu Caves travel guide blog so you can plan out your perfect day trip when visiting KL.
Batu Caves is the most popular day trip from Kuala Lumpur. This complex of limestone caves 13 km north of Kuala Lumpur houses Hindu temples that have been pilgrimage sites for more than 120 years. When visiting Batu Caves, you can see the beautiful temple with a huge statue and beautiful rainbow-colored steps. A great place to visit if you're in Kuala Lumpur.
Would you like to know what awaits you on a trip to Batu Caves? In this Batu Caves travel guide blog, we let you know about our experiences and show you the main attractions and things to do, and reveal our tips for your trip. Here are the best things to do in Batu Caves to help you plan your visit to this beautiful Hindu temple.
Batu Caves Travel Guide: Essential Information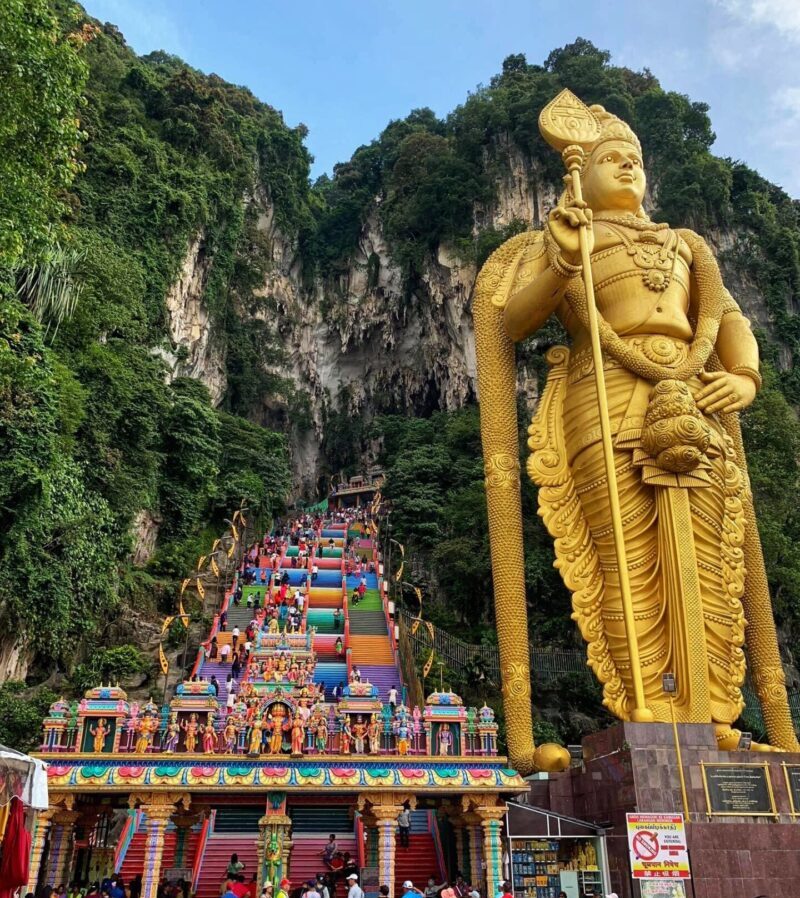 The magnificent Batu Caves is one of the most well-known attractions in Malaysia. Located outside of Kuala Lumpur about 10km away from the city center, Batu Caves is a sacred place and a religious site dedicated to Lord Murugan, a Hindu deity.
Batu Caves is a temple complex consisting of three main caves. The temple cave is enthroned on the limestone hill and it's about 100 meters with 272 colorful steps will leading to the entrance after the climb. Another two caves on the hill base are the Art Gallery Cave and Museum Cave which house numerous Hindu statues and paintings. Lastly, on the base of the steep staircase, there is a giant Statue of Lord Murugan, which is the largest statue of this Hindu deity in the world.
In January, the Hindu Festival of Thaipusam is taken place here. During the three festival days, thousands of people will be climbed into caves to seek blessings, perform their vows, and celebrate this event. An experience that if you can have do it.
Batu Caves is open daily from 5.45 to 21:00. But it is advised to arrive as early as possible as it gets very busy later in the day. Entrance is free but there are several points to leave donations.
How to Get from KL to Batu Caves
Batu Caves can be accessed by the direct KTM Komuter train from KL Sentral. The total journey is about 40 minutes from Sentral Train station and costs about RM6 return. The attraction is straight opposite the train station when you arrive.
Although you can catch a train to Batu Caves, the easiest way to Batu Caves from Kuala Lumpur is getting there by e-hailing, especially for family travelers. The temple is about half an hour's drive from the chaos of the city and a Grab ride will cost you about RM40. For self-driving, there is spacious parking available, and busy with tourist buses.
Alternatively, take an inexpensive organized Batu Caves tour from Kuala Lumpur. You can book a tour through Klook hassle-free arrangement although no guided tour is needed to get there: Kuala Lumpur Suburbs and Batu Caves.
Things To Do in Batu Caves Itinerary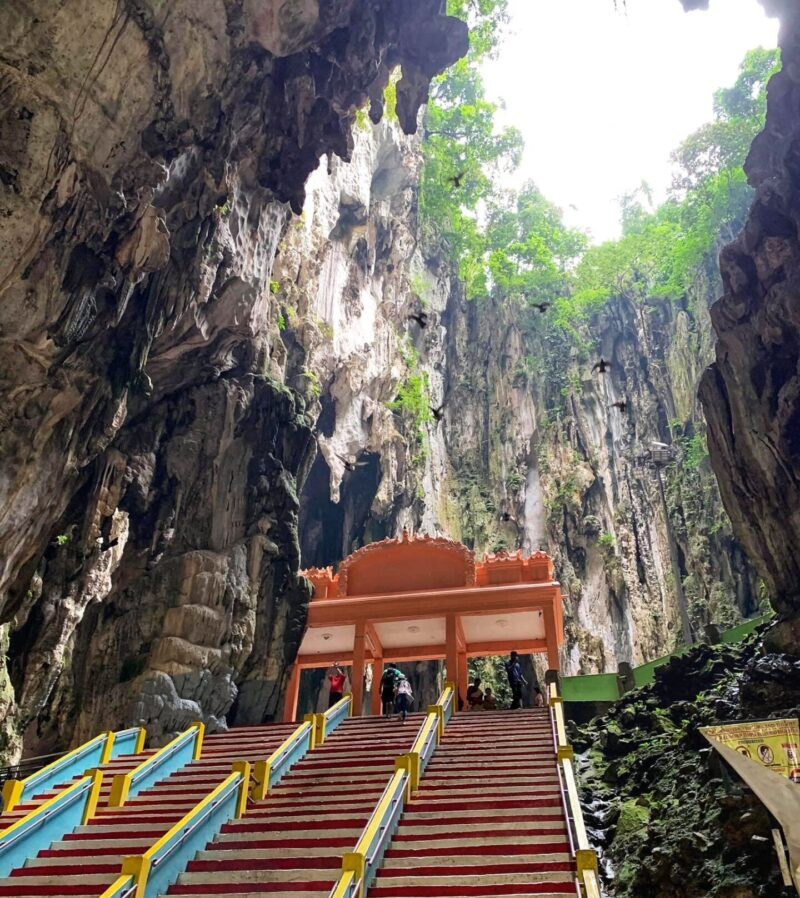 Make sure that you don't miss all the best things to do in Batu Caves with this half-day trip itinerary from Kuala Lumpur.
Things To Do in Batu Caves itinerary:
Lord Murugan Statue
Climb the colorful cave staircase
Watch out the mischievous monkey
Visit Batu Caves, Art Gallery Cave, and Museum Cave
Lastly, a perfect end to your half-day trip to Batu Caves.
A Visit To Batu Caves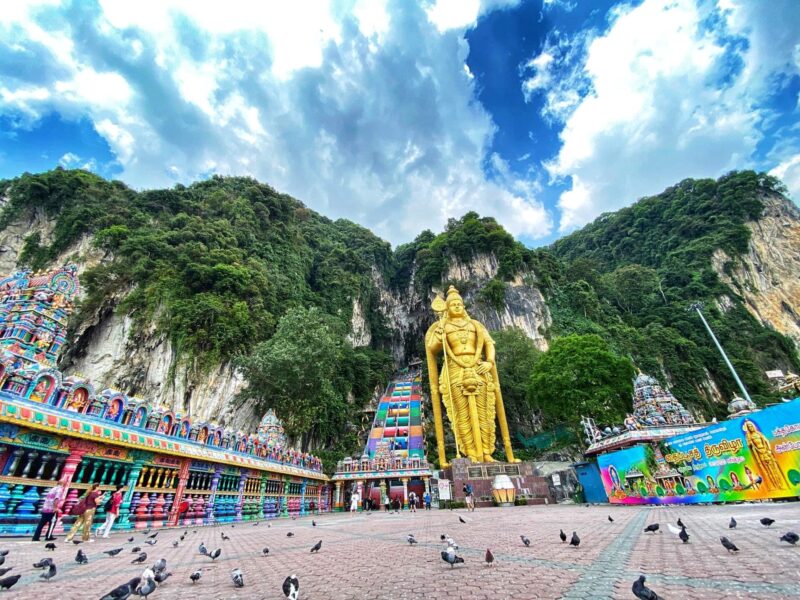 A visit to Batu Caves is advised to arrive as early as possible as it gets very busy later in the day. We visited Batu Caves to witness the impressive and distinctive temple complex on a sunny morning. Once arrived at the Batu Caves, it's impossible to miss the statue of Lord Murugan.
Standing a mighty 42.7 meters (140 feet), this is the world's tallest statue of the Hindu God Lord Murugan and serves as the main attraction for Batu Caves. The statue is so huge with so much gold paint on it that looking at it in bright sunlight can temporarily blind you.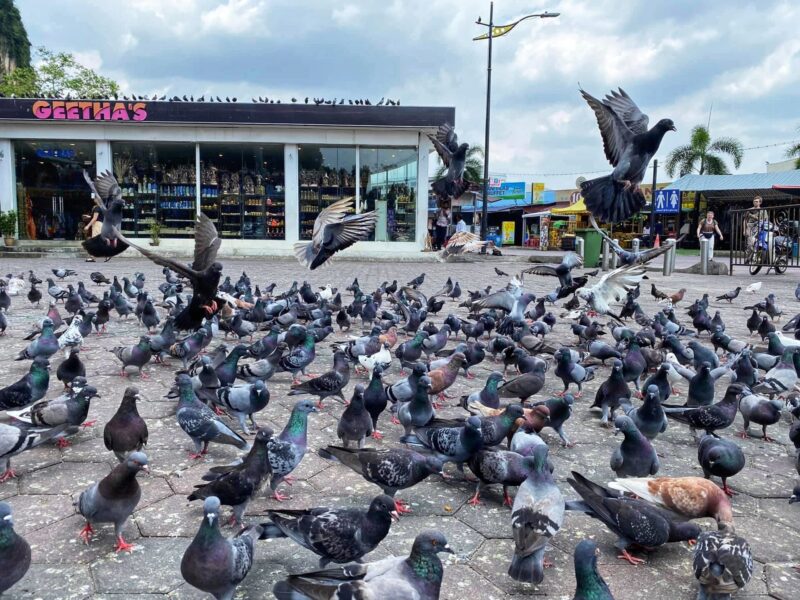 Don't forget to spend sometimes at the public square plaza at the foot of the hill. Thousands of pigeons feed on the concrete pathways that lead to the welcome arch. A perfect spot for Instagram-worthy photoshoots.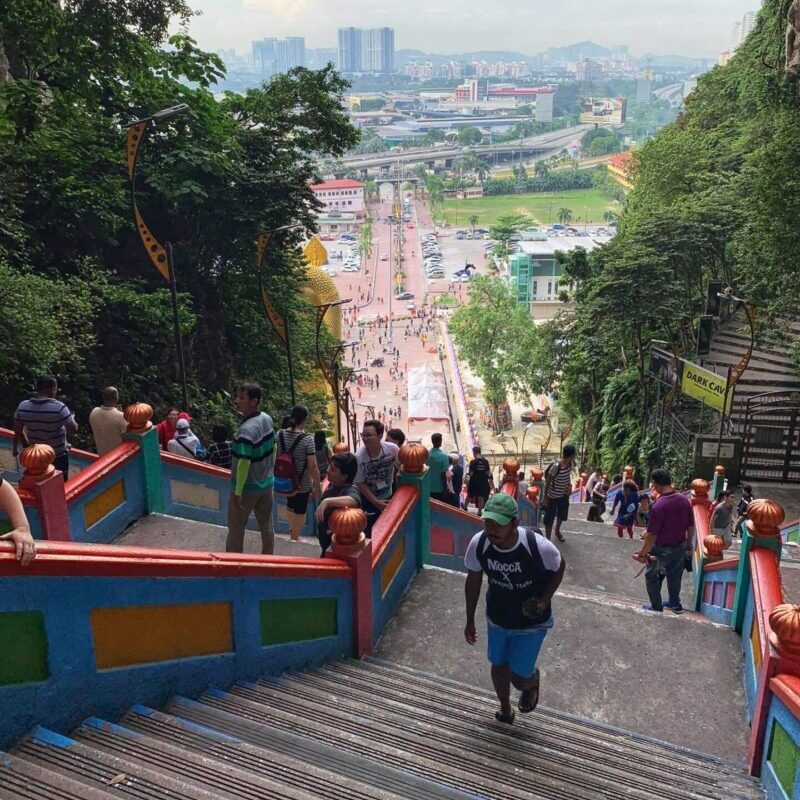 Next, it's time to climb up a hundred steps to the temple cave.
Did I mention that you have to walk up the 272 steps to climb up to the main temple? The painted rainbow steps have long been a popular photography spot. Depending on your agility and the obstacles that may slow down your climb, reaching the top may less than 15 minutes.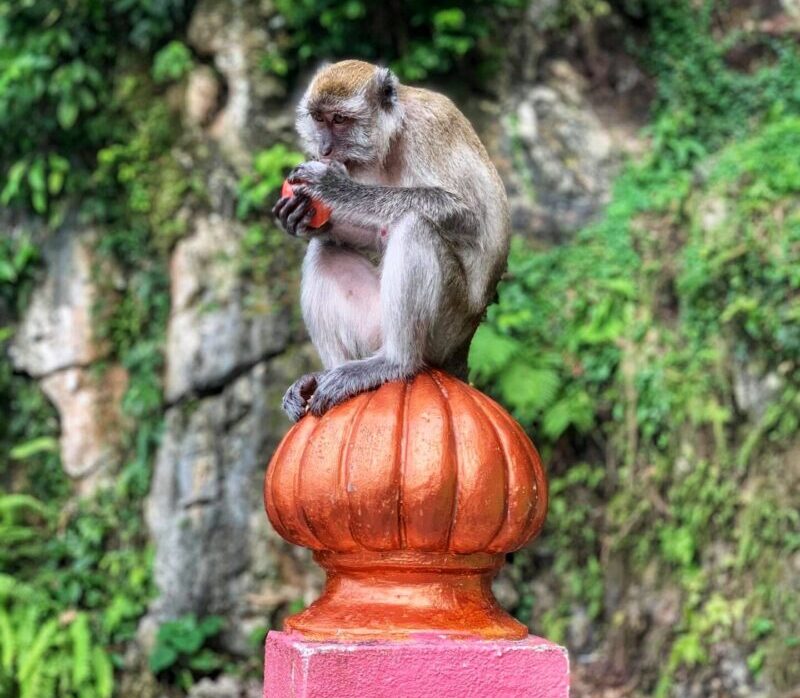 Mischievous monkeys are part of the tourist attraction in Batu Caves. Watch out for the monkeys and be sure to remove any snacks from your bag. The monkeys along the way cause you to stop and take breaks so the steps didn't seem so crazy. It was great exercise and we enjoyed it immensely.
We slowly climbed up the 272 colorful steps and it took us about 10 minutes to conquer the 272 bands of rainbows. The cool fresh breeze flowing from the mouth of the cave greeted me.
Inside the Limestone Cave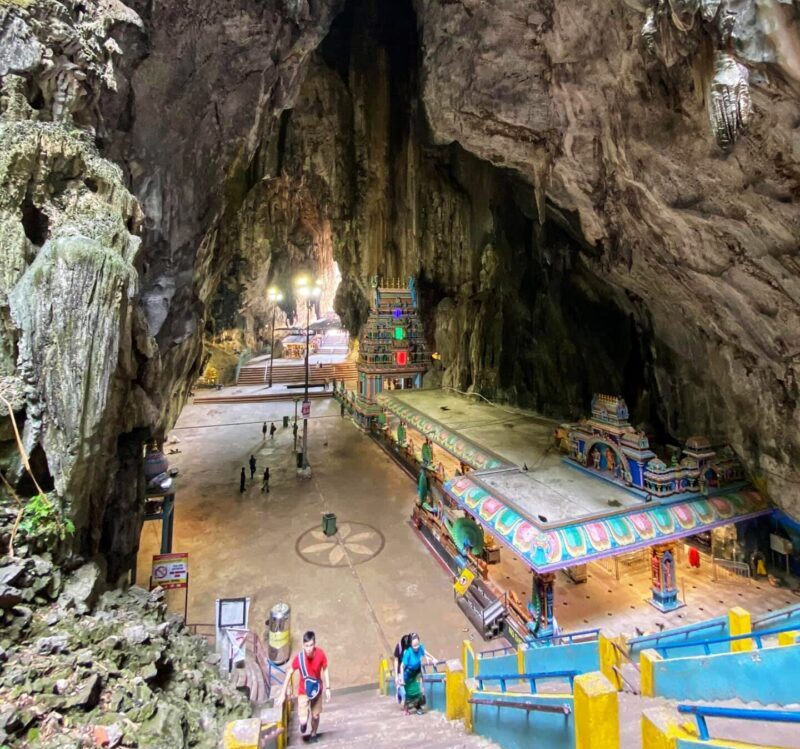 After a short climb up the steep staircases, there are temples and the natural beauty inside a huge limestone cave. The cave is not very big but it wasn't overcrowded with visitors. We entered the cave and removed our shoes before walking through the colorful temple.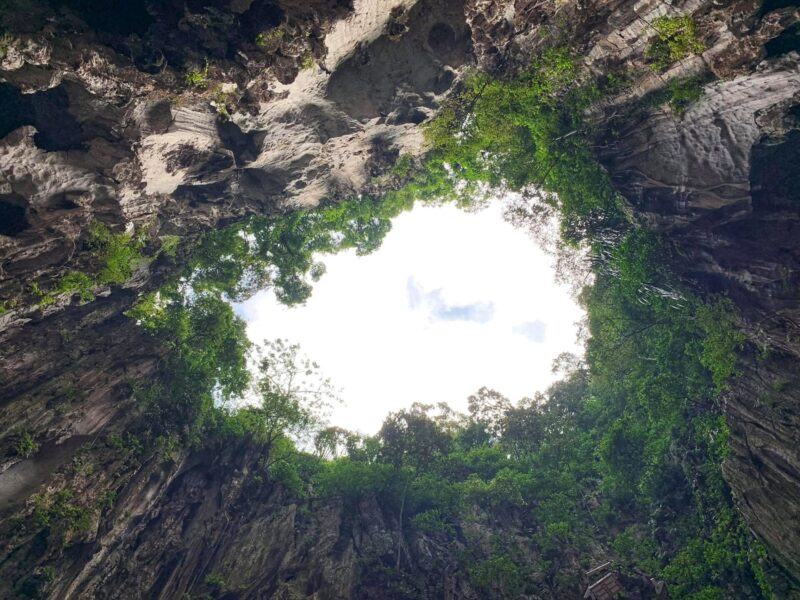 Batu Caves is worth the visit and you will totally be astonished. It's cool and peaceful inside the limestone cave and the setting it's just so beautiful. Plus, the view back from the top of the steps to KL is good too. We spend about 20 minutes inside the Batu Caves before descending.
Final Tips: Batu Caves Travel Guide
To help you get the most out of your experience, here are the final tips for visiting the Batu Caves.
Is there a dress code in Batu Caves?
Make sure you wear appropriate clothing when visiting Batu Caves. Your knees and shoulders should be well covered. Shorts for men are usually fine, but women in mini skirts would not be allowed in. Bring an appropriate dress or borrow a sarong to over yourself.
How much does it cost to go to Batu Caves?
The entrance from the gate to the main Temple Cave is free. However, there are several points to leave donations.
How much time should I plan for Batu Caves?
In our opinion, we would recommend you spend at least two to three hours in Batu Caves if possible, just to get a better feel for the Hindu culture and learn more about Hinduism.
Is Batu Caves Worth Visiting?
A trip to the famous Batu Caves is definitely worth a visit when one is in Kuala Lumpur. It'll take an hour of your day and the Hindu temple and statues were super impressive.
Overall: A Trip To Batu Caves
All in all, Batu Caves is a best place to have a cultural excursion in Kuala Lumpur. It is the best place to learn about the Hindu religion. The only downside unfortunately is the amount of rubbish scattered everywhere. Still, the temples, views, monkeys and statues were super impressive and would highly recommend.
Lastly, if you're planning on visiting Kuala Lumpur for the first time, free feel to read through our KL travel stories.
For the best food in Kuala Lumpur: