Last updated on October 2nd, 2023
To find the best food in KL, here are the places that will take you through some of the best dishes that Malaysian cuisine has to offer. Let's read this Kuala Lumpur food guide when looking for where and what to eat when visiting the city.
Malaysia is a multicultural country and the fastest way to explore the fantastic culture of the city is to go out and experience their food. Malaysian cuisine is majorly a combination of Malay, Chinese, and Indian with a variety of ingredients and rich in taste. All the influence makes the food truly amazing.
If you are a foodie and enjoy trying types of Malaysian food, then Kuala Lumpur will not disappoint. As the capital of the country, KL is home to some of the best restaurants and street food to fix your cravings. The city is a food paradise where you can eat and dine all day and night. Spend some time food hunting in Kuala Lumpur when visiting the city. I am assured this to be a wonderful and memorable time indeed.
To find the best food in Kuala Lumpur, there are so many restaurants, hawker stalls, and Kopitiam (coffee shops) in this city to indulge yourself in all the Malaysia delights! However, it can be difficult to find places for a first-time visitor to Kuala Lumpur.
Listed here is the Kuala Lumpur food guide for where and what to eat in KL. All those places serve mouth-watering food that you can easily find when wandering around the city and most importantly serve delicious Malaysian food.
Kuala Lumpur Food Guide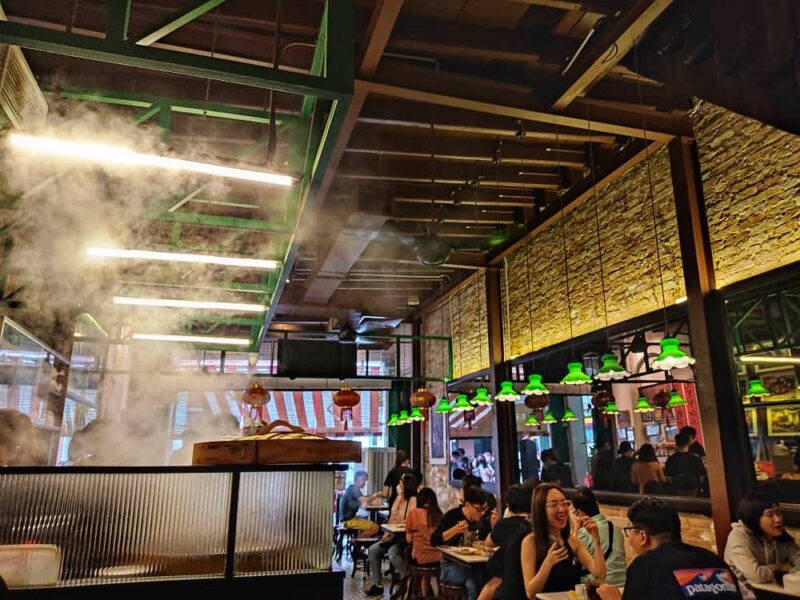 If you're planning on visiting KL for the first time, here is a quick list on this Kuala Lumpur food guide to experience some of the best dishes in the city.
Kuala Lumpur Food Guide – Where and What to eat:
Malaysian Chinese Breakfast – ICC Pudu.
Traditional Kopitiam – Restaurant Kopi Lai Foong.
Street Food at Petaling Street.
Cafe Hopping at Kwai Zai Hong (Jalan Pengguna)
Hainanese Local Food – Ho Kow Hainam Kopitiam, Yut Kee Restaurant.
Jalan Alor Food and Restaurant.
Kuala Lumpur Hokkien Mee.
Mamak Food – Roti Canai, Mee goreng, Nasi Lemak.
Banana Leaves Rice – Restoran Devi's Corner.
Pro Tips: For the best convenient for food hunting in KL, we staying at Dorsett Kuala Lumpur. It is a high-range hotel situated right in the heart of Bukit Bintang and super convenient to explore the city and nearby. The hotel is only a very short walk to the Pavilion KL shopping mall and has easy access to MRT Bukit Bintang station. The excellent location makes sightseeing and transports seamless.
Other recommendation accommodation choice in KL include JW Marriott Kuala Lumpur (Luxury), citizenM Kuala Lumpur Bukit Bintang (high-range), BIG M Hotel (mid-budget).
You may also check out our accommodation guide for where to stay in Kuala Lumpur with more options.
Malaysian Chinese Breakfast at ICC Pudu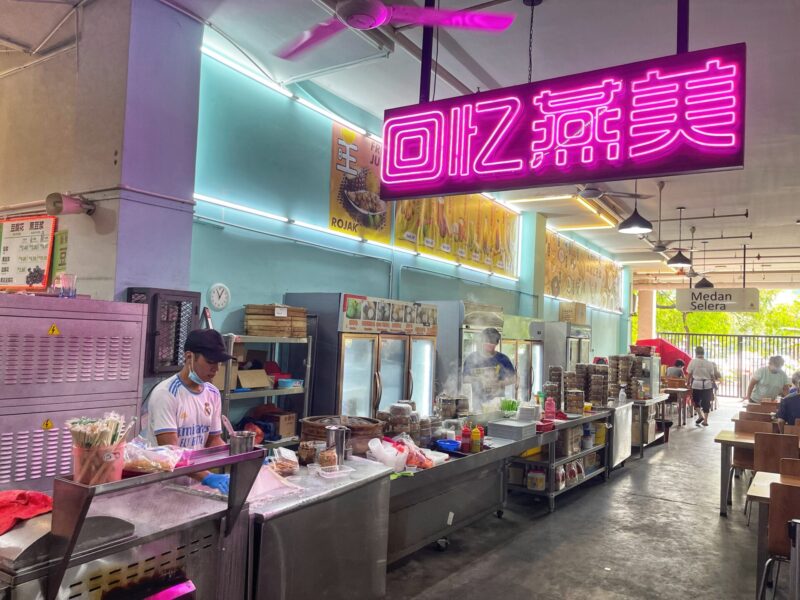 For the most authentic Malaysian breakfast, head to the Integrated Commercial Complex (ICC) Pudu for some of the local Chinese food. ICC Pudu is the new home of the Imbi Market (also known as Pasar Baru Bukit Bintang) where hundred of the city's long-standing hawker stalls relocated into a newer establishment.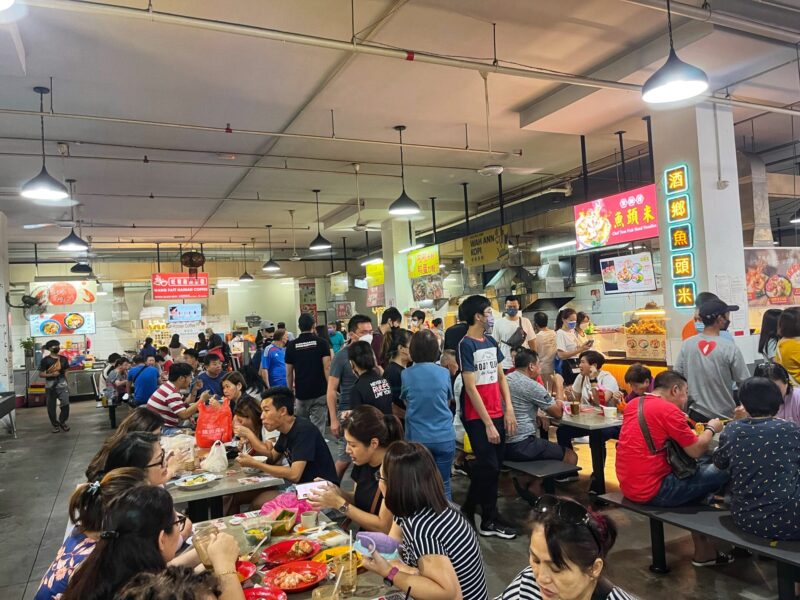 The ICC Pudu can be considered a huge food court that houses a lot of food stalls. It offers a wide variety of local delicacies, mostly Chinese food such as noodle dishes (soup/dry), rice dishes, dim sum, fried snack, kueh, and Hainanese coffee.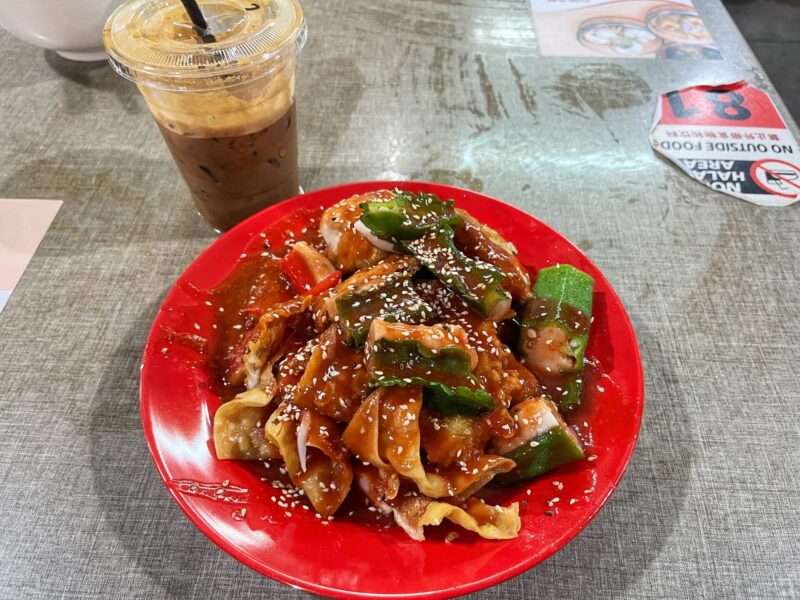 Recommended food included Ah Fook Chee Cheong Fun (Stall Lot G30), Ann Nasi Lemak (Stall G-24), Sister Mei's Nyonya Kueh and Put Chai Ko (Stall G-11), and many more not to be missed local food.
Related Read: ICC Pudu Food Guide: The Best Local Food To Eat in KL
ICC Pudu is a local favorite for breakfast and lunch by offering a huge variety of affordable and delicious food. It is always packed with people during the weekend especially morning. Get there earlier for enjoyable food!
Integrated Commercial Complex (ICC) Pudu
Address: Jalan Kijang, Pudu, 55100 Kuala Lumpur, Wilayah Persekutuan Kuala Lumpur.
What To Eat: Chee Cheong Fun and Yong Taufu, Nasi Lemak, Curry Mee.
Price range: RM20-30 (Depend on how much food are ordered)
Traditional Kopitiam
When visiting Malaysia, you can also visit the traditional Kopitiam to have a wide range of local food in one place. The Kopitiam, or coffeeshop in the Hokkien dialect, is an integral part of Malaysian-Chinese culture. It is a type of neighborhood coffee shop with a simple offer of food and drink to local people.
Kopitiams have been open in Malaysia since the 1800s and there are more than a thousand Kopitiam across the country. Kuala Lumpur is filled with amazing long history Kopitiam. This is the type of KL food experience with the aroma and energy of a lively Asian city.
Restaurant Kopi Lai Foong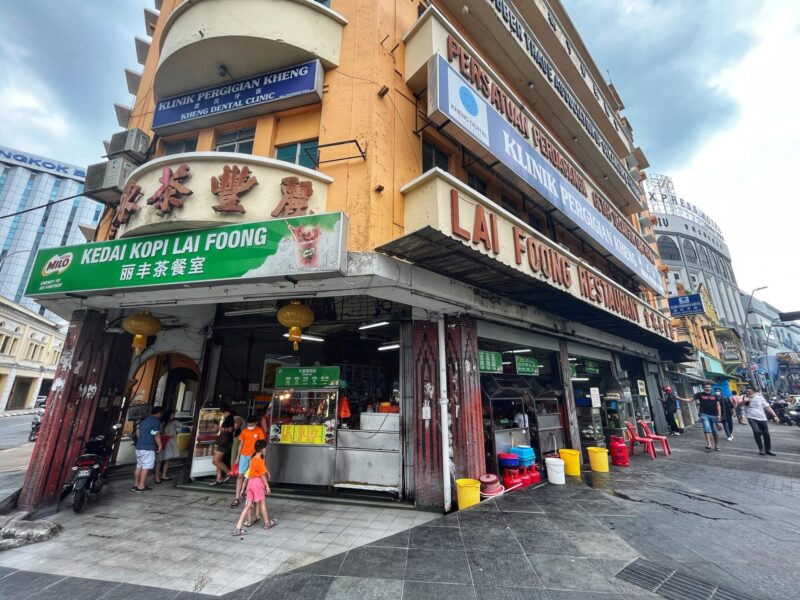 For a piping hot bowl of noodles served in front of you, visit the Restaurant Kopi Lai Foong located at the intersection of Jalan Tun Tan Cheng Lock and Jalan Tun HS Lee. This coffee shop has been around for more than 50 years and is still frequent by locals. The shop is located between the Central Market and Petaling Street, and best coupled together on your Kuala Lumpur visit.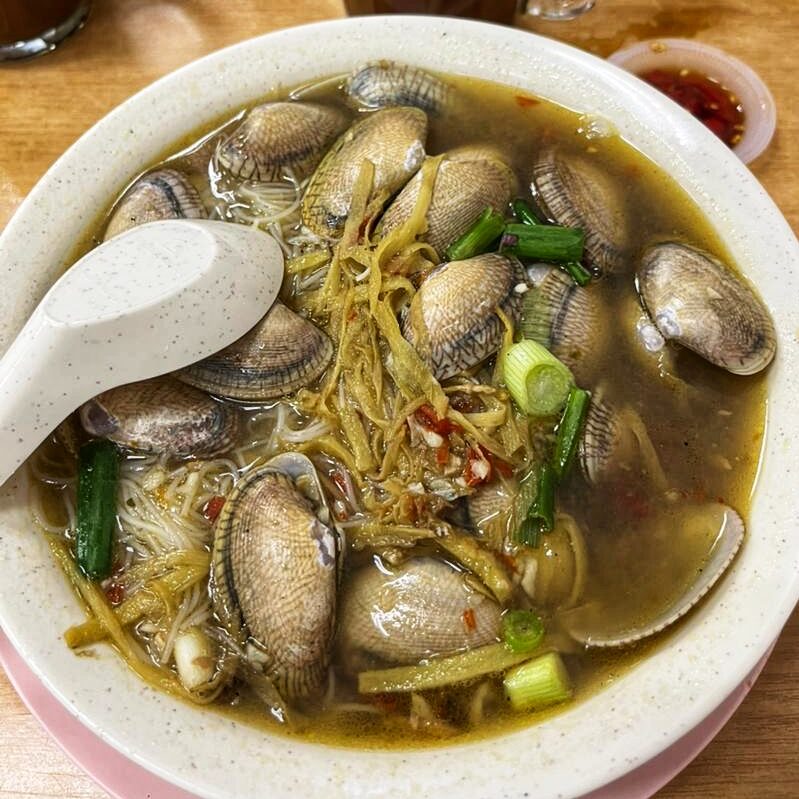 Restaurant Kopi Lai Foong is well-known for its irresistible Lala (clam) noodles. The bowl of rice vermicelli with superior soup is served hot with a generous amount of clams, topped with ginger, scallions, and red chillis, and beautifully infused with fragrant rice wine.
Piping hot and flavourful, making it excellent comfort food. Something you will die for.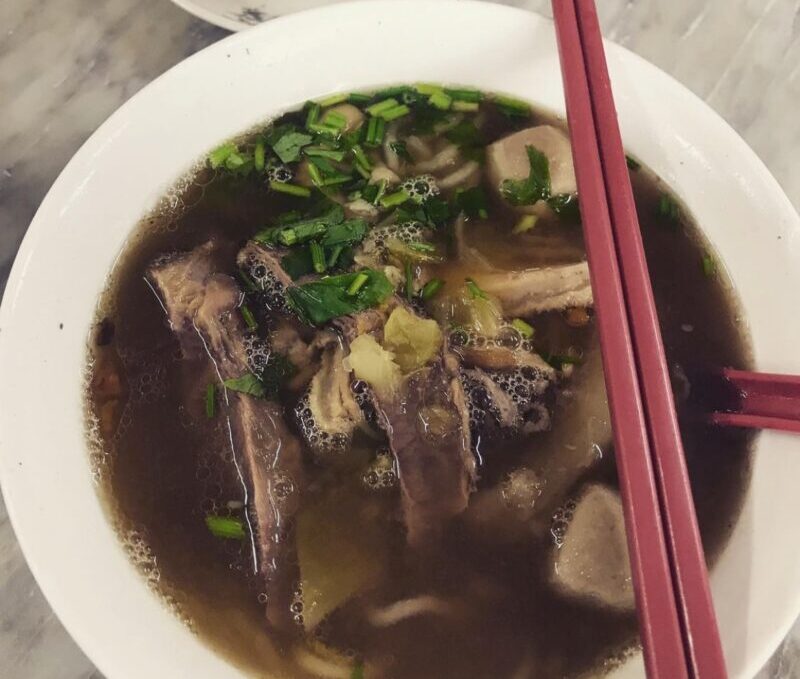 Another highly recommended food is the beef noodle at Lai Foong. This signature dish lives up to its reputation and is popular among locals and tourists. The bowl of beef noodles is served with beef balls, beef slices, tendon, tripe, and intestines with flavorful broth. Excellent choice for a bowl of tasty authentic beef noodles if you are into innards.
Besides, the restaurant also served other local eats such as chicken rice, char kuey teow, fish noodle soup, and more. All have their loyal following that is worth a try.
Kedai Kopi Lai Foong
Address: 138, Jalan Tun H S Lee, City Centre, 50050 Kuala Lumpur.
Business Hours: Daily from 6:30 to 16:30. Stalls may close after dining hours.
What To Eat: Lala Mihun Soup, Beef Noodles.
Price range: RM10-20.
Shin Kee Beef Noodles
If you are enjoying beef noodles, there is also another popular shop that is recommended when looking for the best food in KL. Shin Kee Beef Noodles is one of the famous beef noodle stalls in Kuala Lumpur. The shop is situated just opposite the Restaurant Kopi Lai Fong and beside the entrance to Petaling Street. The shop has been around since the 1930s, and its original Hakka beef noodle recipe is still being preserved by the current third-generation owners.
Street Food at Petaling Street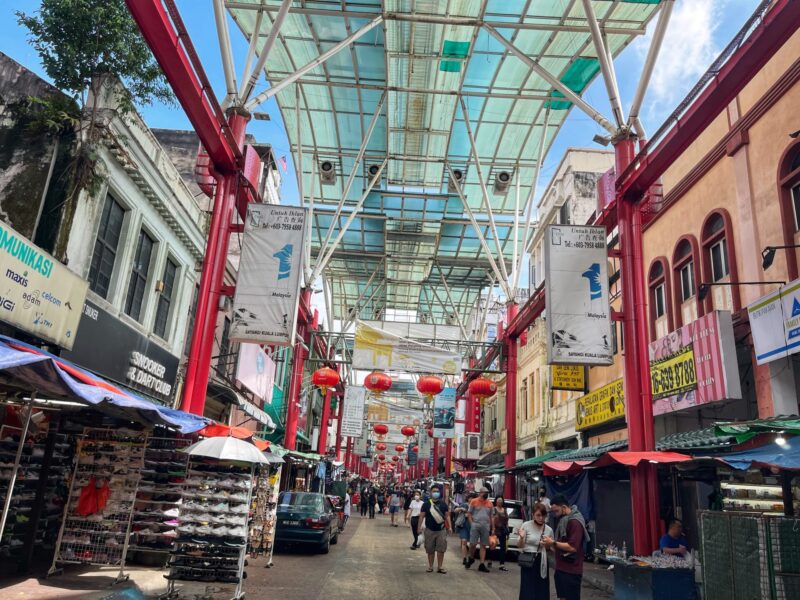 Next, continue your food journey to Petaling Street, also known as Chinatown. A variety of street foods can be found on Petaling Street and many have lasted for generations. From traditional hawker food to street snacks, you're not exploring Kuala Lumpur until you get a taste of the local food heritage in Petaling Street!
Here is a few must-try food when looking for what to eat in Petaling Street, KL.
Air Mata Kucing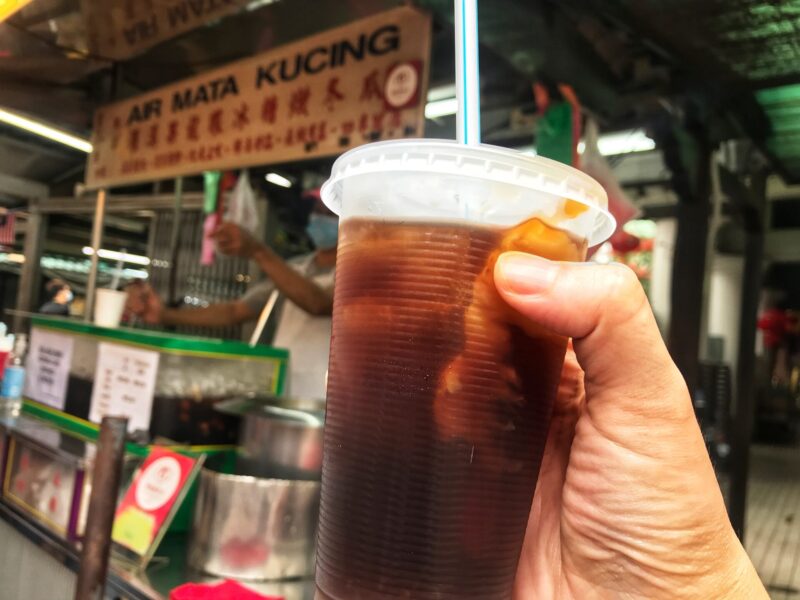 An unique herbal drink that is well-known in Chinatown. This delightful drink is made from dried longan, monk fruit, and winter melon. It is very refreshing and tastes better when you walk through along the street with soaring Malaysian heat. Whenever I am in Chinatown, I will surely get a glass of it.
Kim Soy Bean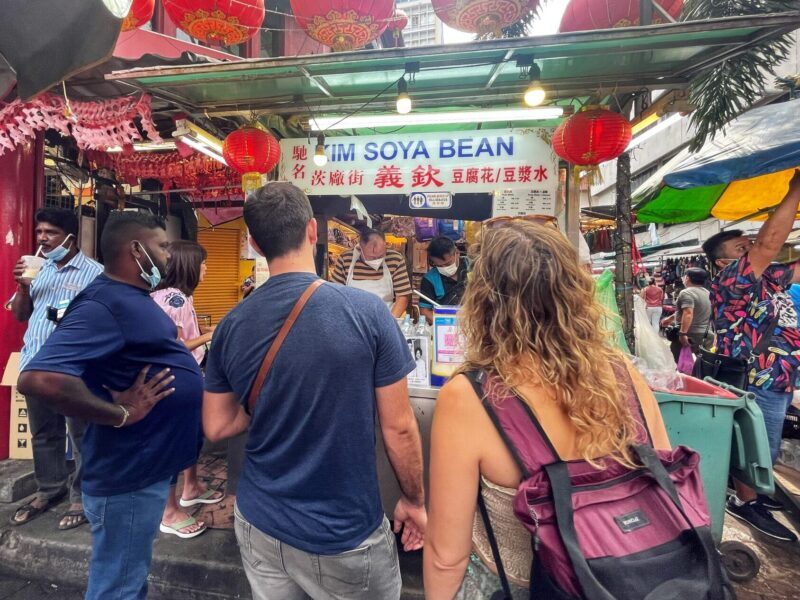 Right opposite the Air Mata Kucing stall, there is another popular drink stall called Kim Soy Bean. Run by the second generation, Kim Soy Bean is famous for its homemade soya bean and tau fu fah. All the drinks served are made fresh daily. The tau fu fah has a light ginger flavor with a silky smooth texture. You can also get the soya bean served with cincau, or grass jelly.
Hon Kee Porridge
Operation since 1949, Hon Kee Porridge is a hawker stall that has been long-lasting on Petaling Street. Hon Kee is known for their Cantonese porridge and chee Cheong fun. The bestseller is the Fresh Raw Fish Porridge where raw slice crap fish is served together with a bowl of piping hot porridge. Pop the fish slices into the bowl and mix it thoroughly and the heat from the porridge would gently cook the fish!
There are still more street food that worth recommended when looking for best street food in KL. We will share more detail in the What To Eat in Petaling Street.
Petaling Street
Address: Jalan Petaling, City Centre, 50000 Kuala Lumpur
What To Eat: Air Mata Kucing, tau fu fah from Kim Soy Bean, Hon Kee Porridge.
Price range: Less than RM10 for one type of food or drink.
Cafe Hopping at Kwai Zai Hong
One cannot complete a trip to Malaysia without the cafe-hopping experience. Kuala Lumpur has many unique cafes with IG-worthy backdrops and chills vibes. Local even make use of the historical old shops at Kwai Zai Hong (Lorong Pengguna) and transform them into local vibe cafes.
Here are some of the best cafes with great food and coffee that are perfect for a brunch day out.
Merchant's Lane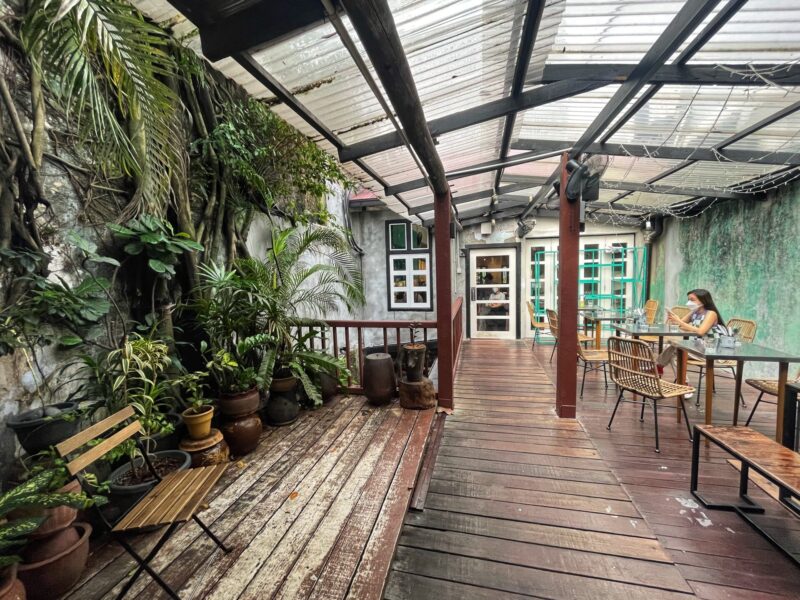 Merchant's Lane is one of the jewel cafes in Petaling Street that sees the transversing of local charm. This cafe refurbished the upper floors of one of the old shophouses into an eating place, amidst an old shop surrounding.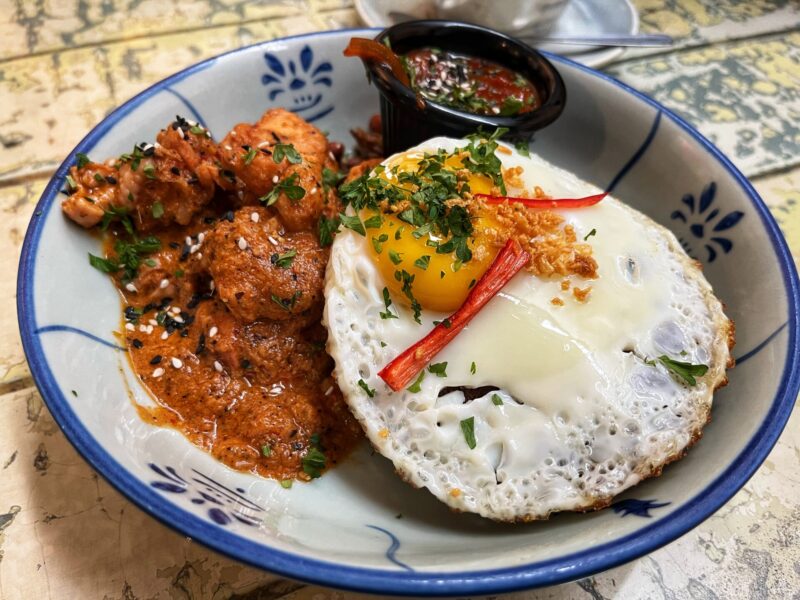 Merchant's Lane serves delicious Malaysian fusion food such as Nasi Lemak Pancake, and Taukay – a charcoal bun beef burger with peanut sauce. The portion is reasonable but the price is slightly on the high side. Immerse yourself in this nostalgic place, relax and enjoy the food.
Merchant's Lane
Address: 150, Jalan Petaling, City Centre, 50000 Kuala Lumpur.
Business Hour: Weekday from 11:30 to 20:30 and Weekend from 10:30 to 20:30. Close on Monday.
Price Range: RM40-50 per person.
Luckin Kopi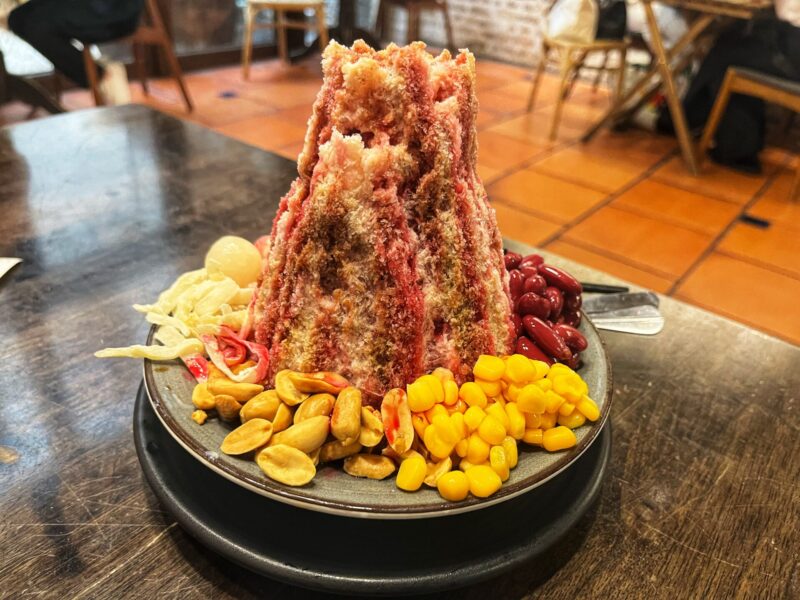 Luckin Kopi is another popular refurbished retro cafe behind Kwai Chai Hong. It is a fantastic spot serving great local Malaysian and Western food with a modern twist. My ice kopi kaw and Ais Kacang are refreshing and I am truly enjoying the drink after a long walk at Petaling Street. Popular amongst youths due to the wide menu range at a reasonable price.
Luckin Kopi
Address: 14, Jalan Panggong, City Centre, 50000 Kuala Lumpur
Business Hour: Weekday from 10:00 to 16:30, 17:00 to 21:00. Weekend from 9:00 to 16:30, 17:00 to 21:00.
Price Range: RM30 per person.
Mingle Cafe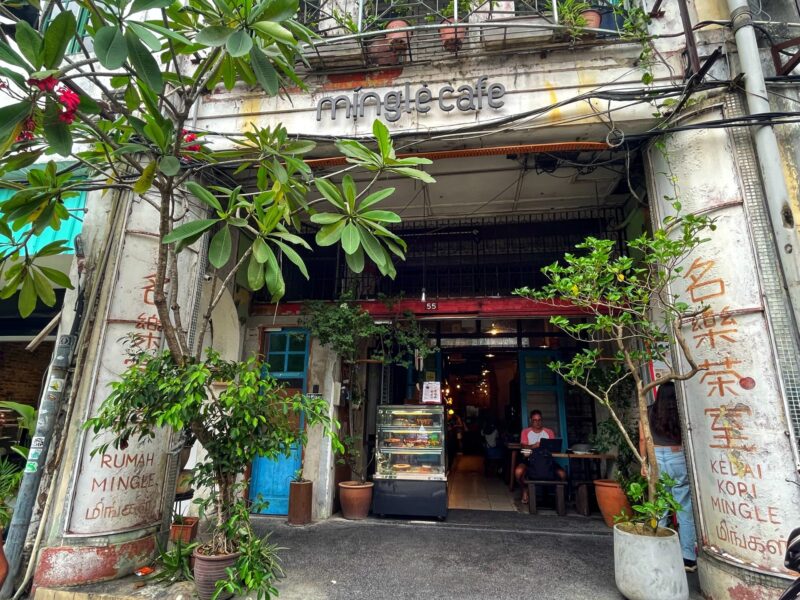 Mingle Cafe is a vintage-themed café serving food, desserts, and coffee from brunch to dinner. Here you can enjoy the food and coffee in this very cozy and snuggly environment. The interior aesthetics has a rustic chic vibe and is very Instagram-worthy. The food is Malaysia-Western fusion where you can order food such as Petai burger, Nasi Jersey, flavored tea, and more.
Mingle Cafe
Address: 55, Jalan Sultan, City Centre, 50000 Kuala Lumpur.
Business Hours: Weekday 11:00 to 22:00 and Weekend from 8:00 to 22:00.
Price Range: RM40-50 per person.
Hainanese Kopitiam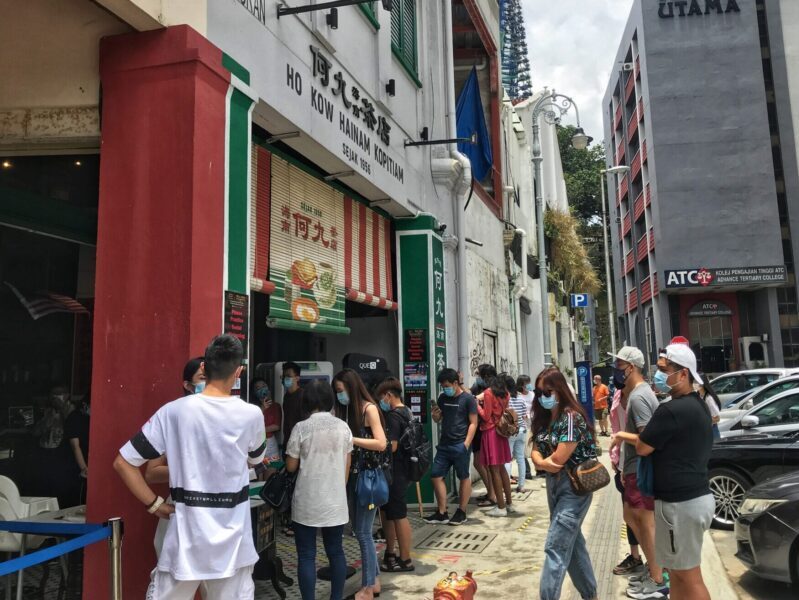 Probably one of the most popular eatery shops nearby Kwai Zai Hong. Not a hister cafe, Ho Kow Hainan Kopitiam is a lovely Hainanese eatery converted from an old shophouse with a nostalgic dining environment. Run by Mr. Ho Kow, the shop serve the most traditional local delight in town since 1956.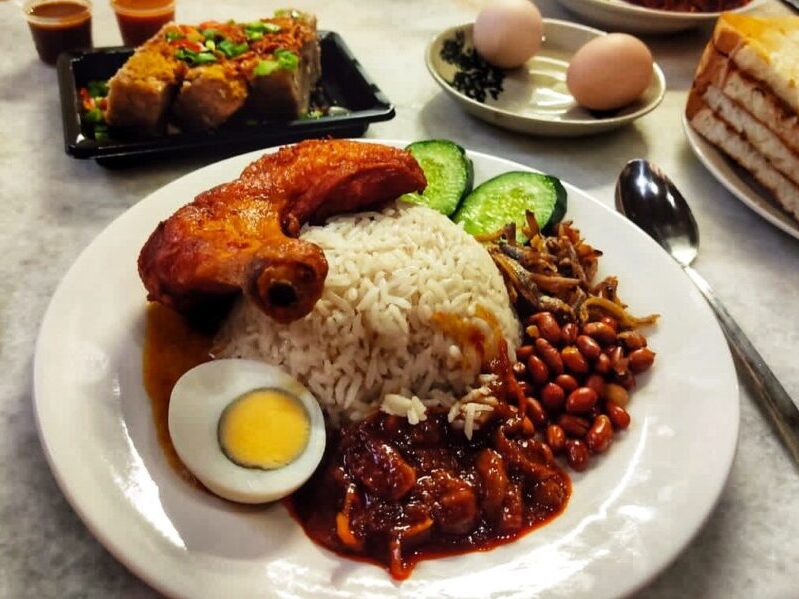 Their signature food is kaya toast, Ayam Goreng Nasi Lemak, Chee Cheong fun with curry, fried mihun with curry chicken, and Hainanese coffee. Due to the popularity, expect to wait for a table.
Ho Kow Hainam Kopitiam
Address: 1, Jalan Balai Polis, City Centre, 50000 Kuala Lumpur.
Business Hour: Daily from 7:30 to 14:30. Close on Monday.
Price Range: RM20-30 per person.
Related Food Blog Post: Ho Kow Hainan Kopitiam: A Taste of Local KL Breakfast
Restaurant Yuk Kee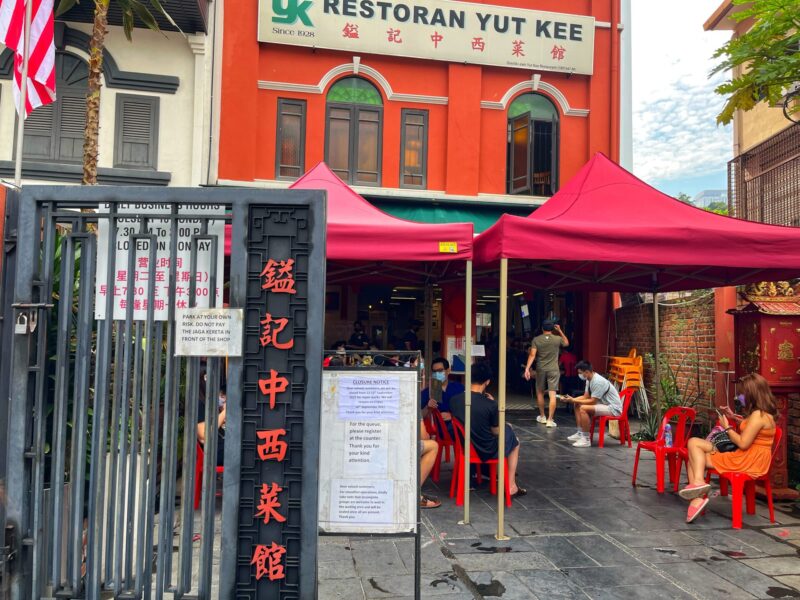 Yut Kee is one oldest Kuala Lumpur Kopitiam scenes that have been around for almost 90 years since 1928. The food is a traditional colonial Hainanese style which serves old-time favorites such as chicken chop, toast bread, kaya roll, soft-boiled eggs, and coffee.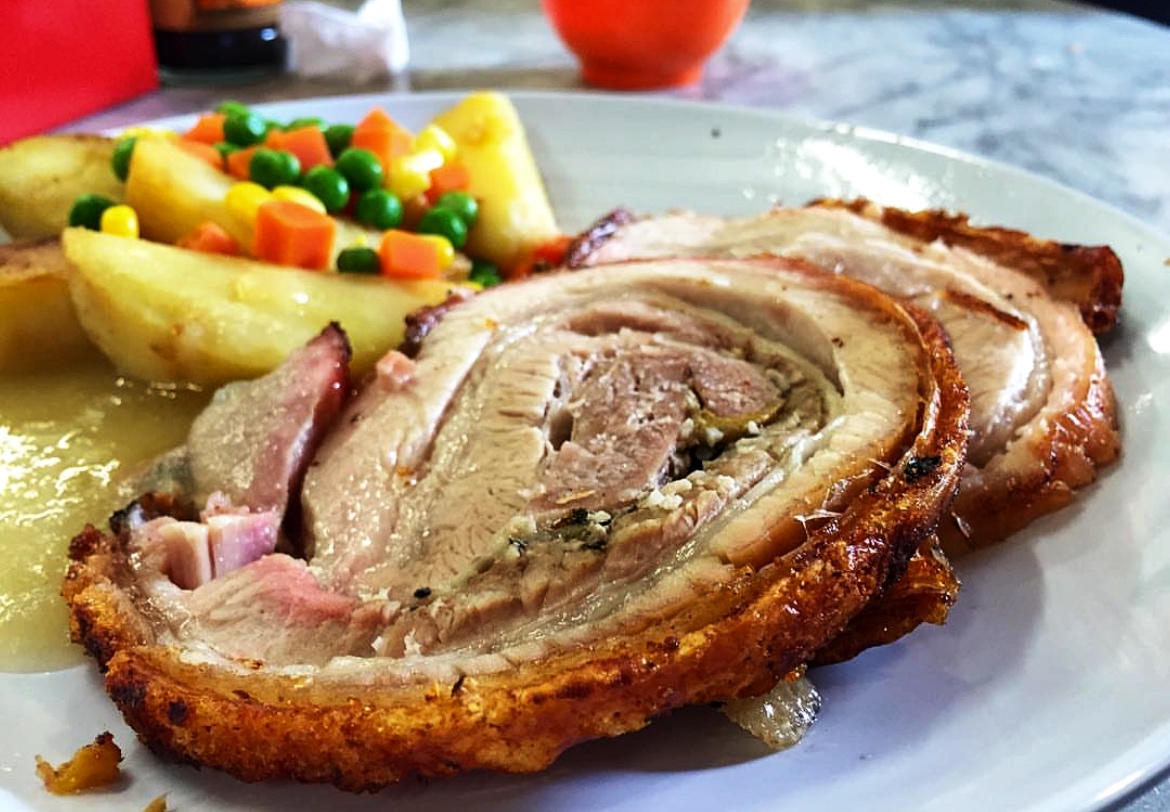 Yut Kee offers a variety of Hainanese food, a mixture of Western and Chinese styles. It is a good Kopitiam set with a wide variety of food and drink options. The restaurant is always packed with local people and some tourists graving for their authentic Hainanese food. The best place for breakfast and brunch for local taste.
Read Read: Yut Kee Restaurant: Best Place For Traditional Hainanese Cuisine
Yut Kee Restaurant
Address: 1, Jalan Kamunting, Chow Kit, 50300 Kuala Lumpur.
Operating Hours: From 7:30 to 15:00. Close on Monday.
Price Range: Average RM20 per person for food and drink.
Jalan Alor Food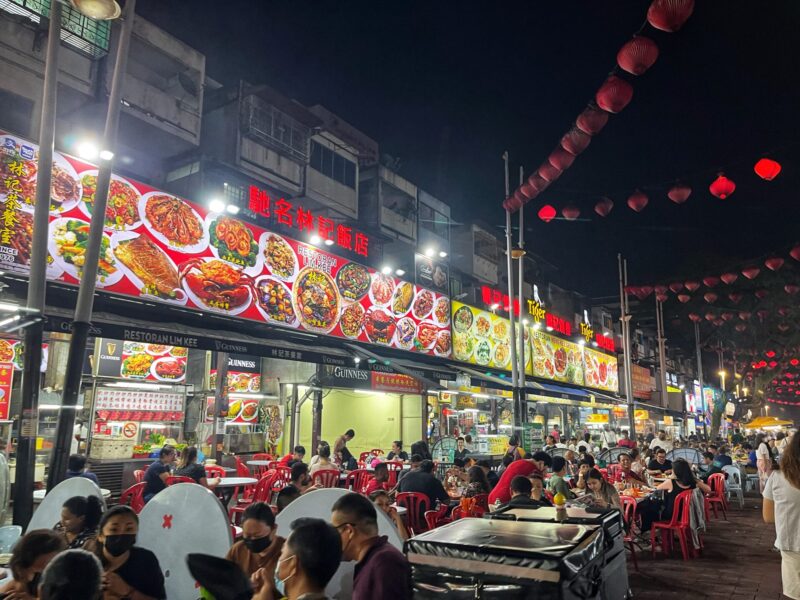 If you are craving food in the middle of the night, head to the bustling Jalan Alor night market. The street of Jalan Alor is one of the most popular places in Kuala Lumpur for food at night.
The Alor street is lined with restaurants and street vendors serving local delights and even Thai, Vietnamese, Malay, Chinese, seafood, and street food. The staff shouted for customers, making the place loud and vibrant.
Wong Ah Wah Restaurant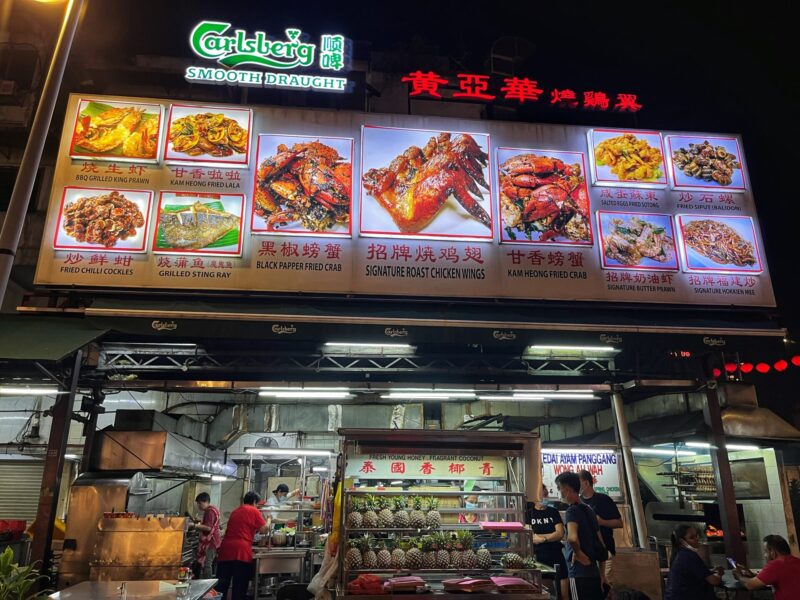 Among all, Wong Ah Wah (W.A.W) stands out for their famous BBQ chicken wings. For over 70 years, the eatery serve Chinese-cooked food and has grown from a humble stall to the present 5 shops space along Jalan Alor today.
It is still one of the most well-known eateries frequented by locals and popular among tourists. Their signature BBQ chicken wings are charcoal grilled and occasionally licked by the flames, resulting in a crispy skin with tender and succulent meat with a touch of smokiness.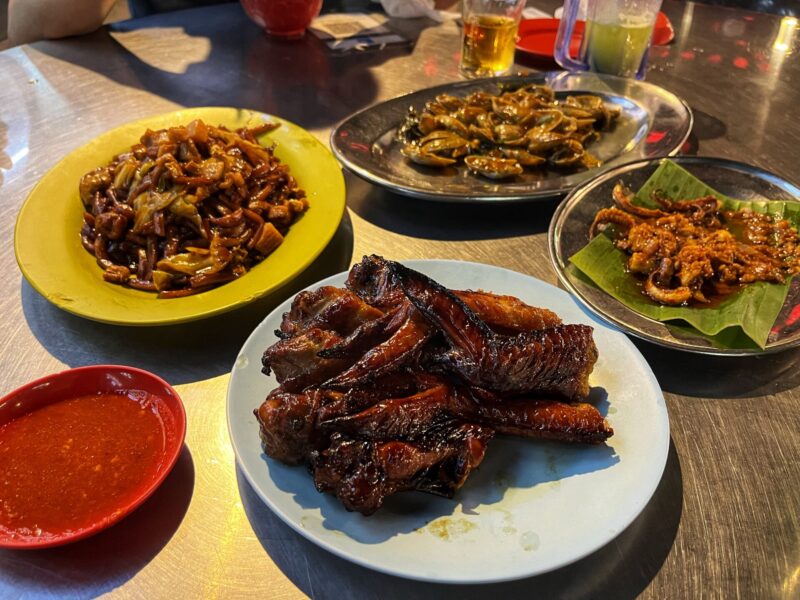 For a fuller meal, get a plate of Hokkien black mee, juicy satay, and grilled seafood such as fish, and squid, and wash down with an ice-cool beer or lime juice. The food is delicious but the portion is slightly small and the price is on the high side. But still, we are recommended it for the lively ambiance and good food!
Wong Ah Wah Restaurant
Address: No 1, Jln Alor, Bukit Bintang, 50200 Kuala Lumpur.
Business Hour: Daily from 16:00 to 2:00 next day.
Price Range: Average RM40-50 per person depending on what you order.
Street Food at Jalan Alor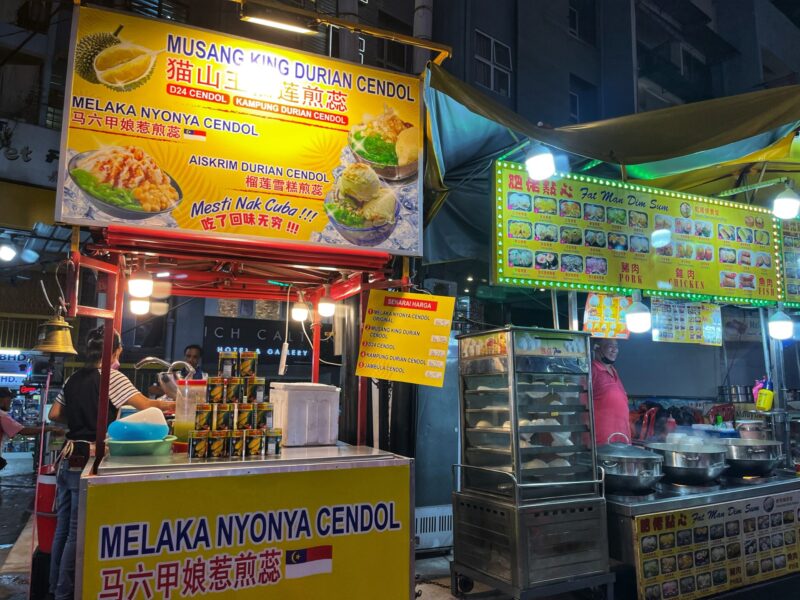 Alternatively, there are also many restaurants and street vendors serving various of snack food along the Jalan Alor. Stroll along the street and get the one you are liking. But make sure the price is well listed or check the price before order the food.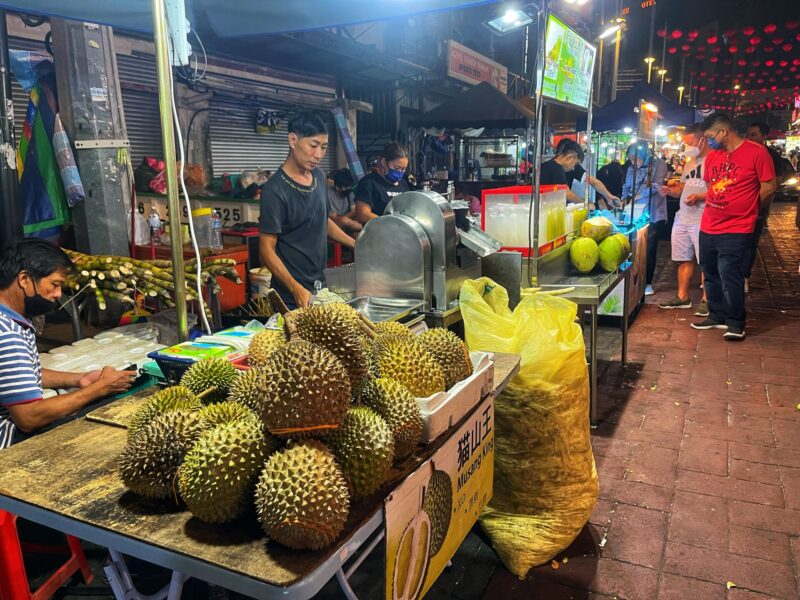 Depending on the season, you can get the fresh fruit such as durian, mangosteens, rambutans, and more Malaysia fruit. But the price is higher in Jalan Alor than seen in markets and supermarkets.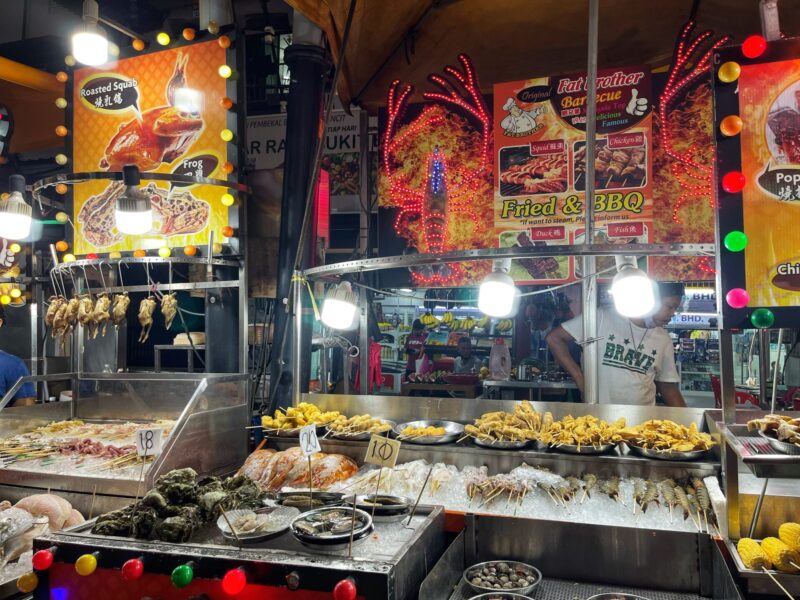 You can also try the Lok-Lok, a Malaysian treat where raw vegetables, meats, and other items are on skewers. Just pick your choices skewered and dip into boiling water or get it fried in the deep-fry station. Then choose your choice of dipping sauce, ranging from chili, sweet-and-sour, peanut, and spicy sauce.
The food is nothing special but for nice ambiance accompanied by the wide array of food choices certainly makes this a pretty good place to chill.
Kuala Lumpur Hokkien Mee
Hokkien Mee also known as Dai Lok Mee is one of the signature dishes in Kuala Lumpur. The thick yellow noodles are slowly cooked and gradually absorbed with generous amounts of dark fragrant sauce and crispy lard, resulting in the noodles turning into a thick, tasty, and rich flavor. It is one of the most famous dishes among the Chinese community in Kuala Lumpur.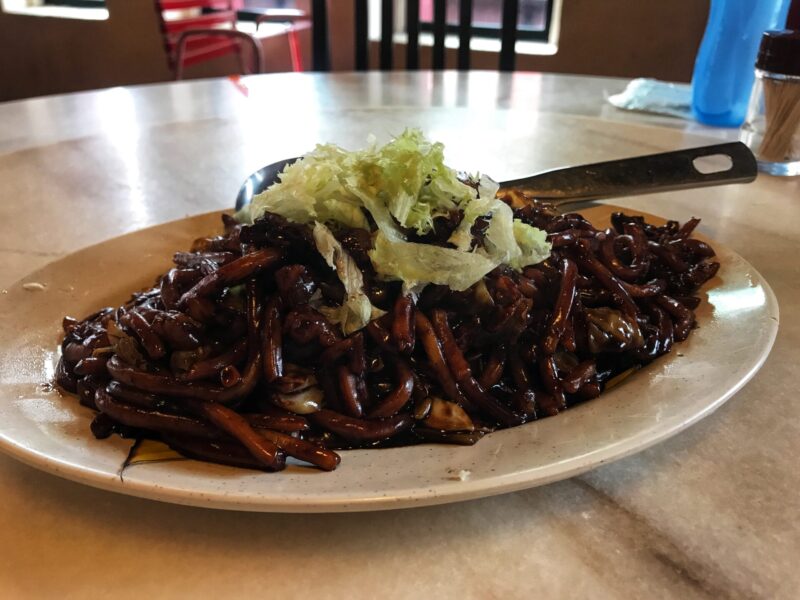 Kim Lian Kee
For those who wish to indulge in black-colored charcoal-fried Hokkien Mee, head to Kim Lian Kee on Petaling Street. The restaurant is the oldest Hokkien mee eatery and it is also where the dish is invented by the founder Kim Lian Kee. Though the taste is not as good as before, the store is still one of the best-tasting Hokkien mee in KL today. Alternatively, you may have dined at its outlets across the city including Hutong at Lot 10 Shopping mall.
Kim Lian Kee
Address: 92, Jalan Hang Lekir, City Centre, 50000 Kuala Lumpur.
Business Hour: Daily from 11:00 to 23:00. Close on Wednesday.
Price Range: Average RM20-30 per person.
Mun Wah Hokkien Mee Restaurant
Mun Wah Hokkien Mee Restaurant is another authentic restaurant in Kuala Lumpur that is famous for its traditional taste of Hokkien mee. Since 1926, Ming Hoe has been running its business for more than 2 decades. Their style of cooking is traditional, using a wok and charcoal for cooking. With their generous ingredients and chewy noodles, no one can resist!
Mun Wah Hokkien Mee
Address: 155, Jln Maharajalela, Kampung Attap, 50460 Kuala Lumpur,
Business Hour: Daily from 16:30:00 to 23:30. Close on Wednesday.
Price Range: Average RM10-20 per person.
Mamak Food Stalls
Mamak is probably the longest-lasting "cultural" scene in Malaysia. It is an indoor and open-air food establishment for casual Indian Muslim cuisine. Here you can order most of the local Malaysian food such as roti canai, roti tissue, tosai, teh tarik, Cheese naan, tandori chicken, Nasi Lemak, Nasi Kadar, mutton curry, and many more.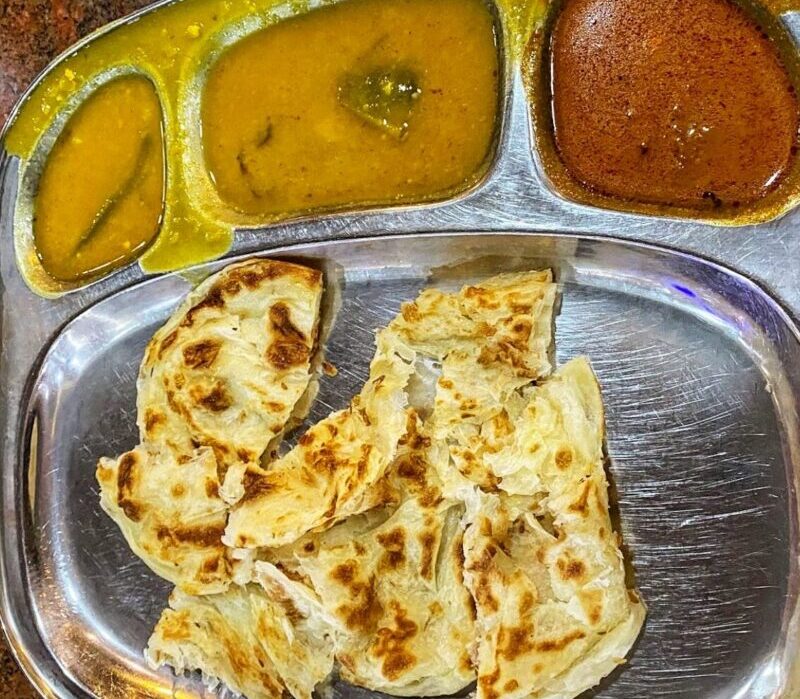 Mamak is the best place for breakfast, lunch, dinner, and even midnight food as most mamaks are usually open 24 hours a day. This is the place where locals gather to eat, drink, chit-chat, and watch live football and badminton game on tv. Mamak food stalls are easily found all across Malaysia and you will always find them at almost all business squares.
Nasi Kandar Pelita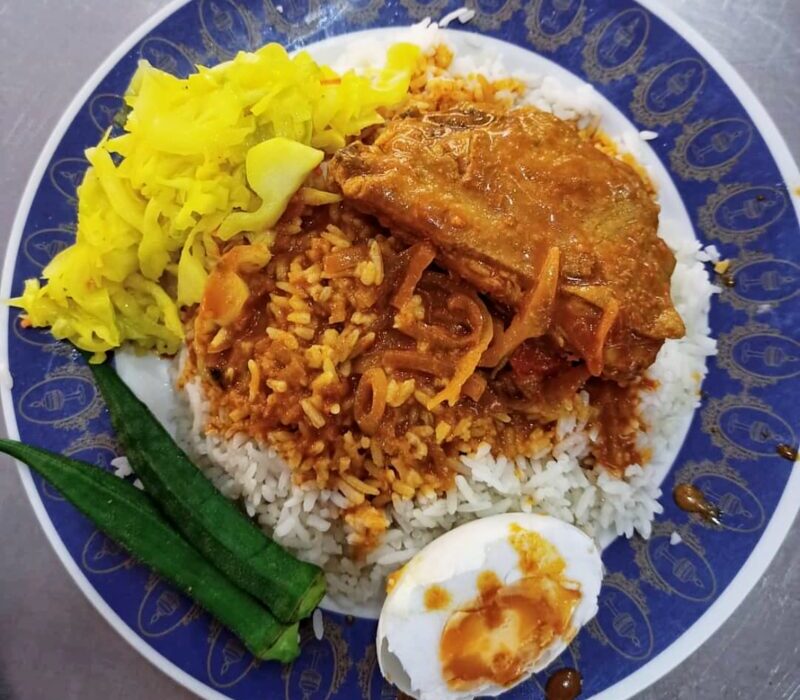 For the best Mamak experience at KL, head to the Nasi Kandar Pelita. This is probably one of the nation's largest Nasi Kandar restaurant chains, covering multiple states in Malaysia. Known for its 24 hours freshly hot cooked dishes makes the place is always filled with customers.
Their signature "Kuah Campur" concept of Nasi Kandar dining etiquette by mixing all kind of spicy gravies over your rice. This for sure will give you a burst of Malaysian flavors and truly something you die for. You can find one located in the lively town of Kuala Lumpur besides KLCC. The convenience also makes this Mamak stall always full of locals and visitors.
Nasi Kandar Pelita
Business Hours: 24 Hours!
Price Range: Average RM10-20 per person.
Another popular mamak chain is the Restoran Al Sarifa. It is a 24-hour Mamak eatery just two streets north of Jalan Alor. It's a popular place to try local specialties with a great range of food available at very reasonable prices. Best place for affordable food in Kuala Lumpur.
Banana Leave Rice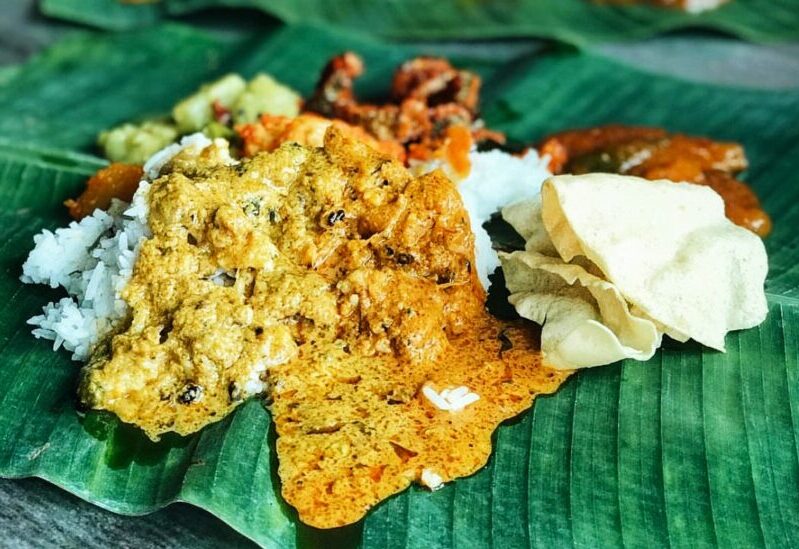 Originally from South India, the banana leaf rice or just "banana leaf" is an essentially rice dish for Indian community. The dish consists of a mound of plain rice, normally comes with three or four different vegetable dishes served on a banana leaf cut.
The popular Devi's Corner is famous for its mouthwatering and variety of banana leaf that it offers. The location is slightly far from the downtown and right opposite Bangsar Village Shopping Mall. It is also one of the popular mamak stalls and packed with locals. You would often see a queue right outside their stalls during lunch and dinner hour. Besides, Devi's Corner is also famous for its Garlic Cheese Naan, Mee Goreng, and Nasi lemak. Be sure to also try these items out when you pay them a visit.
Restoran Devi's Corner
Address: 9, Jalan Telawi 2, Bangsar, 59100 Kuala Lumpur.
Business Hours: Daily from 7:00 to 23:00.
Price Range: Average RM20 to RM30.
Overall: What To Eat in Kuala Lumpur
That's it! We hope you find this Kuala Lumpur Food Guide helpful for your food hunting journey in KL. Of course, there is still much more mouthwatering local food that can be put into your food list. But those are the best pick that you can check out when visiting KL and are easily accessible as a visitor.
Eating like a local when visiting KL! We promise you that all the food is truly Malaysian flavor and would be worth the visit.
Lastly, if you need more ideas on what to do and food to eat in Kuala Lumpur, feel free to check out below travel blogs and stories.
More Kuala Lumpur Food Tips: