Last updated on December 11th, 2023
When looking for what to eat in Kuala Lumpur, Yut Kee Restaurant is one of the best places to try some local traditional Chinese food. It is well known for its traditional Hainanese cuisines and is not to be missed for Kuala Lumpur's local food.
Yut Kee is one of the well-known foodie places when looking for what to eat in Kuala Lumpur for traditional old taste food. Since 1928, Yut Kee serve old-time favorites such as chicken chop, toast bread, kaya roll, soft-boiled eggs, and coffee. It is the best place for breakfast and brunch and is also packed with local people and some tourists graving for their authentic Hainanese food.
On another busy Sunday morning, we visited Yut Kee for their famous Hainan-style breakfast. Let's check out more detail about our food journey to Yut Kee in Kuala Lumpur.
Yut Kee Restaurant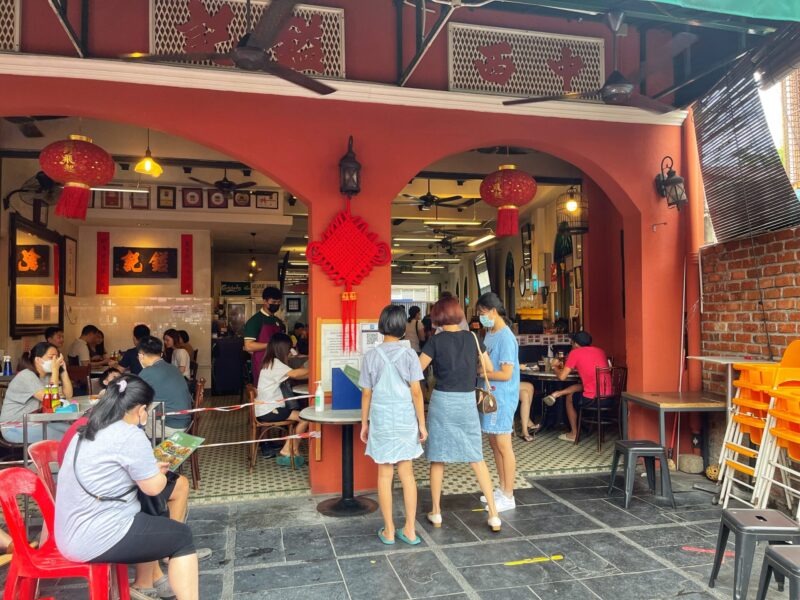 The popular Yut Kee is a local Hainanese coffee shop operating since 1928. It is the typical traditional Chinese style coffee shop turned into a modern-day coffee shop cum restaurant. For decades, Yut Kee served their famous kaya swiss roll and Hainanese pork and chicken chop. The current owner is the third generation.
This family-owned restaurant was relocated from Jalan Dang Wangi to Jalan Kamunting a few years back but the restaurant keeps its nostalgic vibes. The establishment is painted in red color with traditional settling. The marble tables and wooden chairs lend a nostalgic ambiance to the restaurant. You can also see crops of newspapers on the walls, which shows the age of the Kopitiam quite well. A nice place for some nostalgic breakfast.
Yut Kee Restaurant
Address: 1, Jalan Kamunting, Chow Kit, 50300 Kuala Lumpur, Wilayah Persekutuan Kuala Lumpur.
Operating Hours: From 7:30 to 15:00. Close at Monday.
Price Range: Average RM20 per person for food and drink.
A Food Trip To Yut Kee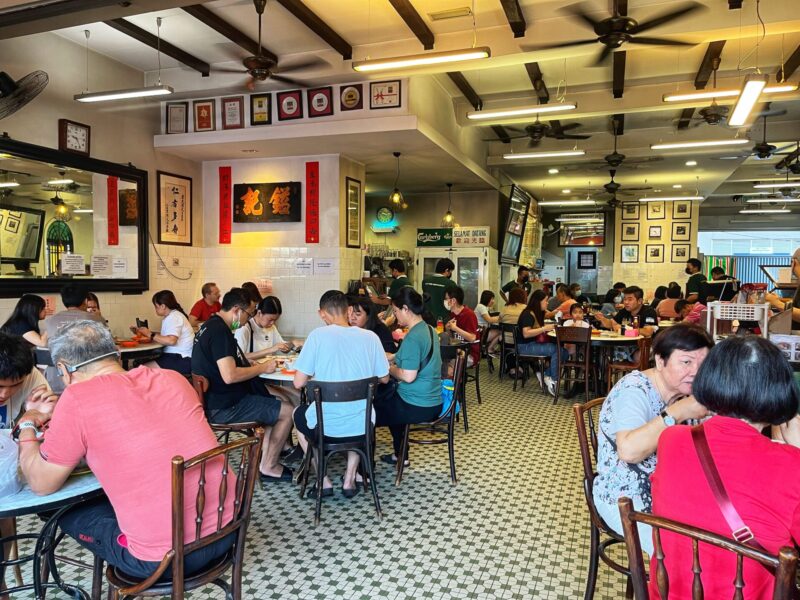 There are a lot of people patrons here and mostly are local Chinese. To get a seat, you need to inform the cashier inside the restaurant of your name and the number of people eating with you. Once arrived, we place the name and number of pax at the counter and wait for our turn. The seat number will be called when it is your turn.
Be aware of the long queue as this place it's very crowded during the weekend. Lunchtime can be really crowded so be prepared to share a table with strangers. It was still early and we only waited for almost 10 minutes for our seat. Overall, the service is swift and ordering is easy.
As you are seated, the menus are immediately placed there. You will notice there are some chef's recommendations and I would definitely recommend trying them.
What To Eat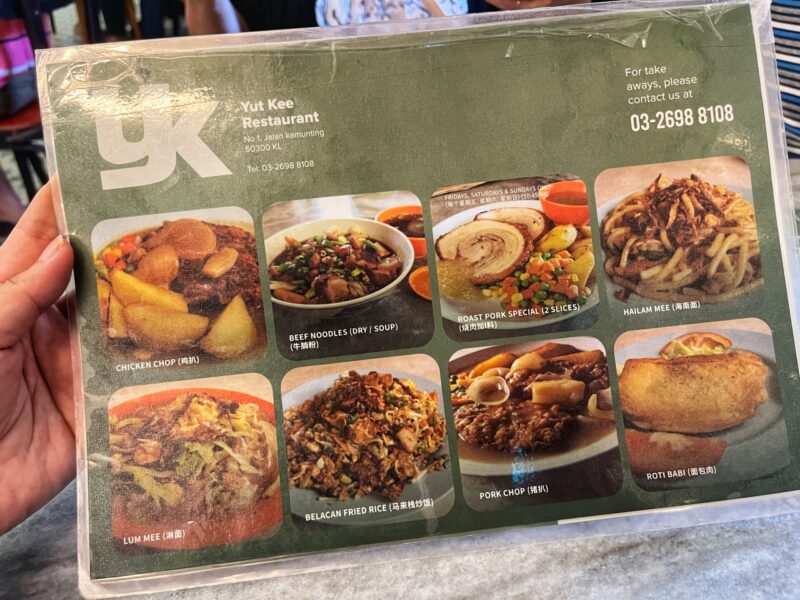 Yut Kee offers a variety of Hainanese food, a mixture of Western and Chinese styles. It is a good Kopitiam set with a wide variety of options for breakfast and lunch. All the dishes are shown on the menu with a price well listed.
Looking at the food offered, here is the recommended popular food to eat in Yut Kee:
Bread: Toast/Steam Bread, half-boiled egg.
Noodles: Beef Noodles (Soup/Dry), Hainan Mee, Lum Mee.
Meat: Hainanese Chicken Chop/Pork Chop, Roti Babi, Roasted Pork Chop.
Rice: Belacan fried rice.
Toast Set and Half-Boiled Eggs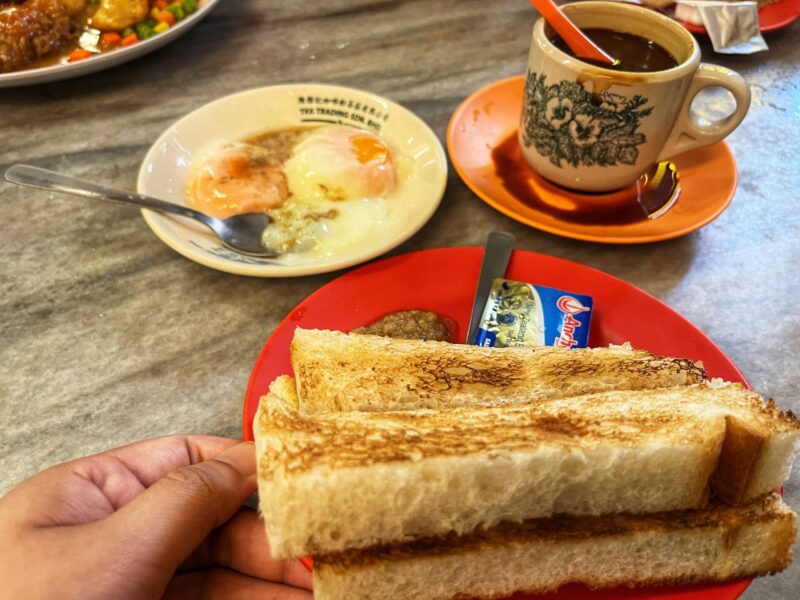 If it's your first time visiting the Yut Kee, you must try their toast with kaya (coconut jam) and butter. Unlike most kaya jams, the homemade Kaya from Yut Kee appears chunky. The toast set is coupled with the butter in a tiny cube, something you have never tried outside there before.
We ordered a cup of coffee, half-boiled eggs, and toasted bread with the amazing tasty kaya. The bread is so fluffy and soft, eating it with their kaya and butter just melts in your mouth. Nothing flash but just plain down-to-earth tasty foods.
Hainanese Chicken/Pork Chop
Many local people came to Yut Kee for their famous Hainanese chicken chop or pork chop.
This time, we tried the Pork Chop instead of the popular chicken chop. The heavily battered pork is deep-fried to crisp and drenched in a pool of gravy. There are also generous sides such as green peas, carrots, and corn sitting majestically on the freshly prepared pork chop. There are also some potato wedges coming together.
Uniquely Hainanese! Not a bad try.
Roasted Pork Chop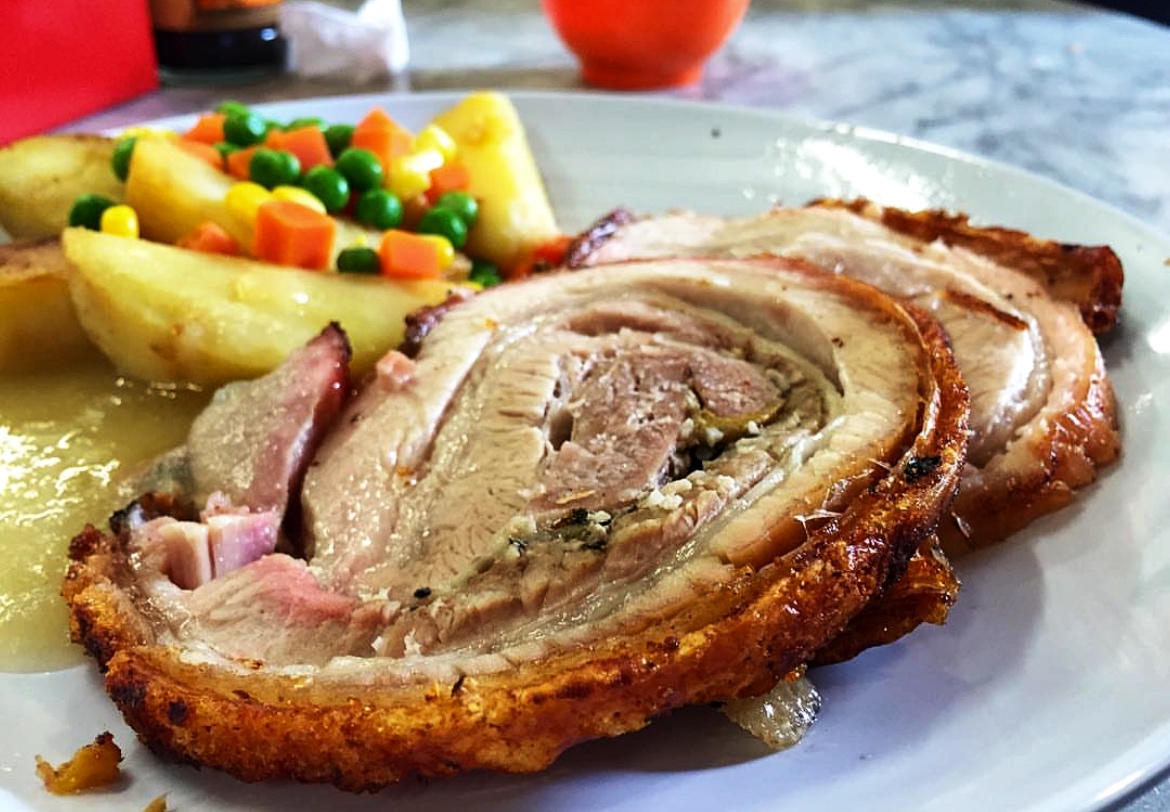 Another Yut Kee's signature food is roasted pork chop. The crunchy skin is roasted up to perfection golden level. The crispy skin is a bit too salty but the meat is tender and juicy. Best to eat the fatty meat with their apple sauce gravy to eliminate the oily. Something to die for!
It's always in limited quantities and only serves on Friday, Saturday, and Sunday. Come earlier as it might be sold out before noon.
Roti Babi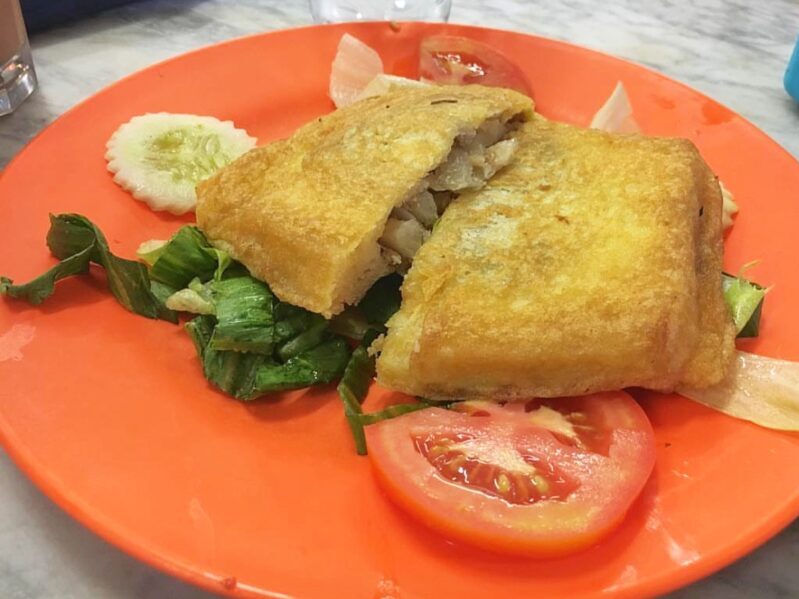 We tried Roti Babi on my previous visit but I am not enjoying it. The shredded pork and onion are wrapped inside the deep-fried bread. The bread is a bit too greasy and the pork filling inside is tasteless.
I don't think the Roti Babi is nice, anyway is my personal taste bud.
Noodles Dishes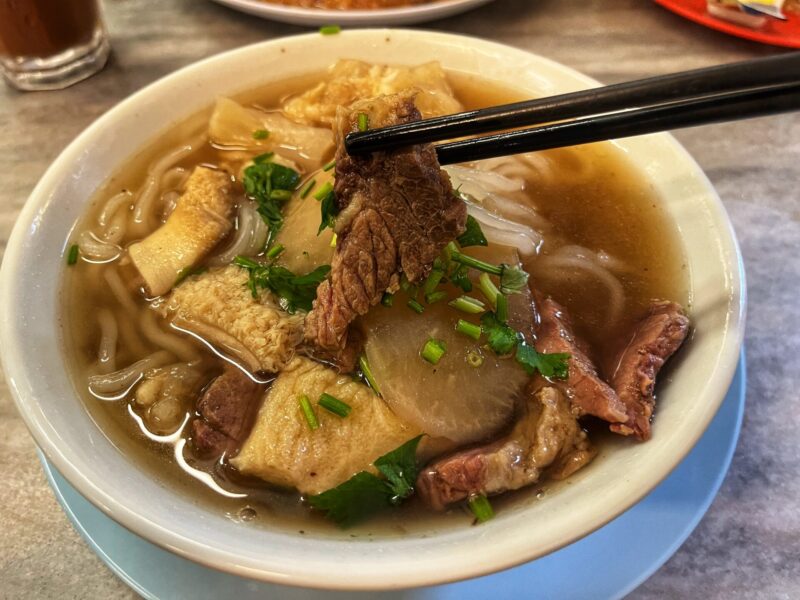 My favorite food in Yut Kee is beef noodle soup. It was excellent and my bowl of beef noodles soup was served with radish and beef cuts. Slightly salty but suited for my taste bud.
Not the best beef noodle in Kuala Lumpur, but still recommended if you are into tripe and tendon.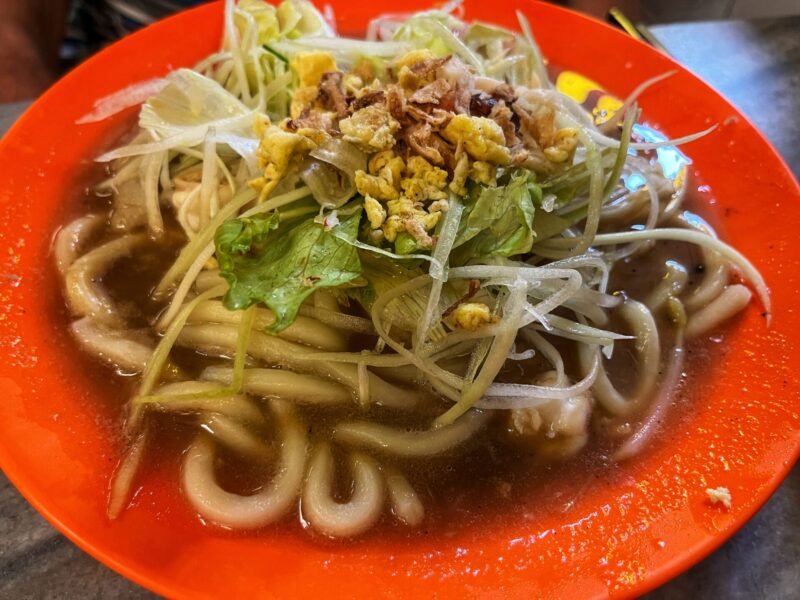 Besides, we also recommend the Hainanese Lum Mee. The noodle was much bigger than usual and the taste was so flavorful.
Kaya Roll and Marble Cake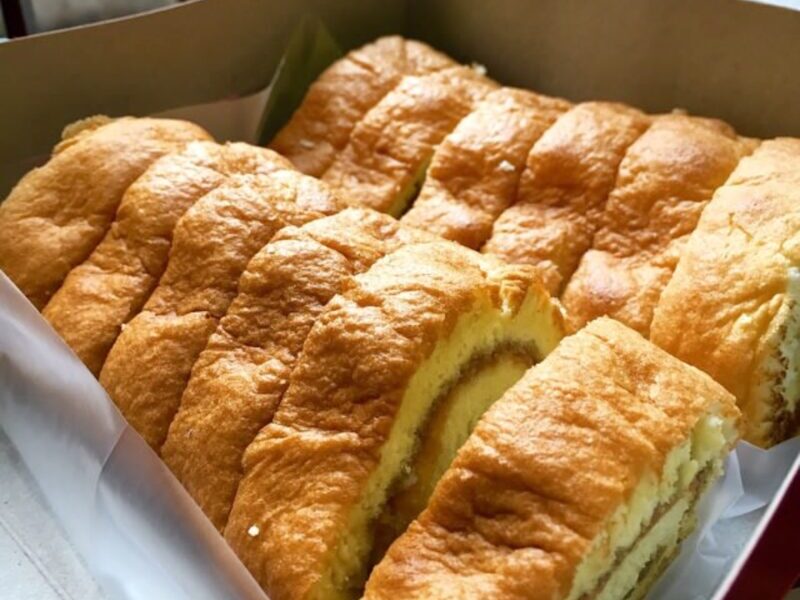 Yut Kee is known for their cakes. So don't forget about their homemade kaya rolls and butter marble cake, which are decedent and magnificent. Many local people used to buy home boxes of their cakes like kaya swiss roll and marble cake.
Getting To Yut Kee
Parking can be a hassle and we advise coming early or slightly off-peak hour. You can take the parking nearby where they charge per entry or find a proper parking lot at the roadside. Reminder to pay for parking on Saturday in Kuala Lumpur. We always managed to find a good parking space on a weekend morning.
If you are getting to Yut Kee by public transport, you will need to get to Dang Wangi LRT station and then walk about 10 minutes to the restaurant. Alternatively, Grab is a great option within the KL downtown area.
Overview: Visit Yut Kee For Hainanese Food
Overall, Yut Kee Restaurant is a good place for breakfast or brunch if you're visiting Kuala Lumpur. The service is good, the portion is respectable, and the price is reasonable. Honestly, the food quality is not the finest but it has an old-school taste. Simply awesome and deliciously tasty!
Be prepared to wait and definitely worth the waiting time. Value for money for such sumptuous food.
Last but not least, if you're planning on visiting Kuala Lumpur for the first time, free feel to read through our KL travel stories.
More Kuala Lumpur Food: