Last updated on December 11th, 2023
We've put together this list of the best sights and our favorite things to do to help with your Kuala Lumpur itinerary in this detailed travel guide blog. Read on to find out where to go, what to do, the best food to eat, and useful travel information, so you won't miss out on anything when you're visiting KL!
Kuala Lumpur (KL), the capital city of Malaysia, has long been a popular travel destination from all around the world. Every year, thousands of travelers flock to Kuala Lumpur for a perfect gateway. It is the major tourist hub not only when travelers get to Malaysia and make for an excellent first stop when getting to other countries in South East Asia. There are so many things to do in this exciting city, and it doesn't disappoint travelers with something to suit all ages and budgets.
When planning for the Kuala Lumpur itinerary, you will discover the spectacular futuristic towers and skyscrapers, multi-story mega mall for shopping, traditional cultural sights, unique local markets, and mouthwatering local food if you spend two or three days in KL.
Kuala Lumpur is big and crowded with many things to do in the city. The most challenging part of planning for the Kuala Lumpur itinerary is mapping them all out together with a proper transportation arrangement that makes sense. Planning for things to do in KL can be overwhelming and it can sometimes be challenging for a first-time traveler to Kuala Lumpur.
Rest assured. Here is a recommended 3-day Kuala Lumpur itinerary in this travel guide blog that covers all the best things to do, food to eat, and practical travel information to ease your planning. Let's have a look at the best of Kuala Lumpur in 3 Days!
This Kuala Lumpur travel guide blog is comprehensive and long. For your convenience, feel free to check on the easy-access links to travel information, things to do, hotels, and other services here.
Kuala Lumpur (KL)
Before planning your Kuala Lumpur itinerary, be sure to check out our Kuala Lumpur pre-trip essentials prior to your trip to have an overview of this amazing city.
Kuala Lumpur is a vibrant ethnic diversity city with native Malay, Chinese, and Indian influence. Malay with Muslim religion is the main dominant of the country and each native with own religion. The city is full of a cosmopolitan atmosphere with multiple religions and cultures from around Asia, peacefully living in the city.
During your trip to KL, you can visit Petronas Twin Tower, Central Market, Petaling Street, Batu Caves, and many more for cultural activities to experience the diverse culture of every religion. But please dress conservatively especially if you are visiting religious buildings such as mosques, Buddha and Hindu temples,
Kuala Lumpur is a modern developed city and most people can speak English. People here are very friendly and welcoming visitors. If you need any help with direction or questions, basically you can stop by any one and they are ready to help. However, criminals such as pickpockets are also high especially in tourist areas. Please be careful with your personal belonging when wandering around in the city.
Traveling To Kuala Lumpur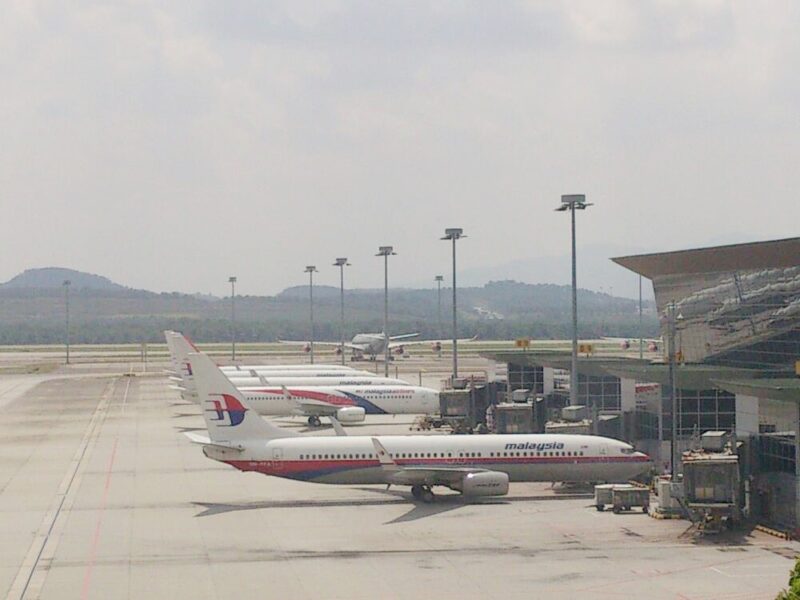 If you're flying to Kuala Lumpur, then you'll be landing at either KLIA (Kuala Lumpur International Airport) or KLIA2, depending on your airline.
Use Skyscanner to find the Best Flight Deal
From the airport to the town area of Kuala Lumpur take about 40 minutes. There are a few options that you can choose when getting from KL airport to the city center. Here's how you can get to downtown KL from either airport.
By Train: This is the best way to get to downtown KL by the KLIA Ekspres train. The non-stop train will take you to KL Sentral train station from KLIA1 and KLIA2 in 28 minutes and 33 minutes respectively. From there you can transfer to other parts of the city by train or Grab to your hotel.
Get Discounted KLIA Ekspres Airport Train Tickets from Klook (QR Code with tap-and-go)
Alternatively, you may consider the KL TravelPass with a single or round trip KLIA Ekspres card and unlimited Metro card for 2 days. It a money-saving and hassle-free when visiting Kuala Lumpur.
By Bus: Frequent bus from the airport to the city center with about an hour of traveling time. It normally takes about an hour and costs about RM 12 each way. The cheapest transport option from KL airport to the city center.
By Grab / Taxi: It is pretty easy and straightforward to get a Grab or taxi ride from Kuala Lumpur airport directly to the city center. However, you might need to wait in line during peak hours. The costs normally start from RM70 depending on the car's type and destination.
By Private Transfer: The best option if you are traveling by group or with family and kids. Pre-book the private transfer to avoid waiting in line for a taxi or grab. You can reserve the private transfer via Klook as it is one of the reliable brands when arranging for private transfers in KL.
Pro Tips: If you need data, you may pick up the 4G Sim Cards or Wifi Device at the Kuala Lumpur International Airport.
Getting Around in Kuala Lumpur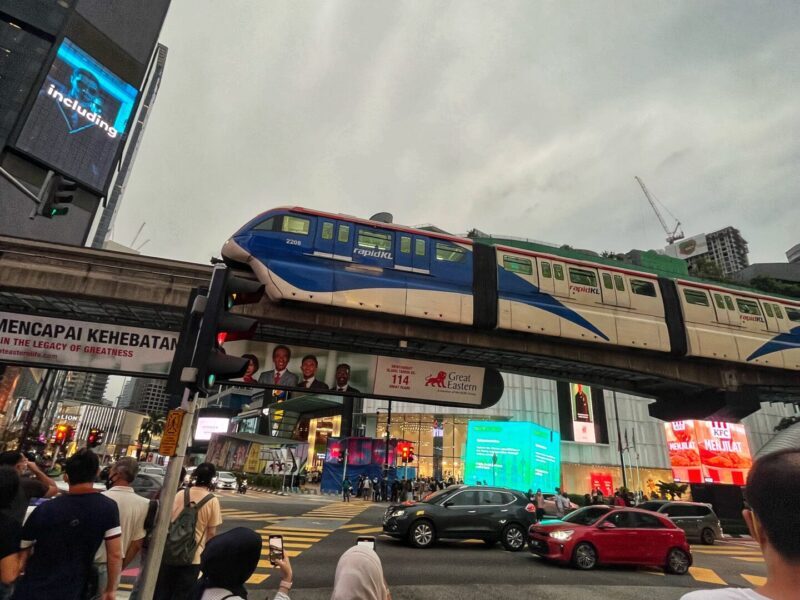 When getting around in the city, it's not difficult to get around as the public transport and share-hailing service such as Grab is pretty convenient. However, take note that traffic condition is pretty worst in downtown. You might need to avoid the rush hours to avoid the working locals.
Besides, travelers can get the Mycity Pass where you can get unlimited on the MRT, LRT, monorail, and the BRT-Sunway Line. It is a great saving if you are using public transport as the major transportation for the day. The pass is available for purchase at all LRT, monorail, MRT, and BRT stations.
Alternatively, it's best that you get a Touch-n-Go Card or install the app especially if you plan on using public transportation a lot. It's like a pre-load card that you can use in most public transport, convenience stores, restaurants, and many others places as well. You'll never have to get single journey tickets if you need to take the bus. Pretty convenient but make the shops or restaurants accept it.
For hassle-free, consider joining a fun KL Half-Day Tour to discover the modern and enigmatic Kuala Lumpur with transportation included. You will go around the city and visit some of the interesting attractions in the city such as the National Mosque, the King's Palace, the National Museum, and more. Very convenient and saves you a lot of time.
Check for more detail: Kuala Lumpur Half Day City Tour.
Where To Stay
Kuala Lumpur has a wide range of accommodations that you can choose from, ranging from budget hostels, mid to high-range hotels, and luxurious hotels. As a visitor, the prime location to stay in Kuala Lumpur is nearby the Pavilion KLCC area. This is the most convenient area in Kuala Lumpur and you'll enjoy having the public transportation accessibility, a wide variety of food, and shopping on your doorstep.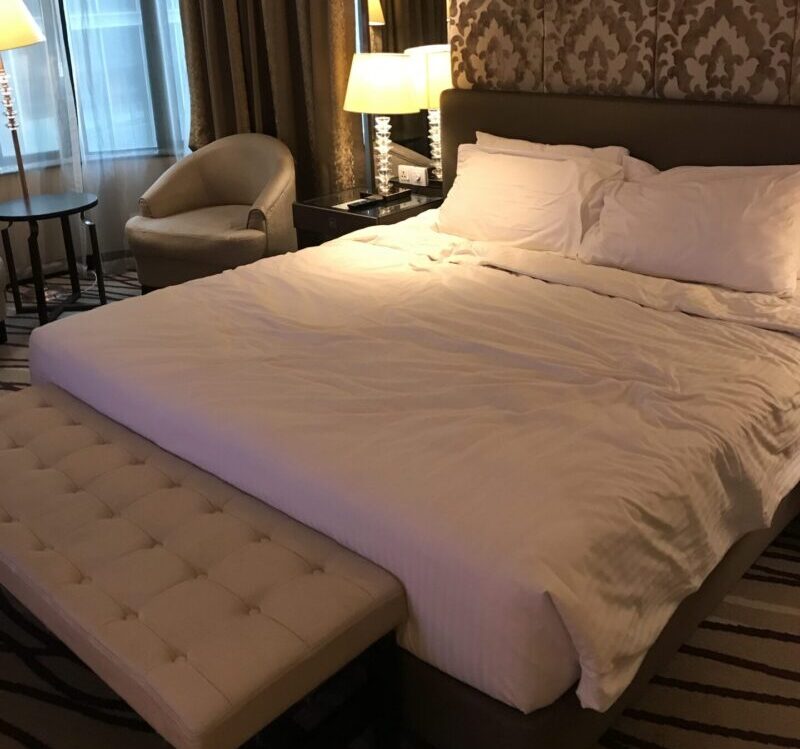 The best place to stay in Kuala Lumpur is the Dorsett Kuala Lumpur. It is a high-range hotel situated right in the heart of Bukit Bintang and super convenient to explore the city and nearby. The hotel is only a very short walk to the Pavilion KL shopping mall and has easy access to MRT Bukit Bintang station. The excellent location makes sightseeing and transports seamless.
Extremely popular accommodation choice in KL and rooms running fast. Click to check availability and make a reservation.
Here are some other options nearby the areas:
Luxury: JW Marriott Kuala Lumpur definitely one of the best picks which are perfectly situated right opposite the Pavilion KL. Everything is exceptional for a perfect stay in KL.
High-Mid Range

:

citizenM Kuala Lumpur Bukit Bintang offers clean rooms, comfortable beds, and very attentive staff for the stays in the city.
Budget

:

BIG M Hotel

, a 2-star budget hotel that is conveniently next to Masjid Jamek LRT Station.
You may also check out our accommodation guide for where to stay in Kuala Lumpur with more options. Find the best Kuala Lumpur Hotel Prices and make a reservation now.
Kuala Lumpur Itinerary
What to do in Kuala Lumpur? You may ask when planning your trip to KL. Being a multi-cultural society that includes native Malay, Chinese, Hindu, and indigenous inhabitants, there are plenty and a wide variety of attractions to reflect the diversity of the city. You'll never lack suggestions as there are many things to do in KL.
Here's a 3-day sample Kuala Lumpur itinerary to help you plan your trip. Let's check it out!
Day 1 (Modernest of KL):
Arrive in Kuala Lumpur.
Petronas Twin Tower and KLCC Park / Menara Kuala Lumpur.
Day 2 (Downtown KL for Cultural and Food):
Merdeka Square
Masjid Jamek
Central Market (Pasar Seni)
Petaling Street
Chill at a cafe in Kwai Chai Hong
Bukit Bintang
Food Hunt Jalan Alor
On Day 3 (Day trip to nearby attractions from Kuala Lumpur):
Batu Cave / National Zoo of Malaysia / Sunway Lagoon Theme Park.
Pro Tips: Above Kuala Lumpur itinerary is jam-packed with wonderful places to visit in Kuala Lumpur in 3 days. So be sure to adjust based on your interest and situation.
Day 1 Kuala Lumpur Itinerary
It's your first day in Kuala Lumpur. We're spending the time exploring the main city center and the highlights of KL. There are two iconic symbols in Kuala Lumpur which are Petronas Twin Tower and Menara Kuala Lumpur which you can put into your KL itinerary.
Both attractions can be visited within 1 hour if you only want to take a glance at them. But there are many activities that can be coupled together to make a full-day excursion, so please consider including them based on your interest and time. We will share more detail below each section.
Petronas Twin Tower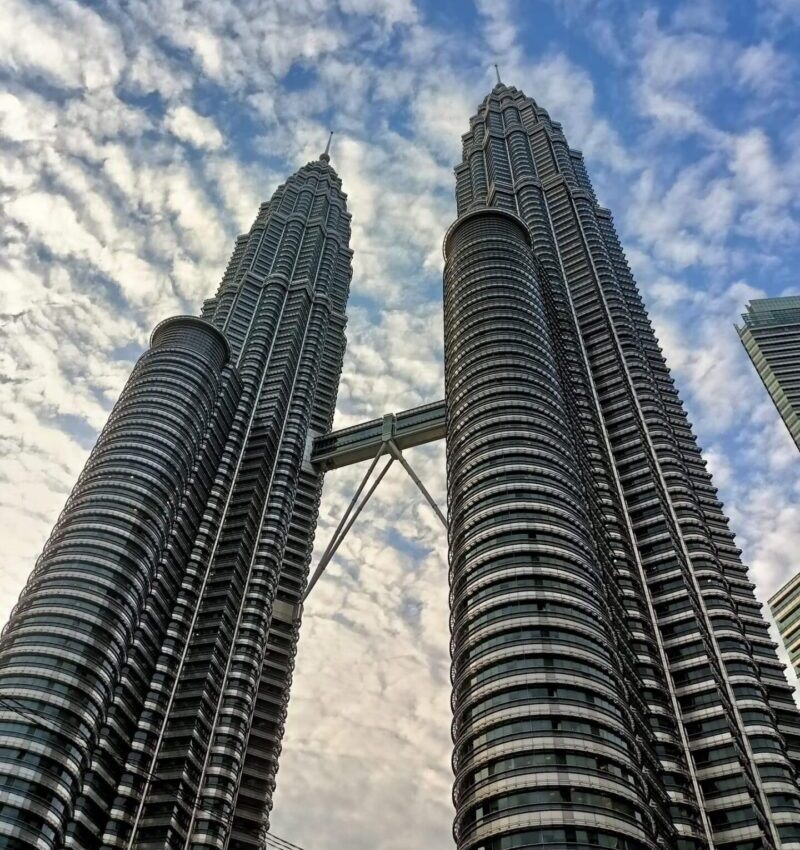 No trip to Kuala Lumpur would be complete without a visit to the Petronas Twin Tower.
Standing over 452 meters, the 88-story twin giants is the major architectural landmark and iconic symbols in Kuala Lumpur. These twin giants can be visible from almost all the places when you are in the city. It was once the tallest building in the world and now remains the world's tallest twin structure today.
Skip-The-Line PETRONAS Twin Towers Admission Ticket
The shimmering stainless-steel-clad towers are simply amazing. You can step onto a unique sky bridge with observation decks that connects the two towers together on the 41st and 42nd floors which are located 170m above ground. It was an amazing experience and you can admire the breathtaking views that stretch across the city of Kuala Lumpur.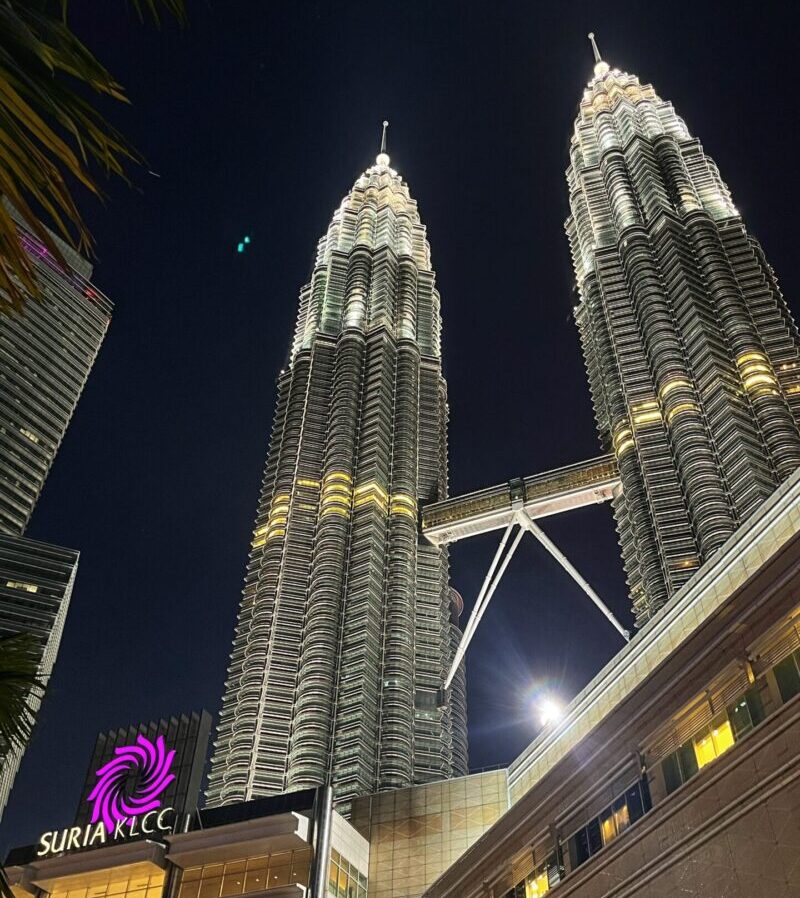 At night, Petronas Twin Tower will be lit up and it looks particularly impressive when illuminated. Make sure to see it in person!
Kuala Lumpur Travel Tip: Only a few tickets are sold daily. Please come early or book skip-the-line tickets online as the tickets are running fast. If you want to see the Kuala Lumpur skyline at night, definitely need to book online in advance as it is a high chance that tickets are sold out. Your ticket will be able to access the sky bridge plus the observation decks. You will be able to wander around and take the pictures as much as you can. The towers are closed on Mondays.
Suria KLCC and Park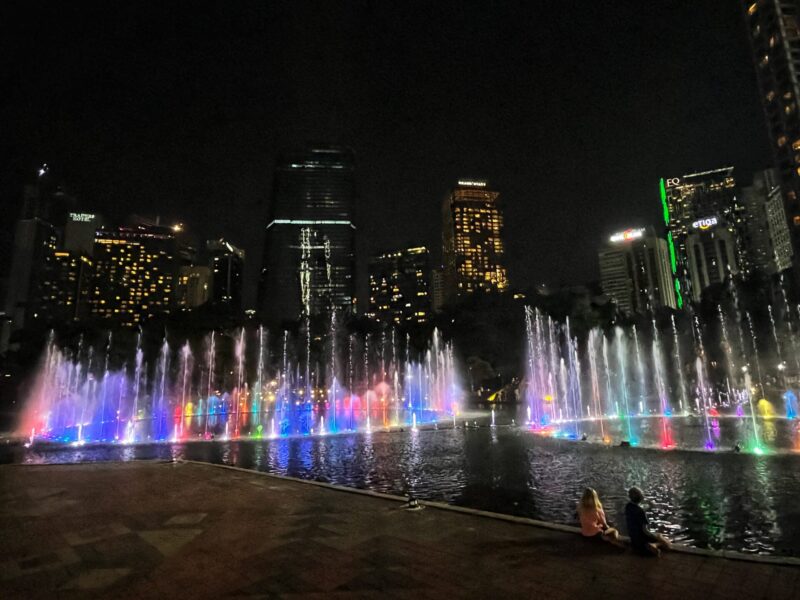 Not only this. Petronas Twin Tower is a one-stop destination and has everything for everyone. It is the local favorite place to meet and chill up with friends, and hang out with family and kids during the weekend. There are lots to see and do in Petronas Twin Tower complex and you can spend an entire day here, especially if you're traveling with kids.
The base area of the Petronas Twin Tower is the Suria KLCC and KLCC Park.
The Suria KLCC is a high-end shopping mall with over 300 boutiques for shopaholics, a variety of restaurants for food options, and also exhibition places for events and festivals.
While KLCC Park is the designated outdoor park for greeny space in KL. The park stretches over 20 hectares with green and jogging trails for exercise and also a children's playground for young visitors. A large lake and fountain in front of Suria KLCC feature with KLCC Lake Symphony Water Fountain Show in a magical sound, water, and light at 20:00, 21:00, and 22:00 daily.
A must-visit place for everyone Kuala Lumpur itinerary!
Menara Kuala Lumpur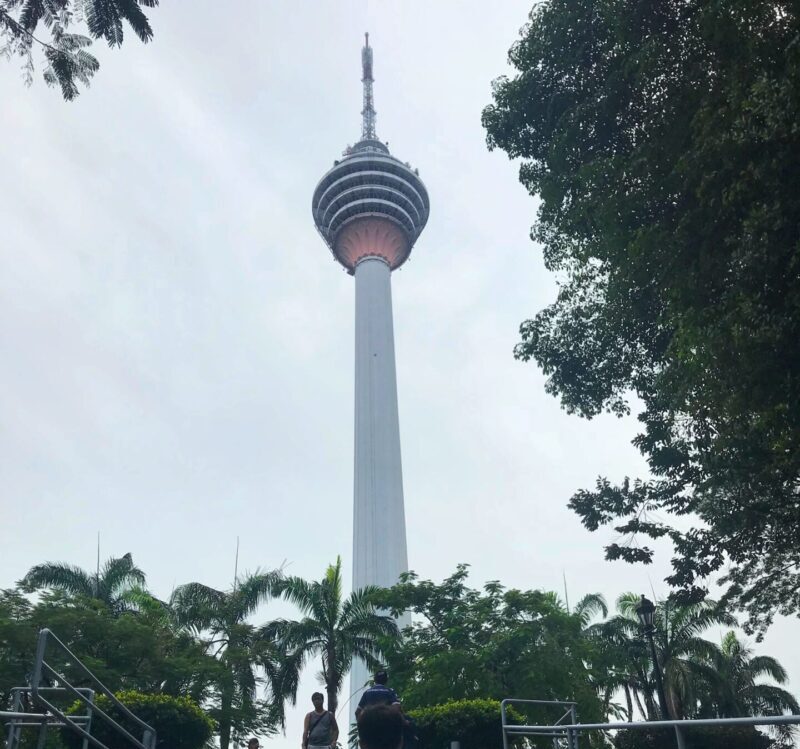 KL Tower (Menara Kuala Lumpur) is another iconic building in Kuala Lumpur. Again, it was once the tallest building before Petronas Twin Tower and was built to improve telecommunications.
At 300 meters from the ground, there is a 360-degree Atmosphere Restaurant and a Skydeck glass viewing platform where you can go up the tower to see the view of the city. There is a glass platform area that overlooks the city and is a good spot for photos. You can purchase tickets at the gate or in advance through Klook to save you some time.
KL Tower Tickets (Observation Deck/Sky Deck/Sky Box/TW100)
Pro Tips: KL Tower has a strict maximum capacity limit. Pre-purchase the KL Tower Ticket to speed up your process. The visitor is still required to walk in to pre-book your available and preferred time slots at the KL Tower ticketing counter, but definitely faster than purchasing at the counter and hassle-free.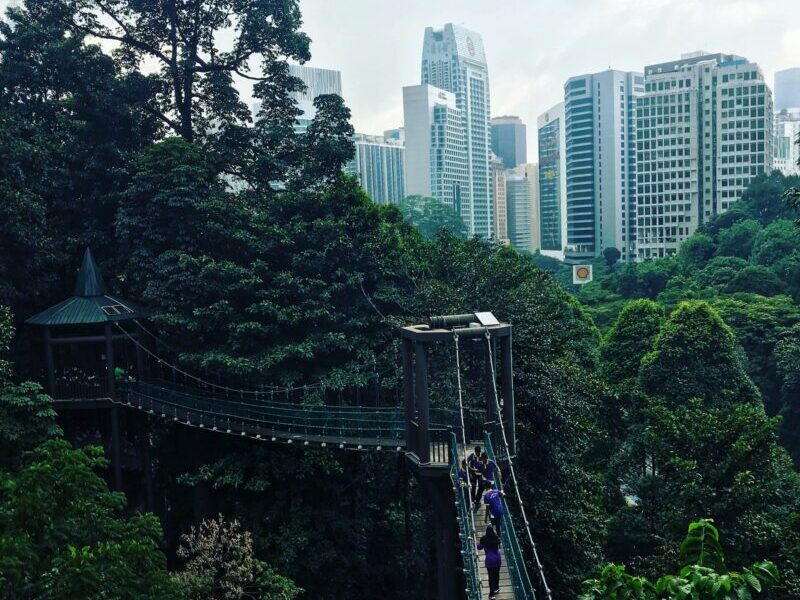 Coupled with your trip to Kuala Lumpur Tower is the Mini Zoo, Aquarium, Upside-Down House, and canopies walk at KL Forest Eco Park. The canopy walkway in KL Forest Eco Park offers amazing aerial views of the forest and of the city outside. All the attractions and activities are very good for family and kids.
Lastly, we recommend that you come here early as KL Tower is one of the popular spots in Kuala Lumpur. It can get crowded in the late morning, especially on weekends and public holidays.
Day 2 Kuala Lumpur Itinerary
On day 2 of the Kuala Lumpur itinerary, we will be more focused on the downtown city and you'll spend the day in the heart of Kuala Lumpur. Here you can find cultural attractions and diversity of local food that never keep your stomach empty. Even locals still come here for the food. So expected waiting time if you are visiting them at peak hours and on weekends.
Merdeka Square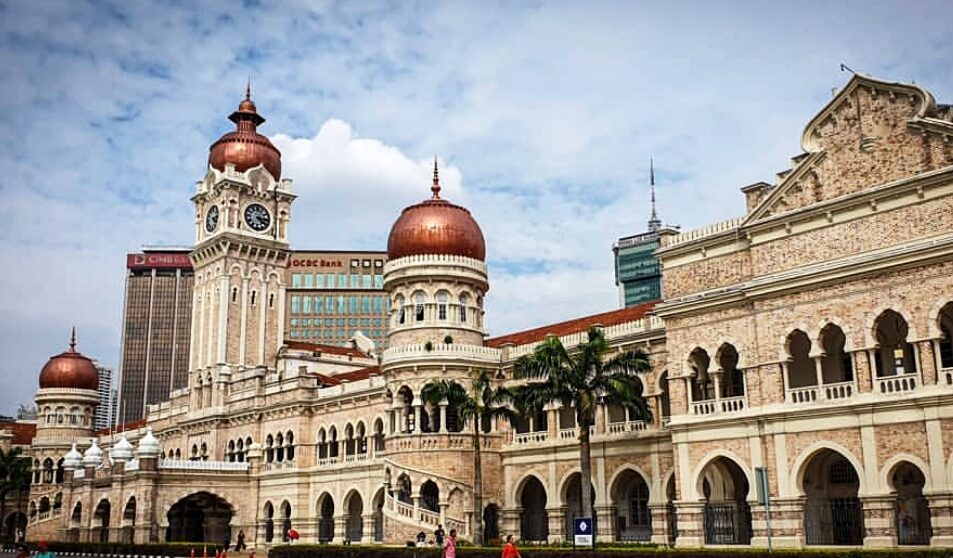 Firstly, head to Merdeka Square (also known as Independence Square) which is located in the heart of Kuala Lumpur. This location is easily accessible by the LRT train (Station Masjid Jamek).
Merdeka Square is a lovely open green square in Kuala Lumpur surrounded by architecturally beautiful old buildings. The historical area is the place to celebrate Malaysia's independence from the United Kingdom. It is also the place where Malaysians gather every year on 31st August to celebrate Malaysia's independence day.
Do observe the beautiful old colonial and historic buildings surrounding this Merdeka square are the Sultan Abdul Samad Building which is currently a Government-used building, KL City Gallery, St. Mary's Anglican Cathedral, and Royal Selangor Club. All together is one of the historical landmarks and important historical sightseeing of Malaysia.
Estimated time of visit: 1 to 2 hours.
KL Travel Tips: The weather is extremely hot in Kuala Lumpur in the afternoon. Come here early in the morning or late evening to avoid the heat.
Masjid Jamek
Besides, Merdeka Square is located near the River of Life. You can stroll around the river bank and cross the river via a bridge from or to Masjid Jamek, another popular attraction for a nice photo spot in the city. The "I Love KL" Sign is also situated in the area. Worth visiting altogether and good for some nice photographs.
Estimated time of visit: 30 minutes to 1 hour.
How To Get to Merdeka Square: The nearest station is the LRT train (Station Masjid Jamek) with 3 train lines connected to the station. Walk towards Jamek Mosque from the station and proceed to the corner and towards the Merdeka Square.
Central Market (Pasar Seni)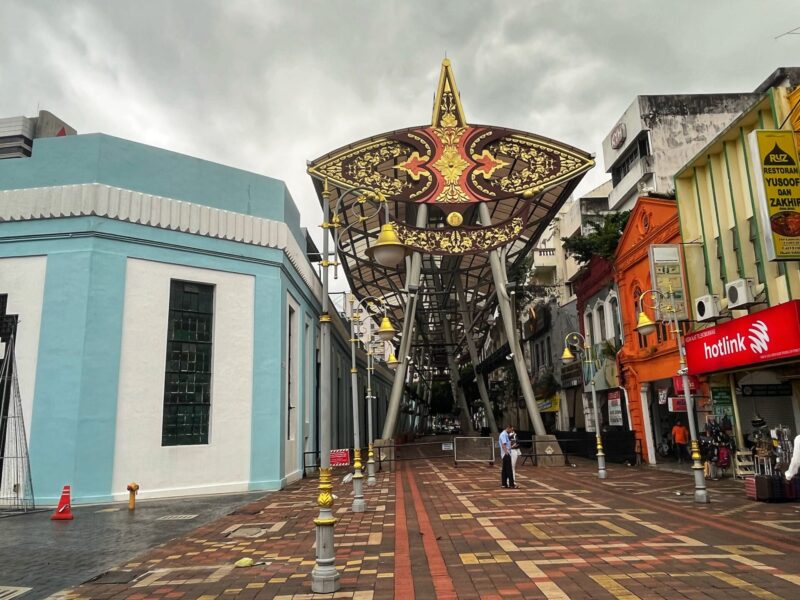 Next, head to the Central Market for the traditional culture of Malaysia. From Merdeka Square, it is about 5 minutes walk from Merdeka Square to Pasar Seni.
The Central Market in Kuala Lumpur is also known as Pasar Seni in the local language. Central Market is an art decoration building that is full of Malaysian characters. It was once the wet market that sold local produce such as fruit, vegetables, and meat. But the market was transformed into an art-centric filled with stores that showcase local Malaysian handicrafts, carvings, souvenirs, and batik prints.
Tourists, shoppers, and art lovers come here to experience the local Malaysian vibe. The area can be very lively with street performers and musical shows in front of the market. Eateries are available on the second floor where you can have traditional local delicacies.
Estimated time of visit: 30 minutes to 1 hour.
How to get to the Central Market: 5 minutes walk from Merdeka Square. Alternatively, the Central Market is easily accessible by private vehicle, with a paid parking space located just in front of the building. For public transport, you can get to Central Market by Monorail (Maharajalela Station), by LRT or MRT train (Pasar Seni Station), or by KTM commuter train (Kuala Lumpur Station), and then you reach it by few minutes of walk.
Due to the pandemic, most of the shops are closed temporarily. Rest assured. Many retailers are starting to come back for business.
Petaling Street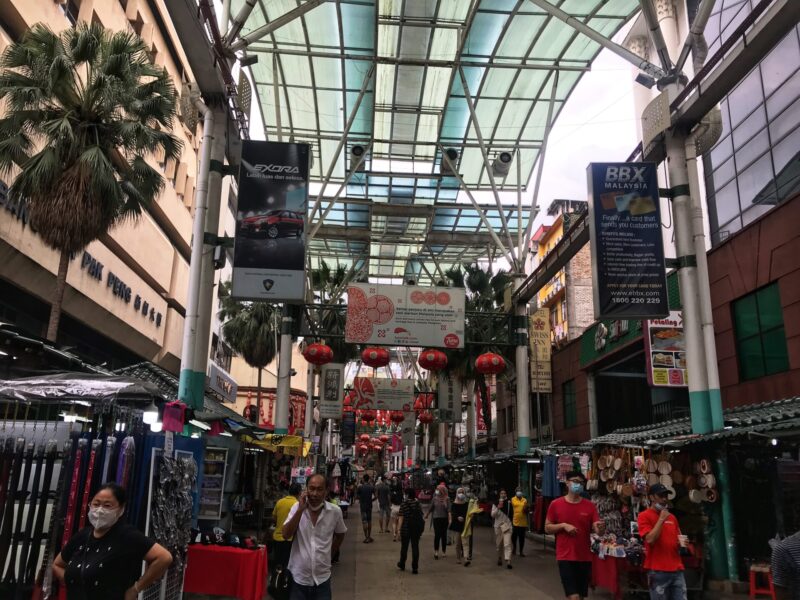 From Central Market, there is a short walk to Malaysia's Chinatown. Petaling Street aka Jalan Petaling is a colorful, lively, and vibrant market day and night. The area was once dominated by the Chinese population in Malaysia and was declared a Heritage Site. But nowadays, Petaling Street is filled with stalls where cheap items are sold along the main street.
From Central Market, you will be welcome with an oriental archway which is located on each side at the entrance within a 5-minute walk. The Petaling Sreet is a covered marketplace that has a local vibe and culture.
Strolling along the street, you will find all kinds of goods such as shoes, hats, shirts, accessories, and counterfeit branded goods are sold. We would not recommend shopping here but sometimes you will be still able to get some great stuff that brings back home. The whole neighborhood is far from glamorous, but definitely a saving grace for low-budget travelers. Don't forget to bargain if you plan to buy something at Petaling Street.
Worth spending an hour here just appreciating the market and local vibe.
Estimated time of visit: 30 minutes to 1 hour.
How to get to the Petaling Street: The nearest station is Pasar Seni MRT Station. 2 minutes walk after exit from Pintu A.
Street Food Tour on Petaling Street
For food lovers, Petaling Street is the best place where you can start with a street food tour in Chinatown. There are many Chinese food vendors and fruit stalls located in the alley where you can sample traditional Chinese food.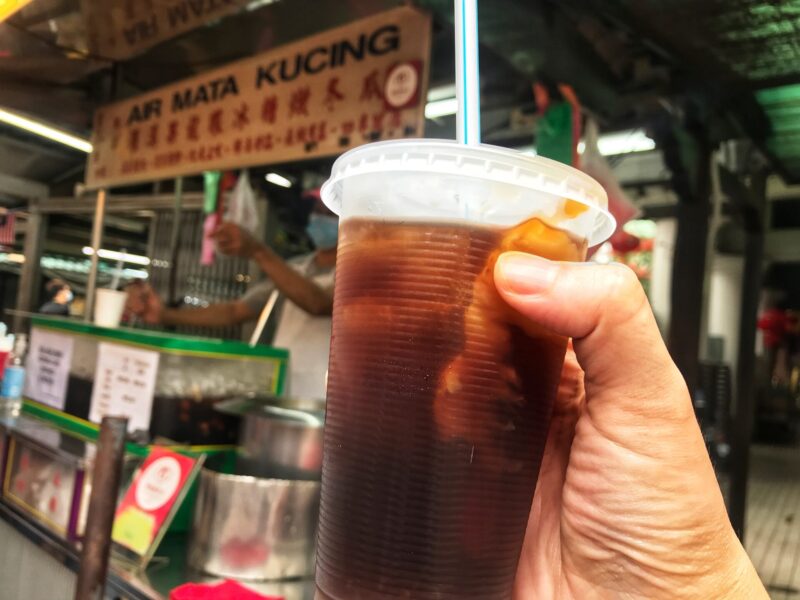 A few recommendations are the roasted duck, black Hokkien mee, chee Cheong fun, soya bean drink, and soya bean curd (tau fu fa) are selling for decades on Petaling Street. The refreshing longan drink is a must-try in Chinatown, especially on a hot day. You hardly miss this food in Petaling Street as you will see lots of people swarming in front of the stall for a drink.
You may also check out the local's favorite Lai Foong Kopitiam (Chinese Coffee shop) for their popular Lala Noodles which is located nearby the Central Market.
Kwai Chai Hong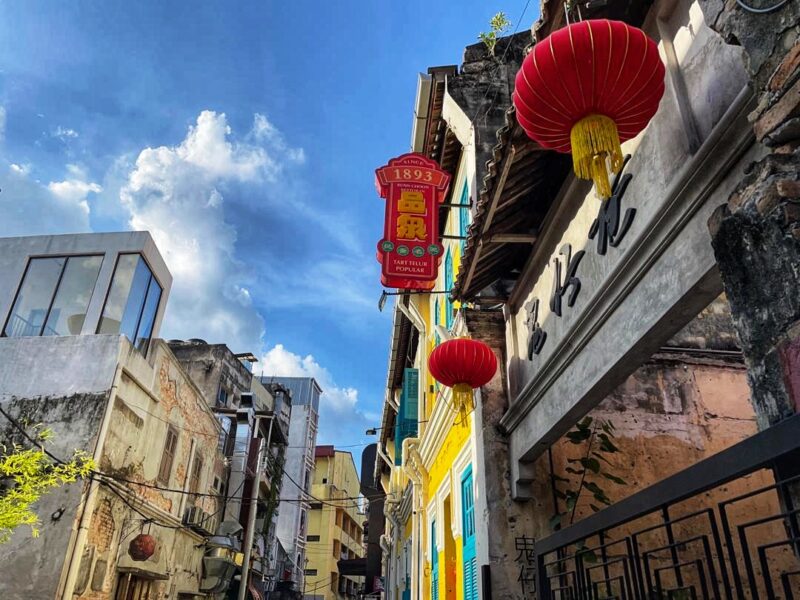 When visiting Petaling Street, be sure to walk to the Kwai Chai Hong (Lorong Pengguna) at the Southern end of the street. Tucks in an alley, Kwai Chai Hong is famed as one of the most Instagram-able spots in KL.
The charming street is filled with street mural arts and bright paintings which restored a part of KL Chinatown in the old glory days with a nostalgic feel. A great place to stop for 15 minutes for some great photo sections.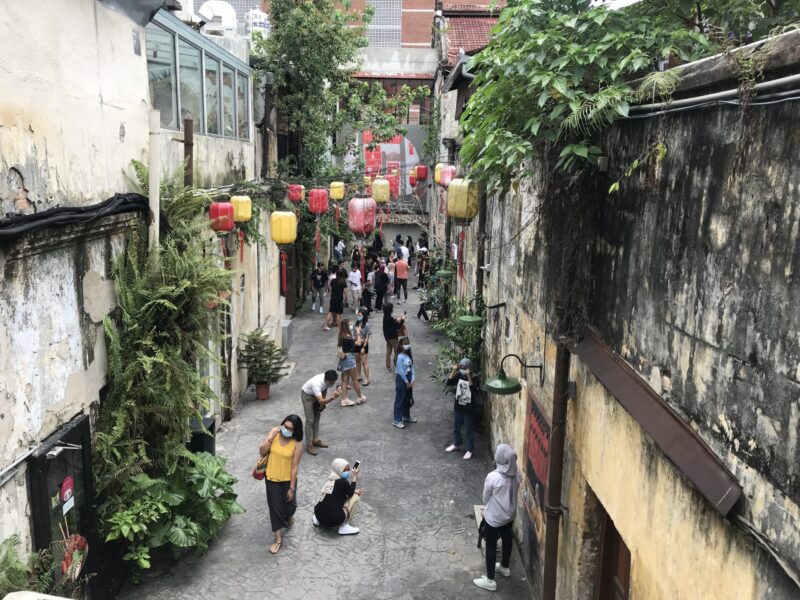 There is also a lot of good food, restaurants, cafe, and bars around here for you to rest after the long walk. A few recommendations are Merchant's Lane, Ho Kow Hainan Kopitiam for Chinese food, Pandan Republic, and Luckin Kopi.
You can check out my food post on this Kuala Lumpur Food Guide for more pictures and information.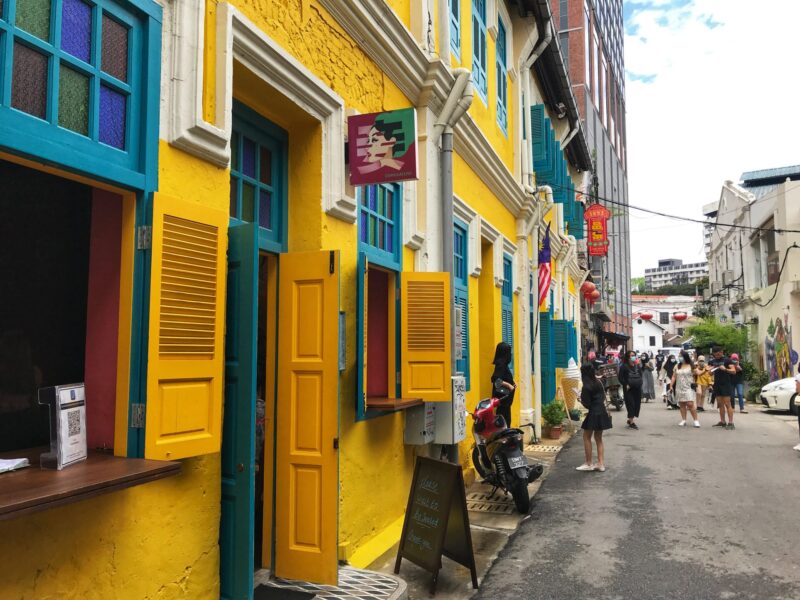 More Time in Downtown KL
There are also a few attractions that you coupled into your Day 2 Kuala Lumpur itinerary.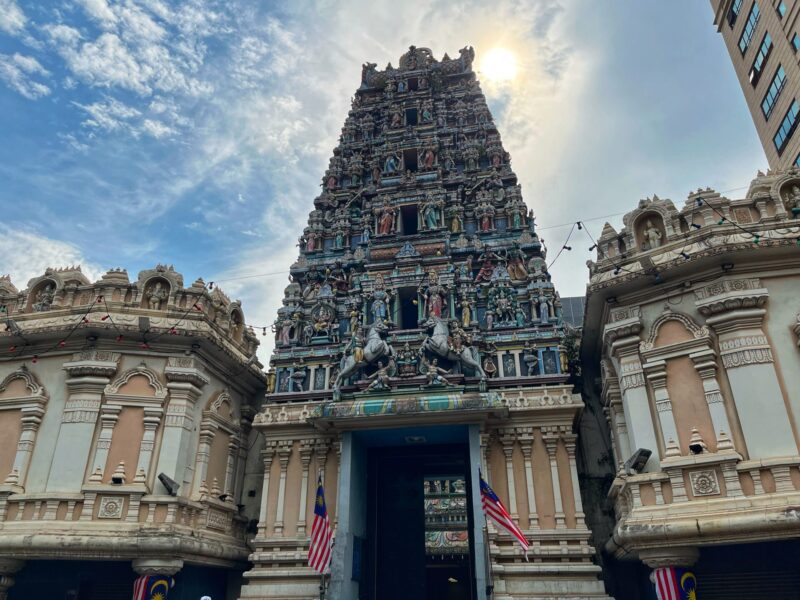 If you have more time, we highly recommend a visit to Sri Maha Mariamman Temple, a short 3-minute easy walk from Petaling street market. The Hindu temple is situated on the roadside with a free entrance. Footwear is to be removed before entering the temple. A nominal fee of 20 sen per pair is charged to keep footwear in an ante-room to the left of the main entrance.
The colorful ancient temple is the oldest Hindu temple, squeezed into a bustling city in Kuala Lumpur. The temple itself is beautifully decorated and surrounded by a wall of colorful murals. It is small but well managed and reasonably clean. Take a few minutes to stop to enjoy a glimpse into Hindu culture. You will even get to see a wedding vow taking place if lucky.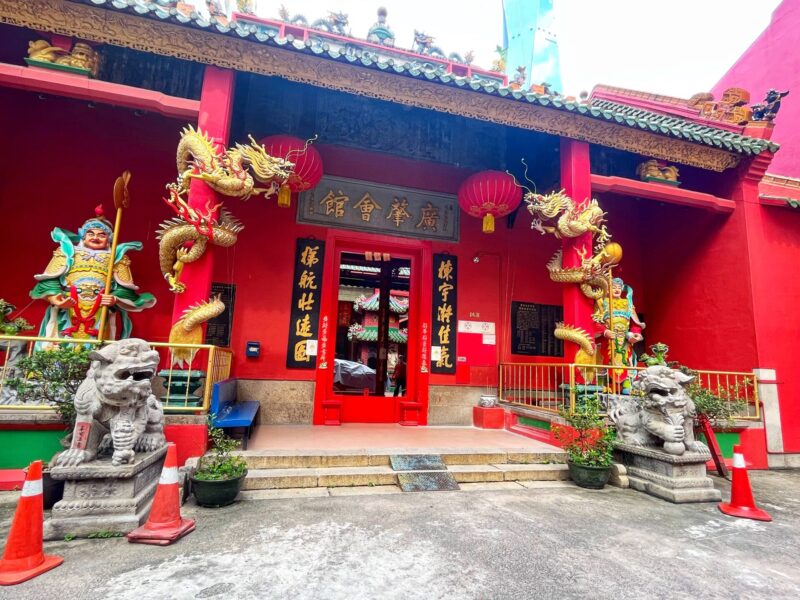 Opposite the Sri Maha Mariamman Temple, there is also a Guan Di Temple which focuses on Taoism that you can couple together as a cultural trip. The Chinese building is the 121-year-old Guan Di Temple dedicated to the Chinese God of War, who also represents loyalty. A beautiful pair of amazing religious buildings in the heart of a multicultural city. Seeing their worship is really interesting.
Another quick stop on Kuala Lumpur itinerary.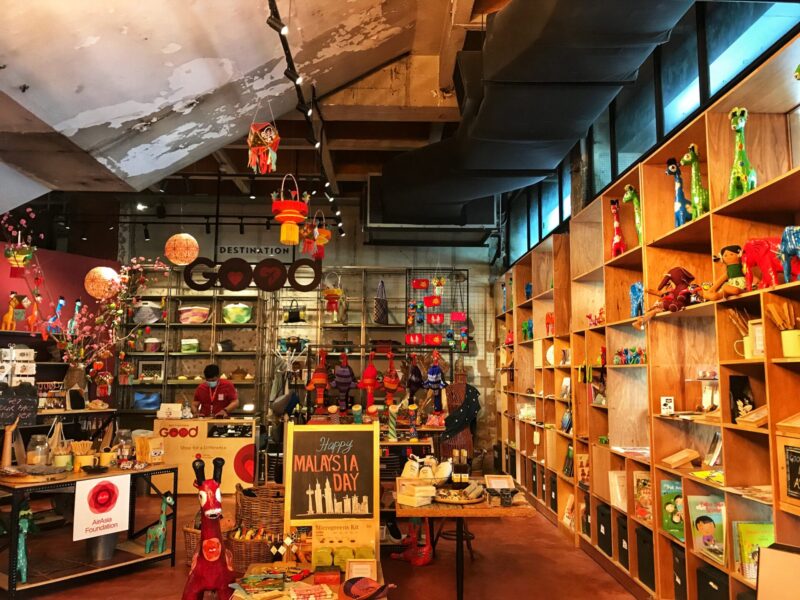 Continue your walk from Petaling Street, and you can get to the REXKL. This building was once the most popular cinema in town and has been transformed into an exhibition space with market space. The exhibition is housed on the upper floor with a picturesque centuries-old bookstore. While the basement is used for a number of chic bars retail shops, and Kiosks. The best place that gives one a glimpse of Kuala Lumpur's hipster scene.
Thean Hou Temple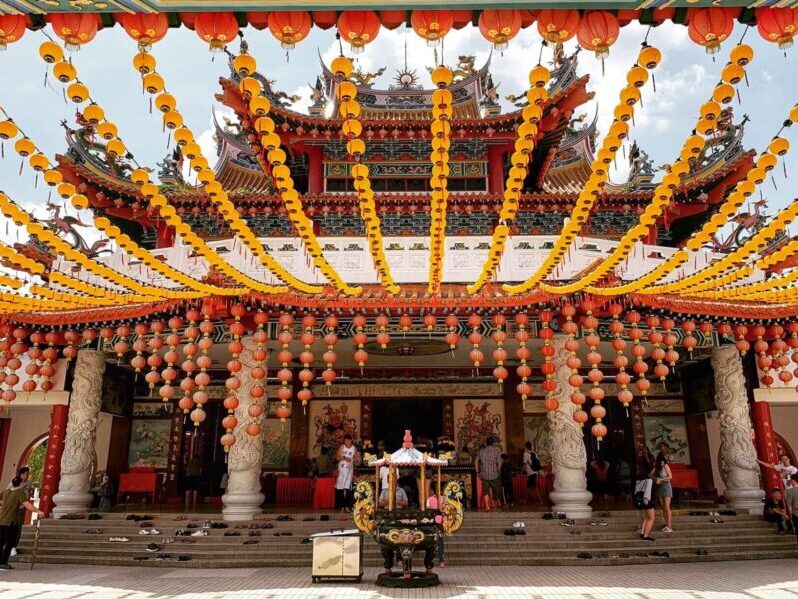 Tucked on a hilltop in KL downtown, Thean Hou Temple is an ornate Chinese temple that is worth a visit on your Kuala Lumpur itinerary. It is about a few kilometers away from Petaling Street, so best to coupled it together when visiting Kuala Lumpur. However, take note that public transport is not well-connected, so it is best to drive there or take a 10-minutes grab ride.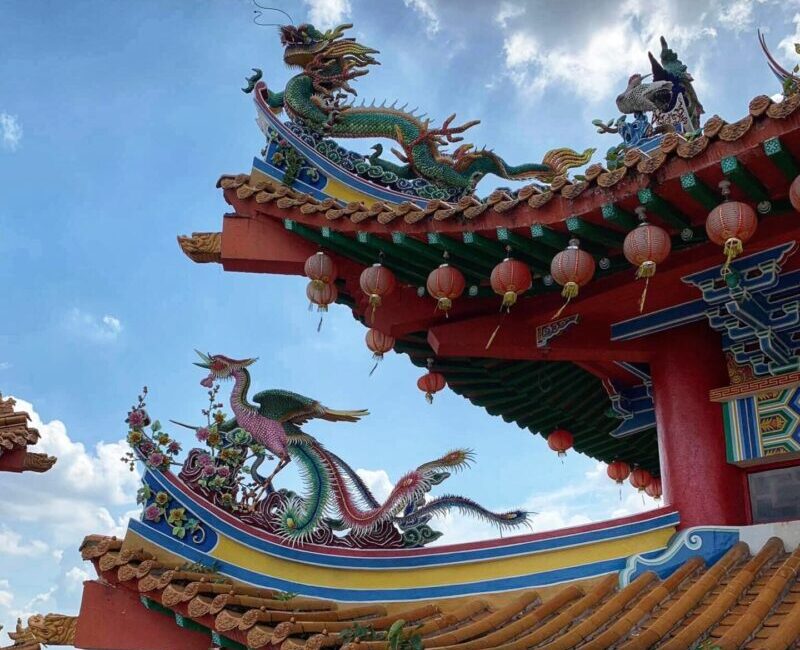 Thean Hou Temple is a great pictorial location for the oriental theme. The temple is surrounded by lovely gardens and the main building is multi-tiered that beautifully decorated with colorful lanterns. There are also sculptures of the 12 animals of the zodiac, arts, and statues that are worth spending some time wandering around.
The best time to visit Thean Hou Temple is during the Chinese festival season, you will witness the whole space lit by sparkling lights and impressive red lanterns. Besides, Thean Hou Temple is a place for marriage registration and you may lucky to witness the Chinese locals celebrating the new marriage there.
Estimate visiting time: 1 to 2 hours.
Getting to Thean Hou Temple: Not easy access by public transport. We recommended taking an e-hailing or taxi ride to get to the temple. Normally it costs about RM10-20 from the Petaling Street area.
Bukit Bintang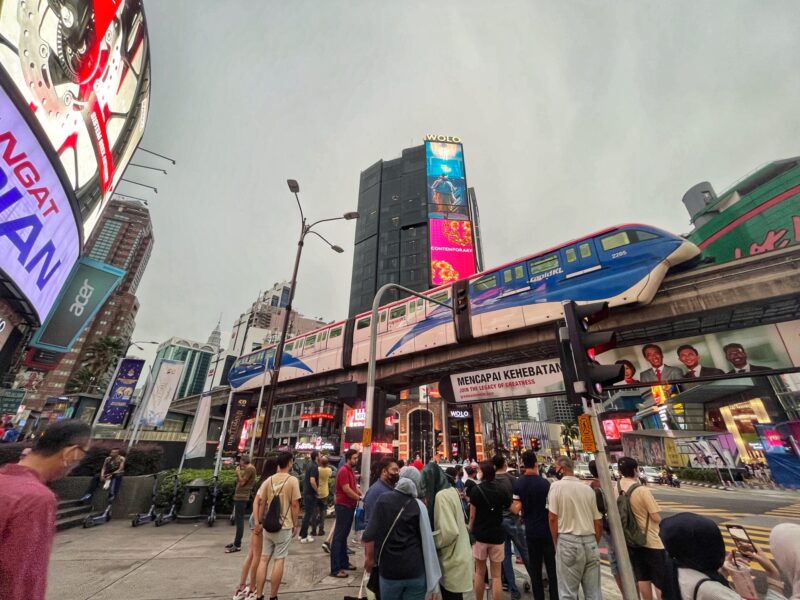 Next, move your footstep to Bukit Bintang with a short MRT ride to Pavilion Bukit Bintang MRT station. It is best to spend your late afternoon time indoors to cool down in the air conditioning building.
The Golden Triangle in Bukit Bintang is one of the most touristy spots in Kuala Lumpur. The area is filled with great shopping centers, restaurants, bars, clubs, hotels, and people!
If you like shopping, then you're going to enjoy the mall hopping in Pavillion Kuala Lumpur, Lot-10, Fahrenheit 88, and the surrounding.
Bukit Bintang is also surrounded by many restaurants, locally and internationally where you can get all the international cuisines around. The street is never sleeping and is always filled with cars and people. Locals and visitors gather here for shopping, food, drink, and party. A must-visit in Kuala Lumpur for the atmosphere!
Among them, Pavilion KL is the biggest and most stylish mall in the city. The center of the Pavilion is always filled with decorations, based on the coming Malaysia Festival during your day or visit. Many people are coming here to experience the festival vibe when visiting the area. The Christmas and Chinese New Year Celebration is always the most beautiful and lively decoration in town.
Besides, Pavilion KL is one of the best malls in Kuala Lumpur with a great selection of grant and luxury branded shops. Shop till you drop here!
Food Hunt at Jalan Alor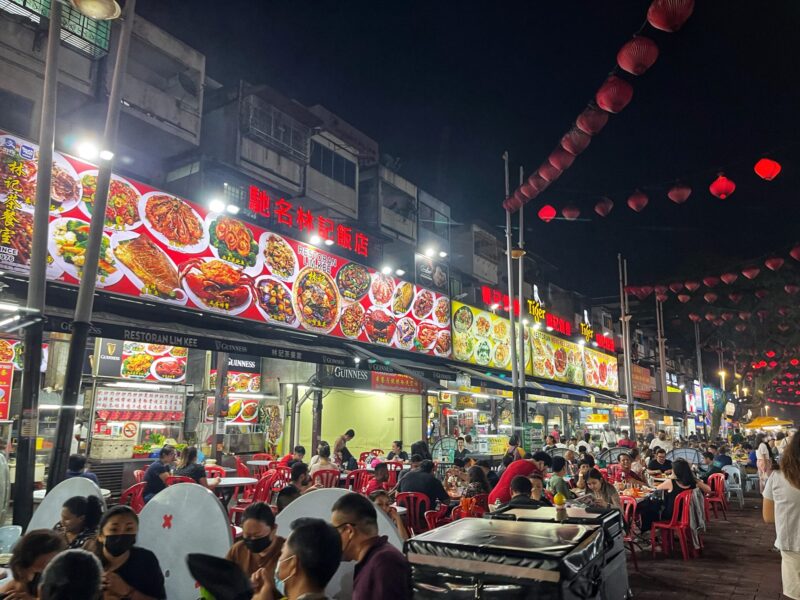 End your Day 2 Kuala Lumpur itinerary with a foodie hunt at Jalan Alor. This lively street is the best place when you are looking for a lively night market in Kuala Lumpur with good food. From Pavilion KL, there are about 5 minutes walk to Jalan Alor.
Once you're there, you will be surprised and amazed by the lively atmosphere along Jalan Alor. The street is filled with restaurants, food stalls, and kiosks with tables and chairs on the streets. There are varieties of food options and different kinds of cuisine to choose from.
Along the street, you can find Malay, Chinese, Indian, Thailand, Vietnam, and all ASEAN country food vendors that welcome your patron to taste the cuisine of their countries. You will be wondering are you in Malaysia, Thailand, Vietnam, India, or any of the Asia countries!
Every night, the street comes alive with people chilling with the food offerings. You've got beers, seafood, fruits, skewers, desserts, and a lot of others. The price is slightly on the high side but the price tag is well marked on the menu. If this is not stated, please ask for it or look for another restaurant.
What To Eat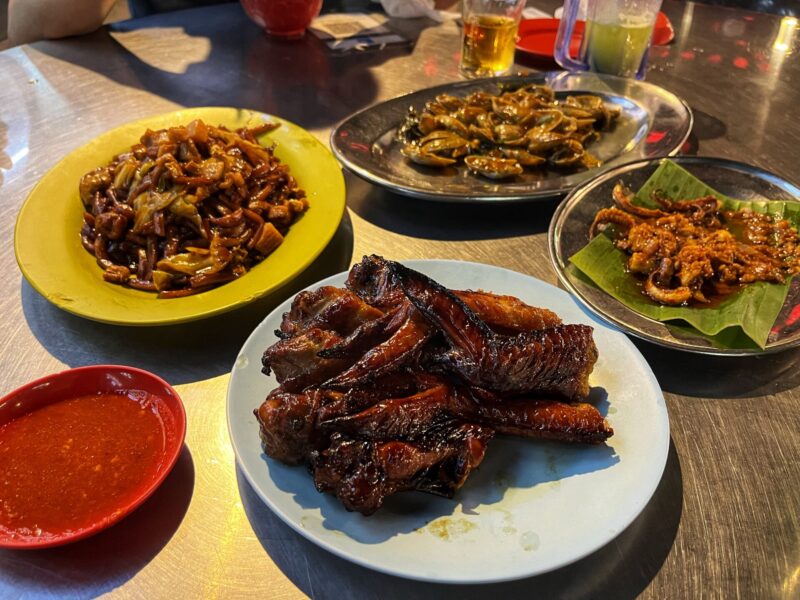 Among all, one should not miss the chicken wings at Wong Ah Wah Restaurant! The restaurant started the business almost 30 years ago and locals continue coming back for food. Their famous charcoal-grilled chicken wing is to die for. Highly recommended!
If you go to Kuala Lumpur, do not forget to include Jalan Alor in your itinerary as one of the must-visit places. Nice ambiance and is full of people going around. A unique food destination in the heart of Kuala Lumpur.
Day 3 Kuala Lumpur Itinerary
Plan for a half-day trip to Batu Cave, National Zoo, or some of the best theme parks in the town on your last day of Kuala Lumpur itinerary. Choose one of the options for day 3 in KL or split it into more days for your KL trip excursion.
A half-day trip to Batu Caves is one of the favorite things to do in Kuala Lumpur for first-time visitors. The Hindu Temp is located inside the limestone cave. This KL attraction is trending on social media these few years due to its rainbow color staircases. Well worth climbing the 272 steps to get a closer look.
You can also spend your time in Zoo Negara and Sunway Lagoon Theme Park. Both are good for family and kids when visiting Malaysia.
Batu Cave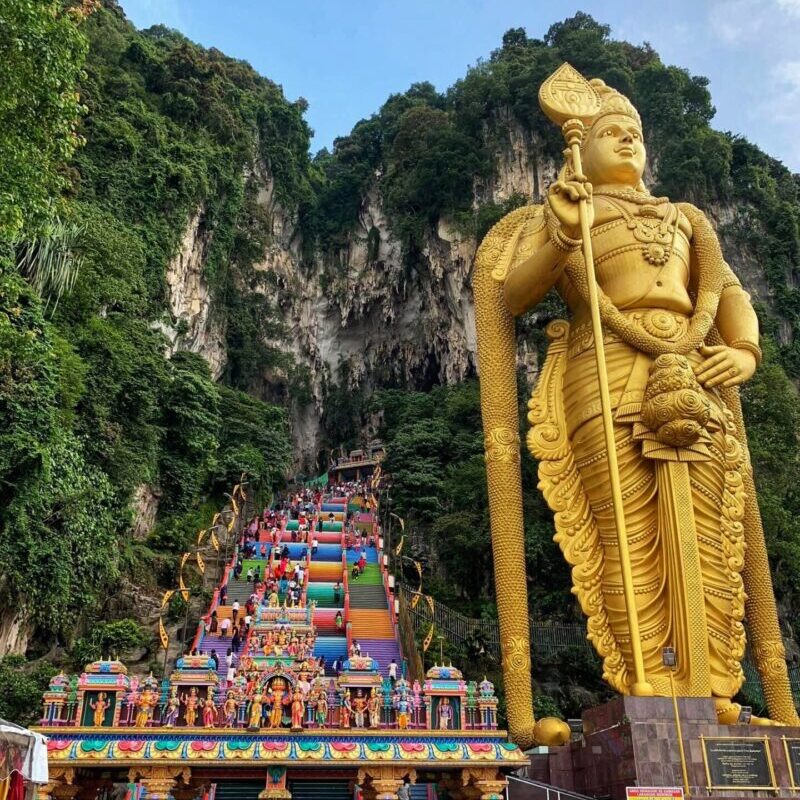 Located 13 km on the north side of KL, Batu Caves is one of the must-visit attractions in Kuala Lumpur for exploration. Dedicated to Lord Murugan, Batu Caves and the temples are sacred Hindu shrines for the local Hindu population.
On your visit, you will be greeted by the tall golden Murugan God complete with his enormous "vel" which you can see from a far distance. Be ready to climb from the bottom to the inside of the cave which houses a couple of temples.
Do come with proper and comfortable shoes as the journey up can be a challenge. There is a total of 272 colorful stairs that you need to step up to the depths of the caves. The rainbow colorful steps get all the attention and have become one of the popular backdrops for Instagrammers.
Inside Batu Caves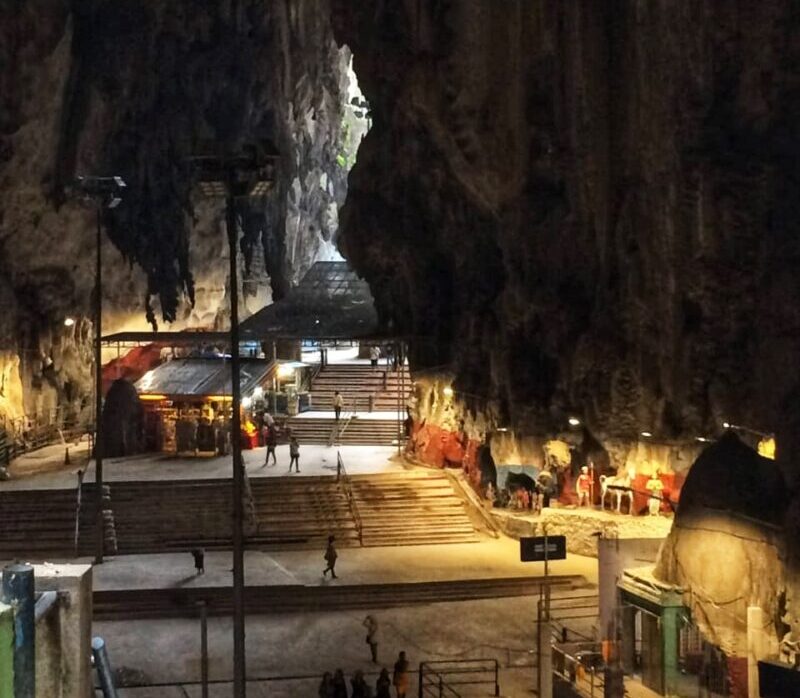 On your way up to the temples, the view is very beautiful. Besides, you may also possibly see wild monkeys along the way. Be careful as the wild monkeys will attempt to steal food or belongings from you.
The place is quite serene especially when there are hundreds of pigeons flying around the site. Take some time to walk around the other sites at the base and explore at your own pace. However, it is a bit overrun with people and monkeys and is under-maintained. Visit here if you want to experience escaping the city.
Estimate visiting time: 2 to 3 hours.
How To Get To Batu Cave: We recommended a taxi o e-hailing ride to get to the Batu Caves with costs about RM20, depending on the distance. There will be a long public transport ride to get to the site. You will need to get to the Batu Caves Station (KTM Seremban Line) and walk a few minutes to the Batu Caves. Alternatively, you can book a tour through Klook hassle-free arrangement although no guided tour is needed to get there.
Kuala Lumpur Suburbs and Batu Caves
Friendly reminder, Batu Caves is a religious place. Please be respectful of the devotees and dress appropriately. Do remember to cover up when visiting and no short shorts, revealing tops, or slippers.
National Zoo of Malaysia
Not too far from Batu Caves is the National Zoo of Malaysia. It is run by the Malaysian Zoological Society and almost 500 species are housed within. There are large varieties of animals are featured from minuscule to enormous including colorful birds, Malaysian tigers, elephants, giraffes, and more. It is one of Kuala Lumpur's top wildlife attractions, however, to be honest, it is not well run and the facilities are poorly maintained.
Zoo Negara Admission Ticket (National Zoo of Malaysia)
But still, it is still good to wander through the open zoo and meet a giant panda. The Giant Panda Conservation Centre is the place where visitors can meet a couple of pandas that are so cute and adorable. The animal show is also interesting but can be improved with more interesting shows.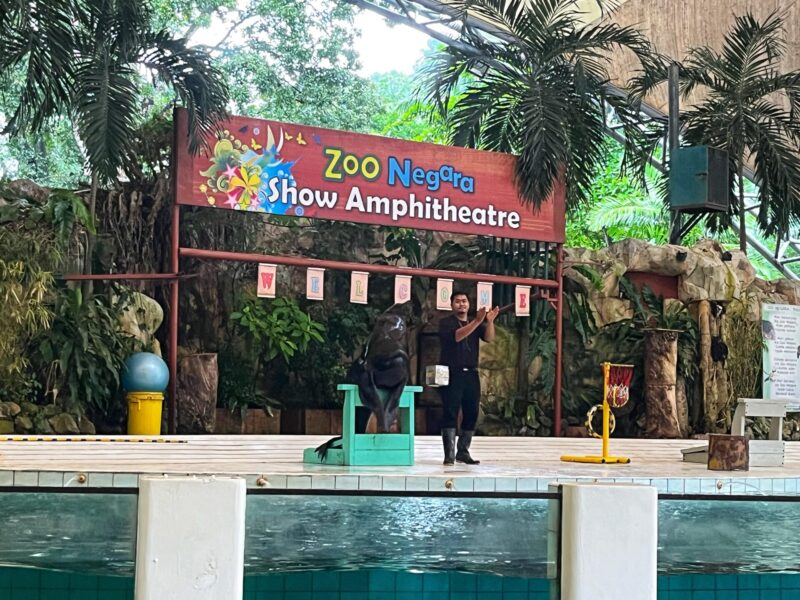 In short, the National Zoo of Malaysia is still worth the visit, especially for kids and families. It's educational and informative for kids to learn about animals and wildlife. Don't forget to carry water and light snacks as there is not many food options inside the zoo.
Estimate visiting time: 4 to 5 hours.
Sunway Lagoon Theme Park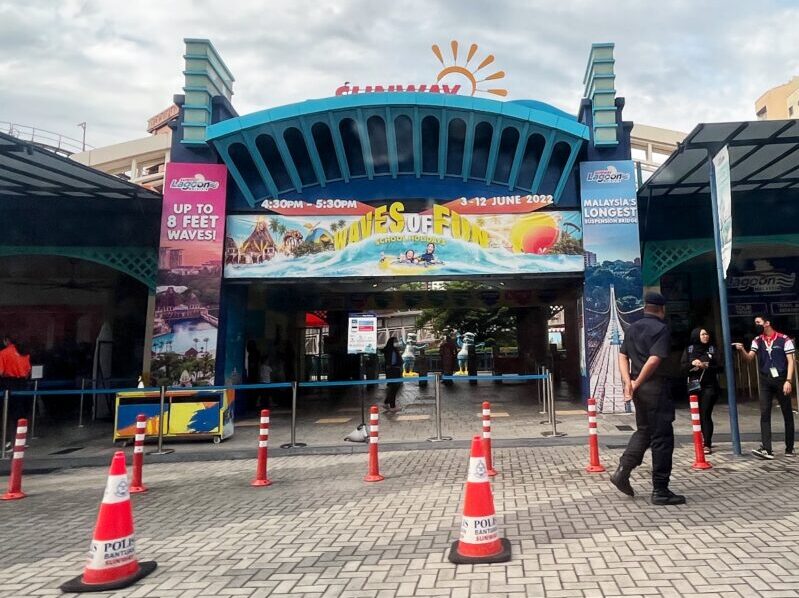 For family travelers with kids and teenagers, you can include the Sunway Lagoon Theme Park in your Kuala Lumpur itinerary. The Sunway Lagoon Theme Park is located in the suburb of Petaling Jaya, about 30 minutes away from the KL city. This local favorite location is part of the Sunway group where you spend time in Sunway Pyramid for shopping, looking for food, or staying in the Sunway Hotel.
Get Discounted Sunway Lagoon Ticket
Sunway Lagoon Theme Park has offered fun and visitors can experience not just a theme park but also a water park that is located on the same site. The complex includes theme park rides, interactive games, wave and surf pools, and even a zoo. It offers a great variety of slides, places where you can swim and relax, and kids' water playgrounds. The experience was fun and memorable.
There are many food options, but mainly American food which is fries, Pizza, and burgers. It also has a few more local options where you can refill the energy to continue your adventure in the theme park.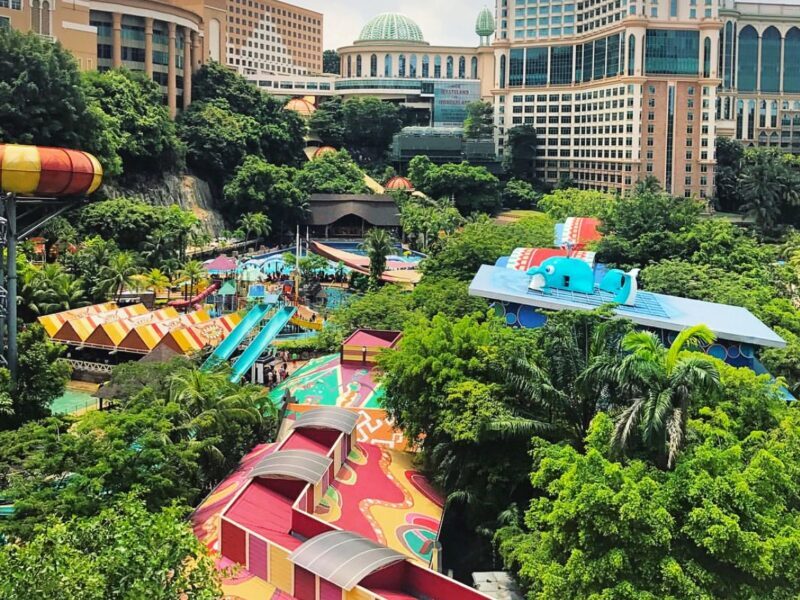 Overall, Sunway Lagoon is a very much enjoyable theme park and definitely worth spending some time to enjoy and have fun with friends and family. Highly recommend it to all kinds of travelers. Better come early to avoid bigger crowds and queues. The queue for the rides can be long. If you can buy the "Quak Express" ticket, go for it!
Kuala Lumpur Travel Tips: Watch out for discounted Sunway Lagoon tickets in Klook. The entrance ticket can be purchased at a cheaper price compared to on the spot. The annual ticket is also worth the money if you plan to come here more than 3 times!
More Kuala Lumpur Travel Tips
My final tip when planning for the Kuala Lumpur itinerary is to make your itinerary flexible. You might need to adjust the activities based on the weather condition. If you're short of time, perhaps you might need to skip some of the attractions. Follow our Kuala Lumpur travel guide, you'll still get to see most of the vibrant city!
Handy Kuala Lumpur Travel Guide
What is the best time to visit Kuala Lumpur?
Malaysia is a tropical paradise with warm weather all year round; this is the same for Kuala Lumpur. The best time to visit Kuala Lumpur is between November and December. The weather is hot and humid, with an average of between 25C to 35C. Rain normally during the late afternoon, but it lasts for a short period.
What to wear when visiting Kuala Lumpur?
The weather in Kuala Lumpur is extremely hot and humid all year long, especially during the afternoon. Please wear lightly but appropriately when traveling in Kuala Lumpur.
Is Kuala Lumpur budget-friendly?
Kuala Lumpur is budget-friendly to suit the varied types of travelers. You can find low-cost accommodation with great cheap food when visiting KL. At the same time, KL is also full of high-class luxury activities and accommodation choices for your holiday gateway.
Do we need to tip in a restaurant?
In Malaysia, tipping is not required at restaurants. People don't normally practice tipping as the food price is included with government tax and service charges.
Is Kuala Lumpur a safe city to visit?
Kuala Lumpur is a safe city to explore and wander. The locals are friendly and helpful. Same with other big cities, please always take care of your self belonging and beware of pick-pockets.
Overview: A Trip to Kuala Lumpur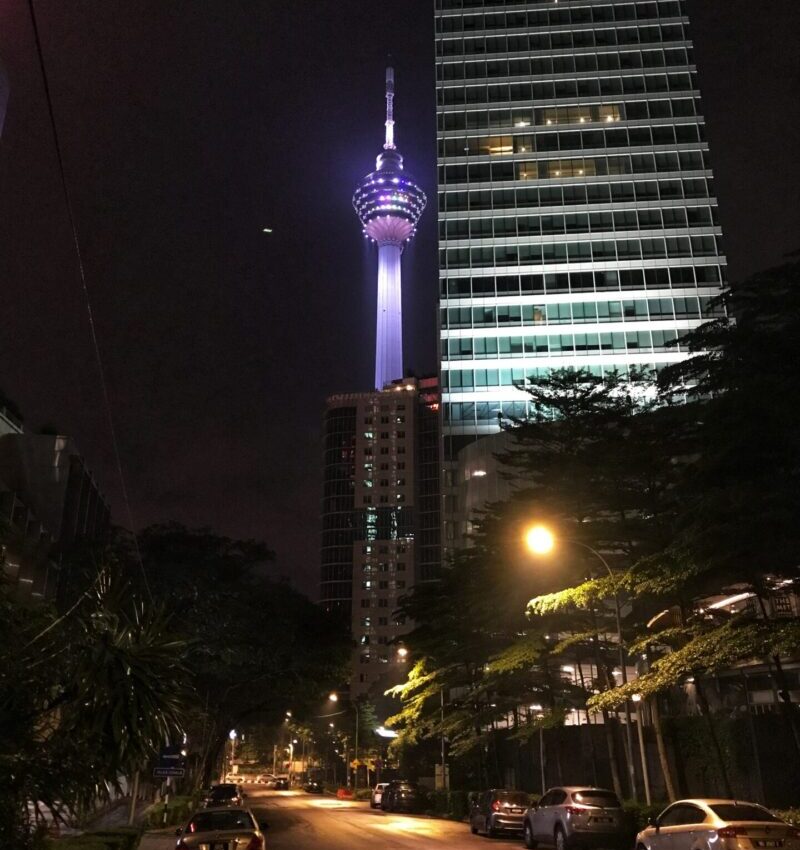 All in all, Kuala Lumpur definitely worth visiting. This lively city offers some amazing food and good nightlife. You can go shopping and explore historical sites. The locals are friendly and happy to help visitors. But you will need to plan what to do as KL is a big city.
In short, we hope you enjoy our 3 days Kuala Lumpur itinerary. Three days might not able to fit all the things to do in KL, but we try our best to introduce some of the city's best sights that are good for your trip as a visitor. You might need to keep more days for food and attractions nearby the city. The itinerary is flexible and you can adjust based on your need and weather conditions. Thanks for reading my Kuala Lumpur travel guide blog and enjoy your trip to KL!
Lastly, I'd love to know if this Kuala Lumpur travel guide blog has helped you with your KL itinerary planning. Let me know if you have any questions and I'm happy to help.
Related KL travel blog and accommodation guide:
For the best food in KL: