Last updated on September 23rd, 2023
If your trip to Chiang Mai takes place over a weekend, we highly recommend a visit to the atmospheric JJ Market. It is a lively market to explore when visiting the city. Let's discover Jing Jai Market with our comprehensive guide!
Jing Jai Market, commonly known as JJ Market is a lively open-air market in Chiang Mai. It is a great market that combines the farmer's market, organic market, flea market, and creative craft market in the same area. There are plenty of goods and produce on sale. Locals sell healthy organic fruits, vegetables, and handmade handicrafts in the JJ market. You'll hit the JJ Market where you can easily spend an hour or more here!
We visited Jing Jai Market during our visit to Chiang Mai. There are lots to see in the market and highly recommended. Continue reading our Jing Jai Market Guide to know more detail about the JJ market.
Guide to Jing Jai Market Chiang Mai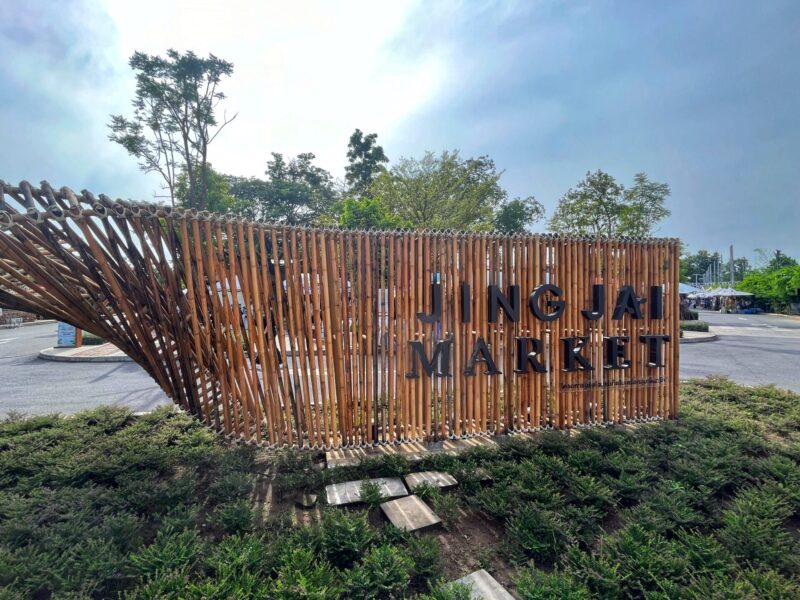 Jing Jai (JJ) Weekend Market is situated at north of Chiang Mai's old town in the Chang Phueak area along the Atsadathdon road.
How To Get To Chiang Jai Market: It is located slightly outside the old town. From Chiang Mai's old town, it is around a 20 to 25-minute walk from the North Chang Phuak gate. Alternatively, you could also take a tuk-tuk, or hail a Grab to get there comfortable.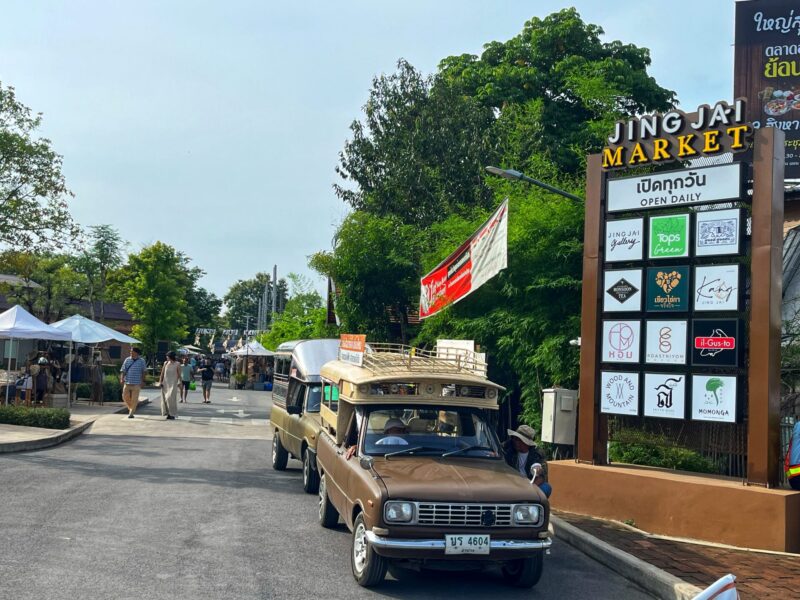 When to visit Chiang Jai Market: Make sure you go on during weekend early! Although JJ Market is open daily, the market is particularly lively on Saturday and Sunday mornings. You'll have a great opportunity to stroll through the market, enjoy a cup of coffee, or sample some local food.
Jing Jai Market (JJ Market)
Opening Hours: 6.00 to 13:00 every Saturday and Sunday.
Location: Atsadathon Road, near Kham Thiang Flower Market and Tesco Lotus.
Here is some of the quick Jing Jai Market guide if you are planning a visit to JJ Market:
What time does the Jing Jai market open?
JJ Market is a weekend morning market, opening from 7:00 to 13:00 every Saturday and Sunday.
What is the best time to visit JJ Market?
It is best to visit the JJ market in the early morning to avoid the crowd. We advise reaching there before 9:00 on the weekend morning.
What's so special about Jing Jai Market?
The Jing Jai Market is fabulous with local food, clothing, crafts, and many more interesting things. There are also many handmade and local design handicrafts and clothes on sale here.
Our Trip To JJ Market
We visited Jing Jai Market during our visit to Chiang Mai. The market is open at around 6:30 morning and we arrived around 8:30 from our hotel from Nimman by Grab. There are started filled with people but not too crowded. We can wander from one stall to another stall for shopping. A great start to the day!
Fashion and Craft stalls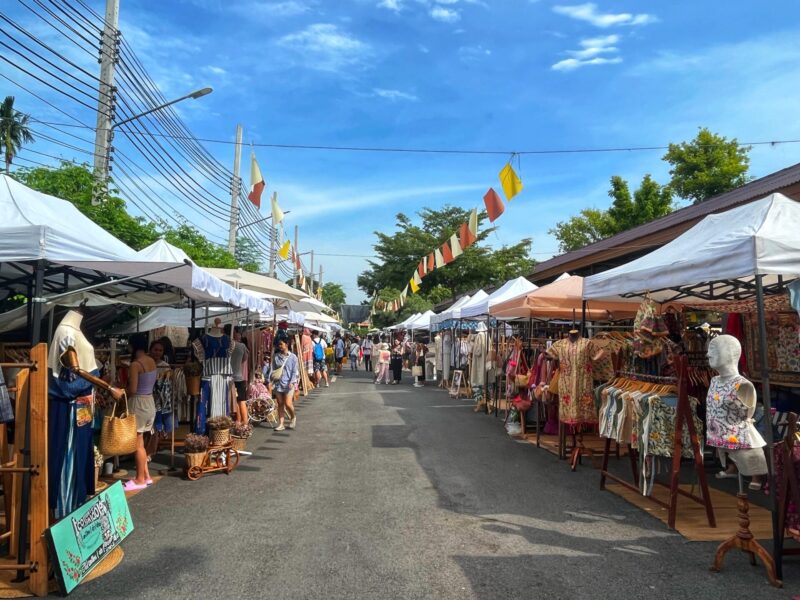 Once you first arrive, the first section you'll encounter at Jing Jai Market is an area of boutique and independent craft stalls.
A place where you can lose yourself among handicrafts such as handbags, sculptures, paintings, and earrings, and where you can buy the best souvenirs of your Chiang Mai trip.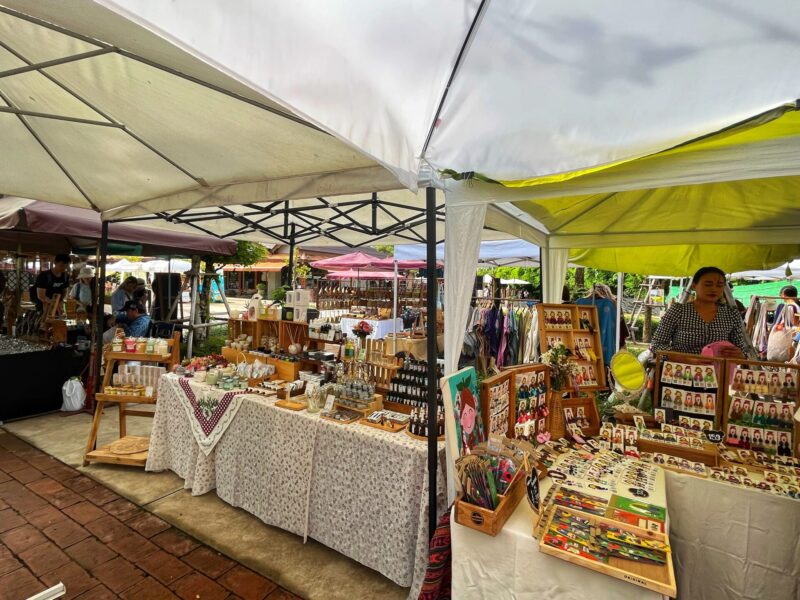 Make sure you allow plenty of time on the day you arrive at JJ Market to do some shopping. The JJ Market offers a great mix of souvenir stalls, fashion stalls, and traditional art stalls.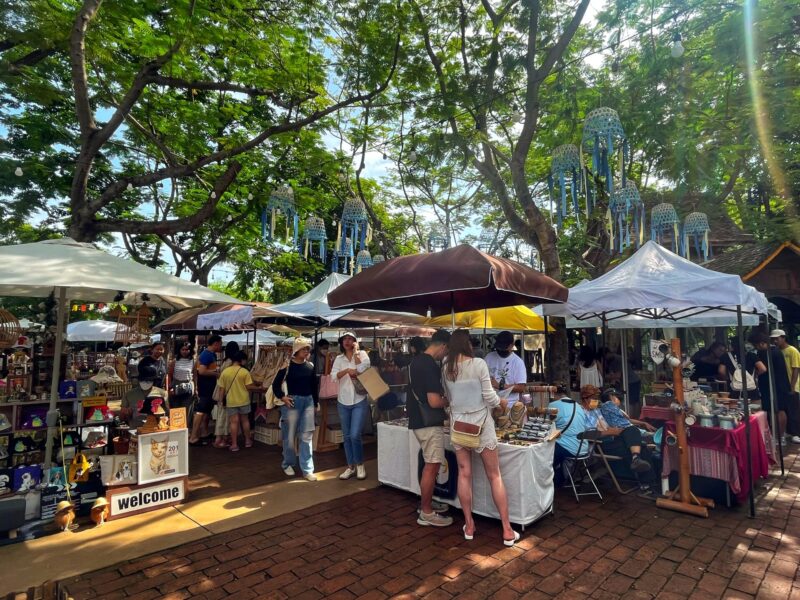 Most of the stallholders seemed to be local or youngsters selling their own brands of fashion or design. Everything here is unique and mainly hand-made.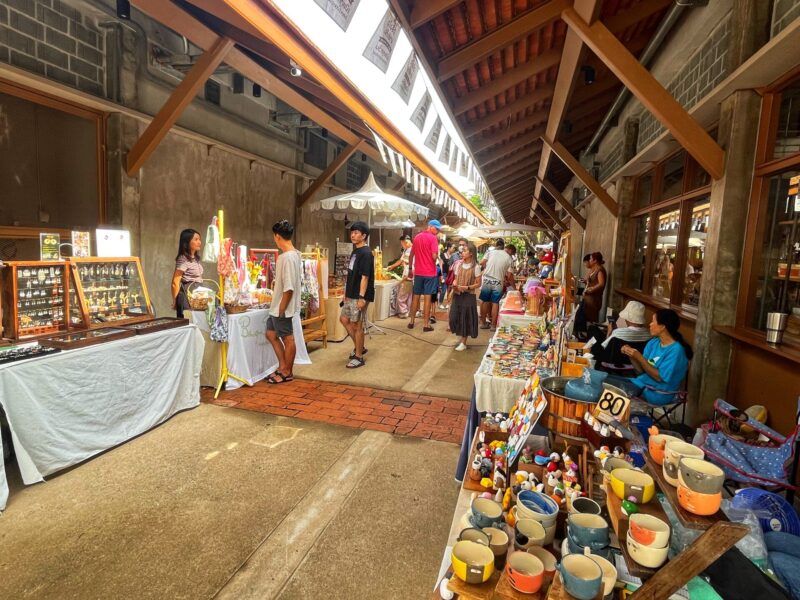 Whether you still need some souvenirs for friends and family back home, or you're just looking to do a bit of shopping for yourself, you're sure to find everything you need to complete your Chiang Mai shopping experience.
Meandering through the stalls is also a great way to immerse yourself in the local atmosphere!
Live Music Performance
The popular morning market has lively energy, and the vendors and locals have a reputation for being very friendly.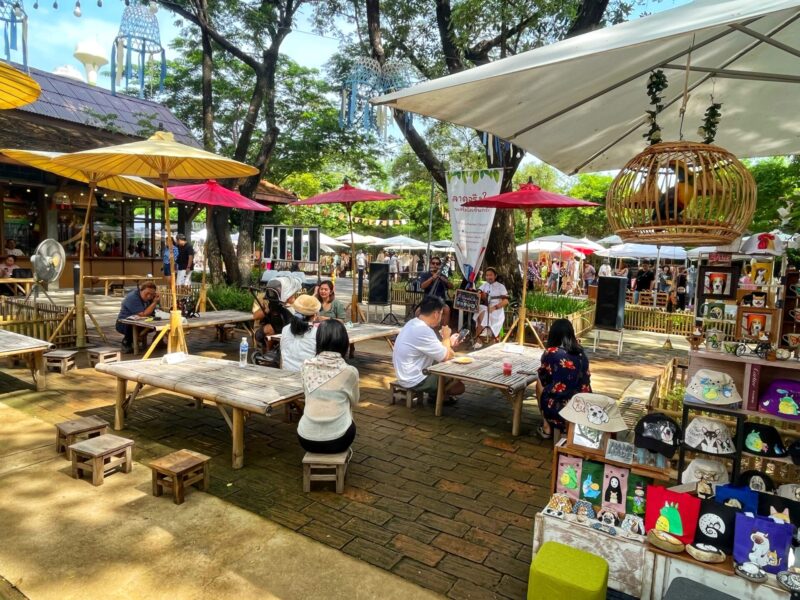 The vibe is chic and cool with various local musicians singing and playing live instrumentals around the corner. You could also buy local food, and sit under the trees while enjoying the live music and beautiful songs.
A perfect place to spend Saturday or Sunday morning in Chiang Mai.
Coffee Shops and Coffee Trucks
There are several coffee shops open daily situated inside the JJ Market. Roastniyom coffee is one of the popular picks with great coffee and a wide range of sweet treats.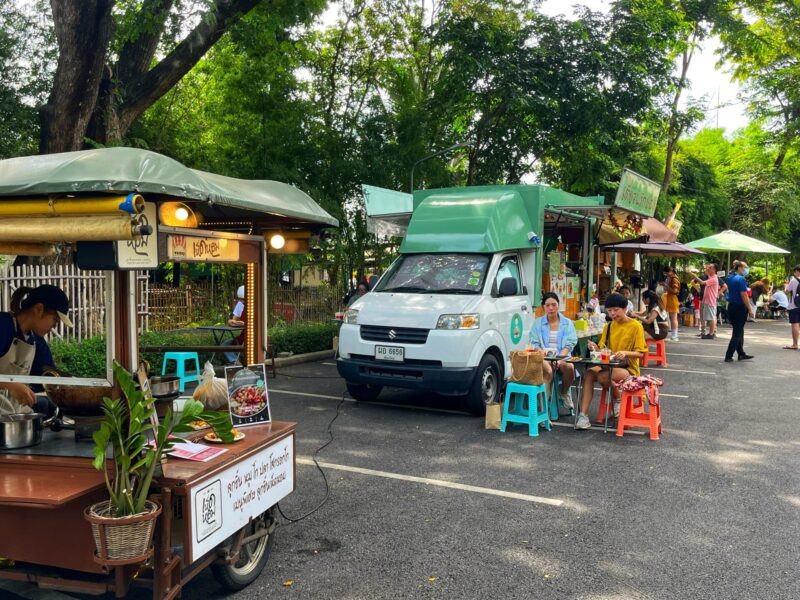 But if you continue to explore, you'll see several mobile coffee trucks and carts scattered around the corner in the market.
Most of them are open just at the weekends for the farmers market.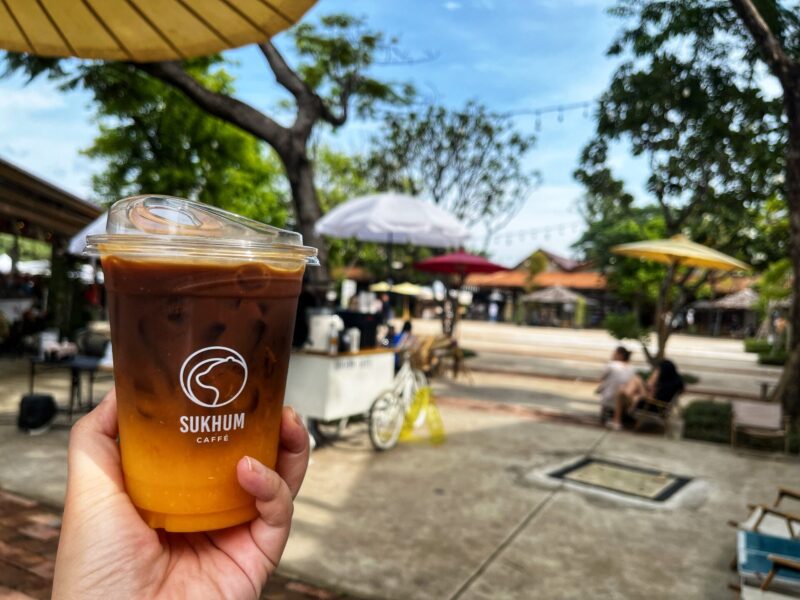 Grab a coffee and sit down to enjoy it with the market vibe surrounding you!
Jing Jai Farmer Market Food Stalls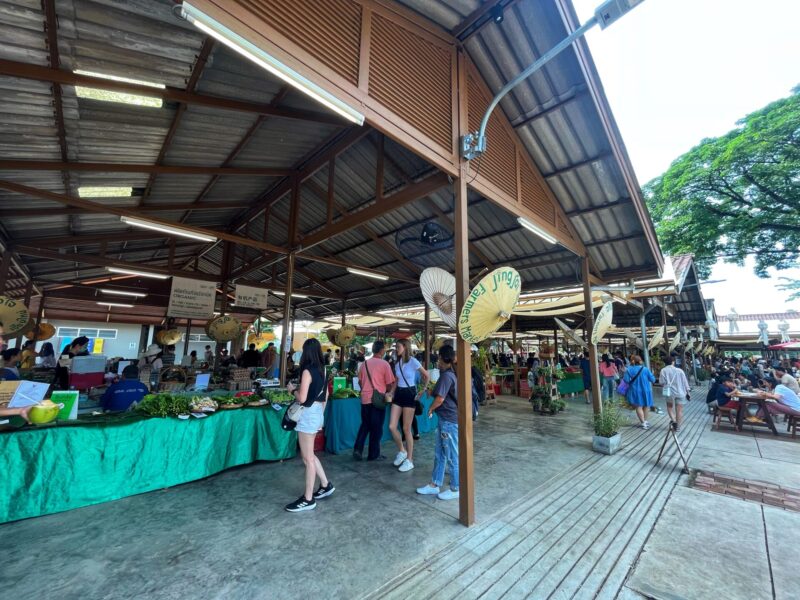 Continue heading towards the center end of the Jing Jai Market, you'll find the busy food courts and Farmer Market Section.
Starting around 6:00, the food stalls begin selling delicious hot meals and Northern Thai treats.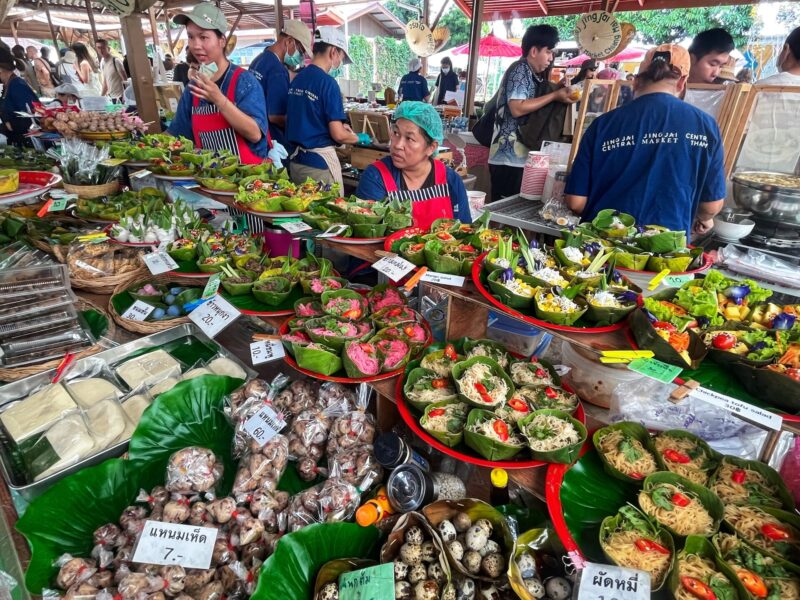 There is a wide range of food with lots of options including vegan and vegetarian. Among the most popular offerings are papaya salad, crispy pork, sticky rice, and all sorts of noodles dishes.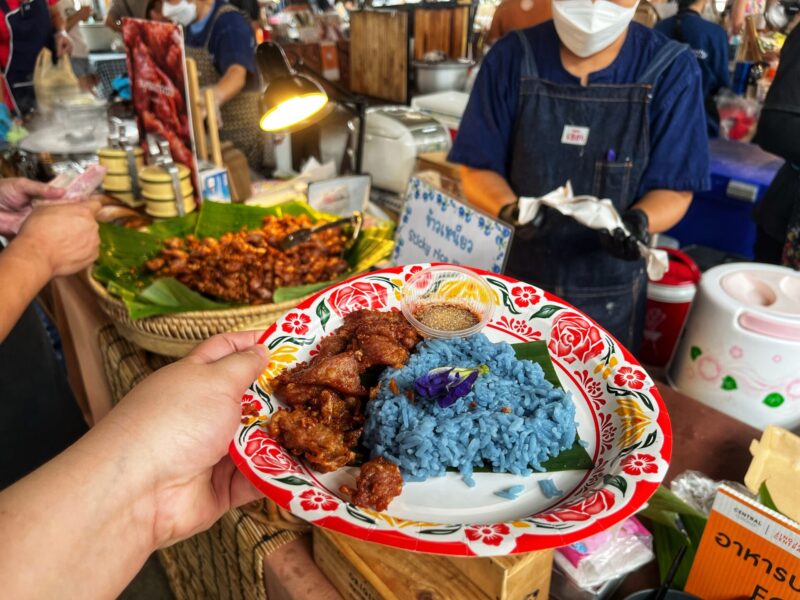 Hop from stall to stall until you get your fill of the best Northern Thai cuisine!
Jing Jai Market Travel Tips: Arrive early on an empty stomach as there is so much food to eat here!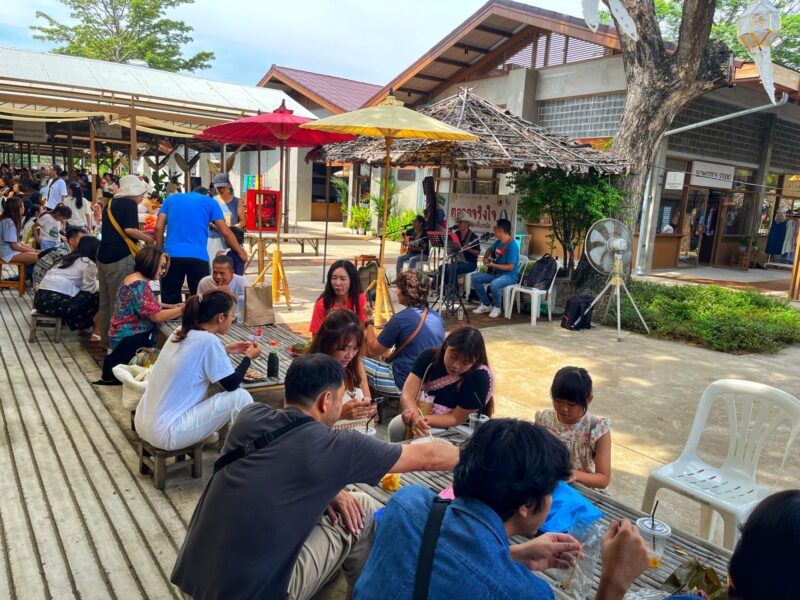 The dining area set-up is really good with traditional or picnic tables all around the site. Adding the JJ market to your Chiang Mai trip is a great way to sample a wide variety of local food in one sitting.
Overall: A Trip to Jing Jai Market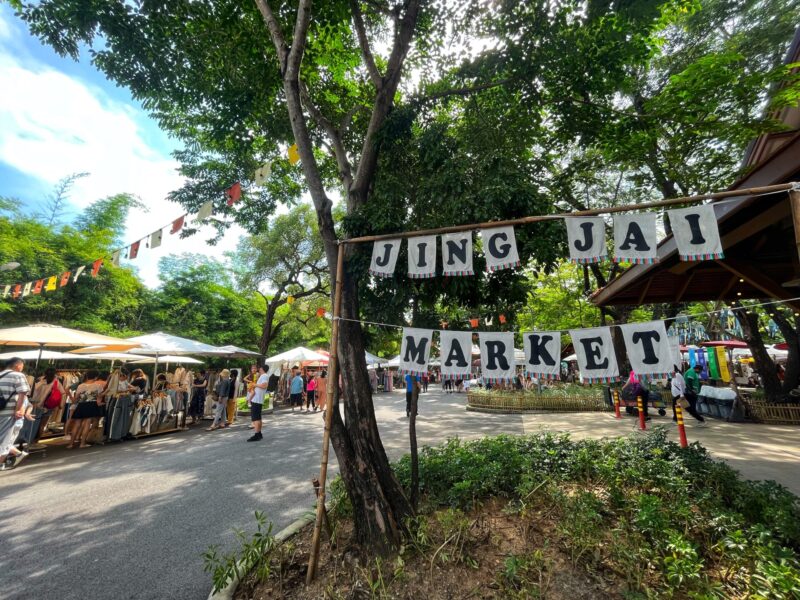 All in all, we truly enjoy our trip to Jing Jai Market. We enjoyed swinging by the JJ Market while this authentic market is bustling. The market is well-organized, clean, and spacious. What I liked is that it was not a crowded market like night bazaar or Saturday walking market. We bought some souvenirs there and had a delicious local breakfast.
A great place to visit in Chiang Mai!
Did you enjoy this travel guide blog to Jing Jai Market Chiang Mai? We have more Thailand travel stories to share for your holiday. Free feel to check it out.
Travel to Chiang Mai and Chiang Rai: