Last updated on September 23rd, 2023
In this Yaowarat food guide, we will share what to do and eat in Bangkok Chinatown. Endless street food and cuisine are waiting for you to try, make sure don't miss it when visiting here.
Located southeast of Phra Nakhon, Bangkok Chinatown (Yaowarat) is the best place to represent China's rich heritage and culture in Bangkok. This area is buzzing with activity and offers historic landmarks, unique temples, and mouth-watering eateries. It's very interesting to see the special blend of Thai and Chinese cultures here, which can be observed at the temples and food scene here.
Yaowarat, Bangkok's Chinatown, is one of the most famous areas of cuisine in town. There are a number of stalls that sprout up each evening along Yaowarat Road serving this street food delicacy – and a great one happens to be just outside a former movie theater.
To get a sense of the unique food culture in Bangkok, you should definitely allow several hours for a visit. Many of the street vendors have been there for a long time, possibly even generational so you get a good authentic good here. With so much street food, Chinatown is a great place to stop for lunch or even dinner. This place may not be your classic sight or attraction in a sense, it is an important culture to experience in Bangkok.
For more information on what to do and eat in Bangkok Chinatown, see our more detailed Yaowarat food guide here. This Yaowarat food guide will showcase the best cuisine and culture when visiting here.
Yaowarat Food Guide: What to eat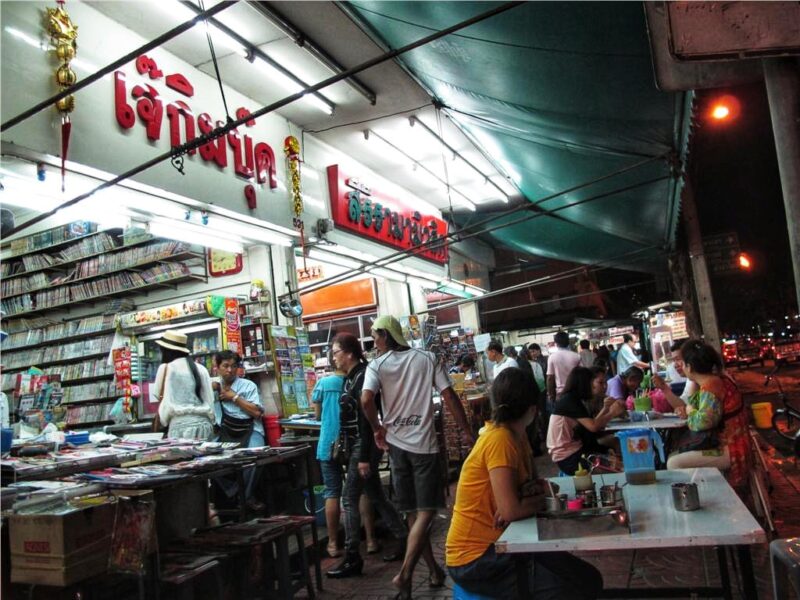 Yaowarat is the best place to taste authentic local food in Bangkok. There are too many choices and a couple of food that should be missed when visiting Bangkok Chinatown.
Here is the food list of what to eat in Yaowarat:
Kway Chap
Thai Yellow Curry Rice
Bird's Nest
Thai Seafood and Cuisine
Grilled Squid
Thai Dessert
Yaowarat Food Guide Tips: Keep in mind that Mondays are the street cleaning day in Bangkok. Avoid visiting Yaowarat on Monday as many street food cart vendors take the day off.
Kway Chap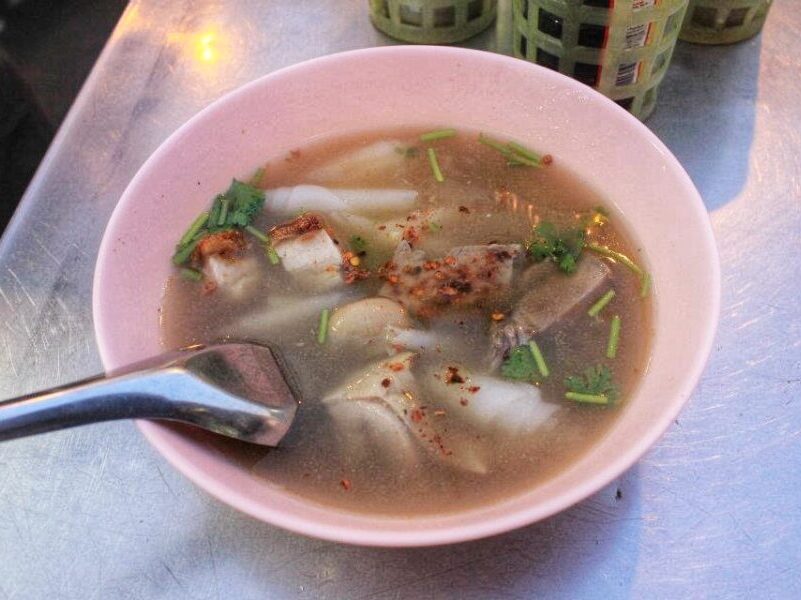 Kway Chap is one of the popular food to eat among locals in Bangkok Chinatown. You can also find this food in Malaysia and Singapore, but the Thai version is slightly different.
The Kway Chap in Bangkok is served with roll noodles, with pork and pork innards in peppery soup. The taste is flavored with pork with hints of pepper taste.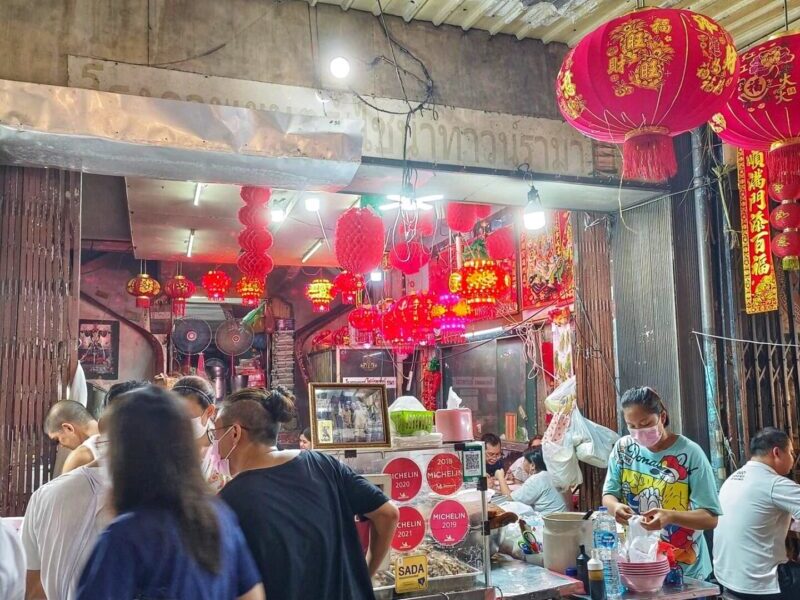 There are many eateries in Bangkok Chinatown offering Kway Chap, but the most popular places to eat Kway chap in Bangkok Chinatown are Nai Ek Roll Noodle and Kway Chap Auon Pochana.
These two shops are awarded the Michelin Bib Gourmand and are the most well-known name among others. The shops have been around for generations and many people flock to get this tasty bowl.
Thai Yellow Curry Rice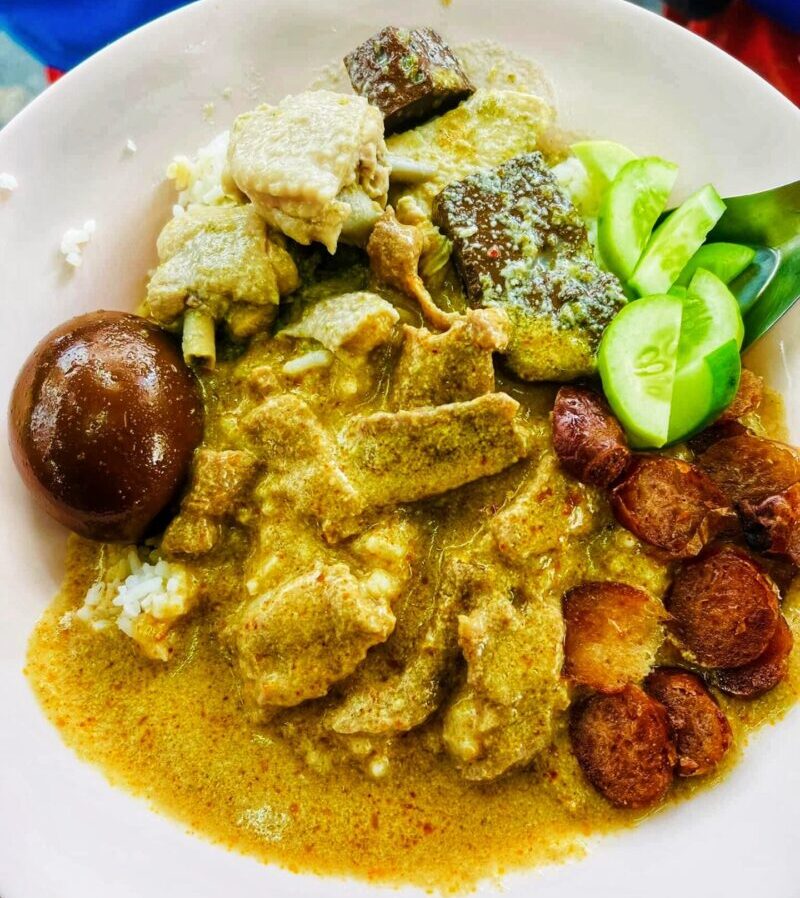 Khao Gaeng Jake Puey, also known as Jek Pui Curry is an iconic street food stall in Bangkok Chinatown. Nestled in the old street of China Town, Jek Pui serve scrumptious Khao gaeng (rice and curry) for over 50 years.
This iconic food stall gained its popularity after appearing in Netflix's Street Food series. You'll be surprised at how long the queue is for this simple unassuming roadside stall that serves up plates of curry rice.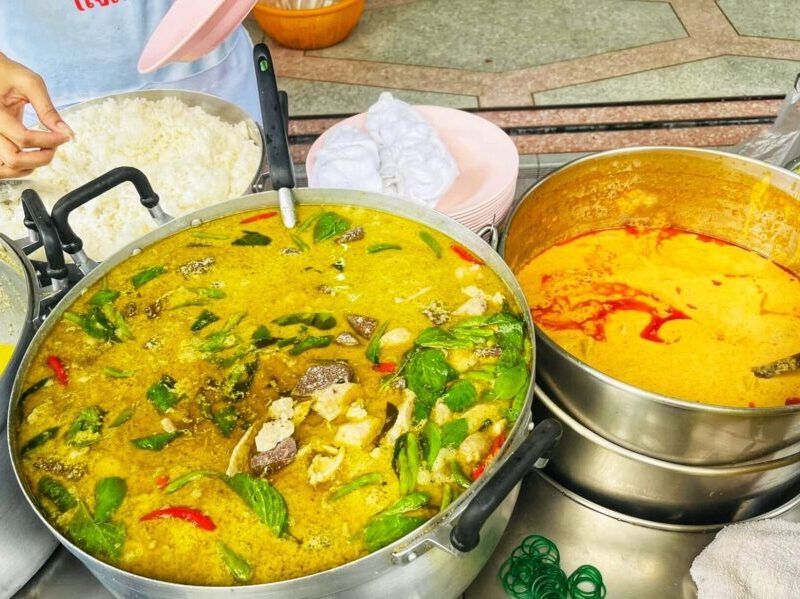 In fact, Jek Pui Curry is not a food stall as there are no table and diners have to sit on the plastic red stools to enjoy their meal.
There are with a couple of different Thai curries you can choose from such as Yellow Curry with Pork, Penang Pork Curry, Green Curry with Chicken, and many more. Don't forget to add a Kai Palo (egg stew) for a complete meal!
Bird's Nest
If you're looking to sample interesting things like bird's nest soup, Yaowarat won't disappoint you. This traditional dessert is very popular in Bangkok Chinatown and it's cheaper to taste it here. They are a few restaurants and street vendors that serve the delicacy or you can buy the raw item to take home. We recommended dropping by for this nourishing dessert.
You can also find sharp fin soup here if you like it. Not something that I'm into and I would not eat it anymore.
Thai Seafood and Cuisine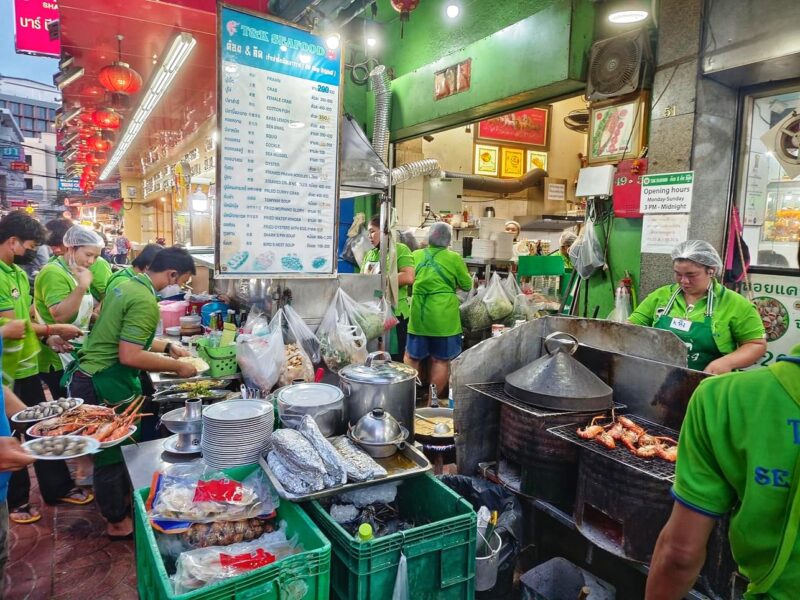 Bangkok Chinatown is a culinary delight for those who enjoy seafood. There are a few popular seafood restaurants lined along the main road of Yaowarat.
We personally have been visiting Yaowarat many times and T&K Seafood is definitely one of my go-to restaurants whenever I visit here. The menu is extensive and prices are extremely affordable. Most importantly, the seafood is truly fresh and delicious! My favorite is the steamed fish, TomYum seafood, clay pot glass noodles with fresh river prawn, grilled crab, and many more!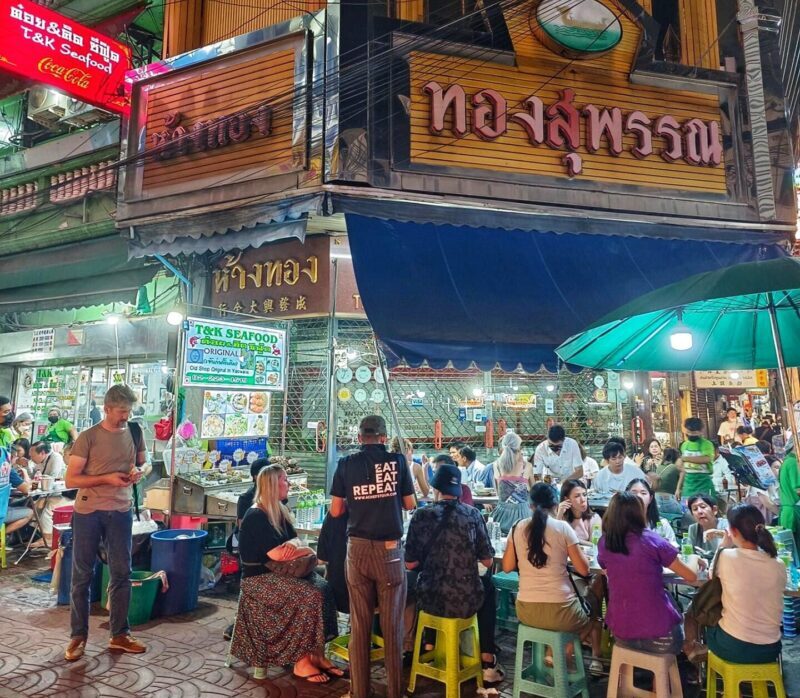 The restaurant is always super packed at night and I'd advise you to visit the restaurant during off-peak hours or early dinner times to avoid the crowd. You have to queue and wait to be seated. Don't worry, it won't take long!
Grilled Squid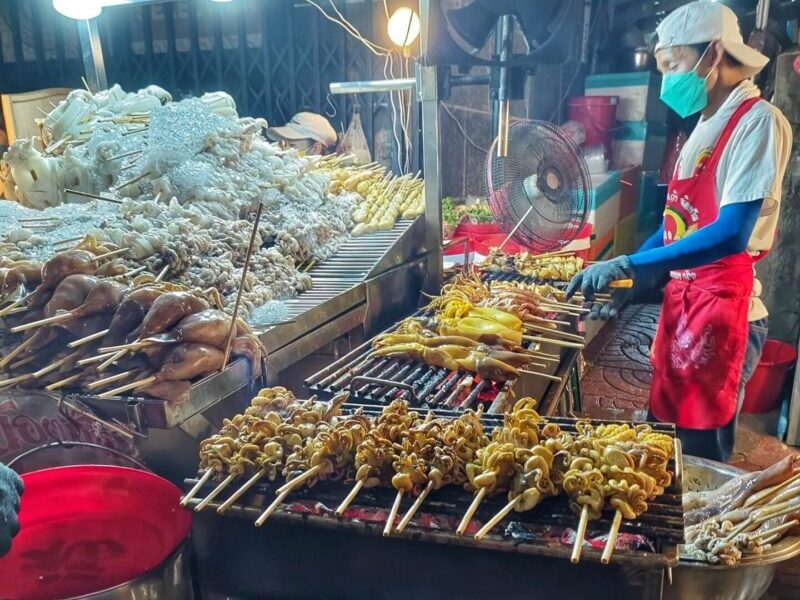 There are many street food stalls located along the street, this one is a famous spot along Yaowarat Road.
Guy Kao Grilled Squid is a popular street vendor that has been selling grilled squid for many years. The giant squid is grilled on the charcoal stove and then topped with special spicy sauces. It is so spicy and I am sure you'll like this delicious snack!
Thai Traditional Dessert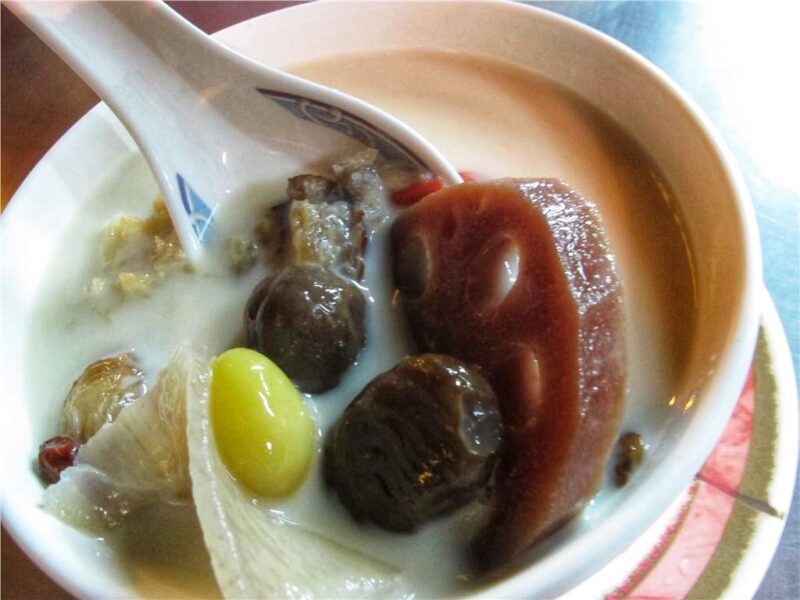 Chinatown Bangkok is also known for serving some of the unique Thai traditional desserts in town. The bowl is typically made with various ingredients such as ginkgo nuts, kidney beans, lotus root, sweet potatoes, and dried persimmon, and mixed with coconut milk. The dessert here is similar to the Chinese-Thailand dessert but more color and flavorful. Make sure to give this dessert a try!
There are also lined with roadside eateries, serving delectable Thai-Chinese fusion street food. Make sure to sample the famous mango sticky rice, and spicy pork dumplings.
How To Get To Yaowarat
Bangkok Chinatown has not been well-connected by public transport in the past. The closest station is Hua Lamphong Station. Travelers must walk for about 10 minutes or take a short motor ride to Chinatown from there. With the recent opening of Wat Mangkon MRT station, getting to Chinatown is so much easier. The Wat Mangkon Station shortens the walking distance by roughly only 4 mins walk.
Taxi is another great optipn to get to Chinatown Bangkok, however, be prepared to get rejected as the traffic is very jam in that area.
What is the best street food in Yaowarat?
The best street food to eat in Yaowarat include kway chap, Thai yellow curry rice, bird's nest, and seafood!
What is the best time visiting Bangkok Chinatown?
The best time for culinary activities when visiting Bangkok Chinatown is starting from 17:00 until midnight. So we advise reaching here at around 18:00 for the food.
What is Bangkok's Chinatown famous for?
Bangkok Chinatown is famous for its delectable eateries and street food. There are many street vendors and unique restaurants that you should not miss when visiting here.
Overview: Best Food to Eat in Yaowarat
All in all, we hope this Yaowarat food guide is helpful. There is so much good food that should not be missed when looking for what to eat in Chinatown Bangkok.
During the daytime, you'll stumble into markets and shops, but street food comes alive in Yaowarat in the evening and throughout the night. You will find countless food stalls and restaurants to taste all the various delicacies here. If you are a food lover and want to taste the local street scene, make sure to make a food trip to Chinatown Bangkok!
Traveling to Bangkok? Here is the inspiration for Bangkok travel stories:
More food options for what to eat in the Bangkok Food Guide: