Last updated on September 23rd, 2023
We highly recommended the Rung Rueang Pork Noodles for a bowl of authentic Thai-style Pork Noodles if you are looking for the local taste food in Bangkok.
Rung Rueang Pork Noodles is another Michelin Bib Gourmand in Bangkok. For over 50 years, this tiny shop serves a bowl of authentic Tom Yum pork noodles for locals. It started from its humble beginning as a food cart and to a well-established shop in Sukhumvit. The shop is very popular among locals and tourists.
We tried the famous Michelin Bib Gourmand Rung Rueang Pork Noodles during our trip to Bangkok and highly recommended. Let's share our food trip to this must-eat food in Bangkok.
Roong Rueng Pork Noodles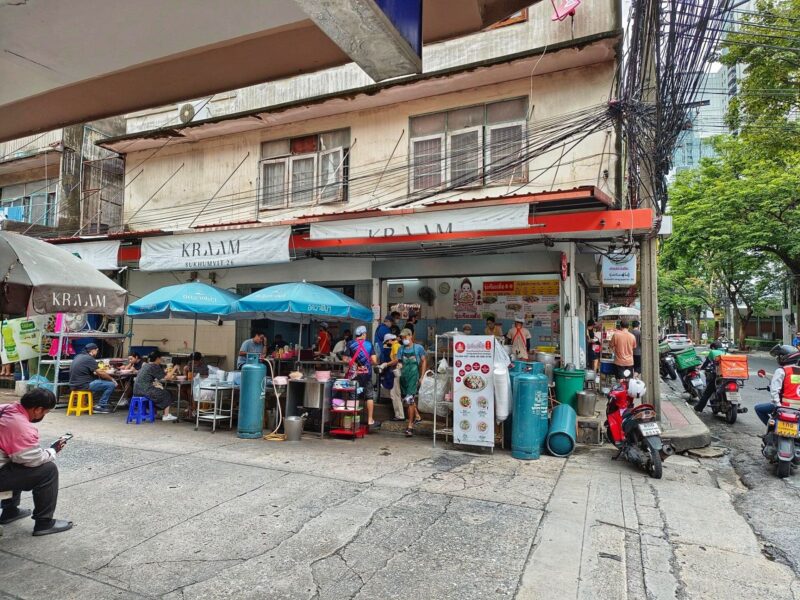 Finding the Rung Rueang Pork Noodles shop is not difficult. From the Phrom Phong BTS Station, there are about 5 minutes of walking distance.
Once you arrived, you'll be noticed there are two shops with the same names and selling the same type of noodles. The corner shop is run by the original and the other on belongs to the daughter. Both are equally good and serve the very similar taste of pork noodles.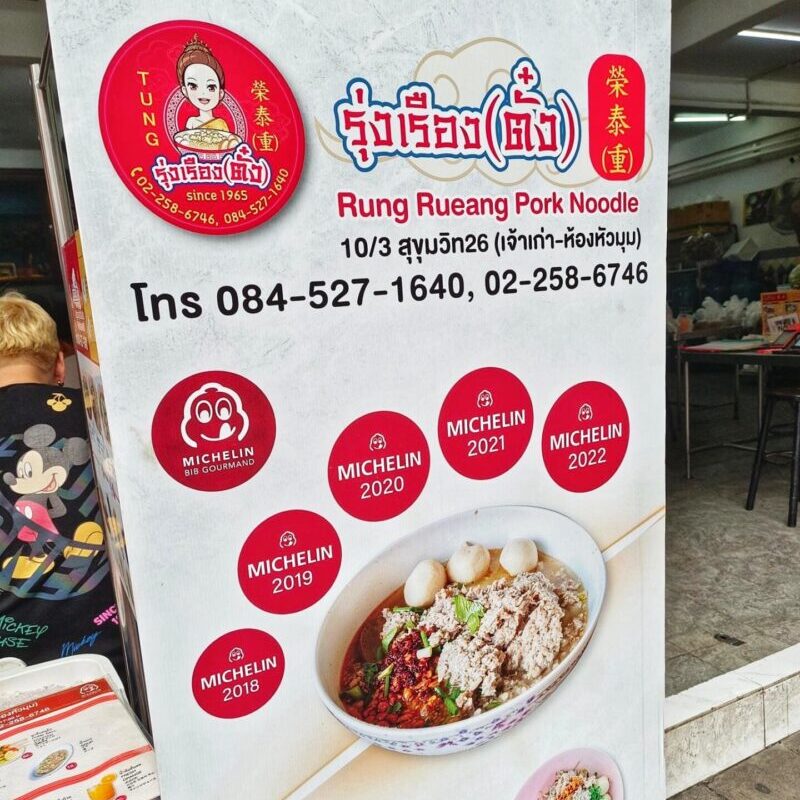 The shop is always packed with locals, especially those working in Sukhumvit. During weekday lunch hour, you will always be seeing people queuing for a table to have their bowl of pork noodles. There are also many people also order the food online for delivery.
The price is very reasonable and only costs you less than THB50 depending on the serving size (Small – THB50, medium – THB60, Large – THB70). With a Michelin recommendation, it can be considered very affordable, especially for the food price in the Sukhumvit area.
Rung Rueang Pork Noodles
Address: 10/3 Soi Sukhumvit 26, Khlong Tan, Khlong Toei, Bangkok 10110.
Business Hours: Daily from 8:00 to 17:00.
Getting there: Less than 5 minutes walk from the Phrom Phong BTS Station.
Price Range: Less than THB100 for a bowl of noodles (Small – THB50, medium – THB60, Large – THB70).
What To Eat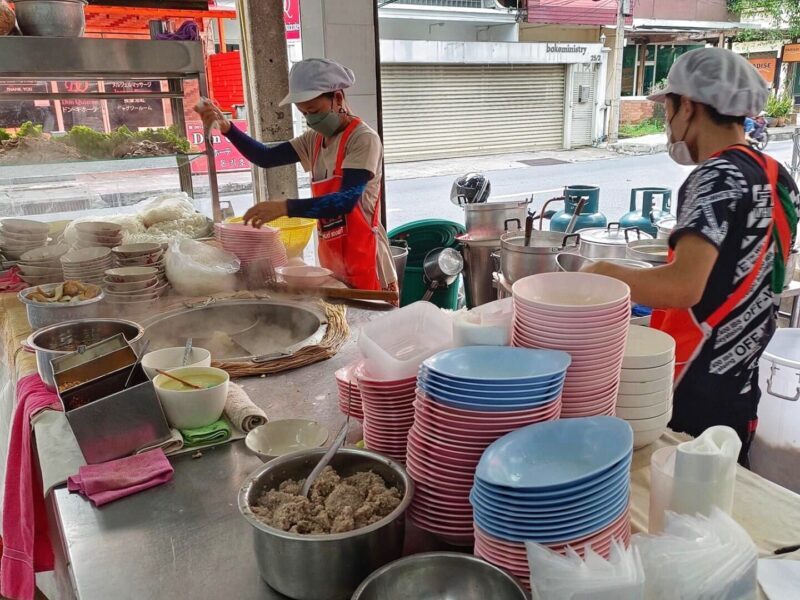 Rung Rueang is famous for its Tom Yum Pork Noodles, but don't worry, the combination of what you can order is beyond the limit.
Ordering is easy and it is very well organized and systematic. From the multi-language menu and picture displayed, choose the types of noodles (thin, flat, vermicelli, egg noodles, and wonton). Next, the noodles are to be served in dry, clear soup-based, or tom yum spicy soup-based. You can choose various toppings from fish ball and minced pork, minced pork only, fish ball and fish cake only, to your bowl. Lastly, the size which offers in small, medium, and big sizes.
Without a long wait, our bowl of Michelin Bib Gourmand Pork Noodles were served.
Tom Yum Pork Noodles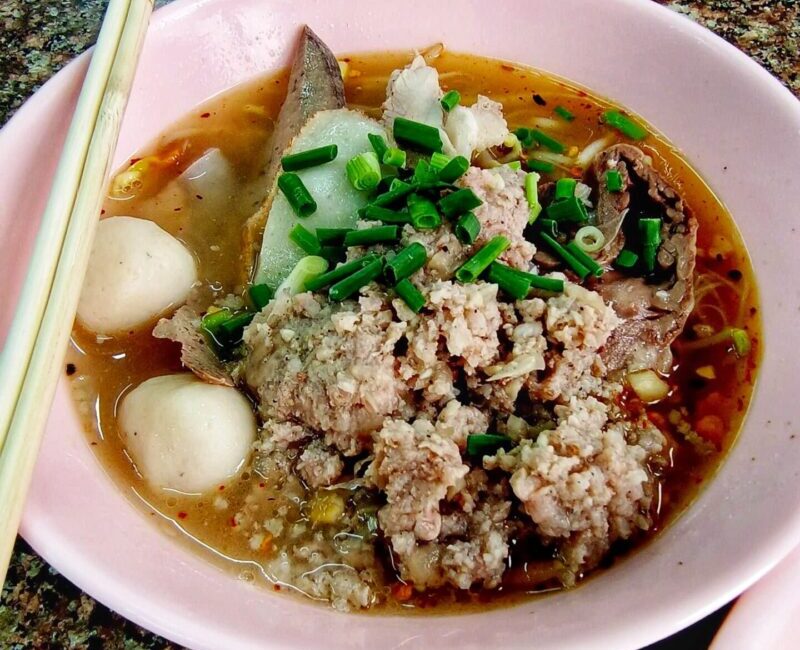 I ordered the tom yum soup noodles topped with minced pork and fish ball.
My bowl of pork noodles is filled with their popular homemade fish balls and flavorful pork minces. It's so porky and tastes good! I also added on the pork liver and intestine, but it's depending on you. The aroma of minced pork is perfectly matched with the tasty spicy soup. It was so satisfying!
Clear Soup Pork Noodles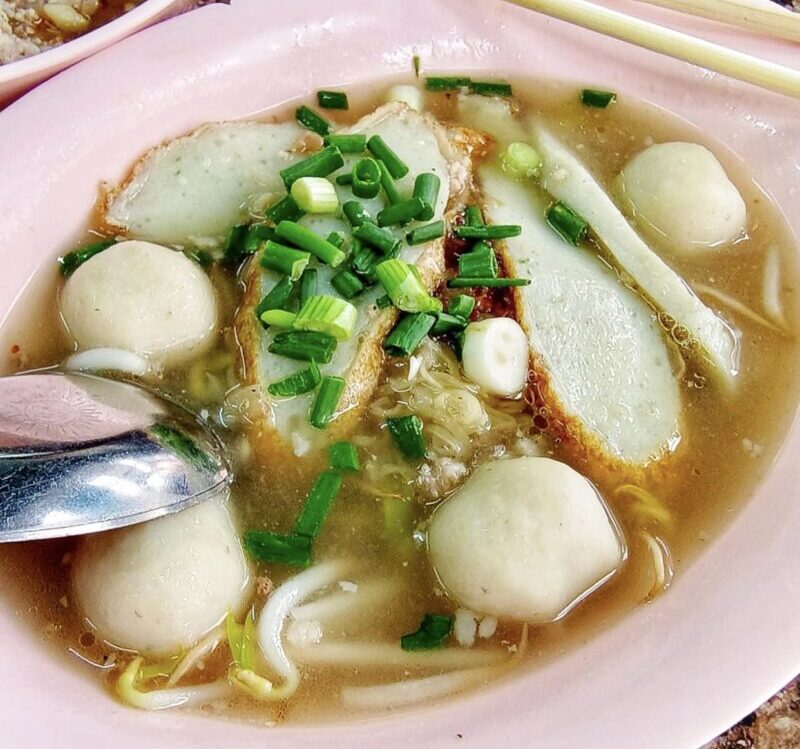 While the clear soup based pork noodles are the least glamorous compared with the tom yum soup base. But don't get me wrong, the broth is very flavorful. It has been cooked for hours and it's so delicious and full of flavors.
The fish ball was exceptionally fresh and bouncy. Nothing fancy but truly local taste and traditional food you can enjoy in this restaurant.
Overview: Bangkok Best Pork Noodles
All in all, the Rung Rueang pork noodles are a down-to-earth food to eat in Bangkok. It is affordable, delicious, and filling. I personally like the Tom yum Pork Noodles as it comes with a burst of flavors and spiciness.
With a Michelin recommendation at an easily affordable price, we highly recommended giving Rung Rueang Pork Noodles a try when you are in the area. It's definitely worth a visit!
Traveling to Bangkok? Here is the inspiration for Bangkok travel stories:
More Bangkok foodie journey:
Island Holiday in Phuket:
Island Holiday in Koh Lipe: