Last updated on September 23rd, 2023
A visit in Chiang Mai is not complete without visiting its Holiest Shrine – Wat Phra That Doi Suthep. Here sharing the Doi Suthep travel guide blog with tips from our visit!
Wat Phra That Doi Suthep, or commonly known as Doi Suthep, is one of Chiang Mai's most impressive temples. This holiest temple lies just outside the city atop Mount Doi Suthep at 5,400 meters above sea level. Visitors can see the great view of Chiang Mai City and its surrounding from the mountain above. The temple is a sacred place for Buddhists.
A visit to Doi Suthep offers you some gorgeous golden pagodas and amazing panoramic views of Chiang Mai. The chedi is coated almost completely in gold which is truly amazing! It is a must-see for your Chiang Mai itinerary!
To help you make the most of your time exploring Doi Suthep, here sharing some useful travel information and tips in this Wat Phra That Doi Suthep travel guide blog.
Wat Phra That Doi Suthep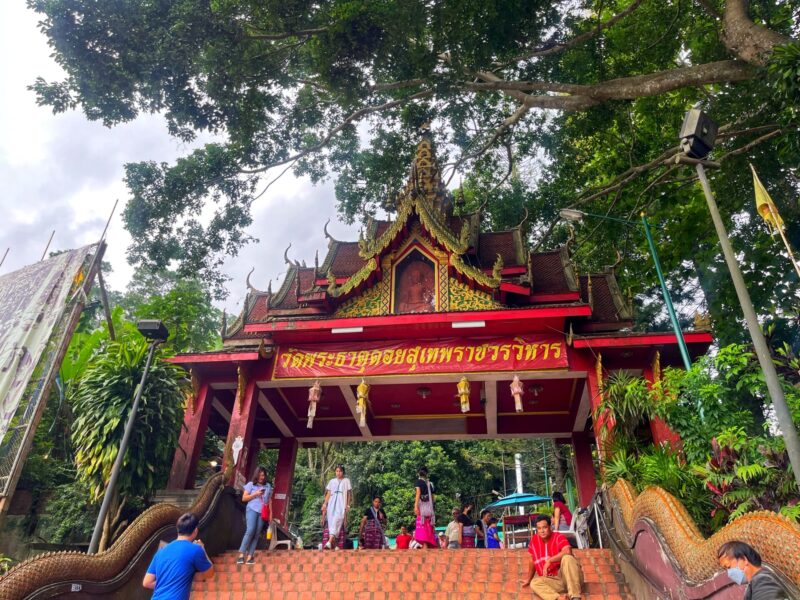 First established in the 1380s, Wat Phra That Doi Suthep is a sacred site and an important temple to the Thai people. It is known as one of the most beautiful temples in Chiang Mai and is famous for its incredible piece of architecture and skilled craftsmanship.
Wat Phra That Doi Suthep is also often referred to as "Doi Suthep" although this is actually the name of the mountain where it is located.
Below are some of the handy travel tips when planning your visit to Wat Phra That Doi Suthep:
What is the opening hour for Doi Suthep?
Doi Suthep is open daily from 6:00 to 18:00.
What is the best time to visit Doi Suthep?
We recommend taking a trip to Wat Phra Doi Suthep in the late afternoon to the Doi Suthep mountain for the best sunset view.
What should I wear to Doi Suthep?
Doi Suthep has a modest dress code and you're supposed to wear clothes that cover your shoulders and knees.
Is Doi Suthep worth visiting?
Absolutely! Doi Suthep is worth visiting during your trip to Chiang Mai. It is a beautiful historic ancient temple with incredible pieces of architecture and skilled craftsmanship.
How To Get To Doi Suthep from Chiang Mai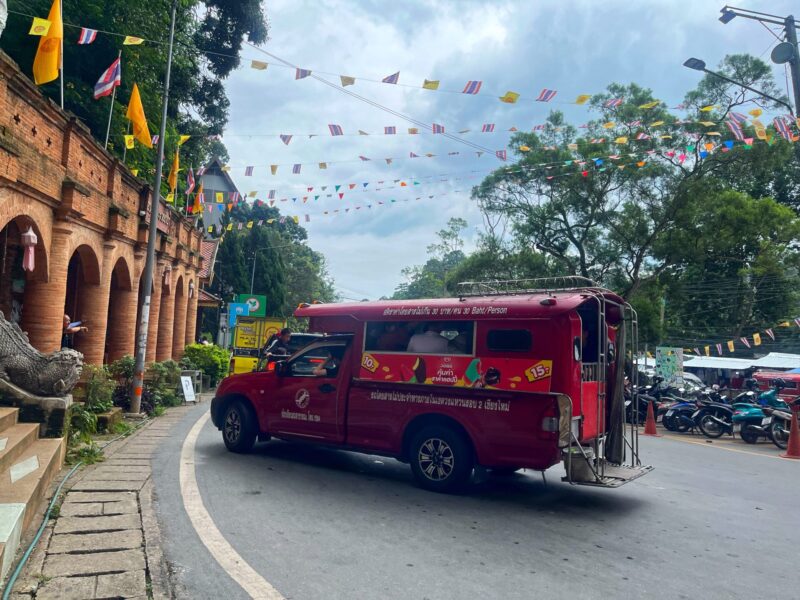 Located on the hilly side, Doi Suthep is about 11 kilometers away from the center of Chiang Mai. Although it is slightly far from the city, Doi Suthep can be easily reached from the city.
Here are the options for how to get to Doi Suthep from Chiang Mai:
Songthaew: The cheapest way to get to Doi Suthep is by taking a Songthaew. From Chang Pauk Gate, Songthaew leaves frequently to take you to the entrance with a nearly hour-long journey.
Tuk-Tuk: You can also hire a Tuk-tuk to take you to the temple. Expect to haggle for the price.
Renting a motorbike and driving yourself is also doable. But take note the hilly windy road to the temple required about an hour's drive.
A better option is the e-hailing (car or minivan) if you are traveling with a group of people. It is also the easiest way and more comfortable.
Alternatively, you could visit Doi Suthep on a guided tour. Several tour options will take you to Doi Suthep and combine other locations in the area.
A Trip To Doi Suthep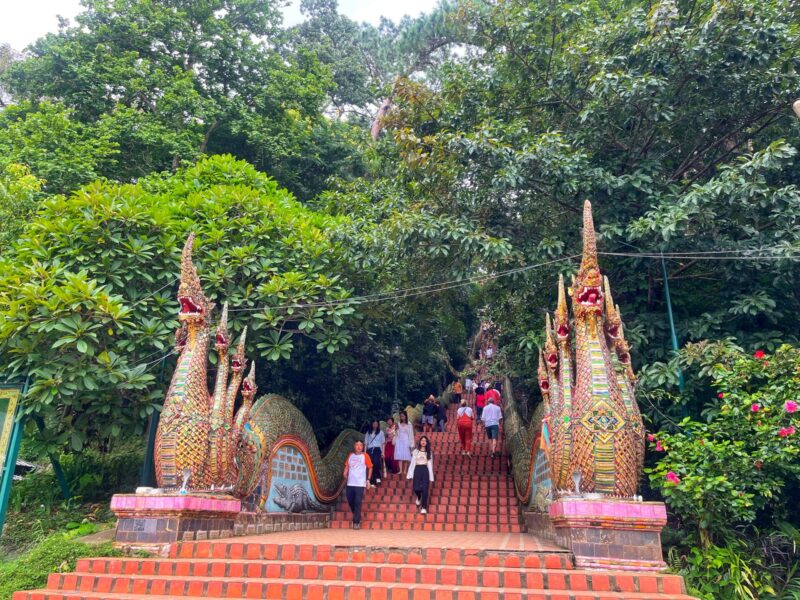 Once you arrive at Doi Suthep, there are two ways to get to the main temple ground.
You can choose to climb a monstrous staircase of 306 steps with the Naga Serpent (dragon's body) to reach it. No worry as there is a beautiful view along the hike.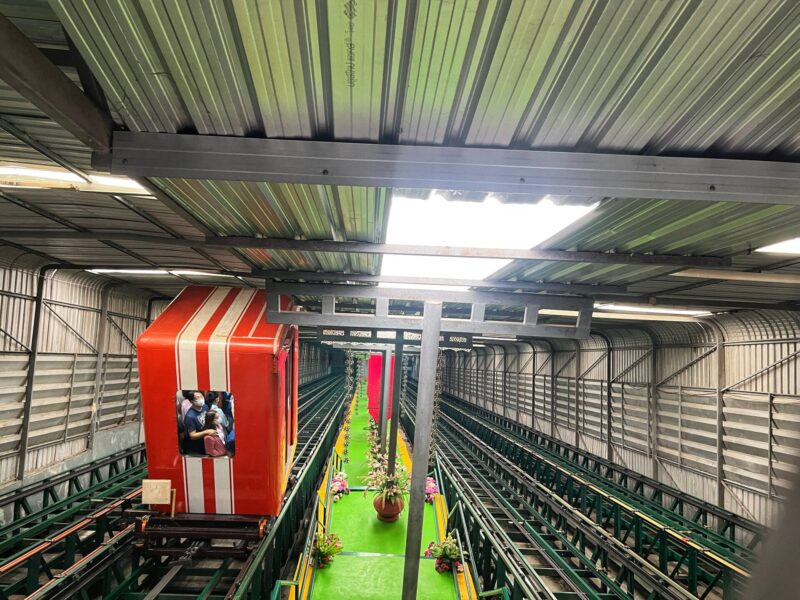 If this is difficult for you, there is an optional funicular for an extra 50 baht (30 baht for the ride and 20 baht for donation) to get you to the temple ground at top of the hill.
Doi Suthep Travel Tips: We recommend taking the funicular up and walking the 306 steps down the staircase when leaving.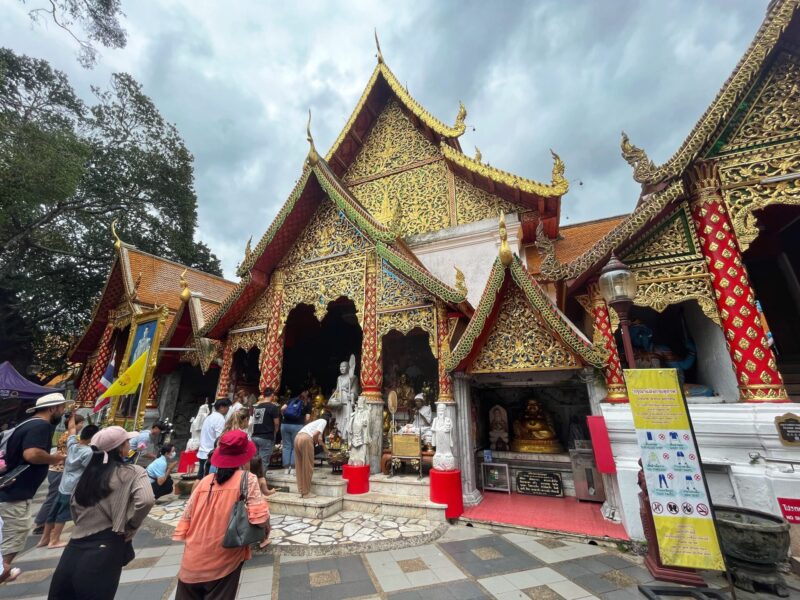 Please remember to dress respectfully as it is restricted to enter the main temple ground.
Make sure your knees and elbows are covered or you can rent a sarung at the entrance. You will also be asked to remove your shoes while walking around inside the main temple. There are shoe racks to store them or you could put them in your backpack.
Golden Stupa and Chatras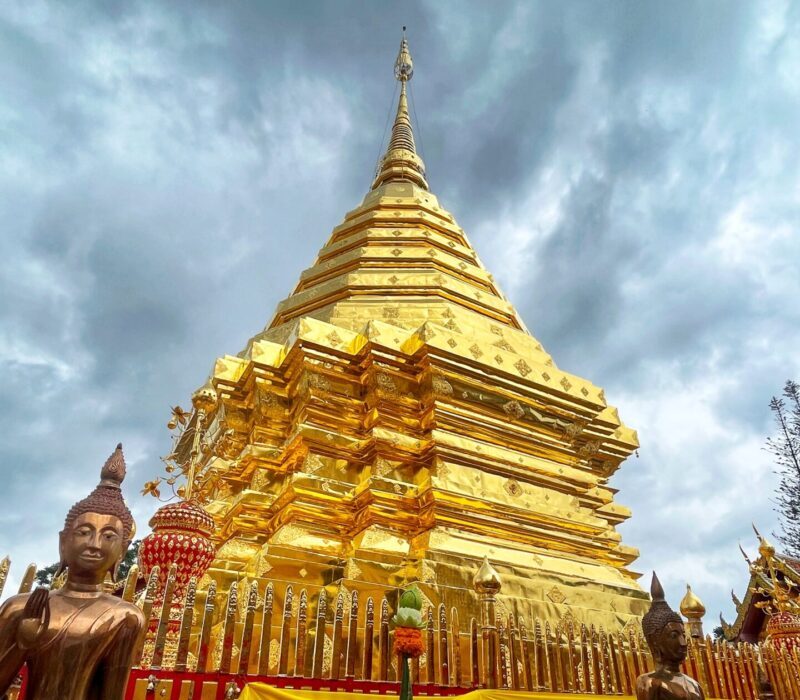 Wat Phra That Doi Suthep is artistically crafted and magnificent. It is truly stunning with towering pagodas, glittering temples, and Buddha statues bathed in gold.
The 24m tall stupa is gold-plated and shines brightly. It is the Holiest part of the temple with Chatras (umbrellas) surrounding it. It's really beautiful on a blue sky day as the golden architecture really shines in the sunlight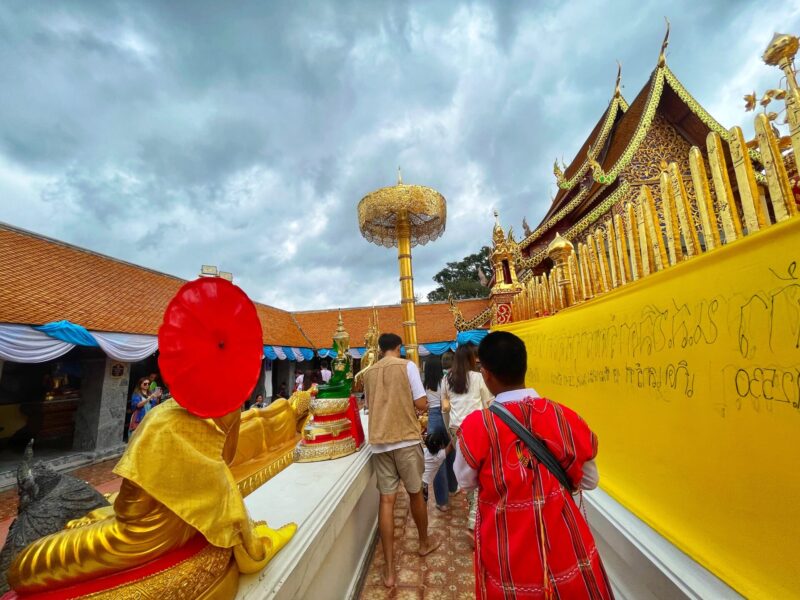 Follow local and walk around the Golden Stupa for praying.
There is so much to see here. You can easily spend a couple of hours here admiring all the detailed and captivating religious artwork and architecture.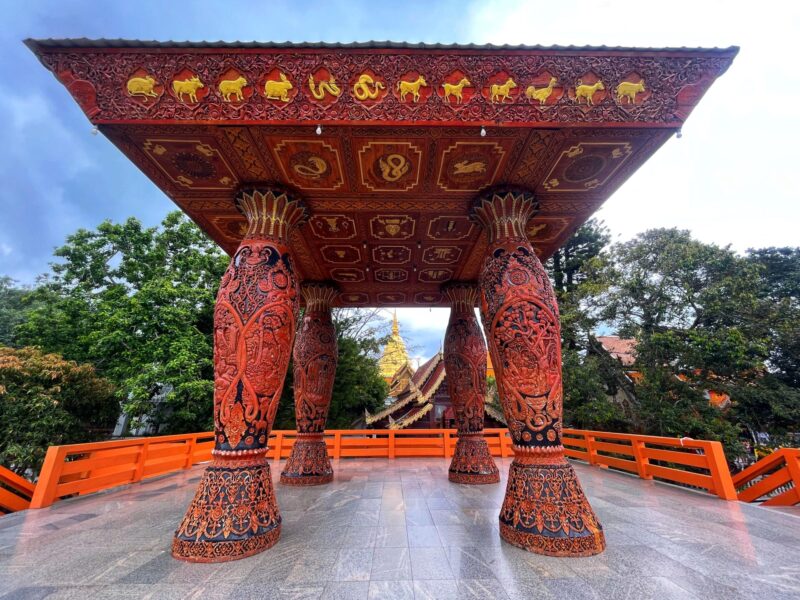 There are also many smaller structures surrounding the temple when you wandering around. All are decorated with paintings, historical murals, and statues that depict Buddhist stories and teachings.
Doi Suthep is crowded with worshippers and tourists. But the temple remains quiet, clean, and well-maintained. The atmosphere is peaceful and serene, with the sound of chanting monks adding to the tranquil ambiance.
Observation Deck
Lastly, make sure to tour the back of the temple before the end of your visit.
At the back of the temple, there is an observation deck where you could have a panoramic view of the city. The surrounding area is really beautiful with mountains and forests around it. The view of Chiang Mai is majestic!
Overall: A Visit to Doi Suthep
All in all, a visit to Doi Suthep is highly recommended. We walked around the stupa, sit in front of the giant Buddha statue, and pray for healing. It was indeed an experience and one of the most beautiful temples I've been to in Chiang Mai. Definitely worth a trip!
That's it! We hope you enjoy this simple and easy Doi Suthep Travel Guide Blog. We have more Thailand travel stories to share for your holiday. Free feel to check it out.
Related Chiang Mai Travel Blog: