Last updated on September 23rd, 2023
If you're visiting Chiang Rai for the first time, make sure that you don't miss these attractions with this Chiang Rai itinerary. This travel guide blog will tell you all you need to know to plan your trip.
There's no denying that exploring Chiang Rai is one of the coolest and most unmissable things to do in Northern Thailand. Your travel journey to Northern Thailand would not be complete without a visit to Chiang Rai.
We absolutely loved our trip to Chiang Rai and visited the most famous attractions in Chiang Rai including the White Temple, Black House, and Blue Temple. Even after all the temples I had seen so far, I still found these breathtaking and unique. That's why we've decided to write this itinerary about Chiang Rai so that hopefully you can get some inspiration for an upcoming visit.
Not sure where to begin to visit Chiang Rai in one day? Here you will find the Chiang Rai travel guide blog with plenty of tips to plan your trip. Start planning your trip with all the things to do in this complete 1-day Chiang Rai itinerary.
How To Get To Chiang Rai
Chiang Rai has become more and more popular. Travelers can get to Chiang Rai by flights, trains, or buses, departing on the transportation option chosen and distance.
By Flight: Mae Fah Luang Chiang Rai International Airport (CEI) operates regular flights from Bangkok and Phuket with domestic flights. It only take about 1 hour to fly to Chiang Rai in Thailand. Besides, Chiang Rai is also connect with certain international flights from China, Macau, Malaysia, and Singapore. The flight fare can be cheap if you manage to grab the deal.
You can search for cheap flights here: Skyscanner.
From the airport to the downtown area, it is about 10 km and takes about 30 minutes. Chiang Rai Airport buses run frequently from Chiang Rai Airport to the city center. If taking the Chiang Rai Airport bus seems not convenient enough for you, book a private transfer from/to Chiang Rai Airport and enjoy hassle-free traveling between the airport and the center of Chiang Rai.
By Bus: Chiang Rai is accessible by bus. From Bangkok, the journey takes you about 11 hours for the daytime and 13 hours for the overnight bus.
Important to know: There are a few main bus terminals in Chiang Rai: The Chiang Rai Bus Terminal 1 for provincial buses and Chiang Rai Bus Terminal 2 for long-distance buses. Make sure you know where is the stop for the journey.
Getting to Chiang Rai from Chiang Mai
This is the most popular route to get to Chiang Rai. Travelers can travel from Chiang Mai to Chiang Rai by bus or minivan. Regular buses connected Chiang Mai and Chiang Rai and the journey takes approximately 3 to 4 hours, depending on traffic and which class of ticket you buy. You can always hoop on the local bus, but it is easy to book the bus transfer online.
Recommended: Check the transport options from Chiang Mai to Chiang Rai via Bookaway.
Getting Around in Chiang Rai
Chiang Rai is a fairly small town and easily navigates on foot. Unfortunately, most of the attractions are located outskirts and not accessible by public transport. There are a few options when it comes to getting around in Chiang Rai.
By Tuk-Tuk: Tuk-tuks can be fun when getting around in Chiang Rai. But this transport option is good for a short distance ride and it is generally slower. You may still require other transport options if you are getting to some attractions. Besides, make sure to set the price with the driver before getting into the tuk-tuk.
By Tour: Many tour companies offer tours that incorporate a lot of the best sights. This is a good option for hassle-free arrangements on the Chiang Rai itinerary.
How Many Days For Chiang Rai?
One full day for Chiang Rai is doable but it is rather rushed. If you have the time, I would recommend spending at least two days in Chiang Rai and seeing what the city had to offer at a more relaxed pace. That will allow you to break up the traveling and enjoy the atmosphere of Chiang Rai.
In fact, many people visit Chiang Rai on a day trip from Chiang Mai with a tour. While that's definitely possible, bear in mind that you will be spending 8 hours in a minivan in one day (4 hours to get there and 4 hours back).
We recommend checking out some of these tour options for hassle-free arrangements:
Where To Stay
One of the best things about the Chiang Rai accommodations is the price is very reasonable even those high-range hotels in Chiang Rai. I am sure you can find the best stay that suits your budget type.
Here are some highly rated hotels and hostels in a good central location:
More accommodation options can be found here: Where To Stay in Chiang Rai.
Chiang Rai Travel Guide Tip: Room running fast during the festival season. Please make sure you book ahead to guarantee the best price.
Things To Do in Chiang Rai Itinerary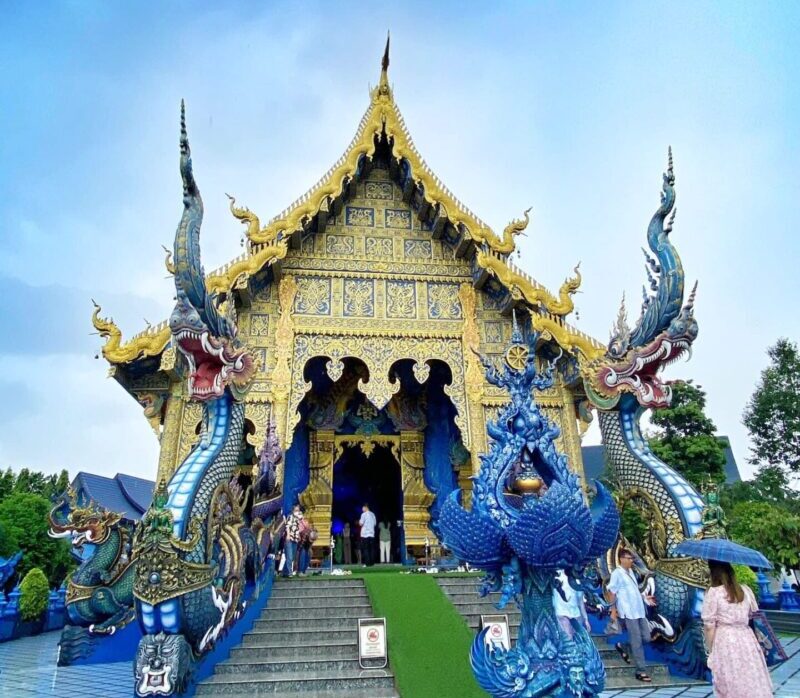 To help you make the most of your time, here are all the best things to do in the Chiang Rai itinerary to help you to explore all the unique attractions when getting here.
Things to do in Chiang Rai Itinerary:
Wat Rong Khun (White Temple)
Baan Dam Museum (The Black House)
Wat Rong Suea Ten (Blue Temple)
Longneck Karen Tribal Village
Golden Triangle
Chiang Rai Travel Guide Tips: There is a strict dress code to visit the temples in Chiang Rai and you should make sure to abide by it. Wear a long dress or skirt, or long pants, and avoid tank tops.
Wat Rong Khun (White Temple)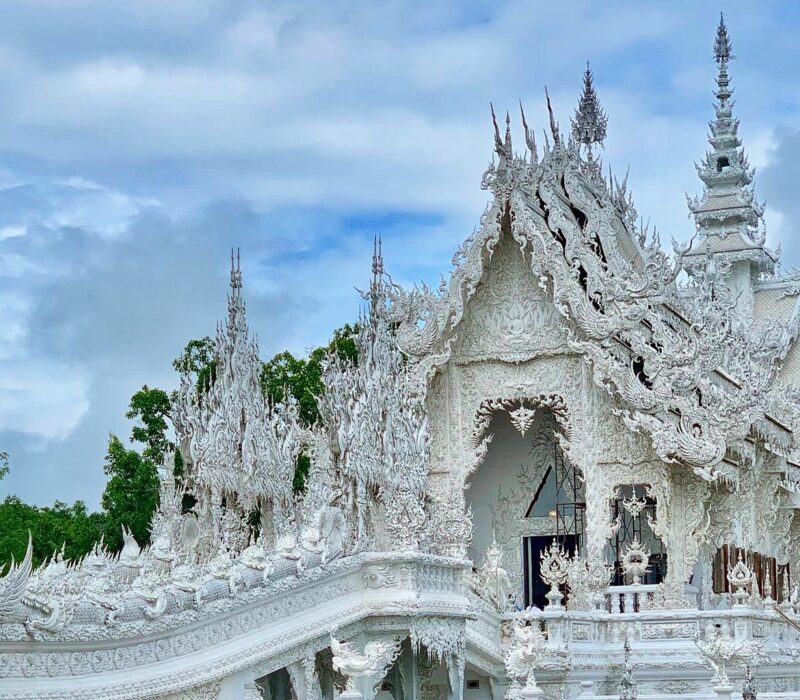 Wat Rong Khun or better known as the White Temple is one of the main highlights of Chiang Rai. Opened to visitors as late as 1997, Wat Rong Khun is one of the most beautiful temples I have ever visited. The architecture and grounds are stunning. The contrast between the sparkling white of the buildings and the green of the grass and blue sky is truly gorgeous.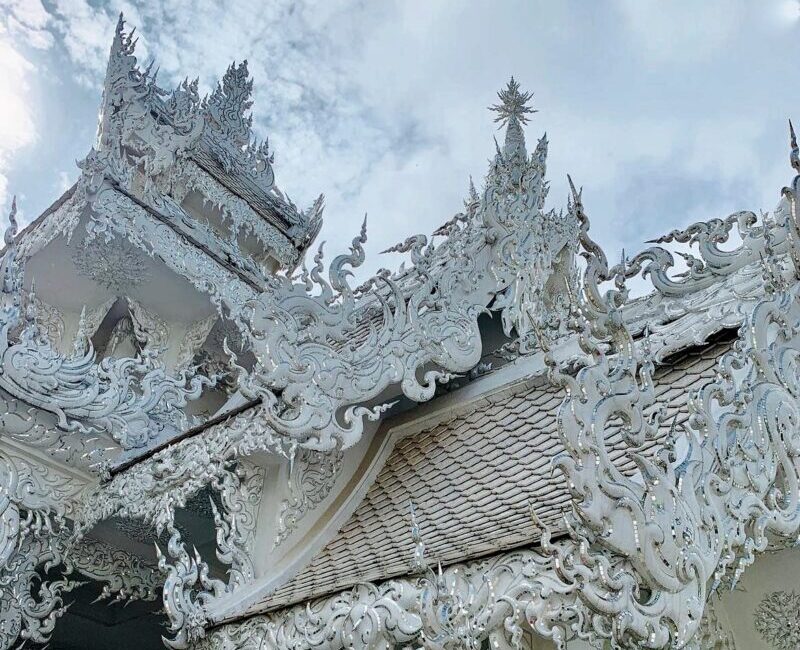 In fact, Wat Rong Khun is a truly remarkable piece of artistry and the story of the artist who created the temple is fascinating. The thought, innovation, and workmanship that has gone into this restoration by Thai artist, Chalermchai Kositpipat. He restore the original temple which was left in a bad state using his own money.
With his hard work and design, the temple is reborn in a more modern style but still influenced by traditional designs.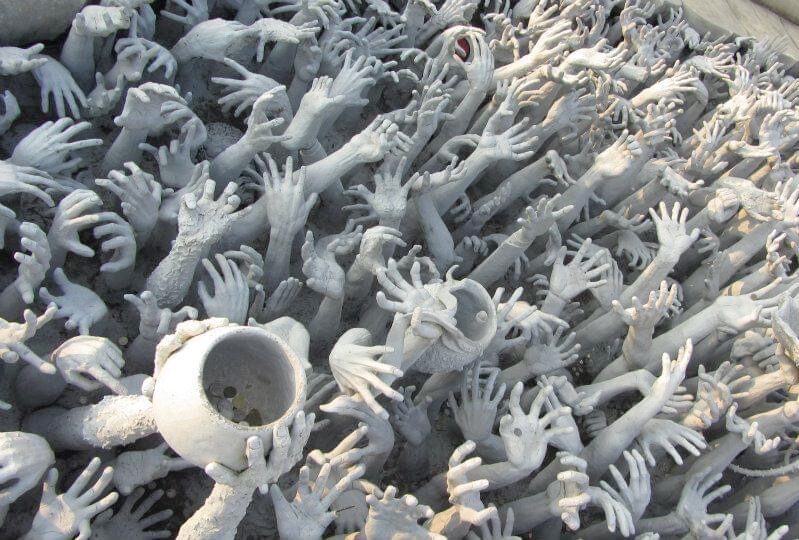 It's a pleasant walk around, admiring the sculptural pieces, intricate details, and bizarre features. The buildings are ornate, covered with brilliant white paint and mirror pieces, glimmering in the bright mid-day sun. Simply Gorgeous in every aspect!
Kindly note that photos are not allowed in the main hall.
There are other beautiful sites to see and you'll be impressed by one of the beautiful golden buildings in the ground. Surprisingly this is the toilet in Wat Rong Khun.
Getting To White Temple: The White temple is located a 20-minute drive out of town, so it is best to get there by taxi, tuk-tuk, or songthaew. Alternatively, a public bus cots just 20 baht from bus station terminal 1 to take you there. The entry fee for the White Temple is 50 baht.
Wat Rong Khun (White Temple)
Address: Phahonyothin Road, Pa O Don Chai, Mueang Chiang Rai District, Chiang Rai.
Operating Hours: Daily from 8:00 until 17:00 (Start closing at 16:30)
Entrance Fee: 50 baht
Pro Tips: The White Temple is full of tourists, so it can be a little overwhelming. It is advised to arrive early before 10:00 to avoid the large amounts of day-trippers from Chiang Mai.
Baan Dam Museum (The Black House)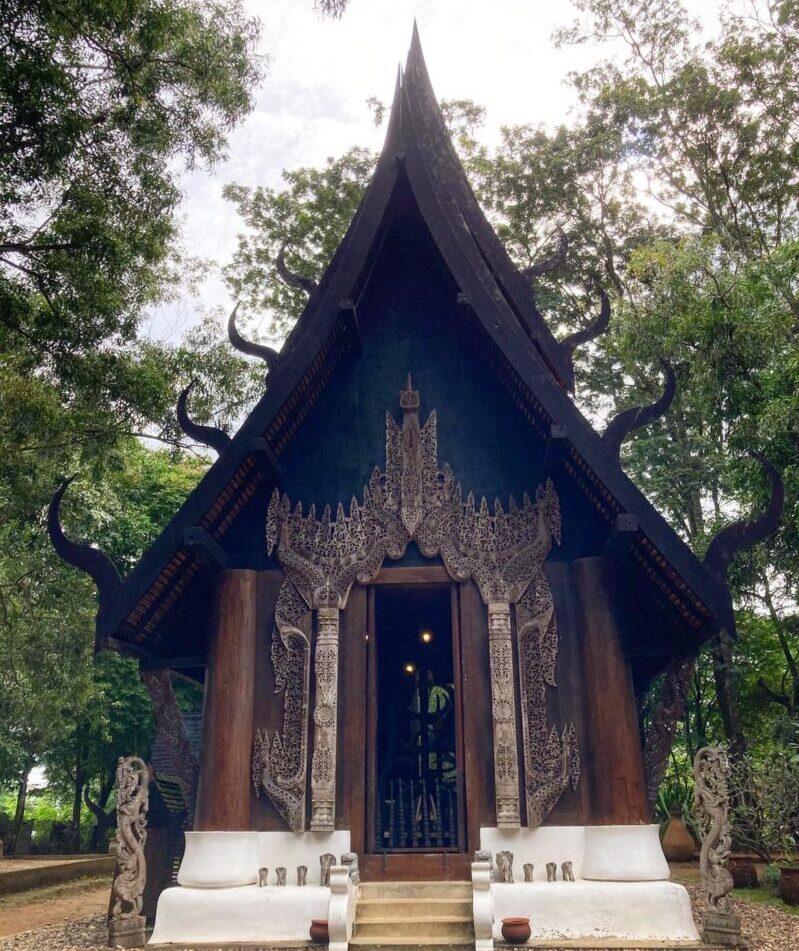 Close by is the Black House which is best coupled together for the Chiang Mai itinerary.
Baan Dam Museum, also known as The Black House is completely opposite the White Temple. Locals often refer to the White Temple and Black House as the "heaven and hell of architecture", and you'll understand why when you visit both as the contrast is quite apparent.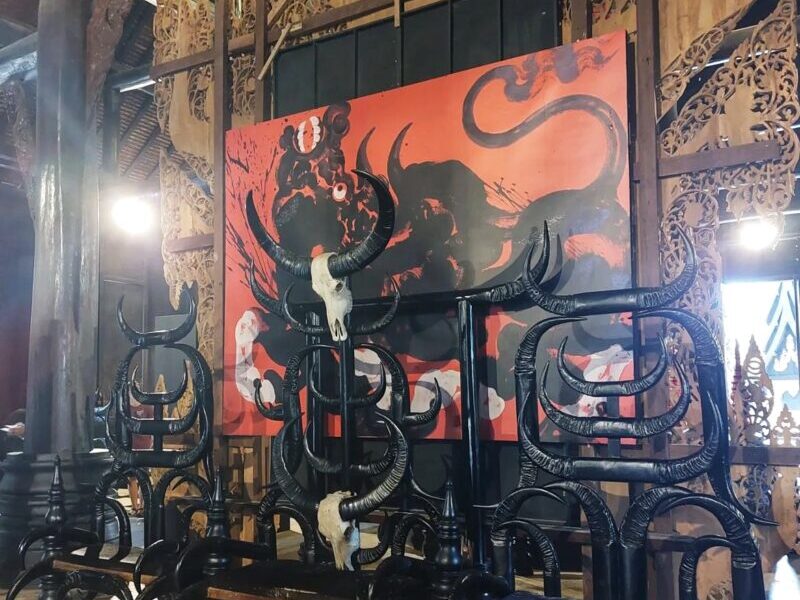 The Black House is a large rambling collection of buildings that houses the creations of the artist Thawan Duchanee. Most of it is derived in some way from animals – bones, skins, water buffalo horns, or an elephant skeleton. It even has the ashes of the temple's architect housed inside, perched proudly by his portrait once you walk through the doors. Expect to be surprised at every turn.
What an eye-opener museum and should not be a miss on your Chiang Mai itinerary.
Baan Dam Museum (The Black House)
Address: 333 Moo 13, Nang Lae, Chiang Rai.
Operating Hours: Daily from 9:00 until 17:00
Entrance Fee: 80 baht
Wat Rong Suea Ten (Blue Temple)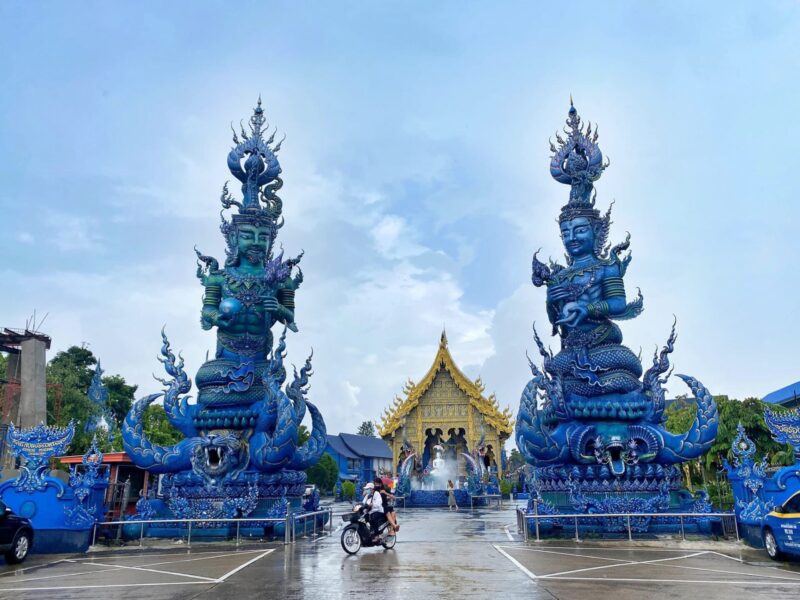 Wat Rong Seur Ten, also commonly called the Blue Temple is another unique temple to visit in Chiang Mai. Although the White Temple gets all the attention in Chiang Rai, this colorful Blue Temple should be included in your Chiang Rai itinerary while discovering Northern Thailand.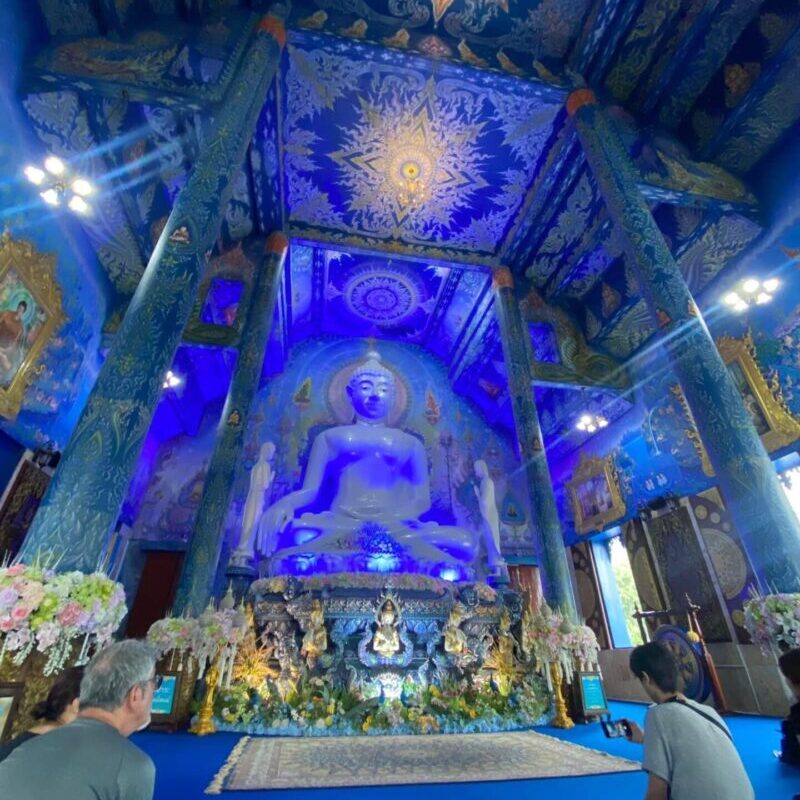 Wat Rong Seur Ten is absolutely beautiful in vivid blue where the architecture, artwork, and sculptures using different hues of blue, make a great color combination. It is not a very large temple and could easily be covered in detail in about half an hour. Not too many tourists so made it a pleasure to visit and slowly made our way around the place. A beautiful place to go in Chiang Rai and worth a visit.
No entrance fee is required.
Wat Rong Suea Ten (Blue Temple)
Address: 306, Moo 2 Maekok Rd Rim Kok, Chiang Rai.
Operating Hours: Daily from 7:00 until 20:00
Entrance Fee: Free!
Long Neck Tribal Village
Baan Tong Luang Village is the easiest place to visit the unique hill tribal in Chiang Rai. It features a 5 Hill Tribe exhibition village and provides a unique chance to meet with local people who live very different life. Among them, the famous Karen Long Necks (Paduang) and the Big Earring (Akha) tribe are part of the tribal village to visit.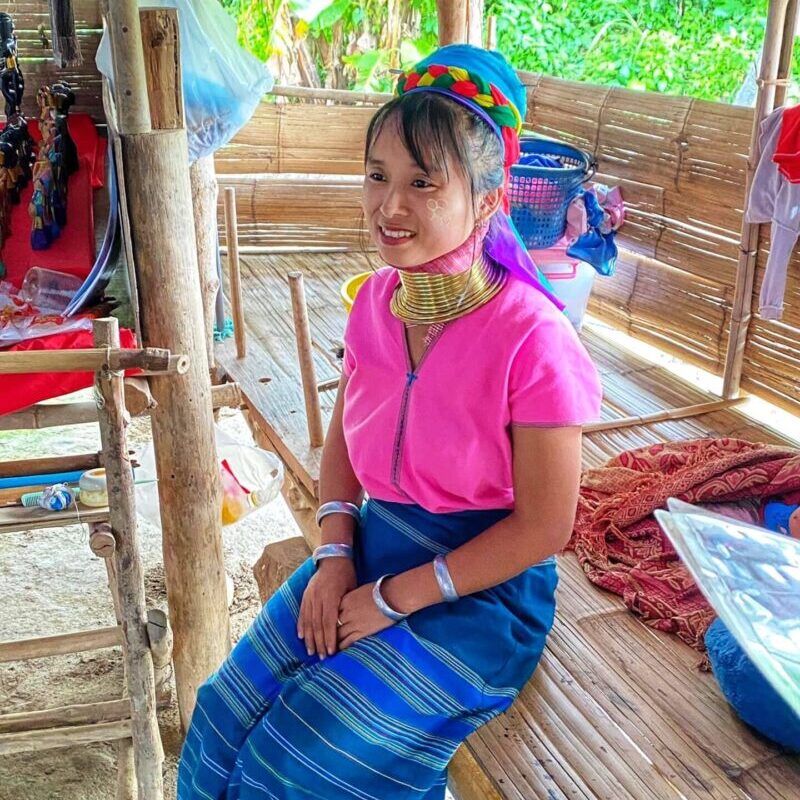 As the name said, the Longneck Karen Village is a tribal village whose women continuously wear stacked brass rings on their necks under to sink, thus making the neck appear to be longer. You'll have the chance to pose for photographs with members of the tribe when visiting the village.
I have mixed feelings about visiting the tribe and also wondering should I include this information in the Chiang Rai itinerary. It must be painful for women for wearing the brass ring from young. Apparently, they are refugees from Mayanmar and they are not permitted into the town. They rely on aid, local produce, and what they can make from tourists to help them out in the long run.
Although it's not an authentic tribal village, it's still nice to see the villager enjoy their life. Worth a trip over if you don't mind paying the 300 baht for an admission fee.
Golden Triangle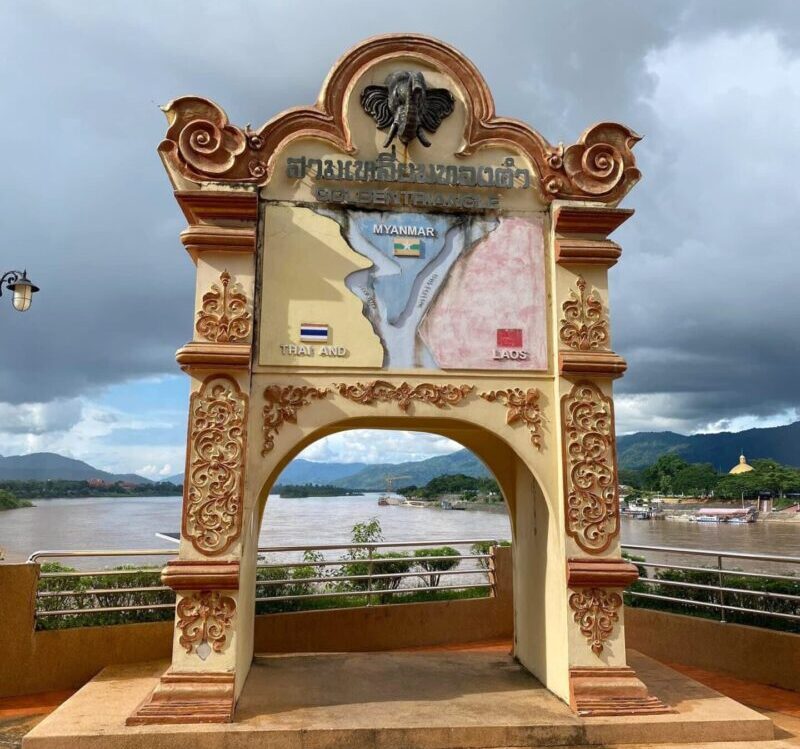 Golden Triangle is the place where the borders of three countries of Laos, Myanmar, and Thailand meet on the mighty river Mae Kong.
We took a boat ride into the Golden Triangle where the rivers of Myanmar, Laos, and Thailand converge. It is like a town where restaurants, shops, massage parlors, and eateries can be found here. Interestingly, we are allowed to cross over to Laos by boat and shop at the special economic trading zone in Laos. Nothing exciting but it's a nice experience to see the scenery of Laos and Myanmar with a boat ride.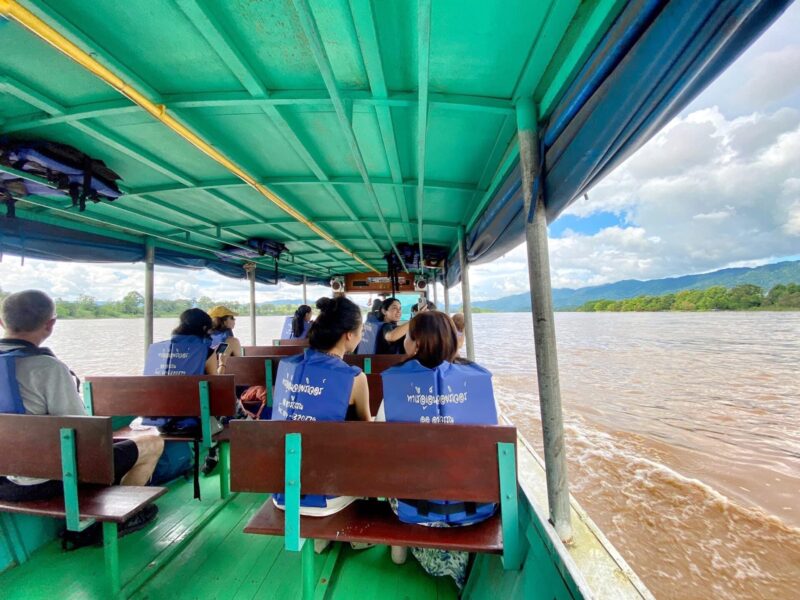 Chiang Rai Night Bazaar and Weekend Market
Chiang Rai Night Bazaar is the night market that takes place in the town every night. If you are staying in town, it is easy to walk to the night bazaar as it is situated in town right next to the Chiang Rai Bus Terminal No.1.
Just like any other Thailand night market, the night bazaar is a good way to enjoy the country like a local and have a taste of their local street food. You can find various street food, Thai cuisine, and drinks here. Besides, there is plenty of merchandise are sold here including fabrics, housewares, clothes, and souvenirs to bring back home.
Overview: A Visit To Chiang Rai
All in all, Chiang Rai is totally worth a day trip from Chiang Mai. It took us about a 4-hour traveling journey trip to get there and we were underwhelmed by both temples. It is a great day of adventure filled with so many stunning sights. We will not regret going since it was something we wanted to see and it's better to experience it.
Did you enjoy this Chiang Rai travel guide blog? We have more Thailand travel stories to share for your holiday. Free feel to check it out.
Travel to Chiang Mai and Chiang Rai:
Travel to Bangkok:
Planning a beach holiday to Phuket? Get to know more before planning your trip to Phuket.