Last updated on October 2nd, 2023
Visiting Matsumoto is a unique experience, with the premier castle, rich culture, and a range of historical buildings. It makes a great stop on your trip to the Chubu region. Use this Matsumoto travel guide blog to plan your Matsumoto itinerary!
Situated in Nagano Prefecture, Matsumoto (松本) is a beautiful historic city to visit in Chubu region. It's full of culture, history, and exciting attractions. The city is home to Matsumoto castle and nearby with Japan's Alp which famous for its stunning scenery. Plus, it's location in the Chubu region makes it a great jumping off point to fascinating destinations between Kanto and Kansai region.
If you're visiting Matsumoto for the first time, then this quick and easy Matsumoto travel guide will tell you all you need to know to plan your Matsumoto itinerary. We will share all the best things to do in this Matsumoto travel blog and you'll discover a lovely little town to keep you entertained for a day or two.
Matsumoto Travel Guide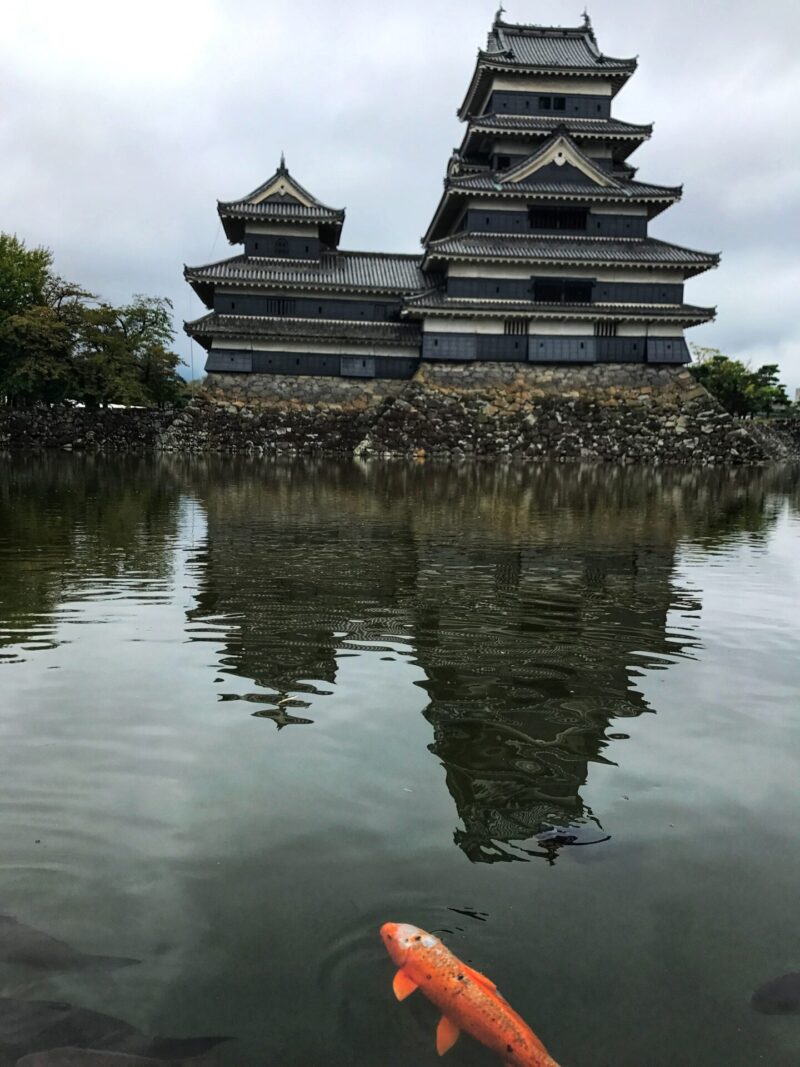 Located on the North Japan Alps, Matsumoto is the second largest city in Nagano Prefecture. While Matsumoto is well-known for its castle, the city is also an excellent base for the traveler to explore regional attractions such as Kamikochi, Tateyama Kurobe Alpine Japanese Alps, and also the famous Jigokudani Monkey Park.
How To Get To Matsumoto
Matsumoto is easy to access by Japanese transportation from several major cities such as Tokyo, Osaka, Nagoya, and beyond. There are several routes and transportation options to get to Matsumoto.
From Alpine Route to Matsumoto: Assuming you are following my Chubu itinerary, you would take the train from Shinano-Omachi to Matsumoto after completing the Alpine Route. The train ride takes about 1 hour.
From Tokyo to Matsumoto: JR train (Hokuriku or Joetsu Shinkansen) runs between Matsumoto and Tokyo. The train journey takes 2h 36m and costs ¥7000 – ¥12000.
From Nagoya to Matsumoto: Travelers can take a bus or train to Matsumoto. The Shinano Train runs between Nagoya and Matsumoto for approximately 126 minutes. While traveling by bus takes about 3 hours 30 minutes.
From Nagano to Matsumoto – Travelers can take a bus or train to Matsumoto. The journey takes about 1 hour.
Pro Tips: We recommended checking the schedule via Hyperdia for exact train and bus times for traveling around Japan.
Getting Around at Matsumoto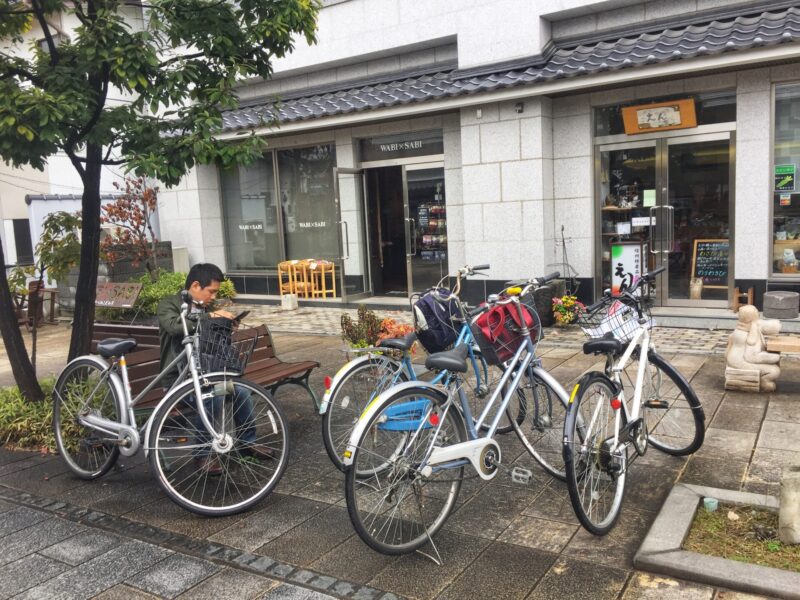 Once you are in Matsumoto, you can be wandering around the city with below transportation options:
By Foot: Walking is the best way to discover the city as central Matsumoto is quite compact. Almost all the attractions in the city can be reached on foot from Matsumoto station.
By Bike: Bike is a common and convenient transport when visiting Matsumoto. Some hostels and hotels in Matsumoto have paid/free bicycles available for rental. Besides, you may also rent a bike from M Wing Community Center.
By Town Sneaker Bus: Take the easy bus ride from Matsumoto Station to the Matsumoto Castle. The polka dot bus leave from the station every 30 minutes with fare costs ¥200 for each ride.
Where To Stay
When looking for best place to stay on your Matsumoto itinerary, we recommend staying in hotels near Matsumoto station or at Matsumoto central. There are plenty of accommodations with all types of budgets for your selection. Listed below is the best pick for your best stay in Matsumoto.
For convenient, stay near Matsumoto station which is connected by bus and train. I would recommend Premier Hotel Cabin Matsumoto and Iroha Grand Hotel Matsumoto Eki-Mae to save your traveling time and energy. Typical business hotel style in Japan and very comfortable and clean.
A little bit of upgrade and stay at Matsumoto Central, Matsumoto Hotel Kagetsu and Buena Vista offer luxurious and professional service at a reasonable price. A good value quality pick for where to stay in Matsumoto.
For more accommodation option, please read on Where To Stay in Matsumoto: Best Hotels Pick.
Things To Do in Matsumoto itinerary
Below are all the best things to do in the Matsumoto itinerary during your visit.
Visit Matsumoto Castle (1 to 2 hours)
Stroll along the Matsumoto Castle Park (1 to 2 hours)
Pray at Yohashira Shrine (15 to 30 minutes)
Nawate Street (30 minutes to 1 hour)
Nakamachi-dori (30 minutes to 1 hour)
Matsumoto Travel Guide Tips: Matsumoto is easy enough to explore on your own but if you'd like to know more about the history of the city, then you can book a guided tour.
Matsumoto Castle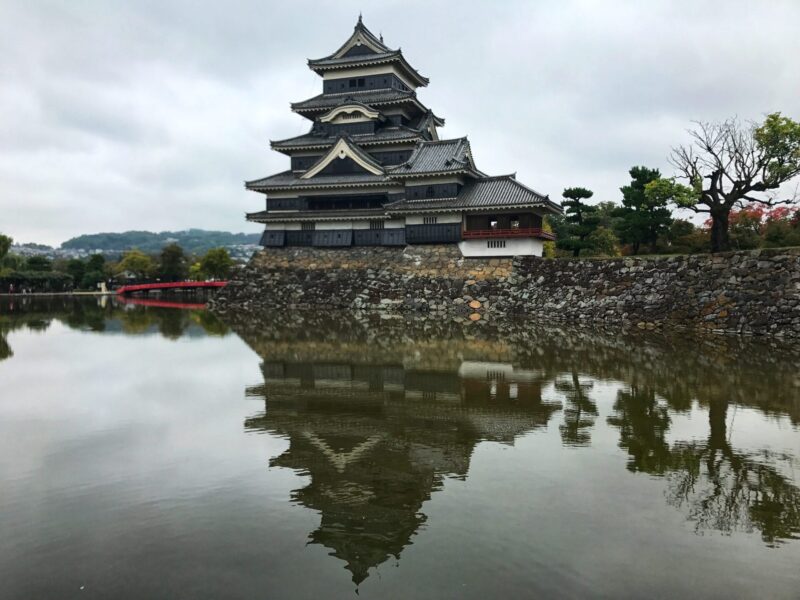 Not surprisingly, the most popular attraction in Matsumoto city is Matsumoto Castle (松本城 / Matsumotojō). Originally known as Fukashi Castle, Matsumoto Castle was built in 1594, during the Sengoku period. Now, it is a registered National Treasure and one of Japan's 12 remaining original castles.
Note that Matsumoto Castle is also rated as one of the Top Three Japan Premier Castle, along with Himeji Castle and Kumamoto Castle.
Matsumoto Castle, nicknamed "crow castle" is one of the most celebrated fortresses in Japan. The castle is huge and built on a wide flat land surrounded by the glamorous Japan North Alps as the backdrop. The black wood exterior makes a nice contrast with the surrounding.
A small entrance fee is required to enter the Castle.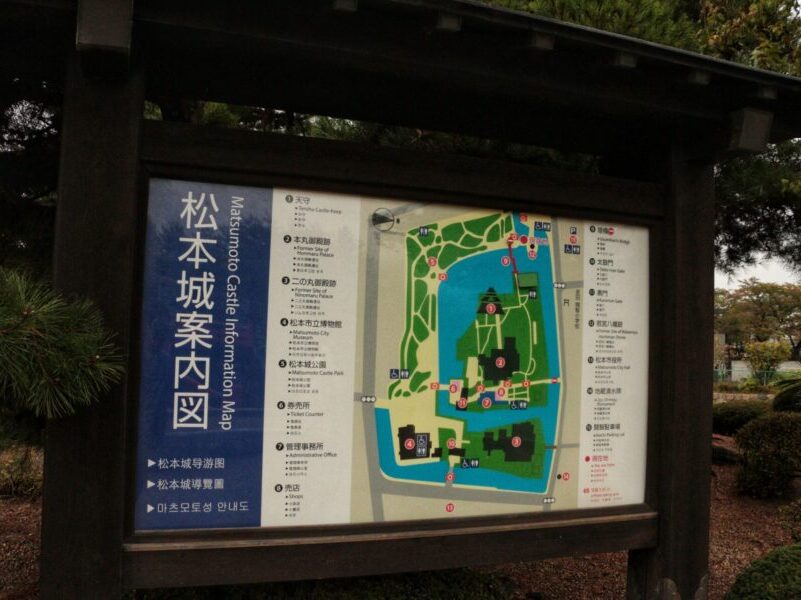 Visitors need to take off the shoe at the entrance of the castle to protect the oldest wooden structure. A plastic bag will be given to keep your shoes and you will need to carry them along your shoes with you.
The free guided tour is available if you help to know more about the history of the castle at different periods of time. Do check out the guide office before entering the castle.
Wooden Structure inside the Castle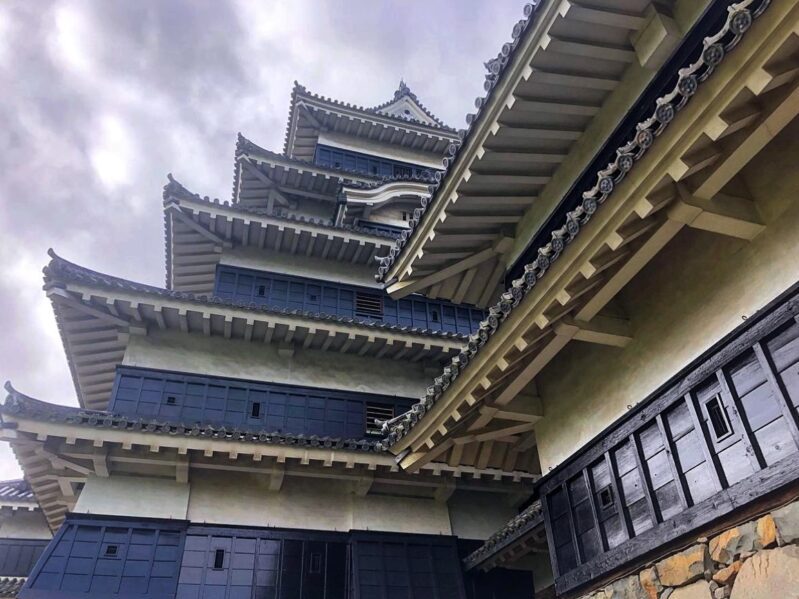 Inside, there is also signage for visitors to learn a lot about the castle.
On each floor, there are also interesting exhibits about the castle's history as well as a commentary played in Japanese and English. It's an interesting history with a good explanation of the facts and the functions of each level as we walk along. A great piece of architecture and find yourself stepping back in time a few hundred years back.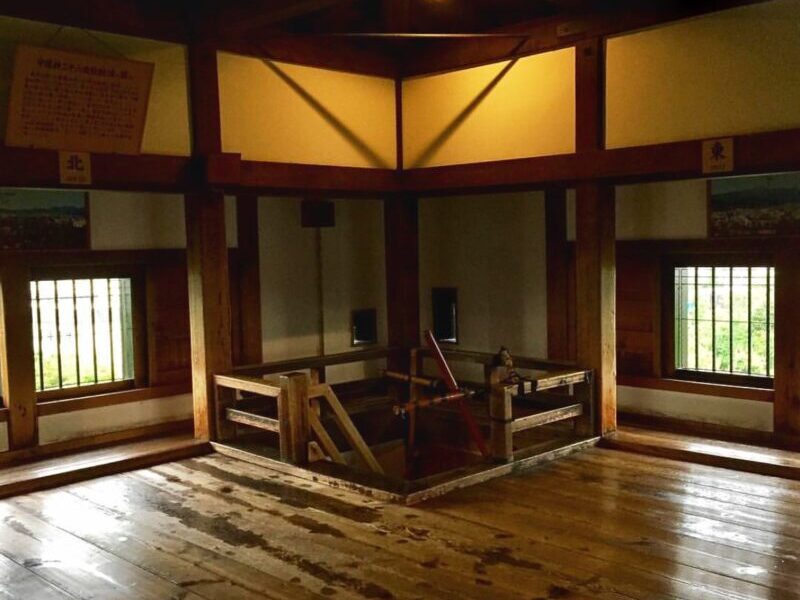 The wooden stairs within the castle could be very steep, depending on which level you are at. Be sure to hold on to the railings for support. It is quite steep when we climbed up and reached the top level. But make the effort, it's well worth it once you reach the top level.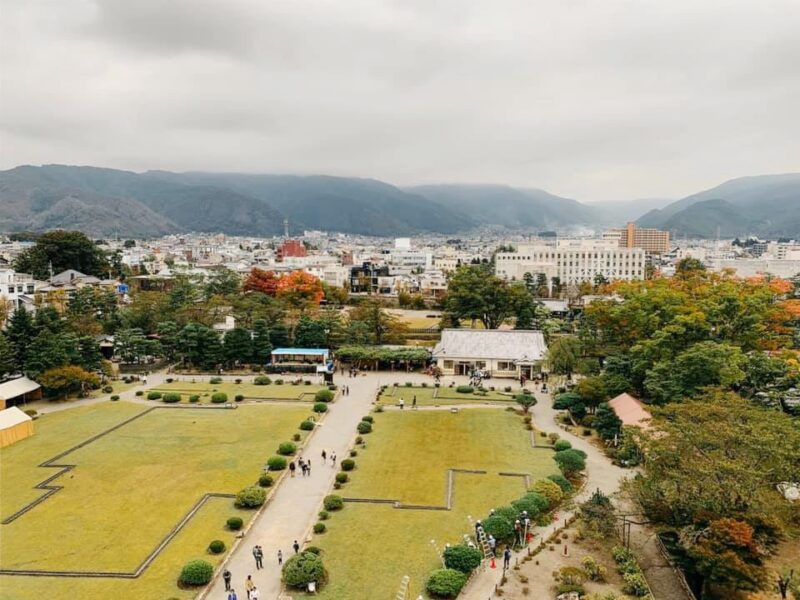 A great 360-degree view of Matsumoto city and the surrounding mountains is truly magnificent! Overall, Matsumoto Castle is a good place to visit and definitely worth a trip there.
Matsumoto Castle
Address: Address: 4-1 Marunouchi, Matsumoto, Nagano 390-0873
Getting there: 15 minutes walk from Matsumoto Castle.
Opening Hours: Daily from 8:30 until 16:30.
Entrance Fee: Free for the Castle Ground and required ¥600 to enter the Castle.
Matsumoto Castle Park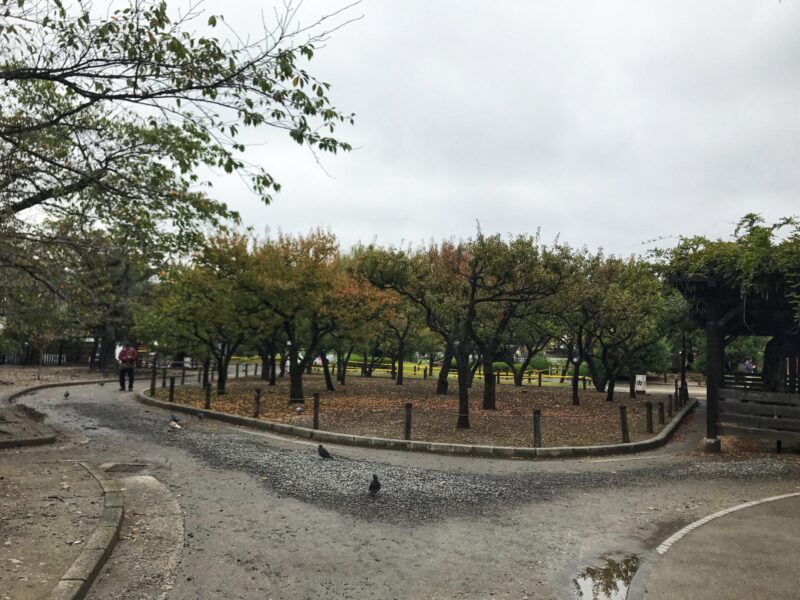 Once you've completed your tour of the castle, you can walk around the castle grounds.
Surrounded by a moat with ducks, swans, and fish, you can just stroll around the spacious castle grounds. The castle perfectly sits next to the waters and one can see the reflections in the water on the clear sky. The mountains backdrop with snow-capped peaks made the whole castle surrounding peaceful and scenic to visit.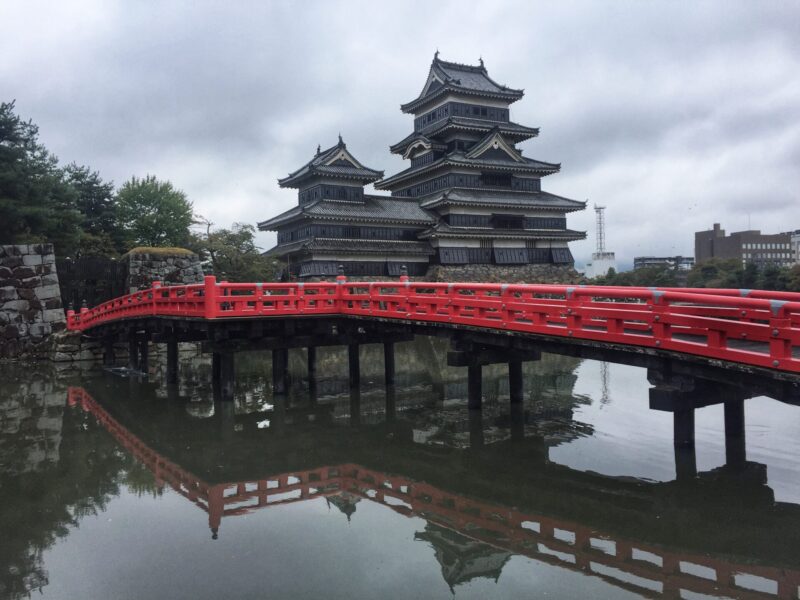 Our visit is during November with the autumn foliage. Birds twitter and fish swirling in the moat. My favorite photo spot is by the red bridge which offers some great photo opportunities. It is truly beautiful beyond words.
Pro Tips: Matsumoto Castle is especially beautiful during early April's cherry blossom season. It is also rated as one of the best spots for hanami or cherry blossom viewing in spring in the Chubu Region.
Yohashira Shrine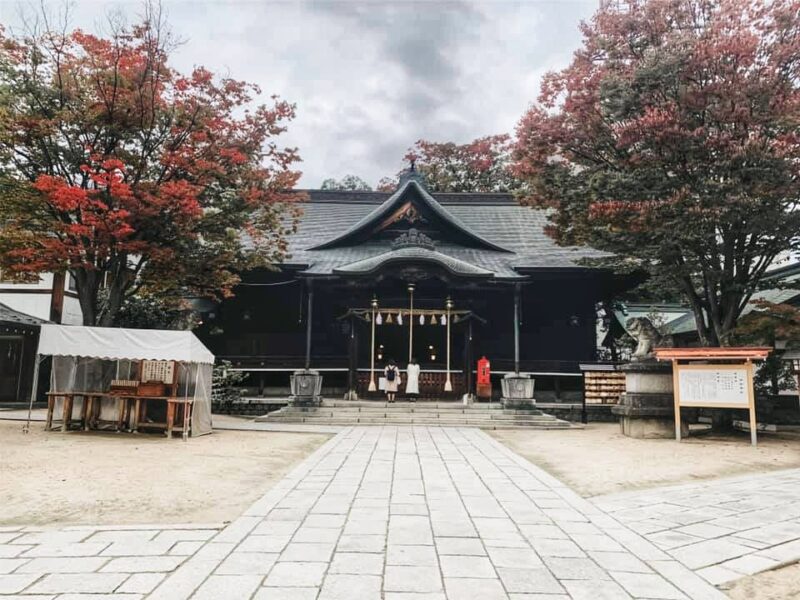 On the way from Matsumoto Castle to the central town, we stopped by a local shrine for a brief stop. The Yohashira Shrine is a small shinto shrine located near nawate street and nakamachi street. The shine is lovely in a pleasant and restful setting. It was delightful to watch locals come and pray.
Yohashira Shrine is so perfect for capturing autumn colors. During our visit, all the maple leaves were changing color and the shrine was a technicolor riot of beauty. It was wonderful to come to this peaceful and beautiful shrine.
Yohashira Shrine
Address: 3 Chome-3-20 Ote, Matsumoto, Nagano 390-0874.
Getting there: The shrine is located just right beside Nawate Street.
Opening Hours: Daily 24 hours.
Entrance Fee: Free!
Nawate Street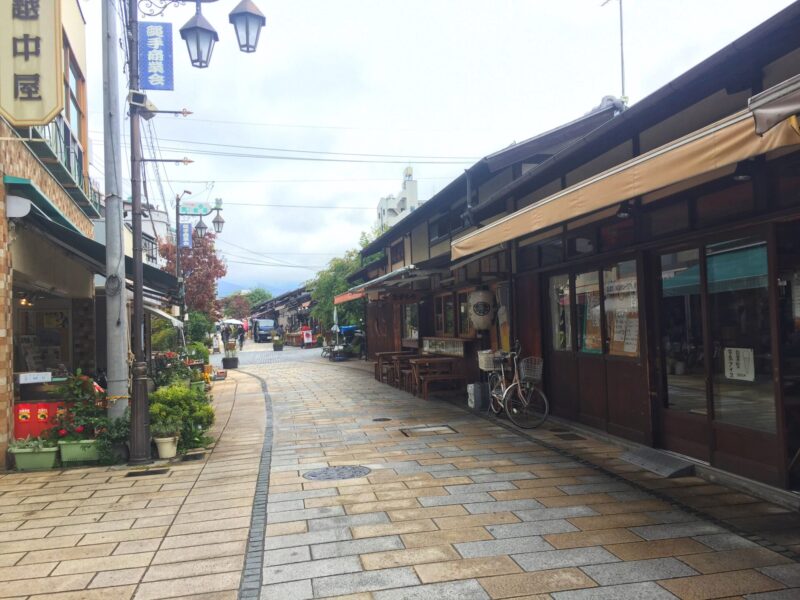 Nawate Street is a narrow pedestrian-only street of preserved old wooden buildings. It is also known as frog street (Kaeru machi) with frog-themed along the narrow street. Locals believe in Kaeru (the Japanese word for "frog") to invoke and summoned a safe return home.
Today, many wooden buildings have been converted into souvenir shops where you can find some beautiful souvenirs to take back home. There are also many snack shops, cafés, and restaurants where you can get local snacks such as Taiyaki and rice crackers (senbei). Enjoy your stroll and grab some Japanese snacks here.
Nawate-dori (縄手通り)
Address: 4-3 Ote, Matsumoto 390-0874.
Getting there: 10 minutes walk from Matsumoto Station.
Nakamachi-dori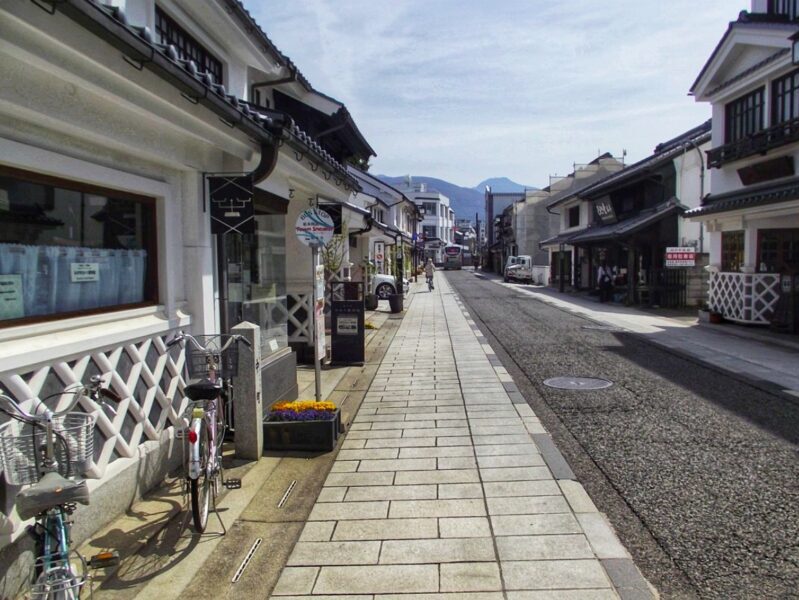 The last stop on the Matsumoto itinerary is Nakamachi Street (中町通り). It is known for its traditional storehouses with buildings resembling old warehouses. Here, you can find many cafes, restaurants, and handicraft shops.
A good street to walk and explore with a lot to see. It gives a glimpse of life back in the Edo period.
Nakamachi-dori (縄手通り)
Address: 3 Chuo, Matsumoto 390-0811
Getting there: 10 minutes walk from Matsumoto Station.
Day Trip from Matsumoto
There are also many nearby attractions that can be planned with a day trip from Matsumoto.
Kamikochi (上高地, Kamikōchi) – Matsumoto is also famous for its proximity to the Kamikochi. This is Japan's best keep secret and is preserved in its natural state. It is known by many mountaineers as a famous scenic spot in Japan. There are direct buses running from Matsumoto to Kamikochi to mesmerize the beauty of the valley.
Note that Matsumoto and Takayama are great stopovers on your way to Kamikochi. It is open for visitors between about mid-April to mid-November. We visited Kamikochi from Takayama during our Chubu trip and highly recommended it. You may continue to read about our Trip to Kamikochi.
Jigokudani Monkey Park – The famous scene where the snow monkey is sunbathing in the onsen at Jigokudani Yaen-Koen Monkey Park when the weather is cool. You can observe the snow monkeys at a close distance when visiting here. A friendly reminder is a traveling journey takes about 3 hours for one way. The best time to visit Jigokudani Monkey Park is during winter (December to March).
Final Tips on Matsumoto Travel Guide
Is Matsumoto worth visiting?
Matsumoto is one of the charming and historic cities in central Japan. It may not be as popular as some of Japan's other tourist destinations, but Matsumoto is definitely worth visiting especially if you're interested in the Japanese Castle.
How many days to Matsumoto?
A short half to full 1-day Matsumoto itinerary can be planned to visit Japan's Top Premier Castle and some of the attractions in the city. Additional 1 to 2 days in Matsumoto if you are planning a day trip to some attraction from Matsumoto such as Kamikochi and Jigokudani Monkey Park.
How to get to Matsumoto from Tokyo?
The best way to get to Matsumoto from Tokyo is take the Hokuriku or Joetsu Shinkansen which takes 2h 36m and costs ¥7000 – ¥12000.
Overview: Planning on Matsumoto itinerary
All in all, I hope you've found my Matsumoto itinerary helpful!
In our opinion, a short half to full 1-day Matsumoto itinerary can be planned to visit Japan's Top Premier Castle and some of the attractions in the city. And you might need to consider adding for additional 1 to 2 days if you are planning a day trip to some attraction from Matsumoto.
In short, the historical Matsumoto is a magnificent place with a very beautiful castle and a remarkable mountain view. I totally recommend Matsumoto to everyone. Enjoy your trip to Matsumoto!
Complete read in Chubu travel blog:
Related Travel Stories in Chubu region: