Last updated on September 23rd, 2023
My day trip to Cape Kamui from Otaru with a public bus. The itinerary including the Shimamui coast, the "Top 100 Best Beaches in Japan" and taste on mouth-watering supreme uni-don.
Shakotan Peninsula is a gorgeous mountainous peninsula located in central Hokkaido. It is well known for its natural scenic with fantastically shaped rocks and beautiful clear blue sea scenery, known as Shakotan Blue.
Few famous sightseeing spots at Shakotan peninsula are Shimamui Coast, Cape Shatokan and Cape Camui. All are located along the northern part of Niseko and northwest of Otaru. So, it is ideal to plan for a day trip itinerary from Otaru or Niseko.
A visit to see the Shakotan blue is one of the must-do in my Hokkaido itinerary. Instead of self-driving, we choose to take the public transport from Otaru to Shakotan Peninsula. It was a very challenging journey due to limited information and an infrequent bus for getting there. We also try the delicious uni (sea urchin) that ranks among the best in Japan. The freshest sea urchin harvested locally and served on a bowlful of flavorful rice. Very delicious and unforgettable taste!
Below travel blog post is more about my Cape Kamui itinerary including the travel journey to Shakotan Peninsula from Otaru by Chuo bus.
Getting To Shakotan Peninsula by Bus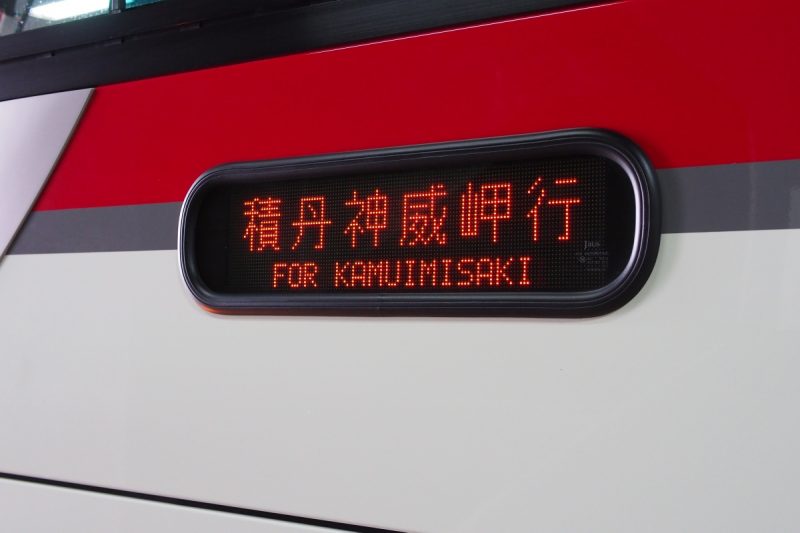 Limited information is available on getting to the Shakotan Peninsula by public transport. Added, most of the information found is in Japanese. So it was very challenging for us to make a day trip to the Shakotan Peninsula by public bus.
In short, Chuo bus is the only way to get to the Shakotan Peninsula by public transport. And the buses will only run during summertime, normally started from late April until the end of October.
From Sapporo: Only one bus per day depart from Sapporo station at 9:15 a.m. This bus will pick up passengers from Otaru (depart at 10:23), and continue to proceed to Yoshii, Bikuni and lastly to Cape Kamui.
From Otaru: The whole route took about 2 hours and 18 minutes of traveling time for one way. Buses run a few times per day from Otaru to Shakotan per day. However, only four buses will be sending you to Cape Kamui, the last stop for the Shakotan line.
From Otaru to Cape Kamui: 7:00, 9:00, 10:23, 12:00
From Cape Kamui back to Otaru: 10:14, 12:14, 13:42, 15:14
Detail bus schedule (積丹線 – 高速しゃこたん号): Click here
Note: Please double check the bus schedule at the Chuo bus to best plan your visit.
My Day Trip To Shatokan Peninsula
The beautiful scenery with crystal blue sea water, tasty sea urchin are the major factors that flock many visitors into Shakotan. Well, the Chuo bus is the only available option if you wish to visit Shakotan Peninsula by public transport. A well plan itinerary is required due to the infrequent bus schedule.
During our day trip from Otaru to Shakotan Peninsula, we manage to get the closer look of Shimamui Coast from Cape Shakota, the best 100 beaches in Japan. Next, we are heading to Cape Kamui which located about 30 minutes away from Shimamui Coast. Last but not least, we enjoyed the mouth-watering supreme uni-don in Oshokujidokoro Naramuraya.
Shimamui Coast
Our first stop on day trip to Shakotan Peninsula was Shimamui Coast. Shimamui coast is rated as Japan's top 100 beaches, thanks to its beautiful landscape.
From Otaru bus station, we purchased the bus ticket at the kiosk and boarded the 9:00 morning bus to Shimamui coast as per plan.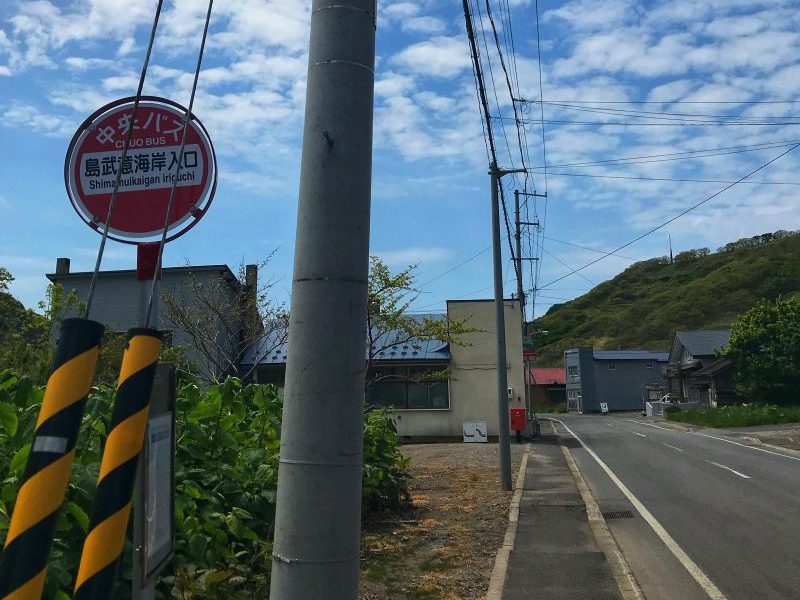 The bus journey took us about 2 hours. We were getting off at the Shimamui Coast Entrance Stop (島武意海岸入口). It is a very small stop at the roadside and foot of the mountain. You may probably miss it if does not look at it carefully.
The first thing to do is to confirm the bus schedule at the bus stop. After roughly calculation, we only have about 1 hour to explore the Shimamui coast before the next bus coming.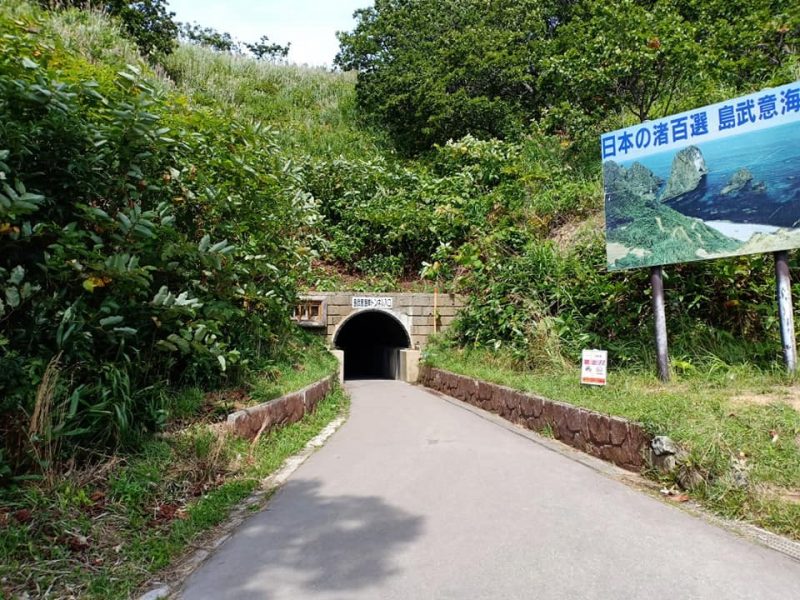 Without wasting time, we walked through the hilly road path follow the board sign to Shimamui Coast. It's a long walk along the mountain road before we reached the tunnel entrance.
There is a restaurant if you wish to have your lunch here. But we did not stop by as we have another better plan for our lunch.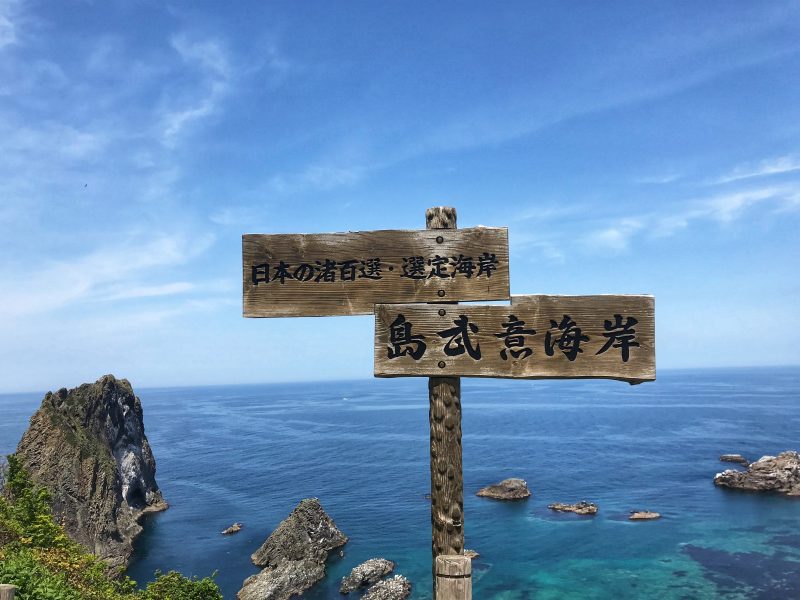 Once out from the tunnel, we were so impressed by the beauty of the Shakotan coast. The view was so breathtaking with endless of "Shakotan blue" seawater.
There is a viewing platform after passing through the tunnel. This is also where you can take the multiple beautiful shot of Shimamui Coast.
Shakotan Blue Sea Water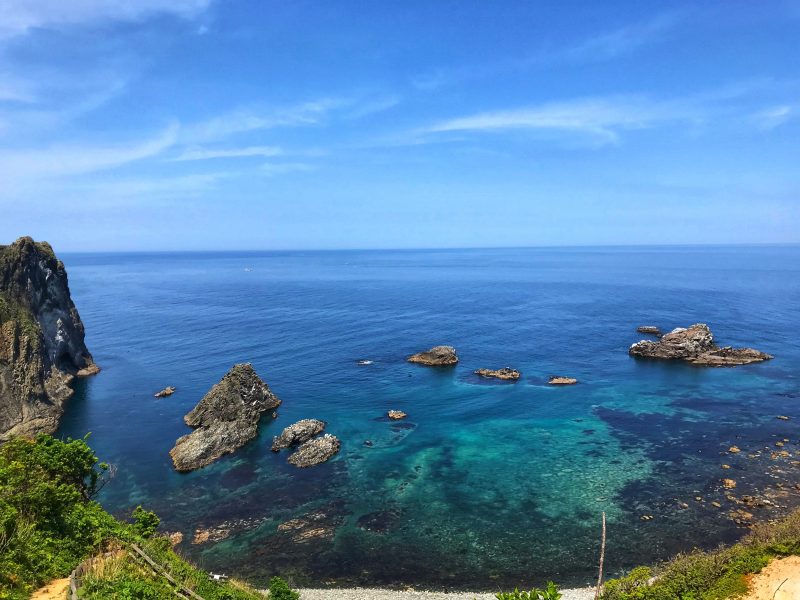 ou can get even closer to the sea by walking down the trail to the beach. Unfortunately, we did not try on this route instead continue mesmerized the beauty of the emerald blue sea at viewing platform.
We have around 1 hour at Shimamui Coast before proceeding to the next destination. After enjoying the view, we slowly walked along the road back to the bus stop to catch the coming bus. Next, it's time for our lunch. And we will continue our travel journey to Cape Kamui which located nearby within 30 minutes bus journey.
Getting to Shimamui Coast: Board the Chuo bus to Shakotan Peninsula from Otaru.
Creamy Sea Urchin Rice Bowl
When you are getting to Shakotan, don't forgot to taste on the ultimate fresh uni-don (sea urchin rice bowl). Hokkaido is renowned for delicious seafood and Shakotan is widely famous for the best sea urchin in Japan. Summer is the best season for sea urchin in Shakotan, which started from June to August.
There are two types of famous sea urchin rice bowl in Shakotan. The bafun-uni (short-spined sea urchin) and Murasaki-uni (purple sea urchin). Both are the must-try and e highly recommended. However, the selling price is not cheap especially the bafun-uni. It can simply costs around 3,000 yen and above.
Oshokujidokoro Naramuraya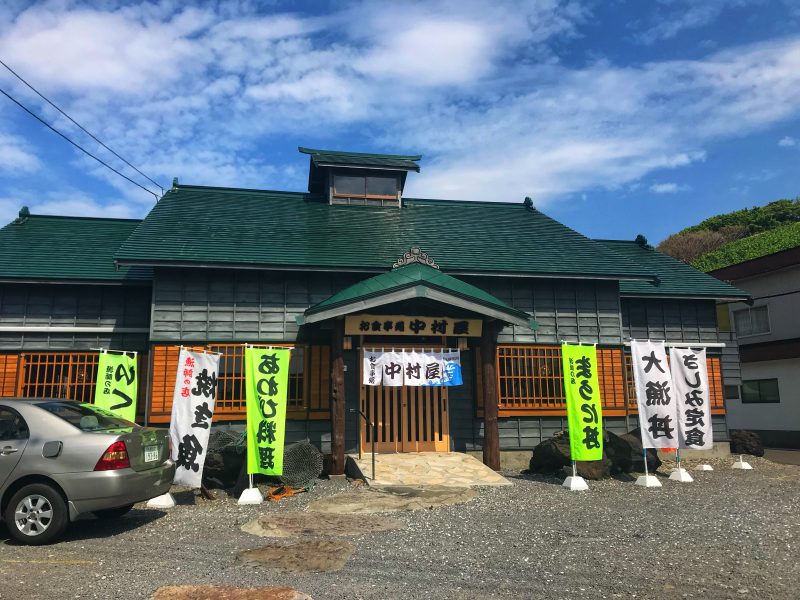 We manage boarded the Chuo bus on time at Shimamui Coast stop. This is also the bus departed from Sapporo at 9:00 morning. Friendly reminder to the traveler, please reach the bus stop at least 5 to 10 minutes earlier before the bus reaching. You do not want to miss the bus!
Osyokujidokoro Misaki and Osyokujidokoro Naramuraya are the two famous restaurants and served the best sea urchin in Shakotan. Both are located nearby side-by-side and only open during summer from late April to October. The owners are fishermen, so you will have the freshness uni from Shakotan if you are eating here.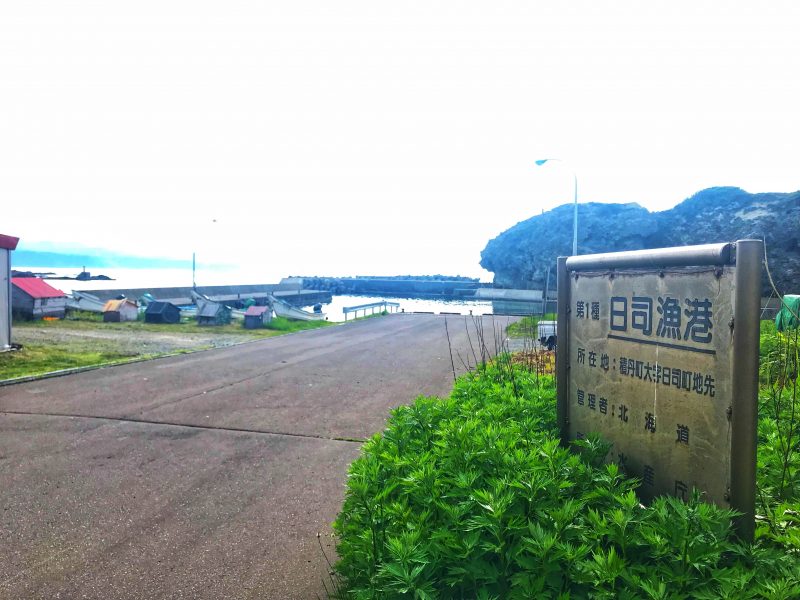 We choose to dine in Naramuraya (中村屋) which well know by locals. First of all, we were getting off at Hizukatomari(日司泊) stop. The restaurant is just located opposite the bus stop.
Osyokujidokoro Naramuraya (お食事処 中村屋)
Address: 50-1 Hizukacho, Shakotan-cho, Shakotan-gun 046-0326, Hokkaido
Operating Hours: From 9:00 to 16:00 (End of April to October)

Close on Thursday during 2nd and 4th week of the month

Website: https://shakotan.jp/
Naramuraya is proud of its generosity and outstanding freshness uni, freshly caught by fisherman from sea. We would like to try on the special sea urchin bowl which served the two types of sea urchin in one bowl. However, there are only ten servings per day and we were too late. So we ordered the Murasaki-uni as bafun uni was too expensive for us.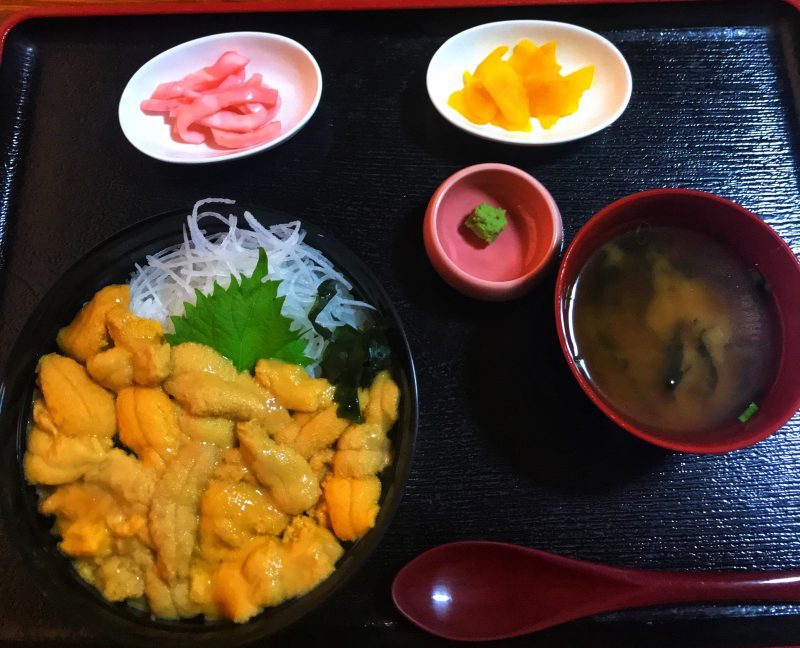 Our bowl of rice came with generosity of sea urchin topped above. We immediately fall in love with the uni just after the first bite. The taste was so buttery creamy with pure taste of the briny sweetness. We so regretted that we didn't ordered the bafun-uni.
After the satisfied lunch, we proceeded to our last stop for today, Cape Kamui. It was a little hiking trip along Cape Kamui to walk off all the food we ate.
Getting to Cape Kamui from Hizukatomari(日司泊) stop: Board the coming bus at the same bus stop to Cape Kamui.
Cape Kamui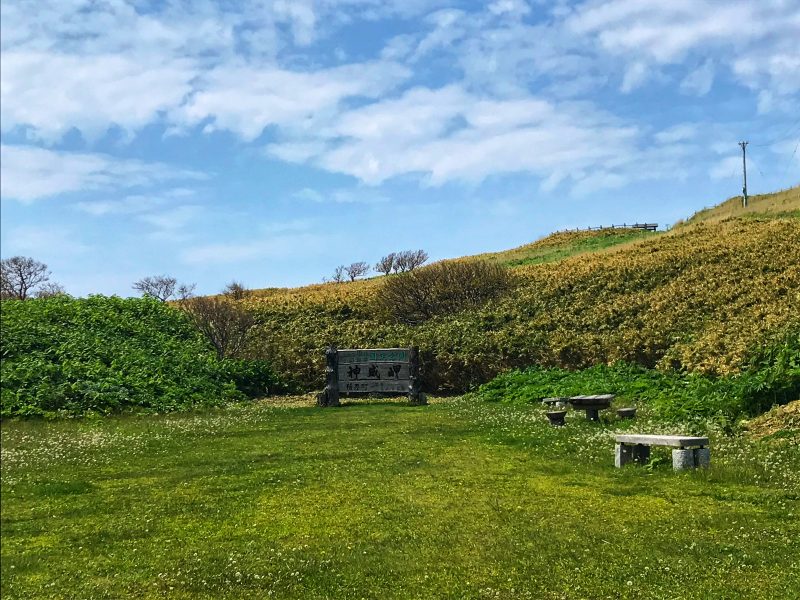 Our next destination was Cape Kamui (神威岬), the last stop of the Shakotan line. Within 20 minutes, we finally reach our destination!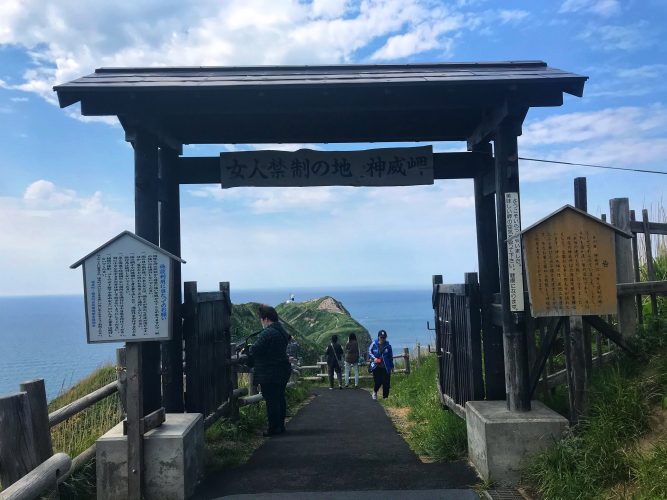 We took a leisure walk from the bus stop to the entrance of Cape Kamui.
There is a "woman is forbidden" sign at the entrance before you can enter the Cape Kamui pathway. It was tied to a folklore and does not applicable for now. Nowadays, everyone can access Cape Kamui for free.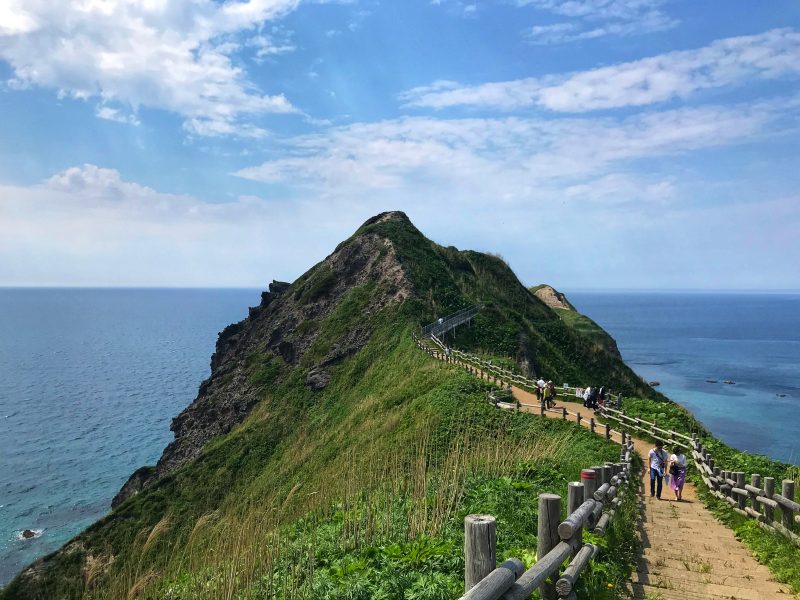 Along the walk to the tip of the cape, we were treated with stunning views of the coastline and the ocean. Lush greenery and clear waters of the cape took our breath away. Amazingly beautiful!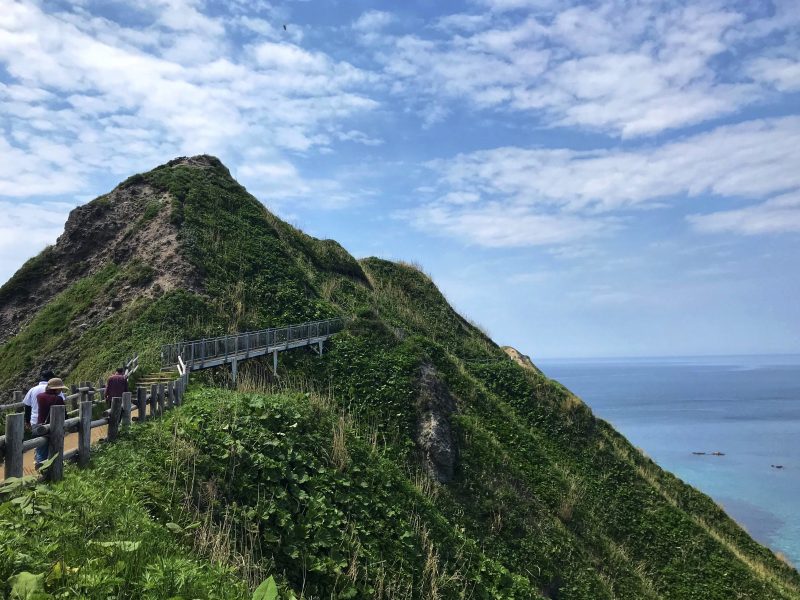 The whole journey took us about 30 minutes to the end of the trail. It was not too hard with some uphill and steps along the way.
There was many great photo opportunities with awesome views throughout the hike. You will be rewarded with the best views. Definitely worth it!
Kamui Rock At The Tip Of Cape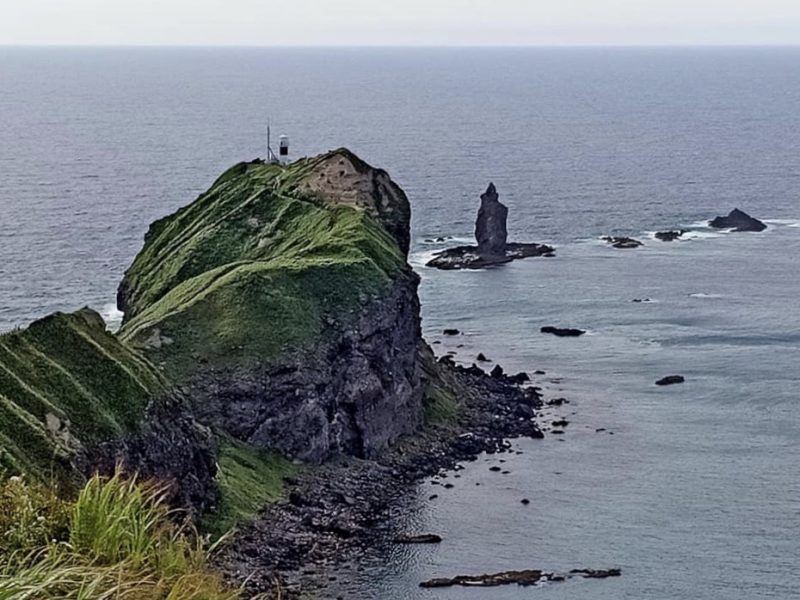 We walked to the tip end. There is a unique rock standing like a candle on the sea, called "Kamui rock". This is part of the legendary love story after the heart-broken woman drowned here and turned into rock.
Standing at the end of the cape with the wind wiping against our faces with a breathtaking view. Please remember to bring along jacket or wind blanker as the wind was so strong.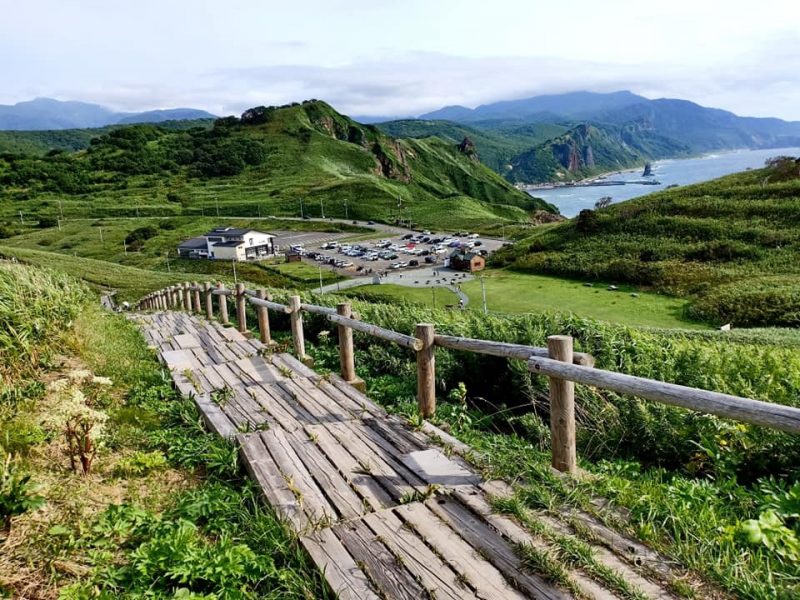 Overall, we spent about an hour at this magnificent hike and slowly went back to the entrance. There is a souvenir shop and eatery in the parking area where you can have some snacks or rest. We took the 15:14 bus depart from Cape Kamui back to Otaru.
Day Trip to Cape Kamui: Tour Buses
There are also sightseeing bus available from Sapporo and Otaru which take you to the Shimamui Coast, Misaki no Yu Shakotan Hot Springs, and Nikka Whisky Yoichi Distillery, as well as Cape Kamui.
This day tour is a good option for those who wish to visit more attractions but lazy to plan on the itinerary. Reservation required and cost you about 8,000 for a hassle-free bus tour from the Chuo bus.
My Completed Hokkaido Itinerary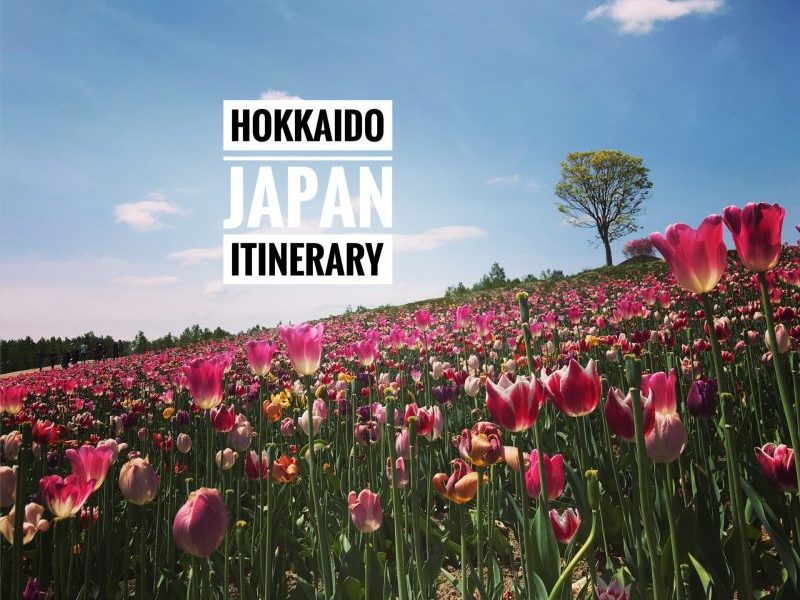 If you interested, don't forget to check out our completed Hokkaido itinerary on budget. We visited Hokkaido at the end of May. So glad that we can visit Hokkaido's attraction and festival for both spring and summer season.