Last updated on September 23rd, 2023
The Top 5 flower fields nearby Asahikawa that you shouldn't be missed! Be sure adding Hokkaido flower field itinerary if you are visiting during the blossom season.
Asahikawa is Hokkaido's second-largest city and best known for its zoo and ramen. It is very convenient to get from Sapporo to Asahikawa with train depart every 30 minutes. The location is also close to the lovely rolling hills of Biei and Furano.
Start from April until the end of October, several flower fields brighten up the vast land of Hokkaido. Moreover, a few famous flower fields are located nearby Asahikawa.
For example, enjoy the beautiful sea of flower including lavender at Furano. There is also sunflower at Hokuryu Town, canola flower at Takikawa and flower field at Biei. Most of the flower viewing time is seasonal. It is always best to visit during spring and summer.
From Asahikawa To Flower Field Nearby
That is to say, it is not easy to travel around when planning on flower field itinerary in Hokkaido. It is even more challenging if you are getting around by public transport. However, staying around at different places may time and energy-consuming. Therefore, we would suggest you stayed in Asahikawa and getting to different places nearby.
Below are the top 5 Hokkaido flower fields which accessible from Asahikawa.
Takikawa Canola Flower Festival (Nanohana)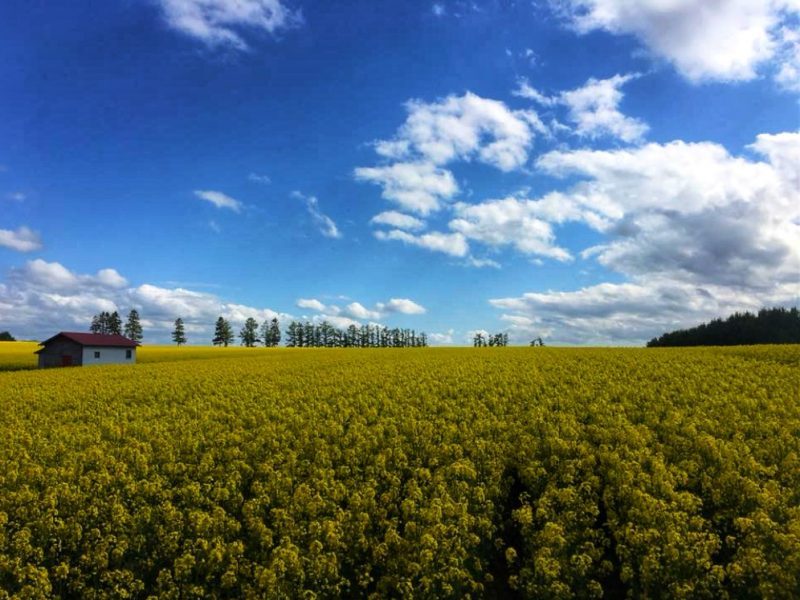 Situated between Sapporo and Asahikawa, Takikawa is known for its biggest canola flower plantation in Japan. In spring, endless of bright yellow canola sea stretching on as far as eyes can see. During the blooming season in late May, Takikawa will held the Canola Flower Festival. The flower field will open to the public to mesmerize the beauty of flower. Thousand of tourists from all over the world are joining this flower festival.
Check out my visit to Takikawa Canola Flower Festival during my trip to Hokkaido. Itinerary and transportation arrangement explained.
Best time to visit Canola Flower: end of May
Getting there: Get off at JR Takikawa station and take the bus to "Ebeotsu Chuo dori". A special shuttle taxi will bring you to the Canola Festival.
Takinoue Park Shibazakura Festival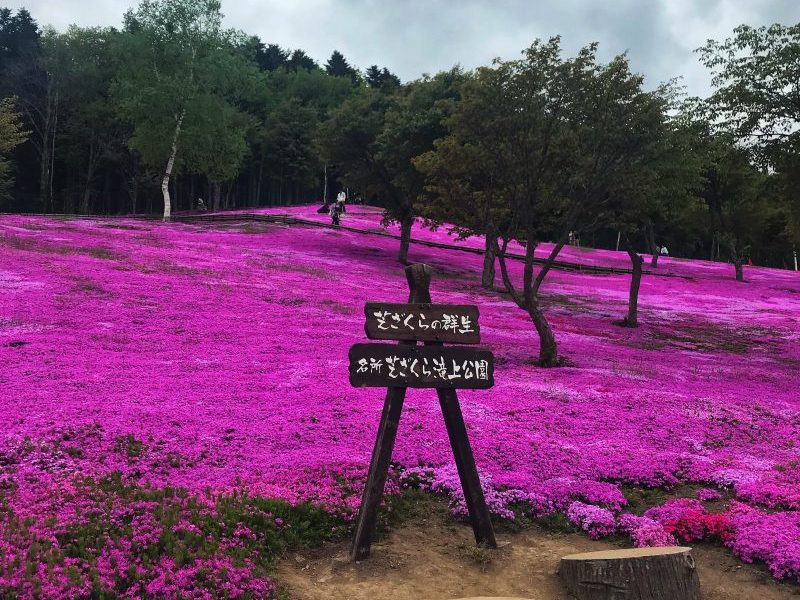 Shibazakura or pink moss phlox is one of the popular spring flowers in Hokkaido. The impressive landscape view of pink Moss Phlox can be mesmerized in Takinoue Park. From early May to June, Shibazakura start flourish along the mountain slope. The hillside will be covered by pink carpet, spreading as far as eyes can see.
Best time to visit Shibazakura: mid-May to early June
Getting there: 2 hours north from Asahikawa. Dohoku bus is the only direct bus service. Buses depart from Sapporo/Asahikawa to Takinoue Park during the blossom season. Alternative, consider visiting Higashi Mokoto Shibazakura Park (ひがしもこと芝桜公園) in Ozora, Hokkaido.
Lavender Flower Field In Farm Tomita, Furano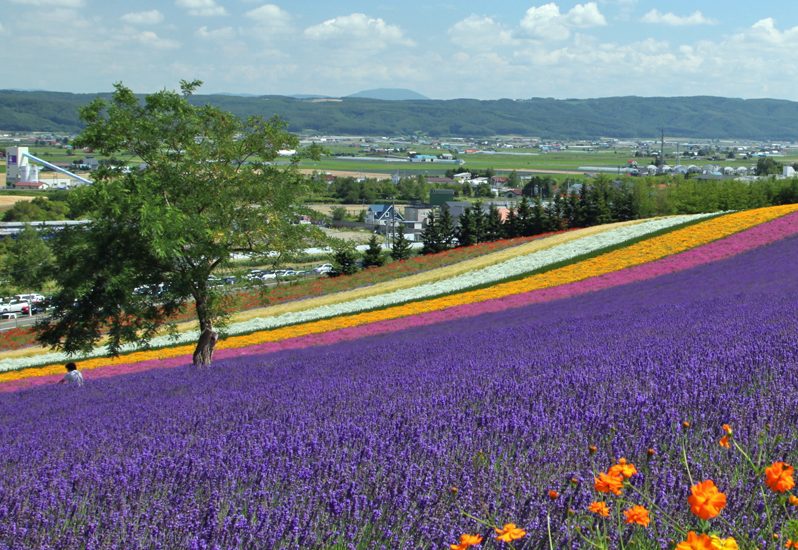 Hokkaido is world-famous by its lavender season. Every year, millions of visitors come to Farm Tomita to visit the lavender flower field. Farm Tomita is also the largest lavender field in Japan. The eye-catching lavender starts blooming from early July to mid-October.
Best time to visit lavender: mid of July
Getting there: Farm Furano is hard to access with public transport. Normally, visitors need to get off at Nakafurano station and walk for 25 minutes to the park. During summer, the special Norokko-Train will stop at a temporary Lavender-Batake Station. Walk for 5-10 minutes to the farm.
From Sapporo to Furano and Tomita Farm Day Tour: Convenient and affordable for a hassle-free arrangement with a professional, polite, and knowledgeable guide. Lunch included with free flow of fresh melon which is extremely worth money. Highly recommended.
Furano and Tomita Farm Day Tour with Melon Buffet from Sapporo
Patterned Flower Field in Shikisai no Oka, Biei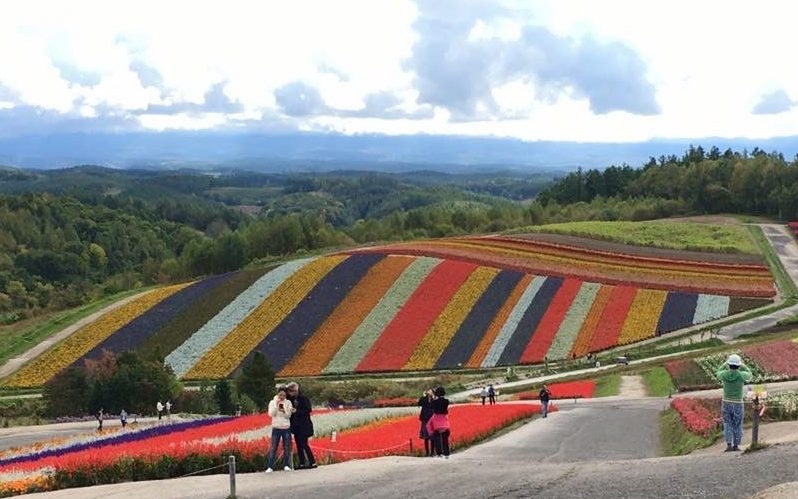 Next, Shikisai Hill or Shikisai no Oka (色彩の丘) is well-known for its colorful flower field in Biei town. This 7 hectares farm will be filled with different colors of flowers for viewing. Lavender, dahlias, tulips, sunflower, lupine, salvia, cosmos and more are planted at the rolling hill. Together all, created patterned row and panoramic view of flower field in the park.
Best time to visit Shikisai no Oka: mid-June to October
Getting there: 30 mins walk from JR Bibaushi station. Alternative, rent a bicycle to get there.
Hokuryu Town Sunflower Field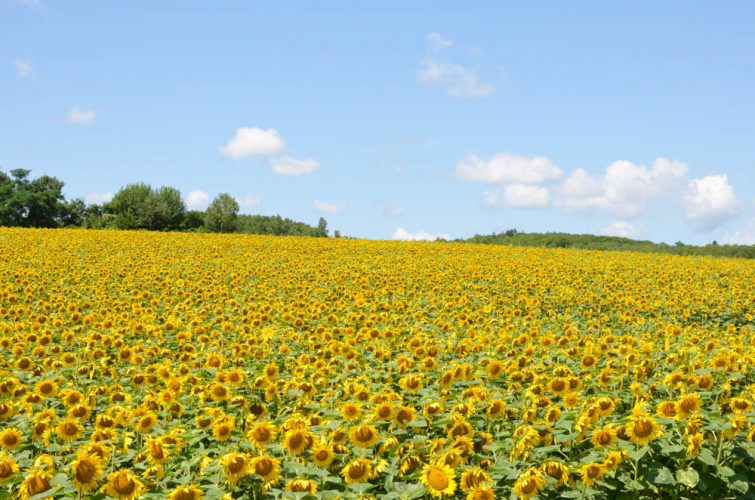 Himarwari-no-Sato (ひまわりの里) in Hokurye town is famous sunflower field in Hokkaido. Started from July to August, there will be stretches of sunflowers are available for viewing. The sunflower field is approximately 23.1 hectares. This expansive sunflower maze definitely will take your breath away.
Best time to visit sunflower field: early August
Getting there: take a train to JR Takikawa station or JR Fukagawa station. Next, board the bus and get off at Himawarinosato-Hokuryu Chugakko" bus stop.
My Hokkaido Flower Field Itinerary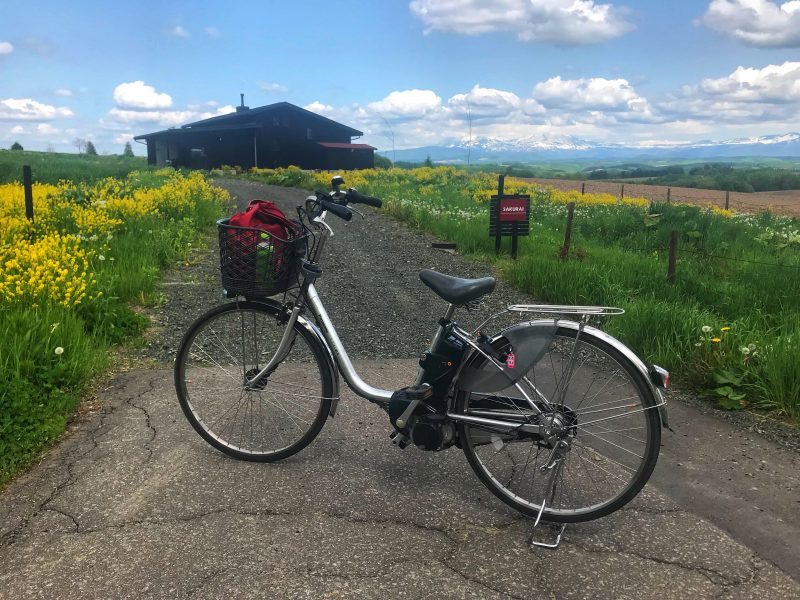 In short, we visited Hokkaido during the end of May. Well, it is not the best time for famous lavender, sunflower and massive flower field in Shikisai no Oka. However, we were so lucky to join the flower full bloom season for canola flower and Shibazakura.
Most importantly, Asahikawa is our great base to travel around. We fully utilized the Furano-Biei Rail Ticket and visited places nearby. However, the visit to Shibazakura Takinoue Park required additional bus fare. Detail can be referred to our travel blog with itinerary and transport arrangements include. Happy travel to Hokkaido!