Last updated on September 23rd, 2023
Visit Shibazakura blossom park for pink moss phloxes is a must if you are visiting Hokkaido around the end of May. Read on how to plan your day trip to Shibazakura Takinoue Park with public transport.
No doubt, Japan love flower so much. Japan is filled with multiple flower season through the year, from spring to summer. In Hokkaido, there is a time-limited flower blossom event that spread over the hill like a pink carpet. The flower is known as "Moss Phlox", become the next main event after the famous cherry blossom in Japan is over.
From mid to end of May, many visitors are coming to see the gorgeous flower park, filled with vibrant pink Shibazakura covered the whole hillside. It is one of the must-visit if you are visiting Hokkaido in the right timing.
This spectacular flower field is one of the must-do for me after my cherry blossom trip in Kansai two years ago. The dazzling beauty of sakura blossom is one of the most memorable trips for me. I wish to mesmerized again by the beauty of nature with Shibazakura, one of the popular spring flower in Japan.
Best Time For Shibazakura Blossom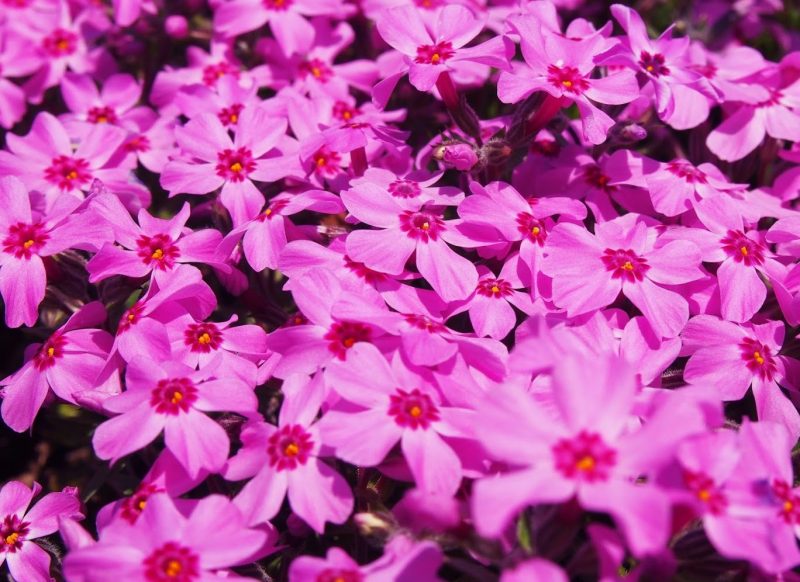 In general, the shape of shibazakura looks pretty similar to sakura. Shibazakura has 5 petals and occasionally 4 or 6 petals. Some say you will have good luck if you see the 4 petals pink moss phlox flower.
Compare with cherry blossom, shibazakura is slightly better with longer lifespan. The blossom time is about few weeks, started in May. So, you are allowed to see these violet/pink/white flowers for a month.
The perfect timing is the end of May for the truly amazing sights for this pink, purple, white flower fully blossom, covering the whole hillside. Their official website will give daily updates starting May on the blossom status so that you can estimate your visit.
Shibazakura Park in Hokkaido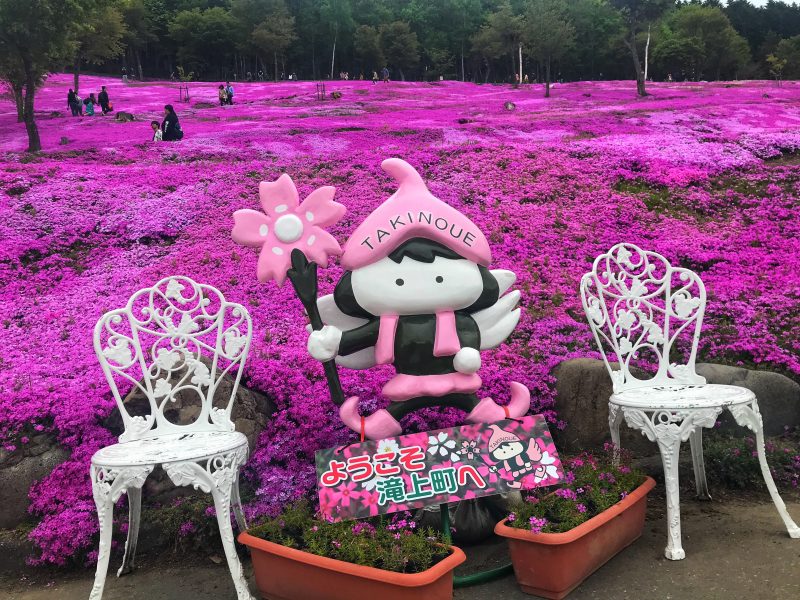 There are two famous places in Hokkaido with the amazing shibazakura field: Higashimokoto Park in Ozora and Takinoue Park in Takinoue town. Both are paradise for this pink moss phlox and celebrates the beautiful flowers with shibazakura Festival in spring. Unfortunately, limited public transport is available to reach both of the shibazakura park. Self-driving is the best transportation if you wish to mesmerized the pink moss phlox.
How To Get To Shibazakura Higashimokoto Park
Shibazakura Higashimokoto Park is the most beautiful shibazakura park in Hokkaido. Lies at the foot of Mt. Mokoto, Higashimokoto Park planted with shibazakura with about 100,000 square meters.
The only concern is that Higashimokoto Park is further away, which located in eastern Hokkaido. From Sapporo, it required at least 6 hours of driving or 5.30 hours of express JR train to the closest town, Abashiri. It is best to stay one night in Abashiri and proceed to Higashimokoto Park at the next day. The entrance fee costs 500 yen.
Self-driving: 45-minute drive from Abashiri city center or a 30-minute drive from Memanbetsu Airport. Take a look at RentalCars.com if you are planning for self-driving in Hokkaido. Compare various of rental car company with the best price guarantee.
Taxi: Expect about 10,000 JPY for a one-way taxi ride from Abashiri station.
Public Transport: The nearest JR station is Abashiri station and you need to get on 50 minutes bus to Higashimokoto bus stop. From there, about 10 minutes by taxi to reach Higashimokoto Park. There is a seasonal shuttle bus during the Shibazakura festival with reservation required. Alternative, get to JR Higashimokoto station and change for 6 minutes taxi rides.
How To Get to Shibazakura Takinoue Park
Shibazakura Takinoue Park located in Takinoue town which is about two hours from Asahikawa. No rail service is connected to Takinoue town and you have to rely on buses or self-driving.
Rental Car: Easiest option with lots of freedom. It took about 2 hours driving distance from Asahikawa. Don't forgot to get the best price from RentalCars.com.
Public Transport: Dohoku bus is the only direct bus service that departs from Sapporo/Asahikawa to Takinoue Park.
Day Tour From Sapporo
Alternatively, there are tours run by Japan Club Tourism International Inc and Klook which take you to Hokkaido Takinoue Shibazakura Park and Kamiyubetsu Tulips Day Tour. One of the popular tour in Hokkaido during May, so please reserve your seat in advance!
My Visit To Takinoue Park
My Hokkaido trip was planned a year ago. The travel time is around the end of May and looking forward to visiting the Shibazakura in Hokkaido. Hopefully, my travel time is the best timing to see the impressive landscape view with pink Moss Phlox.
After consideration, we decided to visit Takinoeu Park instead of Higashimokoto Park due to the distance and ease of itinerary planning. Most importantly, there is public transport by the Tohoku bus from Asahikawa during the Shibazakura season. The actual visit to Takinoue Park during the third weekend of May. The timing was so perfect as the blossom was well on the way with festivals were scheduled.
Getting to Takinoue Park With Public Transport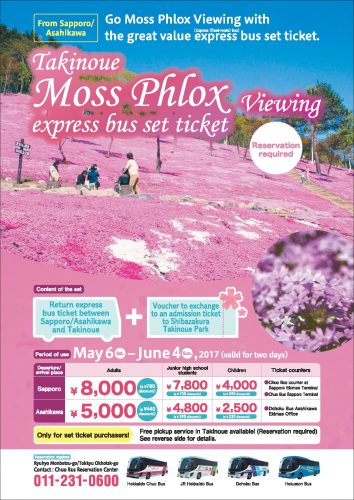 Since only two of us and will not be driving. So we choose to take the self-visit to Takinoue Park with Dohoku bus from Asahikawa. Limited buses and information for getting to Shibazakua Takinoue Park with public transport. It took us some effort to find the necessary information and detail about the bus schedule.
Above is the express bus information on 2017 to Takinoue Park from Sapporo or Ashikawa. We have double-checked with Asahikawa Tourism Center and it is running during our visit in May. The journey to Takinoue Park with the Dohoku bus cost us ¥5000 per person.
From Asahikawa To Takinoue Park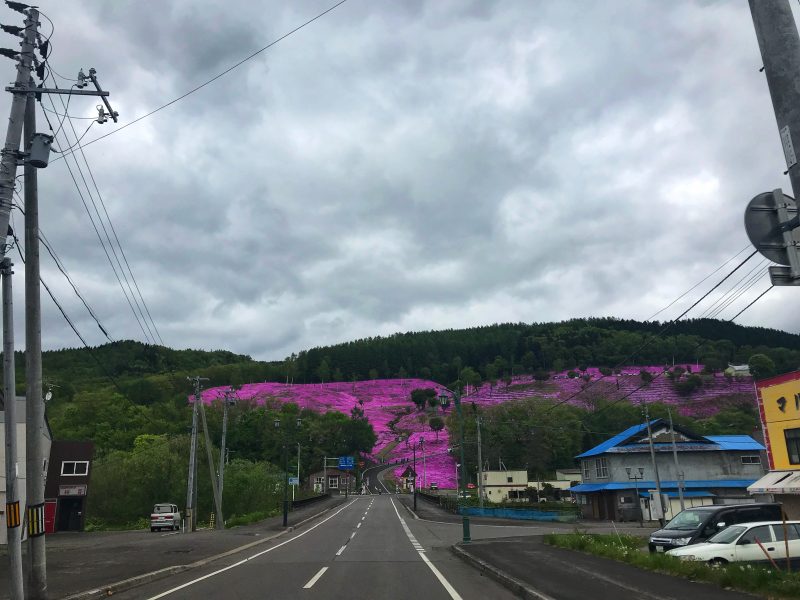 The Dohoku bus office is located opposite of Asahikawa JR station. And it located close to my hotel stay in Asahikawa, JR Inn Asahikawa. The most important thing for me is getting the bus ticket to Takinoue Park once I reached Asahikawa. I successfully booked a seat one day before at the Dohoku office. I even have the backup plan if the bus ticket has been sold out. Luckily everything is so smooth as per planned.
Take note: Seat reservation required. Please make sure you booked the seat at least one day before.
The express bus ticket from Asahikawa to Takinoue Park cost about 5000 yen. We choose to take the earlier bus at 9:15 and return at 13:24. The visiting time is about 2 hours follow the bus schedule. At next morning, we boarded the express bus in front of the Dohoku office. The bus driver will double confirm and check on your bus ticket before boarding. The seating is clean and comfortable.
Shibazakura Blossom Festival in Takinoue Park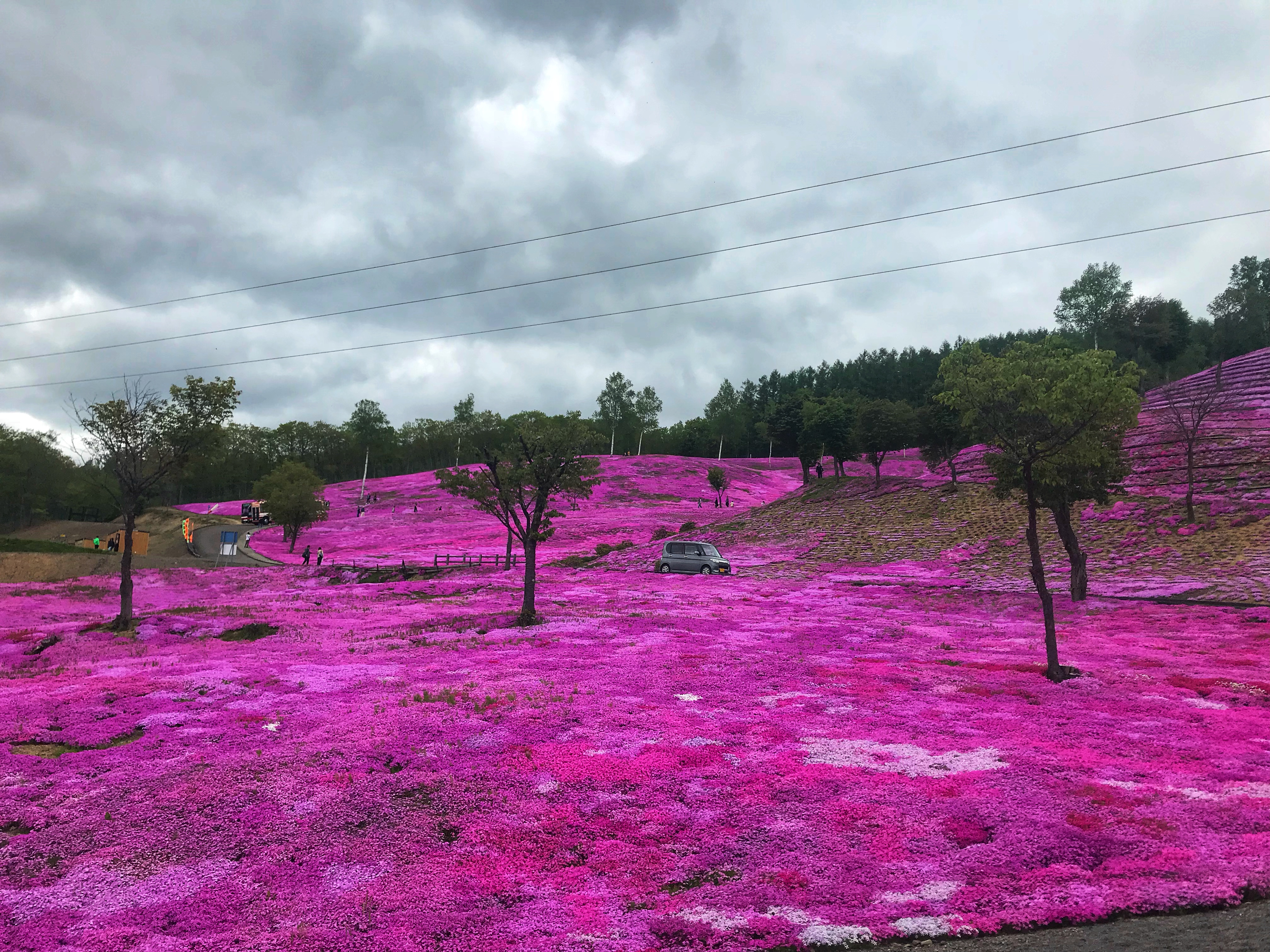 The bus journey took about 2 hours from Asahikawa to Takinoue park. All the passengers were getting down at the Takinoue bus stop, which required about 5 minutes walk to the Takinoue Park. From far, you can see the incredible pinky hillside of Takinoue park featuring millions of pink shibazakura spreading as far as eyes can see.
Entrance ticket is about ¥500. As soon as you enter Takinoue park, you will be impressed by the beautiful scene which extending like a velvet carpet. Indeed a very lovely place to visit. Thanks to the effort of peoples who love to play with nature. Their hard work have turn the hillside of Takinoue Park into a magical place. The brightly pink shibazakura is a stunning sight to behold.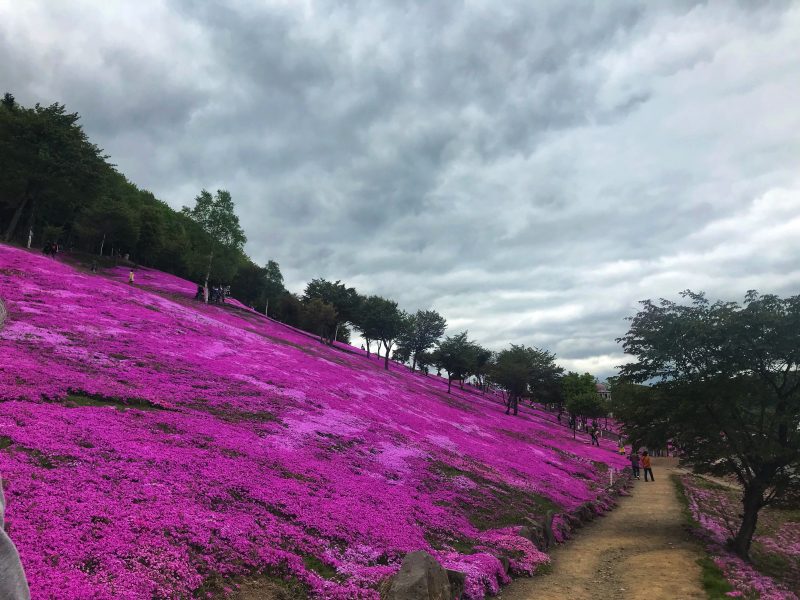 Enjoy leisure time walking through the gently-sloped pathways and capture the best moment with amazing sight. The hill is awash in shades of pink, which looks like a pink carpet covered the hill. No word can describe such beauty of nature.
Strolling along the winding path with your leisure. And breathe a sweet smell of shibazakura filling in the air. Don't forget to choose the right path and taking photo surrounding especially from the top of the hill. The panorama vista of shibazakura from above is amazing!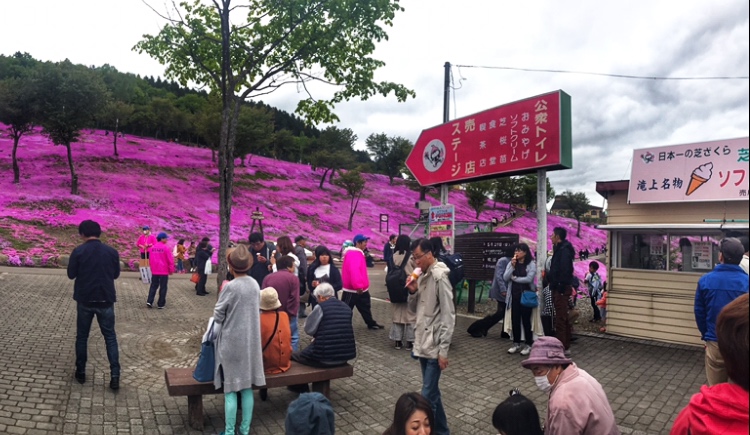 Enjoy and sit down for a light lunch or snack. Locals were having a relaxing time with picnicking at the foothills. You can also have a bird eye view of Shibazakura from above by helicopter. The cost is about 5000 yen per adult for a 5-minute ride.
Shibazakura Soft Ice Cream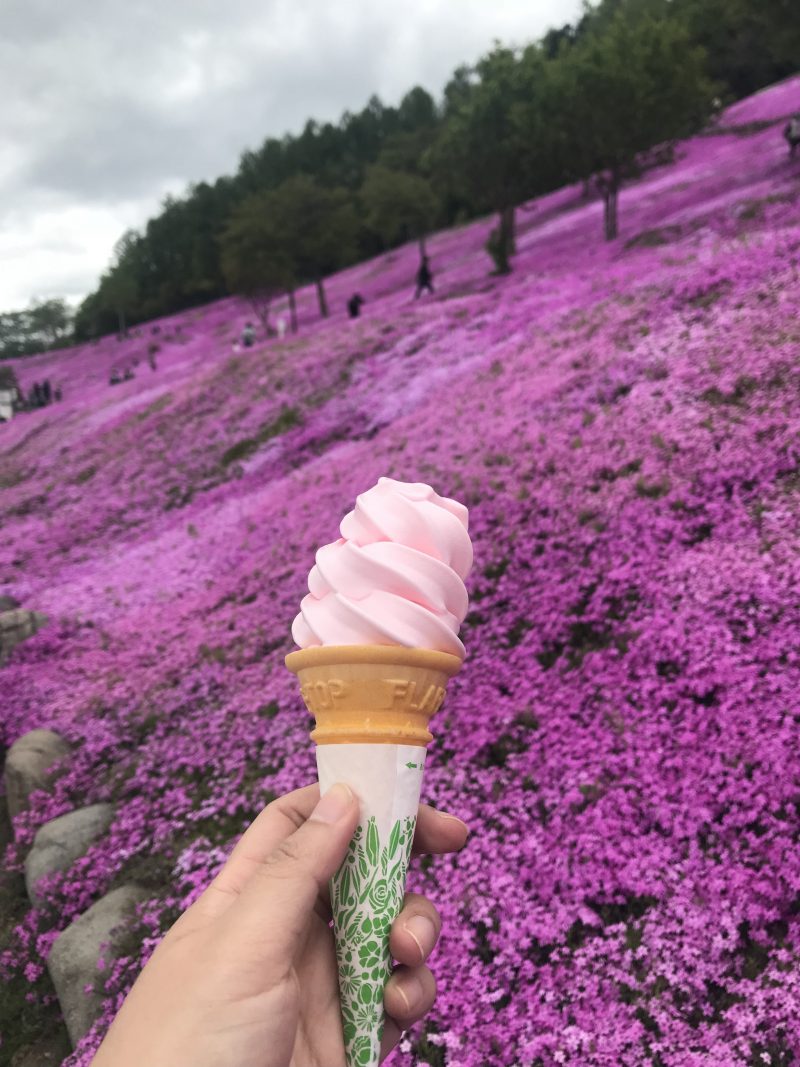 The limited-edition soft serve ice cream inspire from Shibazakura was sold at the park. The cherry flavor and light pink color enhance the feeling of spring. One of the must-try if you are visiting shibazakura park.
Two hours was just nice for us to enjoy the beauty of the flower. But we wish to stay longer to mesmerized the beauty of shibazakura. Unfortunately, we had to catch my bus back to Asahikawa from the same bus stop at Takinoue town as per scheduled.
Overall: Day Trip To Takinoue Park For Shibazakura Blossom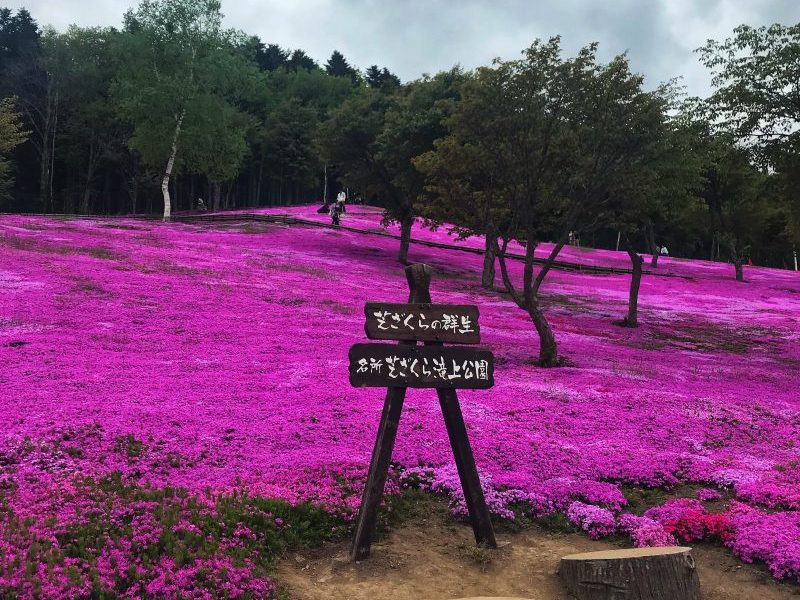 It is worthwhile to visit the shibazakura park if you are traveling to Hokkaido during May/June time. It is the best timing for such a beautiful scene.
Even though many visitors to Hokkaido don't know much of its spring beauty, in my opinion, it is arguably beautiful and worth a visit. The view is so breathtaking and magnificent. Absolutely must go when visiting Hokkaido in May.
Where to Stay When Visiting Takinoue Park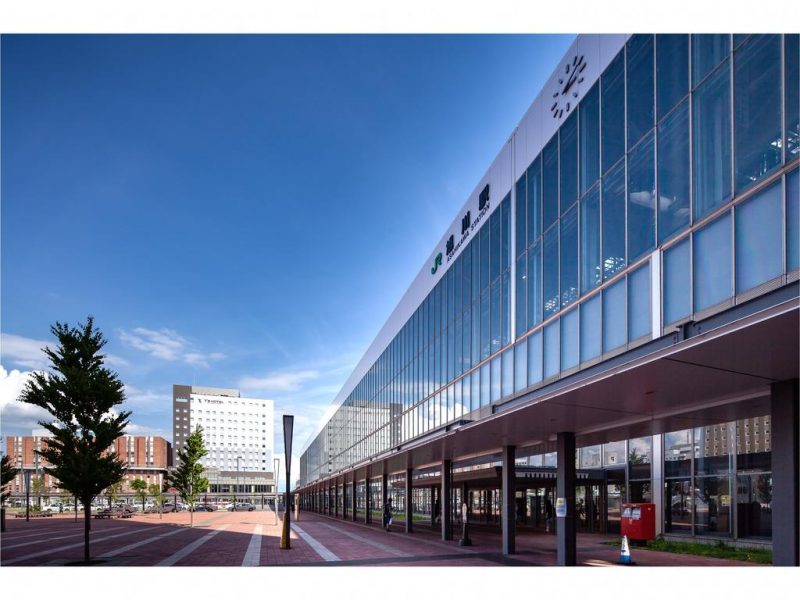 Asahikawa is the nearest town with rail and buses well connected. From Sapporo to Asahikawa with express JR train and getting to Takinoue Park with bus. The best recommendation is staying nearby Asahikawa JR station to ease for moving around. There are AEON Mall, supermarkets and restaurants nearby with Asahikawa ekimae.
Here are the few recommended hotel located nearby Asahikawa JR Ekimae for your consideration.
Higher range: Superb strategic located opposite or beside Asahikawa station.
Economy mid-range: High CP value in reasonable price range. Less than 5 minutes walk from Asahikawa station.
Getting to Takinoue Park by Dohoku bus
The best visiting time is end of May for full bloom
Four buses per day depart from Sapporo or Asahikawa.
For the day-tripper, it is advisable to get the first and second buses.
Visiting time is around 2 hours to 5 hours
Board from Sapporo,
Going: 7:00, 9:45, 14:50, 17:5.Return: 7:44, 9:14, 13:44, 16:58
Bus journey 4 hours 30 minutes
Board from Asahikawa,
Going: 9:15, 12:45, 16:06, 15:30. Return: 7:24, 9:39, 13:24, 16:58
Bus journey 2 hours.