Last updated on September 23rd, 2023
For those who are looking for where and what to eat in Otaru, we highly recommended reading on my Otaru food guide if you are looking for fresh seafood. Reasonably priced and generously portioned of fresh seafood bowls are served in Sankaku Market.
Otaru (小樽) is a popular place to visit when planning on the Hokkaido itinerary. Located close to the fishing port, Otaru is not only famous for its beautiful attraction. It is also well known for its outstanding seafood. The strategic location makes the seafood in Otaru cheaper and more fresh compared with other fish markets in the city.
We visited the Sankaku Market (三角市場) during my day trip to Otaru. It is the best place in Otaru if you want to have fresh Hokkaido seafood. Their wonderful seafood rice bowl was so delicious and fresh. Most importantly, reasonable prices for the quality and quantity of seafood. We even came back the next day for the second visit.
Read on my Otaru food guide on seafood feast in Sankaku Market Otaru.
How To Get To Sankaku Market Otaru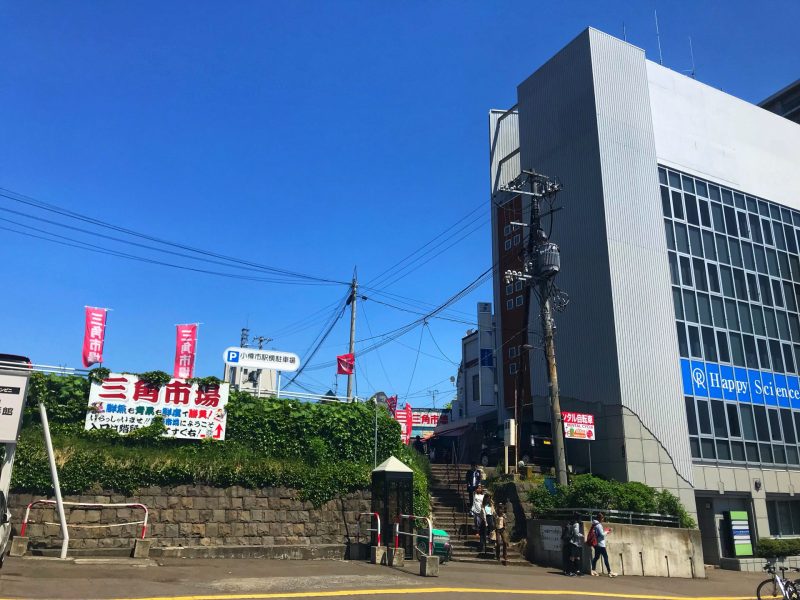 Sankaku Market is located beside the Otaru JR station. It is super easy to get to Sankaku Market. Just follow the short flight of stairs to the left of the JR station once exiting.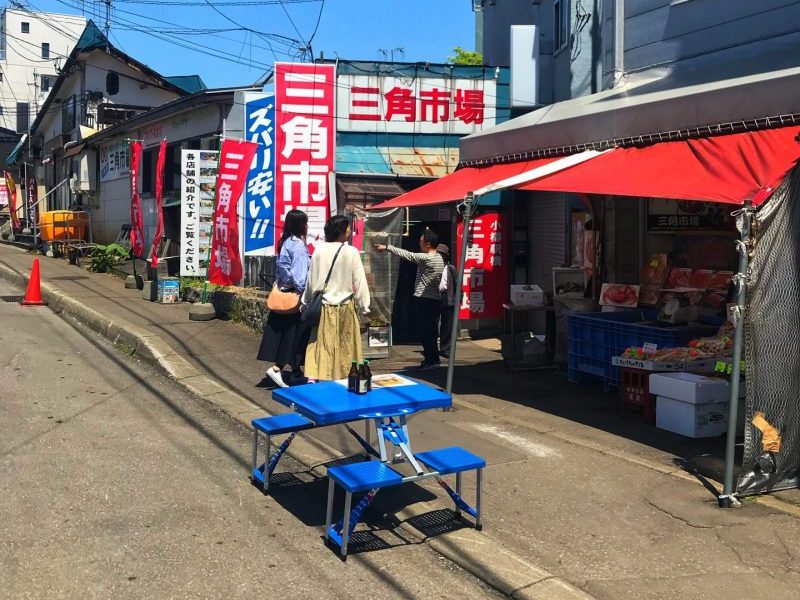 The entrance of Sankaku Market is right in front of you. It is easy to get to Sankaku Market Otaru with a clear signboard.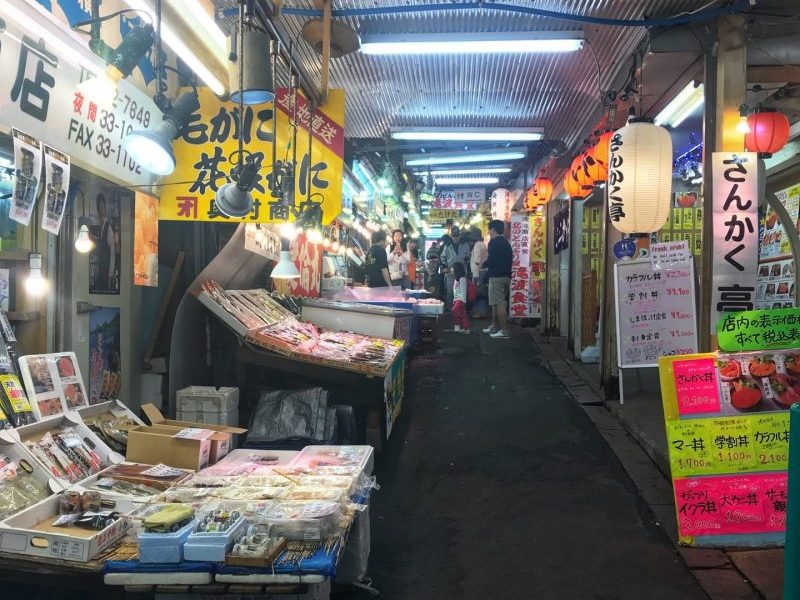 Sankaku Market Otaru is a small fresh market. There have many seafood stalls and restaurants along the alley. Most of the restaurants are selling similar food. But you won't miss out on the Ajidokoro Takeda and Kita no Donburiya Takinami Shokudo which are located in the middle of the street.
Both are the busiest shops inside the market. You can choose and buy the lively fresh seafood from the shop and then directly cook it for you.
What is the best place for fresh seafood in Otaru?
Sankaku market Otaru is definitely a place that is worth the go for some superb seafood. It offers fresh seafood at an amazingly great price.
What is the must eat in the Sankaku market?
The Kaisendon (seafood rice bowl) is definitely worth trying in the Otaru Sankaku market. It is overwhelming with fresh quality seafood from your own favorite toppings.
What is the opening time in the Otaru Sankaku market?
Otaru Sankaku market is open daily from 8:00 to 17:00.
Takinami Shokudo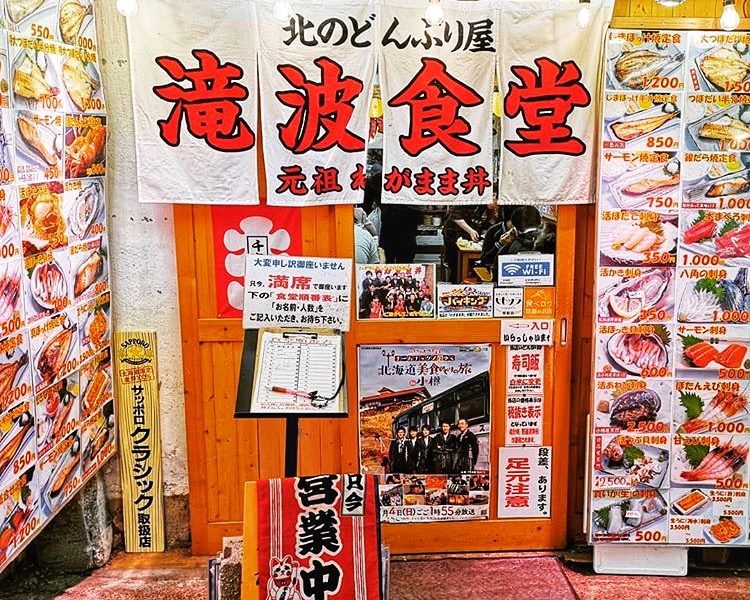 Firstly, we highly recommended looking for the best seafood rice bowl from Kita no Donburiya Takinami Shokudo (滝波食堂). This local Japanese shop has various seafood freshly caught from the sea. It is a simple restaurant full of local tastes.
But don't underestimate it based on the exterior. It is always a full house as many locals and foreigners are coming to taste their famous seafood rice bowl.
Takinami Shokudo (滝波食堂):
Address: 3-10-16 Inaho | Sankaku Market, Otaru 047-0032, Hokkaido
Operating Hours: 8:00 to 17:00 (last order at 16:30)
Menu of Takinami Shokudo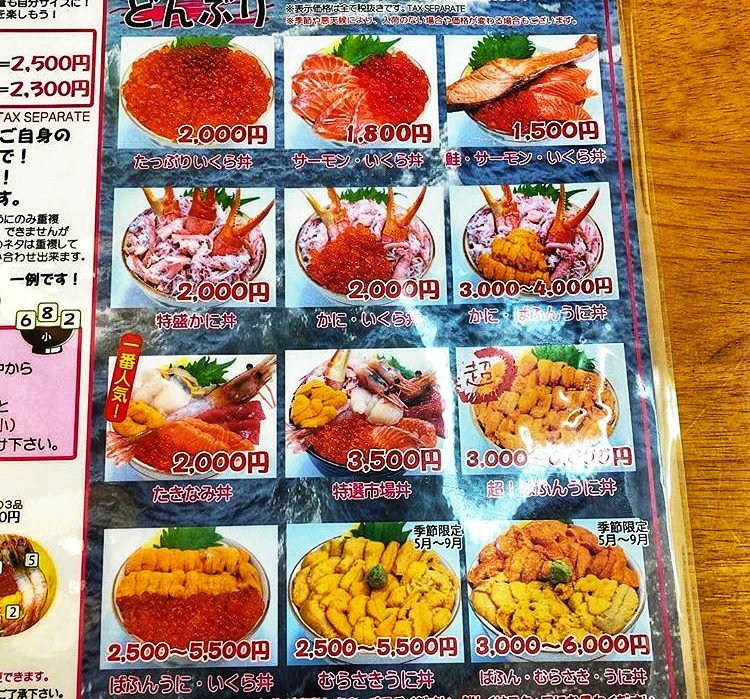 There are a variety of seafood rice bowls that can be ordered based on the picture menu. We have no preference for the seafood type. So we decided to same order the best seller seafood rice bowl which came with probably 8 types of raw seafood.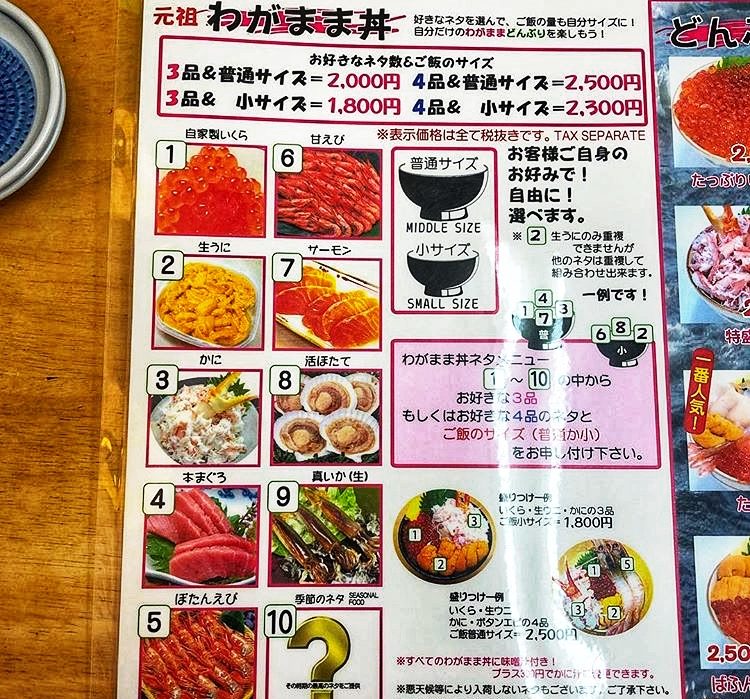 Besides, if none of them is suitable for you, you can also create your original seafood donburi from your own favorite toppings.
The flexible menu lets you choose from 3 or 4 combinations of sashimi on rice and then for either normal or large size. A good idea, right?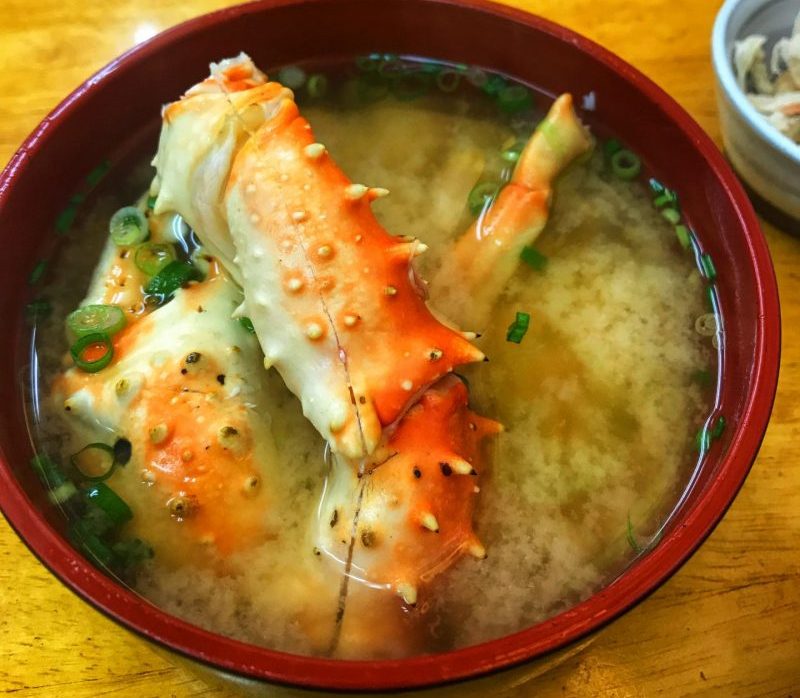 While waiting, we were served hot green tea and steaming seafood miso soup for free. See the crag leg from the miso soup. What's a bargain!
Additionally, the dried squid was also served as part of the meal as an appetizer.
Seafood Donburi from Takinami Shokudo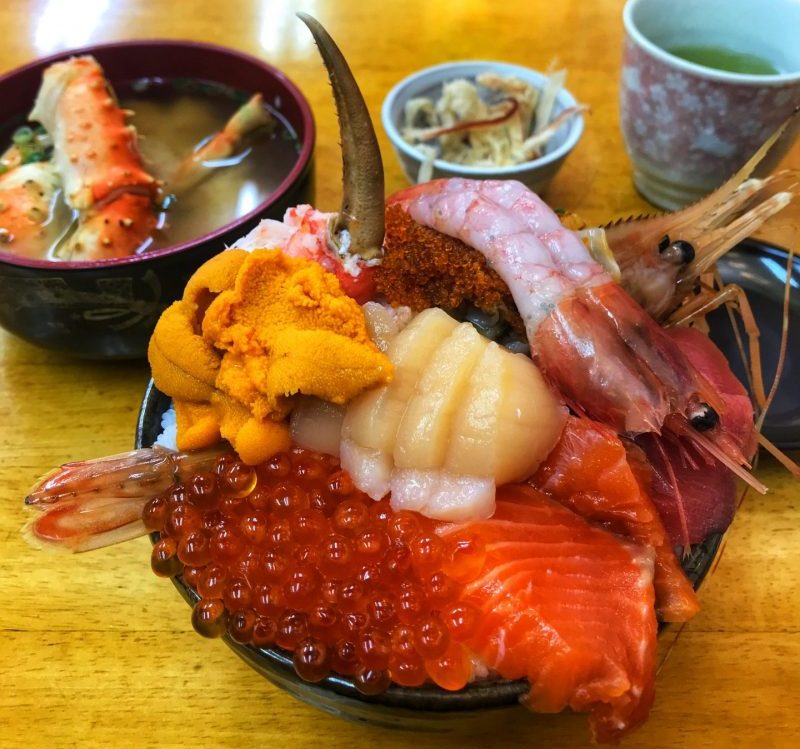 My seafood rice bowl was prepared and served without a long wait. I was so excited when saw my rice bowl almost overflowing with seafood. It came with a generous amount of seafood such as sea urchin, salmon egg, crab meat, and my favorite Botan shrimp.
I especially like the taste of the Botan shrimp. It was so sweet with a firm texture. I can feel the freshness and sweetness once bite on it. The remaining seafood was as fresh as can be and delicious. Satisfied meal from Takinami Shokudo.
All in all, the seafood rice bowl served from Takinami Shokudo probably is one of the Kaisen Donburi that I ate so far. It was so fresh with overflowing sashimi on top. I highly recommended it if you are looking for what to eat in Otaru.
Ajidokoro Takeda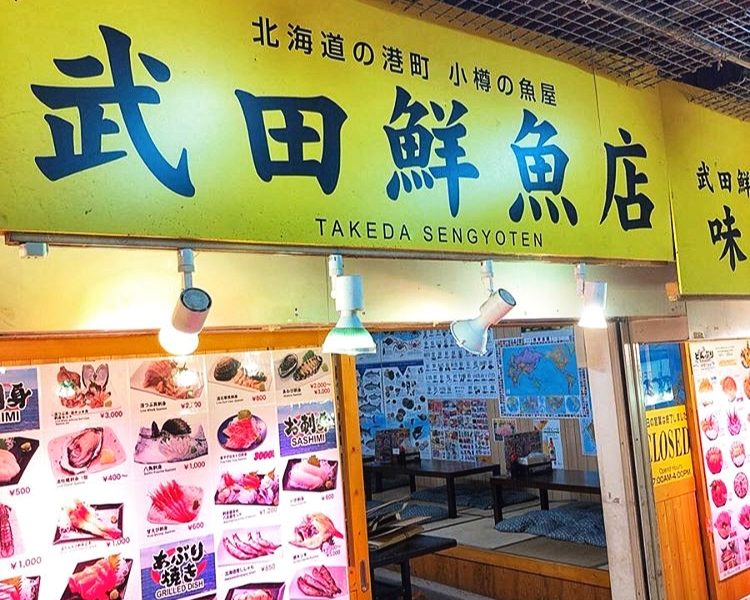 We have a very satisfying meal during my first visit to Sankaku Market. So we decided to come back the next day for the best seafood in Otaru. This time, we visited the Ajidokoro Takeda for another seafood feast.
Ajidokoro Takeda (味処 たけだ) is one of the first restaurants that started to serve fresh seafood bowls directly. It is run by "Takeda Fish Store (武田鮮魚店) located in front of the dining restaurant. You can select king crab, oyster, sea urchin, oyster, and various seafood in Ajidokoro Takeda. The chef can serve it raw or can cook the seafood with perfection. Most importantly, pricing is very reasonable.
Ajidokoro Takeda (味処 たけだ):
Address: Sankaku Fish Market 10-16 Inaho-3 Otaru-City Hokkaido
Operating Hours: 7:00 to 16:00 (last order at 15:30)
What To Eat at Ajidokoro Takeda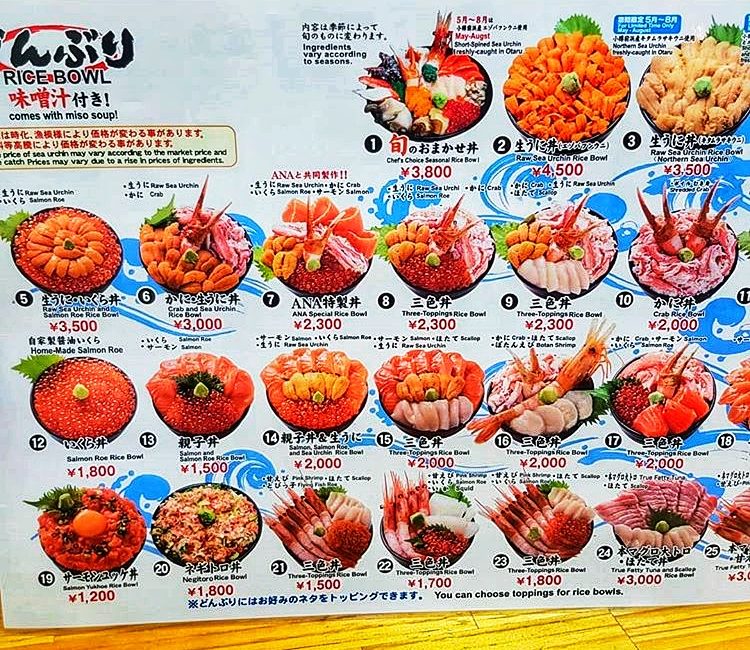 Ajidokoro Takeda is located in the middle of the market alley. There were a lot of customers who were having their seafood for breakfast at 9:00 a.m.
Again, a wide variety of seafood rice bowls are served at Ajidokoro Takeda. Their best seller is the three-colored seafood rice bowl which came with sea urchins, crabs, and ikura salmon roe. The price is so cheap at about 2300 yen only. It normally costs more than if eat outside of the market.
Seafood Donburi from Ajidokoro Takeda
Since we had tried on the best seafood donburi at Takinami Shokudo. We decided to order only one seafood rice bowl and some side orders at Ajidokoro Takeda. We opted for ANA donburi instead of tri-colored donburi because of the additional variety compare with the three types of seafood.
Without a long wait, our seafood rice bowl from Ajidokoro Takeda was served. It was filled with fresh, locally caught seafood such as snow crab, sea urchin, salmon, and salmon roe.
The fresh sweet-savory natural taste just makes you want more. Additionally, the portion was generous too.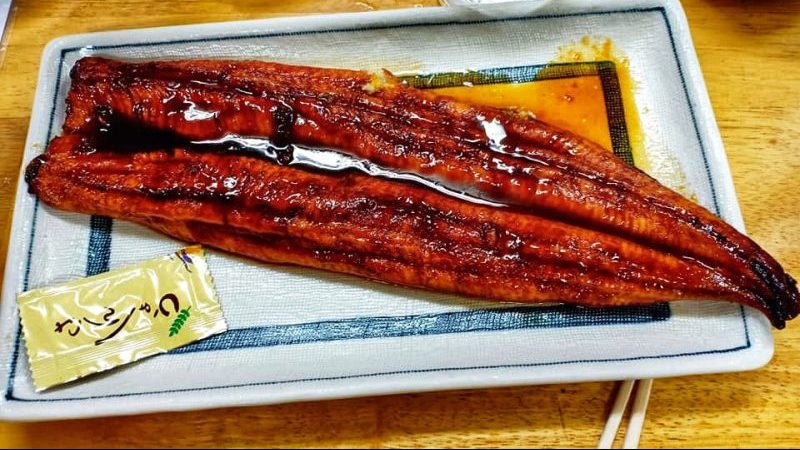 While our side order came later. The unagi is a great choice for those who looking to cook food instead of raw seafood. It tasted good and savory too.
My friend enjoyed it very much. But I still more preferred for fresh sashimi compared cooked unagi.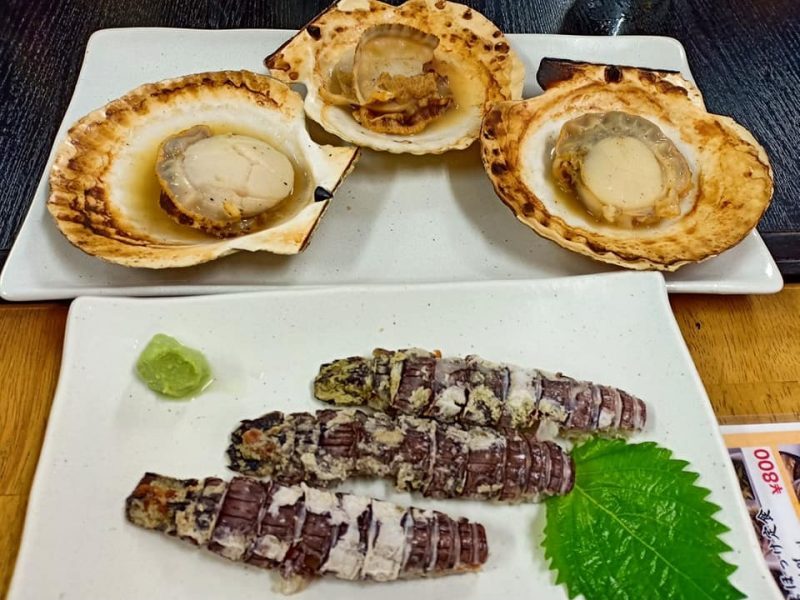 The grilled scallop and prawn are other side dishes we ordered. It also tastes so good.
Such an incredibly satisfying meal indeed. Another best restaurant in Otaru for fresh seafood.
Otaru Food Review
Overall my food hunting for the best food in Sankaku Market was not disappointed. We enjoyed ourselves so much at Takinami Shokudo and Ajidokoro Takeda. There are many best sushi restaurants in Otaru. But we highly recommended you try on the seafood donburi at the market or even a local shop.
The bowl was filled with fresh seafood which almost overflowed over rice. The seafood was very fresh and delicious. Most importantly, reasonable prices for the quality and amount of seafood they offer. One of the best dining experiences in Hokkaido. Absolute must try when visiting Otaru.
Hopefully, my Otaru food guide can give you some inspiration when looking for where and what to eat in Otaru. This food blog is part of my Hokkaido food guide for the best food in Otaru. Read more below on my visit to Otaru and others must eat food when visiting Hokkaido.
Day trip to Otaru and Nikka Whisky Distillery
Hokkaido Food Guide: Top 10 Must Eat Food in Hokkaido