Last updated on October 2nd, 2023
Here is the Phuket Travel Guide Blog to help make the most out of your holiday gateway with a perfect Phuket itinerary on this paradise island.
For years, Phuket island is a well-known island paradise for many travelers who are looking for sunshine and beautiful beaches. This famous island covers more than 5,800 square feet, making it become Thailand's largest island.
Phuket is a giant mix of everything Thailand has to offer. No matter what you are looking for, there is something for everyone on the island for your holiday gateway. For beach lovers, Phuket is hugely covered with numerous sandy white beaches with emerald blue waters. You can find plenty of sun-bathing beaches, as well as excellent snorkeling and diving spot for your holiday in Phuket. The views alone will make you fall in love with Phuket. For party-lovers, you can experience a ton of lively activities on the island, from days until night.
This Phuket Travel Guide Blog is the essential handy guide for a short trip to this Thailand's most popular island. It includes the Phuket itinerary on how to plan your things to do and see on the island, as well as recommendations for the best beaches, restaurants, cafés, and accommodation. Find out more!
Pre-Trip Essential
Thanks to its popularity, Phuket has very good infrastructures on the island. There is an International airport located in the north of Phuket to welcome travelers from around the world. Many international direct flights and domestic flights from Thailand bring thousand of travelers into this island paradise.
To guarantee the best price, we always love to compare the flight ticket prior to making any trip planning, Highly recommended checking the cheapest flight from your home country to Phuket via Skyscanner. It is very easy and simple to grab a good flight deal to Phuket.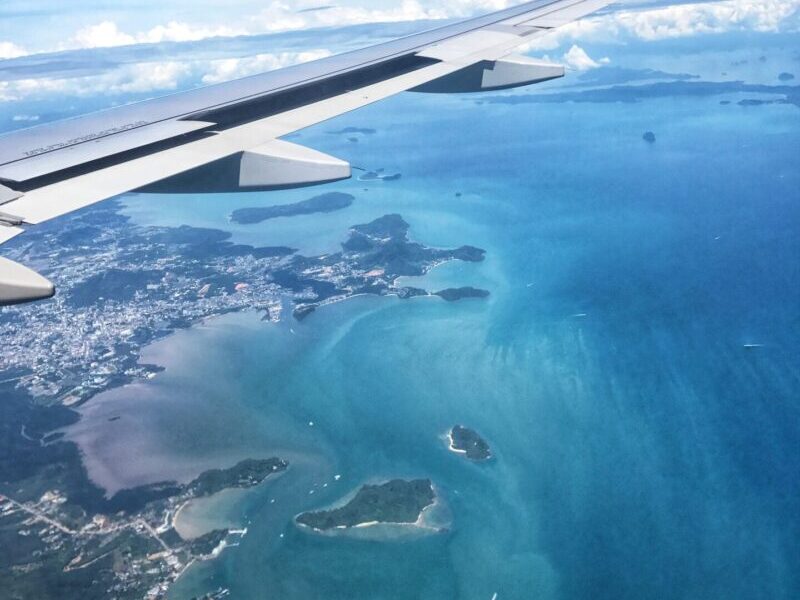 From Phuket Airport to the hotel
Once you arrived in Phuket, there are plenty of transportation options to get you to the hotel from the airport. The price varies depending on the destination and what kind of transportation options choosing.
Airport Taxi – Plenty of taxi stands waiting for you. It is much more expensive, but also faster and more convenient.
Minibus – The cheapest option. But you will need to follow the minibus to drop the passengers one by one along the journey, depending on the destinations.
Private Transfer – A convenient transport from the airport to your hotel in the city. Good for a group of friends and family. Book your Phuket International Airport Transfers.
Some high-range hotels also offer an airport pick-up service. Make sure to check and book it prior to your flight.
Getting Around in Phuket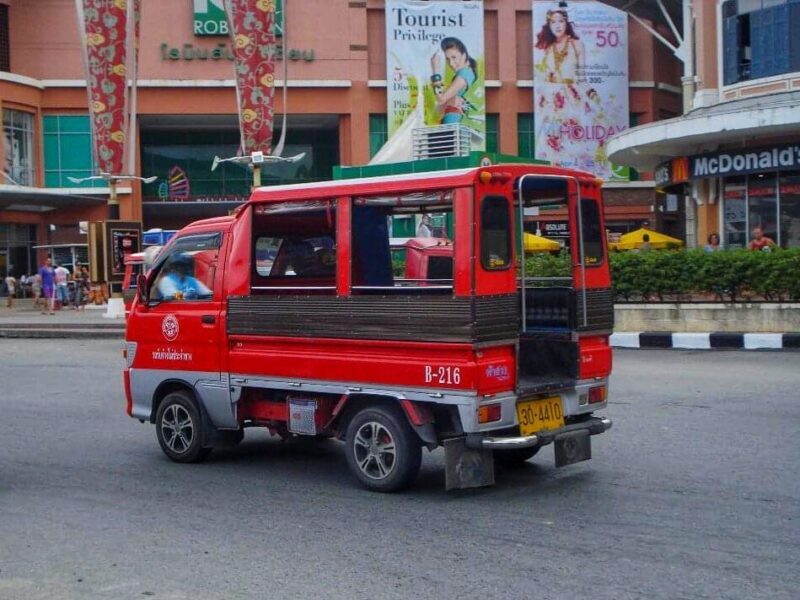 Always bear in mind that Phuket is much larger than you might think. When you are on the island, getting around in Phuket is not easy due to the winding road and traffic. It is not easy to drive a car or scooter for getting around as it is quite dangerous and risky unless you are confident in your driving skill. While a taxi is quite expensive, we recommend asking for the tuk-tuk for a short distance ride.
Phuket Travel Guide Tips: Stay connected with your portable WIFI or Sim card. Klook always provides a good deal on the Wifi sim card and easy to redeem it at the airport. Check the detail here.
dtac HAPPY TOURIST 4G/5G SIM Card for Thailand
Best Time to Visit Phuket
Phuket is a popular travel destination and you can visit the island at any time of the year. As a tropical island paradise, you can enjoy the sunshine in Phuket all year round.
However, the best time to visit Phuket is between December and March as the weather is more comfortable. It is not too hot for getting around but you still have a sunny day all day. But these are also the popular months to visit Phuket and expenses will be slightly higher with more crowds.
Where To Stay
Phuket Island has a wide range of accommodation options ranging from luxury resorts, high to mid-range hotels, guesthouses, and budget hostels to choose from. For sure you can find the perfect stay that suits your budget in Phuket. Here is our best pick.
For first-timer, we recommend staying in Patong as it is the most happening area and has easy access to food, shops, massage, and all the activities in Phuket. The infamous Bangla Street is also situated in Patong with pubs, dance clubs, bars, and restaurants lined along the street. Some great accommodation options I can recommend in Patong Beach are the best luxury resort: Amari Phuket, or the modern mid-budget hostel: Lub d Phuket Patong.
If you prefer to stay in Phuket for a more laidback holiday, it's alright to stay nearby Patong, such as Karon Beach and Kalim beach. You can still easily access Patong with 10-20 minutes of walk or a Tuk-tuk drive. The Mandarava Resort and Spa, Karon Beach is an amazing, luxurious hotel on Karon beach with great sea views.
Alternatively, Andamantra Resort and Villa Phuket is another recommendation for families who want to be spoiled with luxury during their stay in Kalim Beach, Phuket.
Do you need more accommodation options to stay in Phuket? Check out: Where to Stay in Phuket: Top 7 Areas with Best Hotels.
Things to Do in Phuket Itinerary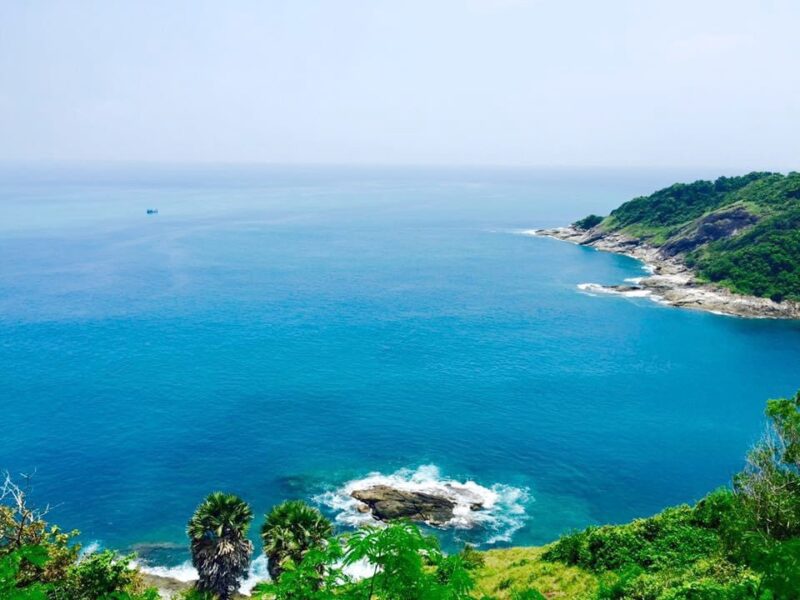 This Phuket itinerary shows you how to spend a perfect 3 to 4 days on Phuket island, Thailand. To make the planning process as easy as possible, I compiled a list of things to do and see on the island.
Things to do for Phuket Itinerary (3 to 4 days):
Take an island trip (a whole day!)
Visit Patong (2-3 hours)
Party at Bangla Road (2-3 hours)
Strolling along the beach (2-3 hours)
Phuket Night Market (2-3 hours)
Massage & Relaxing (2-3 hours)
Phuket Fantasea (4-5 hours)
Religion and Culture Visit (4-5 hours)
This Phuket itinerary can be amended and added with more activities. We didn't pack too much of activities as the best way to enjoy Phuket is to relax and enjoy the tranquility on the beaches.
Note: Due to the pandemic, many of the shops and streets may be temporarily close. We recommended to check again and pre-booking the service prior to your arrival.
Take An Island Trip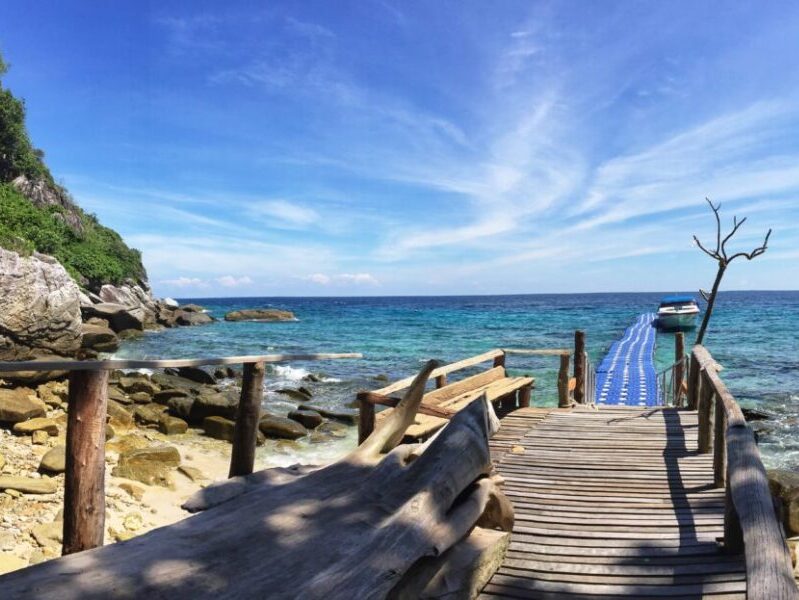 If you are visiting Phuket, taking an island tour is a MUST-DO!
Phuket is such a lovely place, a perfect balance between crazy parties and lay-back beaches. Just a couple of hours away from the main hustle of Phuket city have many amazingly beautiful Islands with white sandy beaches and crystal clear water. All attracts tourists from all over the world for snorkeling, swimming, taking photos, and just strolling along the beach while enjoying the majestic views
Undoubtedly, this was my favorite thing to do in Phuket if you want to see coral reefs and have some beach activities.
There are several island trips that you can take into consideration. Do not miss the amazing snorkeling experience on James Bond Island, Koh Phi Phi, Maya Bay Area, Khai Island, or Bamboo Island, You can explore the picturesque and pristine beaches of Thailand islands by joining one of the islands tours from Phuket.
Here you can find some inspiration from our visit:
Phi Phi Island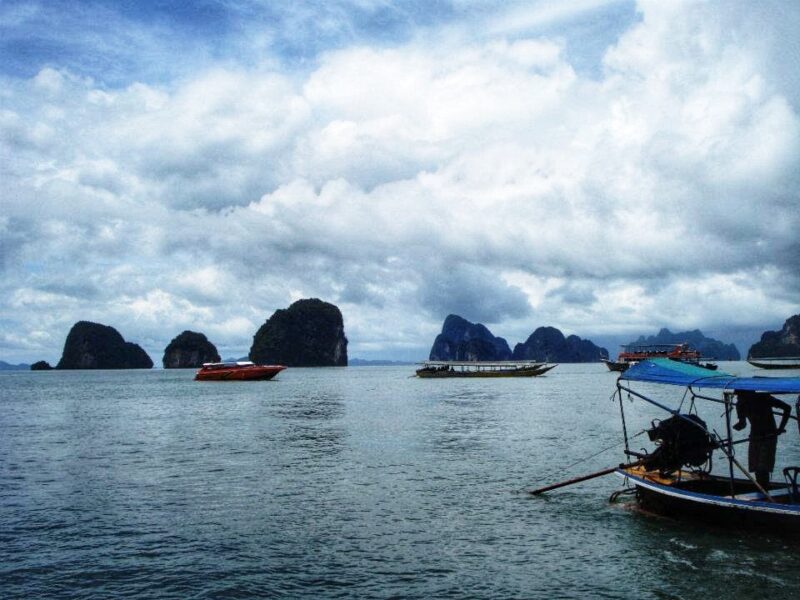 The popular Phi-phi island is dubbed the "jewels of the Andaman Sea". The islands consist of two islands: Koh Phi Phi Don and Koh Phi Phi Leh. The places are sublime, the sand is so fine and white, like nowhere else on the island. No photo can do justice to this archipelago. Almost all visitors to Phuket will be visiting this beautiful island in South Thailand.
Phang Nga Bay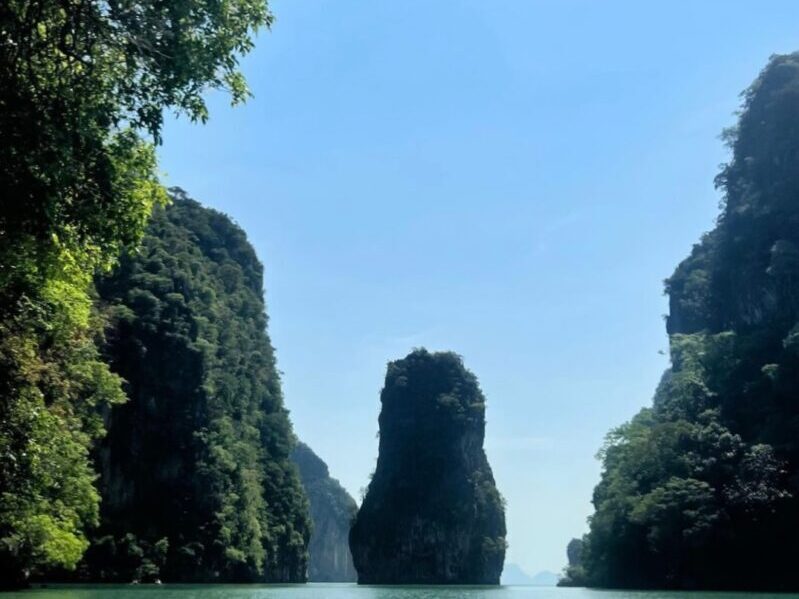 Explore the limestone caves, and have time to relax and swim at a peaceful beach at the Phang Nga Bay. There are also many options for water activities, and the snorkeling also very good, as you can see fish and corals in the emerald water. A must-do on your Phuket itinerary!
Here are a few island day tour options from Phuket if you're looking for a great way to visit the stunning beaches that you won't ever forget. Mostly the tour will be coupled with some of the island tours together as a complete island hopping tour package.
Choose from the organized tour with a speed boat to some of the beautiful islands.
Visit Patong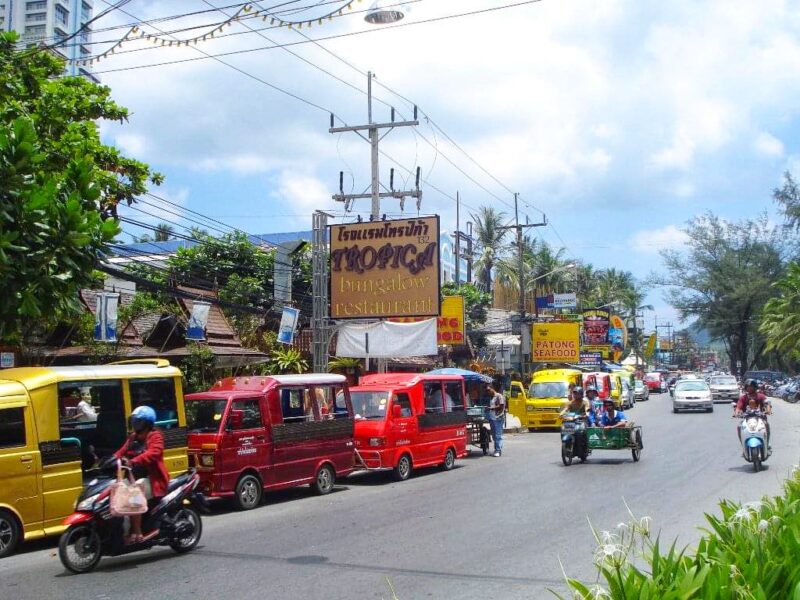 Patong is the most popular place in Phuket. This is a place always busy no matter the time of day and full of shops, restaurants, and people. Travelers also can find many accommodation options in this neighborhood, ranging from luxury resorts to budget hostels.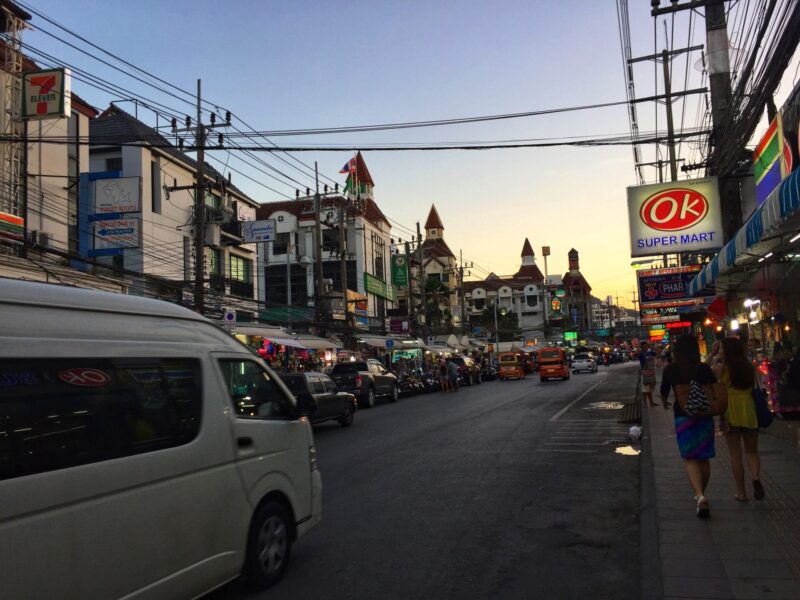 A stroll in Patong means you are seeing the most lively neighborhood in Phuket. It is an authentic place to see the true color of Phuket's life.
In the daytime, you can have a leisure walk on Patong beach or do some water activities. Sample some local food on the street or authentic Thai cuisine in restaurants, or look for a relaxing massage at one of the shops in Patong.
When past sunset, Patong Beach turns itself into a gigantic party town. The infamous Bangla Street is situated in the Patong area. Here you can be partying all night in the amazing bars and clubs that are open all night long.
Party at Bangla Road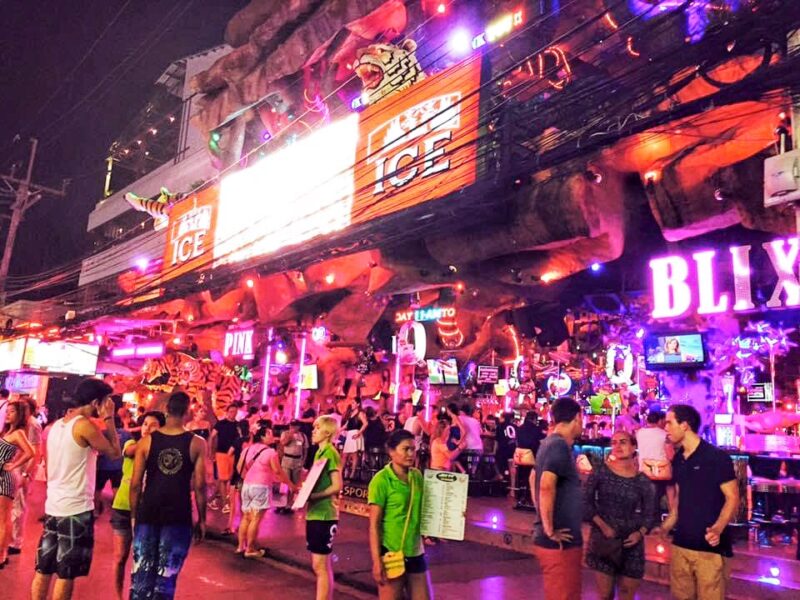 Nightlife in Thailand is always colorful and this can be seen on the famous Bangla Road. Bangla Road is also known as Bangla Walking Street, Thanon Bangla, or even the Phuket Nightlife!
During the day, Bangla road is a very anonymous one-way traffic street, and it turns into a crazy pedestrian walking street starting that never sleeps when the sky gets dark.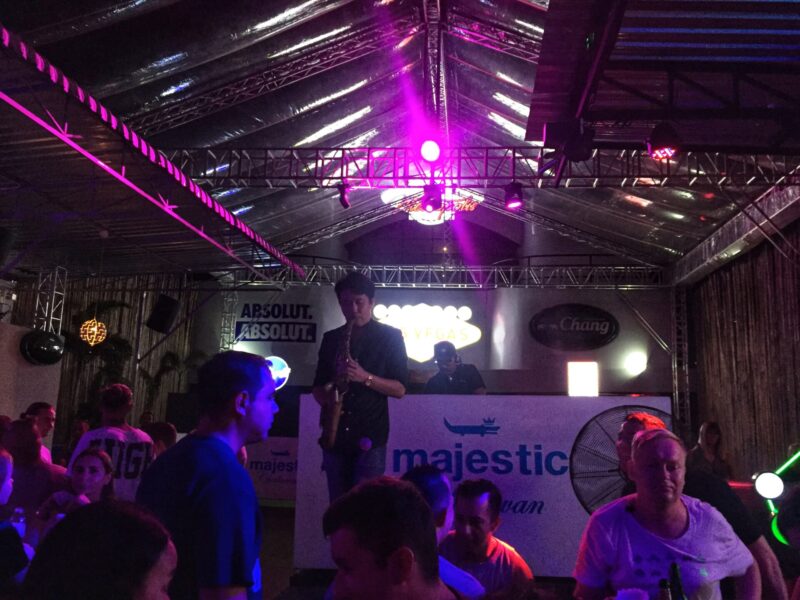 There are tons of bars, pubs, and nightclubs in the area to enjoy the night. Whenever everyone walks past the street, smiling ladies will invite you to take a seat or have a drink inside.
While not everyone is enjoy the same type of party, it is still tempting to have a look on how's the lively nightlife in Thailand at least once!
Strolling along the Beach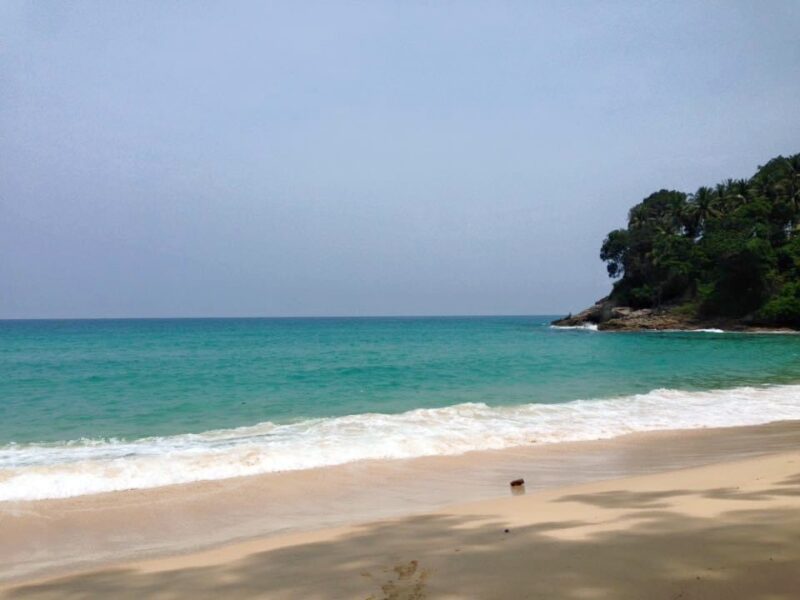 Phuket is never lacking the awesome beaches with nice waves and Sunset. Plenty of beaches to stroll on to enjoy the picture-perfect moment on the seaside. Crystal clear water, white sands, palm trees with food and drink stalls. One can easily spend hours lazing, sunbathing, swimming, doing water activities, and walking along the sandy beach to enjoy Phuket.
While the Patong beach may be too overcrowded for travelers who looking for a laidback holiday. Here are a few recommendations to have your precious time on the island.
Bang Tao beach is quieter compared with other beaches in Phuket. Rather clean and a wonderful place for sunset. Many restaurants along the beach.
Freedom Beach is an absolutely beautiful beach in Phuket. It is like a little paradise with a longtail boat ride from Patong Beach.
Phuket Night Market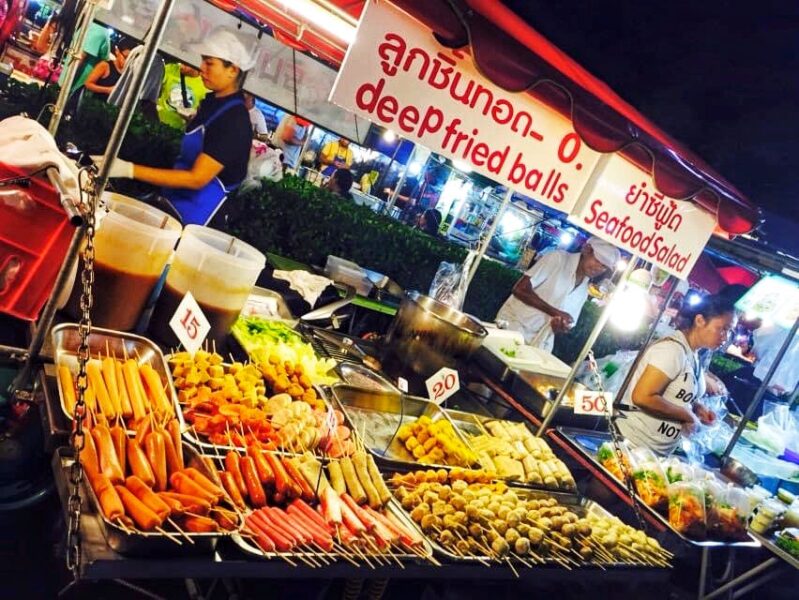 If you are in Phuket during the weekend, don't miss the night market on Walking Street or the Weekend Market.
Phuket night market is a great place to sample local food with plenty of food stalls that offers an unlimited variety of Thai cuisine. Start your foodie quest with grilled meat and seafood, mango sticky rice, noodles soup, and many more Thai street food. Try to resist the temptation of Thai food for the whole day so that you'll have maximum stomach space for the night market!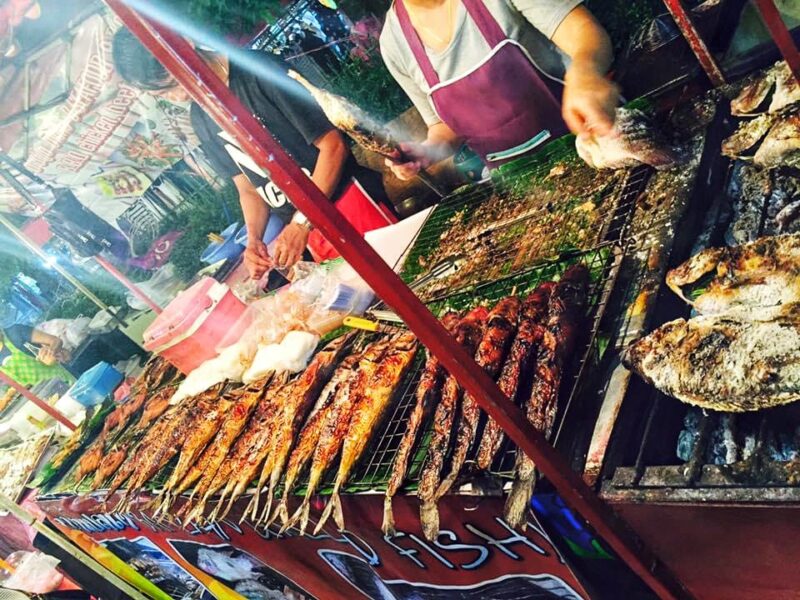 You can also pick up souvenirs, handicrafts, clothing as well as electronic goods to bring back home at a very affordable price here. Generally, the night market in Phuket is started from 16:00 to 22:00.
Popular Night Market on Phuket Island:
Phuket Walking Street 'Lard Yai': Thalang Rd, Talat Yai, Muang, Phuket (Sunday)
Phuket Weekend Market: 7 Wirat Hong Yok Rd, Phuket Town, Muang, Phuket (Saturday and Sunday)
Indy Night Market: Limelight Avenue, Dibuk Road, Phuket Town (Thursday and Friday)
Massage & Relaxing
When you're in Thailand, you will need to do at least one massage during your trip! Nothing could be better than a relaxing and unwinding massage after a full day of water activities. Go for the authentic Thai massage and spa and you'll feel totally recharged and energized. You can also try a foot massage if you
There are many cheap parlors everywhere on the island to experience this at a reasonable price. The prices are varies depending on the services and of course the grading of the shop. Try to look for the shops with more patrons and agree with the price before the session. But generally, this is starting from 250 Baht for one hour of a foot massage and 400 Baht for a Thai massage!
If you are interested, you can check out some of the reward-winning or quality good retreats here:
Phuket Travel Guide Tips: Good deal from Klook, and it is cheaper than if you book directly from the Spa center directly. Easily find locations and simply redeem with an e-voucher.
Phuket Fantasea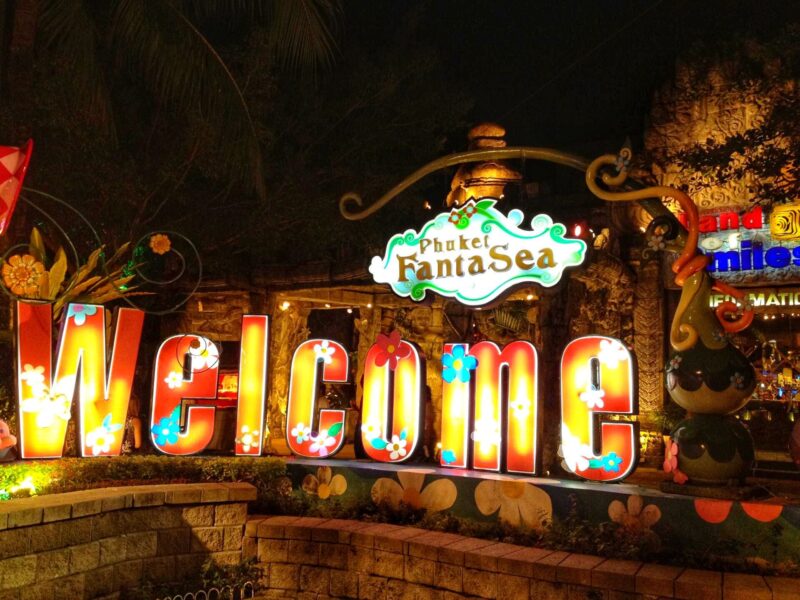 Alternatively, you can also experience a showcase of Thailand's cultural heritage and explore the Carnival Village for a night you won't forget. Phuket Fantasea is a popular show that immerses you in the rich and exotic heritage of Thailand through the performances. A great activity that is good for families with kids.
Phuket Fantasea Ticket For Southeast Asia + Korean Market
Religion and Culture Visit
Above Phuket itinerary is best for 3 to 4 days of holiday gateway to Phuket. Most of my Phuket trip was focusing on the beach and relaxing activities. If you have more days in Phuket, you can add more unique things to do that you can include in your Phuket itinerary.
To know more about the Thai religion and culture, there are numerous temples and gardens with beautiful architecture and statues to visit in Phuket. All are located not too far and can be coupled together as a leisure half day of visit. You will get to know the stories about Phuket by visiting these Phuket attractions. You can rent a scooter, hire a Tuk-tuk, or join the local tours to those attractions hassle-free.
Phuket Discovery Half-Day Tour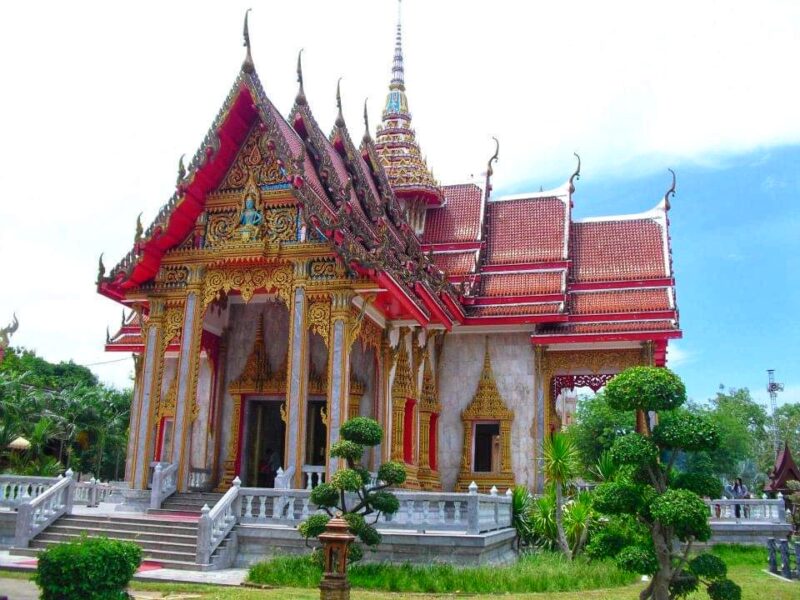 Phuket Old Town – The old town of Phuket is a remarkable mix of the remains of Portuguese colonial architecture and Chinese influence. Strolling in the old town will get a feel of Phuket's past when you explore the Sino-Portuguese buildings.
Besides, there are also some iconic attractions such as Big Buddha, Wat Chalong Temple, and Wang Talang scattered all around the island. All are historical landmarks on Phuket island to immerse yourself into the Thai culture and religion.
What To Eat in Phuket
In this section, we will share with you some of the best restaurants and what to eat in Phuket.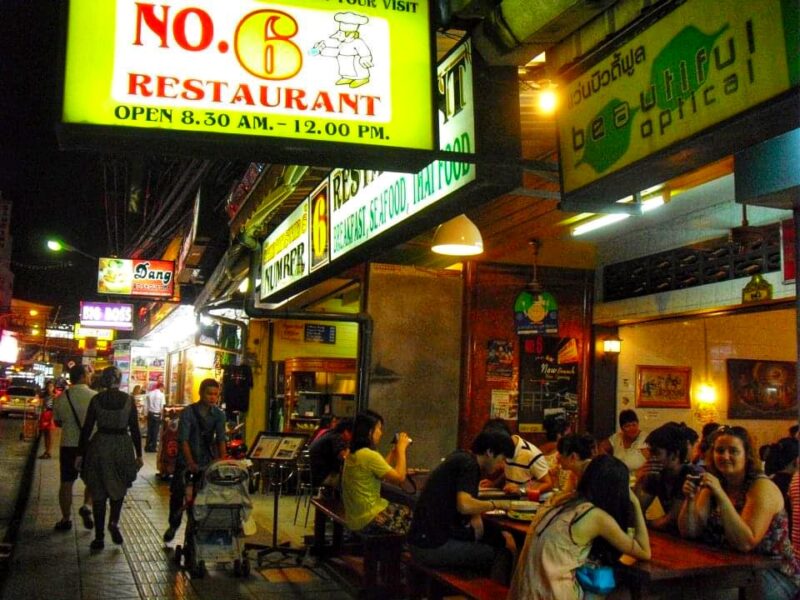 No.6 Restaurant: Our favorite restaurant for the best Thai food in Phuket! This locally run restaurant serves authentic Thai dishes at a reasonable price. This popular Thai restaurant in Phuket is located beside Bangla street and is easily spot the restaurant. The reason is simple. There is always a long queue in front waiting to be seated.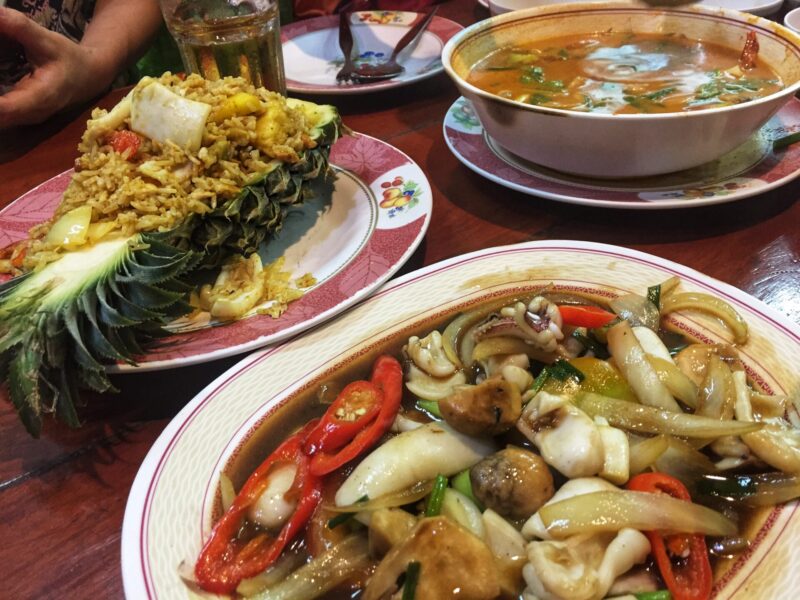 We had a feast of delicious, authentic Thai food at Restaurant number 6 and highly recommended it. The food is utterly divine and most importantly the prices are reasonable. The best restaurant in Phuket if you are looking for a dining option.
Limited seat, come here early to enjoy the super delicious meals here.
Address: 69, Soi Phrabarami 3, Phrabarami Road, Patong, Kathu, Phuket 83150 Thailand
Business Hours: Open daily from 8:30 to 00:00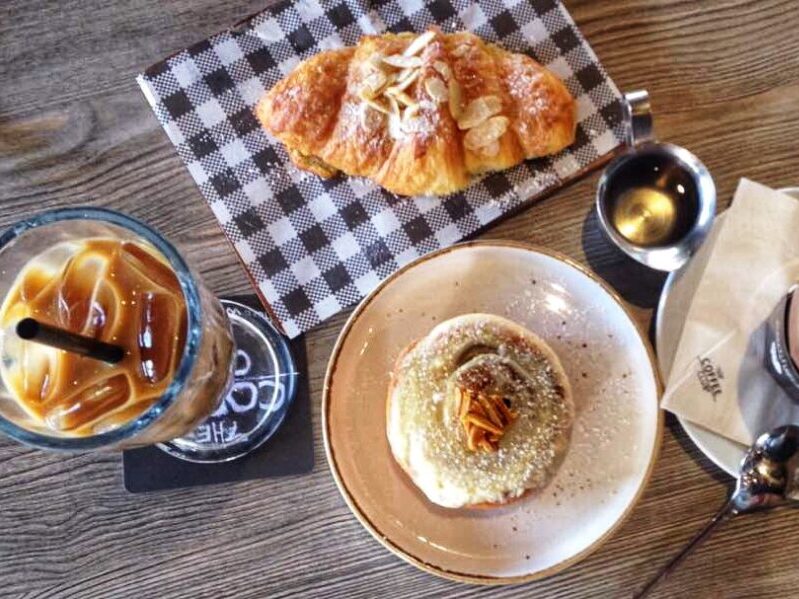 There are also many little cafes that serve great coffee and breakfast in Phuket. Sometimes, we just simply walk into one of the hipster cafes and enjoy having a cup of aroma coffee to kick start our day in Phuket.
Food stalls along the street – Food is everywhere in Thailand and the same in Phuket!
Final Tips on Phuket Travel Guide
Our final quick tips for having a great time when planning on the Phuket itinerary:
How Many Days for Phuket?
5 days in Phuket is the best duration to make the most of your time there. If time is a constraint, it is worth spending 3 days in Phuket to recharge for the beautiful beaches in Phuket.
How much for a Tuk-tuk ride in Phuket?
Depending on the distance. A 5-minute trip can cost from 100 to 200 baht. Most important, state your destination and agree on the price before riding on any tuk-tuk.
Is Phuket worth visiting?
Phuket is an extremely popular destination for package travelers and is often overcrowded especially during the peak season. But still, Phuket is still worth the visit to some of the beautiful sights and beaches on the island.
Overview: A Trip to Phuket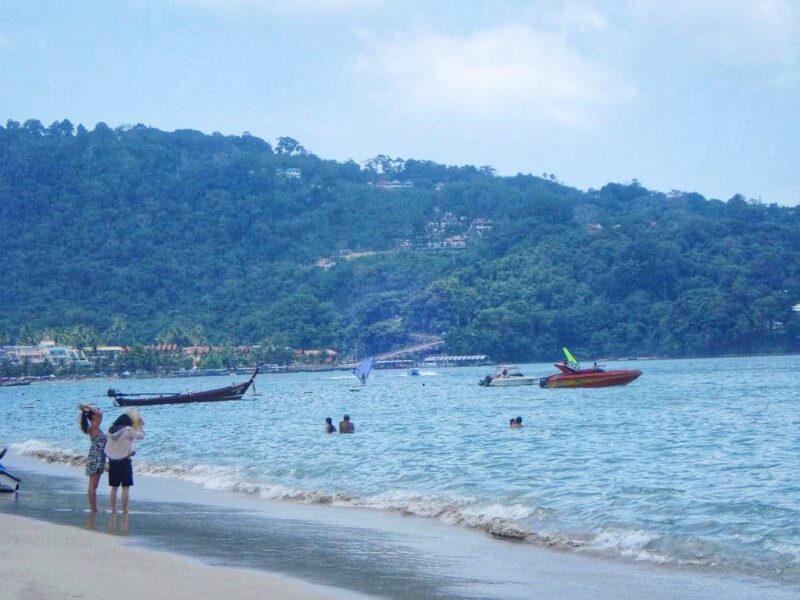 Last but not least, we hope we do provide you with some good tips on what to do in Phuket as well as some practical information when planning your Phuket itinerary. A trip to Phuket will bring you heavenly beaches and crystal clear water. Enjoy your relaxing time exploring the surrounding island, visit the beaches, or take a stroll in the Patong area and Phuket town. Have a great time on this island!
You can look for your Phuket travel blog here:
Thank you for reading my Phuket travel guide blog. If you need more Thailand travel tips, feel free to check out the below travel post to popular travel destinations in Thailand.
Travel to Bangkok: