Last updated on December 11th, 2023
When visiting Bangkok, food lovers can enjoy sumptuous Hainanese-style chicken rice at Go-Ang Pratunam Chicken Rice in Bangkok. The shop has been around in Bangkok since 1960 and is loved by locals and tourists.
Originated from Hainan, China, Khao Man Gai (ข้าวมันไก่) is the Thai version of chicken rice. The food was introduced by Chinese immigrants and adopted by Thais to suit the local taste. There are many chicken rice stalls and shops in Bangkok, but the most popular is the Go Ang Kaomunkai.
The Go Ang Pratunam Chicken Rice (Pink Shop) is the best well-known chicken rice shop in Bangkok among both locals and tourists. The shop offers a Thai version of Hainanese-style chicken rice in Bangkok and is loved by locals. It gaining popularity with the best chicken rice in Pratunam or even Bangkok.
Let's check out more detailed food information from our visit to the Go Ang Kaomunkai.
Go Ang Pratunam Chicken Rice (Pink Shop)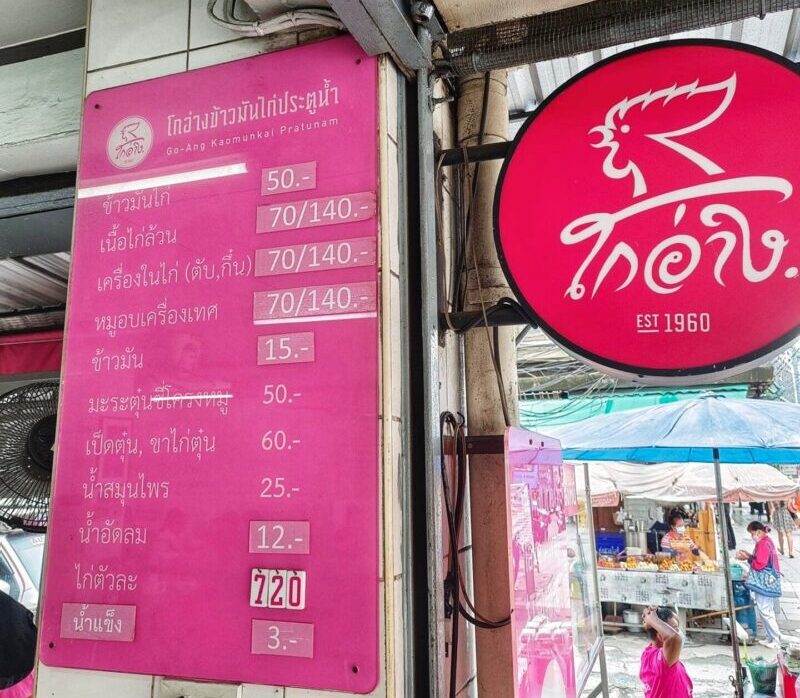 Go Ang Pratunam Chicken Rice is started from the humble food stall by offering the Hainanese chicken rice to locals. It's actually one of the first Chicken Rice stalls that opened in the Pratunam district and has been around for more than 60 years now.
Awarded with Michelin Bib Gourmand, the Go Ang Pratunam Chicken Rice is reckoned by locals to be one of the best chicken rice in Bangkok and even Thailand.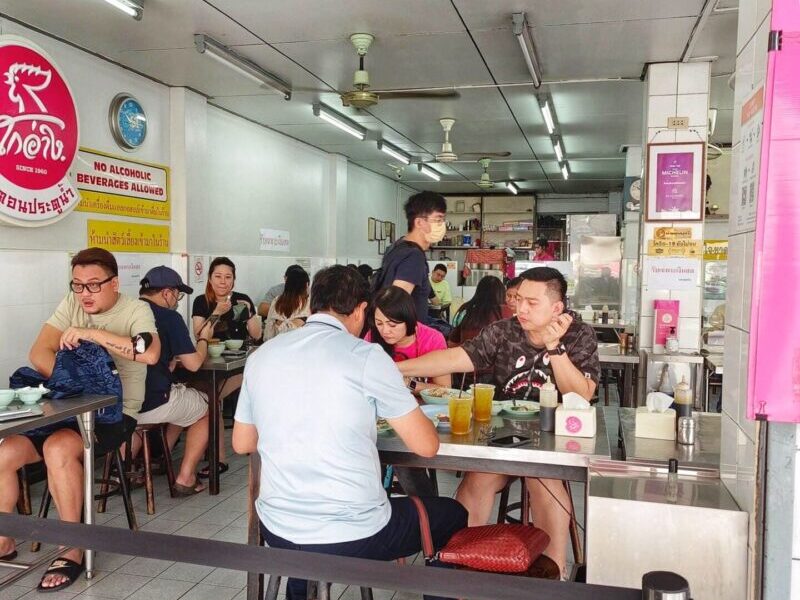 The shop has been serving locals and especially late-night diners. Long queues are inevitable but the queue moved pretty fast. And the best part? It's open until midnight, a prefect place for supper if you are staying in the Pratunam area.
Go-Ang Pratunam Chicken Rice
Address: 962 Phetchaburi Rd, Makkasan, Ratchathewi, Bangkok 10400.
Business Hours: Daily from 6:00 to 22:30.
Note: Due to the pandemic, Go-Ang Pratunam Chicken Rice is shorter its business hours and only operated until
Getting There
The location is convenient and situated within a 5-minute walk from the Platinum Fashion mall, making it a quick shopping break for some local food in Bangkok. If you are coming from other areas in Bangkok, the nearest BTS Station is Chit Lom BTS Station, and from there, it is about 10 minute walk to the shop.
Not worry about finding the place, as you can distinguish Go-Ang by the pink uniforms worn by the servers and pink storefront.
Chicken Rice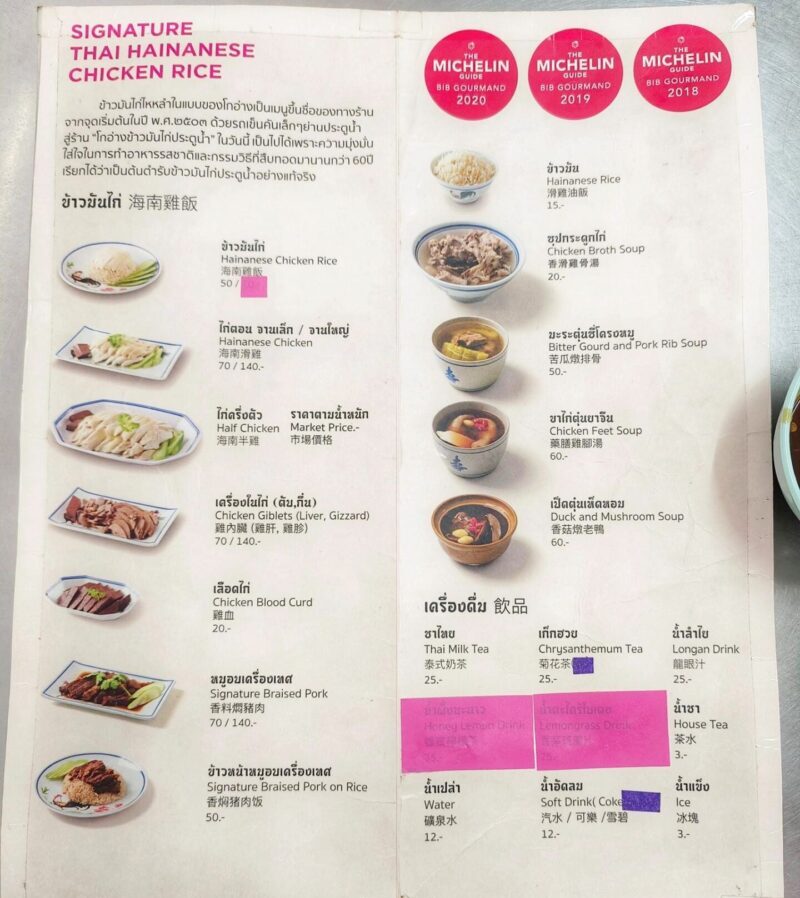 Once you have arrived at the shop, please queue to get a seat to enjoy the sumptuous chicken rice.
The ordering process is simple and easy with the multi-language menu with the picture to help you choose your food. If you are a group, we recommended you order a half or whole chicken separately to go with the rice. This will gives you more meat to enjoy the food.
The chicken rice will be served to you without a long wait. It also comes with very aromatic light and clear chicken broth, and sweet dipping chili sauce.
The chicken meat from Go Ang does not have that intense fragrance as the chicken is only boiled in water. But still, the chicken meat is succulent, juicy, and moist. It is best paired with their homemade sweet chili sauce which gave a nice touch to the rice and chicken.
Next, is the rice to eat with the chicken. The rice is cooked to perfection, and it is flavorful without being too oily. Together with the dipping sauce, it is a perfect combination for the chicken rice!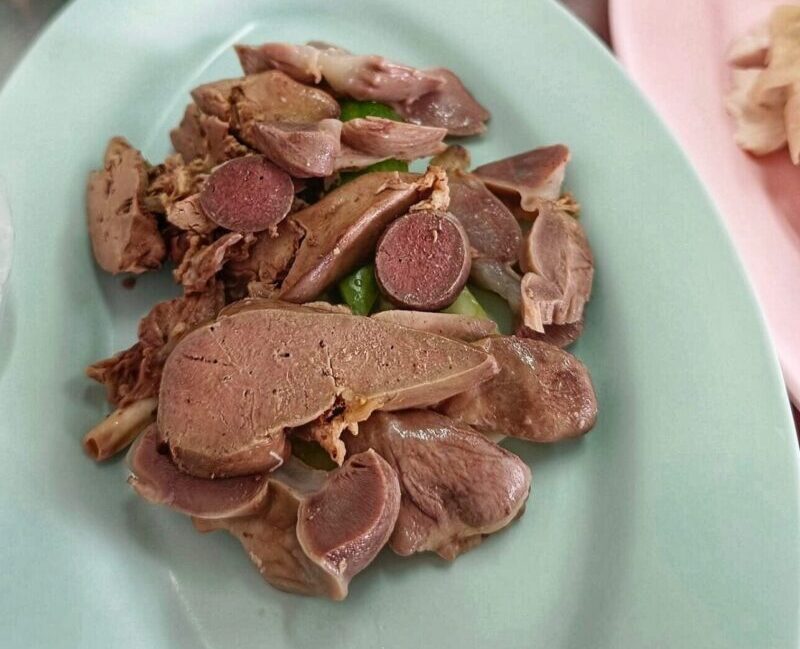 Besides, you may also order other side dishes such as chicken giblets (liver, gizzard), chicken blood curd, and soup for a complete meal.
See our plate of chicken giblets and we enjoyed it!
Overall: Best Chicken Rice in Bangkok
All in all, a food visit to Go Ang Pratunam Chicken Rice for their delicious chicken rice is highly recommended. Plus, the Go Ang chicken rice is reasonably priced. At 60 baht for a plate, it's a real deal if you are looking for what to eat in Pratunam, Bangkok. So, make yourself a food visit if you are nearby!
Traveling to Bangkok? Here is the inspiration for Bangkok travel stories:
More Bangkok foodie journey: