Last updated on September 23rd, 2023
Are you planning your Bangkok trip and excited to find out about the must-visit places to visit in this amazing city? Here is the Bangkok travel guide blog that covers the things to do for your 3 to 5 days of Bangkok itinerary!
Bangkok is a traveler's paradise and it has so much to offer! This capital city of Thailand is the richest destination in the country, and one of the most visited places in the world. The city is surrounded by many great attractions – from beautiful temples, mouth-watering Thai food, shopping destination, nightlife, and more. There are so many reasons that will prove that indeed Bangkok is a must-visit city!
Visiting Bangkok, you will be astounded by the amazing natural landscape, unique culture, friendly locals, and a countless number of great attractions around the city. You will get to feel the city's vibe and atmosphere. No matter how many times you've been, you'll never get bored and there is always something new and exciting to see, do, and eat in Bangkok. You may want to spend a few days exploring everything the city offers.
If you are also visiting Bangkok during your trip to Thailand, check out my suggested Bangkok itinerary here.
Over the years, we've visited Bangkok so many times for leisure holidays, short gateways, shopping trips, or business trips. Still, I always enjoy coming here for the delicious Thai food, unbeatable value, and fascinating things to see in the city. Bangkok can be overwhelming if you're visiting Thailand for the first time. But, rest assured. We compiled this comprehensive Bangkok travel guide with in-depth travel information and tips. Make the most out of your trip with this detailed Bangkok itinerary with things to see and do as well as suggested tours.
This Bangkok travel guide blog is compressive and long. Free feel to check out the quick links to transportation, hotels, tours, and other services.
Bangkok Travel Tips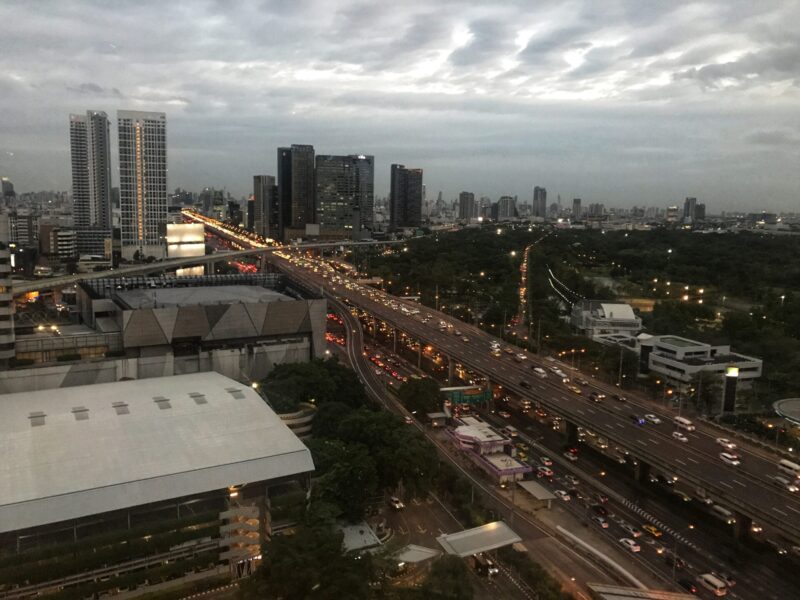 In Bangkok, you'll easily find yourself being lost in a myriad of things to do and see. There is a wide range of hotels, restaurants, eateries, local markets, and tons of cultural experiences awaiting you to discover. So it is always helpful to have a clear idea of what the city is offering before your trip. You'll learn about all the useful travel information and money-saving tips to ensure you don't miss out on any great attractions.
Do you like cultural attractions? The stunning temples and the interesting and varied sights can easily spend your time in Bangkok. The Grand Royal Palace and Wat Pho is the must-visit attraction in Bangkok for first-time travelers.
Are you a shopaholic? Bangkok is a shopping paradise with plenty of shopping malls and markets to keep you busy. The Chatuchak Market is the world's biggest shopping market with 15,000 stalls!
For food lovers, Bangkok is a haven for foodies. Plenty of street food stalls and nice restaurants selling good inexpensive Thai food. You'll never have an empty tummy during your trip to Bangkok.
In short, Bangkok has something for everyone. It's an exciting, affordable city that's much more than your gateway into Thailand. For many travelers, it's the destination.
Here is a brief idea of how many days you can plan on your Bangkok itinerary:
How Many Days for Bangkok?
For sure, to give you the chance to really get to know about Bangkok, you will need more days! I would recommend planning to spend no fewer than 3 days to get the most out of your trip to Bangkok with a glimpse of this cultural city.
What to do in Bangkok for one day?
If you only have one day in Bangkok, you can see many of Bangkok's iconic attractions in the space of a day, plus sample some great Thai food with a good itinerary.
What to do in Bangkok for 2 or 3 days?
With 2 to 3 days in Bangkok, you'll have a more impressive visit to Bangkok attractions and a fine selection of shopping and dining.
What to do in Bangkok for 5 days and more?
A 5-day Bangkok itinerary is enough to give you a good feel for the city to most of the attractions in the city. You may also be coupled an island trip and a short trip to an attraction nearby into your Bangkok itinerary.
Best Time To Visit Bangkok
Bangkok, Thailand is a tropical climate country and the weather is hot and humid all year long. The best time to travel to Bangkok is from November to February as this is the coolest month of the year and the weather is more comfortable. These few months are also the peak season to visit Bangkok and accommodation prices will also increase.
Between March and May is the hottest season and the city's temperature may reach 26 – 30 Celsius degrees. The serious heat may also cause stormy evening rain in the city. While July to November is the rainy season in Bangkok. So expect rain on most of the days.
Traveling to Bangkok
For international travelers, Bangkok is serviced by two main airports which are Suvarnabhumi Airport (BKK) and Don Mueang Airport (DMK) if you're taking a flight into Bangkok.
Suvarnabhumi International Airport is the main primary airport that services most international flights. Public transport is more convenient compared with Don Mueang Airport. You can get into the city with the below options:
By train: The Airport Rail Link from Suvarnabhumi to Phaya Thai Station with around THB 45. You can transfer to the nearest BTS line and get into your hotel.
By Bus: Frequent buses depart from 6:00 to 18:00 to Khaosan Road every 30 minutes. The departure point is at Gate 7 on the first floor of the passenger terminal with a bus fare of about THB 60.
By Taxi or Grab: The fare is about 400 THB to the city center, depending on the distance. Make sure to ask for a meter taxi. Alternatively, the e-hailing Grab is also pretty convenient with the app.
By Private Airport Transport: From Suvarnabhumi International Airport to/from any popular destinations in the city for single or group of people. Pre-book from Klook with the best price.
While Don Mueang International Airport mostly serves the budget airlines within South East Asia. It is closer to the city but there is no link to the BTS or MRT train station. You'll need to get to the nearest Mo Chit Station if you want to transfer by train or bus. Alternatively, you'll need to look for a taxi, Grab, or Don Mueang Private Airport Transfer to the city.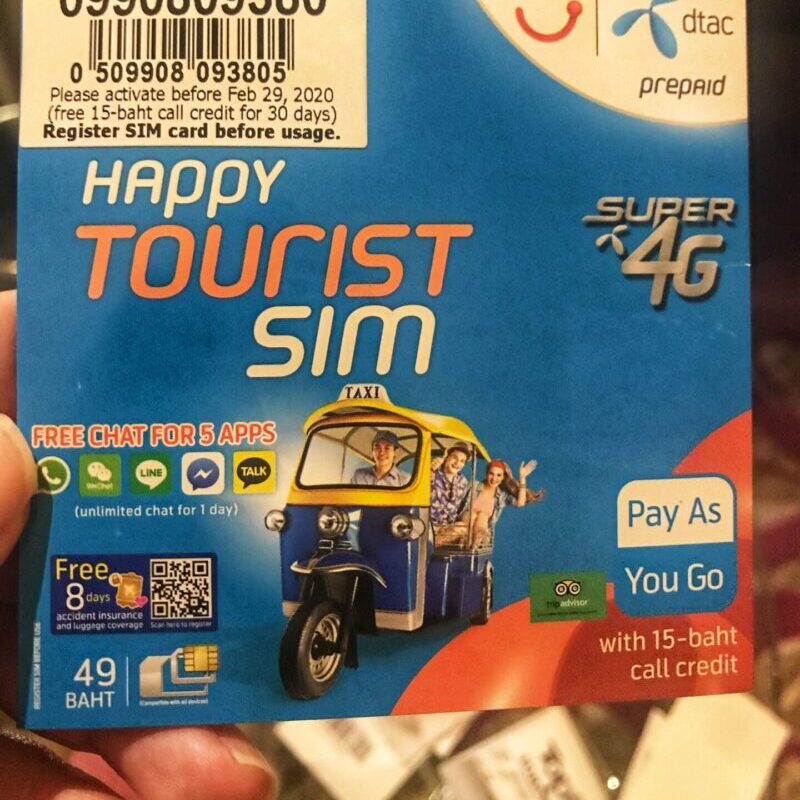 dtac HAPPY TOURIST 4G/5G SIM Card for Thailand
Bangkok Travel Guide: Have the Grab app ready on your smartphone prior to your Bangkok trip. You'll need the get the wifi connection to pinpoint your pick-up and drop-off locations when using it. Remember to grab your wifi sim card ready at the airport.
Getting Around in Bangkok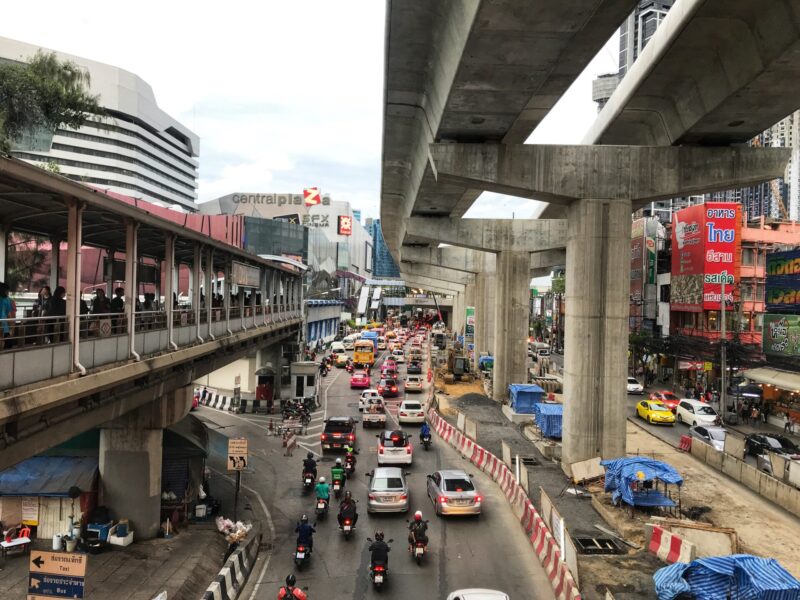 Bangkok is a bustling city and it's very crucial to understand the best ways to get around the city. The traffic in Bangkok is hectic with horrible jams. So it is always advised to figure out the best transport options to avoid the rush hour in Bangkok. Take note that the subway system does not fully cover the travel attraction in Bangkok. So you'll still need to figure out how to get around in the city when traveling around.
By BTS Skytrain or MRT – Getting around by trains is still considered convenient to the main attractions in the city. Most of the time, we used this option together with the taxi, or Grab when getting around in the city.
By Taxi and e-hailing service: Again, we highly recommended to use Grab when traveling around to avoid tourist scams with estimated prices listed in App. But on some occasions, you will still need to look for a taxi to get there. Please ask for a meter taxi or check with the estimated price to get to the location.
Bangkok Travel Guide: We advise you to write the address down and show it to the driver when communicating with the driver when getting around in the city.
Where To Stay
As a world popular travel destination, there are lots of accommodation options for you to choose from while in Bangkok. You can choose to stay at the budget-friendly guest houses or hostels that provide clean enough accommodation for less than $15 per night. If you visit the city with friends, then there are many mid-range hotels at cheaper prices compared to other cities.
For quick and easy, here are the popular areas with hotel recommendations to stay in Bangkok:
Sukhumvit and Silom – A modern and cosmopolitan area to stay in Bangkok.
Siam and Pratunam – Easy access for shipping and getting around in the city.
Riverside – Stay along the riverside for a great view of the river and nearby Bangkok's attractions.
Khaosan – Lively neighborhood with a great introduction to the Bangkok vibe. You'll find endless bars, shops, restaurants, and street food vendors for whole days.
Chinatown Bangkok – Stay for food in one of the oldest areas of Bangkok. Many budget hostels and boutique hotels in this area.
We highly recommended the Royal Orchid Sheraton Hotel and Towers. It is a great luxury hotel situated along the Chao Praya River. The rooms are super comfortable with fantastic views overlooking the river for your Bangkok gateway.
The Novotel Bangkok on Siam Square is close to many shopping malls with great facilities. Getting around in Bangkok is easy with BTS Siam Paragon is located next to the property. A great pick for shoppers in Bangkok.
For budget travelers, In a Box Hostel is a popular pick for a short stopover in the city. The location is superb and just a step away from the Phaya Thai BTS Station and Phaya Thai airport railway link.
Lastly, be sure to check out our Bangkok accommodation as we wrote an in-depth guide about where to stay in Bangkok.
3 to 5 Days Bangkok Itinerary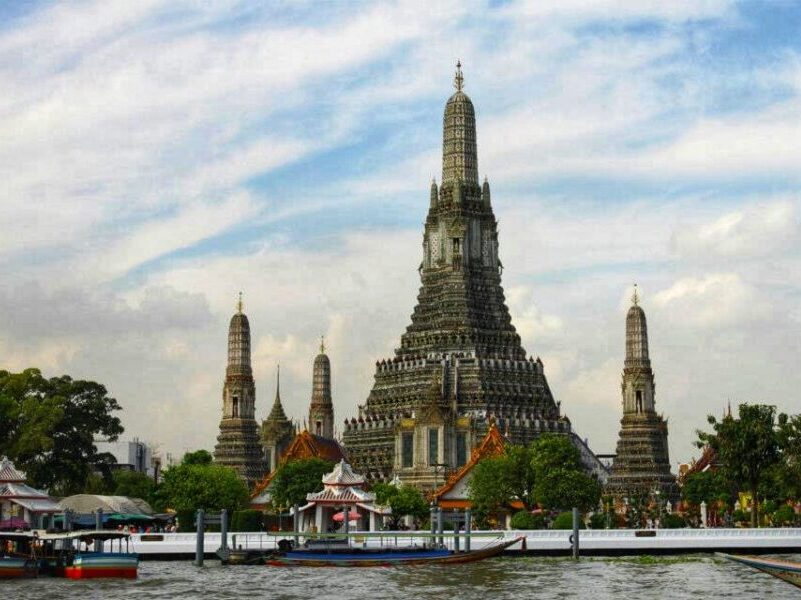 There are so many things to do in Bangkok that it is hard to decide where to begin. Below is our recommended itinerary for 3 to 5 days in Bangkok which includes what we think are the top things to do in Bangkok for first-time travelers.
How To Plan for Bangkok Itinerary for 3 to 5 Days:
Day 1: Grand Palace, Wat Pho, Wat Arun, Chinatown (Yaowarat)
Day 2: Amphawa Floating Market, Maeklong Railway Market, Drink at Rooftop Bar
Day 3: Shopping Day! Chatuchak Weekend Market, Siam Paragon, and more.
Day 4 – 5: Ayutthaya Day Tour, or short trip to Khao Yai, Hua Hin, or Pattaya.
Bangkok Travel Guide Tip: This Bangkok itinerary is flexible and can easily be adjusted, extended, or shortened depending on your interest and travel date. The Chatuchak Market is only available on weekends. Make sure to include it if you're visiting Bangkok at weekend.
Bangkok Itinerary Day 1
On your first day, start your Bangkok itinerary at the city's most iconic historical attraction at Chao Praya River. This area is a great place to start your activities as almost all the iconic historical sites and tourist attractions are located here. You may also consider making your way to the Chao Phraya river on either a tourist boat or the local boat to experience this unique culture.
Get the Chao Phraya Tourist Boat Bangkok Hop-On-Hop-Off Sightseeing Boat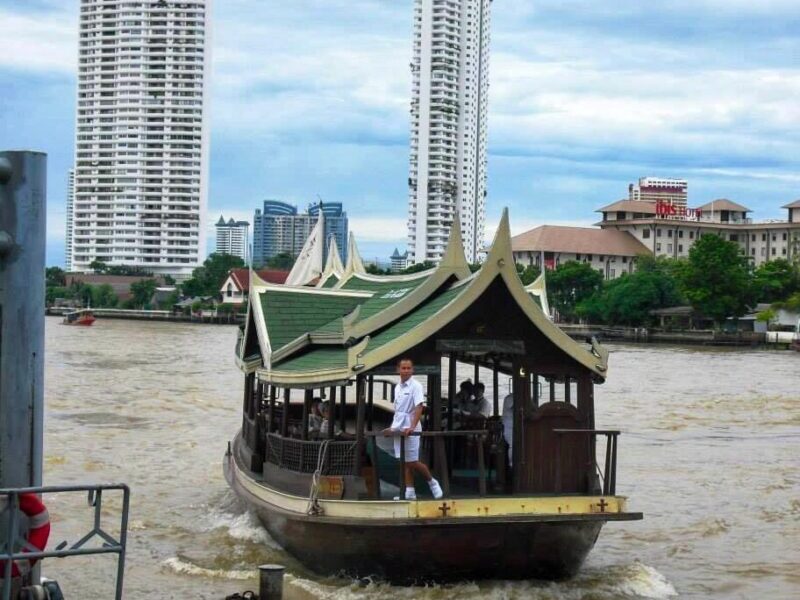 We recommended planning your morning and afternoon time for temples and historical sites visit. Have some rest and then only proceed to Bangkok Chinatown for food and shopping.
Day 1 Bangkok itinerary:
Morning: Grand Palace and Wat Phra Kaew
Noon: Wat Pho and Reclining Buddha. Wat Arun
Evening: Bangkok Chinatown (Yaowarat)
Tour recommended: The Grand Palace and temples like the Wat Pho, and Wat Arun are the most visited places in Bangkok. You would probably prefer to join the "Full-Day Classic Bangkok Tour" tour that will take you to those most visited places in Bangkok hassle-free!
Friendly reminder, please dress appropriately for the day as you are visiting the Palace and temples. Make sure to have your shoulders and knees covered when you go there. Avoid spaghetti straps, leggings, and tight jeans, especially at Grand Palace. If you are not prepared, the Grand Palace does offer sarung to cover up.
Grand Palace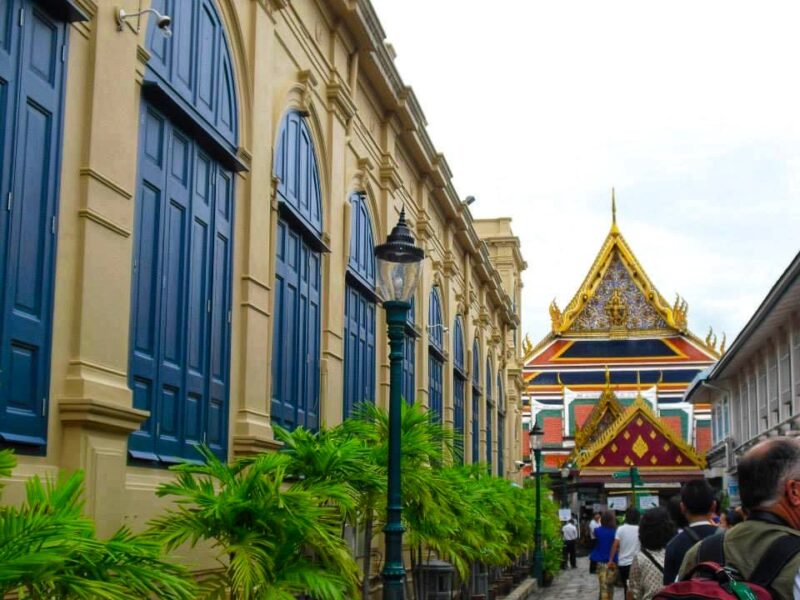 The Grand Palace is definitely one of the first places to see in Bangkok! The Grand Palace opens at 8:30. We recommended getting there early to beat the crowd and also escape from the afternoon heat!
Located right in the heart of Bangkok, the Grand Palace is the home of King Siam since 1782. You can visit the building complex to understand how the Thai Royal Family lived their lives here. You'll find many gold shining buildings inside the premise. All the golden statues and jeweled mosaics are simply breathtaking!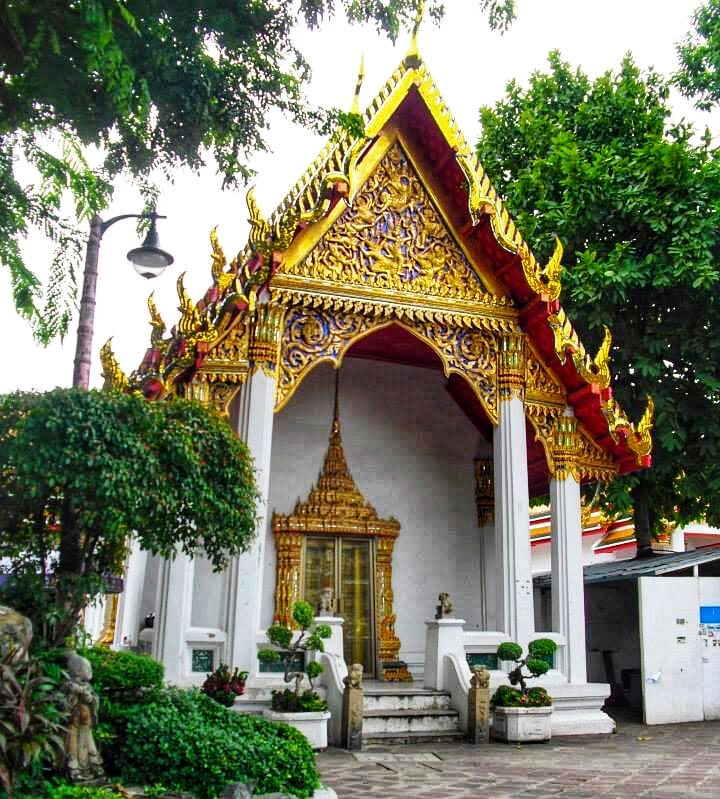 One of the highlights is the Wat Phra Kaew, which is also called "The Temple of the Emerald Buddha". The 66cm Jade Buddha in gold clothing is highly sacred, only the King and no one else is allowed to touch it. Photos are strictly not allowed.
You can explore the Grand Palace on your own, but if you'd like to learn more about its history, then you may be interested in booking a guided tour with Klook or Viator (Tripadvisor).
Grand Palace, Bangkok
Operating Hours: Daily from 8:30 to 15:30
Admission Fee: 500 Baht
Estimated time of visit: 2-3 hours
How To Get to Grand Palace Bangkok: Take the BTS (Skytrain) to Saphan Taksin (S6) station. From there, go to Sathorn Pier and take the Chao Phraya River Express or the local water taxi to Tha Chang pier. The orange flag boat costs 15 Baht and the Blue flag boat (faster) cost 40 Baht. Alternatively, a taxi, tuk-tuk, or Grab will get you to the Grand Palace.
Bangkok Travel Tips: Beware of scams when you are looking for the entrance of Grand Palace as those Tuk-tuk drivers will bring you to those small temples for a small fee. Just ignore them and walk to the entrance.
Wat Pho and Reclining Buddha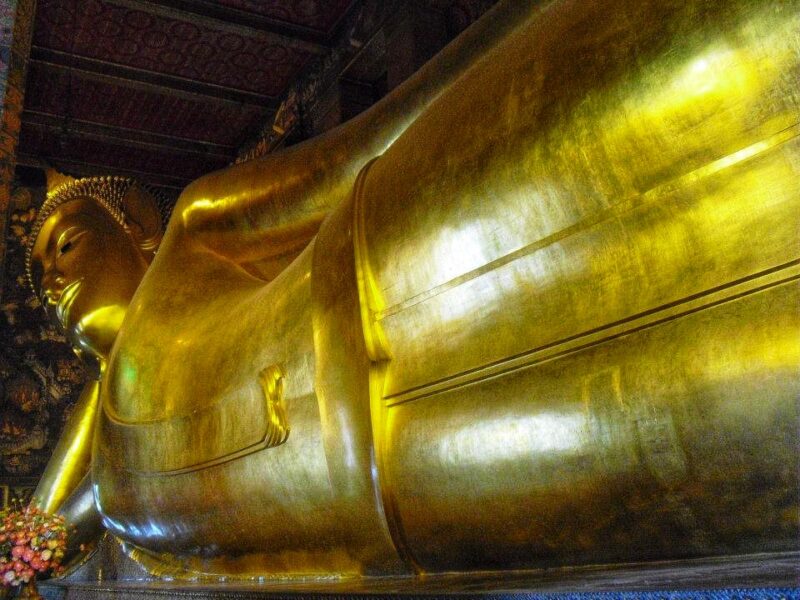 The "Wat" in Thai is the temple. Just 10 minutes' walking distance to the south of the Grand Palace, is Wat Pho. It is one of the oldest temples in Bangkok and is known as the Temple of the Reclining Buddha. It is home to the impressive 46m long and 15m tall gold-plated reclining Buddha and gets closer to this world-famous Buddha statue.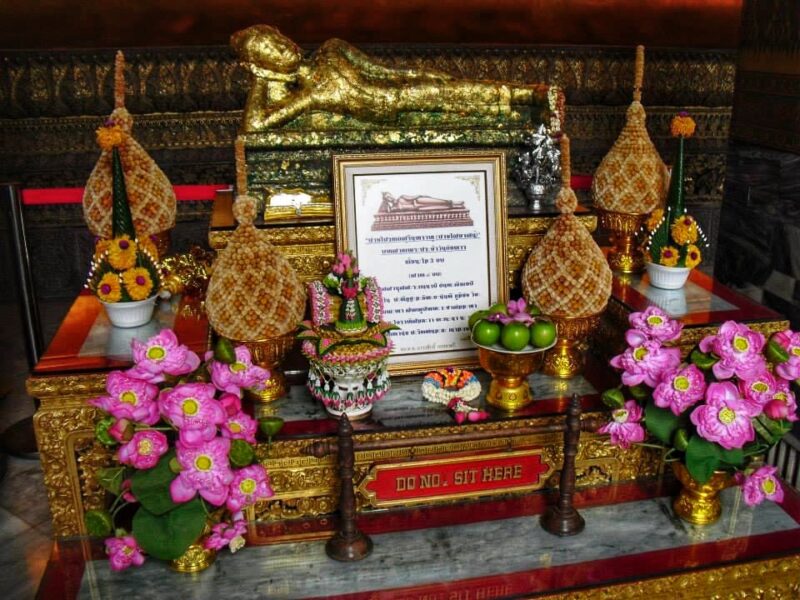 In Wat Pho, make sure to check out Phra Ubosot, considered to be the most sacred prayer room with its amazing architecture. You can also walk around and get lost between hundreds of Buddha statues. Definitely one of the places that you must see in Bangkok!
Wat Pho, Bangkok
Operating Hours: Daily from 8:00 to 18:30
Admission Fee: 100 Baht
Estimated time of visit: 1-2 hours
How To Get to Wat Pho: 10 minutes on foot from Grand Palace to Wat Pho. Alternatively, take the water taxi to Tha Tien Pier (No#8).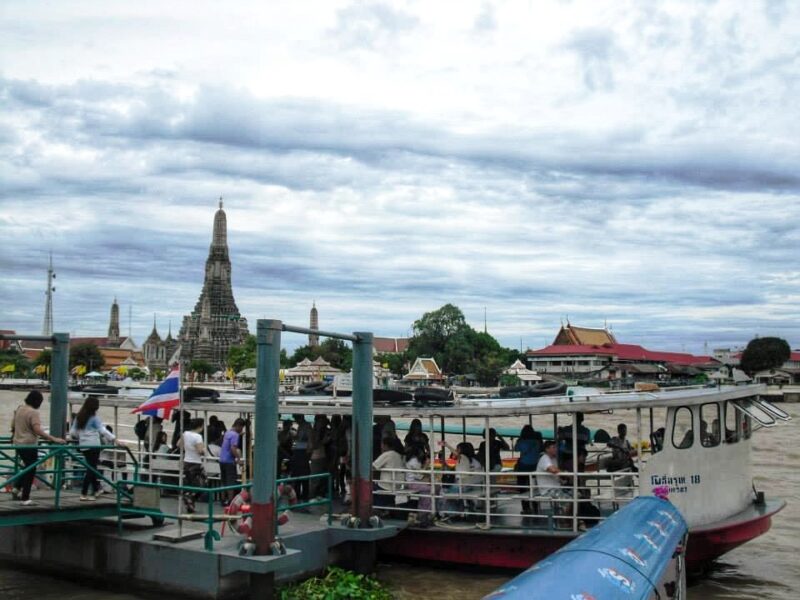 Lunch at Chao Praya River
After visiting the Grand Palace and Wat Pho, it's time to sit down for some Thai food lunch. There are many Thai restaurants along the Chao Praya river bank which offer a nice view. You can grab your lunch at one of the restaurants, or just simply walk-in into the small cafe in the area.
Wat Arun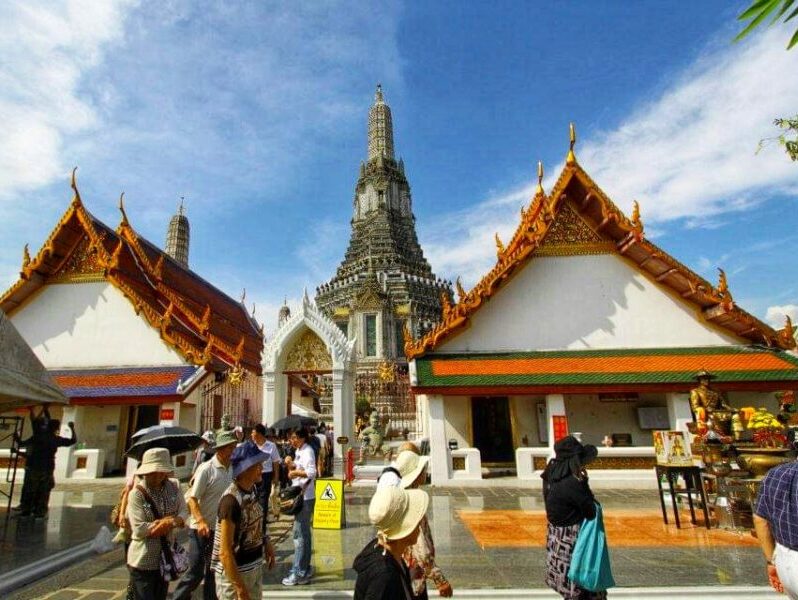 Next on the Bangkok itinerary is visiting the Wat Arun Temple.
Known as Temple of the Dawn, Wat Arun is featured with an 82-meter-high cortical-shaped tower decorated with ceramic tiles and colorful porcelains. It is one of the most beautiful structures in Bangkok and extremely photogenic, especially during sunset.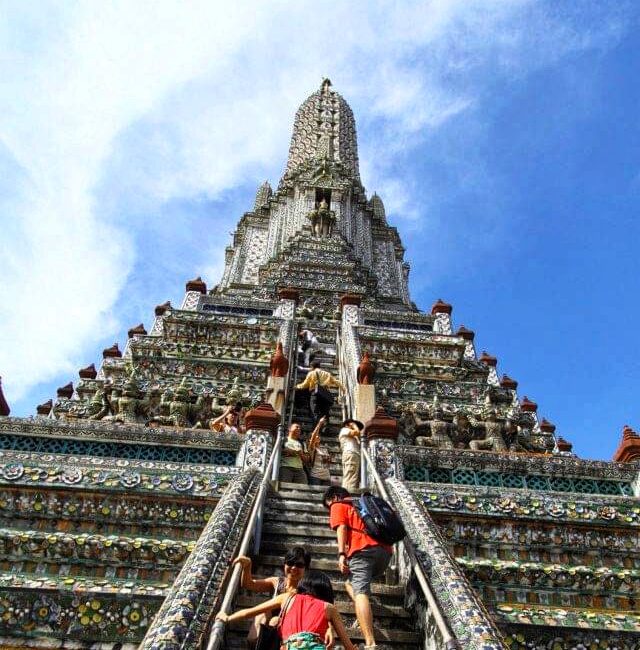 We recommend climbing to the top of the pagoda for a gorgeous view over the river!
Wat Arun, Bangkok
Admission Fee: 100 Baht
Estimated time of visit: 1-2 hours
How To Get to Wat Arun: Take the ferry to cross the river from Wat Pho to Wat Arun at 3 Baht.
Bangkok Chinatown (Yaowarat)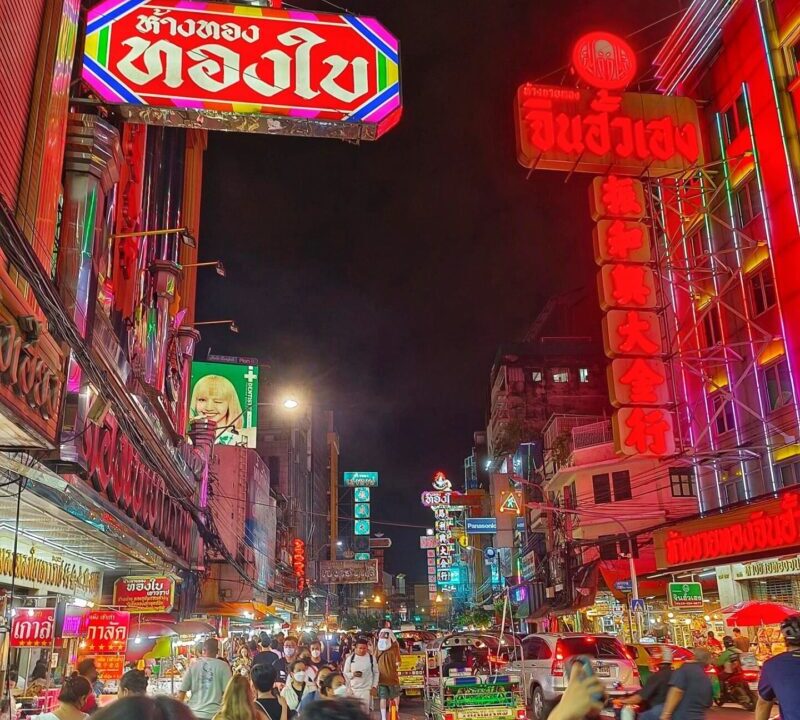 Keep the Chinatown for the last things to do of the day.
Bangkok Chinatown or Yaowarat Road is the best place to visit after the temple visit. Thanks to the mix of Chinese and Thai cultures, there are plenty of street food vendors if you want to indulge in delicious Thai Chinese food at cheap prices. Enjoy a stroll down the Chinatown to get a glimpse at how the city's Chinese community lives in Thailand. The areas are open all day but lively at night. We came here for the mouthwatering food!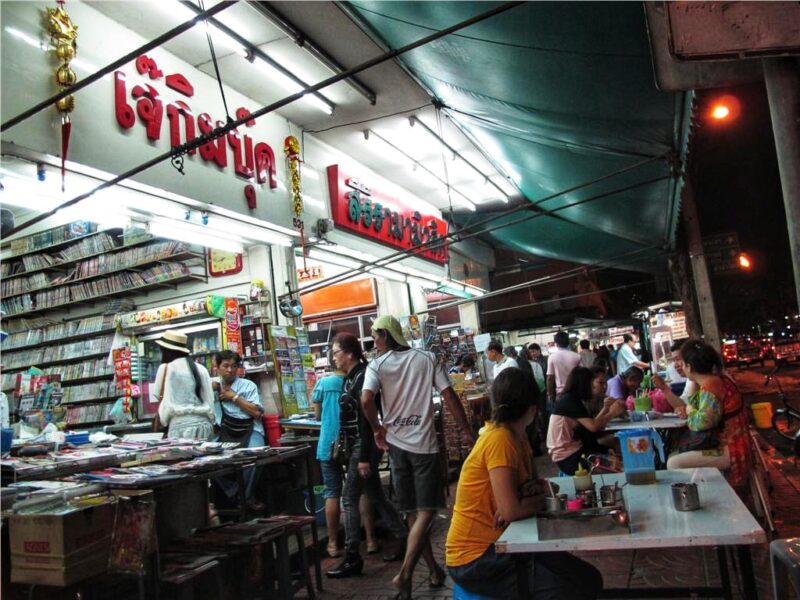 Have your dinner at Yaowarat! At night, there are many locals and travelers who can be seen along the streets enjoying the food. We loved the fresh seafood and have a food feast during our visit to Yaowarat. You can also buy the souvenir at Yaowarat Road as the price is cheaper compared to other places in Bangkok.
If you need some food recommendations, check out the Food Trip to Chinatown Bangkok: A Yaowarat Food Guide. Take note that most of the food stalls will be closed on Monday.
Bangkok Chinatown (Yaowarat)
Admission Fee: Free!
Estimated time of visit: 2-3 hours
How to Get to Yaowarat: From Wat Arun, you can get to Yaowarat by tuk-tuk or Chao Phraya River Express boat. Just get off at Ratchawong Pier (No#5) and from there you can quickly get to the famous Yaowarat Road. If you are visiting Yaowarat from other places, we recommend just taking the grab or taxi to get to Yaowarat. Besides, with the recent opening of Wat Mangkon MRT station, getting to Chinatown is so much easier. The Wat Mangkon Station shortens the walking distance by roughly only 4 mins walk.
Bangkok Itinerary Day 2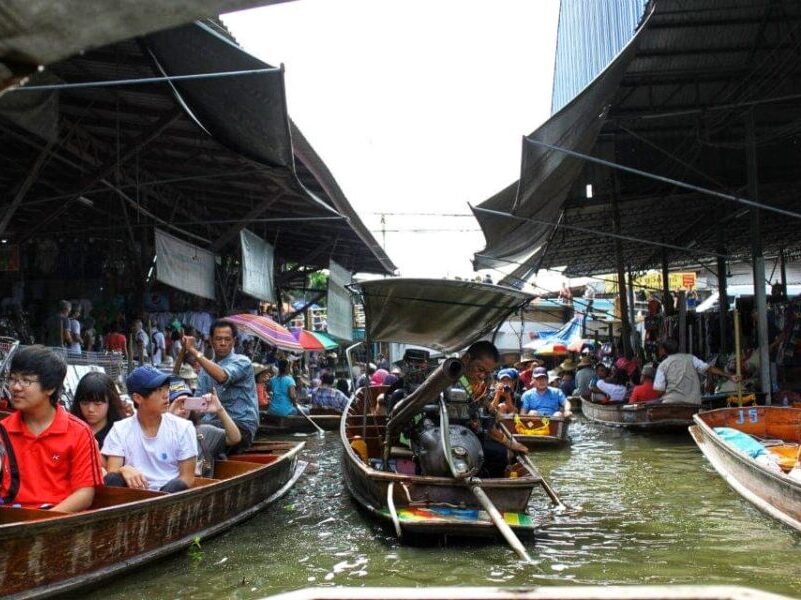 On your second day, we recommend visiting a floating market and railway market to soak into the local life. The markets are located slightly outside of the city. So please include the traveling time from your hotel to the destinations. Next, back to the city center by visiting some malls or have a good relaxing spa massage, and end your day with a cocktail in one of the rooftop sky bars in Bangkok.
There are three unique Thai markets that can be put onto your Bangkok itinerary. For hassle-free, you can consider going for Bangkok Floating Markets Tour which includes the famous Damnoen Saduak, Maeklong Railway, and Amphawa Markets. However, if you are planning for self-DIY for Bangkok Floating Markets Tour, we recommend just choosing two markets due to time-limited and transport arrangements.
Bangkok Floating Markets Tour: Damnoen Saduak, Maeklong Railway, and Amphawa Markets
Bangkok Travel Guide Tips: If you prefer a day tour with transport arrangements to the floating markets and the Railway Market, here is a good one.
Amphawa Floating Market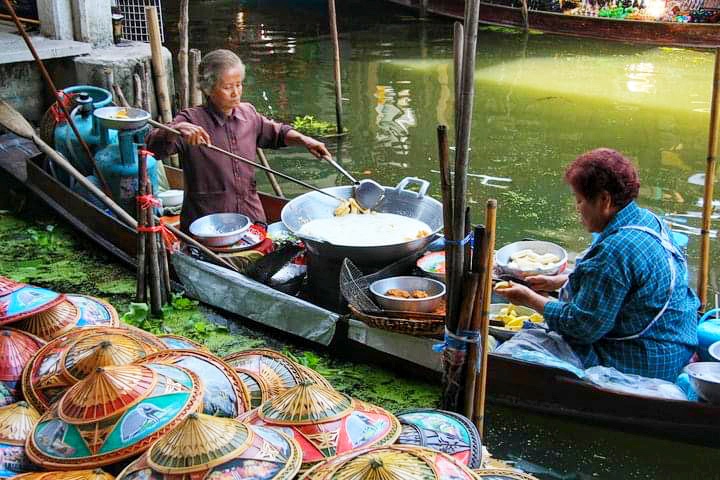 The floating market is an authentic market for locals with people selling goods on boats. It is very popular in Thailand and worth visiting although most floating markets are located outskirts of the city.
There are two popular floating markets close to Bangkok and can be planned on your Bangkok itinerary. Compared to the famous Damnoen Saduak, we recommended Amphawa Floating Market as it's the local's favorite and more authentic.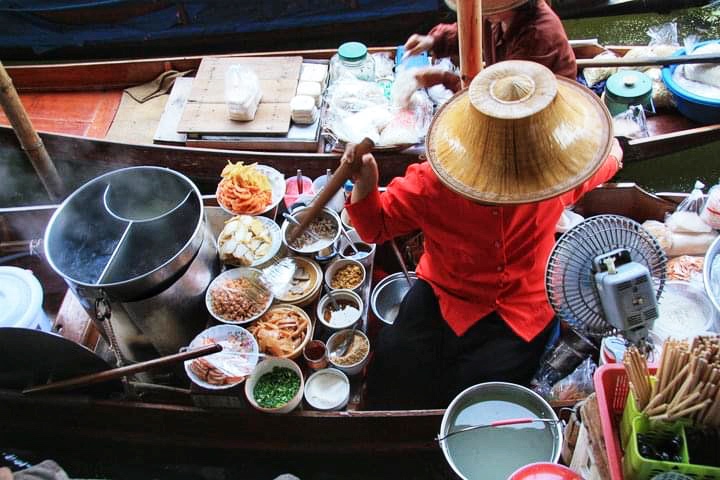 The Amphawa Floating Market is a popular weekend and day-trip destination. The market is a fun place to shop and enjoy local Thai food while experiencing the unique local culture. It is interesting to see people bargain on the boat. Alternatively, you can also experience it by taking a longtail boat ride to explore the surrounding canals and rivers.
Amphawa Floating Market
Admission Fee: Free!
Estimated time of visit: 2-3 hours
Travel Tips: Have your breakfast or lunch at Amphawa!
How to Get to Amphawa Floating Market: The easiest way is by minibus from the Victory Monument all the way straight to the doorstep of Amphawa Floating Market. Fare is around 100-150 baht one way. Remember to pre-book your returning time from the driver.
Maeklong Railway Market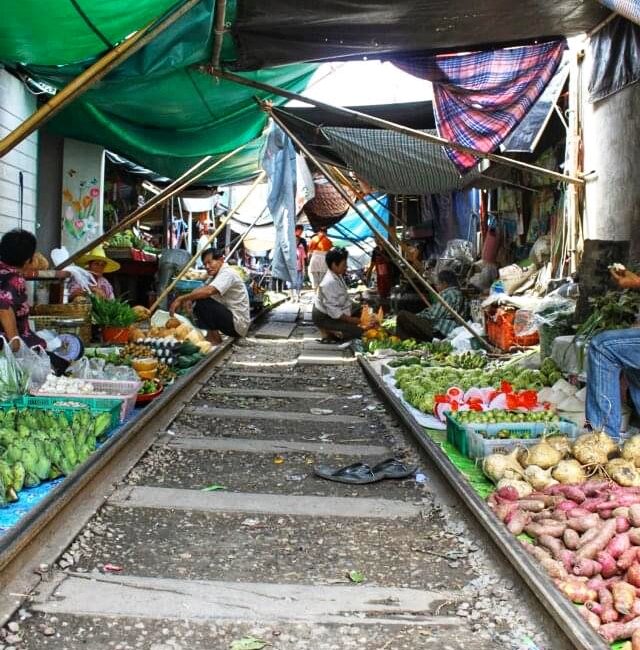 One of the most unusual markets I've seen so far. The Maeklong Market was built on a railroad, and you'll see the vendors selling the local produces during normal hours. However, all the vendors will be picking up their stalls to make way while the train passes through the market. These activities are repeated that still work today!
To witness this, be sure to check the train schedule so that you don't miss it. You can consider visiting the Maeklong Market with an Organized Market Tour together with all the unique markets in Bangkok.
Maeklong Railway Market
Admission Fee: Free!
Estimated time of visit: 1-2 hours
Travel Tips: Be sure to check the train schedule so that you don't miss the train show.
How to get to Maeklong Railway Market: Take a shared passenger truck (Songthaew) from Amphora Floating Market to Maeklong train market. The fare was around 8-10 baht.
Drink at Rooftop Bar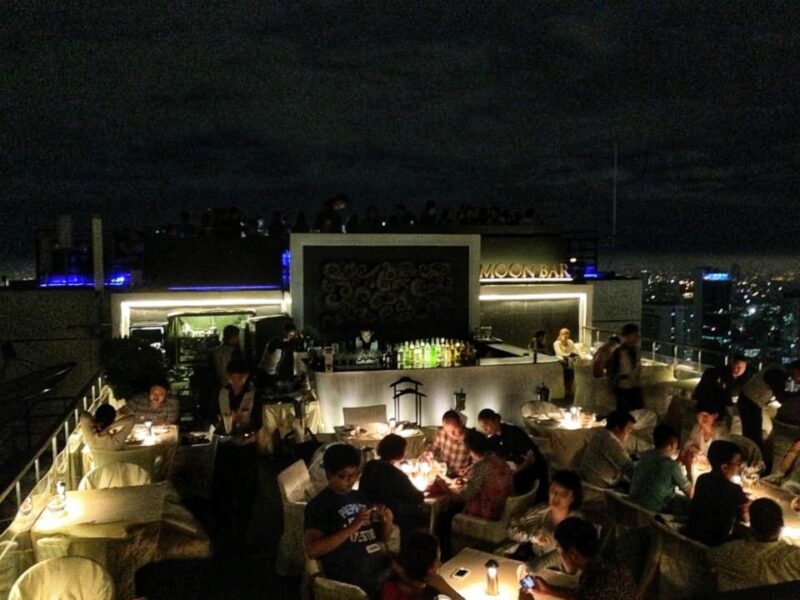 In the late evening, proceed to one of the city's rooftop bars for excellent views of the skyline.
Thanks to Bangkok'sdense skyline, Rooftop bar drinking is one of the popular things to do in Bangkok. Travelers can admire the best bird-eye view of the city while sipping on a delicious drink. Share a romantic dinner with a gorgeous view of Bangkok and dine at the rooftop bar.
Here are several known best sky bars in Bangkok for you to hang out in your Bangkok itinerary:
Sirocco at Lebua State Tower is a very famous Skybar in Bangkok that serves wine, cocktails, and Mediterranean dishes
Vertigo is located on the 61st floor, atop the Banyan Tree Hotel.
Sky on 20 which is located right above the Novotel hotel in Sukhumvit, serves delicious cocktails and bubble drinks.
Moon Bar for a great view of the city in a chill environment.
Rooftop Bar at Baiyoke Sky Hotel for buffet dinner. You make the reservation for dinner Buffet at 81st Baiyoke Sky Hotel.
Time to treat yourself to a drink and city best view!
Bangkok Itinerary Day 3
Shop till you drop at Bangkok! On your day 3 is a shopping itinerary that helps you go through some of the best shopping places in Bangkok. Shoppers will find 24 hours are not enough for shopping.
Chatuchak Market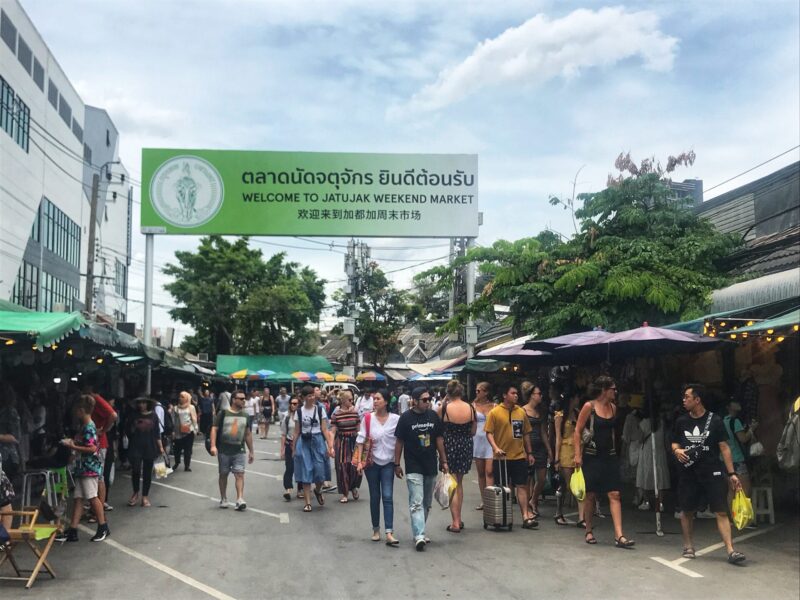 Brace yourself in the biggest market in the world. The Chatuchak Weekend Market is so huge covering more than 1km with 15,000 stalls. divided into different sessions for the indoor and outdoor. The market has been in Bangkok for decades and still growing.
Here you'll find almost everything in the market such as clothes, household products, souvenirs, artworks, and even furniture to bring home.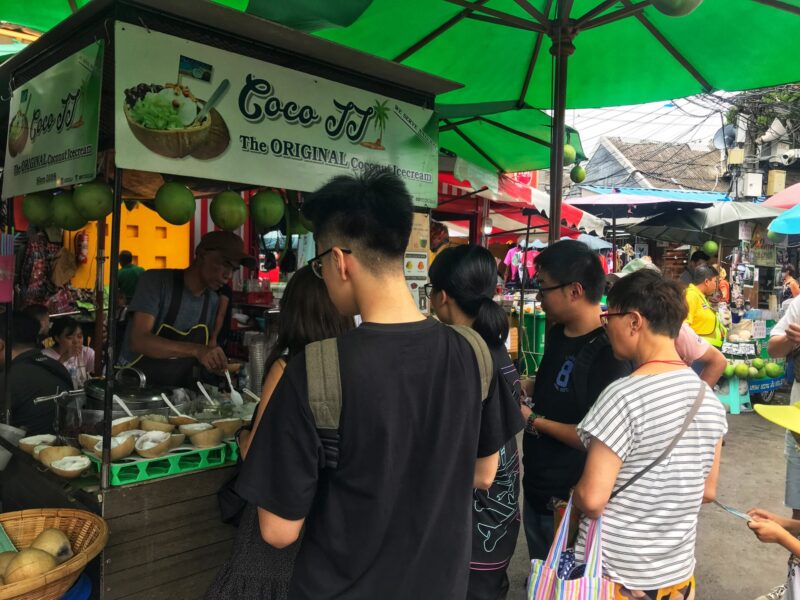 If you get hungry while shopping, there are many food stalls and markets where you can grab some popular Thai food. Coconut ice cream is the must-eat snack food in Chatuchak market to beat the infamous heat in Bangkok. Thai massage with air conditioning is also get be getting there if you want to have some rest while shopping.
Most of the time, we spend more than 6 to 7 hours walking in the market for non-stop eating and shopping. Plan your estimated allocation time here, or else you would be able to get out from the Chatuchak market. Everything is so freaking cheap. A day is not enough to cover the whole market!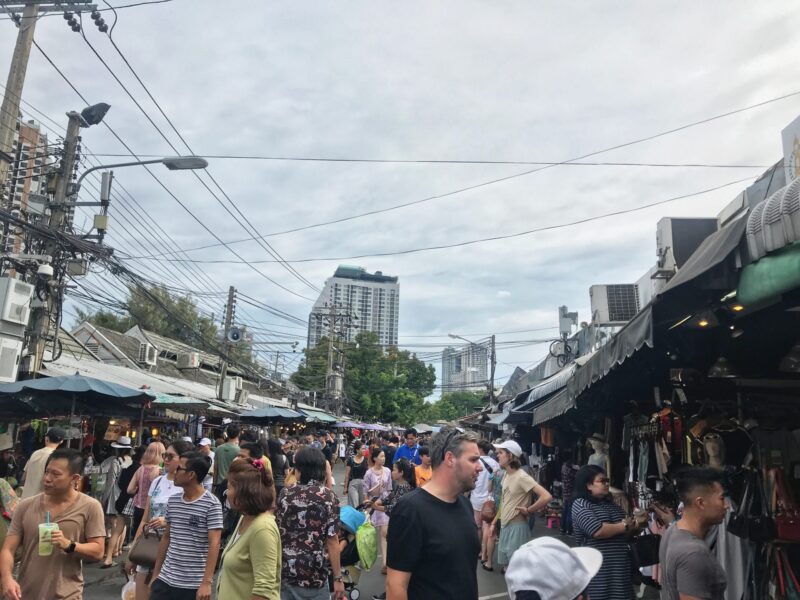 As its name suggests, Chatuchak is only open on weekends. The Chatuchak weekend market is open from 9:00 to 18:00 on Saturdays and Sundays, and from 18:00 to 24:00 on Fridays. We recommended visiting early in the morning as it can be very hot during the afternoon. Besides, the market is extremely crowded. It's best to keep your belonging under close watch.
Chatuchak Market
Admission Fee: Free!
Estimated time of visit: At least 6 hours!
How to get to Chatuchak Market: Take the SkyTrain to Mo shit BTS station.
Shopping Mall and Market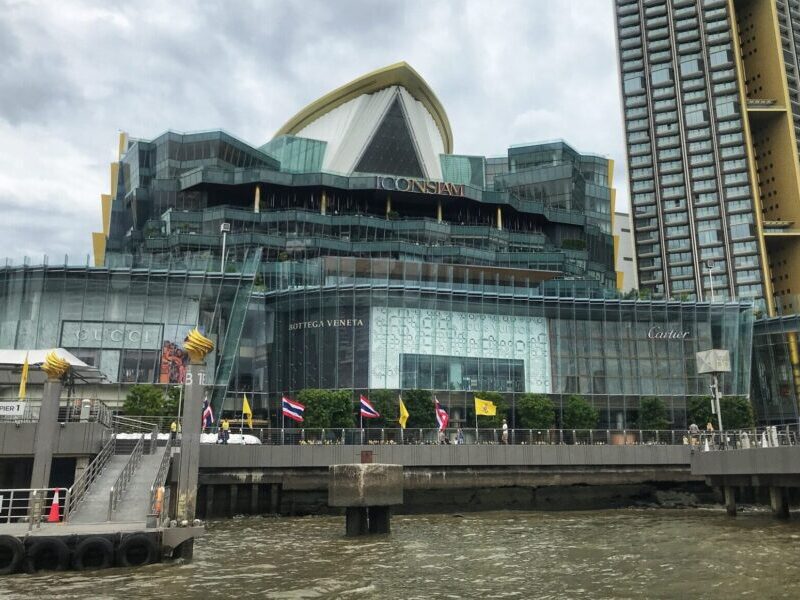 If you're not visiting Bangkok during the weekend, there are still many shopping malls and markets in Bangkok. Bangkok has some of the largest malls in the world for your shopping trip. Some malls even with nice interesting interiors that are worth going on a shopping adventure even if you're not a shopper.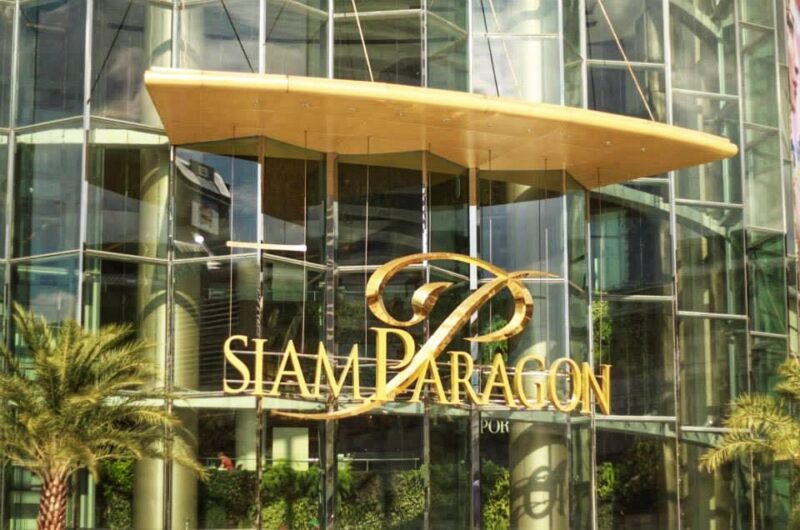 The big 4 shopping centers are located in the area and can easily spend hours and hours exploring. Here is a brief introduction to how to do your shopping in Bangkok:
Siam Paragon – One of the high-end shopping malls in Bangkok, with all the luxury brands that you can think of.
Central World Plaza – One of the largest malls in the world. Their festival decoration always catches visitors' attention and comes here for visit.
MBK Shopping Center – Probably the most popular mall for tourists. with good bargains for goods.
Siam Discovery – A cool modern mall with top brands and designer stuff. Bangkok's Madame Tussauds is located on the 6th floor,
Platinum Mall and Pratunam market – Slightly away from the popular areas. But you can still use Tuk-tuk or grab to get there. Ladies' paradise for clothes, shoes, bags, and more. A wholesale market. Here you'll find the cheapest goods in Bangkok.
Bangkok Travel Guide Tips: Tired from all the walking? You can try a foot massage – there are cheap parlors everywhere in the city and the prices are around 250 Baht (8 US$) for one hour of a foot massage!
How to get there: Just take the Skytrain to Siam Station or Chit Lom Station and start your shopping sphere.
Erawan Siam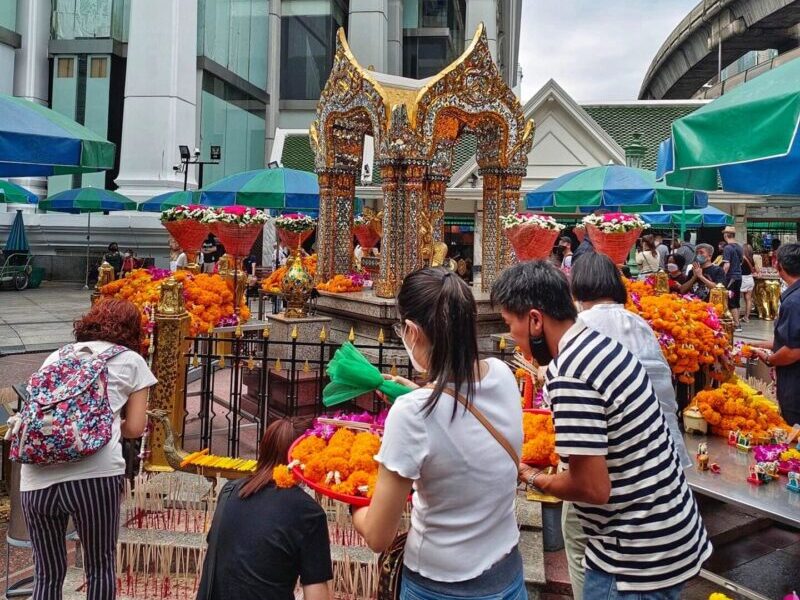 Located in the middle of Bangkok, Erawan Shrine is a very popular sport in the city among locals and tourists, and sometimes even more popular than some temples. Locals will stop by Erawan Shrine for prayer during their work or even during lunch break.
The Erawan Shrine is a shrine to the Hindu god Brahma, known to Thais as Phra Phrom. Throughout the day you'll find worshippers offering flowers, incense sticks, and fruit to the Hindu god of creation. You may have the chance to see the Traditional Thai dance performances by the dancers hired by worshippers.
Erawan Shrine
Admission Fee: Free!
Estimated time of visit: 15 minutes
How to get to Erawan Shrine: If you're shopping in the city, the Erawan Shrine is easy to reach via the Skywalk from Central World. A quick stop for a visit while making your way for shopping. Alternatively, the closest metro station is Chit Lom if you are purposely coming for the shrine.
Relaxing with Thai Massage
One of the things not to miss in Bangkok is to enjoy an authentic Thai massage. After a whole day of shopping and perspiring under the sun in the tourist spots in Bangkok, the best way to end the day is with a Thai or foot massage.
There are Thai massage parlors everywhere. For the best spa and massage experience in Bangkok, here are a few recommendations that you can consider:
Let's Relax Onsen is the best place for relaxing and indulging at a multi-awarded spa. Klook offers easy redemption for their Onsen experience in Bangkok. You can also include Thai massage in your visit.
One More Thai Massage and Spa is another great option to Pamper yourself after a day of traveling around Bangkok. Conveniently located 1 minute away from Chit Lom BTS Station on foot.
Alternatively, you can find many shops for spas or massages in the city, including back-alleys, and shopping malls for relaxation and recharge.
Short Trip from Bangkok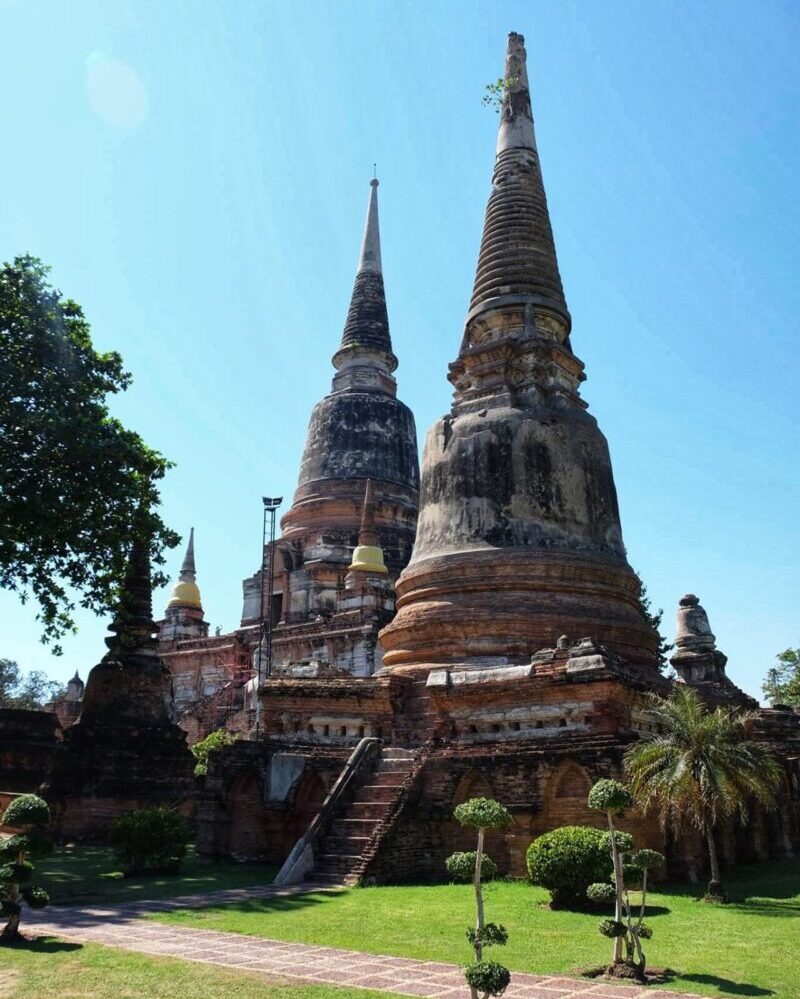 Obviously, if you have more time to spend, then you can't go wrong with taking advantage of it. If you're looking for short day trips from Bangkok, there are a few popular short trips that you can plan in your Bangkok Itinerary.
Ayutthaya Day Tour from Bangkok – The historical city was once the capital of the Kingdom of Siam. This tour will bring you to many attractions that are hard to reach outside of Bangkok. It includes a visit to the Bang Pa-In Summer Palace, Wat Chaiwatthanarm, Wat Yai Chai Mongkol, and Market Visit. Each attraction has its own unique characteristics that you can enjoy. One of the popular day trip from Bangkok.
Explore Khao Yai National Park and beyond – During our trip, you can appreciate this UNESCO-recognized site's flora and fauna when you visit Farm Chokchai, Jim Thompson Farm, and more. Khao Yai is hard to access by public transport unless self- driving. Alternatively, you can customize your Khao Yat with Private Car Charter for 1, 2, or even 5 days.
Hua Hin is a perfect place to spend with family and friends. The place is the perfect mix of city and sand as you discover the district's lively markets, natural landscapes, and a wide range of activities and experiences for you to try. You can customize your trip to visit the Vana Nava Waterpark, Kao San Roi Yot National Park, Swiss Sheep Farm, and mora ith customized tour from Klook. Check the Hua Hin Private Car Charter Custom Tour here.
Pattaya – For beach and sea, you can also include the popular Pattaya in your Bangkok itinerary. This is a popular destination for beach and nightlife from Bangkok. You have been visiting Pattaya and feel free to check out our Pattaya itinerary.
More Things To Do in Bangkok
In case you are wondering what to see in Bangkok if you have more time on hand, no worries – I got you covered! Here are some bonus best places to visit in Bangkok and things to do in this amazing city, sorted by the type of activity:
Safari World Bangkok – Kids always love visiting Zoo! For travelers with family and kids, the Safari World Bangkok is highly recommended. The Safari World consists of two parks and you can choose to visit either Safari Park, an open zoo, and Marine Park, or both parks in one day. Inside, visitors can have a close encounter with the animals and it is a truly amazing experience. You can also join a lot of activities and spectacular performances throughout the day such as the Dolphin Show, and the Spy and Elephant show at Marine Park. A great place for the family to spend a whole day activity.
Get discounted prices for Safari World Bangkok from Klook with easy redemption at the counter.
Bangkok Ocean World Aquarium – Have an encounter with over 400 marine species and 30,000 sea creatures during your visit to the Bangkok Ocean World Aquarium (formerly known as Siam Ocean World). Make sure to have enough time for the visit as there is so much marine life to watch and pay attention to the animal feeding time.
Klook offers a lower price with Skip-the-Line Ticket to access Bangkok Ocean World Aquarium.
Sompong Thai Cooking Class – Thai food is some of the best food in the world. If you are keen on how to make your own Thai food, you can join the cooking classes to learn about the Thai cooking style. You'll get a great experience with the Sompong Thai cooking class with ingredients that are well prepared and ready for you. There are morning and afternoon classes for your option. Click here to check for the Sompong Thai Cooking Class.
Bangkok Arts and Thailand Cultural Centre – A great location for those interested in seeing contemporary art exhibits or cultural events. If you are wanting to add some cultural experiences to your Bangkok trip planner, this is a good place to start.
More Bangkok Travel Tips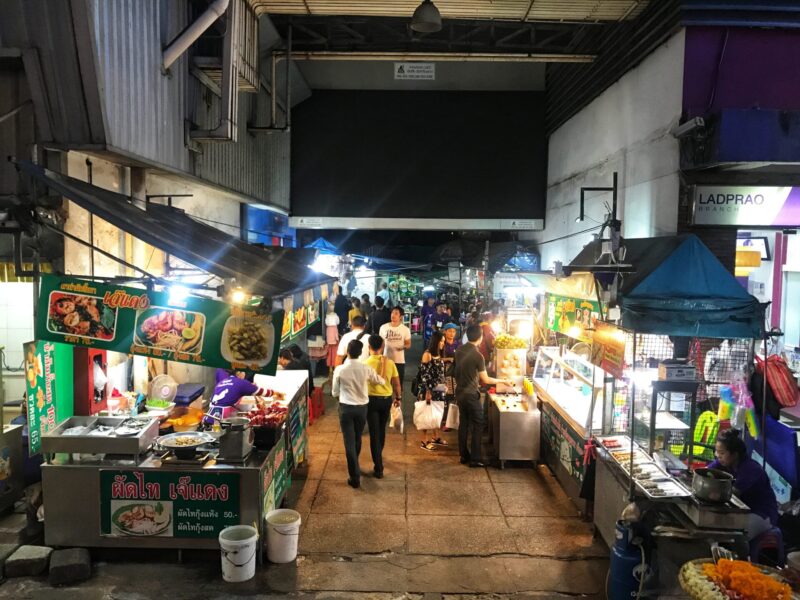 Plenty of things to do in Bangkok and most of them required a lot of walking. Just be sure to wear your comfiest shoes and be prepared to walk under the heat! It can be daunting to enter this bustling city without a plan. It is best to have a brief idea of what to do for your days and attractions nearby the area so you can make the most of your day.
Stay connected by unlimited data with pocket devices or a wifi Sim card once touch down at Bangkok airport. The personnel will help you exchange it for your phone if you purchase it at the airport. It is very simple and very cheap. Get dtac HAPPY TOURIST 4G/5G SIM Card in Bangkok airport.
Always make sure to have an agreement for prices when riding tuk-tuk. Some drives drivers will often inflate the price for visitors when riding tuk-tuks. If you're taking a taxi, be sure to ask for a meter taxi. Alternatively, e-hailing is getting common in Bangkok, especially Grab. Just download the app and call a ride on-demand, with a price displayed with Grab car in Bangkok. It is cheaper and safe.
Plenty of things to do can be planned for your Bangkok itinerary. If you are lazy and looking for hassle-free arrangements, you'll still able to see and experience the best of Bangkok with a Full-Day Classic Bangkok Tour! This tour will give you the classic Thailand vibe that every tourist deserves.
As a popular travel destination, there are many tourist scams in the city that offers various types of tours and services in town. Most of the time, this kind of tour will include some hidden charges and fees that you might not be aware of. In Bangkok, I suggest going through Klook (Reputation Travel Agency in Asia) or Viator (Tripadvisor company) as they are reputable companies with reliable customer service for many years.
Sometimes, there will be a friendly local approach to tourists and bring you to some attractions in Bangkok for free. Most of the time, they'll try to get you to a gem shop or tailor as they will get a small amount of commission by bringing the visitor and purchasing the product from there. Just be aware!
Overview: A Trip To Bangkok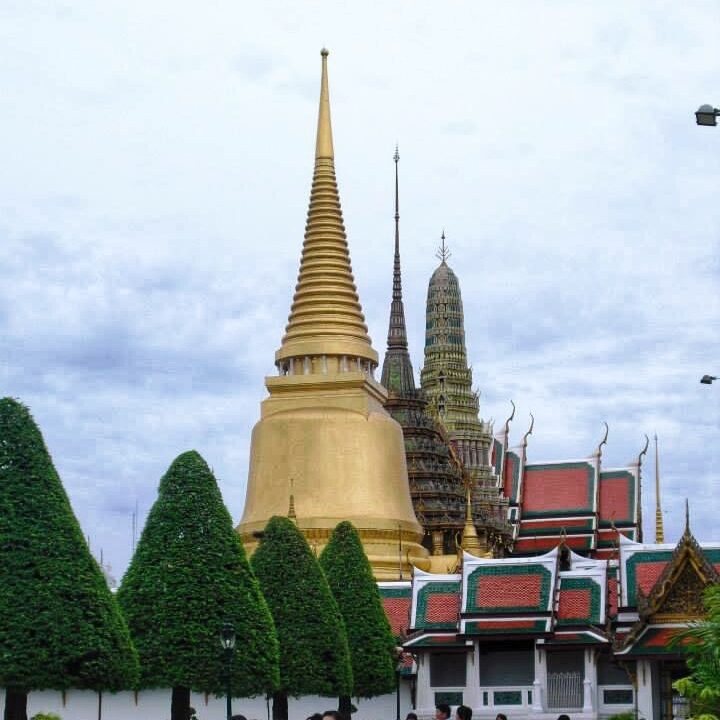 All in all, Bangkok is a truly vivid and unique city in the world. The city has so much to offer that any traveler will find something to do for the short gateway or long holiday. With the mouthwatering Thai food, cultural attractions, lively markets and shopping malls, beauty natural, and smiling locals, Bangkok has it all. I am sure you will have a great time on your Bangkok trip and 3 days in Bangkok is a great introduction to this amazing city.
One thing to keep in mind no matter how long you have to dedicate to your Bangkok travel itinerary is that it is always new places and things to do to discover, and impossible to see absolutely everything in a single trip. So make sure to prioritize what you want to visit and I'm sure you'll still come back for your next visit!
Thank you for reading this Bangkok travel guide blog. Did you enjoy this Bangkok itinerary? We have more useful information as well as some bonus travel tips in below Bangkok travel blog for your holiday.
Traveling to Bangkok for food? Here is the best food listed to help you decide where and what to eat in Bangkok.
Planning a beach holiday to Phuket? Get to know more before planning your trip to Phuket.