Last updated on December 11th, 2023
Fushimi Inari Taisha is one of the best places to visit in Kyoto. The Thousand Torii Gate is very impressive to see in person. Check out my Fushimi Inari shrine travel guide blog for more pictures and information.
Located south of Kyoto city, Fushimi-Inari Taisha is one of the most important Shinto shrines in Kyoto. It is known for its thousands of torii gates made up of more than 32,000 sub-shrines that arch over sacred Mount Inari. It is one of Kyoto's most recognizable landmarks and is rated as top three must-visit sights in Kyoto along with the Kiyomizudera and Golden Pavilion Kinkajuji.
We visited Fushimi-Inari Taisha more than once during my past visit to Kyoto. It was truly awe-inspiring to see the thousands of reddish-orange in one place built over many years. The best thing is, that it is completely free to visit Fushimi Inari Shrine. Be mindful that it can get quite busy but like other spots in Kyoto.
In this Fushimi-Inari Shrine Travel Guide blog, we will take you to tour this iconic Shinto shrine. We will show you the must-see sights, and also sharing with more travel information and tips for your itinerary planning. Let's check it out.
Fushimi Inari Taisha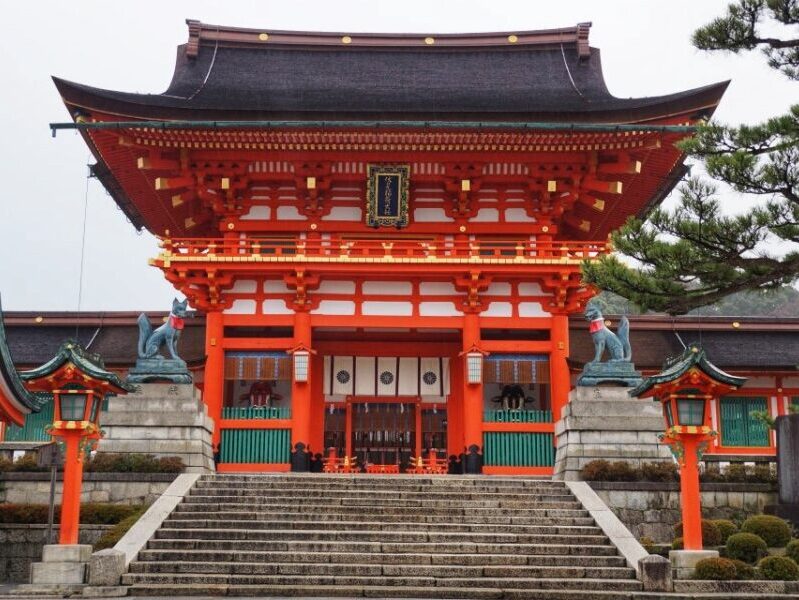 Fushimi Inari Taisha (伏見稲荷大社) is an important Shinto shrine in Kyoto. It is dedicated to Inari, the god of rice. Locals believed praying in Fushimi Inari Taisha would bring good harvest and prosperity fortune for business. 
Inari foxes statues (kitsune) are decorated everywhere as they're messengers.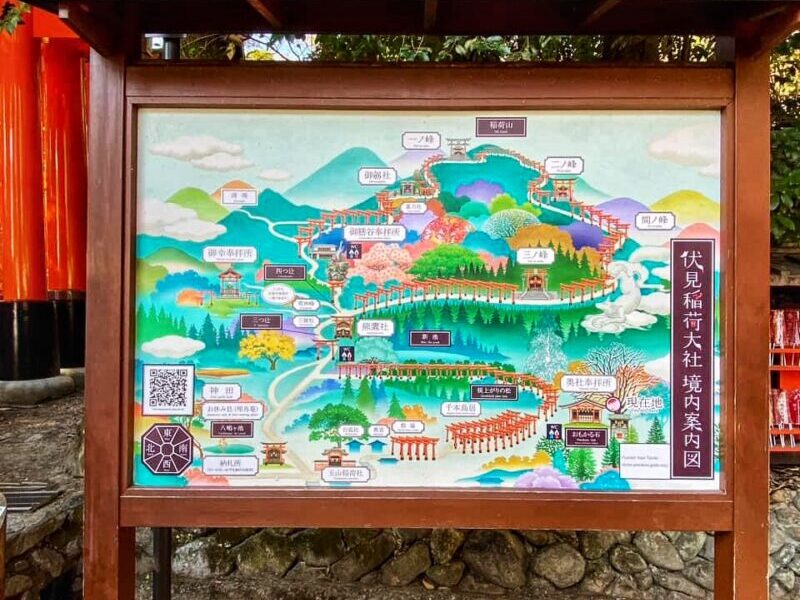 Most travelers visit Fushimi Inari Taisha to see the Senbon Torii, the thousands of torii gates. The gates lining up the hill resemble a wonderful picturesque of the shrine.
But do you know the gates are actually donated by wealthy families and business conglomerates for good fortune and blessings? You will see the donator's name and the date of the donation inscribed on the back of each gate.
Fushimi Inari Shrine, Kyoto (伏見稲荷大社)
Address: 68 Fukakusa Yabunouchicho, Fushimi Ward, Kyoto, 612-0882, Japan.
Opening Hours: Always Open!
Suggested Length of Visit: About 2-3 hrs
Admission: FREE
How To Get to Fushimi Inari Taisha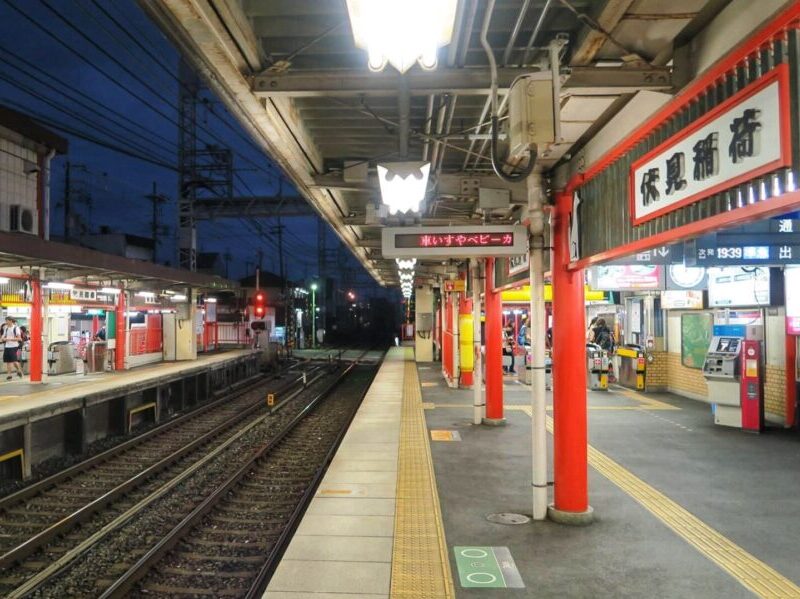 Fushimi Inari Shrine is very accessible by well-connected with various types of public transport options. Depending on where your departure point and transport pass, there are many options to get to the Fushimi Inari Taisha.
From Kyoto station to Fushimi Inari Shrine:
JR local train: Take the local JR Nara line and get off at Inari station (稲荷駅). The shrine is just opposite the station. The train journey takes about 5 minutes. You can use your JR pass to ride for free.
Keihan train: Keihan line from Keihan Sanjo station to Fushimi-Inari Station which takes you about 10 minutes. Next, walk about 5 minutes to reach the shrine.
Kyoto City bus from Kyoto station stops at Fushimi Inari Taisha station. Next, take 7-10 minutes to walk on foot to the entrance.
Take note that Fushimi Inari Shrine is inaccessible to people with wheelchairs and baby strollers.
Best Time To Visit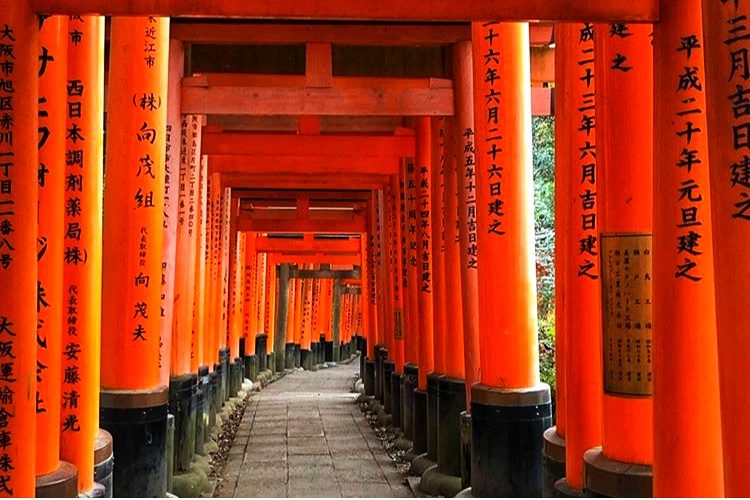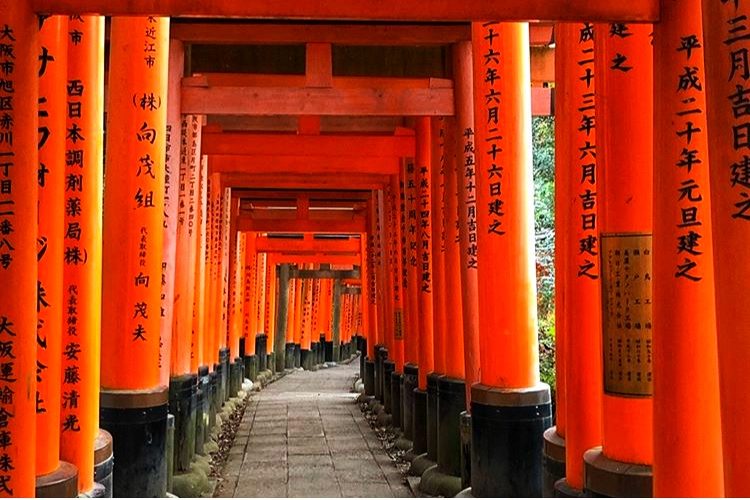 Fushimi Inari Shrine is easily a half-day trip for anyone Kyoto itinerary. The shrine is not that far away from the city and is very easy to access when you are in Kyoto.
The whole visit can be done in less than an hour if you just plan to take a look at its thousand Torri gates. But it can be very crowded at the first section of the pathway. and we recommended hike up slightly higher to avoid the crowd. So it is best to allocate 2 to 3 hours for the visit.
You can also do the full walking path loop to reach the summit of Mount Inari at 233 meters (764 feet). The round-trip walk can take around 3 hours depending on your speed.
How Many Hours For Fushimi Inari Shrine
Fushimi Inari Shrine is very easily reachable from the city, so it is very flexible to plan your visit that best fits into your itinerary. We visited Fushimi Inari more than once, in the early morning or evening to experience the different vibe.
In my opinion, early morning is the best time to visit Fushimi Inari Shrine to beat the crowd. While the late afternoon around sunset is serene. Still, both times provide fantastic photo opportunities.
Where To Stay
Looking for where to stay in Kyoto? We listed out some of the best hotels in Kyoto for your selection.
Editor Pick: Daiwa Royal Hotel Grande Kyoto is located a 5-minute walk from JR Kyoto Station. Great sized room, comfortable bed, and professional staff. Everything is perfect for this hotel.
Best Ryokan: Kyoto Granbell Hotel features modern architecture yet with traditional Japanese design. Located in a great location among all the attractions in Gion and close to the Gion-Shijo Subway Station with 3 minutes walk. Added, a public bath is available for hotel guests.
Best Budget: Pieces Hostel Kyoto is the best budget hotel in Kyoto and awarded with the best designer hostel. It strategic located less than 5 minutes from Kyoto station. Reasonable spacious room and clean bed at this price range. Meanwhile, there even have their second branch Pieces Hostel Sanjo if you prefer to stay in the downtown area.
Visit Fushimi Inari Taisha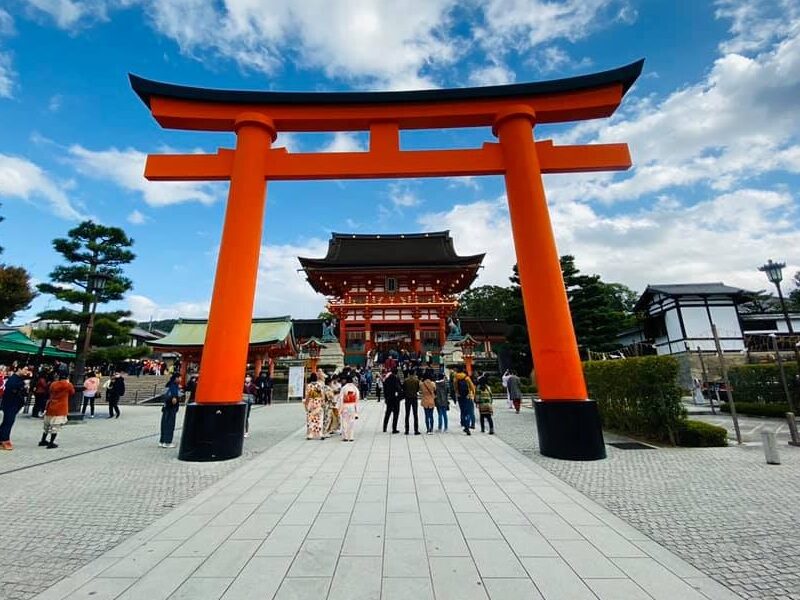 Once you stepped in, you will be greeted by a giant vermilion torii gate at the entrance.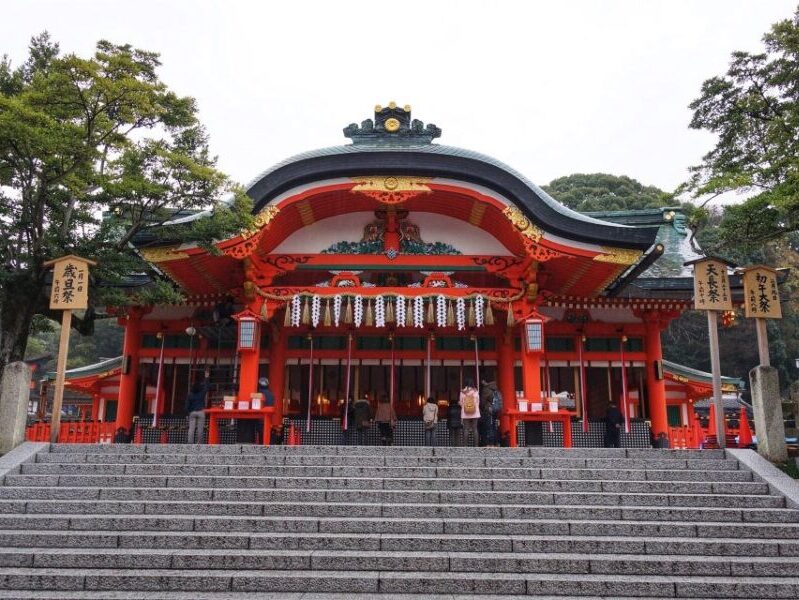 Beyond the gate is the main hall (honden) where visitors can pay respect to the resident deity by making a small offering here.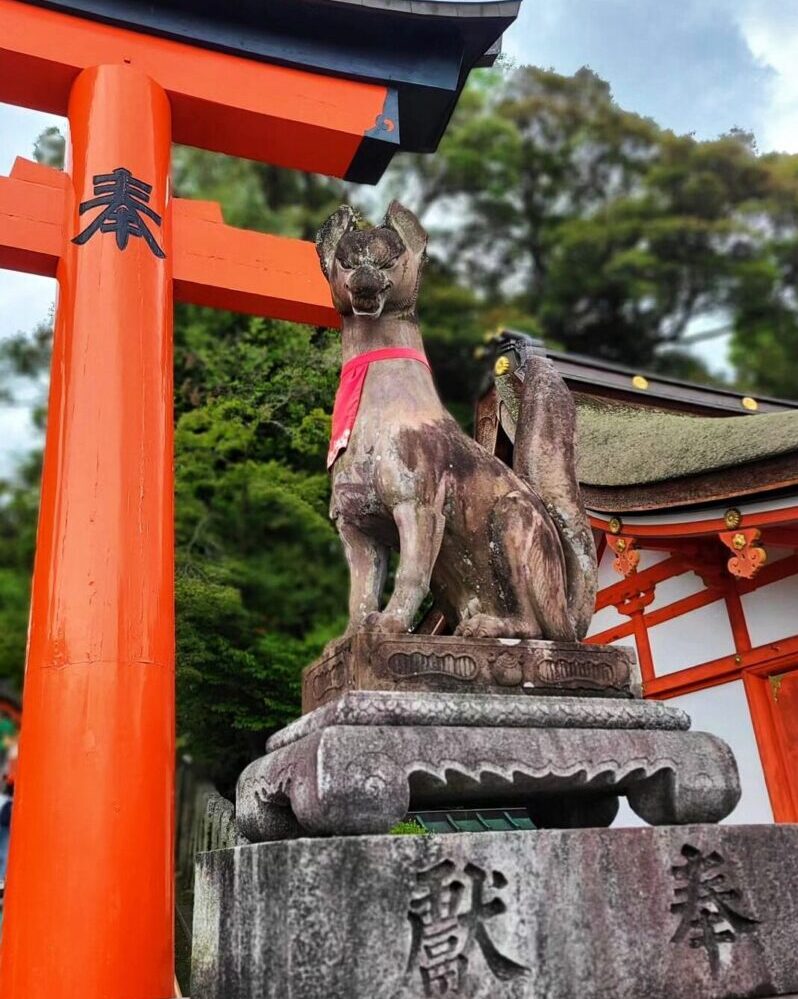 There are many fox statues as local believe foxes are Inari's messengers.
There are four types of things that the fox statues hold in their mouths: ears of rice, a scroll, a ball, and a key, and each has a different meaning!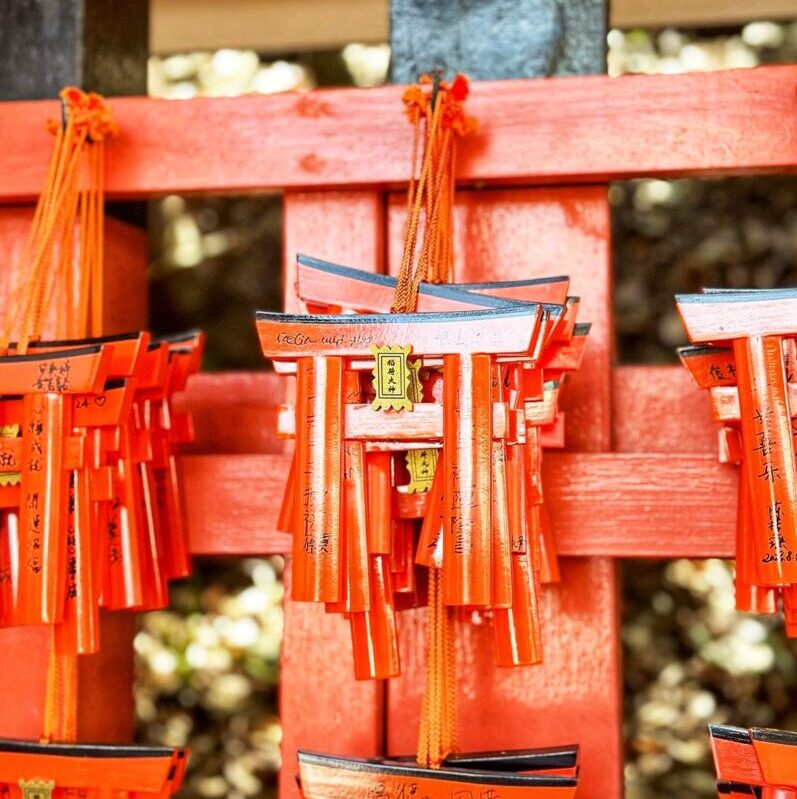 In the same temple area, there are smaller shrines where you can spend some time to take a look. You can also make a wish on Ema (wooden plaque), by writing your wish on it and hang on the wall.
There are also rows of colorful origami paper cranes strung and folded by locals. An ancient Japanese legend promises that anyone who folds a thousand origami cranes will be granted a wish by the Gods.
Senbon Torii – Thousand of Torri Gate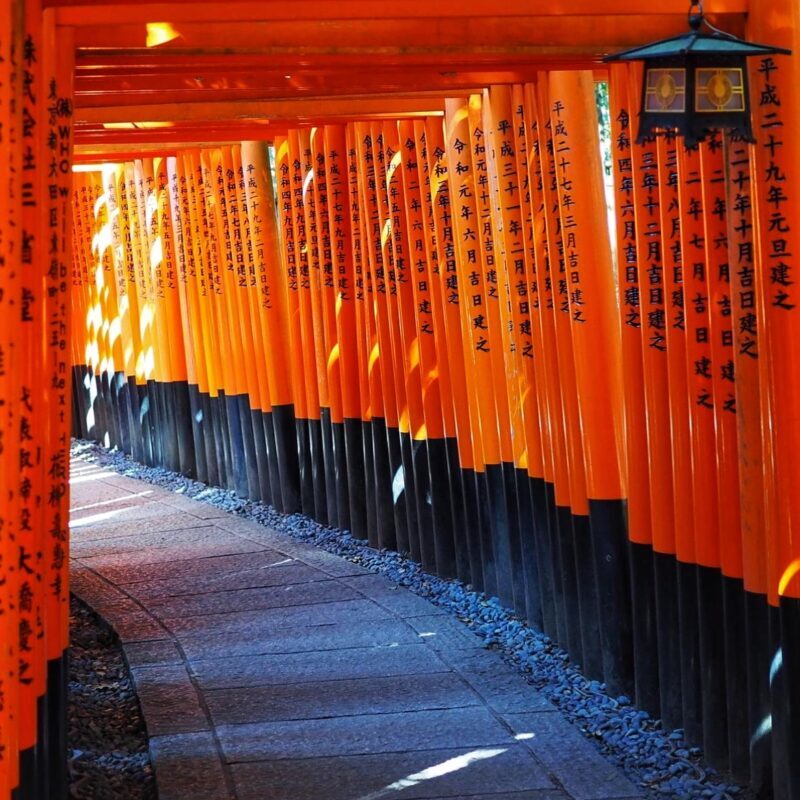 After the main shrine, continue the walk to the Senbon Torii – Thousand of Torri Gate. The main attraction of Fushimi Inari Taisha is to walk through the thousand vermilion torii gates or at least a portion of the gates.
The walking route starts with two dense, parallel rows of gates. It is pretty straightforward where you can follow the path of the torii or turn back anytime you want to leave. The steps up the hill are well signposted, with maps of the area at certain intervals.
Most of the time, the beginning section is crowded with people but the crowds taper off as you get farther from the main entrance. It was quite surreal to walk through the gates. And you can also get better photos in the non-crowded spots!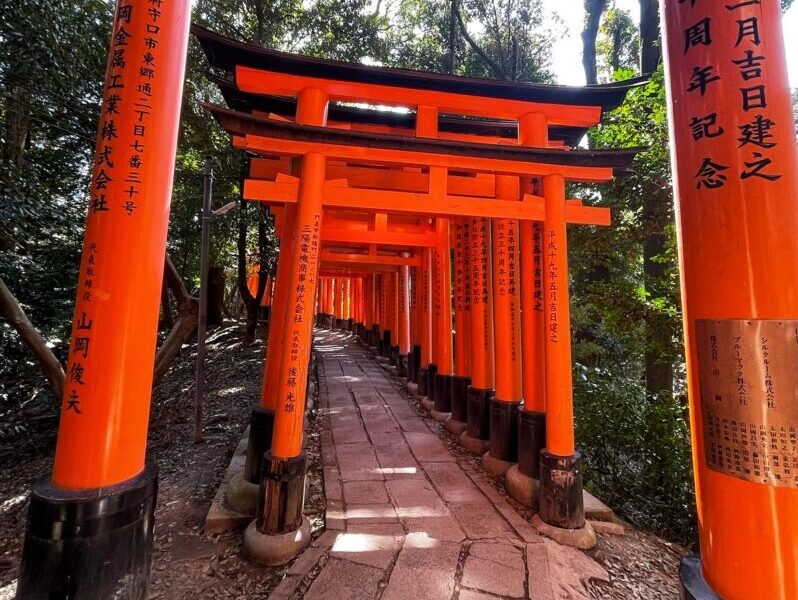 It is also possible to hike up to the summit of sacred Mt Inari. The full round trip takes from 2 to 3 hours, depending on physical fitness. Wear comfortable shoes if you plan to hike up to the summit.
If you are short on time then you can get a good feel by going as far as the Yotsutsuji intersection which still puts you at a good vantage point with far-reaching views across Kyoto. It takes about 30 to 40 minutes to reach the Yotsutsuji intersection.
Overall: A Visit To Fushimi Inari Shrine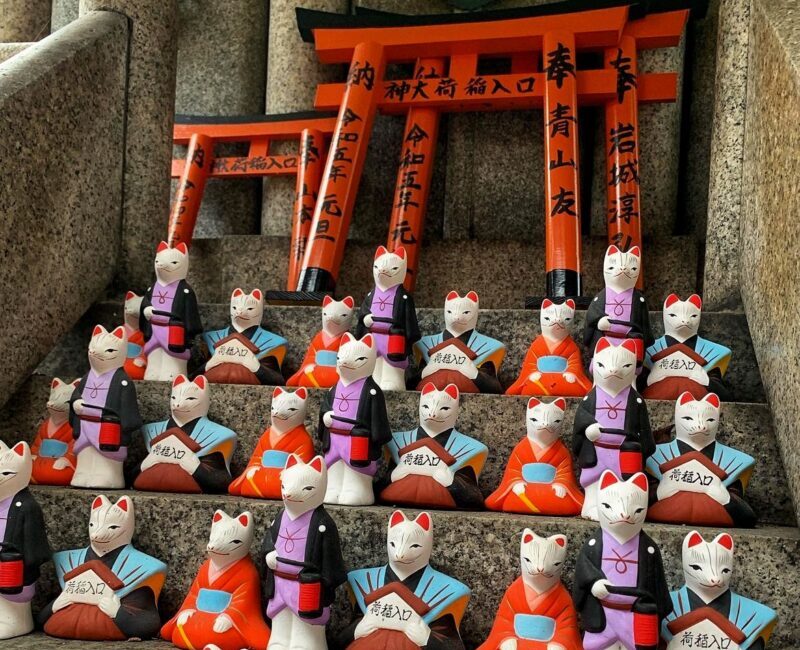 All in all, we hope this Fushimi Inari Shrine travel guide is helpful to you in planning your itinerary. It was a mesmerizing memorable visit to the shrine and we'd truly trip.
The beautiful shrine with thousand torii gates was truly awesome and the pictures don't do justice. One must come here to experience and immerse yourself in the sacred allure of Fushimi Inari Taisha in person. A must-visit place in Kyoto!
Lastly, if you're heading to Kyoto, feel free to also check out my Kyoto travel stories: