Last updated on December 11th, 2023
In this Nishiki Market Food Guide, we'll take you to this Kyoto local Market for its amazing array of food for what to eat here. One of the food places you must visit in Kyoto.
Nicknamed Kyoto's Kitchen, Nishiki Market ("錦市場" in Japanese) is one of the most famous and busiest markets in Kyoto. Originally opened as a fish market during the Edo period, this traditional market now has more than 400 years of history.
This Kyoto local market has been a popular place among locals for centuries. There are over 120 shops and stalls packed along the narrow street stretching about 390 meters long. Locals purchase their ingredients at Nishiki Market. You can find a wide variety of traditional ingredients used for Kyoto cuisines, local specialties, seafood, pickled vegetables, and much more. Foodies and tourists visit the Nishiki market for food. It's home to some of the best and freshest seafood in Kyoto.
If you are planning your visit to this Kyoto food Market, check out my below Nishiki Market food guide post for more pictures and information.
Nishiki Market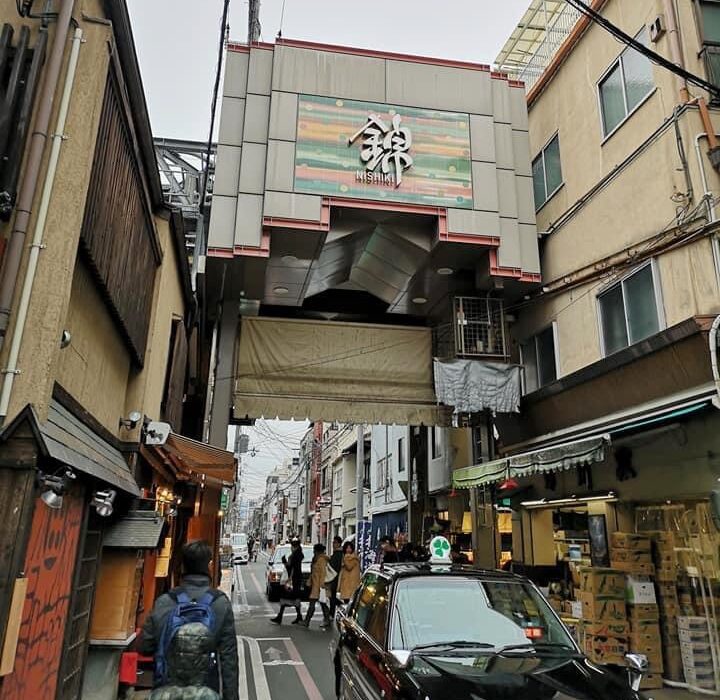 Similiar to Osaka Kuromon Ichiban Market, many travelers love go to Nishiki Market for food. There are over a hundred vendors sell all types of Japanese food and Kyoto specialties in the market.
How to Get to Nishiki Market:
The market is very close to the Shijo subway station in Kyoto. From JR Kyoto station, it is about a 5-minute subway ride and a 10-minute walk.
We advise visiting Nishiki Market around 10:00 to 11:00 morning as some of the shops are still closed before that. That would be a good time to walk around and sample many different types of seafood before settling down for a light lunch.
Most of the stalls will be closes start from 17:00 to 17:30. But some stalls might even close in the early evening. So give yourself at least half an hour to walk through the entire street.
Nishiki Market Guide: Avoid visiting the market on Wednesdays as most of the stalls will be closed.
What To Eat in Nishiki Market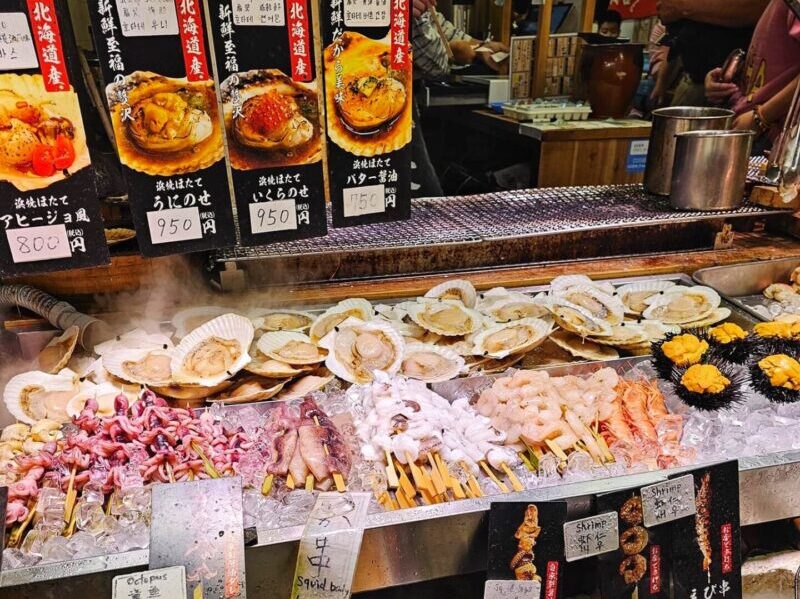 Nishiki Market is an amazing food market with over 100 stalls. You can find basically every Japanese food here. It's the kind of place where you can just wander and see what you can eat in this Kyoto local Market. We didn't even bother to look up recommended restaurants and just pick whatever you like. We've had sushi, sakura mochi, ichigo daifuku, just to name a few.
Here sharing some of the food where you can find and eat in Nishiki Market. So you will have an idea of what to eat when visiting here.
Grilled Seafood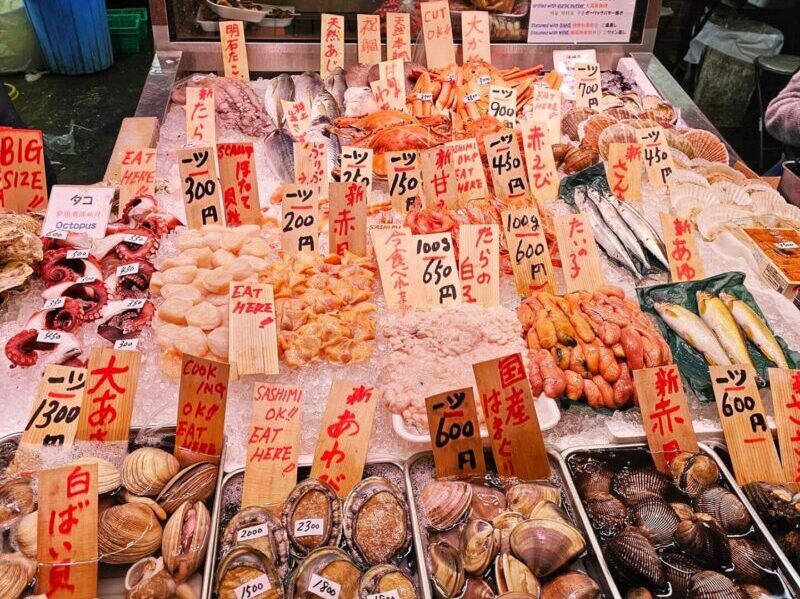 Once you entered, there a rows rows of shops selling seafood in the market. Look for the stalls offering cooked or grilled seafood service. Just sit down and enjoy the fresh seafood meal with a cold beer.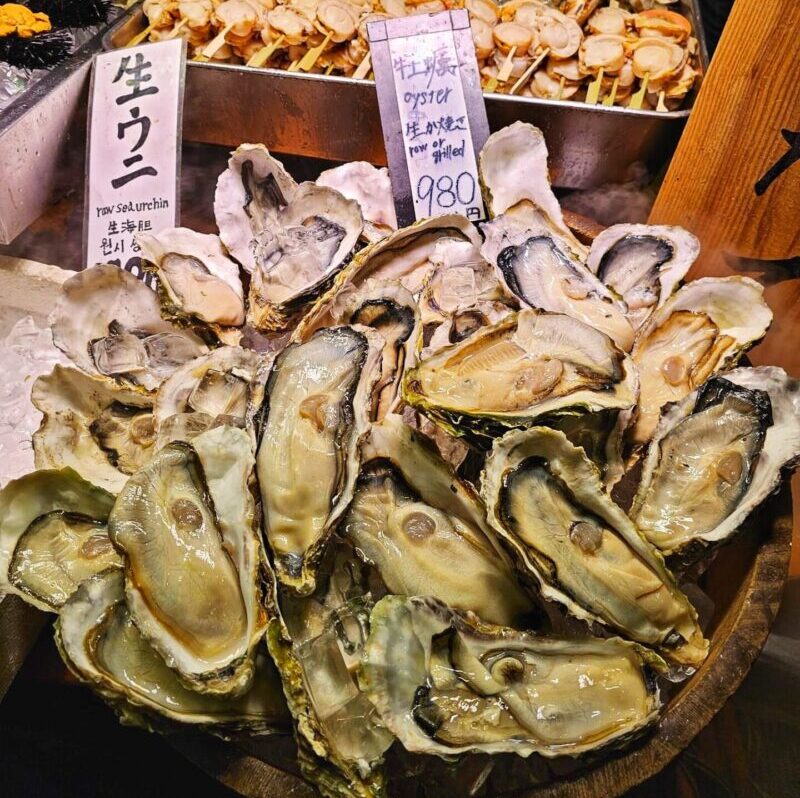 The seafood is particularly interesting with freshly shucked oysters and scallops. We had a great time sampling different varieties of superbly fresh seafood at great prices.
We would recommend the fresh oyster and it was super fresh!
Street Food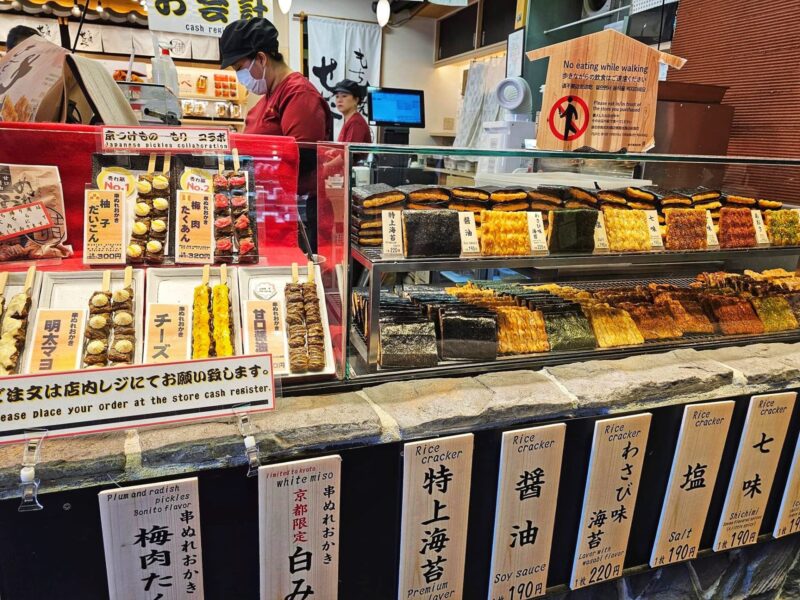 There were also different street foods you could try in the market. Plenty of choices such as croquettes, wagyu skewers, Dango (Japanese sweet rice dumplings), rice crackers, soy milk doughnuts, and lots more.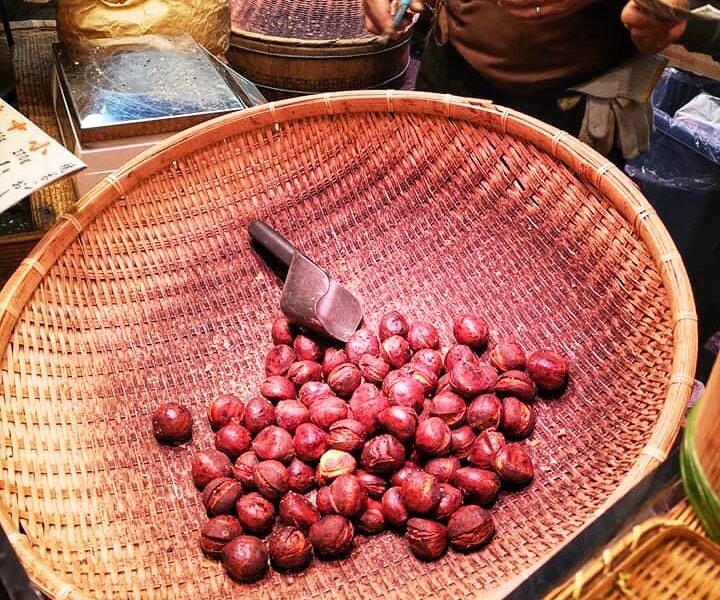 Some vendors also offer free food samples to try.
We enjoyed sampling all sorts of snack food. Purchased some strawberry mochi, tempura shrimp on a stick, and green tea ice cream. Plenty to try. Most of the street food was less than ¥500 but it can be an expensive meal if you cannot control it by buying more. Too many good treats to choose from!
Nishiki Market Guide: Eat them inside or in front of the shop. It is considered rude to walk around while eating the food in the market.
Japanese Picked Vegetable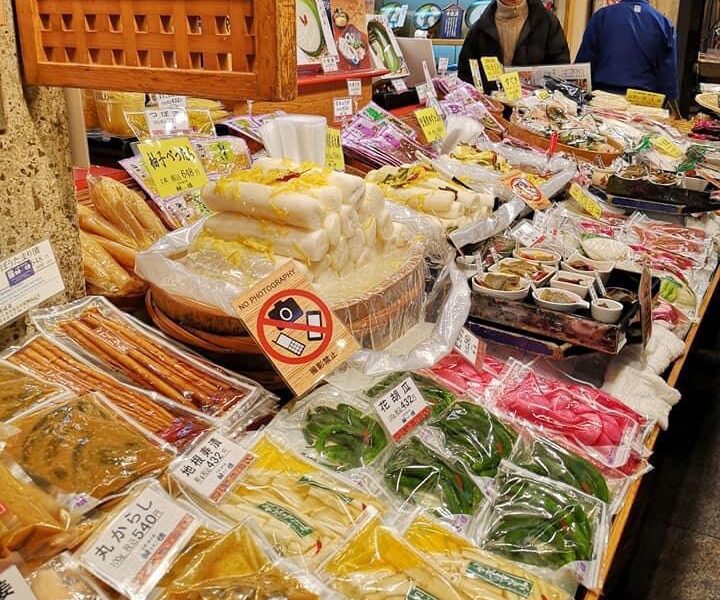 Apart from food options, there was also heaps of places to buy local tea, Japanese pickles, fruit and sourvenirs. You can buy souvenirs and gifts to bring back home.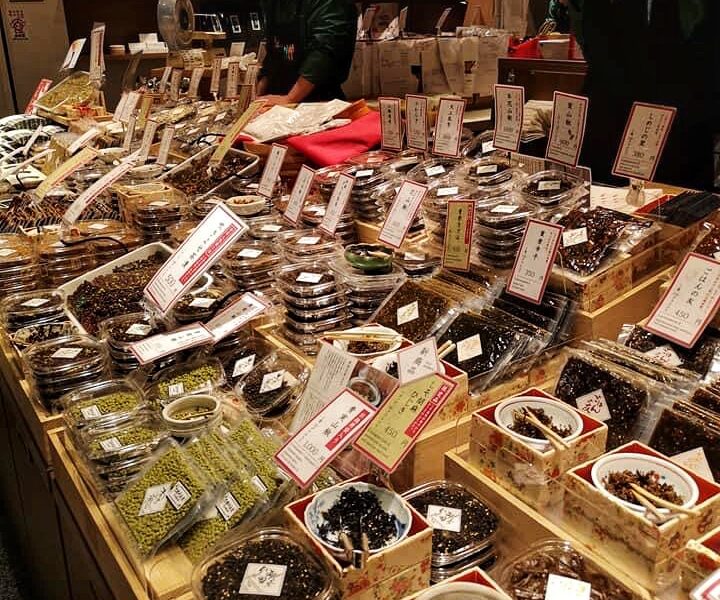 There are also some restaurants in the market. But we all stuck with just walking around buying all the smaller bites and snacks so that we may have the opportunity to try as much as we can. Go there hungry as it is part of the fun of the food visit.
You can spend about 1 to 1.5 hours for food hunting in the market.
Visit Nishiki Tenmangu Shrine Nearby
Nishiki Tenmangu Shrine is located within the shopping streets. You can couple the trip to Nishiki market with Nishiki Tenmangu Shrine and shopping street nearby. So it's quite a fulfilling half-day trip.
Not a must-visit place, but worth stopping by if you are nearby.
Overall: Food Trip to Nishiki Market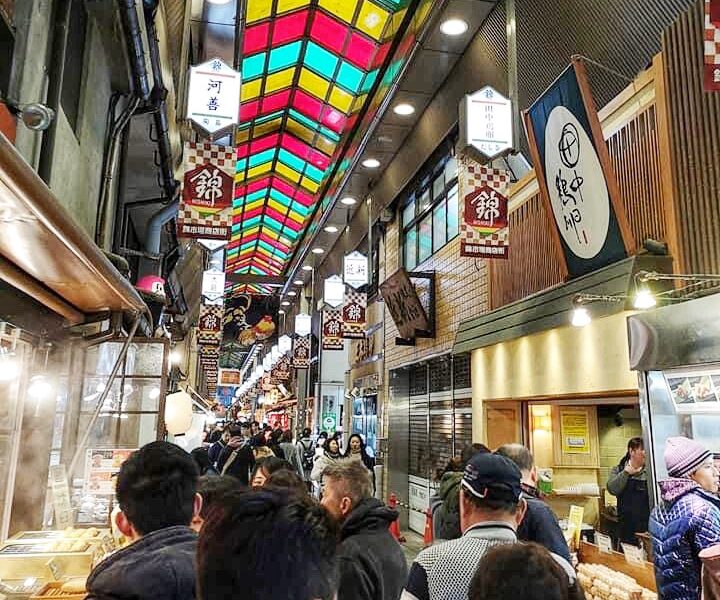 All in all, Nishiki Market is a must-visit for anyone looking to experience the food and flavors of Kyoto's culinary scene. With over 100 vendors selling everything from fresh seafood to traditional Japanese sweets, you can find something to eat here. Even though the covered market is busy most of the time it is still worth visiting.
Highly recommended to visit for food and last-minute souvenir hunting.
Kyoto itinerary: 15 Things To Do and Eat for 3 Days in Kyoto
Related Kyoto Food Blog: