Last updated on September 23rd, 2023
Kinkakuji also called Gold Pavilion is one of the unique and must-visit temples in Kyoto and Japan. A trip to Kinkakuji is part of my visit to Arashiyama in 3 days Kyoto itinerary.
Kyoto has many historical important temples and shrines. All have their unique atmospheres and aesthetic appeals. Among them, Kinkakuji, also called as Golden Pavilion is one of the top attractions of Kyoto. A trip to Kinkakuji will never disappoint you. This stunning pavilion is famous for its unique gold shiny color and perfectly situated aside from a lovely lake and Japanese garden.
A trip to Kinkakuji is part of my Arashiyama itinerary in Kyoto. It is ideal to visit both Kinkaji and Ginkakuji temples in one day. But there are too many things to do and see in Kyoto. It is even worst especially since our Kyoto trip is during the cherry blossom season. After discussion, we decided to visit Kinkakuji and keep Ginkakuji for our next Kyoto trip. If you have more time, you may consider visiting its brother temple, Ginkakuji.
Take a look at our visit to Kinkakuji. Moreover, we also included the transportation guide on how to go to Kinkakuji.
Kinkakuji vs Ginkakuji
That is to say, Kinkakuji (Gold Pavilion) and Ginkakuji (Silver Pavilion) are two of the most famous temples in Kyoto. Both are great to put into your Kyoto itinerary when visiting Kansai Japan. Keep reading on some history on these two historical temples.
The Kinkakuji, Golden Pavilion is a gold shinning zen temple which overlooking a large pond. It was originally built as a retirement villa of Shogun Ashikaga Yoshimitsu and become a temple after his death. This golden temple was burnt down numerous in the history and last present rebuild in 1955. The best time to visit Kinkakuji is on sunny days with golden sun reflect the stunning architecture of the temple.
While the Ginkakuji, Silver Pavilion is also a Zen temple that was built in 1482 by Shogun Ashikaga Yoshimasa as a retirement home. Unlike Kinkakuji with gold leaf-covered, Ginkakuji was never covered in silver. It is best to admire the Japanese culture with historical buildings, a beautiful Japanese garden, and a unique sand art garden. It is part of the popular Philosopher Walk Path and can be easily reached on foot from Nanzenji.
How To Go To Kinkakuji
Kinkakuji located at the northwest part of Kyoto. Similar to other attractions in Kyoto, there are no major train lines nearby. So the best way to get to Kinkakuji is by bus. It can be easily reached by Kyoto City Bus from Kyoto station.
From Kyoto station to Kinkakuji: Get off at Kinkakuji-michi Stop by Kyoto city bus (#101) and (#205). The bus journey is about 40 minutes with 230 yen.
Alternative, Kinkakuji is best coupled into a day trip together with Arashiyama. Well, the best transportation option is directly to get there by taxi. But for budget traveler, you can get to Kinkakuji from Arashiyama by train and then transfer with a short journey bus ride.
From Arashiyama to Kinkakaji:
By taxi ride with about 1000-2000 yen.
By JR train from Saga-Arashiyama station to Emmachi station. Next, take a bus ride (#205) to Kinkakuji bus stop. It cost about 400 yen with a short walk.
By Keifuku Electric Railway (Randen-Kitano tram) to Kitano-Hakubaicho with one-time transfer. Next, walk about 15 minutes to Kinkakuji. Alternatively, take the bus (#102), (#204) and (#205) to Kinkakuji-michi.
Our Trip To Kinkakuji
Kinkakuji is part of our day trip to Arashiyama. The best time to visit Kinkakuji is early morning due to its popularity. It can be very crowded at the afternoon with school buses and organized tours. However, the Sagano scenic train ride required to choose on the time slot during purchase. For the best Kyoto itinerary arrangement, we decided to visit Arashiyama in the morning and only get to Kinkakuji in late afternoon.
As a result, we departed from Arashiyama to Kinkakuji at around 2 p.m. From JR Arashiyama station, we took the JR train from Saga-Arashiyama station to Emmachi station. Next, we transferred to a bus ride (#205) to Kinkakuji. Once you get off at the train station, there is a sign directing to the bus stop to catch the bus to the Kinkakuji. It is quite simple and straightforward. However, the bus ride probably be busy. But honestly, an unavoidable experience when visiting Kyoto. So be prepared.
Perfect Reflection of Kinkakuji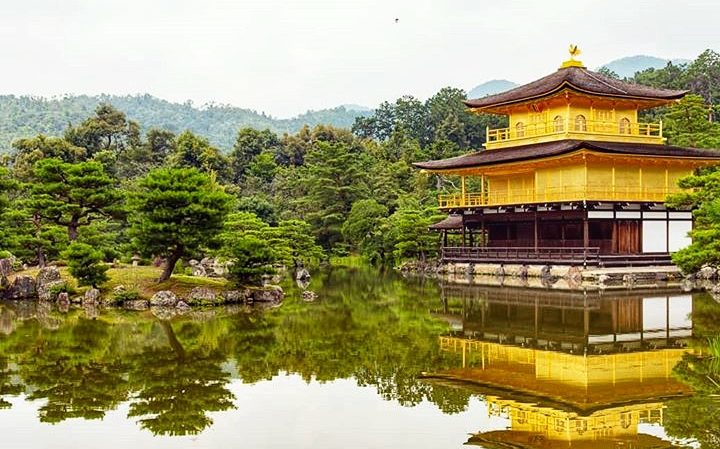 First of all, we were amazed by the main attraction Kinkakuji once entered into Kinkakuji. There are so many different temples and shrines in Kyoto, but I must admit Kinkakuji is something different.
The Zen temple is completely covered in gold leaf with golden shiny color. It situated perfectly aside lake and surrounded by a Japanese garden. The reflection of the temple was so picturesque and stunning. No doubt, a beautiful sight.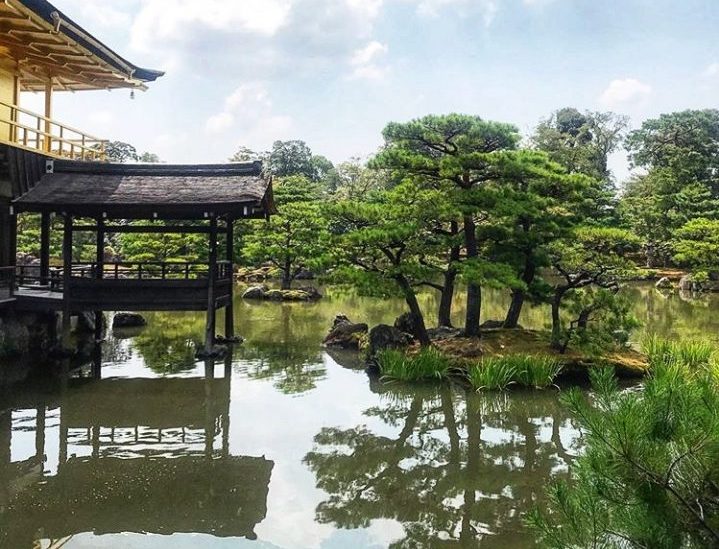 Next, follow the path and walk around the lake. This will ensure you get excellent views from different perspectives. It's easy to get good pictures but there were too many people surrounded. So be patient and wait. You will find the best picture-perfect spot with a full view of the Temple. Take note no tripod allow inside Kinkakuji.
Lastly, there are some adequate souvenirs and rest stops along the way. You can have some rest or try the Japanese sweets and snacks here. Alternatively, enjoy a cup of green tea at a small tea house.
To sum up, it only took us about 1 hour to walk through around the Kinkakuji temple. That is to say, it was a long journey trip to get there for a very short time spent to mesmerize this stunning shrine. However, Kinkakuji is still rated as one of the must-visit in my Kyoto itinerary. Most importantly, you need to decide if a trip to Kinkakuji is worth for you. Happy travel to Kyoto!
Where To Stay
Need help on the best hotel in Kyoto? We recommended staying nearby the Kyoto station for easy moving around. Here are some of the best hotels in Kyoto if you are looking at the best accommodation nearby Kyoto station.
For a budget traveler, Pieces Hostel Kyoto is your best budget hotel in Kyoto. It is a great option with a beautiful design hostel with clean room at a reasonable price. Strategically located with less than 5 minutes' walk from Kyoto station. Meanwhile, there even have their second branch Pieces Hostel Sanjo if you prefer to stay in the downtown area.
Alternatively, you can also check out the Daiwa Royal Hotel Grande Kyoto. It is reputation Japan chain hotel with great sized room and professional staff. It has a variety of room choices that cater to solo, couple and family.
Related Kansai Japan itinerary: