Last updated on September 23rd, 2023
Planning your Kyoto Kiyomizudera itinerary by walking including to the Ninenzaka and Sannenzaka in Higashiyama district.
Kyoto has many top attractions and very ideal to plan for at least one day or two days itinerary in Kyoto. Among all the attractions, Kiyomizudera (清水寺) no doubt is one of the must-visit sight in Kyoto. It is world-famous for its spectacular historical building and added into UNESCO world heritage sites in 1994. Together with the various historical building in Higashiyama district, it is a pleasant walk through the ground area to the Kiyomizudera temple.
The best time to visit Kiyomizudera is during the sakura season in April and fall autumn in November when maple turns red. We were so lucky and visited Kiyomizudera in Spring during the cherry blossom in bloom. The view was so amazing with stunning buildings and beautiful sakura in bloom.
How To Get To Kiyomizudera
First of all, Kiyomizudera is accessible by public transport from various side of Kyoto. It can be reached by bus or railway to the temple. However, take note that all the transportation required at least 10-20 minutes uphill walk to the temple.
From JR Kyoto Station to Kiyomizudera by bus: Take the Kyoto bus (#206) or (#100) and get off at Gojozaka stop. Next, another 10 minutes walk will get you to Kiyomizudera entrance. Alternatively, Kiyomizudera can be reach from Kiyomizu-Gojo Station along the Keihan Railway Line with 20 minutes walk.
We recommended taking the Kyoto city bus to Kiyomizudera which cost about ¥230 for one way. Get the Kyoto one day bus pass if you are planning for more than two bus ride in your Kyoto day trip itinerary.
Kiyomizudera Walking Route Itinerary
Kiyomizudera is one of the must-visit attractions when getting to Kyoto. The best time to visit Kiyomizudera is morning before the crowd or late evening when everyone left. It can be very crowded as this is the top sightseeing in Kyoto. So, we decided to visit Kiyomizudera as the first stop during our second day in Kyoto itinerary.
Here is the Kiyomizudera Walking Route Itinerary:
Take the Kyoto Bus (#100) from Kyoto Station to Gojozaka Stop
Walk To the Kiyomizu-dera Temple entrance
Visit Kiyomizudera Temple
The wooden structure of Kiyomizudera Main Hall
Enjoy the best Kiyomizudera View From Okunoin Hall
Pray at Jishu Shrine
Take a sip of water from Otawa no taki
Stroll Around Sannenzaka and Ninenzaka Slope
From Kyoto Station To Gojozaka Stop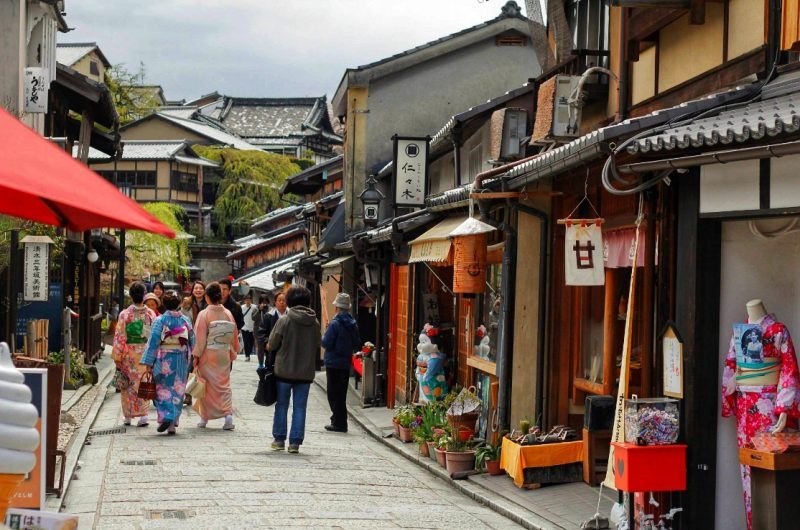 From Kyoto station, we took the Kyoto bus (#100) and got off at Gojozaka stop. There is no direct access to Kiyomizudera. You need to climb up picturesque shopping streets that line along the way up. Anyway, this is the only way to get to Kiyomizudera.
We arrived before 8:00 am and glad that we made the right decision. The surrounding streets are beautiful despite being overrun with tourists. It's the best time to enjoy the view around the shrine with an old Japan street view.
It was a very serene and pleasant 10 minutes walk along the street in the early morning. Get some nice photoshoot before the crowd booming in. There are few visitors dressed up in Japanese traditional kimono along the street. If you are interested, you can rent the kimono at some shops and walk around the area.
We straight went up to visit the temple as the first stop in the Kiyomizudera itinerary. No worry as we will come back exploring Ninenzaka and Sannenzaka later.
Kinomizudera Entrance
Kiyomizudera becomes visible as you ascend the narrow street. We paid our entrance fee and walked among the historical buildings. There are various temple buildings such as Nio-mon and Sai-mon in the area.
Opening Hours: 6:00 to 18:00 (until 18:30 on weekends)
Entrance Fee: ¥400
Kinomizudera Main Hall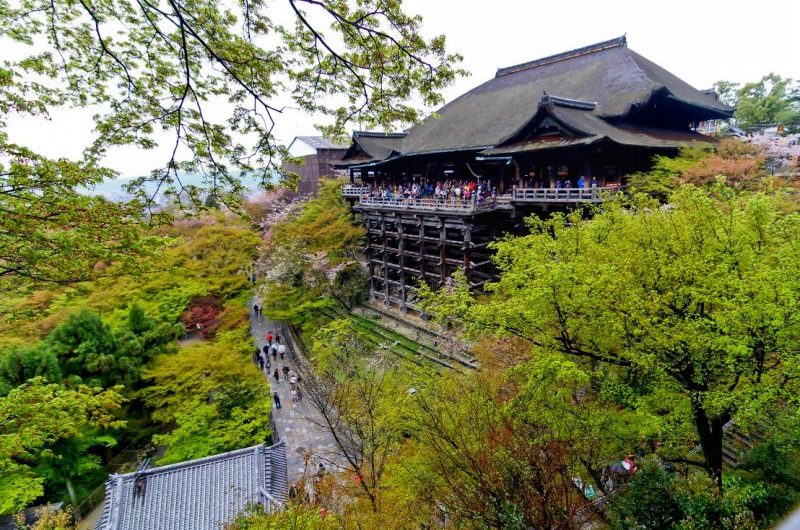 We were impressed by the wooden structures when we walked into the main hall area. Kiyomizudera is renowned for its impressive wooden temple which standing on the cliff of the mountain. The Main Hall of Kiyomizudera is supported by 139 pillars but constructed without the use of a single nail. However, it was built solidly enough to support the stage.
We spent some time in the Main Hall, experiencing its serenity and taking part in some prayer rites. Enjoy the beautiful panorama view of Kyoto city from the stage.
Best Kiyomizudera View From Okunoin Hall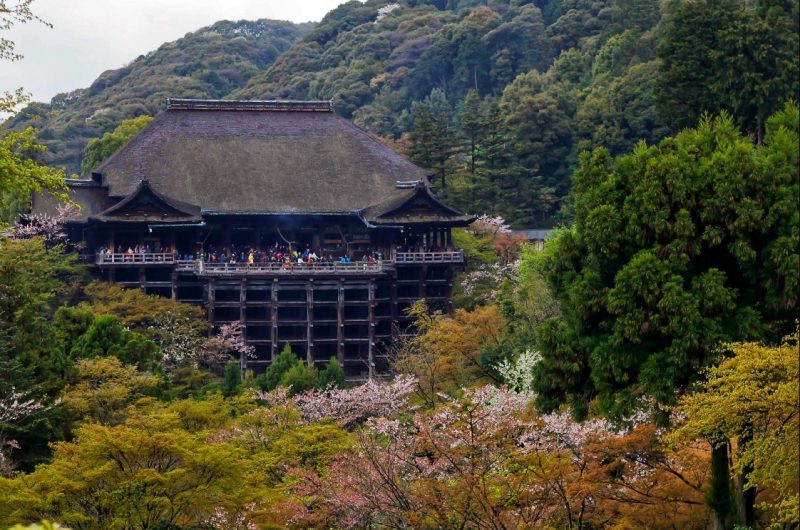 However, the best view of Kiyomizudera is from the viewing platform at Okunoin hall which diagonally opposite of the main temple. Follow the path will lead you to the Okunoin hall. This is where you could see the whole stunning wooden structures of Kiyomizudera from distance.
Jishu Shrine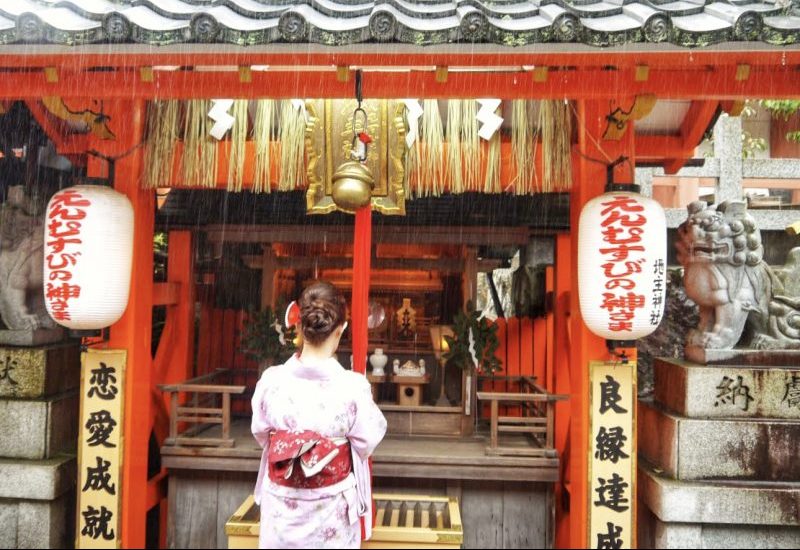 Enjoy your stroll at the Kiyomizudera temple area. There are some other attractions that worth spending some time.
Next, behind Kiyomizudera's main hall stands the Jishu Shrine. It is a small shrine dedicated to love and matchmaking. Many people come here to wish for love life. Added, there is a legendary stone known as "love stones" where you can find your loved one soon. Just close your eyes and walk straight to another stone located at the opposite.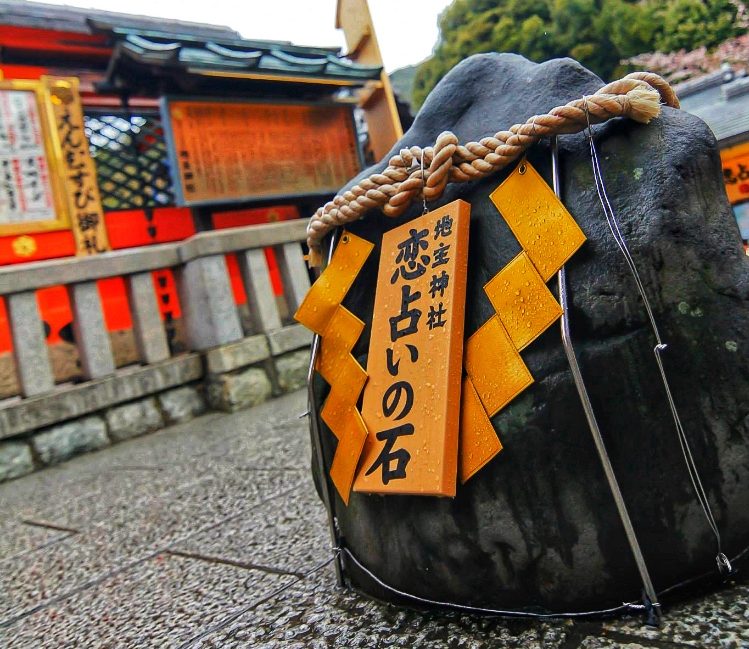 Otowa no taki (Otowa Waterfall)
Added, you noticed there is a small waterfall at the base of Kiyomizudera's main hall. The Otowa Waterfall is where you can wish for your longevity, love, and wisdom. Take a sip from one of them by using the long poles cups attached.
Ninenzaka and Sannenzaka Slope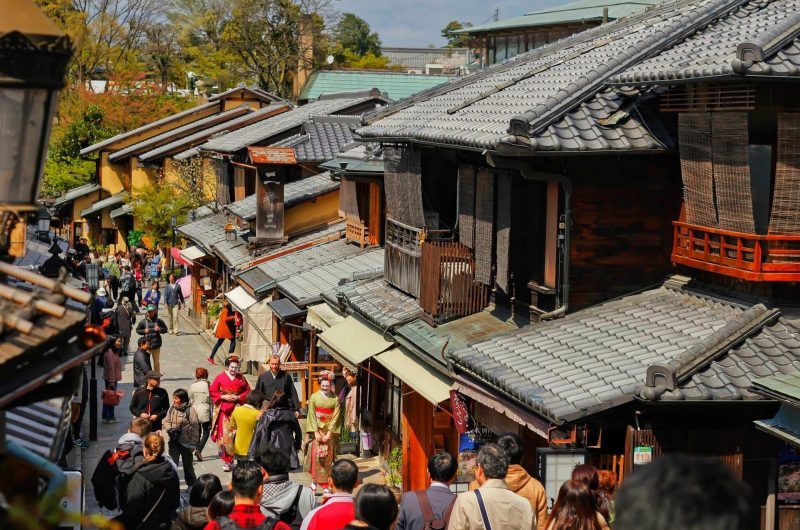 There are many wonderful things to do in Kiyomizudera. Lastly, we spend our time strolling around at the iconic street in Higashiyama district, Kyoto.
The Ninenzaka and Sannenzaka Slope is best known for its scenic street view. Take some time wandering around the street as it is worth it. You can find various types of souvenir shops, desserts, cafes, and restaurants around the busy street here.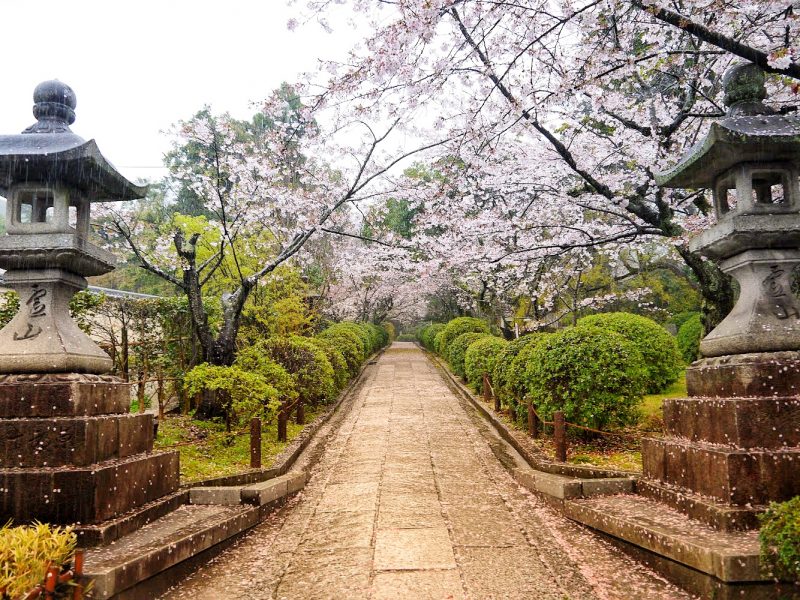 On our leisurely downhill walk, we ended up stopping at multiple stops to enjoy some local Japanese sweets and sake. However, many visitors started booming the busy lane in the late morning. So take your time to explore around and take some refreshment when you are tired. Most importantly, there are also some hidden photo spots where you can take a nice photo with beautiful scenery.
All in all, Kiyomizudera is a must-visit place especially for the first timer in Kyoto. We spend about 3 to 4 hours exploring around. Do come earlier in the morning to avoid the crowd.
Happy travel to Kiyomizudera!
Where To Stay
Looking for where to stay in Kyoto? We listed out some of the best hotels in Kyoto for your selection.
Pieces Hostel Kyoto is the best budget hotel in Kyoto and awarded with the best designer hostel. It strategic located less than 5 minutes from Kyoto station. Reasonable spacious room and clean bed at this price range. Added, free breakfast with a variety of choices including Japanese and western selection. Very popular accommodation for budget travelers. Meanwhile, there even have their second branch Pieces Hostel Sanjo if you prefer to stay in the downtown area.
Alternatively, consider Daiwa Royal Hotel Grande Kyoto which located a 5-minute walk from JR Kyoto Station. Great sized room, comfortable bed, and professional staff. Everything is perfect for this hotel.
Moreover, if you prefer for best Ryokan stay in Kyoto, Kyoto Granbell Hotel is your best accommodation in Kyoto. It features modern architecture yet with traditional Japanese design. Located in a great location among all the attractions in Gion and close to the Gion-Shijo Subway Station with 3 minutes walk. Added, a public bath is available for hotel guests.
Last but not least, check out our Japan Kansai itinerary post: