Last updated on December 11th, 2023
Enjoy the beautiful view of the Hozugawa River by Sagano scenic railway ride. The best way to enjoy the Arashiyama into your Kyoto trip.
Western Kyoto is famous for its natural beauty, especially at Asahiyama district. Day trip to Arashiyama is a must-do when planning on the Kyoto itinerary. Moreover, one of the attractions to do in the Arashiyama takes the sightseeing train ride, called the Sagano Scenic Railway. It is one of the best ways to mesmerized the natural beauty in Kyoto.
Sagano Scenic Railway (嵯峨野観光鉄道) also known as Sagano Romantic Train or Sagano Torokko. This sightseeing train run between Arashiyama and Kameoka, riding along the Hozugawa River. The whole journey takes about 25 minutes for the 7-kilometer journey. It is very popular especially during cherry blossom and autumn foliage.
Asahiyama Sagano Scenic Railway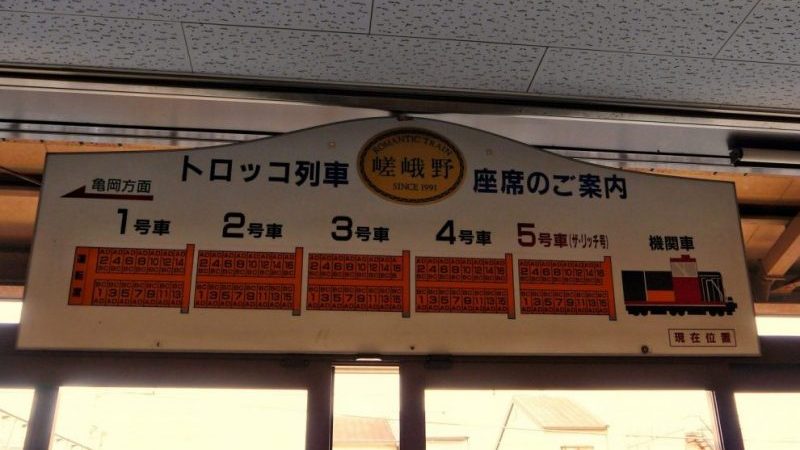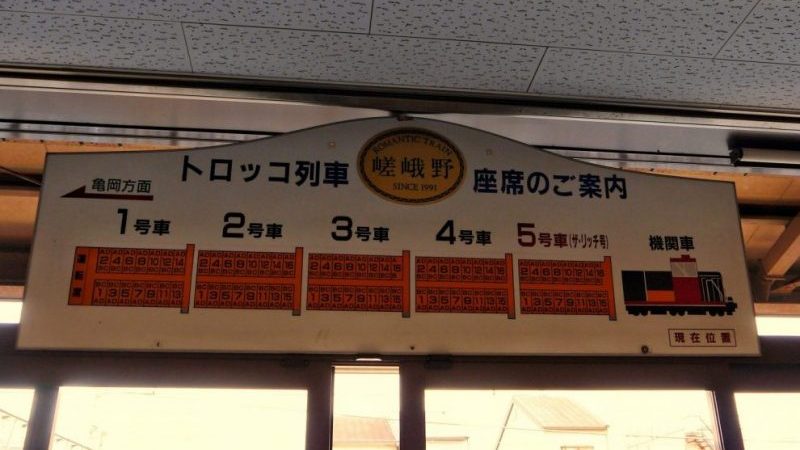 Sagano Scenic Railway is nostalgic trains with wooden benches. Total 5 old carriages which are four enclosed carriages with enclosed window and one open-air carriage.
For four enclosed carriages, all seats are reserved and can be purchase one month in advance. However, the open car (No#5) is only available as a same-day ticket. Added, a small number of standing tickets will be on sale after the ticket finish.
Extremely popular especially peak season. So please remember to reserve your ticket..
Train Fare: 620 yen, 25 minutes
Operating hour: 9:00 to 16:00 (until 17:00 on busy days)
Close: every Wednesday except national holidays, spring and summer holiday and autumn foliage season. Not operate during winter from Dec 30 to end of Feb
Official website: www.sagano-kanto.co.jp/en/
Good News:
Sagano Romantic Train Ticket
is available in Klook now! And travelers does not required rush for train ticket once reached Japan. Book
Sagano Romantic Train Ticket
through Klook and avail of a ticket to ride the famous Sagano Romantic Train in Kyoto! Paid for convenience and secure your ticket to avoid disappointment.
How To Take Sagano Scenic Railway
There are total 4 stop for this sightseeing train which is Kameoka, Hozukyo, Arashiyama, Saga Torokko station.
Depend on your Arashiyama itinerary. You can choose to take the scenic ride either before or after visit Arashiyama.
Upstream direction: from Kameoka, Hozukyo, Arashiyama, and end at Saga Torokko station.
Downstream direction: from Saga, Arashiyama, Hozukyo, and end at Kameoka Torokko station.
Most people will choose to take on/off at Arashiyama Torokko station. This station is located nearby the Arashiyama famous attraction, bamboo forest. It is will save some walk from the station before proceed for Arashiyama itinerary.
Upstream Direction: From Kameoka to Arashiyama Torokko Station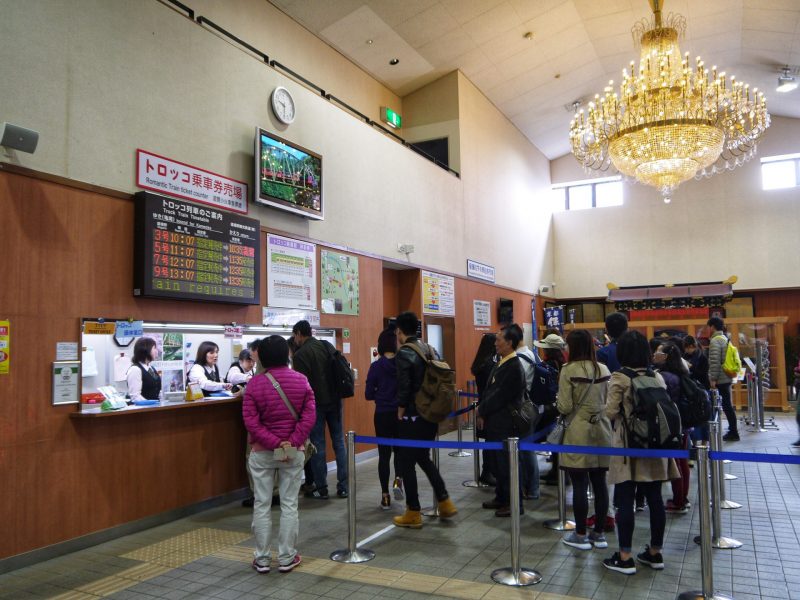 How to get there: From JR Kyoto Station to JR Umahori station by JR Saga line train. No worry on finding direction to the Kameoka Torokko station. Well marked instruction will get your way to Kameoka Torokko station with 5 minutes walk.
A lot of people were queue inside the Kameoka Torokko station while waiting for the train to arrive. The gate was open 10 minutes before the departure time.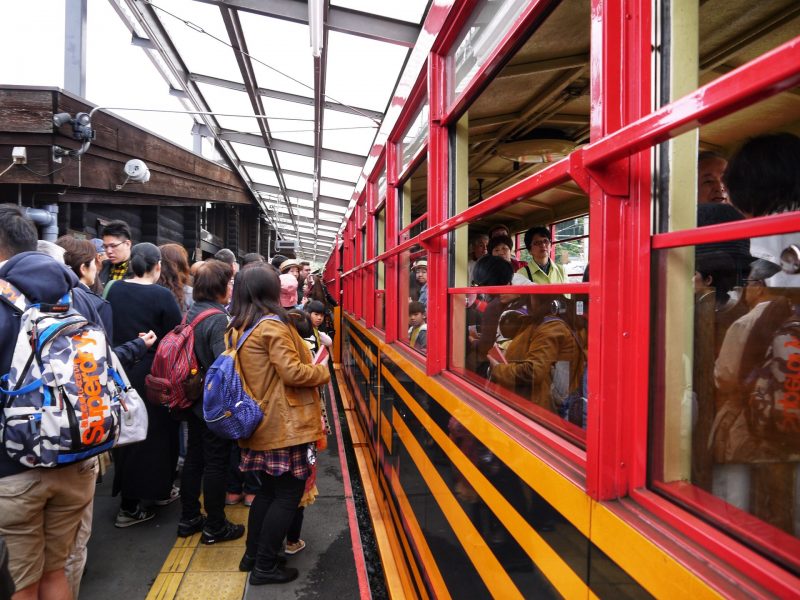 The Sagano Romantic train arrived on time. It was very crowded during our visit in cherry blossom season. Can't imagine the crowd on autumn foliage which is the super peak season.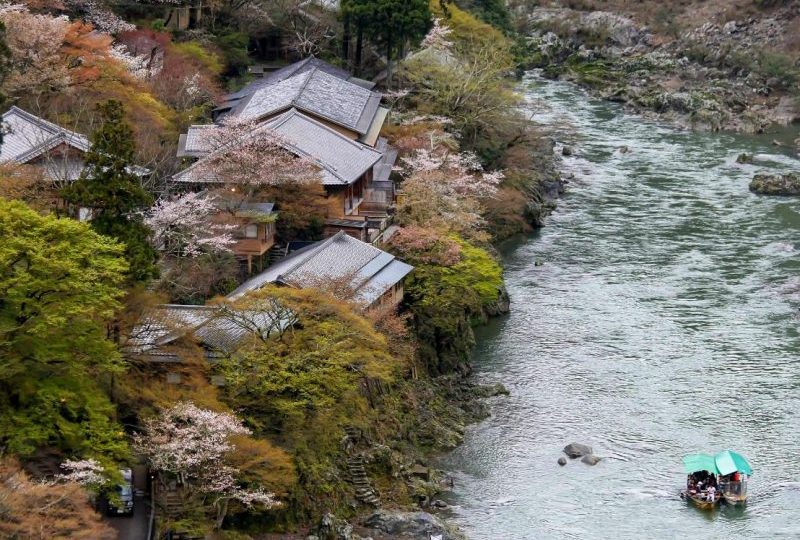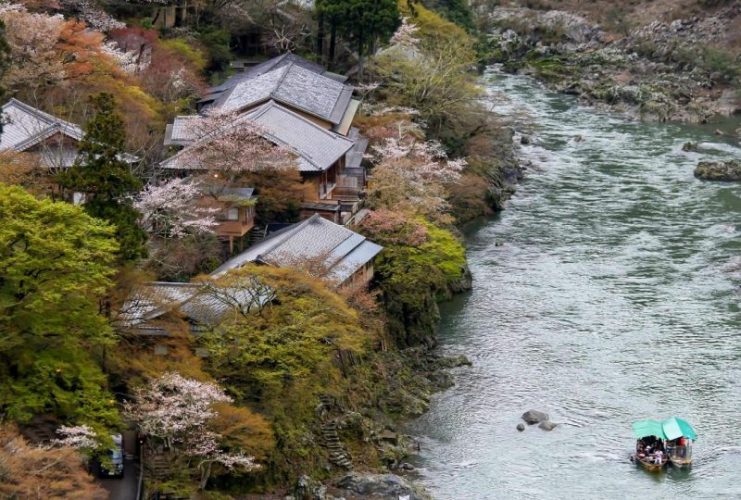 During the train journey, it will be passing through tunnels and magical mountains. The scenery was amazing with scenic train run along the Hozugawa River. Train was moving at a relatively slow pace allowing you to enjoy the scenery optimally.
Enjoy your time and appreciate the countryside alongside the river.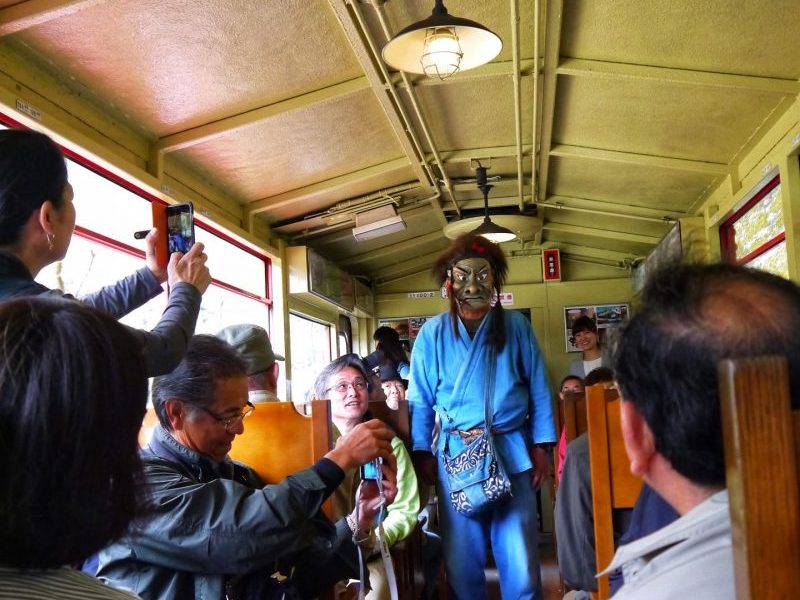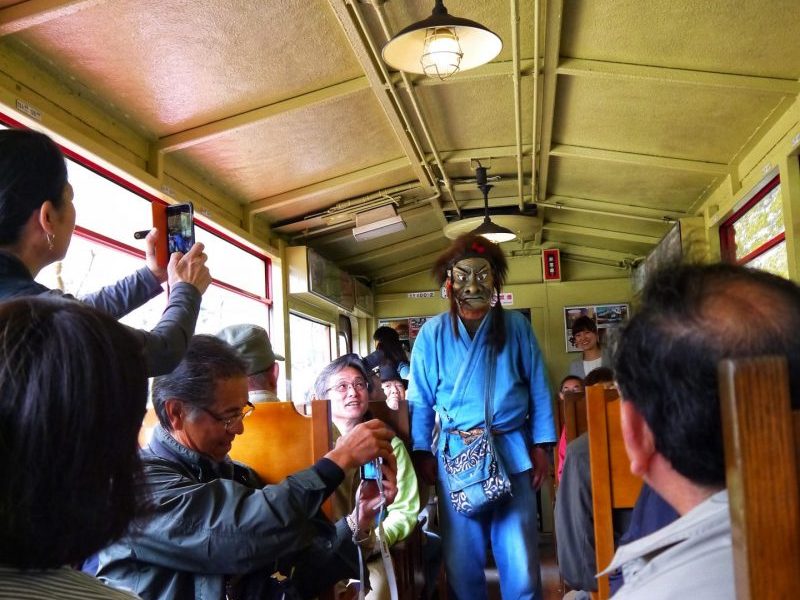 The train was a brief stop at Hozukyo Torokko station. A Japanese guy with fierce-looking mask jumps on and board the train. Travelers especially kids were entertained by his joke and action. A fun arrangement to entertain visitors.
In the end, we got off at Arashiyama Torokko station and headed towards the bamboo grove as our next stop in Arashiyama. The whole train ride passed rather quickly with about 25 minutes.
Arashiyama with Sagano Romantic Train Ride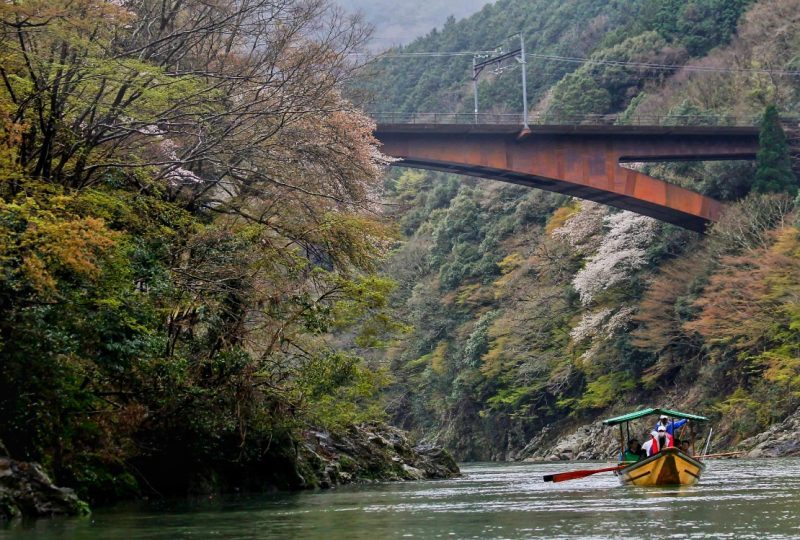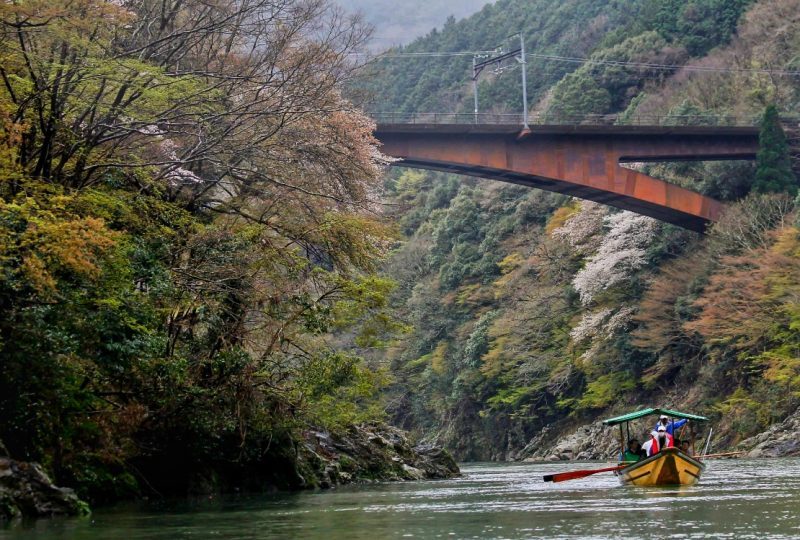 All in all, the Sagano Scenic Railway was a fun little train ride with some amazing scenery. Well, I didn't feel romantic at all as it was also named as Sagano Romantic Train. It can be very crowded especially during peak season.
Traveler tips: Sagano Torokko train ticket can be difficult to purchase as it is one of the popular activities when visiting Arashiyama. Added, limited seat with only 5 carriages for one-way ride. So, we advise purchasing the train ticket when you arrive at Kansai Airport. Any JR Office can purchase this scenic ticket. Although the Car#5 is the open-air carriage which sounds interesting. But there is also a lot of people standing at the aisle which blocking your view. So, it make no difference. Seating number with even number with a better view.
Besides, there is another option to explore the beauty in Arashiyama. The Hozugawa River Boat ride with beautiful scenery along the boat journey. Anyway, it is not cheap. Cost is about ¥4,100 for 1 to 2 hours. More info from the official website. Happy travel to Kyoto!
Related Kyoto Japan itinerary: