Last updated on September 23rd, 2023
In this Osaka travel guide blog, we compiled lists of things to do in Osaka and some of the best day trips where you can plan for your Osaka itinerary.
Osaka (大阪, Ōsaka) offers a wide range of activities or day trip options that are easy to add to your Osaka itinerary. We've visited Osaka many times through the years but there are still many places or attractions awaiting us to discover. Plus, with the strategic location and well-connected public transport system, it is very convenient to use Osaka as a base to explore nearby interesting places like Kyoto, Nara, Kinosaki Onsen, Nagoya, or even Hiroshima.
As Osaka with so much to do, working out how to experience the best of Osaka and get the most out of your trip can be challenging on your own. But don't worry.
In this comprehensive Osaka travel guide blog, we'll tell you everything you need to know to plan your Osaka itinerary. We will share with you what is the best time to visit, how to get around, where to stay, and what to do in Osaka for 1 day, 2 days, 5 days, or even one to two weeks. Let's start planning your Osaka trip here!
Best Time To Visit Osaka
To plan your visit to Osaka, you're going to want to think about the timing of the trip. Although Osaka is a year-long travel destination, choosing the wrong time for your visit and you could face large crowds of tourists, or even worse, typhoons.
Generally speaking, the best time to visit Osaka is during Spring, especially Sakura season or Autumn foliage season. These two seasons are the most popular time to visit Osaka and the city is very beautiful. It is also peak tourism time, so expected more people and it can be crowded.
While August to September is typhoon season and weather can be bad. So it is best to avoid the typhoon season. Besides, we would also recommend avoiding Golden week in the first week of May as this is Japan's biggest holiday. So expect many local visitors and increasing in room rates during Japan Golden Week.
How Many Days Should I Spend For Osaka
If you are planning your first trip to Osaka, we highly recommend you spend at least 1 or 2 days within the city and spend the rest of the days with day trips from Osaka to other nearby cities. It would be better if you can stay in Osaka for at least 5 days as this will allow you to visit some of the highlights from nearby cities: Kyoto, Nara, Uji, Kobe, Hiroshima, Himeji, Okayama, Kinosaki Onsen, and more.
Depending on how many days for your Osaka itinerary, you can adjust based on your interest. But generally, 7 days is the best duration for a perfect Osaka trip. And I am pretty sure, you will come back and re-visit Osaka for sure!
Traveling To Osaka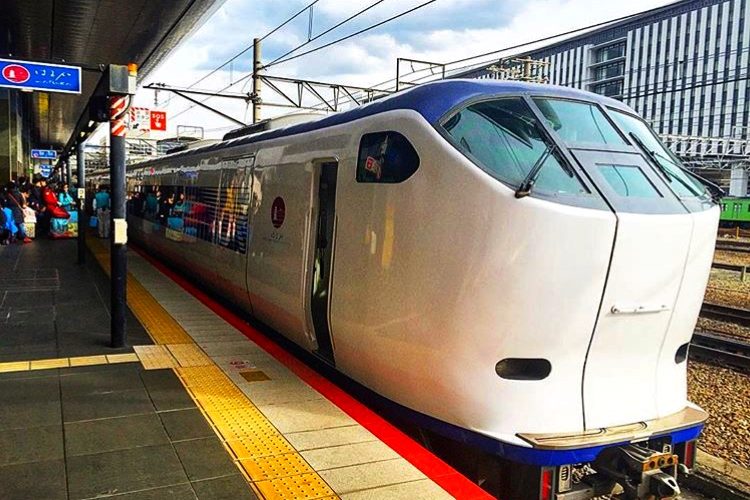 By Airplane – The nearest airport is Kansai International Airport (airport code: KIX) with frequent domestic and international flighs. The airport and city is well connected by various of public transport with different option available. If you choose to staying in Osaka, we recommended taking the JR Haruka Airport Express. This line takes you straight from KIX to the city, stopping at major stations Tennoji, Shin-Osaka, Osaka station which is very convenient.
Get Discount JR Haruka Airport Express from Klook here
RELATED: We also documented other transport option here: How To Get To Osaka From Kansai Airport.
By Shinkansen train – For international travelers, most people will be landing at Narita International Airport and arrive in Tokyo. If you're coming from Tokyo, most likely you will be getting to Osaka via Shinkansen, Japan's famous ultra-fast bullet train. We would recommend you get the Japan Rail Pass to get the unlimited JR train ride. Buying the Shinkansen ticket separately would already cost almost as much as the JR pass, so it's worth it. You can reserve your JR Pass here and redeem it when arrive in Japan. It is cheaper and very convenient.
Click here for prices & information on how to order and save with the JR Pass.
Getting Around in Osaka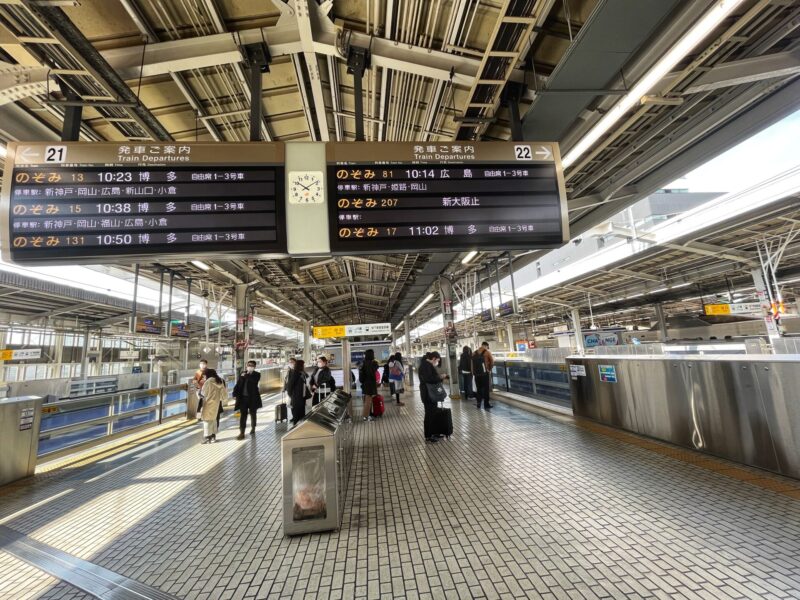 Osaka is Japan's second-largest metropolitan area, boasting great transportation links of buses, trains, metros, and even Shinkansen. It is very easy to get around in Osaka as everywhere is well-connected. There are several ways for getting around in Osaka.
When getting around in Osaka with the metro, we would recommend you get the Osaka Metro Pass for 1 or 2 Days based on your need for unlimited rides on the subway. It is very useful when you are hopping around Osaka city center without worrying about getting lost or going down the wrong subway station.
Alternatively, get the IC Card – ICOCO Card as it will save you the hassle to buy tickets at every station.This tap-and-go card will pre-load with a certain amount and you can use it for transportation fees and even convenience store purchases.
Where To Stay
When looking for where to stay in Osaka, we highly recommended staying close to the major train station. Staying in the right place can absolutely make your trip easier as it helps you saves a lot of energy and time. Anywhere near Umeda, Shin-Osaka, Namba, or Shinsaibashi station is a great option.
Below is our editor's pick when looking for a convenient place to stay in Osaka:
Hotel Monterey Grasmere Osaka is an unbeatable pick. It is directly connected to JR Namba Train Station and OCAT (Osaka City Air Terminal) located right next to the hotel within a minute's walk. You can direct the airport shuttle bus to/from Kansai Airport easily.
Cross Hotel Osaka is located about 5 minutes walk from the Namba Station Midosuji Line. This 4-star hotel is always the top pick of travelers due to its fantastic location situated between Dotonbori and Shinsaibashi.
Nest Hotel Osaka Umeda is a 3-star hotel situated nearby Umeda Station. It is a decent chain of business hotels in Japan. All rooms are cozy and modern. Very suited and practical for the traveler who looks for a comfortable stay. Reasonable price tag too!
Complete read on the full list of recommendation list: Where To Stay in Osaka: Umeda or Namba.
Osaka Travel Guide Tips: If you're planning on visiting Osaka during the high season, you should book your accommodation in advance. You will then have a greater selection of hotels and hostels to choose from and also lower prices.
Planning for Osaka itinerary
Osaka is truly a convenient place to plan for the Osaka itinerary for 2 days, 5 days, 7 days, or even 2 weeks. You can easily tailor your itinerary based on your interest in the nearby cities or small towns. Among all the cities, Osaka and Kyoto are definitely the two must-visit places. You should allocate at least 1 or 2 days to visit them. I can easily spend just 5 days just visiting these two cities alone.
If you want to explore some of the other places, we recommended the Nara, Uji, Himeji, Okayama, or even Hiroshima. The traveling journey would take you about 1 to 2 hours depending on the destination chosen. Plus, you can utilize the Japan transport pass to save you on transportation fees. I will share more information on the transport pass on each attraction below.
Do I Need JR Pass for Osaka itinerary?
Japan Rail Pass provides unlimited rides on JR trains and this includes high-speed bullet trains (Shinkansen). It is available for either 7, 14, or 21 days. With this physical ticket, you can make the most of the extensive and reliable network of trains that connects every corner of Japan. However, it doesn't mean that you always need to get a JR pass whenever visiting Japan. There is the same regional JR Pass that designed for the Kansai region.
For example, if you are already holding the JR pass as you are coming from Tokyo or other places, then you can fully utilize the pass to save some traveling fees. If you are already in Osaka, and only looking for exploring the Kansai region, then regional JR Pass is a better deal compared to JR Pass.
Here is the Regional JR Pass that you can consider for your Osaka itinerary:
Pro Tips: Make sure the pass is cover on your destination, else you will need to top up the route if you are taking the train that are not covered by the pass.
Besides, if you only plan to visit Osaka, Kyoto, Nara, Uji, or Kobe, you don't need to get the JR pass. Instead, you can consider traveling by local train. Local trains might take longer time but it is cheaper and can access to more places. You can also plan your Osaka itinerary and then see which transport pass is best suit your itinerary.
Things To Do in Osaka itinerary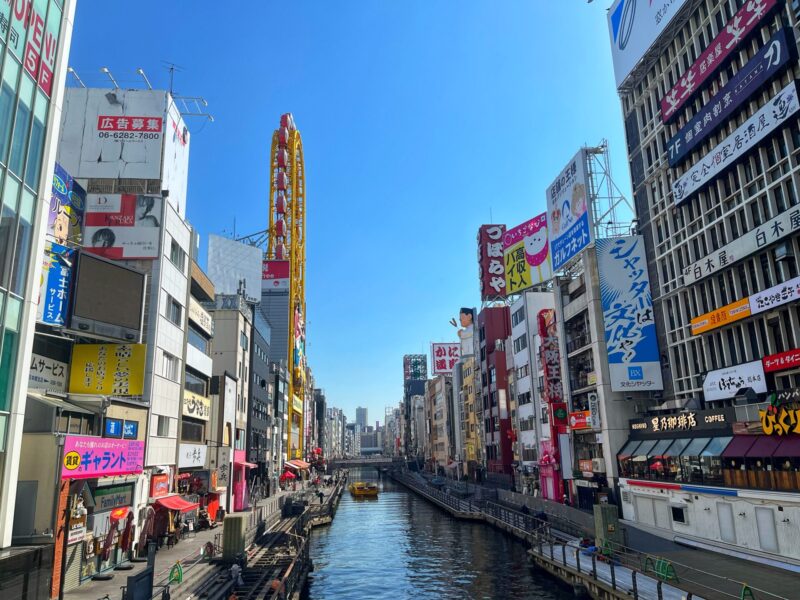 Planning on visiting Osaka for the first time? Here are my top things to do in Osaka for a beginner's guide. There are so many exciting things to try out in Osaka and the activities cater to all types of travelers. Here is our recommendation.
Things to do in Osaka itinerary:
Visit Osaka Castle
River Cruise Ride in Osaka
Back to Old Times of Japan
Food Hunting at Dotonbori
Seafood Feast at Kuromon Ichiban market
Shopping at Shinsaibashi
Enjoy Osaka Ariel View
Universal Studios Japan (USJ)
Osaka Aquarium Kaiyukan
Side Trip To Kyoto
Half-Day Trip to Nara, or Uji
Day Trip To Kobe
Onsen Trip to Kinosaki Onsen
Day Trip To Hiroshima and Miyajima
and many more.
Visit Osaka Castle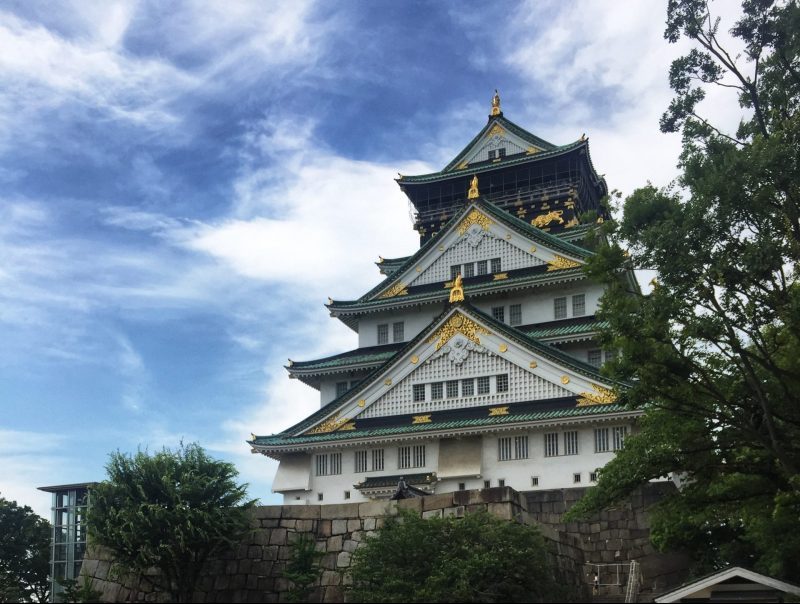 Osaka Castle (大阪城, Ōsakajō) is one of the most iconic buildings in the city. It is located in the heart of Osaka and you could easily spend half or a whole day in the area. The main tower of the castle had been burnt and destroyed in the war. It was restored to its original and reconstructed to new glamour with the support of the government and Osaka people. The castle now houses museums and exhibitions for historical of Japan. Travelers can also go onto the viewing platform on the 8th floor for an ariel view of the citadel.
Don't forget to take a picturesque stroll to the large, beautiful, and spectacular castle park with free entry. Locals come here for morning jogs or to enjoy the sun. The park is a popular place to visit during Hanami (Sakura) or Momijigari (Autumn) season.
Getting there: 20 minutes walk from Tanimachi 4-chome Station, exit at #1B and #9. Alternative, Morinomiya Station, exit #1 and #3B.
Operating hours: 9:00 to 17:00 (entrance until 16:30)
Entrance Fee: ¥600 (Free with Osaka Amazing Pass)
River Cruise Ride in Osaka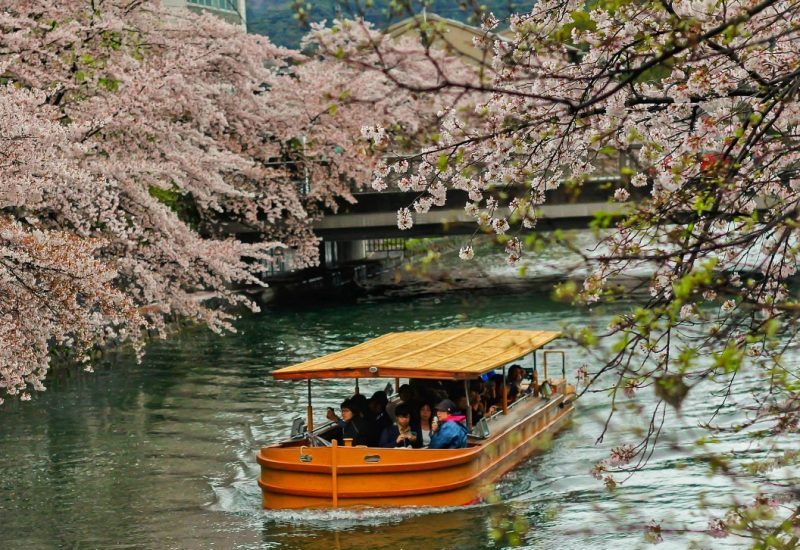 Taking a river cruise or boat ride is another popular thing to do in Osaka. During the old time, water transportation is very important for locals to transport goods. It now becomes sightseeing option where visitors can see the city's major attractions along the river by the river cruise or boat ride.
There are plenty of boat rides available in Osaka city. For example Osaka Suijyo Bus (Aqua-Liner), Cruise Ship Santa Maria Day Cruise, Pirates Of Osaka, and more. You can go on a boat ride along the Osaka Castle, Dotonbori River, or even Osaka Harbor.
The best part most of the river cruise is included in the Osaka Amazing Pass and it was truly a great deal. We tried Osaka Wonder Cruise and Tombori River Cruise during our last visit. You may consider getting the pass if you plan to take the river cruise ride.
Back to Old Times of Japan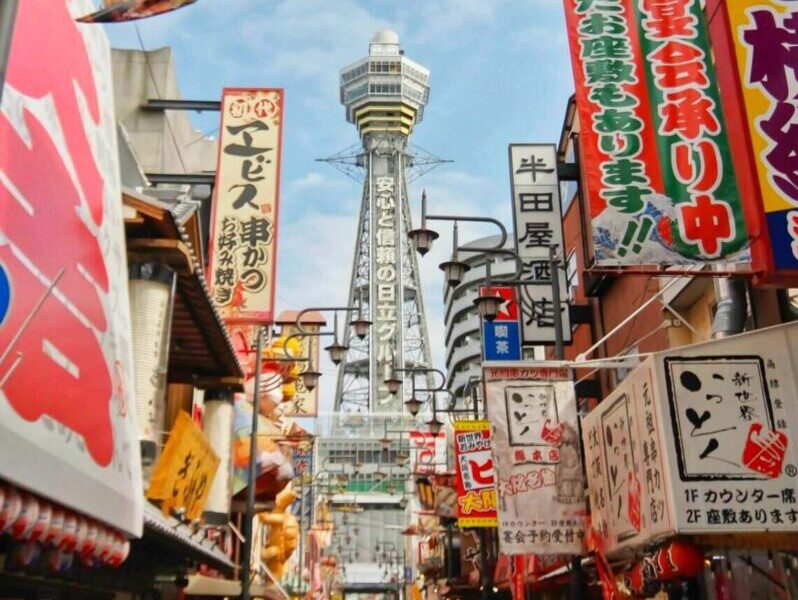 If you want to experience the old times of Japan, we recommended visiting the Shinsekai (新世界). Literally "New World", Shinsekai is a district in Osaka that was developed before the war and then neglected in the decades afterwards. It is a old neighbobour that full of full of uniqueness and memorability.
When visiting Shinsekai, you will be amazed by the colorful banners, neon lights, and vintage things. All these make it like old times Japan for good photo opportunities. You can also couple your trip to visit the Tsutenkaku Tower and try the popular Kushikatsu here.
Getting there: 2 minutes walk from Dobutsuen-mae station. Else, Ebisucho Station on the Sakaisuji Subway Line, exit #3.
Food Hunting at Dotonbori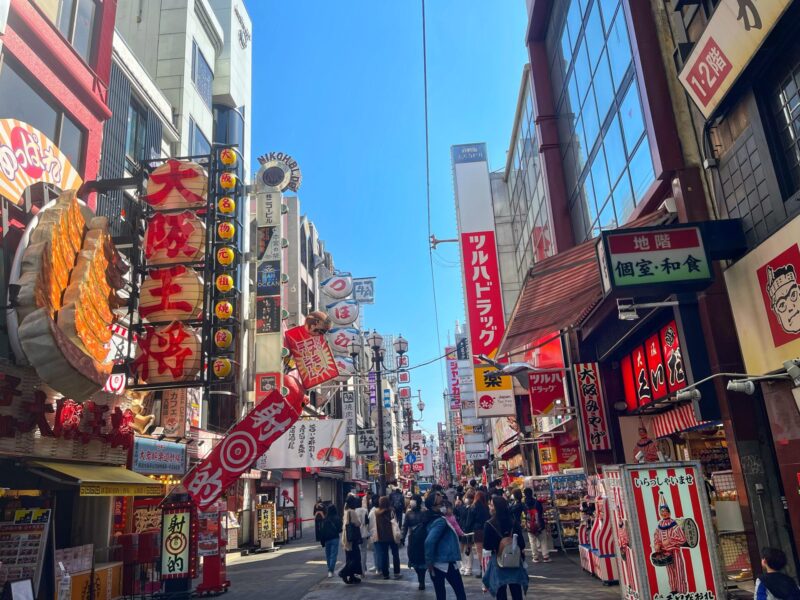 Osaka is a paradise for food-lovers and it truly is one of the best places to visit if you enjoy food. There is so much good food to be had in Osaka. In fact, it's one of a handful of cities we could visit again and again just for the food.
While the Dotonbori (道頓堀) is the busiest place in Osaka and you can find almost everything here. The iconic food street is full of shops, restaurants, and bars with eye-catching billboards and neon lights. Come for food hunting at Dotonbori. You basically can find all of Osaka's specialties here.
The popular food to eat in Dotonbori includes takoyaki, Kushikatsu, okonomiyaki, ramen, crab dishes, seafood, and many more. Eat till you drop!
Seafood Feast at Kuromon Ichiban market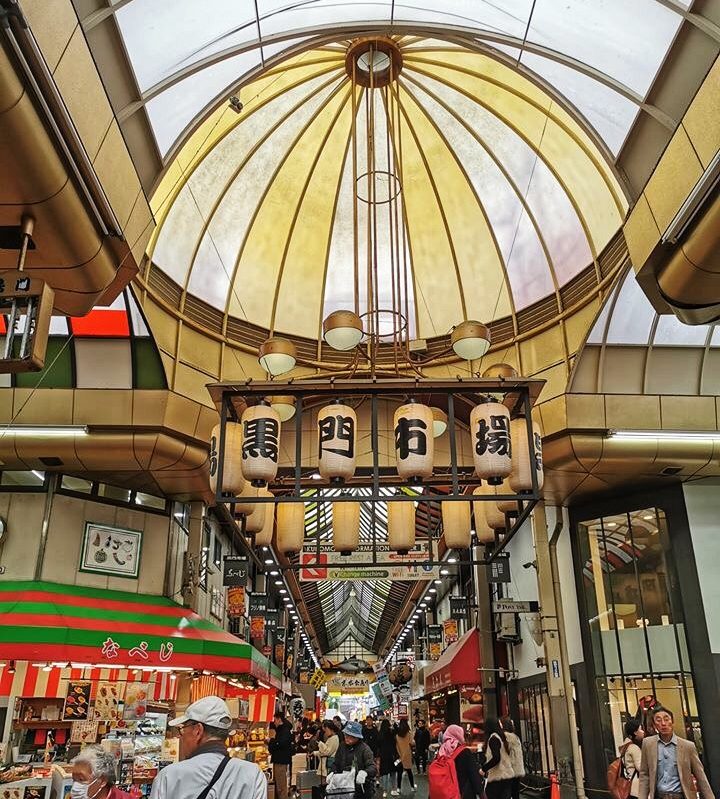 Kuromon Ichiba Market (黒門市場) is a traditional covered public marketplace with an extensive selection of food to experience the Japanese market culture. It is the most popular place for food hunting in Osaka and you can have a variety of food in one place.
Here, you can sample as much as possible of Japanese street food in the market. For example, takoyaki, grilled scallop, seafood, sushi, sashimi, and more.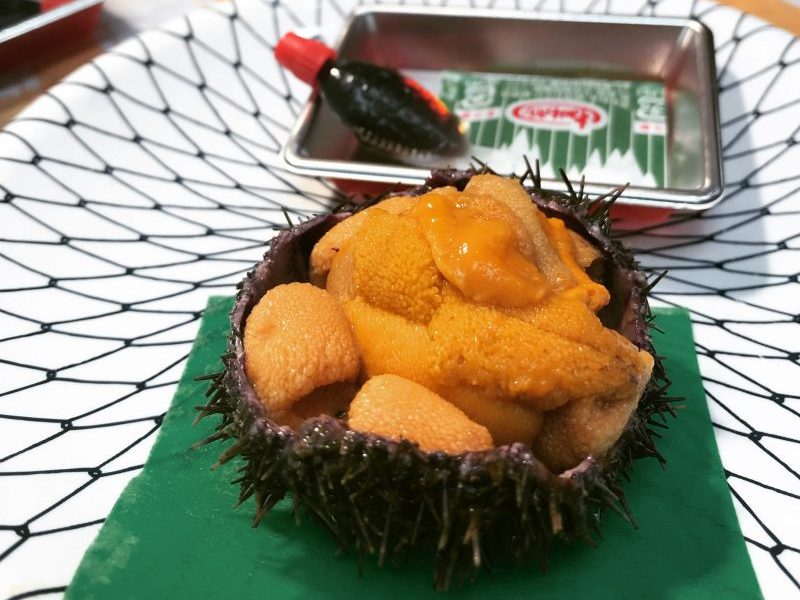 I personally love to patron the seafood stall to taste the fresh Oyster and sea urchin whenever in Kuromon Ichiba market. The fatty tuna also can't be missed for tuna lovers. Enjoy your stroll and stopped for good food when walking through.
A great location to have a seafood feast or grab a bite with some fresh delightful Japanese specialities.
Getting there: Right outside at the exit of the Nippombashi subway.
Operating hours: Daily from 09:00 to 18:00 (Come early as stalls may closed)
Entrance Fee: Free.
READ MORE: What to Eat in Kuromon Ichiba Market: Top 10 Must-Try Food
Shopping at Shinsaibashi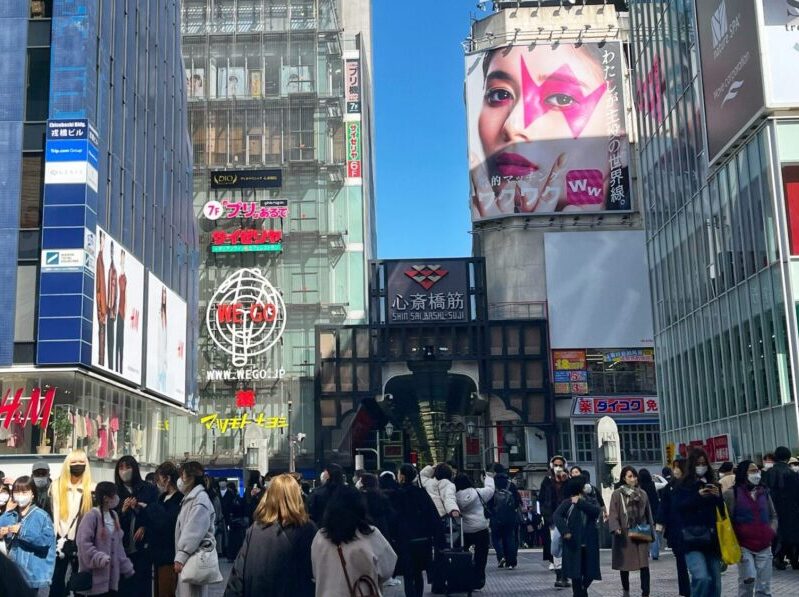 If you are traveling to Osaka and want to go shopping, then you will be amazed by the number of shopping areas, arcades, streets, and malls. The city boasted a huge variety of shops from luxury goods to novelty items.
Adjacent to Dotonbori is the Shinsaibashi (心斎橋), Osaka's best-known shopping area. You'll find countless shops, from high-end retailers to street vendor shops. Besides, there are also restaurants, cafes, and bars lining both sides of the arcade. Another option for shoppers is the Umeda (梅田) area. This area is home to many malls, shops, restaurants, and cafes so you may want to spend an entire day exploring the area.
Osaka Ariel View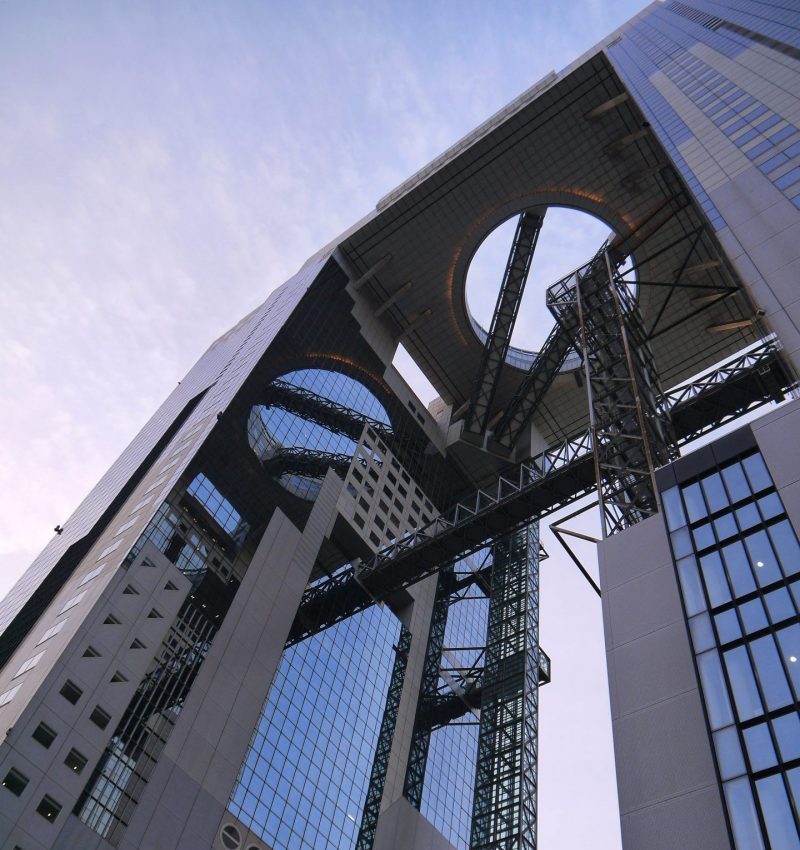 So far, you've only seen Osaka City at street level, but a trip over to the Umeda Sky Building or Abeno Harukas will soon fix that. Both provide a birds-eye view of the city and are highly included one of it in the Osaka itinerary.
Umeda Sky Building is located in the city's business district. This building is uniquely designed and consists of two towers connected by the "Floating Garden Observatory" on the 39th floor. We managed to get to the observatory deck before the late evening. And it was the best time to get a glimpse of Osaka's majestic sunset. The view was so breathtaking. It was one of the best times for us in Osaka. The entry to Umeda Sky Building cost ¥1,500 and it is free with Osaka Amazing Pass before 16:00.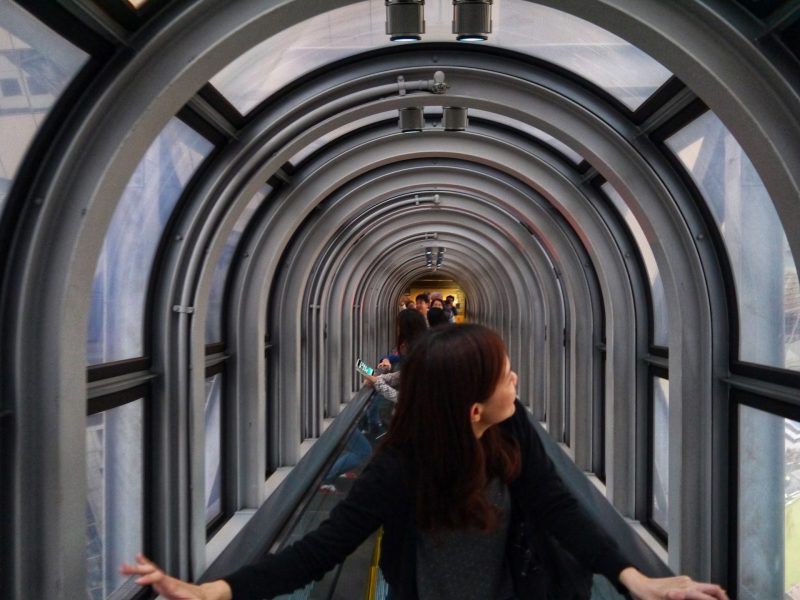 Another option is the Abeno Harukas located nearby Tennoji station. The Observation Platform Harukas 300 is on the 60th floor, 300 m above ground, Japan's highest point. You get a 360-degree view of Osaka City which takes in everything from the city center including Osaka's famous sites such as Osaka Castle, famed landmark Tsutenkaku, and Shitenno-ji Temple.
You can speed up the process by buying the ticket ahead of time here: HARUKAS 300 Observatory Ticket.
Universal Studios Japan (USJ)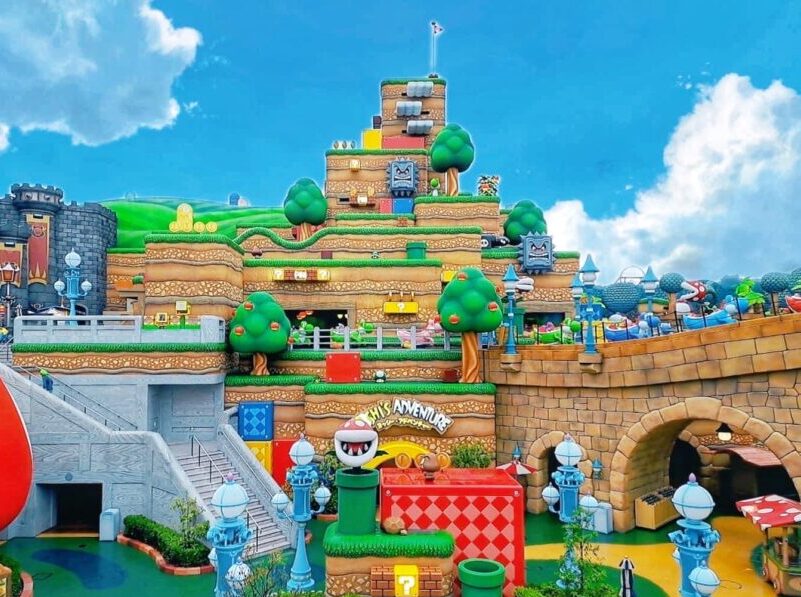 Universal Studios Japan (USJ) is the most popular attraction in Osaka and it isn't hard to understand why. This place is mind-blowing and fun no matter what your age. Favorite attractions include The Wizarding World of Harry Potter, the Minions, Transformers, and the new Super Nintendo World aka Super Mario Land!
Universal Studios Japan (USJ) with 1, 1.5 and 2-day Studio Pass
A 1-day pass to Universal Studios is not cheap but you can sometimes get a discount if you purchase advanced tickets through Klook. Plus, purchasing the USJ tickets through Klook will help to get in the park faster and avoid long queues on the day. We also highly recommend getting the Express Pass as it is super helpful and saves queueing time.
Osaka Aquarium Kaiyukan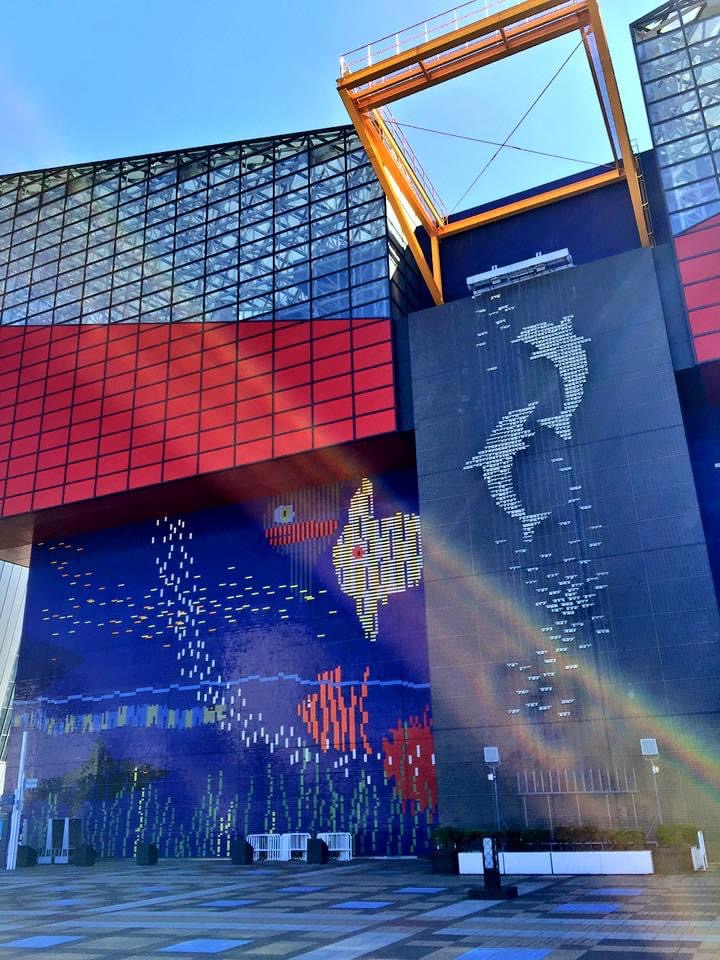 Another popular attraction to visit for the Osaka itinerary is the Osaka Aquarium Kaiyukan. It is one of the world's largest aquariums and had plenty of sea creatures from all over the globe. You can enjoy seeing the deeper depths of the ocean and the Arctic.
The biggest aquarium featuring a shark whale is one of the biggest attractions in Osaka Aquarium Kaiyukan. Penguins, stingrays, and any type of marine life can be found here. Additionally, there are food-feeding activities, so please come early.
The admission costs are ¥2,400 for adults and ¥1,200 for kids ages 7-15. You may get discounted e-tickets from Klook and skip the ticket queue, especially during weekends or holidays. Highly recommended and a good place to visit for families with kids.
Getting there: 5 min walk from Osakako Station, Exit 1.
Operating hours: Daily from 10:00 to 20:00
Entrance Fee: ¥2,400. Kids ¥1200 for ages 7-15 and ¥600 for ages 4-6.
Side Trip To Kyoto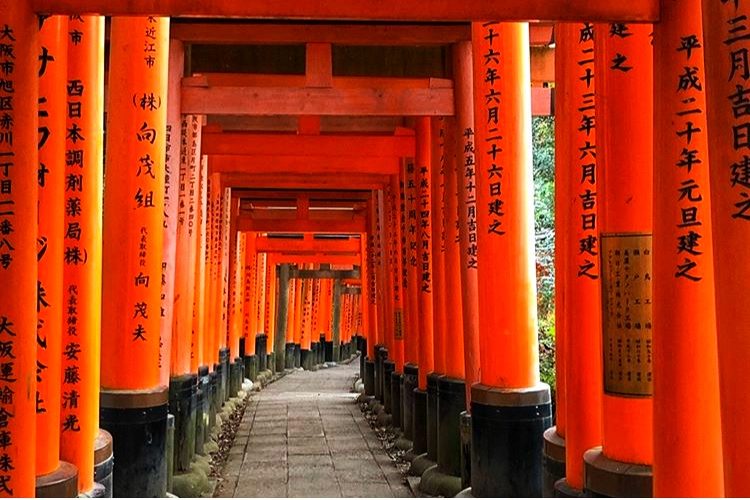 It is a shame that did not include a side trip to Kyoto on your Osaka itinerary. The historical Kyoto is full of historical charm and Japanese culture. It has boasted many historical shrines and has many natural hidden gems. Kyoto can be easily planned for a few days of the itinerary. It's about half an hour away from Osaka and can easily be visited on daily trips from Osaka.
Check out our Kyoto travel guide for more information: Kyoto Itinerary – A Travel Guide Blog For First-Timers.
Half-Day Trip To Nara
Nara is another popular trip to take from Osaka due to its proximity – only 30 minutes by local train. During your visit to Nara, take a historical visit to Todai-Ji Temple, Kasuga Grand Shrine, or some other ancient buildings in Nara. Or wandering around at Nara Park with a free-roaming Sika deer encounter. You can purchase some Shika-senbei (Deer rice crackers) to feed them.
Nara is easily doable on your own, but if you prefer to go with a guide and learn a bit more history, I recommend taking the guided tour. Delve into Japan's ancient imperial past on a history-inspired tour with Kyoto and Nara Day Tour from Osaka / Kyoto. One of the popular day tours in Kansai.
Half-Day Trip To Uji
Uji is more like a hidden gem with peaceful charm yet historical importance. It is famous for its traditional green tea and historical shrine. Here you also can find the historical temple, Byodo-in, and a range of historic architecture to explore.
You can check out our Uji travel guide to help you plan your trip. Don't forget to taste the green tea when visiting there.
Day Trip To Kobe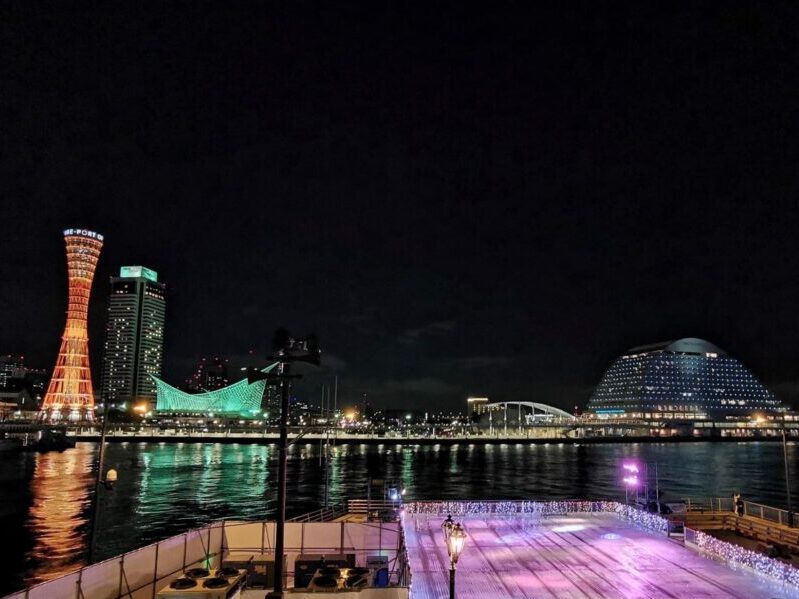 Kobe is a good option for an easy day trip from Osaka. It is easy to access with public transport and takes only 30 minutes to get there from Osaka by train. The city is filled with a variety of shopping, dining, and sightseeing attractions. The popular attractions include Kitano Ijinkan, Motomachi, Nankinmachi (Kobe Chinatown), and Kobe Harborland. You can also taste the world-famous Kobe beef during your trip to Kobe!
READ MORE: Day Trip to Kobe itinerary: A Travel Guide Blog
Onsen Trip to Kinosaki Onsen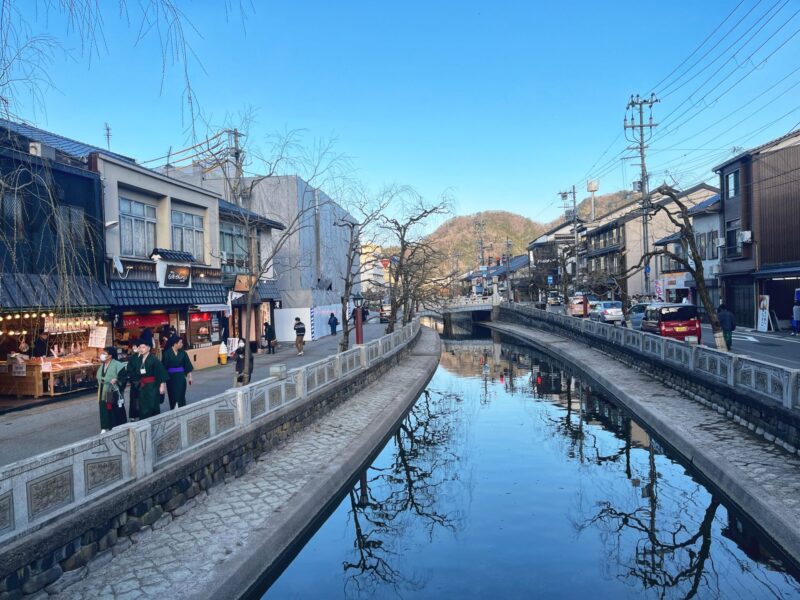 Located in northern Hyogo Prefecture, Kinosaki Onsen (城崎温泉) takes about 2.5 hours from Osaka. This picturesque idyllic town is built along a willow-lined river and is famous for its natural hot spring water. It has been running since the Heian era (794-1185) and is rated as one of the most charming hot spring towns in Japan. Many locals and travelers are flocking to Kinosaki Onsen to soak into its nourishing hot spring waters and even spend their nights in the traditional ryokan.
There are 9 direct trains per day and the journey costs ¥5,080 for one way. You can save some money by using the transport pass such as JR Kansai Wide Area Pass.
Day Trip To Hiroshima and Miyajima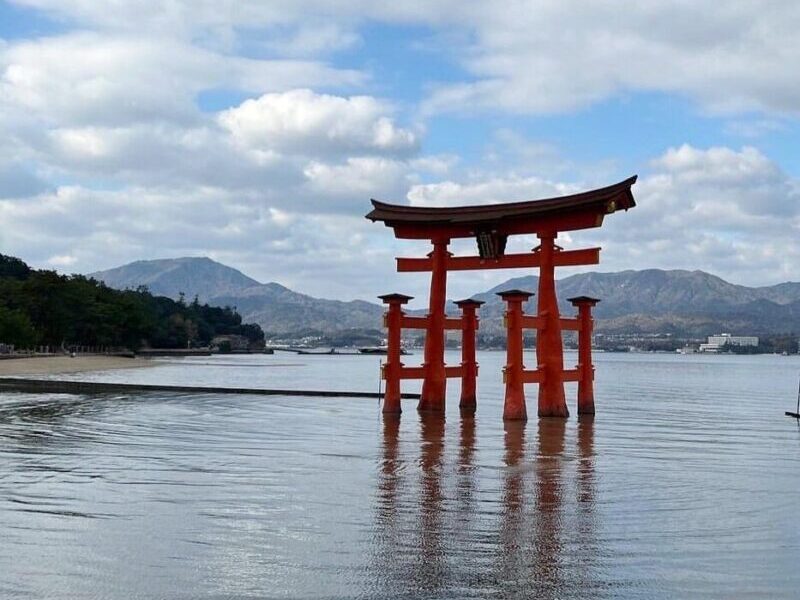 Lastly, Osaka is also can be planned with a day trip to Hiroshima and Miyajima by utilized the high-speed bullet train, Shinkansen. Through we recommended spending at least 2 days visiting both attractions. Travelers in more of a rush could also be doing a day trip but have to skip some of the major sights. We recommended getting the Japan Rail Pass or JR Kansai Hiroshima Area Pass for the Shinkansen ride.
With the grim past, Hiroshima (広島) is full of fantastic sights and historical attractions. The important historical sites like A-Bomb Dome, Peace Memorial Park, and Peace Memorial Museum are all powerful and confronting. A visit to Hiroshima is truly an emotionally-encompassing experience!
READ MORE: Things to do in Hiroshima Itinerary: A Travel Guide Blog
While Miyajima (宮島) is beautiful to walk around. You can visit the world-famous Itsukushima Shrine and its enormous Torii gate. At high tide, this UNESCO World Heritage Site and the giant Torii gate appear to float on water. Spend some time wondering around the island, admiring ancient temples, and tasting the mouth-watering oysters and local snacks.
READ MORE: Things To Do in Miyajima Itinerary: A Travel Guide Blog
Overall: A Trip To Osaka
Pheww! That's it for the ultimate Osaka Travel Guide blog to help you plan for your Osaka itinerary. As you can see, there are so many things to do and great places to experience when visiting Osaka.
There are still many places and attractions that I didn't include in this travel guide. You can easily fill up your Osaka itinerary with days or even weeks. Still, we recommended planning it based on your interest and allowing time for your visit. I am pretty sure you will have an amazing time in Osaka. ENjoy your trip to Osaka!
Related Osaka Travel Stories:
Lastly, here is some useful travel information to help you plan your trip to Osaka. Feel free to take a look!