Last updated on September 23rd, 2023
Read more on how to get to Takikawa Canola Flower Festival during the blooming season. One of the amazing flower festival when visited Hokkaido in May.
Spring in Hokkaido is heralded by the blooming of several flowers. Sakura, lilac, tulips, canola, pink moss phlox and more are celebrate spring to the season. Don't forget to plan a trip to the flower field when visiting Hokkaido in spring or summer.
Nanohana, also known as canola flower is one of the spring flowers in bright yellow color. It is popularly used for producing canola oil for healthy cooking purposes. This yellow plant is developed by a Canadian researcher. It is widely used as a replacement for rapeseed flowers which were toxic to the human body. The weather and soil in the Ebeotsu district are very suitable for canola flower. As a result, Takikawa is home of the largest canola flower field in Japan. It is now with more than 60 flower fields in Takikawa.
Nowadays, Takikawa Canola Flower Festival is one of the popular flower festival in Hokkaido. It is honoring the blooming season in late May every year. Subsequently, the flower field is opened to the public for mesmerized the beauty of canola flower.
Best Time For Canola Flower Blossom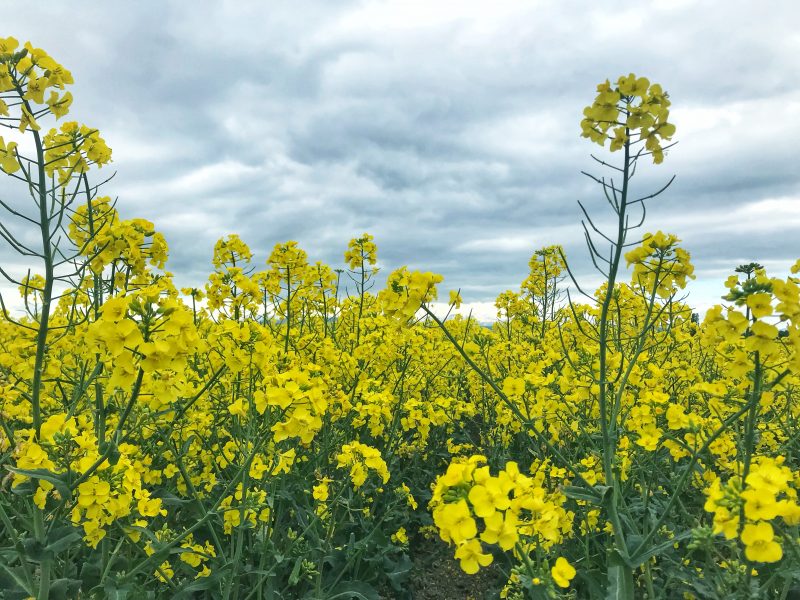 Hokkaido start welcomes the canola flower from May. These lovely flowers are full blooming from mid to late May. Therefore, this is also the best time to celebrate the Canola Flower Festival. During this period, thousands of visitors will come to Takikawa to see the nanohana in full bloom.
That is to say, the exact date of the festival is decided based on the flower blossoming condition every year. But it normally will be held on weekend during late May.
Meanwhile, please remember to check on the latest update on the event. (Official Takikawa website: Click Here)
My Visit to Takikawa Canola Flower Festival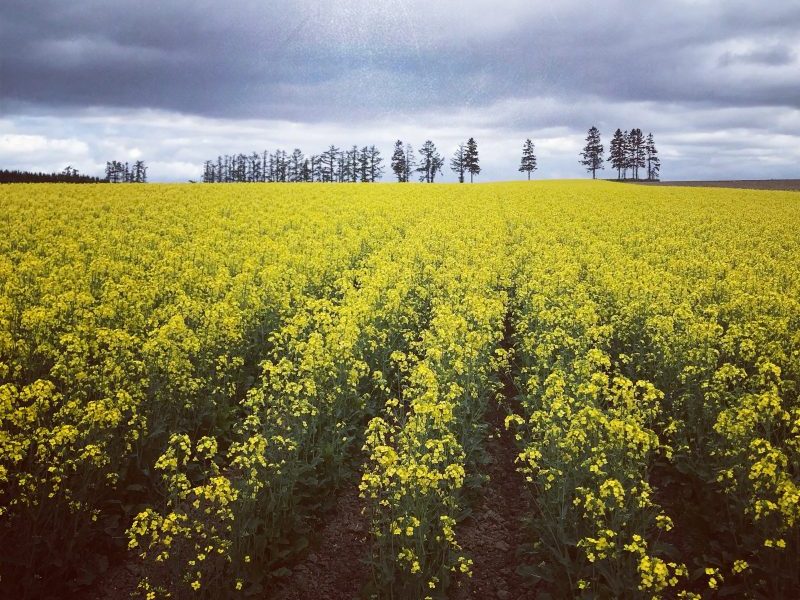 Takikawa Canola Flower Festival (滝川菜の花祭) is one of the popular activities in Takikawa. Several activities and events are lined up for locals and international visitors to join the celebration.
Read more on my visit to Takikawa Canola Flower Festival by public transport. It is also part of my Hokkaido flower trip beside the famous Shibazakura in Takinoue park.
Transportation Guide: How To Get To Takikawa Canola Flower Festival
First of all, the festival venue is not located near the city. The flower fields are scattered around in Ebeotsu district. Added, it keeps changing to avoid planting the same type of crops in the same place. As a result, you can have a different view of the canola flower field every year.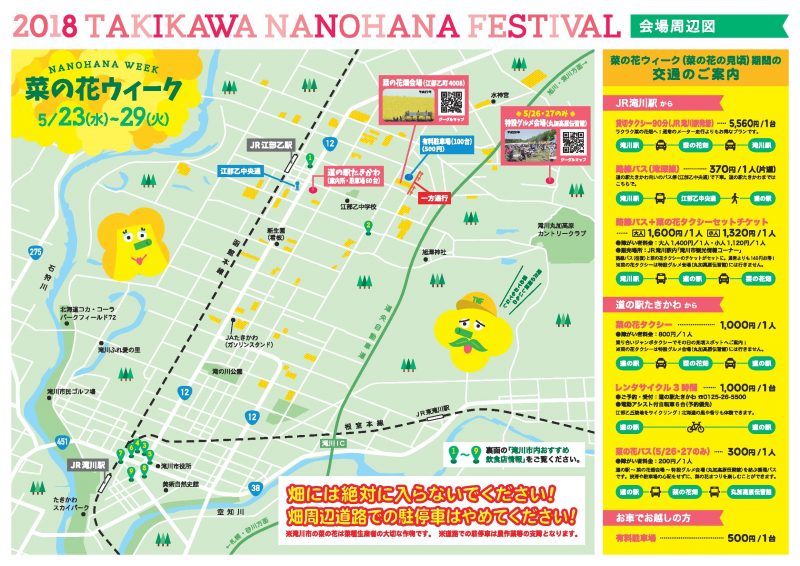 The best transportation option is getting to the canola flower field by self-driving. Alternative, it is advisable to visit Takikawa during Canola Flower Festival. Transportation arrangements with shuttle service are provided with a minor charge. Certainly, this is a good option for travelers who rely on public transport.
From Asahikawa To Takikawa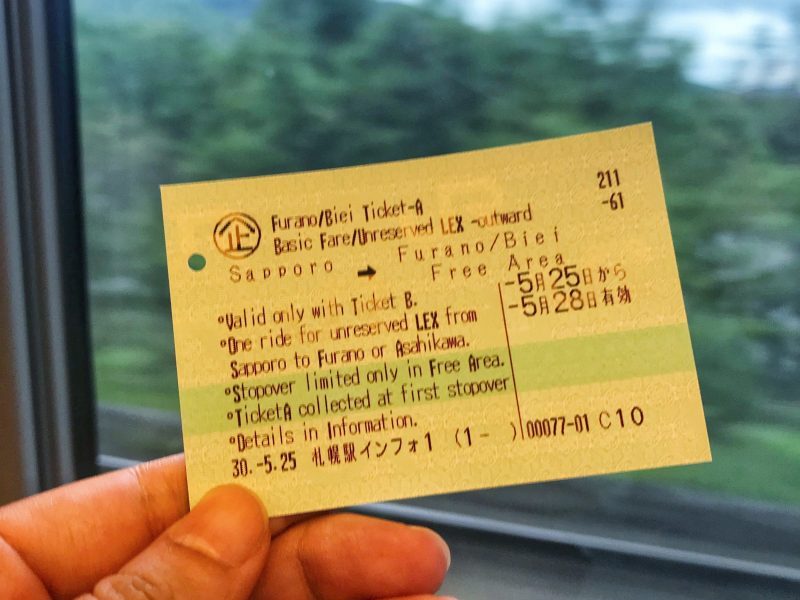 Next, getting to Takikawa is pretty straight forward. JR trains and buses are connected between Sapporo, Asahikawa, and Takikawa. Generally, trains are faster compare with bus but cost more.
Well, we did some survey before our trip. As per my Hokkaido itinerary, the best and cheapest transportation option is getting Furano Biei Rail Ticket. This transportation pass will cover my return train journey from Sapporo to Asahikawa. Added, it provided unlimited train ride in Furano, Biei, Asahikawa and Takikawa area within 4 consecutive days.
Thanks to this pass, my return train journey from Asahikawa to Takikawa was included.
Best Transportation Pass: Furano Biei Rail Ticket
Only available from mid/end of April to end of October
Valid for four consecutive days
Unlimited ride of local and rapid train in Furano, Biei, Asahikawa and Takikawa area
Round trip from Sapporo to any unlimited area as above
From Takikawa Station To Nanohana Festival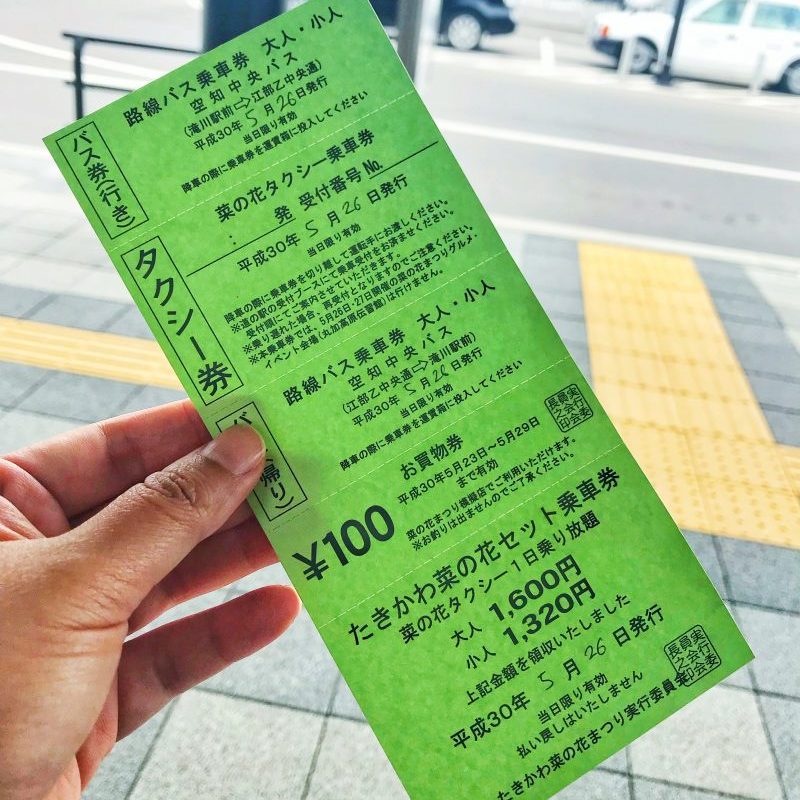 Once we reached Takikawa station, there was Takikawa Tourist Information Counter run by friendly locals. This is a special information counter set up during the Takikawa Canola Flower Festival.
A friendly lady with English spoken explained on the transportation information on how to get to there. She advise us to get the transportation set ticket with 1600 yen. This combo ticket will provided return bus journey from Takikawa station to Canola Flower Festival. Besides, it also included a nanohana taxi ride for the canola flower tour.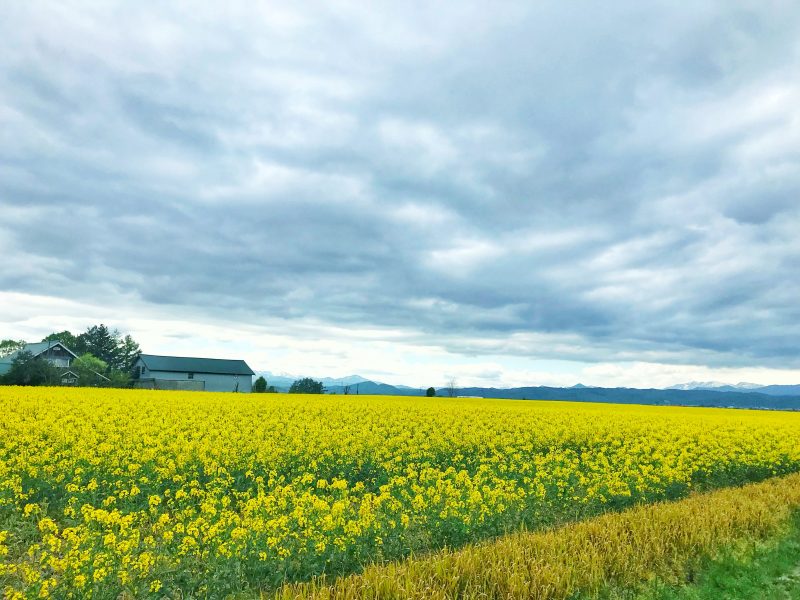 First of all, we hopped on the chuo bus from Takikawa station as per instruction. Next, we were got off at Ebeotsu Chuo Dori stop.
From there, a special shuttle service, called nanohana taxi was running busy. This nanohana taxi will bring visitors for a special flower tour before heading to the festival venue. Enjoy the canola flower tour journey with the best viewing of canola flower.
Takikawa Canola Flower Festival Event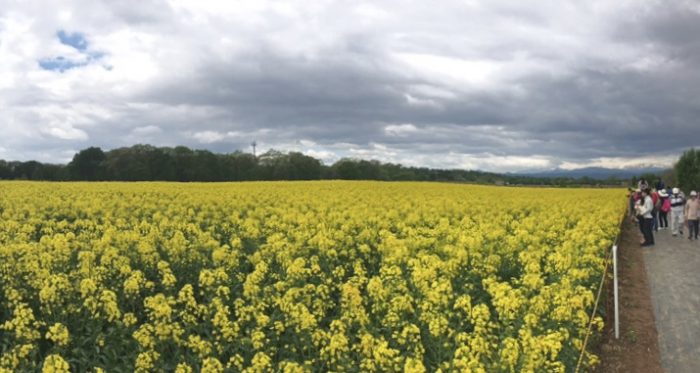 There was a walking path built along the flower field to the festival venue. Enjoy the stroll while viewing the beautiful flower field.
The view of yellow canola flower is so magnificent! Like an endless golden canola sea, stretching on as far as eyes can see.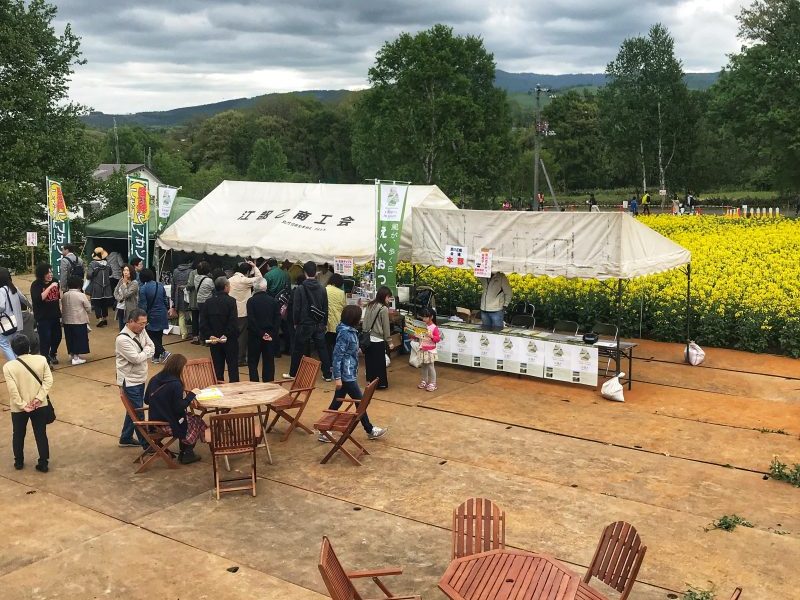 The festival event is not too big. Few food stalls, souvenir stalls, and photo booth were allocated to celebrate the flower festival. The main venue of the Canola festival was elected at the largest canola flower field. In other words, the venue will be change each year.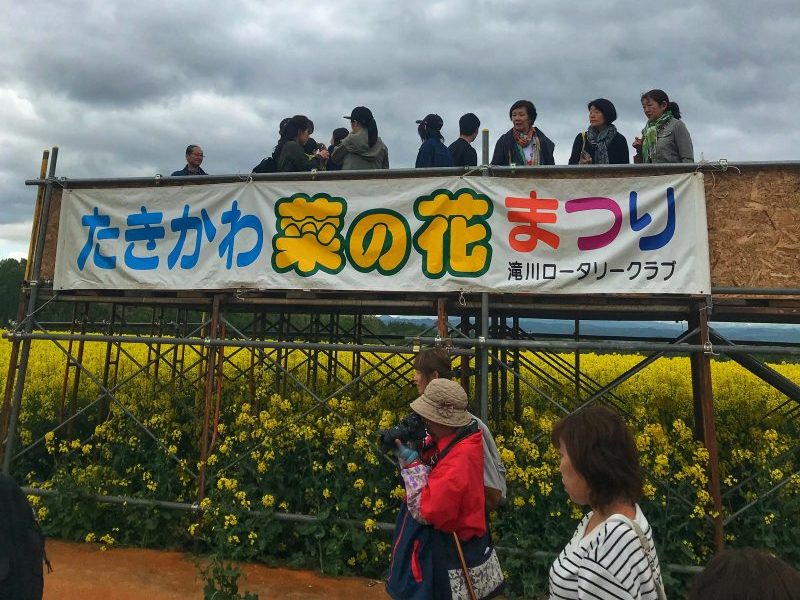 Added, an observation deck is built in the middle. Therefore, visitors can look over to the canola flower field from above. The yellow canola flowers together with blue sky will take your breath away.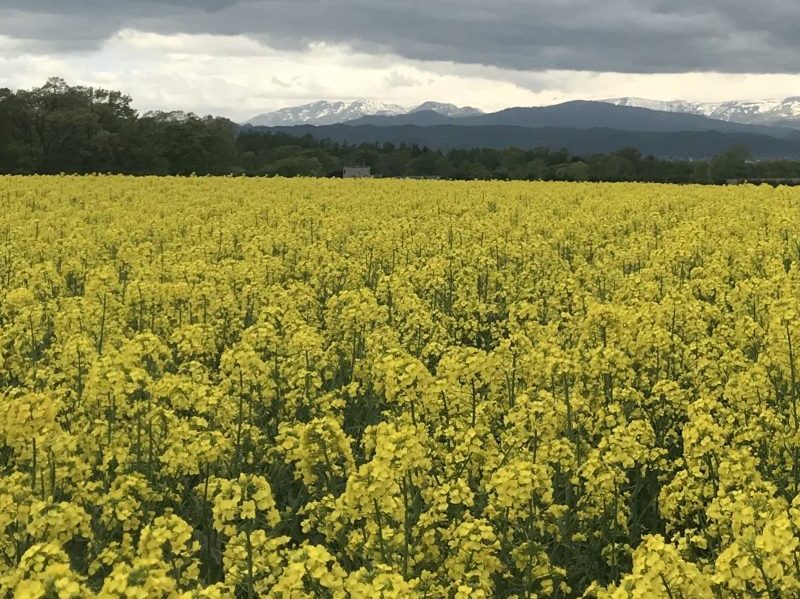 The view of yellow canola flower with snowy mountain and clear blue sky is absolutely amazing! Enjoy your time to take photo with the canola flower field.
Overall: Day Trip To Takikawa Canola Flower Festival
All in all, we spend about 2 to 3 hours in Takikawa Canola Flower Festival. My flower trip in Takikawa was ended with Jingisukan Daikokuya in Asahikawa.
In short, May may not a good timing for lavender in Furano. But you really can't miss the great opportunity for Shibazakura and Canola Flower Festival. One of the must do in Hokkaido if you are coming during May.
Read more on my shibazakura flower trip to Takinoue Park, lovely moss phlox covered the hill like pink carpet.
Where To Stay in Asahikawa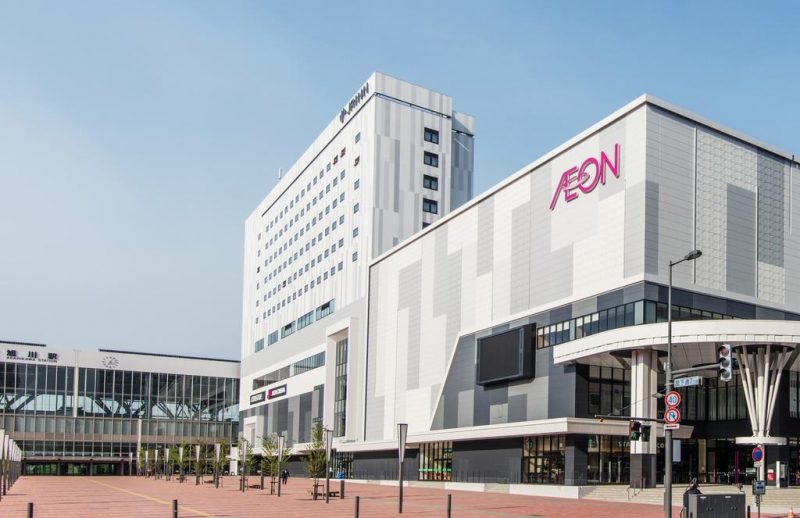 To sum up, Asahikawa is a great base to explore the nearby area like Furano, Biei, and Takikawa. We highly recommended stay at hotels nearby Asahikawa JR station.
There are many hotels with different price range for your consideration. Get the best one to suit your budget and requirement.